Gluten-free cake recipes – 35 of them in fact! There's everything from Victoria sponge, to carrot cake, chocolate brownies and lemon drizzle, but you'd never know any of them were gluten-free. Loads of them are easy to make dairy-free too!
Gluten-free cake recipes can be hard to come by, that's why I've compiled an ULTIMATE list of 35 of my best! They're all super moist and light, not crumbly or dry at all – they just taste like all the cakes you used to eat!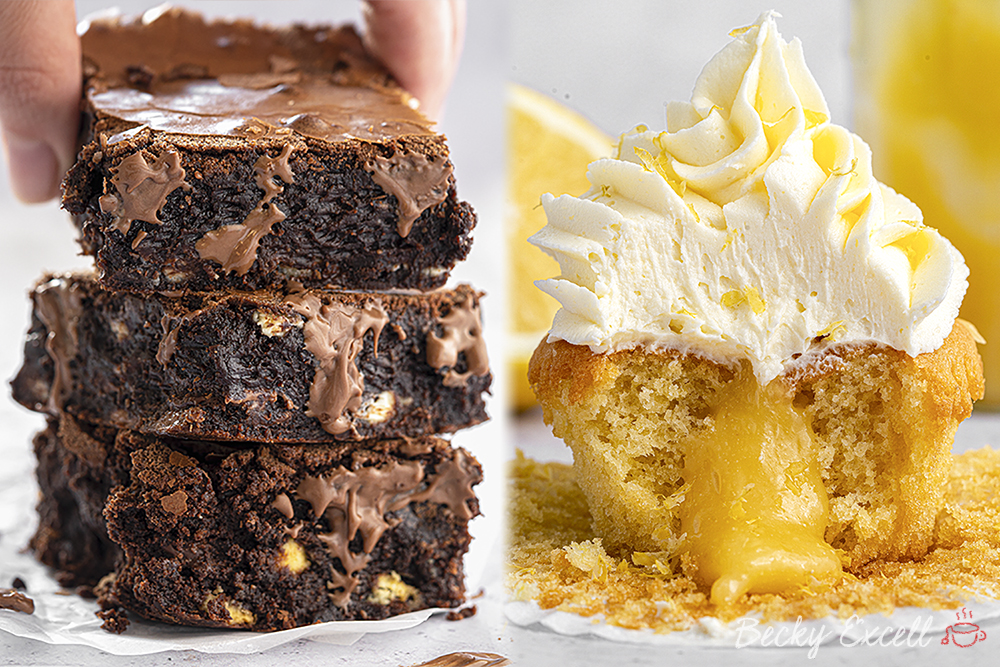 Why not kick off my gluten-free cake recipes with this beauty? Yep, it's a gloriously gluten-free Victoria sponge cake.
In a way, you might think that this should be a bit of a no-brainer to make gluten-free, but without tons of icing or decorations, you don't really have anywhere to hide your mistakes with this one!
Fortunately, with a little added xanthan gum, you can easily create two beautiful sponges that don't instantly crumble when sliced.
Simply spread with jam, buttercream and fresh raspberries if you fancy, then optionally wonder why you never see a gluten-free Victoria sponge cake out in the wild!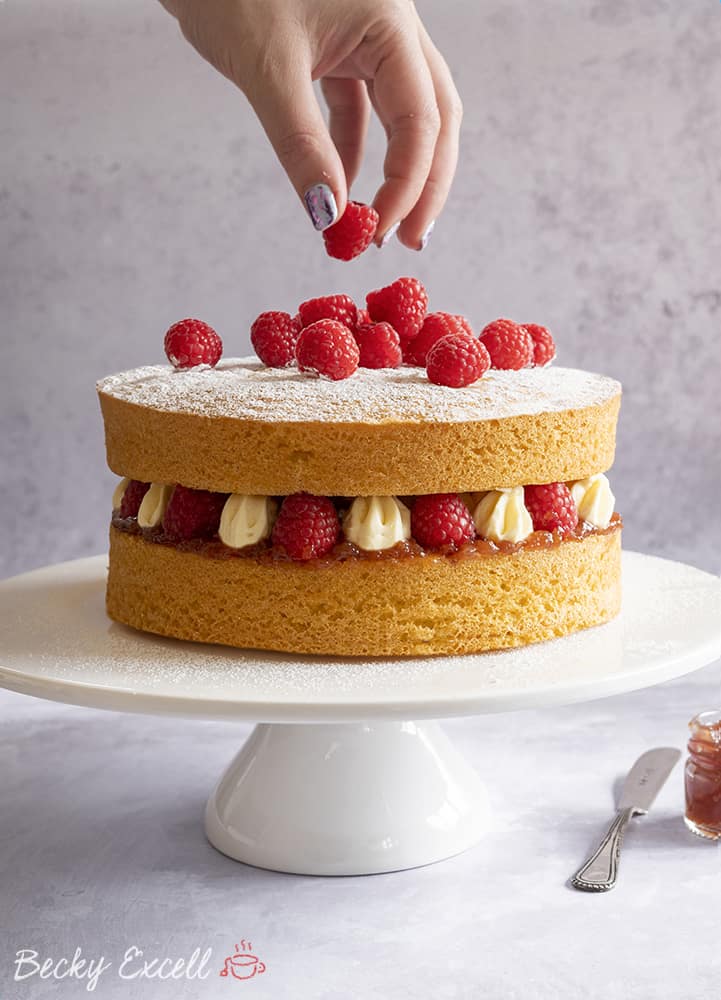 Here's another absolute classic – the humble lemon drizzle cake!
You can finish it two ways – with a crunchy, granulated sugar top or with my sweet, zesty lemon glace icing.
The choice is yours! The 'classic' finish only calls for 7 ingredients to make the entire thing so this is a real easy peasy one.
Either way, it's packed with lots of sweet, lemon-y flavour and it's super moist thanks to the drizzle. Potentially my fave cake in this entire post!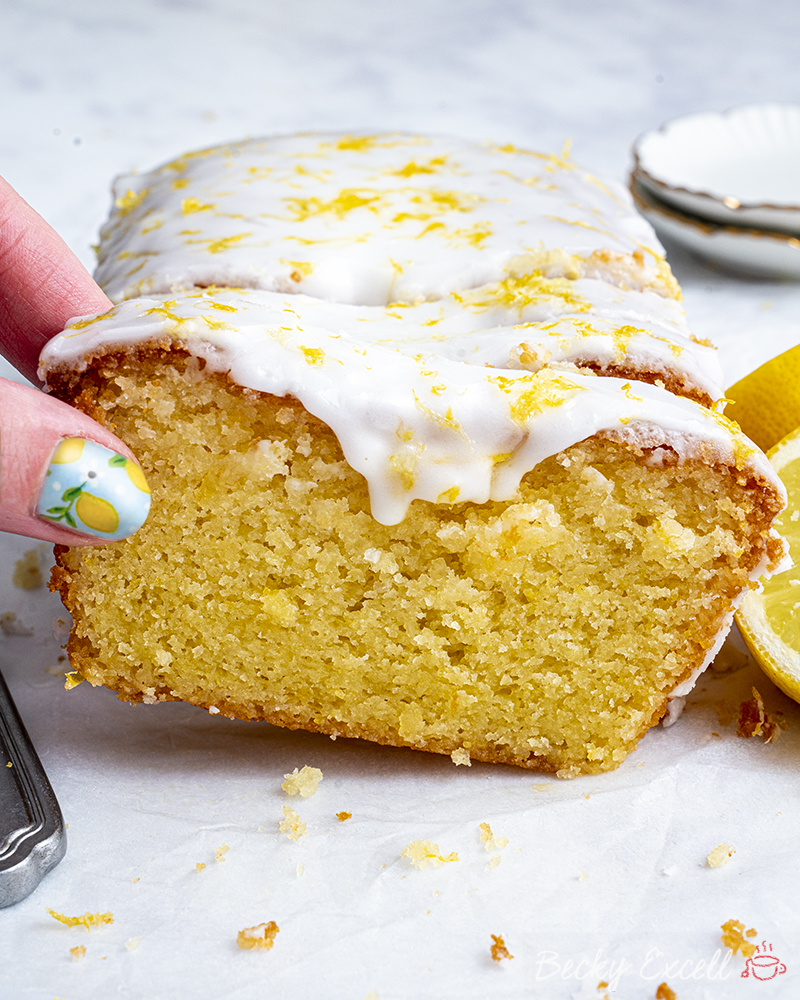 There's good reason I've nicknamed this cake my 'Bruce Bogtrotter' cake – it's just like the cake featured in the film, Matilda!
It's super moist, intensely chocolatey and smothered with tons of sweet chocolate icing – one slice is never enough.
There's a little instant coffee in the cake which helps bring out that deep, rich chocolate flavour – don't worry, it doesn't taste like coffee at all!
Add this to your repertoire of gluten-free cake recipes and never look back.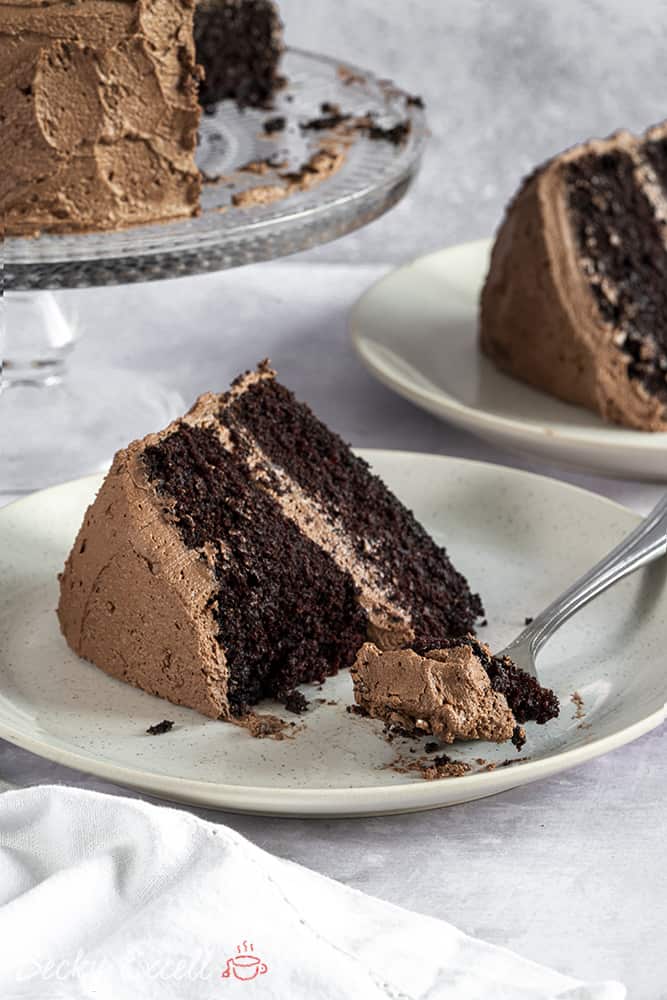 Obviously, I couldn't compile a list of all my ultimate classic bakes and not include a carrot cake!
It's lightly warming thanks to the spices, super moist with credit to the grated carrot and a wonderfully whipped cream cheese frosting.
The combo of all that is heaven in every bite! An absolute classic that no gluten-free person should ever have to miss out on.
And now you don't need to miss out, ever!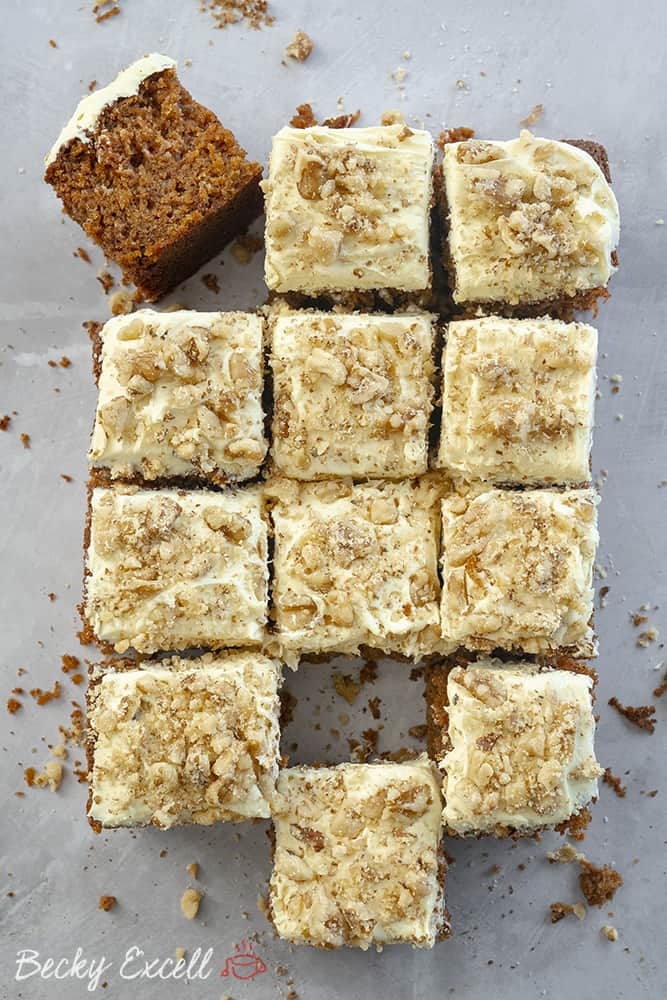 This has been a reader favourite on the blog for years now and as someone who doesn't even drink coffee… I agree that this cake tastes amazing!
The usual bitterness you'd associate with coffee is harmoniously balanced with the sweet, caramel notes of brown sugar and coffee buttercream. The dream.
It's packed with chopped walnuts too which gives the cake a satisfying crunch in every bite.
No wonder I bake this for my Mum every birthday or Mother's day!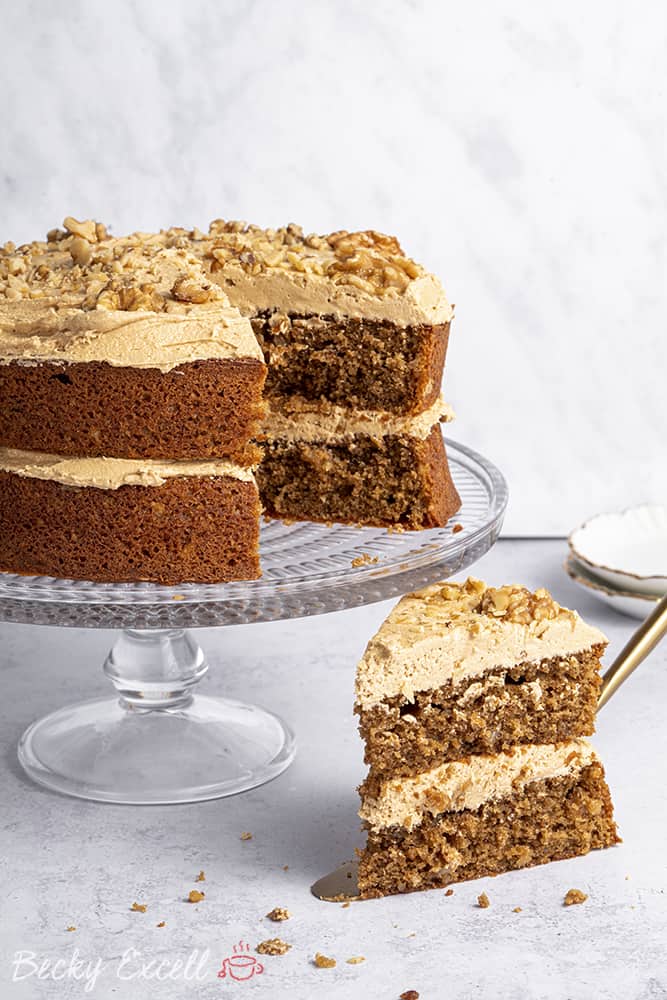 This was 100% inspired by the McVitie's Jamaica ginger cake you see in supermarkets – you know, the one we can never eat? Yes, that one!
It's dark, deep and rich in flavour thanks to the molasses in Black Treacle, but subtly fiery and sweet, simultaneously.
If you've missed out on this absolute classic, then make sure you waste no time in baking this one!
It's super easy as you don't even need to make any icing for it. Just slice and enjoy.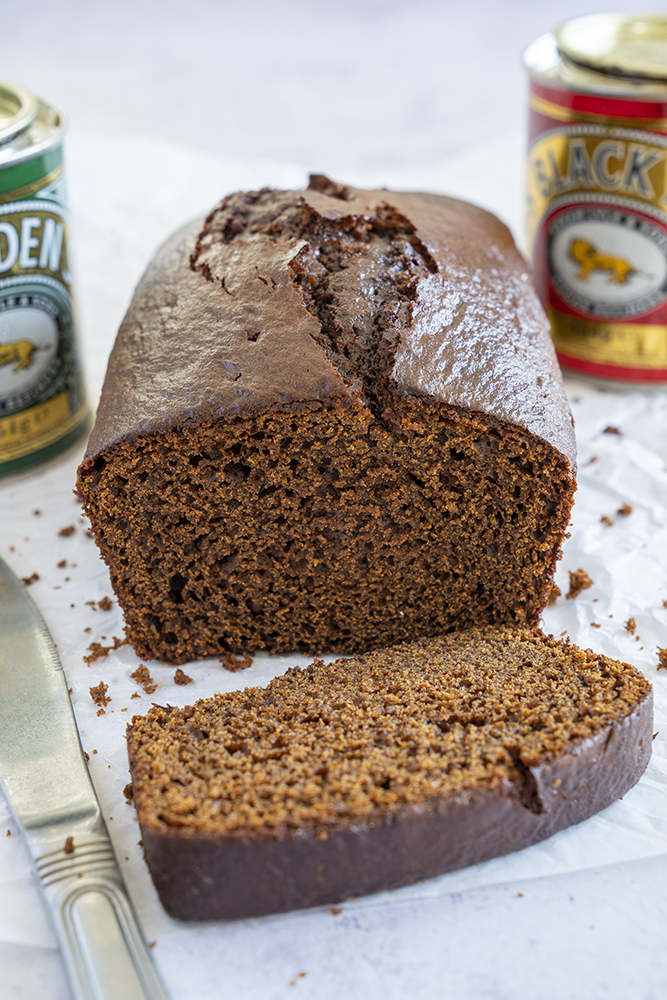 Why should muggles have all the fun? A red velvet cake screams 'eat me', which is all the more difficult to resist when it contains gluten 99.9% of the time.
However, I've managed to recreate the vibrant red velvet cake, totally gluten-free and without compromise on taste or appearance.
Read the post to find out how I get that iconic red colour without having to ruin your cake mixture by adding tons of liquid colouring. It's a simple secret that you'll never not use once you know!
Trust me, it's well worth it.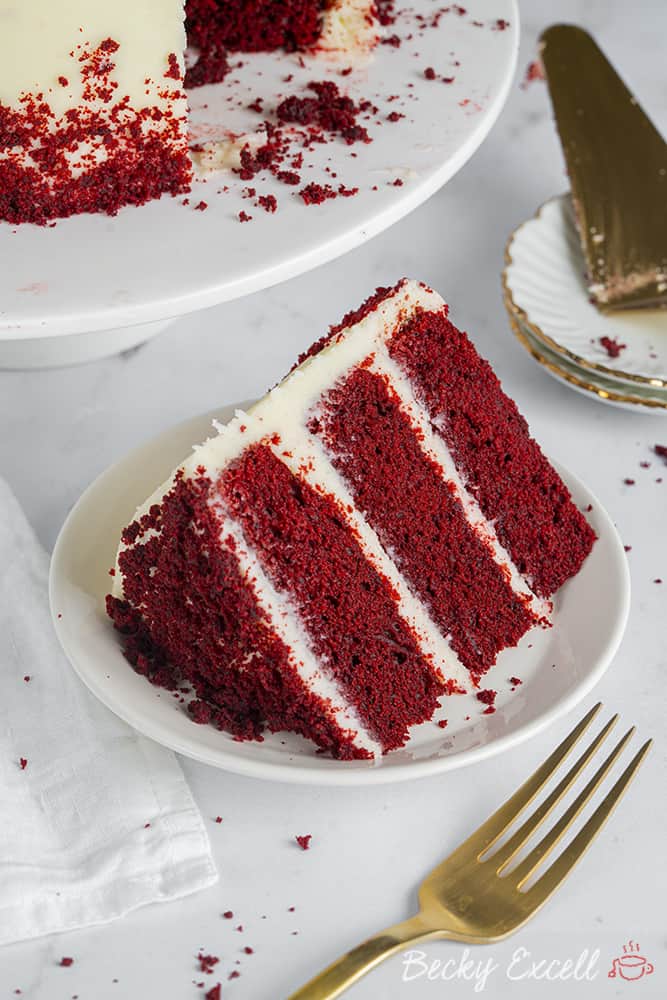 I've always been in love with the flavours of anything remotely Bakewell. Almond and raspberry is such an underrated combo in my opinion.
Thanks to the ground almonds in the sponge, the cake is packed with flavour and it's super moist – you can't miss those fresh raspberries in every slice either.
Then, it's topped with a sweet and sticky, almond glace icing and finished with even more fresh raspberries.
If you don't know which cake to choose out of all my gluten-free cake recipes, then start with this one!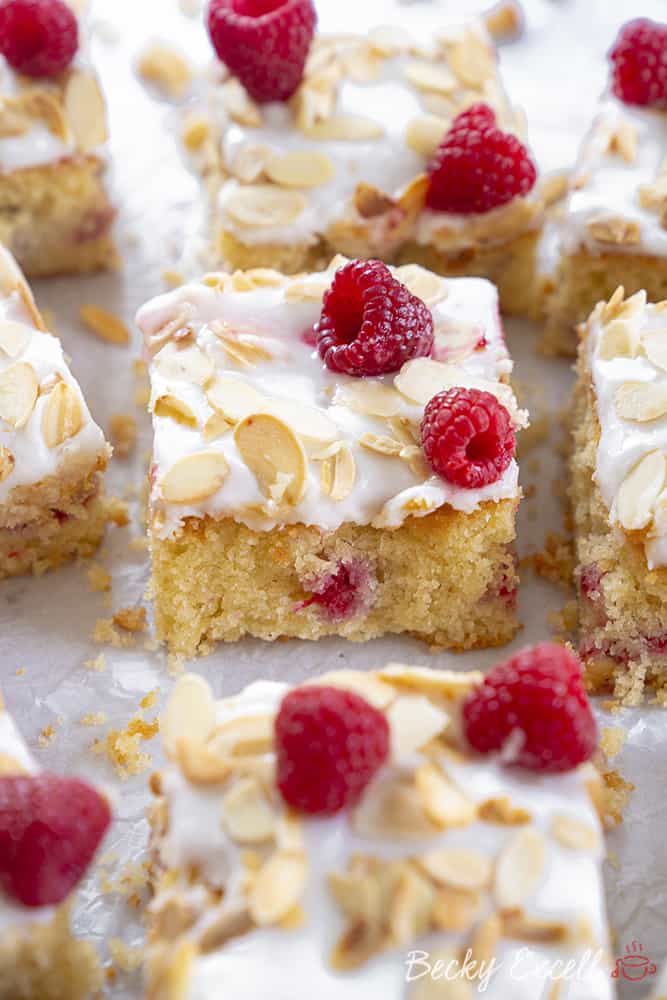 Whenever I look at that photo, all I think is 'wow'. And maybe 'yum' or 'nom nom' if you'd like a few more nonsensical words from a hungry gal.
If you've got 'brownie fatigue' after brownies being literally the only gluten-free option everywhere for the past decade, then prepare to rediscover how a brownie should always look and taste.
They're thick, fudgy, intensely chocolatey, a little gooey in the middle, with that characteristic crisp, paper-thin top.
These are much more like the type of brownie you'd enjoy warm with ice cream – not 'cakey' or like a chocolate cake, AT ALL. Bring on the brownies!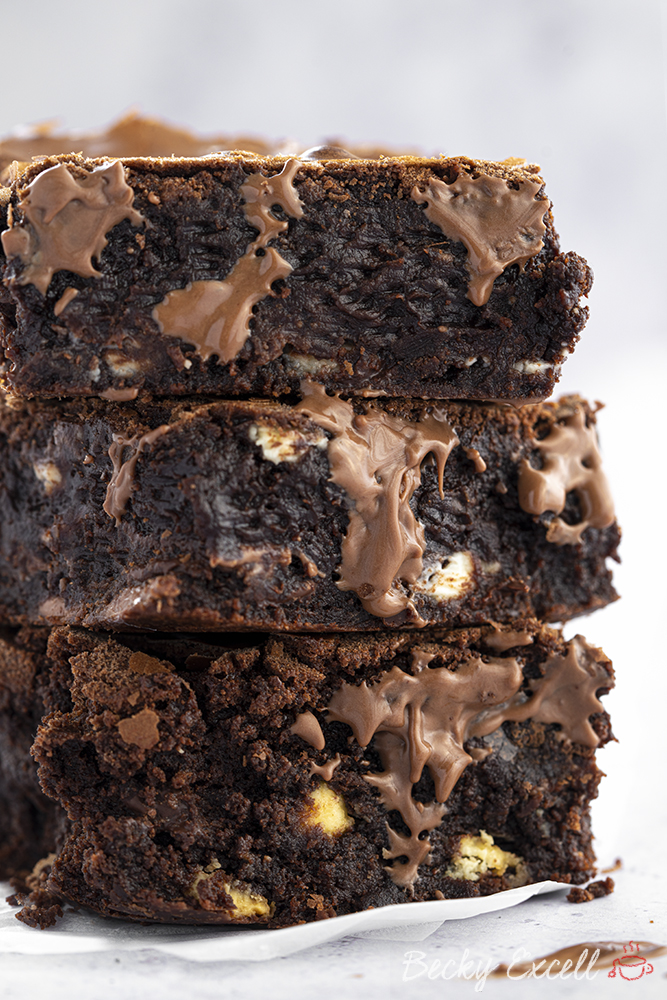 Sometimes, you can't beat simplicity can you? And as with my gluten-free Victoria sponge cake, there's no where to hide when it comes to covering up any mistakes with this one!
But luckily for us, there's no need to panic because this cake is as simple to make as it is to eat.
With that characteristic madeira 'crack' on top, there's no reason that you can't achieve baking perfection with this one, whilst making it gluten-free at the same time.
It's soft, moist and sweet – perfect with a little jam spread on it, or simply serve up with a good cuppa.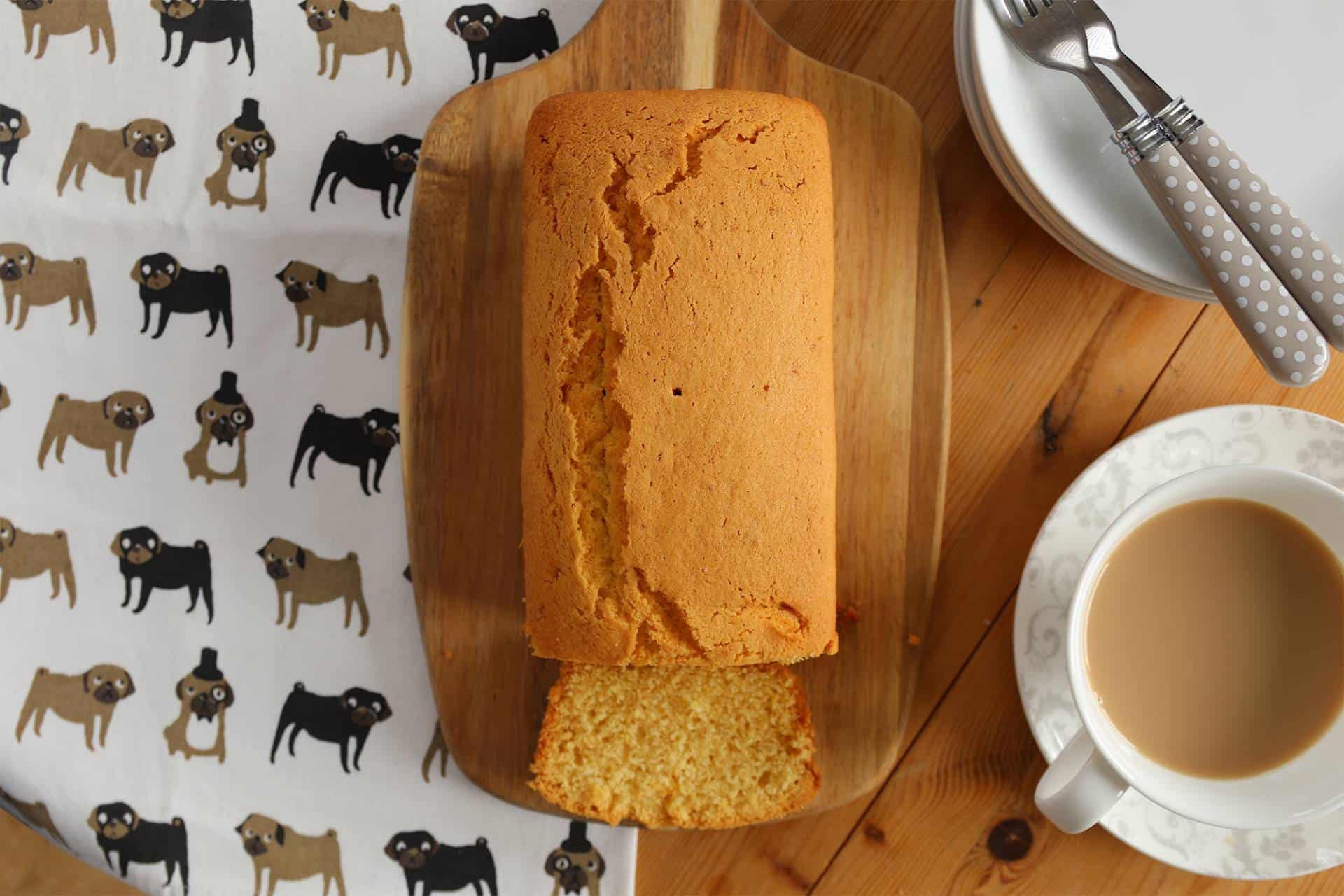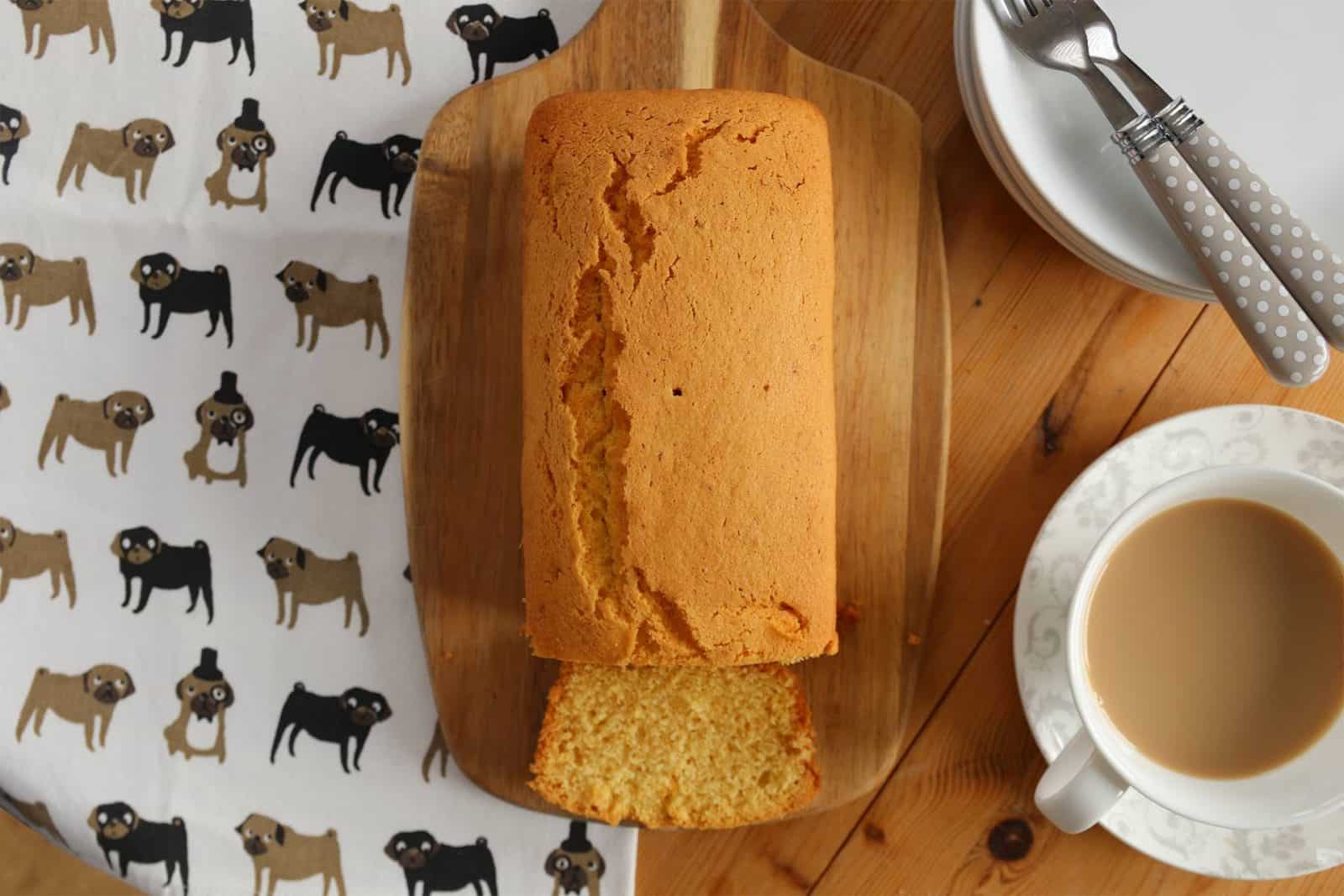 Scones, glorious scones! Ok, it's not technically a cake, but where else do they fit in?! You guys have been making these TONS recently and I'm so pleased that you have been.
Not only are my scones easy peasy to make, but there's absolutely indistinguishable from scones made with gluten.
They're beautifully soft and chewy on the outside, with a light and fluffy middle – perfect with butter, jam and clotted cream.
I recently made a video (over on my scones blog post) showing you how to make them step-by-step, so make sure you watch out for that.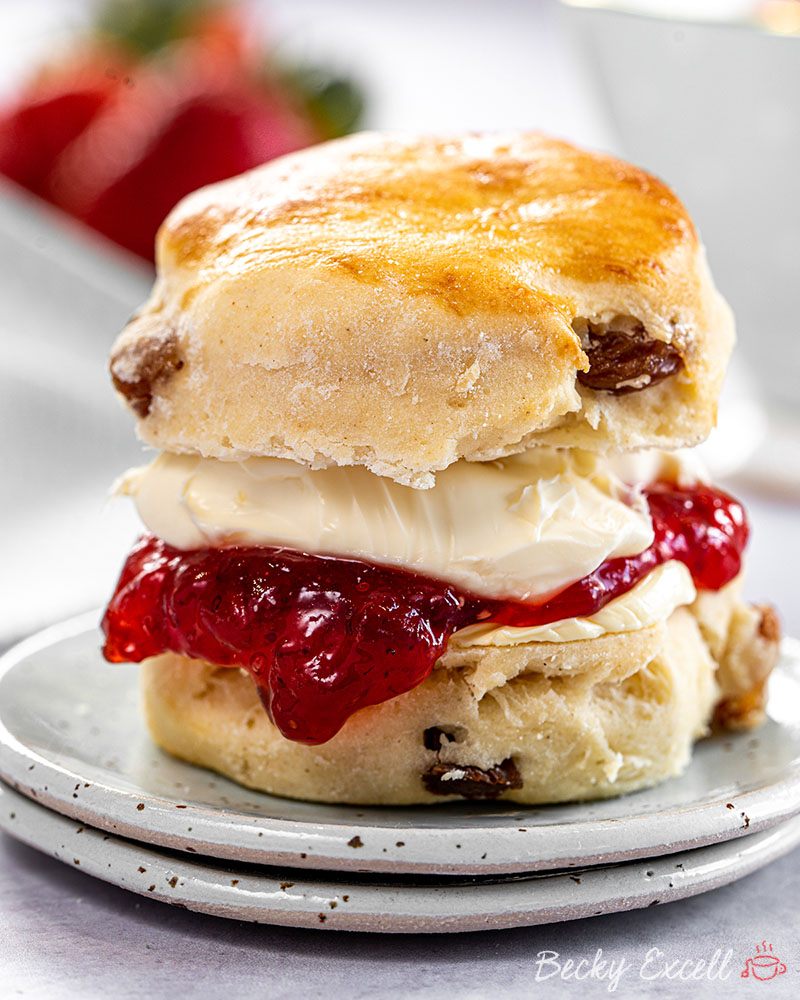 This was probably one of the first cakes that I made gluten-free which really wow-ed me.
Every time I look at it, I still can't believe I can say 'I made that!', which is a simple pleasure that almost matches enjoying a hefty slice with a hot cuppa.
It's super easy to get that magnificent checkerboard design and the same goes for the pink colouring in the sponge too.
Just make sure you have a square baking tin to hand, ready for this one.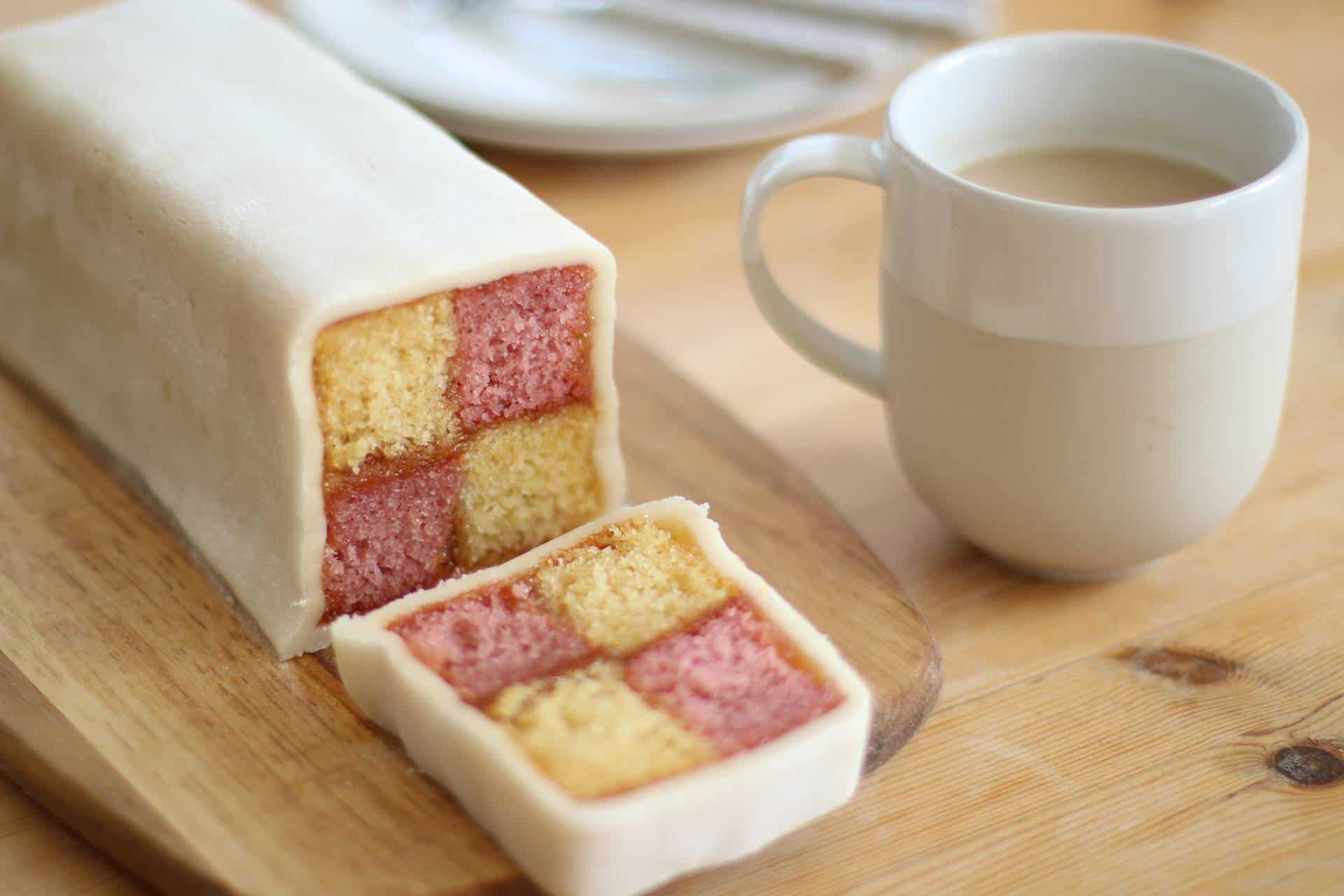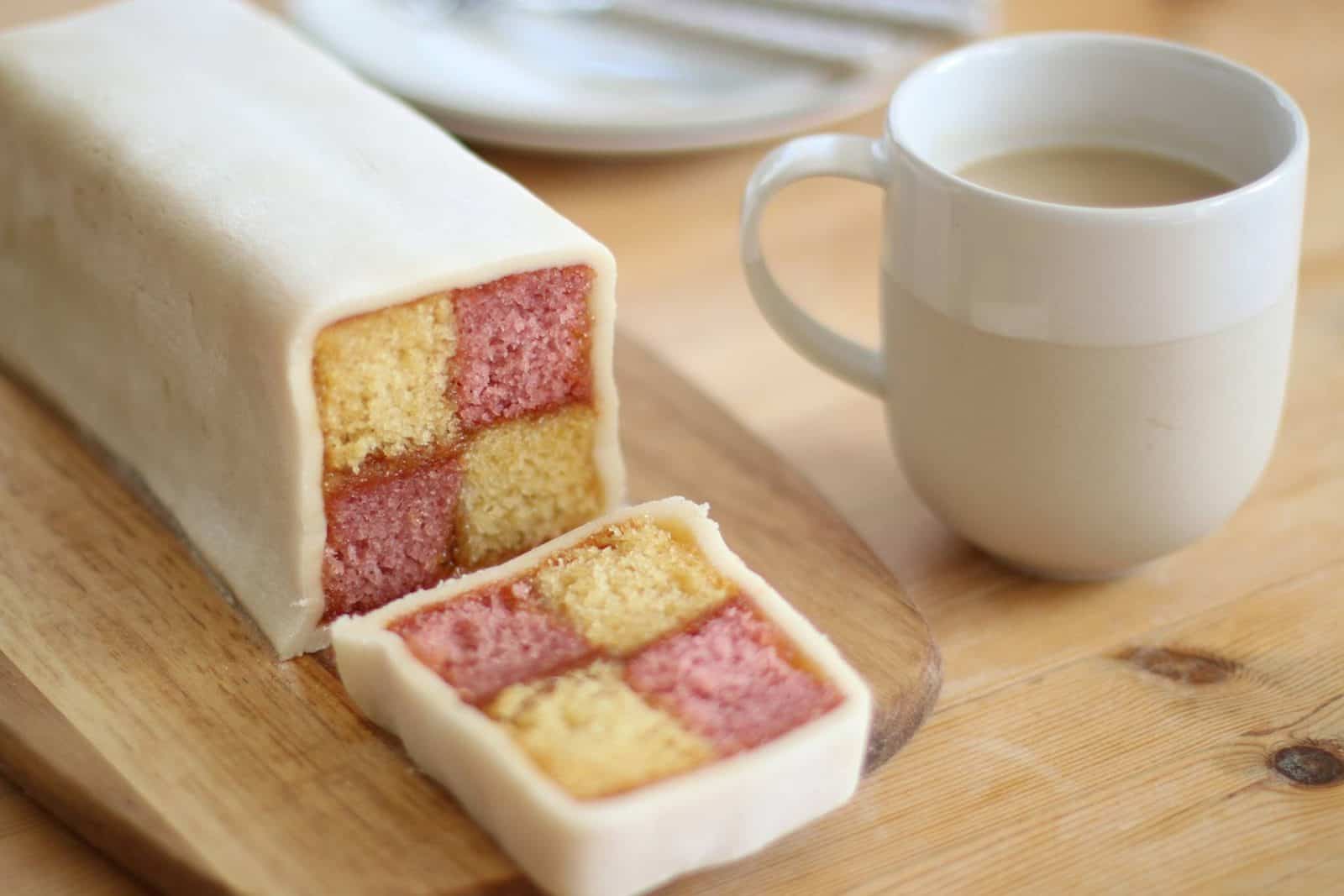 Of course, every collection of gluten-free cake recipes needs a good sticky toffee pud. And so do I!
Unlike a regular sponge cake, this pudding is incredibly soft and fluffy in the middle, with a warming hit of all those spices.
Then, drench it in my homemade sticky toffee sauce and dig in! The sauce is super creamy, sticky and sweet like a deeper, rich caramel.
It's absolutely divine when that fluffy pudding soaks up all the sauce!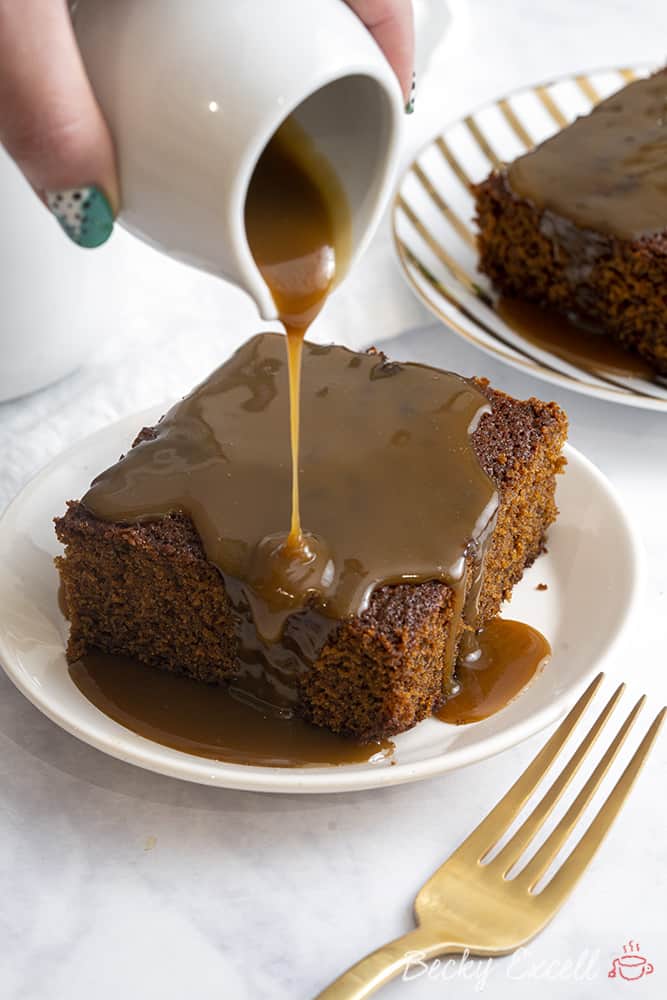 Does anyone else remember having this for dessert after school dinners? Anyone else have pink custard like we did?!
Of course, the cake I fondly remember having for school dinner was not gluten-free… so obviously I had to make my own instead.
Every little cube is fluffy like a cloud and topped with sweet raspberry jam and desiccated coconut.
Bring back all those fond memories of school dinner desserts, without the gluten!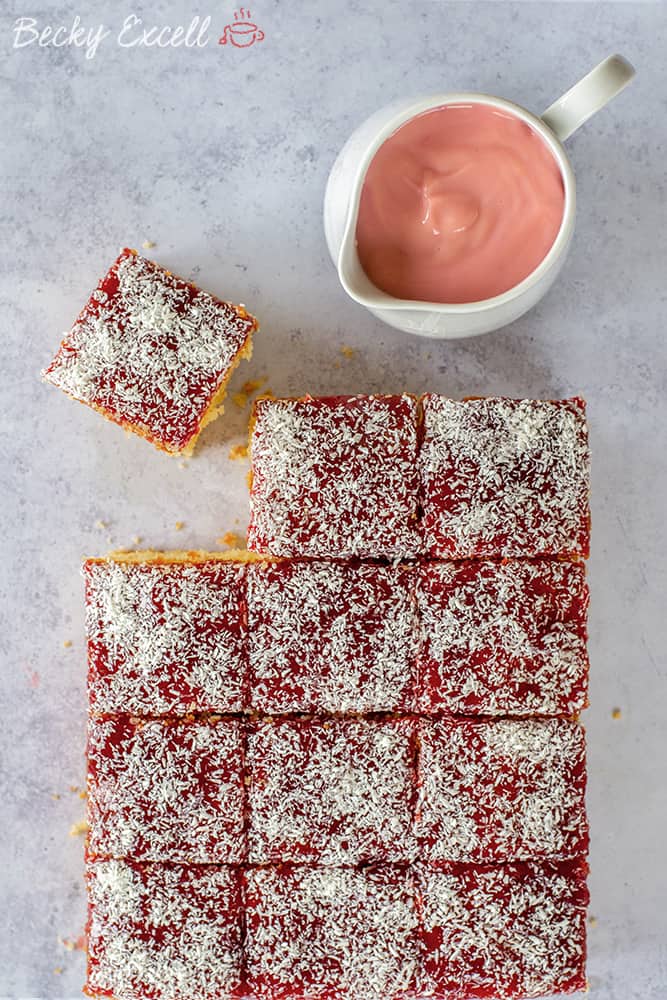 Yep, I'm still sticking with the school dinner sponge cake theme!
This is yet another school dinner classic – cute little cubes of iced vanilla sponge cake, served up with vanilla custard.
Honestly, it's so bloody simple, but so so so good!! When you just want a quick, simple and easy cake on demand, go for this.
Like most cakes in this post, it's super simple to make dairy-free too. Oh and make sure your sprinkles are gluten-free as they aren't always!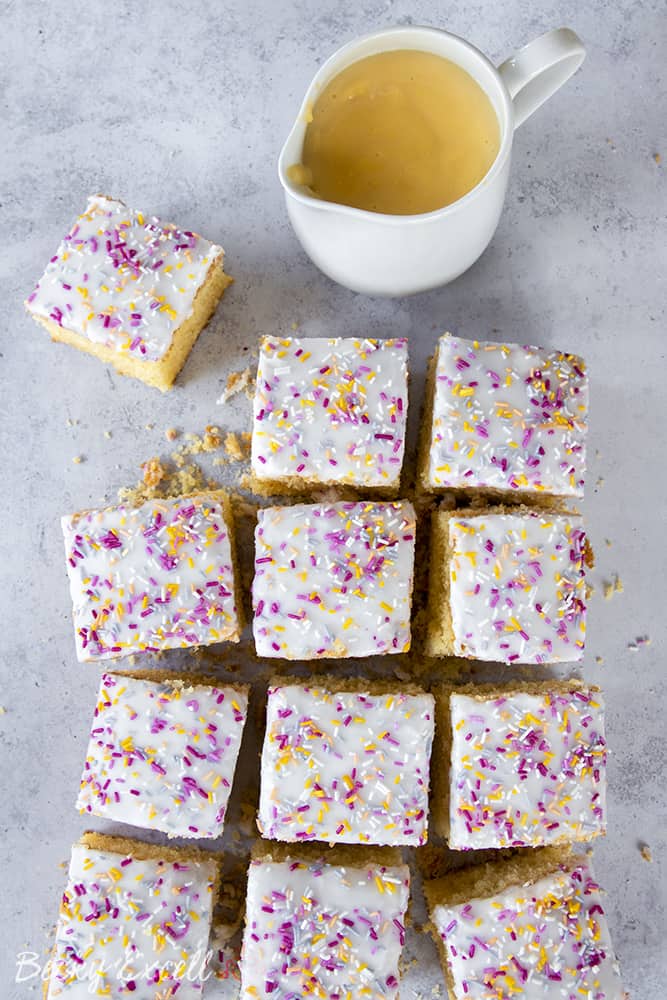 These aren't just any lemon cupcakes! *adopts M&S advert voice* These are my zesty lemon cupcakes, topped with fluffy lemon buttercream and filled with homemade lemon curd.
Sound good? Fortunately, they're a doddle to make – the recipe is split into three parts, the cupcakes, the lemon curd and the icing.
Each part is nothing complex at all. The final step just involves throwing it all together.
And trust me, you'll be glad that you did!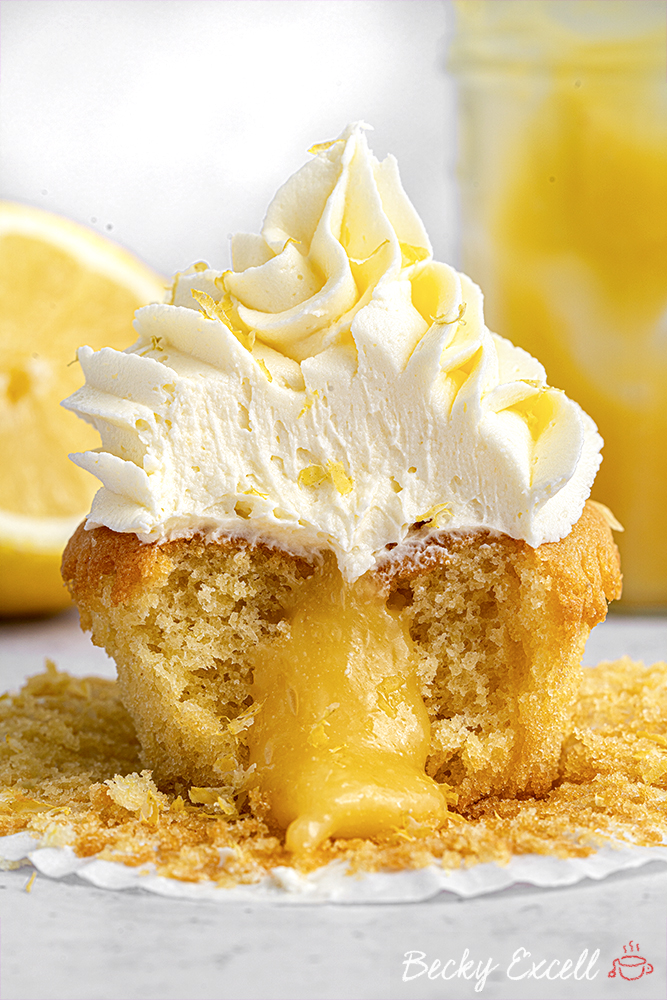 Of course, my traditional lemon drizzle cake that featured earlier is always a winner. But sometimes, you just need a cute, little lemony cube of joy.
And that's exactly what these are! They're finished with a drizzle that not only keeps the middle moist, but it also gives them a slightly crunchy, sugared finish on top.
Grate tons of lemon zest on top and enjoy.
Super quick and easy to make and packed with zesty, lemony flavour.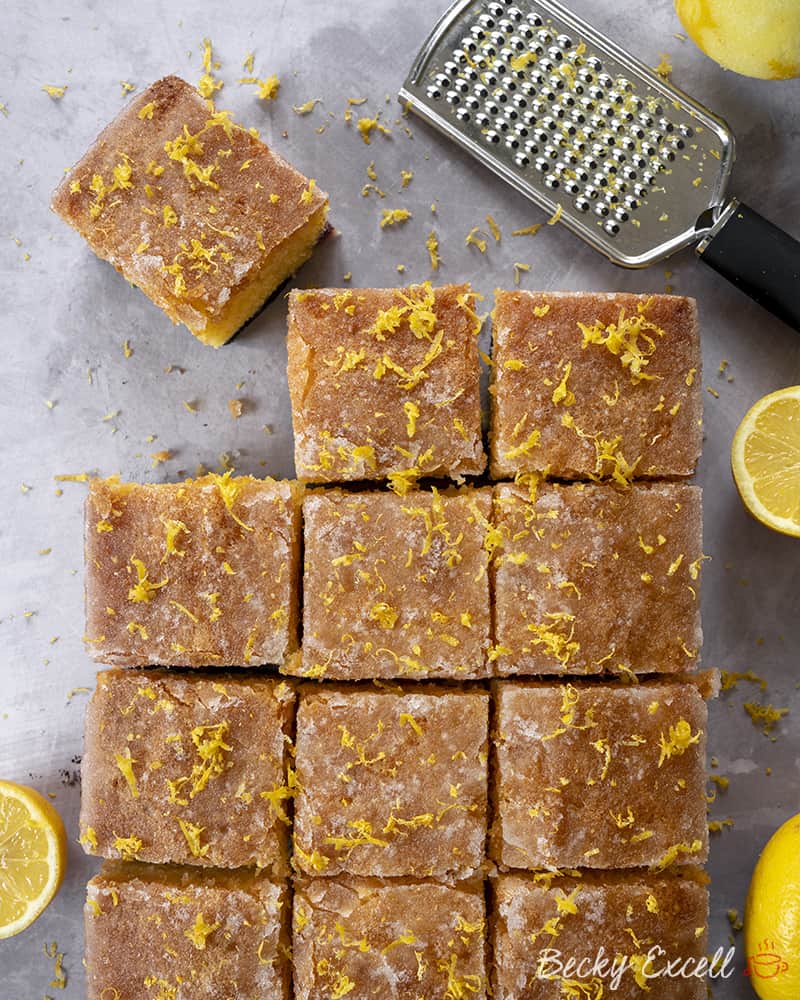 As Terry's chocolate orange sadly isn't gluten-free (it has a 'may contain'), why not make an entire cake that tastes exactly like a chocolate orange?
Yep, everything from that moist, rich chocolate cake, to the choc orange icing and even the chocolate buttons on top, are infused with orange in some way.
The result is like biting into a Terry's chocolate orange… if it were a really awesome, moist cake!
And of course, because it's a loaf cake, it's super easy to make and construct in no time.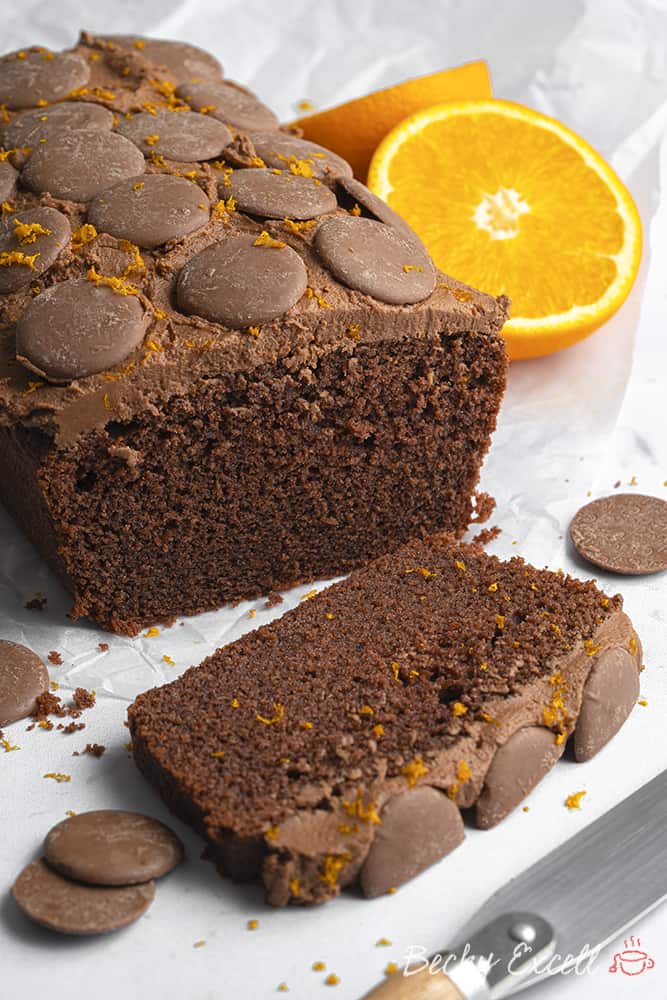 You just absolutely cannot beat the simplicity of a perfectly executed lemon cake. For this one, I remixed my Victoria sponge to give it a lovely lemony flavour.
Then I whipped up my famous (it's not famous, I just couldn't think of another word) lemon buttercream AND homemade lemon curd.
Sandwich all that two lemon sponges and it's quite simply the 'zest' cake in this list. Sorry about the bad pun.
But fortunately, this is a great cake which will hopefully compensate for my bad jokes.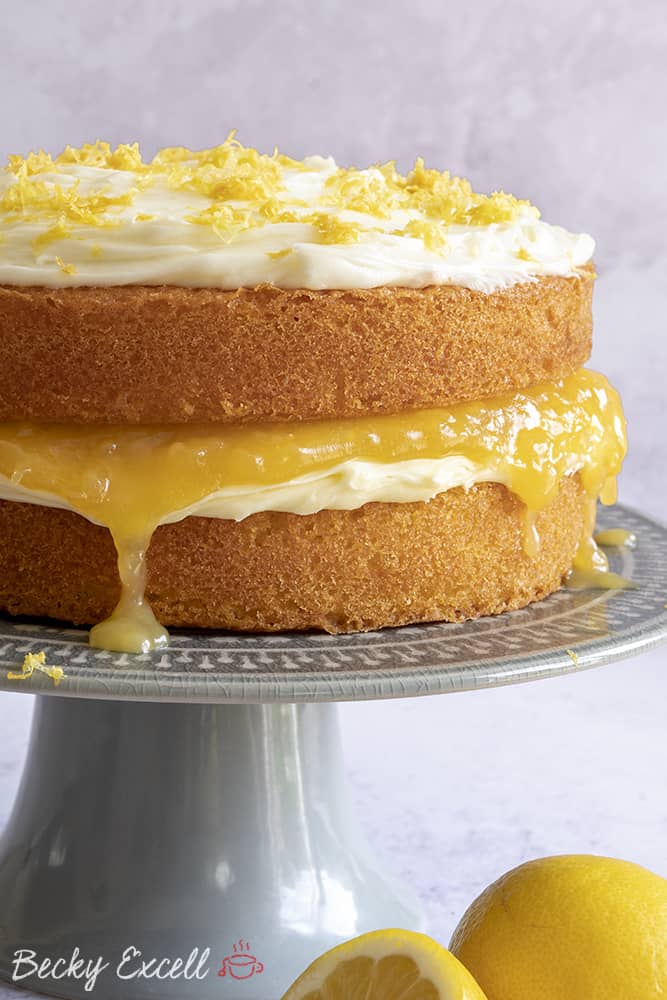 Marmalade absolutely does NOT get enough love in the baking world. Everything is all about jam, but marmalade has tons of flavour and it works in almost anything you can think of.
This cake is super moist, packed with tons of orangey flavour, complimented by warming spices and that sweet, almost caramel-like, brown sugar.
Best of all, it's so incredibly easy to make yet again, just as with all my loaf cakes. Just create a mixture, bung it in the oven and ice the top. Job done.
Enjoy a slice for me!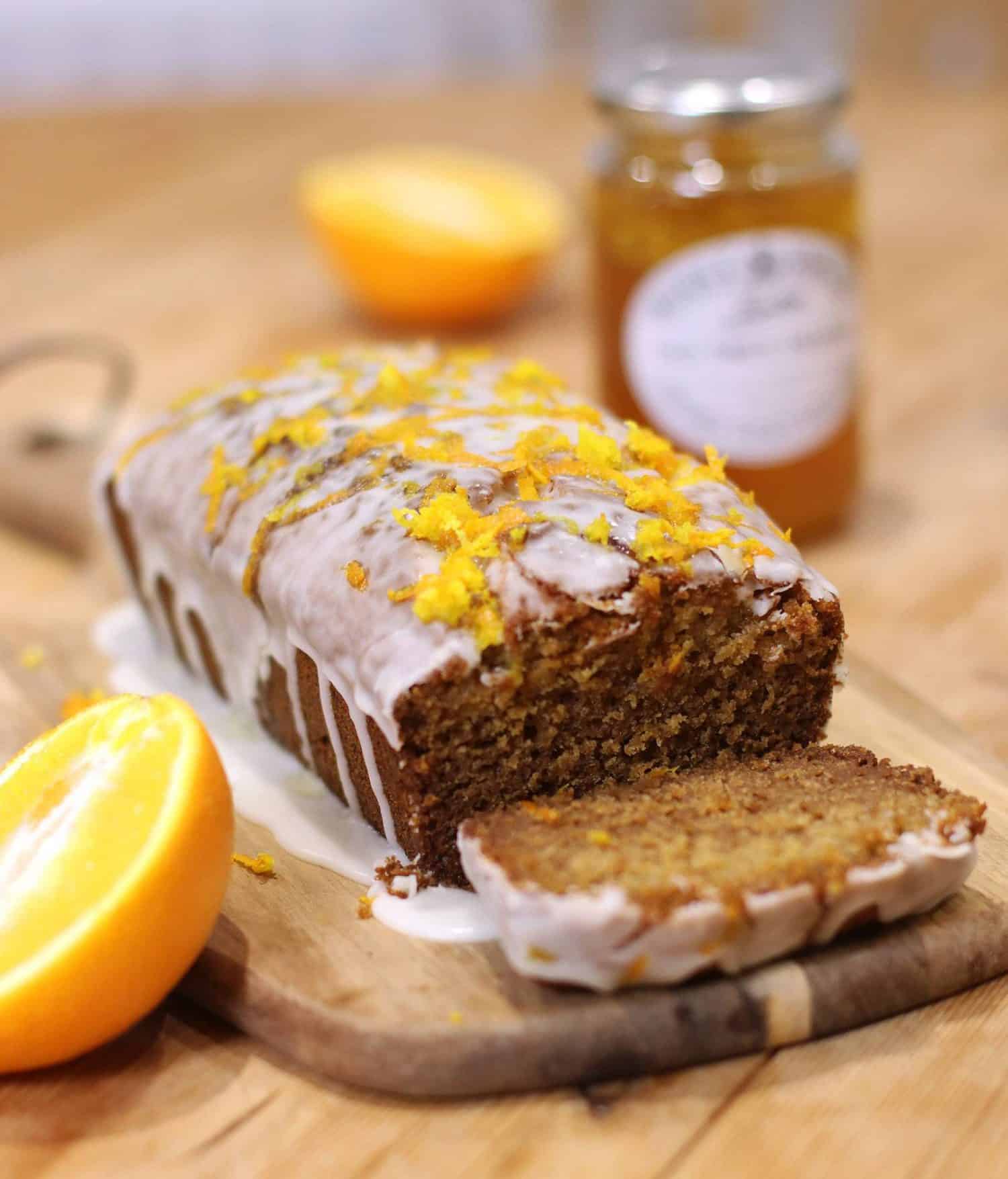 This is the underdog of all my gluten-free cake recipes – purely because it's so incredibly good, yet not everybody has heard of it!
It's a little like a carrot cake – lightly spiced, warming with a lovely caramel-like undertone. But then you're hit with the subtle taste of ripe bananas and… pineapple?!
Yep, where carrot cake uses carrot to keep it super moist, a hummingbird cake lets tinned pineapple and ripe bananas to do the same job. Apart from that they might even do the job better!
The only difference is that the flavour is on a whole different level. If you're looking for something a little different, then defo give this one a try.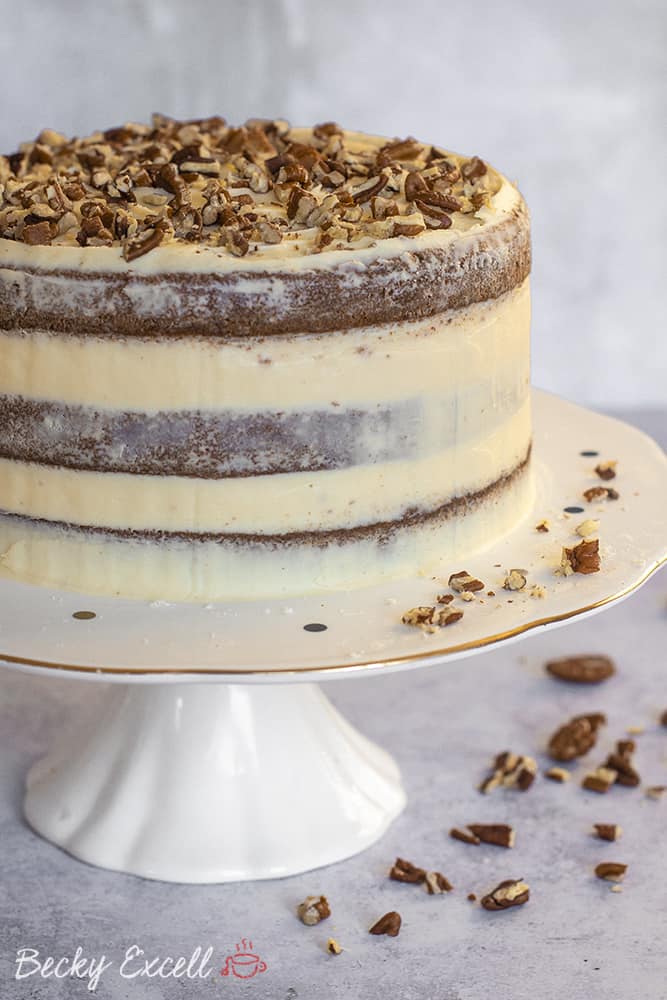 I based this on the marble cake in Starbucks that we can NEVER eat. Eventually I got so sick of missing out, that I just made my own instead!
And not only was it simple to recreate, but I instantly fell into love with that chocolatey swirl in every slice.
Each slice always looks totally different, so it 100% justifies going back for another slice, right? I'm just appreciating it like a work of art!
And of course, all the best works of art are gluten-free and edible by all.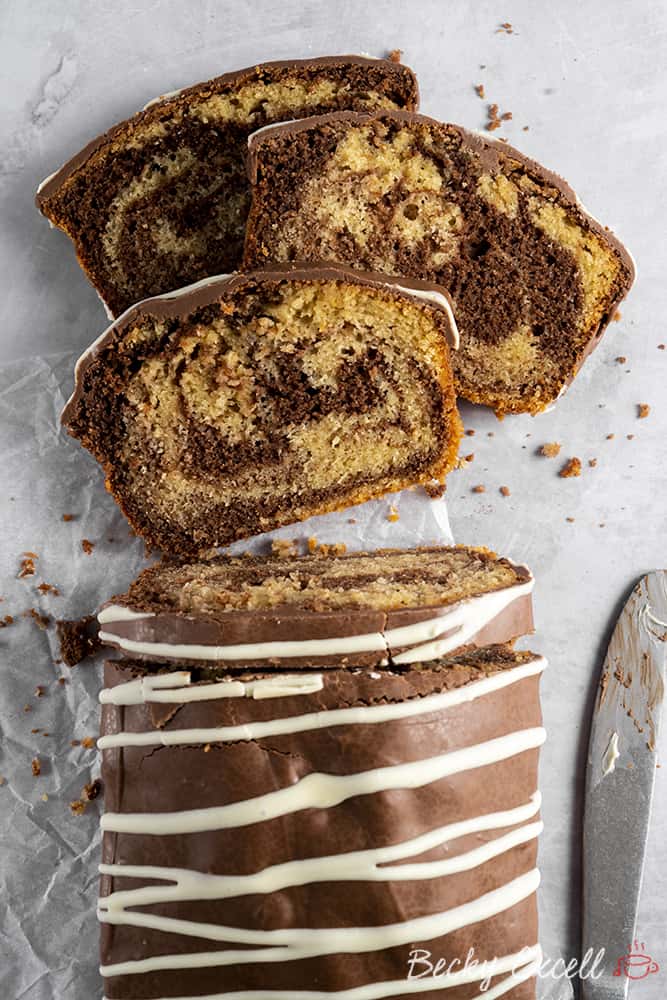 This is so classic that it might even deserve the title of 'retro'. Mark used to enjoy a slice of pineapple upside down cake in a garden centre cafe near us.
Sadly, since he become intolerant to lactose, he had to forgo his favourite cake. Until I made it for him, and obviously made it gluten-free for myself!
It's lovely and spongy, syrupy, moist – all those good words that I could list for days. The pineapple soaks up so much flavour and the cherries on top are the icing on the cake! (not literally)
Give this a try and thank me later.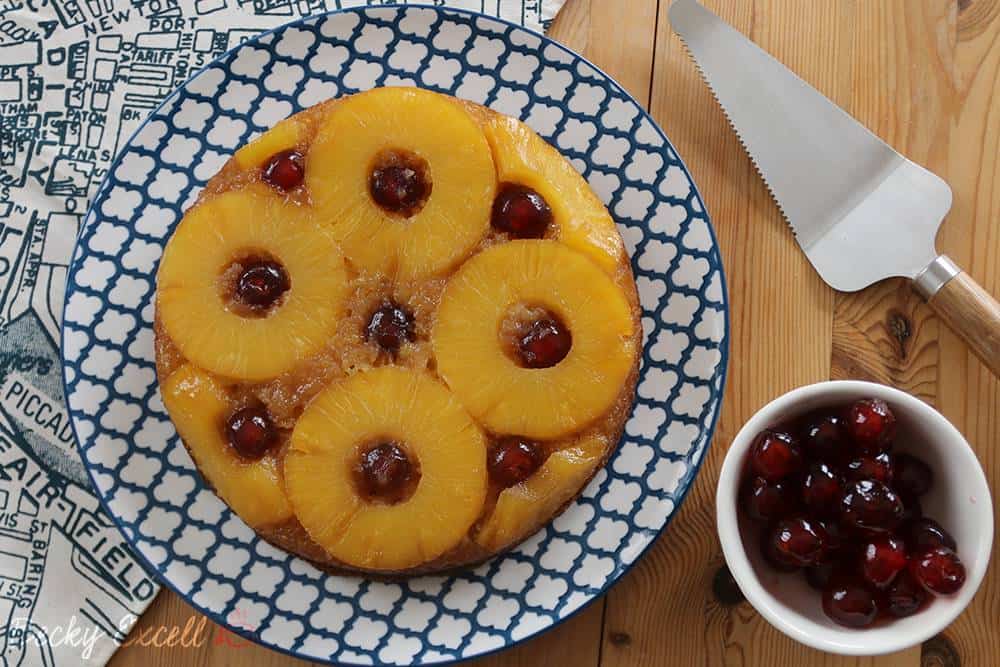 You now know how much I love that raspberry and almond Bakewell flavour, so naturally, I had to create a loaf cake too.
It's packed with fresh raspberries, super soft inside thanks to the ground almonds and it's finished with a sweet raspberry icing.
One slice is never enough, but fortunately, this cake can be cut into loads of slices!
Store it in an airtight container and enjoy.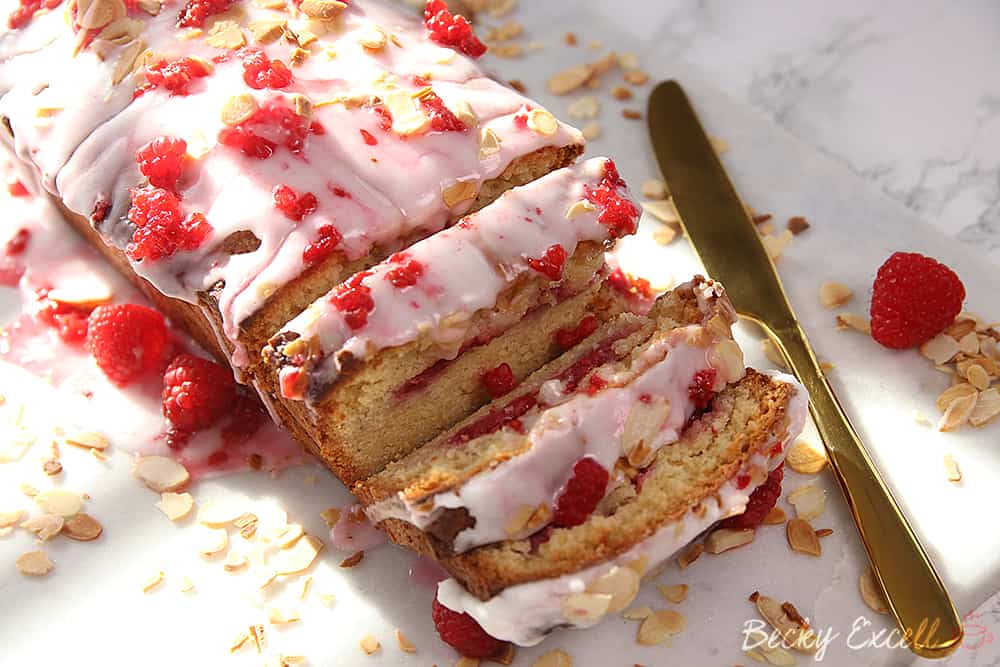 Ok, you've seen my super thick gluten-free brownies, so say hello to their quirky cousin – gluten-free biscuit jar brownies!
This really is a celebration of all those classic British biscuits that I grew up eating, which I suddenly couldn't eat when I had to stop eating gluten.
Fortunately, the free from aisle is full of gluten-free alternatives to those biscuits and you'd never notice the difference.
Once embedded in my thick, fudgy gluten-free brownies, you'll never have a full biscuit jar again!
As you all know already, I'm a massive coffee and walnut cake fan… despite not being a coffee drinker whatsoever!
It has that deep intensity of coffee flavour, but without the bitterness. Instead, it's replaced with a lovely caramel-like sweetness and a crunchy, nutty finish.
Plus, there's something so satisfying about sitting down and enjoying a little cube of joy!
Whip this up and realise that coffee actually tastes amazing.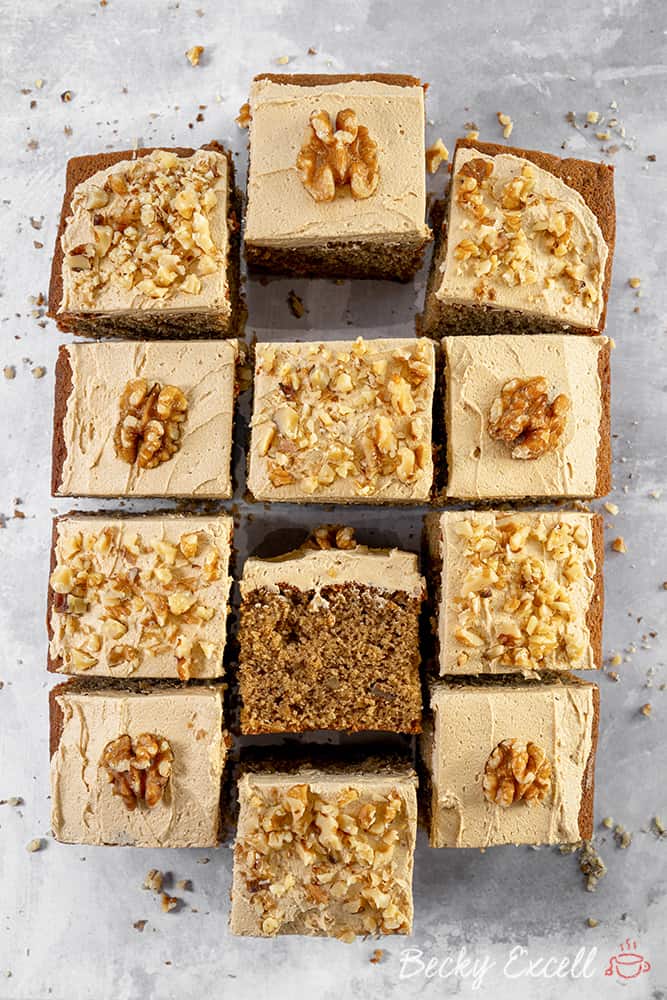 When I last went strawberry picking, there was only thing I was going to make when I got home… an Eton mess traybake cake!
During strawberry season, this cake will be made in my house as many times as possible before all the strawberries go back to looking better than they actually taste.
With a light sponge that's packed with fresh strawberries, topped with vanilla buttercream, crushed meringue and sliced strawbs… this is the ultimate taste of spring/summer.
Usually Wimbledon is on when I make this FYI!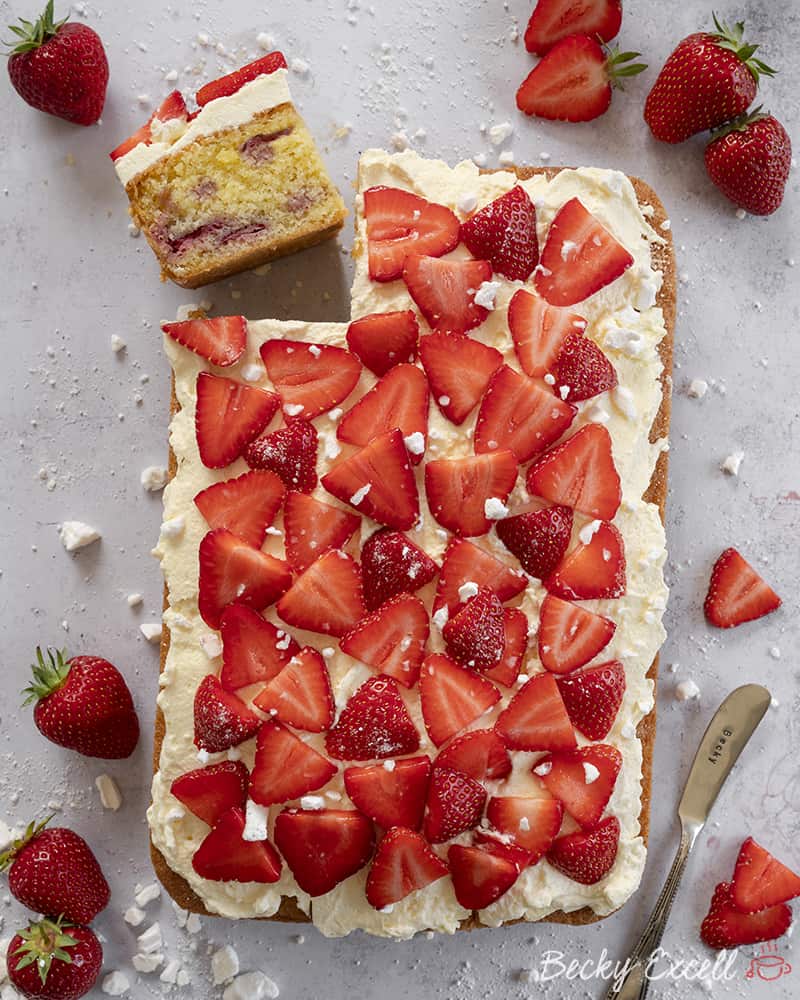 Did you know that you can make epic gluten-free banana bread using just 6 ingredients? Well, you do now!
Not only is it another one of my gluten-free cake recipes that you'd never know was gf, but it's so easy to make.
Every bite is brimming with tons of ripe banana flavour, it's incredibly moist and as an optional extra, I love to throw in some chocolate chips.
The combo of banana and chocolate is immense, but I'll leave that choice up to you!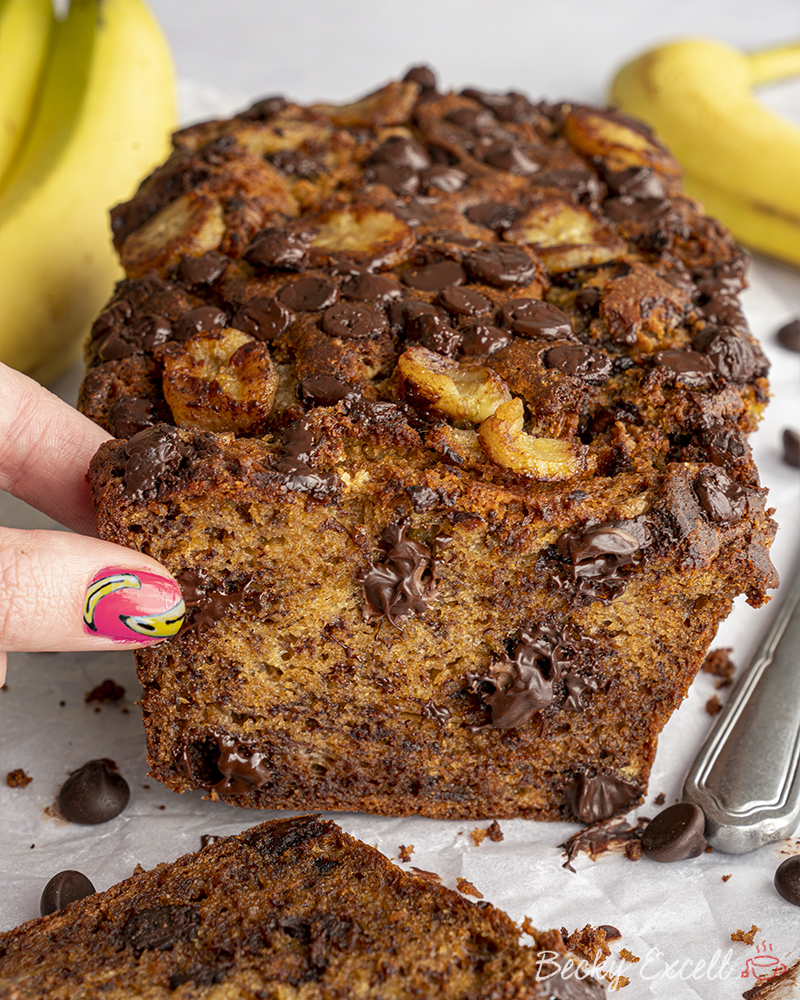 As I'm sure you can tell by now – I love taking a classic and making a traybake out of it!
So that's exactly what I did with my chocolate traybake. The chocolate cake is marvellously moist and fudgy, topped with creamy chocolate buttercream and sprinkles.
(Just make sure that your sprinkles are gluten-free)
Absolutely perfect for parties where you'll need lots of small slices!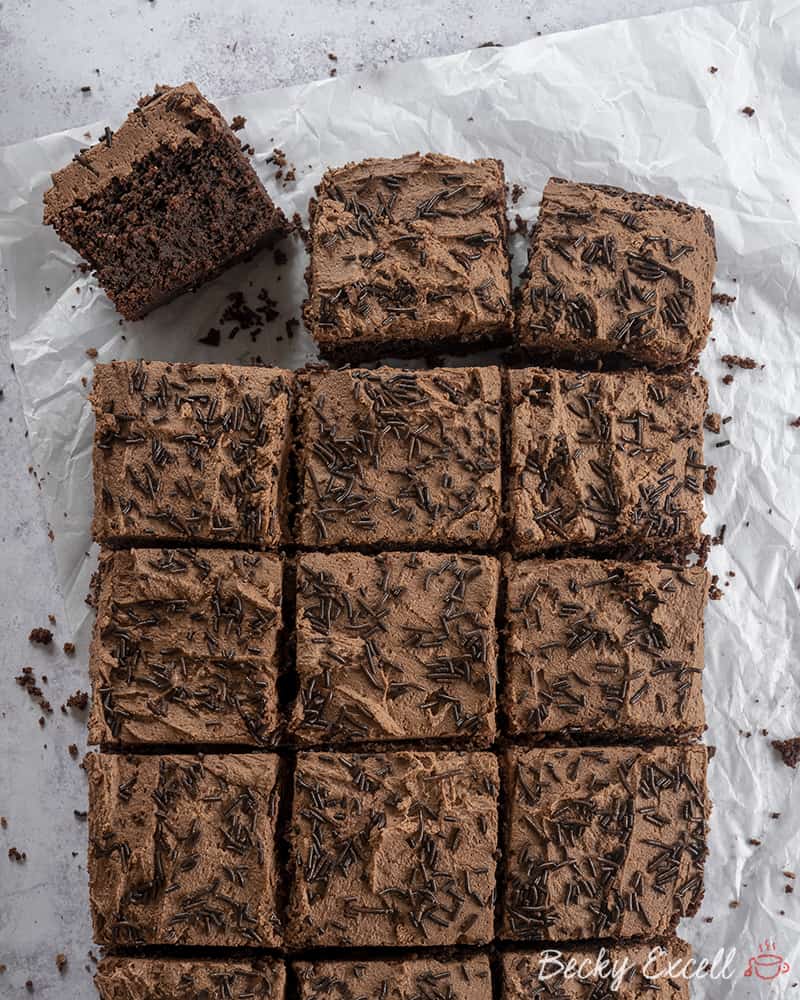 I always wanted to make a banana bread with added wow-factor – and here's the end result!
Yep, not only is there tons of banana in the cake which gives it tons of flavour and keeps it mega moist, but there's tons of banana on top too.
It tastes every bit as good as it looks!
This might be my most intense banana bread yet, so if you're bananas about banana, then this is definitely for you.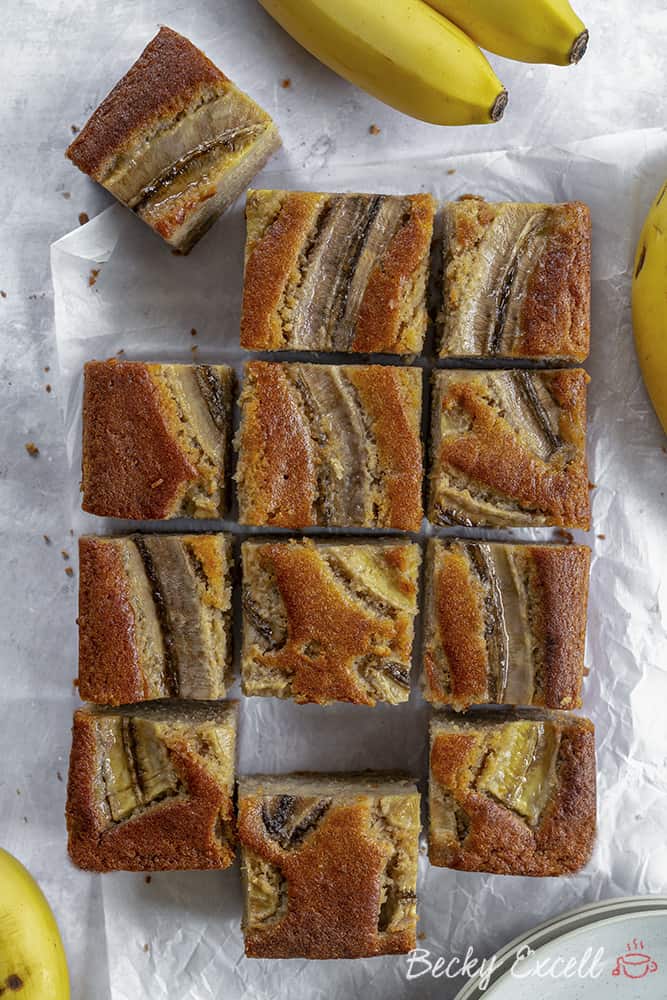 Just like with my marble cake, I was sick of getting food envy whenever I walked into coffee shops – especially when I kept seeing those huuuuge choc chip muffins every day.
So yep, I marched home and made my own – totally gluten-free and just as big as the ones I always see when I'm out and about.
You'll need a bigger than average muffin tin to make these of course, but you can always use the batter to make small, cupcake-sized muffins too.
The choice of size is yours, depending on what you have available!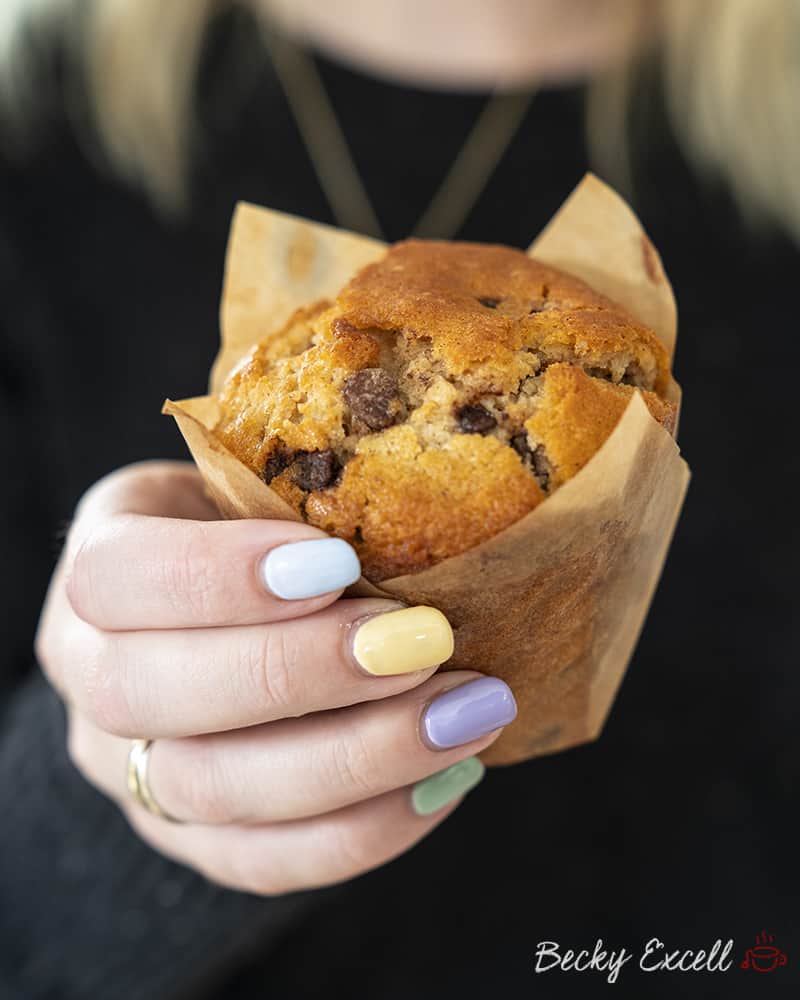 Who's missed eating these? Definitely me! These are not surprisingly based on the Mr. Kipling classic French Fancies… but of course, mine are 100% gluten-free.
They're not at all difficult to make, but they do take time and patience to get right. Because instead of finishing one big cake… you're finishing about 20 small ones!
But trust me, the effort is so incredibly worth it. I mean, c'mon – who wouldn't want one of these, gluten-free or not?
It's the perfect weekend baking project – especially if you have little helpers in the kitchen.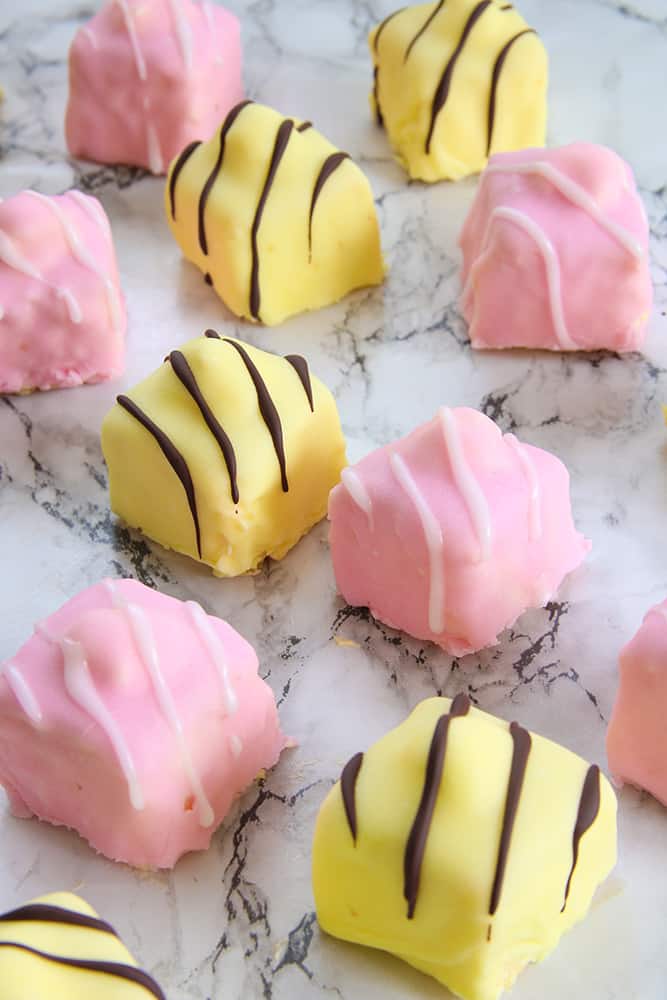 Yep, I'm back and still trying to restore everyone's faith in the humble gluten-free brownie.
This time, I've put a bit of a nutty twist on them, simply by swirling peanut butter into the batter before baking them.
It's an incredibly simple way to totally transform a brownie into an almost Snickers-like treat.
You just cannot beat chocolate and peanut butter as a flavour combo, so why try?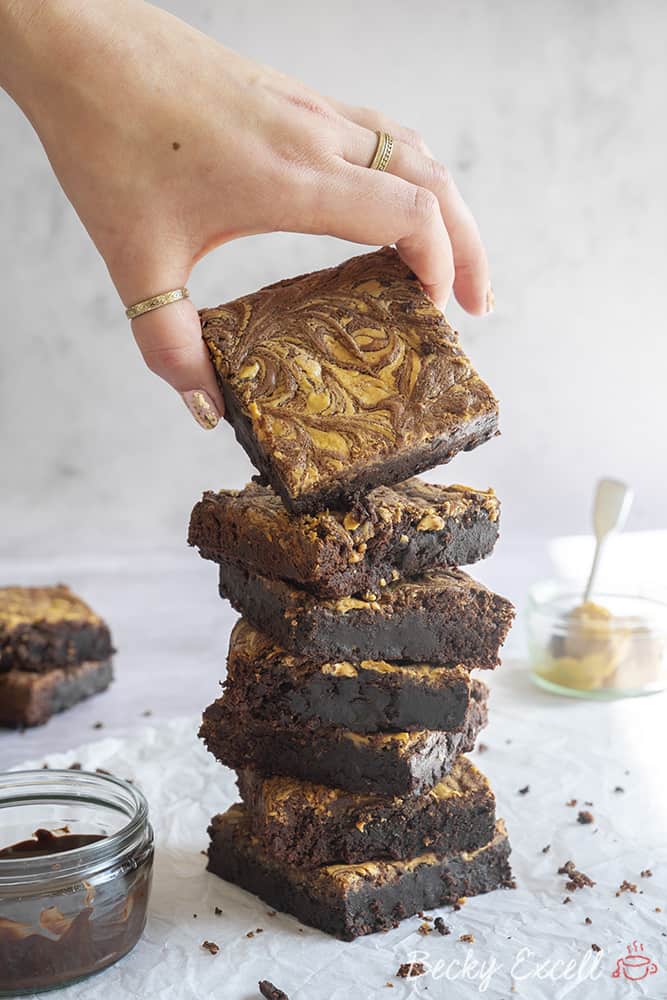 Just looking at the photo below makes me hungry! These are dainty little chocolate cupcakes, packed with white chocolate chips and a gooey, melting, dark chocolate ganache middle.
Then, they're topped with a fluffy, light, white chocolate buttercream which completes the trilogy of chocolate, all in a single cupcake.
These were inspired by my favourite gluten-free cookies and to get that flavour here – well, just works.
Make a batch and never look back!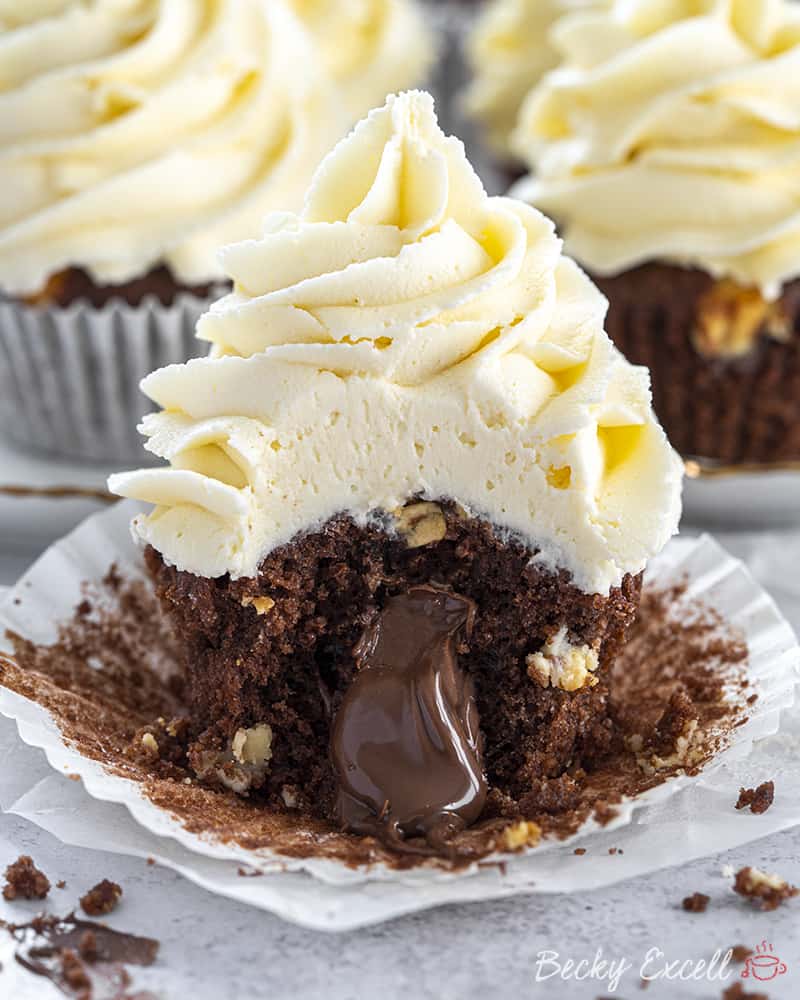 This is another one of YOUR favourites – maybe because it has so little washing up left afterwards? ?
Yep, you can make the cake using one mixing bowl, which means it's super easy and simple to make. But what's even better than minimal washing up is… eating it!
It's super moist thanks to using ground almonds as my secret ingredient and intensely chocolatey too.
And when you pour on that chocolate fudge sauce… well, you'll know exactly what I mean when you try it.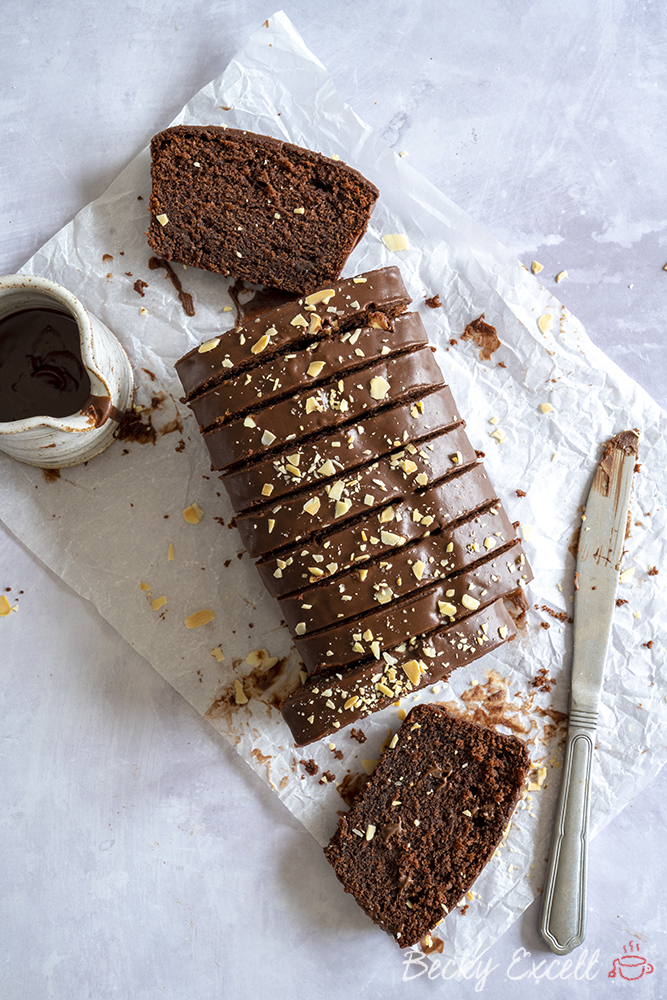 Thanks for reading all about my gluten-free cake recipes! If you make any, I'd love to see how they turned out so don't forget to take a snap of your creation and tag me on Instagram!
Any questions about the recipes? Please do let me know by following me on Instagram and leaving me a comment!
Thanks for reading,
Becky xxx
Oh and don't forget to pin this for later!