My gluten free chocolate cake recipe is for serious chocoholics only! It's so wickedly indulgent and intense, you won't believe that there isn't an ounce of dairy in it. Yup, it's dairy free and low FODMAP too.
The inspiration behind my gluten free chocolate cake recipe is simple: Bruce Bogtrotter's cake from Matilda. I loved the book, I loved the film and we even went to see the musical in London last year which was truly unforgettable.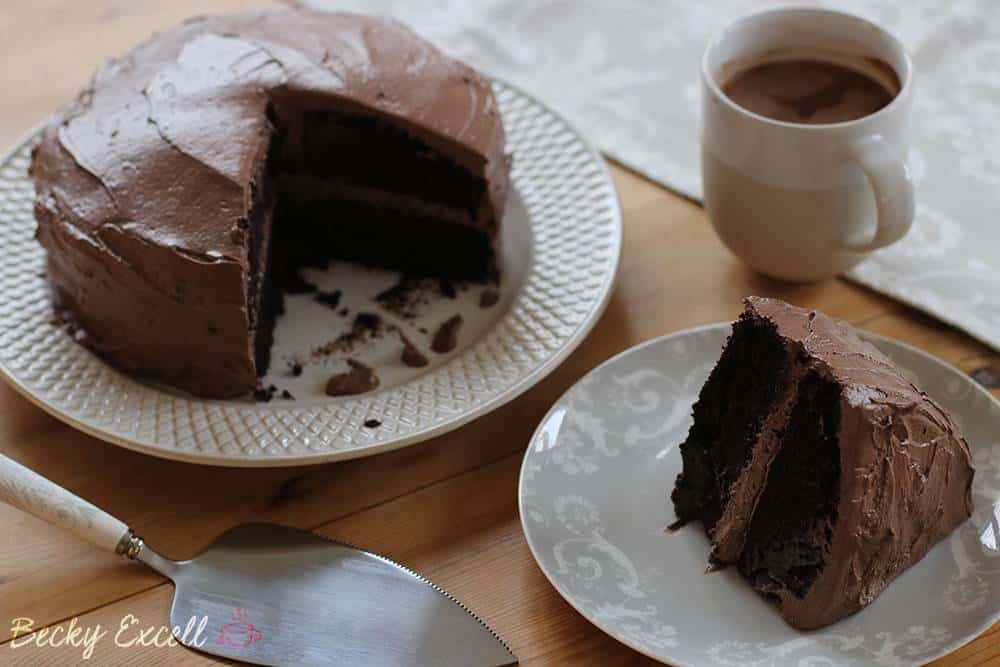 It had to be the kind of cake that I could imagine Bruce Bogtrotter digging into with his bare hands and then cramming into his mouth – I think I definitely achieved that! I'm not sure if Bruce had any allergies or intolerances, but if he did, this gluten free chocolate cake definitely wouldn't stop him getting stuck in!
In case you've never had the pleasure of watching Matilda, you can watch the chocolate cake scene here just so you know what I mean. Who wouldn't want a slice of that cake? Maybe not the whole thing, but definitely a good slice. Mine definitely isn't that big though, so don't worry!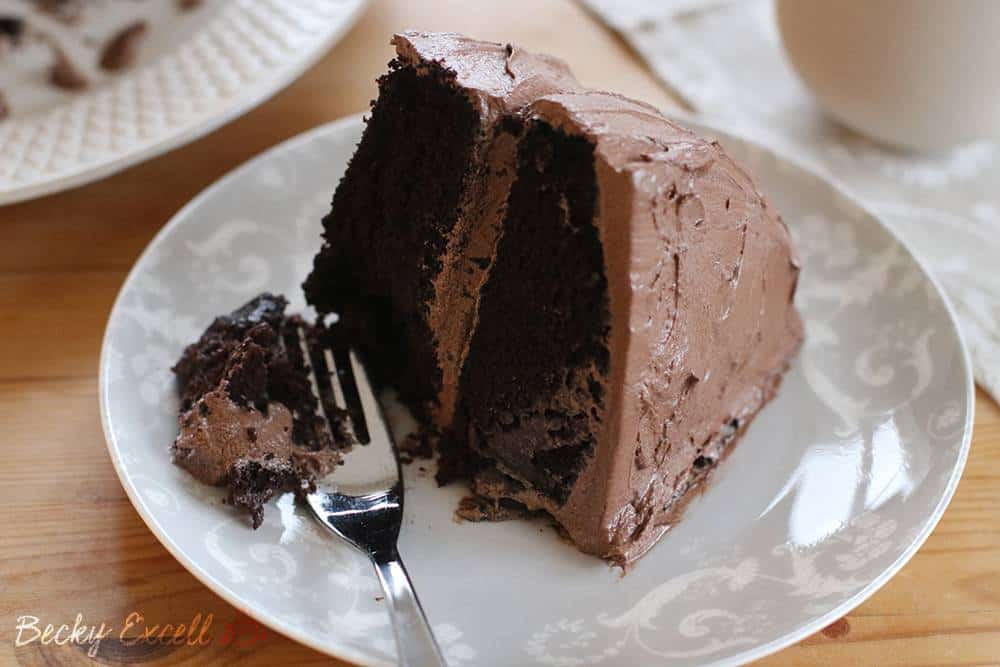 My gluten free chocolate cake is exceptionally moist beyond belief and honestly, it stays that way for several days. It's fudgy, rich and the icing is… well… the icing on the cake! If you have a devilish side when it comes to chocolate then this is definitely the cake for you.
Because it's so moist, the texture is different to your standard sponge, but this doesn't mean it's any harder to bake. It's just a case of combining all the dry ingredients and the wet ingredients separately, before bringing them together and adding a little hot coffee. Gluten free chocolate cake this good has never been so easy-peasy.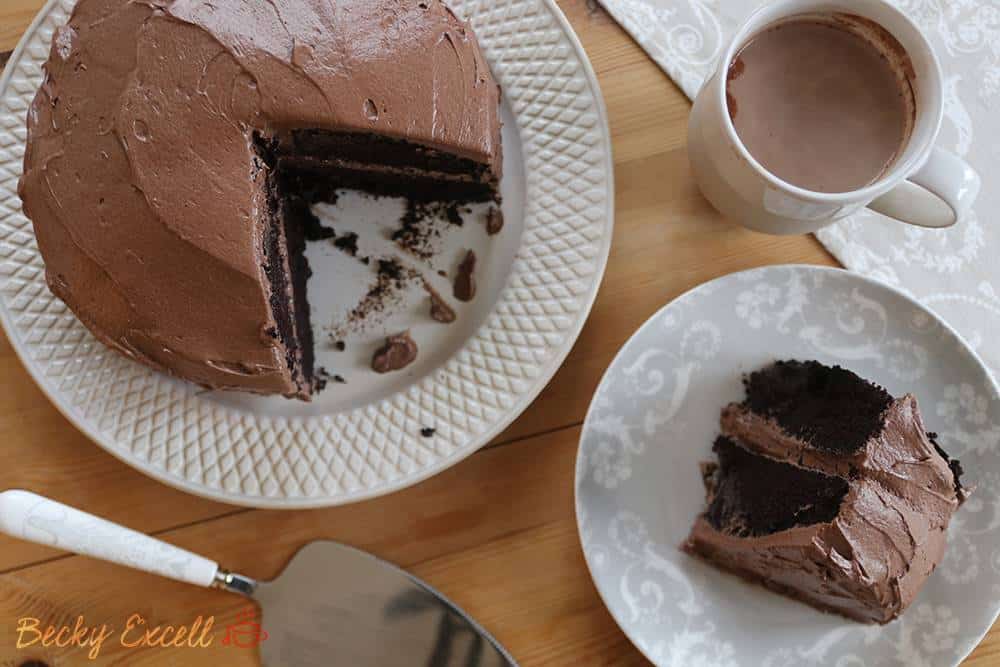 For those of you who are wondering, the hot coffee is just to enhance the intensely chocolatey flavour. Trust me on this one, it certainly doesn't taste of coffee in the slightest so I wouldn't worry about it if you're adverse to the taste of coffee at all.
Buttermilk is extremely important in making a cake this moist and rich, but making it dairy free is a breeze You can either add a little lemon juice or white wine vinegar to dairy free milk and hey presto – dairy free 'buttermilk'.
So anyway, here's the recipe for my gluten free chocolate cake, I hope it brings out your inner Bruce!
My Wickedly Chocolatey Gluten Free Chocolate Cake
Ingredients
For the gluten free chocolate cake
220g gluten free plain flour

350g caster sugar

65g cocoa powder

ensure it is dairy free

1 tsp baking powder

2 tsps bicarbonate of soda

240ml dairy free buttermilk

mine is homemade

120ml vegetable oil

2 large eggs

at room temp

1 tsp vanilla extract

240ml freshly made coffee

i just made a mug of instant decaf coffee & it must be very hot (you DON'T have to use coffee though you could use 240ml of HOT water instead)
For the dairy free chocolate icing
290g dairy free spread

room temp

500g icing sugar

65g cocoa powder

ensure it is dairy free

2 tbsp dairy free milk OR cream

1 tsp vanilla extract
Instructions
Prepare your tins. Grease and line 2 round cake tins with parchment paper.

Preheat the oven to about 180C.

Make your own dairy free buttermilk. Add 1 tbsp of white wine vinegar or lemon juice to 240ml of dairy free milk. Stir thoroughly and then allow to sit for 5 minutes. The 'buttermilk' will then be ready to use.

Sift all your dry ingredients into a bowl (flour, cocoa powder, baking powder, bicarbonate of soda and sugar).

In a separate large bowl mix together the vegetable oil, 'buttermilk', eggs and vanilla extract until thoroughly combined. (I used an electric hand mixer)

Gradually add your dry ingredients to your wet ingredients. You can do this by hand or with your mixer on very low.

Add your hot coffee or hot water and gently mix. (Don't worry at how thin the mixture is. It will cook in the oven to make a super moist cake!)

Carefully pour (or ladle!) your cake mix into your tins and place in the oven for around 25 minutes, although depending on your oven it could take up to 30. (Check with a skewer to make sure it is cooked through - it will be very soft whilst warm!)

Leave to completely cool.

For the icing. Beat your dairy free spread until creamy, I did this for around 2 minutes.

Slowly add in your icing sugar and cocoa powder. Mix by hand or with an electric mixer until well combined.

Add your vanilla extract and dairy free milk. Mix them in.

At this stage your icing should be done and taste great. However, again if you prefer a thicker icing then the best idea is to add more icing sugar. (I don't think its necessary but just incase!)

Place one of the cake tiers on a serving place and spread the icing on top. Then place the other cake tier on top like a sandwich.

Spread the icing on the top and round the sides of the cake using a spatula.

It's ready to serve up! (You can allow it to set for a short while. You could even put it very briefly in the fridge to chill - but again probably not necessary) Enjoy!
So that's that for my gluten free chocolate cake recipe! This is Mark's favourite chocolate cake by a mile. Finding a chocolate cake that fulfills the expectations of any chocoholic's wildest dreams is next to impossible when you're dairy free or low FODMAP. But I promise you, this gluten free chocolate cake will not let you down! You can do it Bruce!
Let me know if you get the chance to give it a try by leaving a comment below or on Facebook / Twitter / Instagram.
Thanks for reading and happy baking,
Becky xxx
Oh and don't forget to pin this before you leave!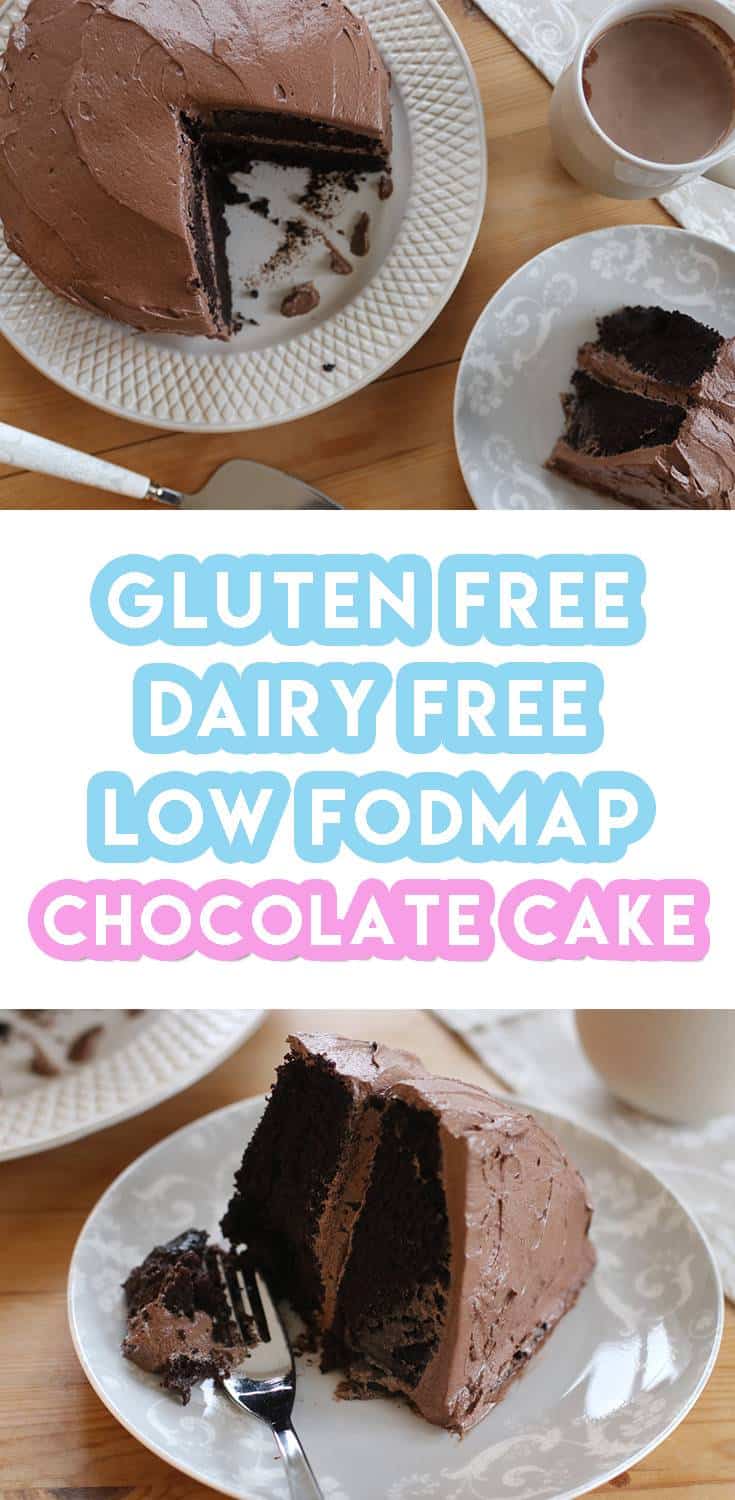 Comments