Move over Mr Kipling, I'll take it from here. Gluten free French Fancies are waaaaaay overdue, so I decided to make my own recipe. Plus, mine are dairy free and low FODMAP too. Beat that!
I first had the idea of baking gluten free French Fancies about three years ago. But I haven't had the confidence to actually try it until now… and I'm so glad I did!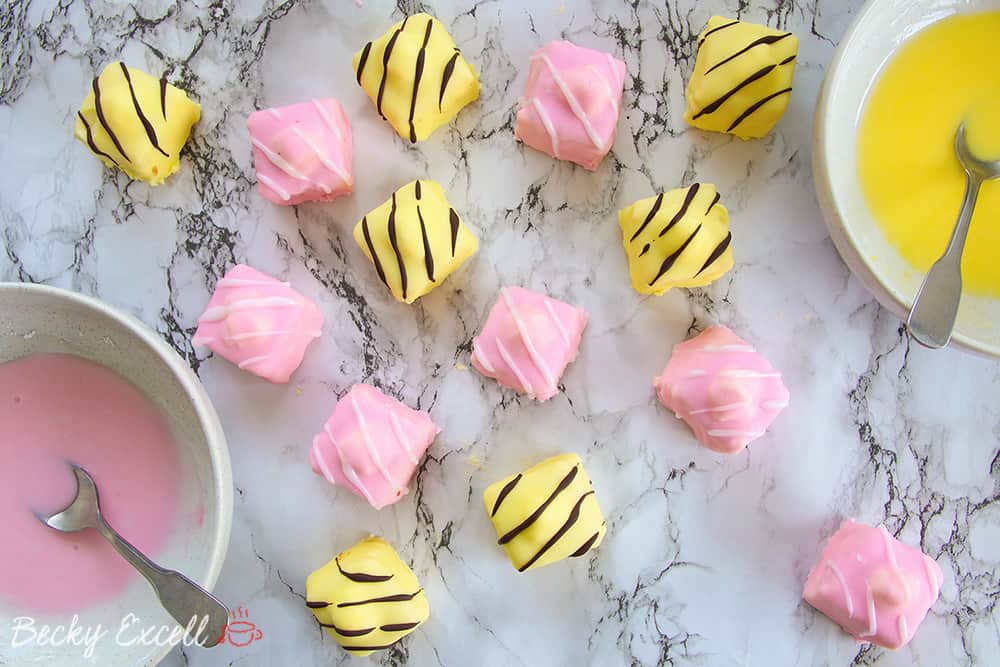 Now, I don't know whether we're supposed to be calling these French Fancies or Fondant Fancies… but in my opinion – it doesn't matter, as long as you can actually eat them!
(after all, nobody can understand what you're saying with your mouth full anyway)
But I have to say, there was definitely no need for the 3 year delay – apart from a bit of patience, it was actually quite relaxing making my gluten free French Fancies… fancy!
How do you think they turned out?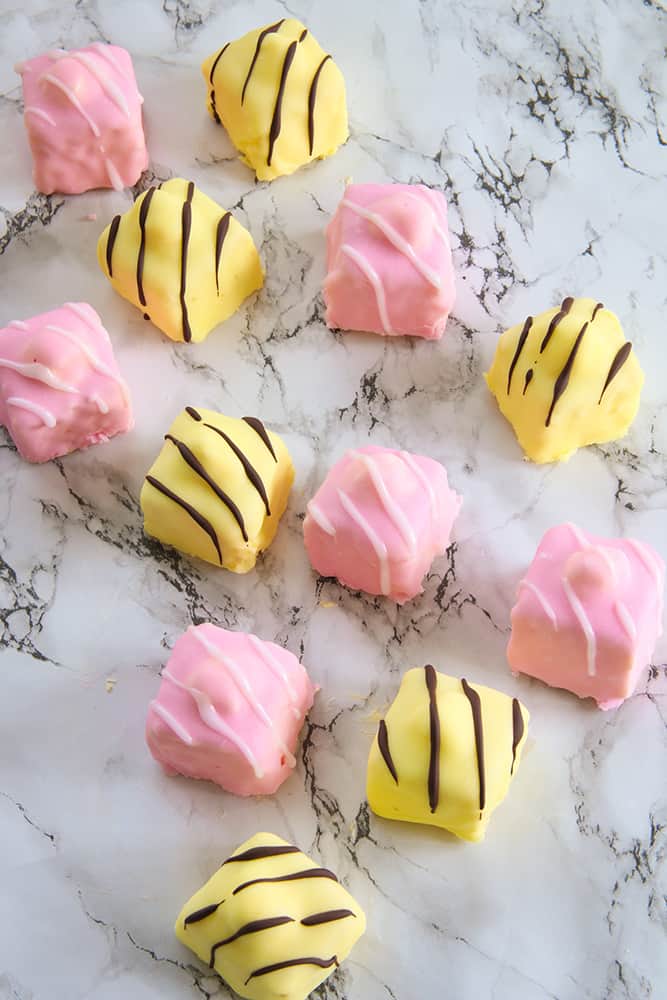 Now. for those of you who haven't had a French Fancy in so long that you might have totally forgotten what they taste like…
Imagine a lovely, light soft sponge topped with a little dollop of fondant icing, coated in a devilishly sweet icing – either lemon, chocolate or vanilla.
Are you hungry yet? I'd hope so! I hadn't had one of these in over 10 years and the wait was so worth it. That's what keeps me motivated with my food blog – reuniting you guys (and me!) with food that we all really miss.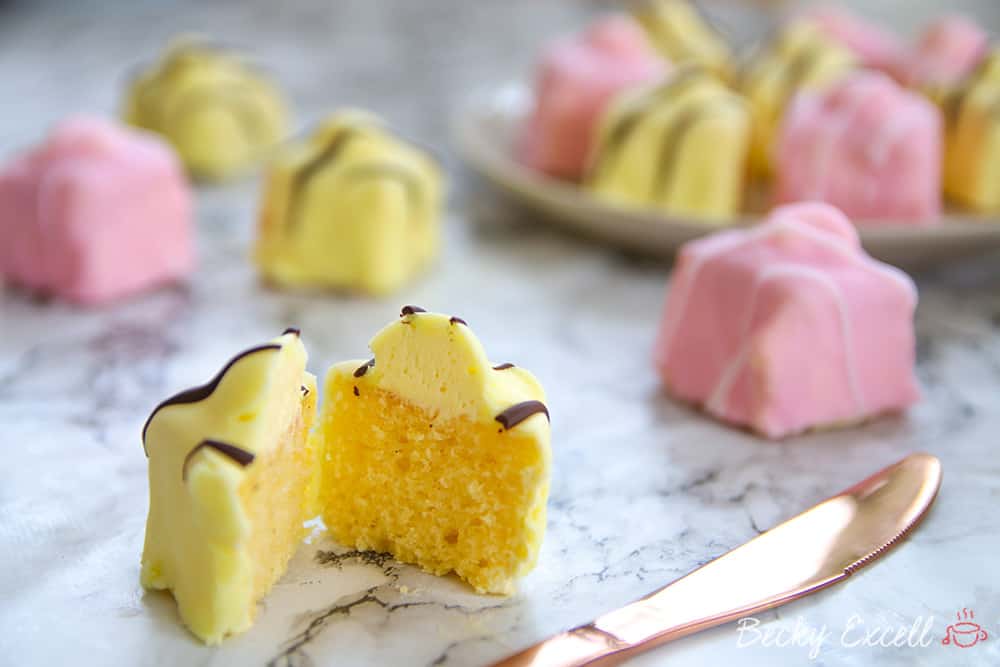 My gluten free French Fancies definitely aren't difficult to make, but you need a little patience as there's a few stages where you'll need to wait for icing to set.
Obviously you'll have to wait for your sponge to bake! (but you'll be making your buttercream in this time)
Then you'll have to wait for it to cool so you can add your buttercream – then put them in the fridge to set a bit.
After you apply your coloured icing, you'll need to leave them out for a few hours to set.
Finally, you can drizzle your contrasting icing on top, wait for that to set and you're done.
Phew! Nothing too difficult and I can definitely assure you – they're well worth the wait!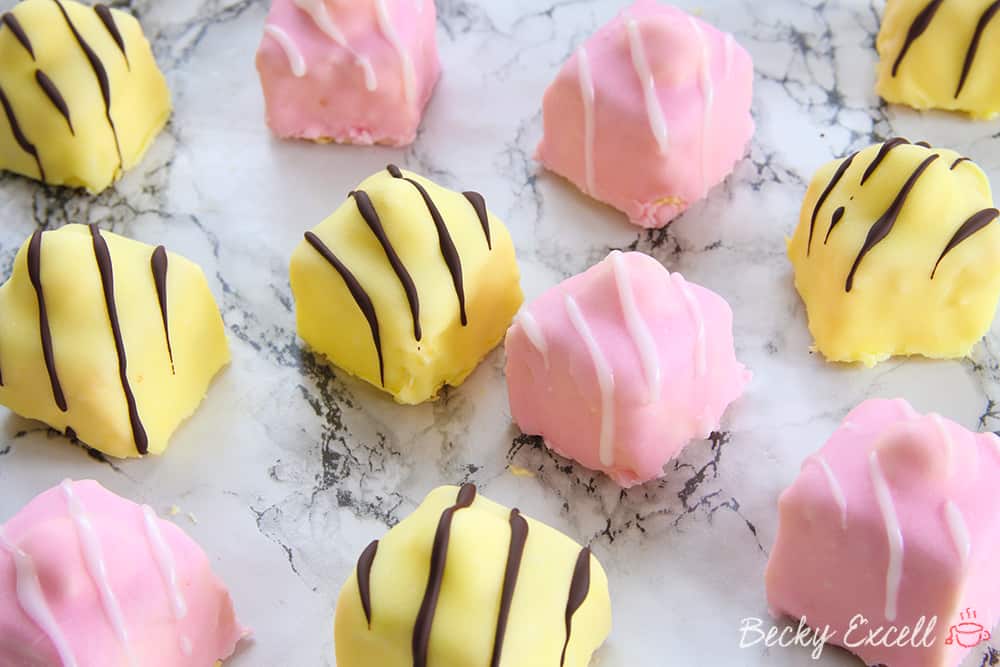 I always say this as I feel it's totally necessary – I am really not that great at icing! But hold up, I think these actually turned out really well…
So, you know what that must mean? My gluten free French Fancies can't be that difficult to decorate. If I can do it, you can definitely do it!
I used a piping bag to pipe the contrasting lines on top, but I think I could have probably managed using a spoon to drizzle it. Plus, when you guys don't have the pressure of taking photos of them, I think a spoon would definitely suffice!
The coloured icing was just an enormous blob on top of the sponge which I allowed to run down the sides and used the back of a knife to cover.
And that's really it! You could pipe the blob of icing on top with a piping bag too, but I just used a spoon and my fingers. I think they look great!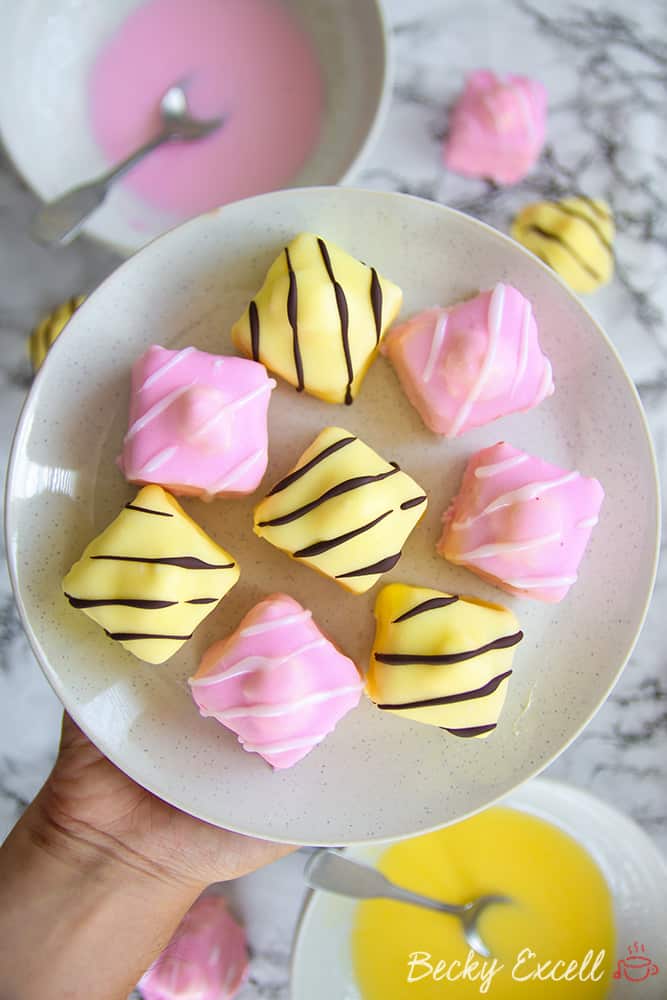 So strap yourselves in for the ride as my gluten free French Fancies (or are we saying fondant fancies?!) recipe is so much fun and the end result will have everyone impressed.
I mean, at the end of the day, nobody ever actually makes these because they're so easy to buy. But not for us free from folk! So here's my gluten free, dairy free and low FODMAP version…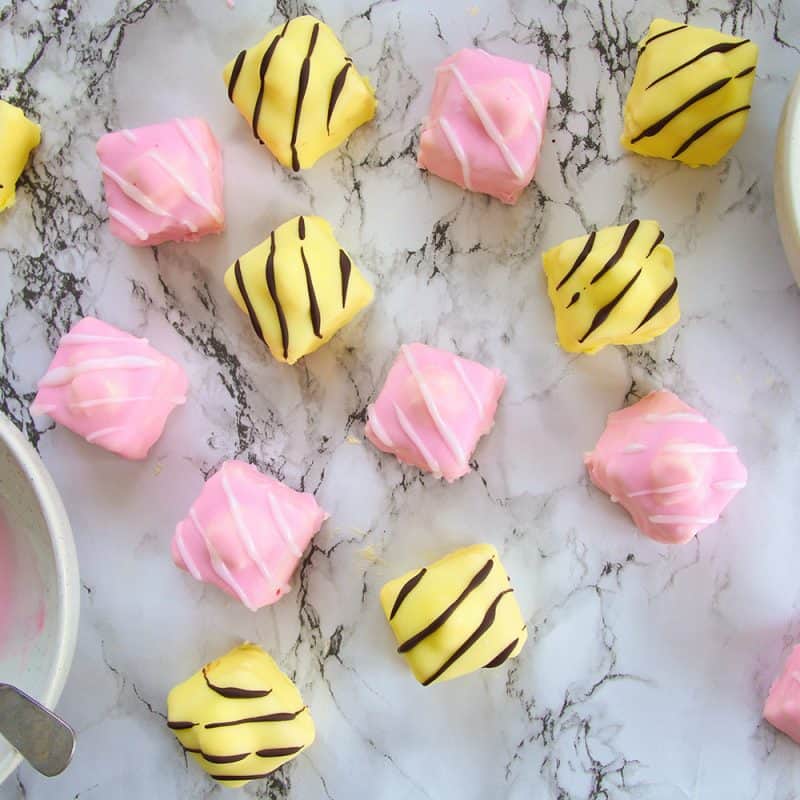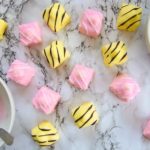 My Gluten Free French Fancies Recipe (dairy free, low FODMAP)
Say hello to my gluten free French fancies recipe (or Fondant Fancies if you fancy!) They're dairy free and low FODMAP too.
Ingredients
For the sponge
225g caster sugar

225g dairy free spread / margarine

or butter if you can tolerate dairy

4 large eggs

225g gluten free self raising flour

1/4 tsp xanthan gum

1/2 tsp vanilla extract
For the buttercream
250g dairy free spread / margarine

or butter if you can tolerate dairy

200g icing sugar

1/2 tsp vanilla extract

optional
For the fondant icing
1kg fondant icing

I use a ready to roll block

150ml water

pink and yellow food colouring

I use paste

flavouring

vanilla essence, lemon extract, rose flavour (optional and only a drop or so)
For the drizzle on top
100g dark chocolate

melted

100g icing sugar
Instructions
Preheat your oven to 160C. Grease a square baking tin (I used a 23cm loose bottom tin, but a slightly smaller or bigger one would be fine too).

Place all your sponge ingredients into a bowl and whisk together using an electric hand whisk or a mixer. Mix until smooth and well combined.

Pour your mixture into your prepared tin. Place in the oven for about 40 minutes until cooked and golden.

Allow to cool in the baking tin for 5-10 minutes before placing it on a cooling rack to cool completely.

I then place my cake in the fridge to chill whilst I make my buttercream. (Actually I lie, I put it in the freezer for a few minutes often as I forget... just don't let it actually freeze!) This helps it become stronger to work with later.

For the buttercream, mix together your icing sugar and dairy free spread / margarine in a bowl until lighter in colour. Add 1/2 tsp of vanilla essence.

Place a quarter of your buttercream in a bowl and place in the fridge to chill - this will be for the blob on top of each fancy.

Once your cake is chilled and you are ready to use your buttercream, cut your cake into squares. My squares were 3.5cm x 3.5cm (I chose this size as it was also the height of my cake which made even cubes).

Next using a knife, generously, but smoothly, spread your non-chilled buttercream around all 4 sides of each cake (not the top or bottom). We're not aiming for neat and tidy at this point!

Spoon a small blob of the chilled buttercream on the top of each cake. The smoother you make your blob, the better your fancies will look - try and make all the blobs around the same size too. When you're done, place back in the fridge for about 30 minutes. I'd recommend keeping them on the cooling wrack whilst in the fridge.

Whilst the cakes are chilling, make your fondant icing. Cut your block of fondant into smaller chunks and pop into a free standing mixer (like a KitchenAid). Churn the icing until it starts to break down - you can add a little water to help the process here.

When the icing starts to slightly change and break down, gradually add your 150ml of water and the icing should become smooth and more pourable. We're aiming for a PVA glue like consistency.

Separate out your icing into two different bowls and then add a little yellow food colouring to one and a little pink food colouring to another. To your yellow icing, add 1/2 tsp of lemon extract. To your pink icing, add 1/2 tsp of vanilla essence or rose flavour.

Take your buttercream covered sponges out of the fridge. Using the back of a knife or a palette knife, scrape the buttercream on each side of the sponge so that's it's lovely and smooth. You should leave a nice, smooth but razor thin layer of buttercream on every side. The smoother, the better! Try not to damage the blob on top at this point.

First, we'll make your pink French Fancies. Take a few teaspoons of the pink fondant icing and tip it all right on top of the blob of buttercream. It should just slowly dribble down all sides of the cake, with any excess going through the cooling rack and onto parchment paper. Keep adding new teaspoons of the icing until it's all nice and covered. Repeat with your yellow fancies too.

Leave them to set for a minimum of 5-6 hours, but the longer the better. The icing needs to be nice and set - not being dented when touched.

When your icing it set, melt your dark chocolate in a microwave in a bowl.

Drizzle your melted dark chocolate over the top of your yellow fondant fancies. I used a piping bag for this, but you can always let it drip from the back of a teaspoon too.

Then, take 100g of icing sugar and add a few tablespoons of water until nice and PVA glue-like again.

Do the same for your pink fancies with the icing you just mixed up and drizzle like crazy.

Allow everything to set and you're done!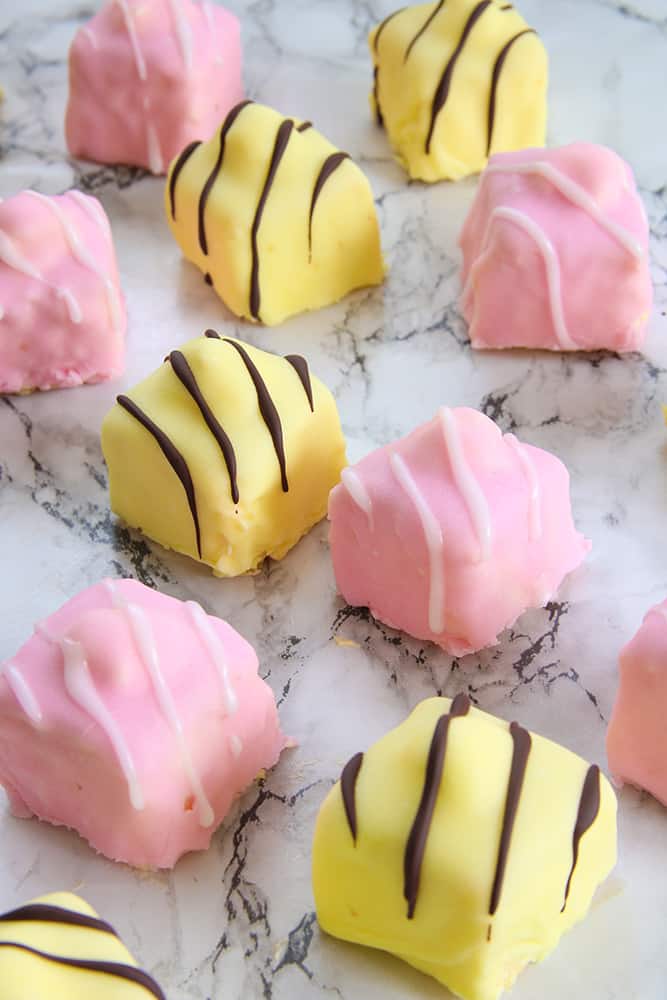 Thanks for reading how to make my gluten free French Fancies recipe! If you make them, I'd love to see how they turn out. So absolutely make sure that you send me a pic using my social media links below…
Any questions about the recipe? Please do let me know by leaving a comment below or on Facebook / Twitter / Instagram!
Thanks for reading,
Becky xxx
Oh and don't forget to pin this for later!