My gluten free banana bread traybake recipe is my secret weapon in creating lovely gooey and super moist banana bread everytime ? It's even dairy free too!
Usually I love making banana bread in a loaf tin, but if I'm honest, my gluten free banana bread traybake recipe is even better if you're bananas about bananas. So here is it is!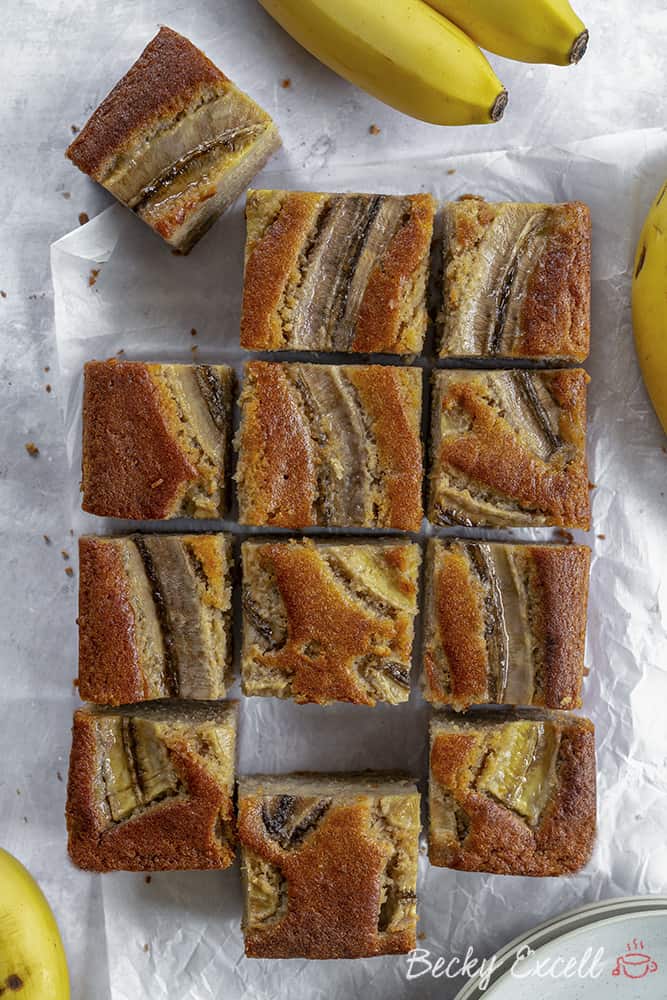 Why a traybake I hear you ask?
(yep, I'm still reading your mind/putting words in your mouth – whichever way you prefer to look at it!)
Well firstly, you have sooo much more surface area on top to play with. Why is that a good thing?! Well, you can pack the top with tons of sliced banana like I did.
This helps to not only keep the cake nice and moist but it just looks pretty gosh darn cool too, right? Trust me, people are always impressed when you whip this bad boy out, even though it's so easy to make!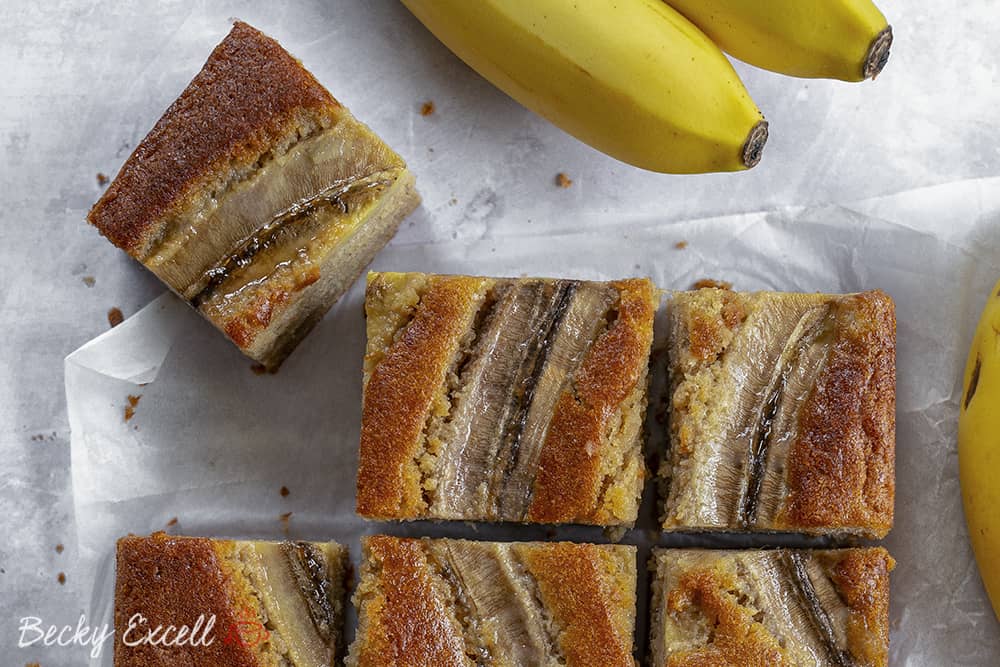 Secondly, a traybake is awesome because you're tucking into little cubes of banana bread instead of slices of a loaf.
What you get is something different entirely – a lovely chunky cube of banana heaven that's so much more moist and gooey – it's a little like a cross between banana bread and banana pudding.
So yeah, in case you're wondering why you should use your ripe bananas for a banana bread traybake instead of a loaf, now you know!
But I will leave my 6-ingredient gluten free banana bread recipe here for you so you can make your own mind up.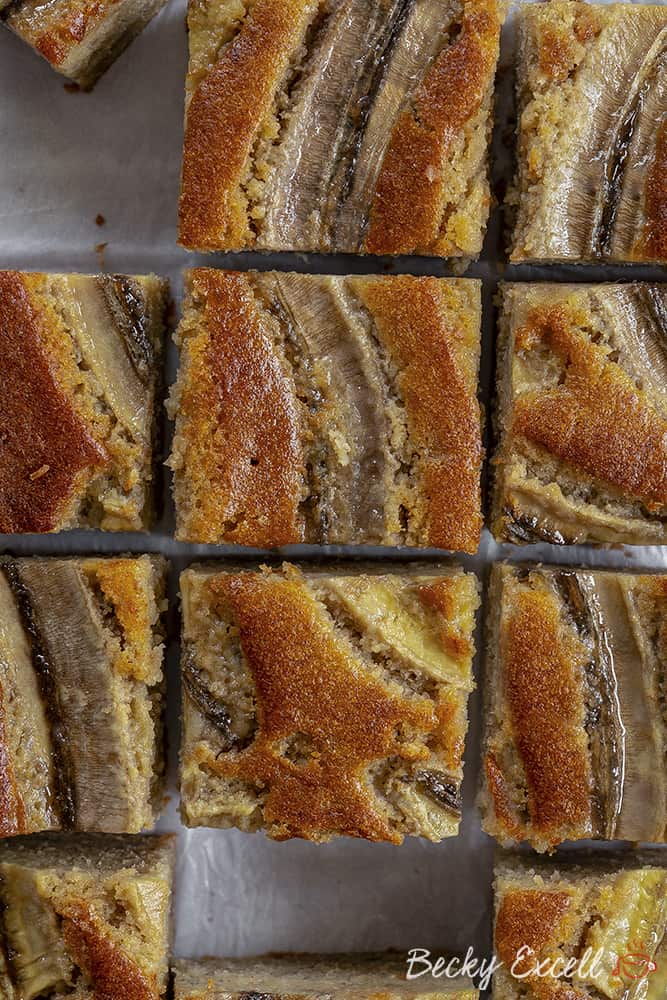 And my gluten free banana bread traybake recipe is actually super versatile as well because you can either put the bananas on top OR you can cook them without.
If you cook them without the sliced banana on top, the cake turns out less gooey if you're prefer it to be – more like a banana sponge cake.
So you've got two options there – I tend to prefer mine a little gooey, so the ripe bananas on top work really well for me.
Why not try both ways and see what you prefer?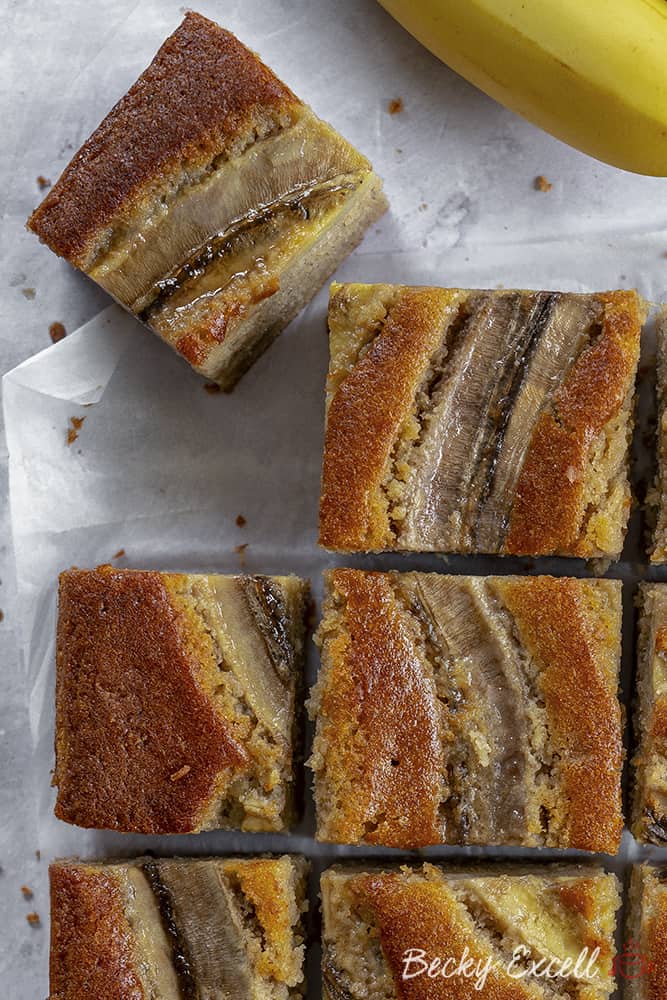 Oh and make sure your bananas are nice and ripe for this as you will defo get different results otherwise!
Ok, so here's my gluten free banana bread traybake recipe!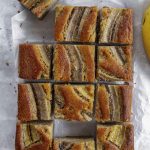 My Gluten Free Banana Bread Traybake Recipe (dairy free)
Here's my gluten free banana bread traybake recipe! It's gooey, super moist and you can even make it dairy free too if you fancy!
Ingredients
For the banana traybake
150

g

light brown sugar

150

g

caster sugar

170

g

butter (at room temp) or margarine

(dairy free if necessary)

3

large eggs

1

tsp

vanilla extract

450

g

ripe bananas

(measurement is without peel and for me it was about 3 big or 5 medium bananas)

270

ml

buttermilk

(shop bought or add 1 tbsp of lemon juice to any milk and allow to sit for 5-10 minutes)

370

g

gluten free plain flour

1/4

tsp

xanthan gum

1 1/2

tsp

cinnamon

1

tsp

baking powder

1

tsp

bicarbonate of soda
For the topping
1-2

extra bananas

(optional for the topping)

light brown sugar

(optional - to dip bananas for the topping in)
Instructions
Preheat your oven to 160C Fan and prepare your tin. My tin is about 8 inches x 12 inches, so the popular 9x13 tin would be fine I'm sure.

If you are making your own buttermilk - put a tbsp of lemon juice in a jug and then fill it up to 270ml with milk (any milk will work - if you can have dairy, whole milk works best but I've made it with almond milk and its perfect too). Put your buttermilk to one side until you need it.

In a large mixing bowl place your butter/hard margarine and cream it / beat it using a electric hand mixer. Do this for about 30 seconds until it's a little lighter in colour.

Add both your caster and light brown sugar and mix again until completely creamed and combined.

Add your eggs and vanilla extract and mix again. (I add my eggs one at a time and briefly mix between each.)

If you haven't already, mash your bananas. Your bananas should be ripe enough that you can easily mash them with a fork. Add them to your mixture and mix briefly until combined - don't worry about lumps!

Place all your dry ingredients (gluten free flour, xanthan gum, baking powder, bicarbonate of soda and cinnamon) in a bowl and mix together with a spoon.

Add about a quarter of your dry ingredients to your cake mix and mix in. Then follow that with a quarter of the buttermilk and mix it in. Continue to do this until all the dry ingredients and buttermilk are mixed in. The mixture should be relatively thin and there's quite a lot of it!

Spoon / pour your mixture into the prepared baking tin.

(Optional) If you want to place bananas on top of the cake, cut some bananas in half, sprinkle the tops of them with light brown sugar (helps with caramelisation) and place onto the cake - don't push them down.

Place in the oven for 50-55 minutes until golden and cooked through (check with a skewer).

Allow to cool in the tin and then carefully lift it out (I usually ask someone to help as I'm useless!!). Slice into squares and enjoy!
Recipe Notes
I find by adding the bananas on top it makes this recipe into a more banana bread texture - the weight of the bananas keeps it from rising as much as it does without.
I find by not adding the bananas on top it makes this recipe into more a banana cake. With a spongier texture.
I like both equally, but having the bananas on top is always so nice 🙂
You could add chocolate chips to the mixture to make it a banana and chocolate chip traybake.
Thanks for reading all about my gluten free banana bread traybake recipe! If you make it, I'd love to see how it turned out so don't forget to take a snap of your creations and tag me on Instagram!
Any questions about the recipe? Please do let me know by following me on Instagram and leaving me a comment on a recent photo!
Thanks for reading,
Becky xxx
Oh and don't forget to pin this for later!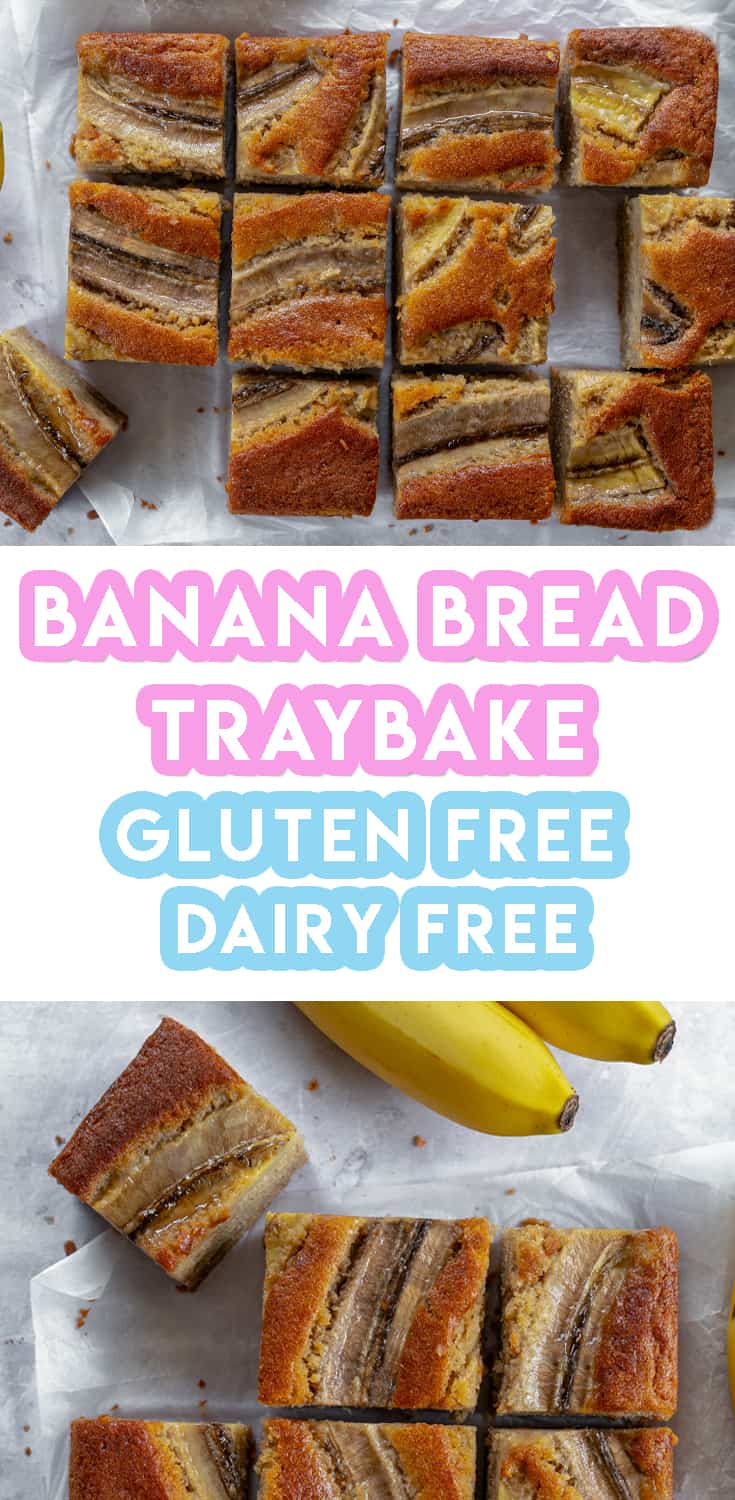 Comments