When life gives you lemons… make my gluten free lemon cupcake recipe! (trust me, you'll need a lot of lemons) They're low FODMAP and you can also make them dairy free too.
You guys went mad for these when I posted them on Instagram so I thought the least I could do is share the recipe with you guys! So let's talk about my gluten free lemon cupcake recipe…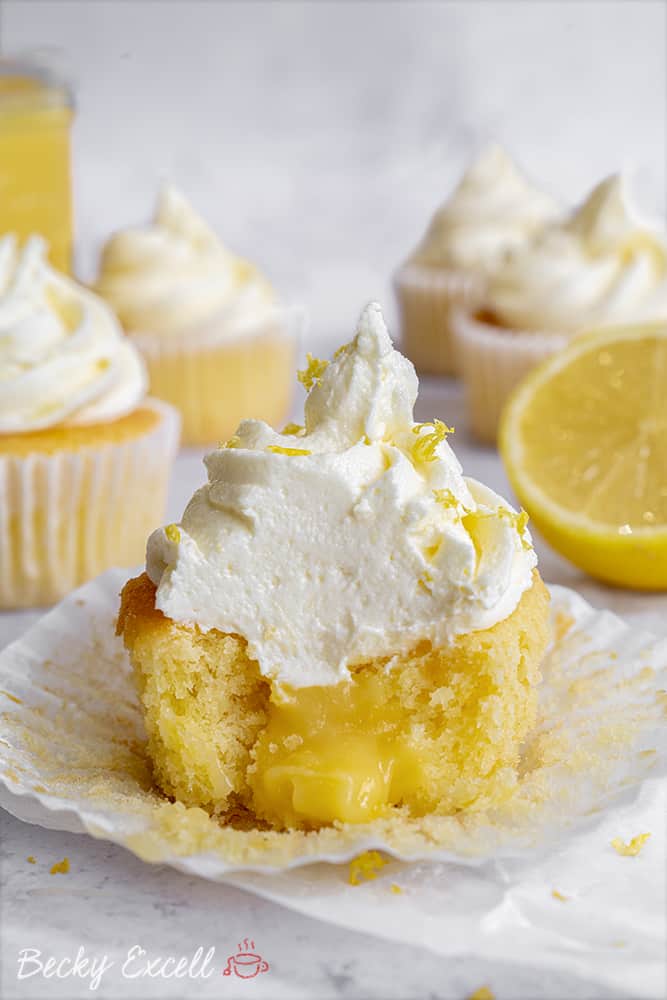 These aren't just any old lemon cupcakes, oh no!
The moist sponge of each cupcake is packed with lemon zest/juice AND there's homemade lemon curd of the middle of each one 😍
Plus, you've also got the loveliest, light and fluffy lemon buttercream on top, finished with a little lemon zest.
If you're a lemon addict like I am, you will absolutely love my gluten free lemon cupcake recipe!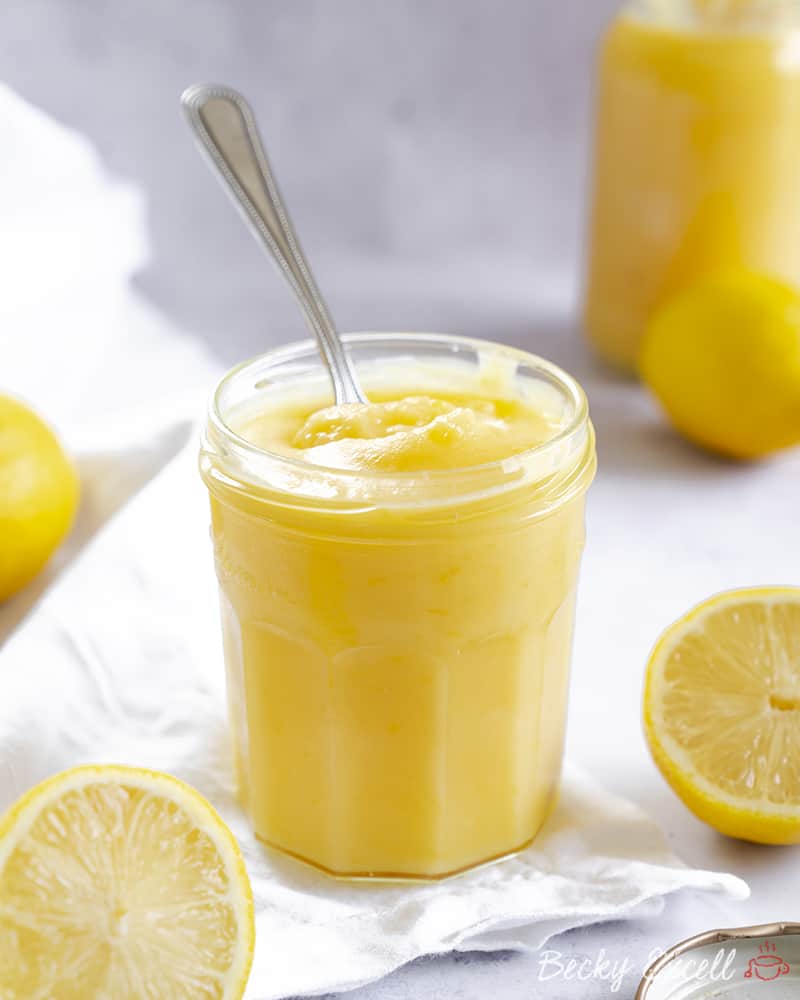 So yeah, there's three parts of this recipe – the sponge, the homemade lemon curd and the buttercream.
I always then find this recipe pretty simple to make because none of those parts alone are very difficult whatsoever!
The real challenge is to test your multitasking and seeing how many of those tasks you can do simultaneously 😂
(not surprisingly, I always make them completely separate!!)
The lemon curd especially, is something you can easily make ahead of time so that then, when you want to whip up my gluten free lemon cupcake recipe, all you've gotta do is make your sponge mixture and icing. Simple!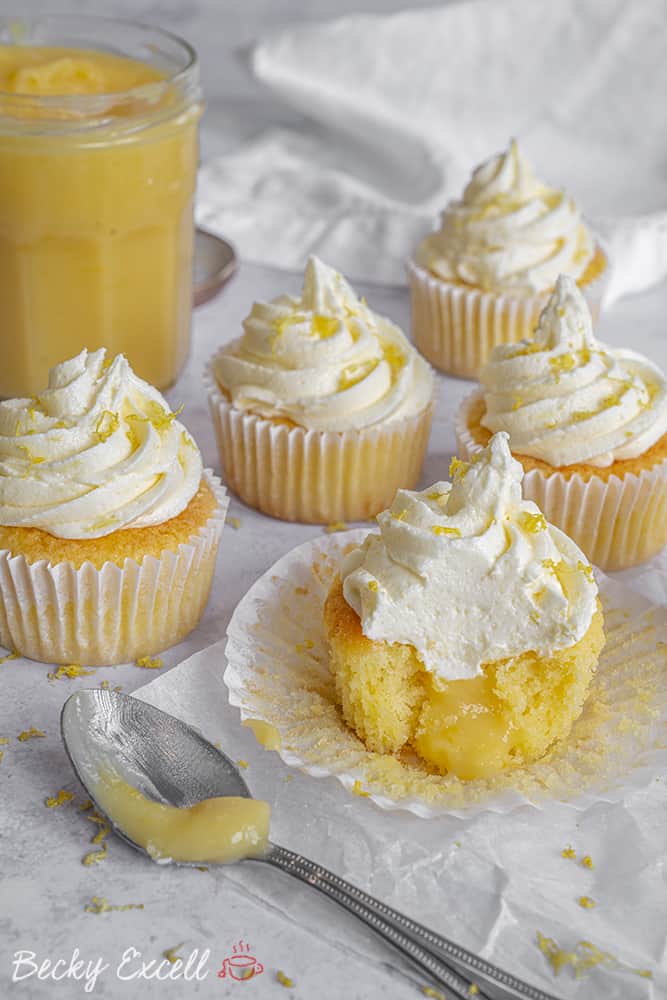 Of course, you can always cheat and buy lemon curd in the supermarket if you fancy… and I promise I won't judge you for doing so 🤫
But be warned, if you want the middles to ooze and drip a little like mine in the photo below and above, shop-bought lemon curd is a little more 'jelly-like' than homemade curd.
(can you tell I've tried to cheat using my own recipe before?!)
Oh and I've included how to make my lemon curd in the recipe below, but you can always head over here and read my separate lemon curd blog post if you find it easier to read.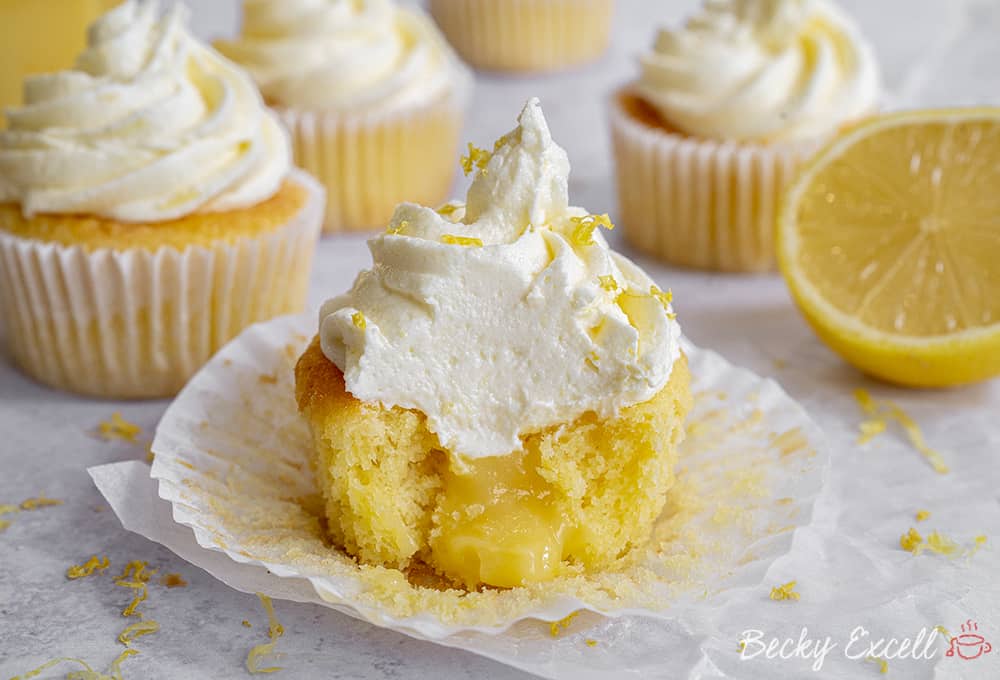 Also, how's your icing skills?! Because although they're pretty simple to make, cupcakes are one of those things that you absolutely cannot do without a piping bag and a nozzle.
(obviously it still tastes the same if you slap a massive dollop on top with a spoon though 😆)
But if you've never done it before… don't fret! You can easily pick up a piping bag set in the supermarket (I think they're down the baking aisle) and just do what I did… give it a go!
Trust me, although mine might look nice in the photos, I actually iced all 12 and just picked the best 6 for the photos 😂 Some looked absolutely awful! But it was fun either way!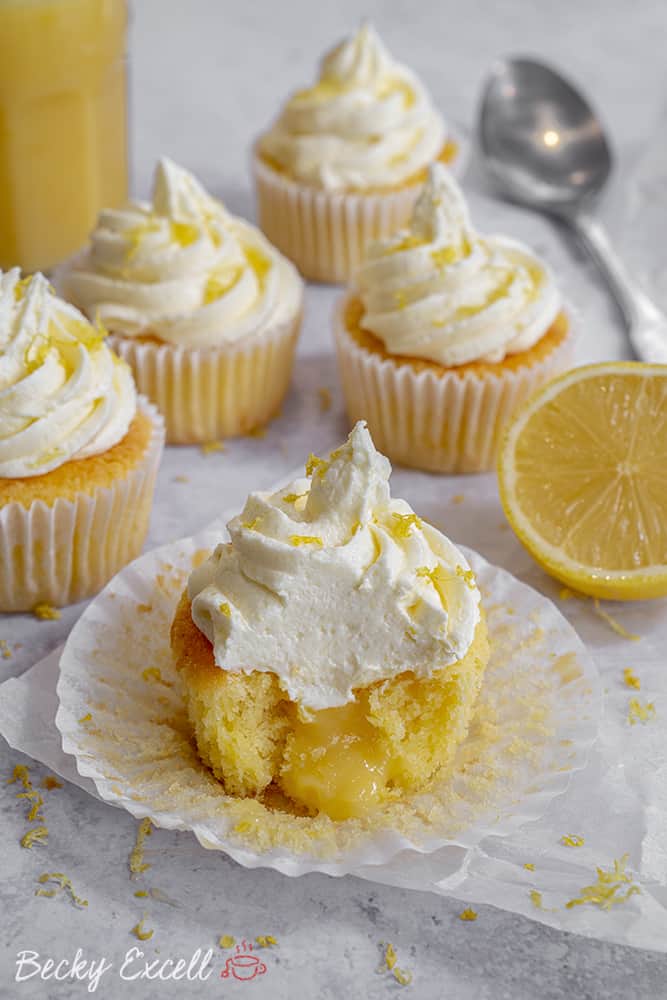 Ok, so here's my gluten free lemon cupcake recipe! 🍋👇🏻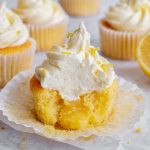 My Gluten Free Lemon Cupcake Recipe (dairy free option)
Looking for the ULTIMATE gluten free lemon cupcake recipe? Here's my easy to follow recipe that results in perfect little cupcakes!
Ingredients
For the cakes
175

g

gluten free self raising flour

1/4

tsp

bicarbonate of soda

1/4

tsp

xanthan gum

175

g

butter

(or dairy free alternative)

175

g

caster sugar

3

large eggs

2

lemons, zested

1

tbsp

lemon juice
For the lemon curd
2

lemons

(zest and juice of both)

2

large eggs

110

g

butter

(a dairy free hard margarine or block if necessary)

160

g

caster sugar
For the lemon buttercream
200

g

butter, room temperature - it should be soft but not too soft!

(or dairy free alternative - though for dairy free I always feel like you need a little more icing sugar as it holds slightly less well)

455

g

icing sugar, sieved

1

tbsp

lemon juice

2-4

lemon zest

(optional, but I love zest in my buttercream)
Instructions
For the lemon curd
Firstly (if making yourself) make your lemon curd (you might want to do this ahead of time so it has plenty of time to cool down). Add your eggs to a sauce pan and whisk (hand whisk not electric) to combine.

Add the rest of your ingredients and pop it on a medium heat. Whisk your mixture, allowing the butter to melt and then continue to mix for a further 10 minutes (approx) until the lemon curd starts to thicken slightly. (Don't let it boil)

Leave to cool completely before popping it into a glass jar to thicken further in the fridge. It's then ready to use for the cakes!
For the cupcakes
Preheat your oven to 180C (160C Fan) and place cupcake cases into your tin.

Add all your ingredients into a bowl and beat together with an electric hand whisk until smooth and mixed.

Spoon the mixture evenly between your cupcake cases, about 2/3rds full. Place in the oven for 20-25 minutes until a skewer comes out cleanly and they are golden on top.

Allow them to completely cool on a cooling rack.
For the buttercream
For the buttercream, ensure your butter is soft. I find it take a good hour out of the fridge, but never let it go too soft! Place your butter into a stand mixer and mix on a medium speed for about 5 minutes until the butter has gone a lot more pale in colour.

Add your icing sugar gradually. I add it in 2-3 stages and beat for about 3 minutes between each addition. Start your mixer slowly to save your kitchen from a real icing sugar mess, but then increase the speed to medium / high for each of your 3 minutes.

Add in your lemon zest and lemon juice (juice add half and then add the second half after its incorporated). Beat for a further 3 minutes and it should then be done. Ensure it's the right thickness, it should be if you've beaten it for long enough. However, if it's too thick you can add a tiny amount of milk or extra lemon juice. And if too thin, sieve in a little extra icing sugar - this might be the case for dairy free.
For the assembly of the cupcakes
Once the cupcakes and lemon curd are cool you need to make little holes in your cupcakes to fill with the lemon curd. I use one of my piping nozzles to gently push into the centre of the cupcake and remove a bit. You could use a knife and remove a little too. Just make sure you don't go too deep as you need some of the cake beneath to hold the filling!

Spoon some lemon curd into the hole you've made in each cupcake.

Spoon your buttercream into a piping bag with a large star nozzle. Then pipe your buttercream on top.

Finish with a little lemon zest on top. Enjoy!
Thanks for reading how to make my gluten free lemon cupcake recipe! If you make it, I'd love to see how it turned out so don't forget to take a snap of your bakes and tag me on Instagram!
Any questions about the recipe? Feel free to leave a Facebook comment below this post 👇🏻
Thanks for reading,
Becky xxx
Oh and don't forget to pin this for later!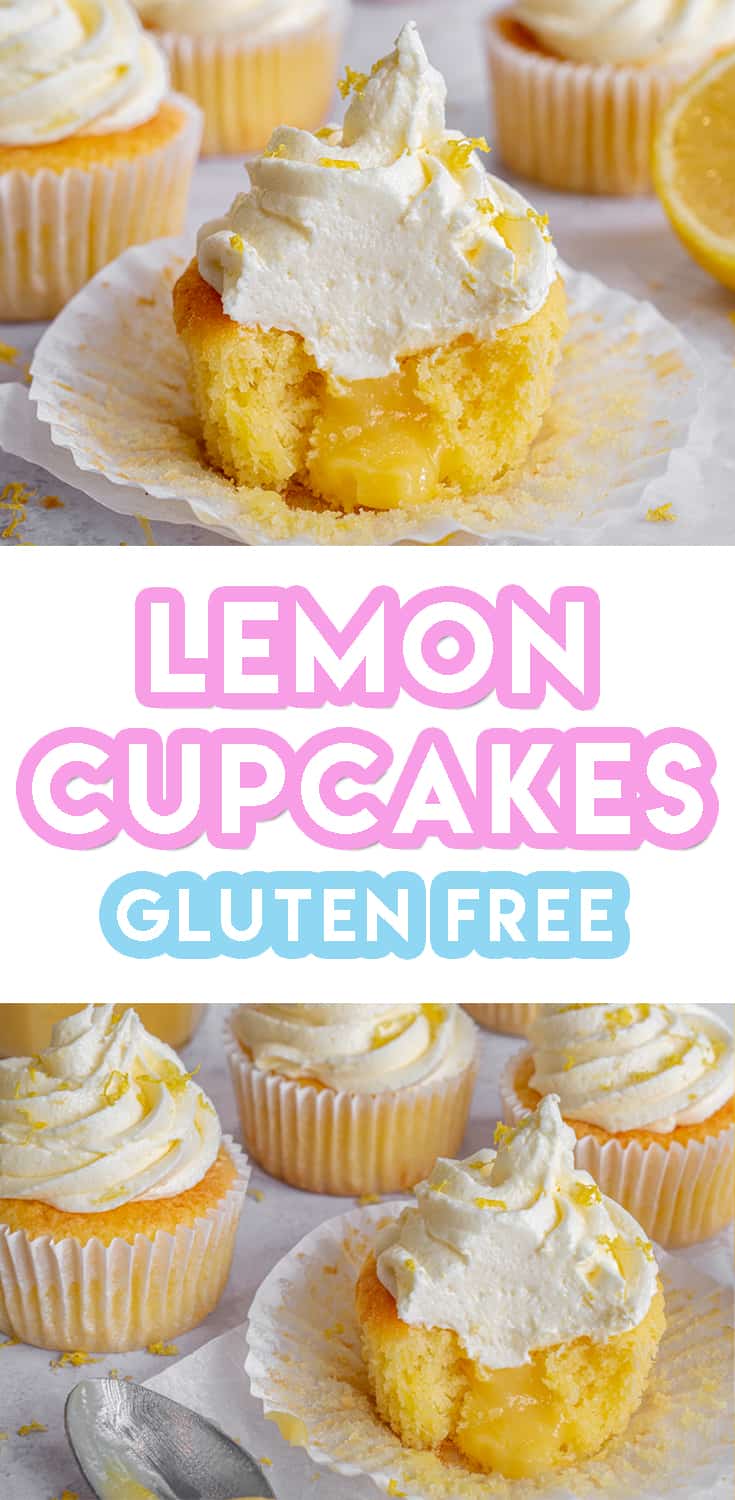 Comments