My gluten free Eton Mess traybake recipe is the perfect Summer-time bake that you NEED to try! There's also an easy peasy option to make this dairy free too.
Plus, if you've been strawberry picking like we have recently, my gluten free Eton Mess traybake recipe is a wonderful way to use them!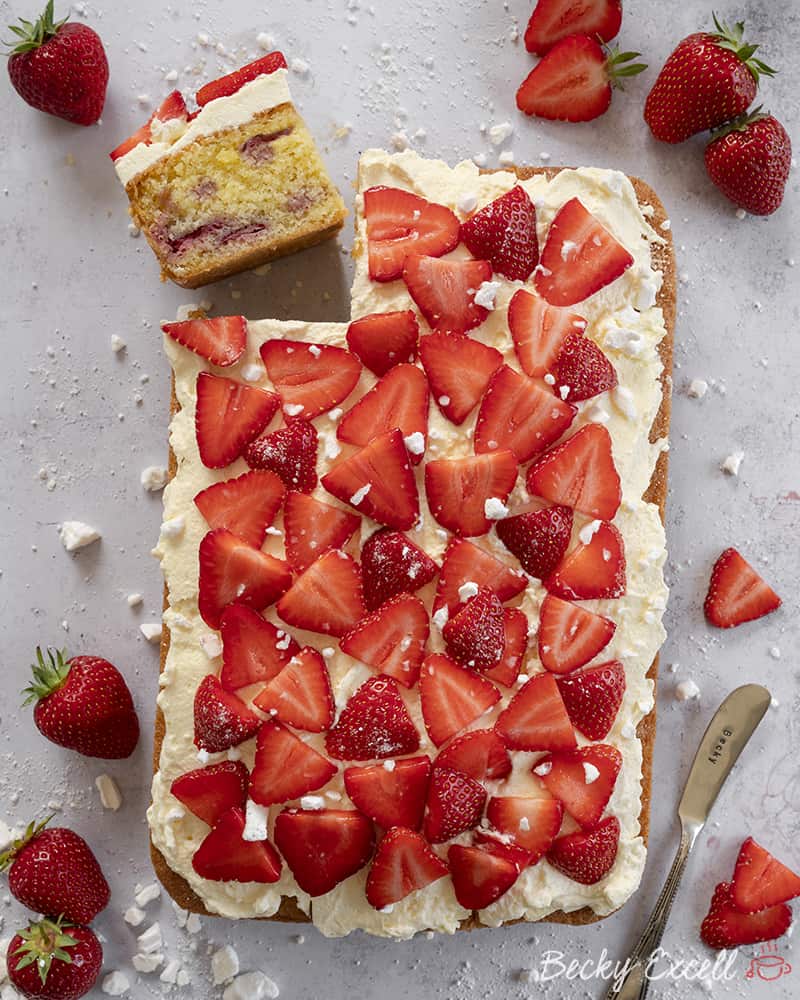 Yep, I'm back with another traybake recipe (or sheet cake as they call them across the pond!), which is super easy to create at home – promise!
So what's it like? The sponge is packed with wonderfully, sweet slices of strawberry that make it sooo incredibly moist.
Then, you've got a lovely, thick layer of cream, freshly picked strawberries and crumbled meringue on top. It's like all the awesomeness of strawberries and cream… but in a cake… with meringue too!
Nothing makes me feel more like summer has finally arrived than a slice of this cake whilst watching Wimbledon! ?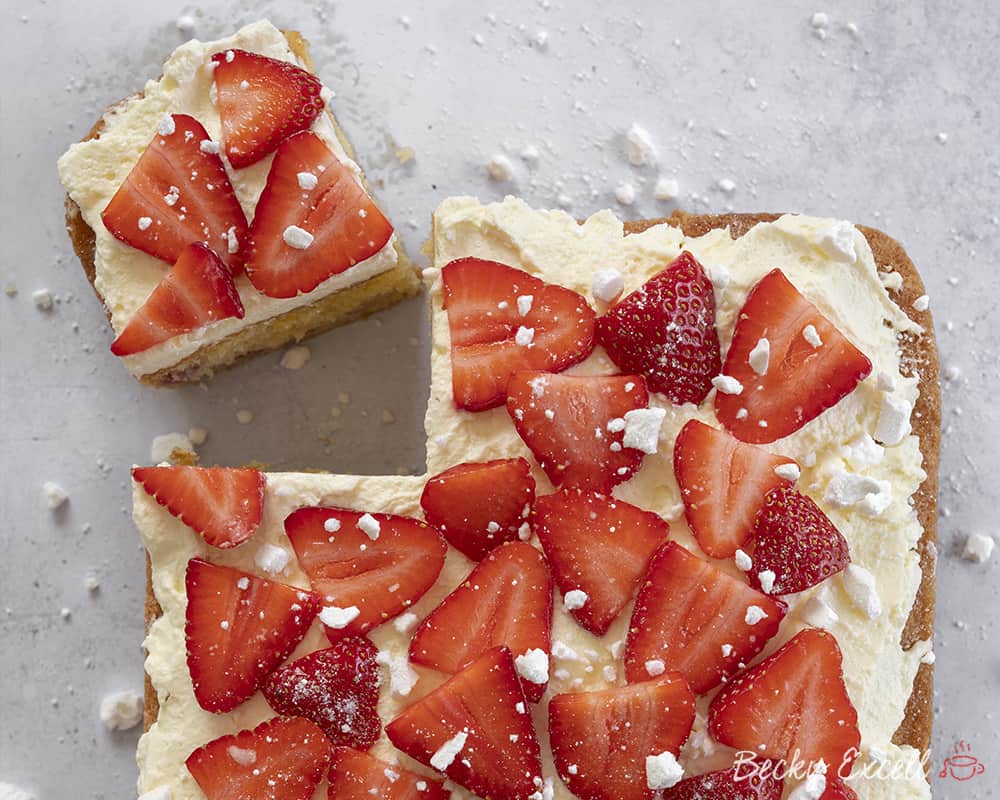 And whilst out strawberry picking, I learned that different varieties of strawberries can either be more sweet, sharp or somewhere in between.
(thanks to the lovely people at the place I go berry picking for explaining this to me!)
So if you pick a sharp variety, they're *ideal* for baking. That's because when you naturally use sugar in your cakes, it balances out the sharpness of the strawberries – trust me, the combo of the both is amazing!
That's why I picked a whole bunch of the strawberry variety 'Symphony' for just that reason! Honestly, you can use any strawberries for this recipe, but it's so much fun to go berry picking in the sunshine.
So my top tip this summer is to make sure that you check out where you can go berry picking locally to you. Raspberries are in season in July now too so expect some more recipes use them soon!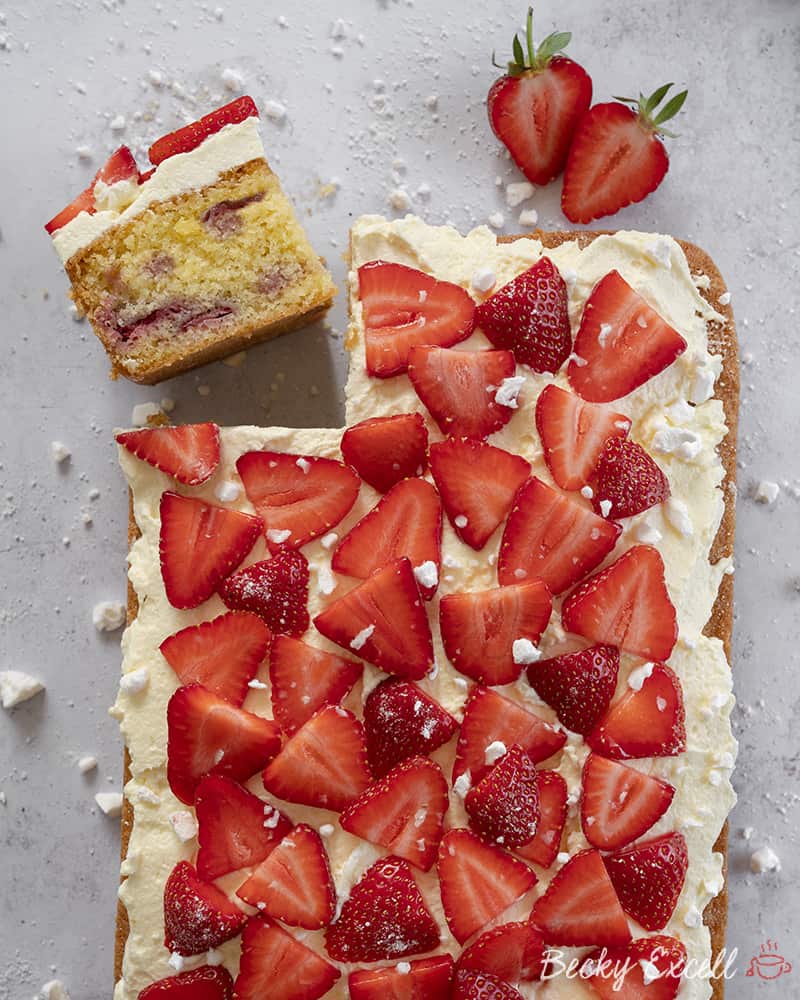 Sooo if you want to make this recipe dairy free, obviously don't start by spreading a layer of whipped double cream on top ?
I'd simply recommend making a vanilla buttercream which honestly tastes just as amazing. You can create that just by adding 250g of dairy free margarine to a bowl and giving it a good mix using an electric hand whisk.
Then add 500g of icing sugar and a couple of drops of vanilla extract – mix until well combined and it's a nice consistency. If it seems a bit thin, then just add a little more icing sugar. Easy peasy!
Ok so know you know what's what, here's my gluten free Eton Mess traybake recipe…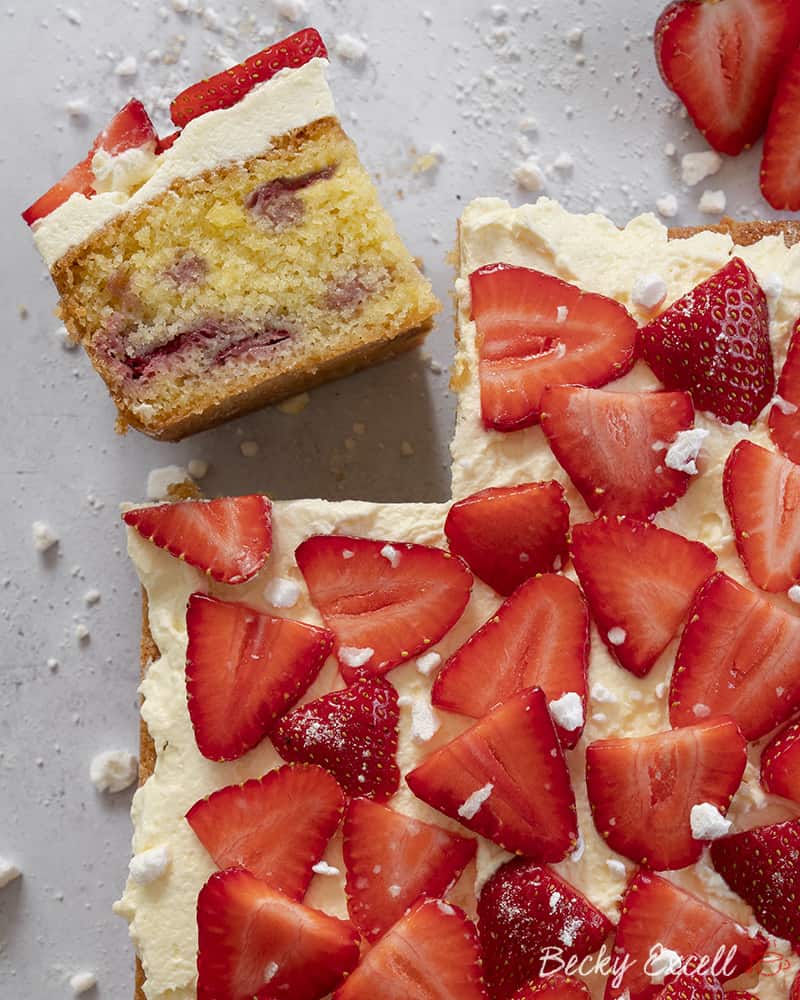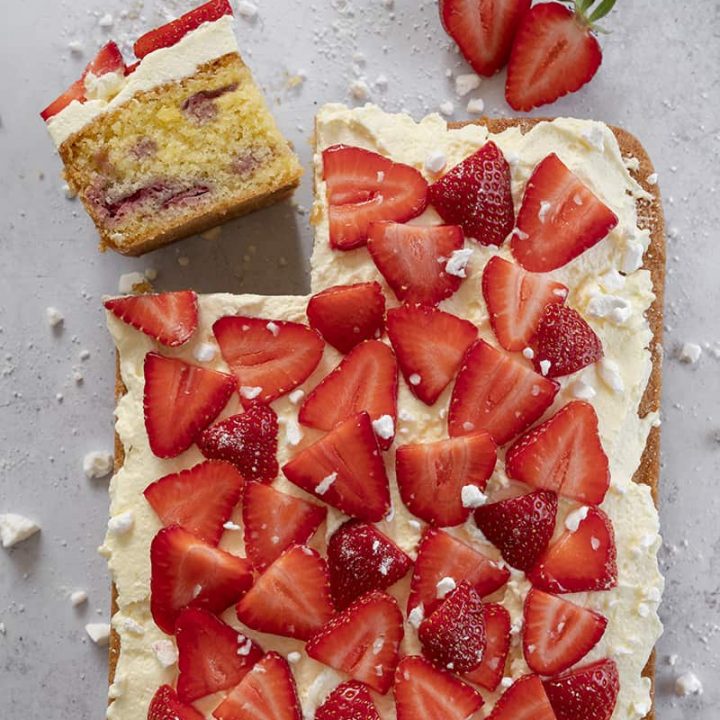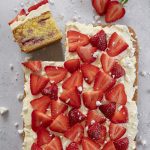 My Gluten Free Eton Mess Traybake Recipe
Say hello to my gluten free eton mess traybake recipe! It's perfect for those summer days, especially after you've been strawberry picking!!
Ingredients
For the cake
400

g

gluten free self raising flour

1/4

tsp

xanthan gum

400

g

butter or dairy free spread

(butter at room temperature works even better if you don't need to be dairy free)

350

g

caster sugar

6

eggs

2

tsp

vanilla extract

100

g

fresh strawberries
For the cream and topping
300

ml

double cream

(for dairy free you can use a soya cream or even coconut cream OR use dairy free buttercream instructions above)

3

tbsp

icing sugar

250

g

fresh strawberries

meringue nests

(ensure they are gluten free)
Instructions
Preheat your oven to 160C  fan. Prepare a rectangular baking tin - mine is approx 32cm x 21.5cm. I grease the tin and then use baking paper - the baking paper should go over the edges so you can lift out the cake once it's cooled.

In a large mixing bowl, cream together your caster sugar and your dairy free spread (or butter). Cream until lighter and fluffy. I use an electric hand whisk.

Gradually add your eggs and vanilla extract and whisk until combined.

Fold in the gluten free self raising flour and xanthan gum to the mixture (this is a big mixture so make sure you carefully fold all the flour in properly)

Spoon/pour your mixture evenly into the baking tin.

Slice up some fresh strawberries and place them on top of the cake mixture. No need to push them in, you don't want them to sink!

Place in the oven for about 55-60 minutes until fully cooked and golden.

Leave to cool in the tin and then lift out, using the baking paper and place on a cooling rack.

Whilst the cake is cooling you can make your topping. In a bowl place your double cream and icing sugar into a bowl and whisk until it becomes lovely and thick. (If you are using a dairy alternative do the same, or if you would prefer you could make a dairy free buttercream)

Spread your double cream onto the cake and then cover with sliced strawberries and crushed up pieces of your meringue nests.

Cut into squares and enjoy!
Notes
If you would prefer you could make a vanilla buttercream and place that on top instead of whipping up double cream.
You could also make this with other berries such as raspberries.
Thanks for reading how to make my gluten free Eton Mess traybake recipe! If you make it, I'd love to see how it turned out so don't forget to take a snap of your bakes and tag me on Instagram!
Any questions about the recipe? Feel free to leave a Facebook comment below this post ??
Thanks for reading,
Becky xxx
Oh and don't forget to pin this for later!