My gluten free Jamaican ginger loaf cake recipe is back and better than ever! The McVitie's one in the supermarket was my inspo for this one, but I like to think I've improved upon it a little too. Mine's easily adapted to be dairy free with one swap too!
As a McVitie's Jamaica ginger loaf cake contains gluten, it's been yeeeeears since I'd enjoyed a slice… but that changes now! No, I haven't been magically cured… I just made my very own gluten free Jamaican ginger loaf cake!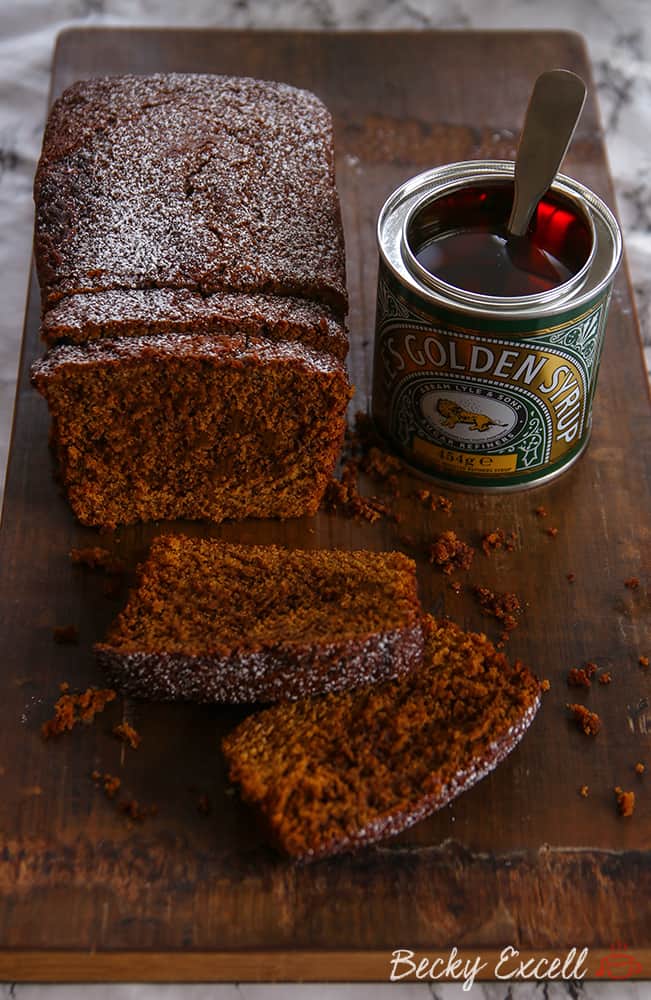 It's been over a year since I first posted this recipe, so I decided to come back and update things a little. Hello!
Why is it that whenever you do anything creative, you come back and look at later and think… bloody hell, that's rubbish!!
(I'm more talking about my old photos for this recipe, rather than the recipe itself!)
So I thought I'd come back and not only take some new snaps, but I'd sort of make a new and improved version of this recipe too. It's been a favourite on the blog for well over a year now!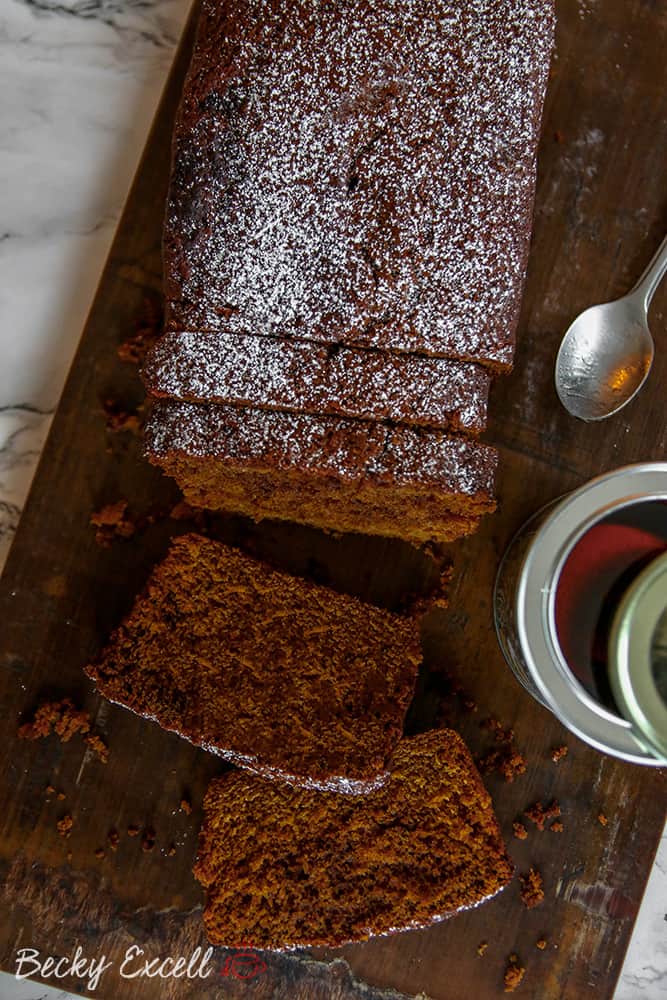 So what's new and improved then?
(I read that in my head in a really skeptical tone for some reason!)
Well, I've doubled the amount of ground ginger so it's twice as firey and twice as warming. Also, I've swapped gluten free plain flour for gluten free self-raising flour as I never got the rise on it that I wanted in the past.
Lastly, I've also added that magic ingredient… Xanthan gum!
In case you have no idea what that is, it basically makes gluten free baking function. That's all you need to know. It stops the cake from falling apart and becoming crumbly!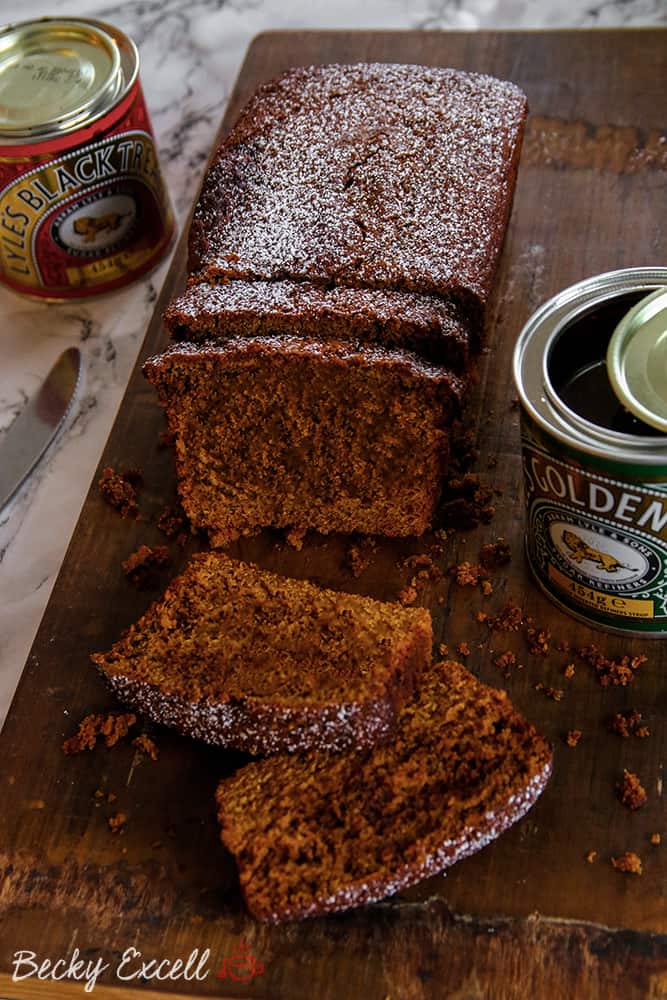 And I promise you – this cake is soooo easy and simple to make!
Ok it'll never be as simple as picking up a McVitie's Jamaica ginger loaf cake from a supermarket shelf. But I promise you, this one is better!
(I would say that though, wouldn't I?!)
So I can't promise that whipping up my gluten free Jamaican ginger loaf cake will be as fast as nipping down to the supermarket, but I think the smell of fresh baking more than makes it worth it, don't you think?!
Ok, here's the recipe! You can easily make this vegan by replacing the egg with 3 tbsp of aquafaba and using a dairy-free alternative to butter btw.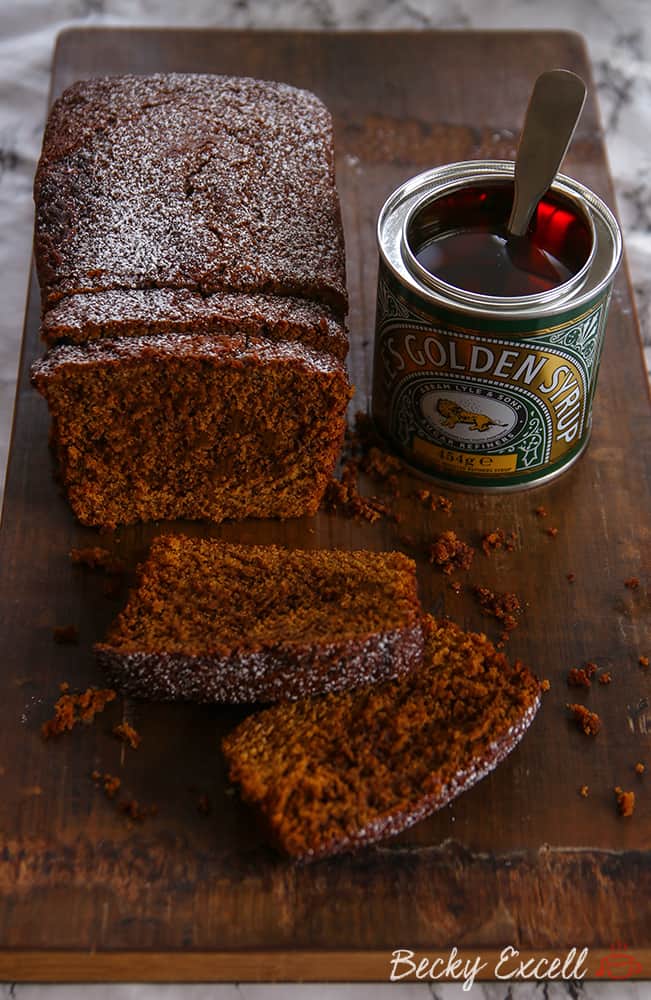 Yield:

10 people
Gluten Free Jamaican Ginger Loaf Cake Recipe
My gluten free Jamaican Ginger loaf cake recipe is a new and improved version of the McVitie's one I used to buy in supermarkets. Mine's dairy free too!
Ingredients
170 g gluten free self-raising flour, (sifted, I use Doves)
70 g black treacle
70 g golden syrup
70 g dark brown soft sugar
70 g butter (or dairy-free alternative)
3-4 tsp ground ginger (depending on how firey you like it!)
2 tsp ground cinnamon
1/2 tsp ground nutmeg
1/4 tsp Xanthan gum
3/4 tsp bicarbonate of soda
1 egg, beaten
Instructions
Grease a 2lb loaf tin (900g) with greaseproof/parchment paper. This will not only stop it sticking, but also help you get the cake out later! I like to leave a bit of excess greaseproof paper so I can easily lift the cake out when it's cooled.
Preheat the oven to about 170C or 160C fan.
Place your black treacle, golden syrup, dark brown soft sugar and dairy free spread into a saucepan with 70ml of water. Gently heat and stir until completely melted. (Don't allow it to boil!)
Sift your flour, Xanthan gum and spices into a mixing bowl and then add your warm syrup/treacle mixture to it. Beat together using a wooden spoon until lovely and smooth,
Add half your beaten egg and mix thoroughly, then repeat with the other half.
In a small dish, add 2 tbsp of water to the bicarbonate of soda, mix until well combined and then add to your main bowl too. Mix once more. Your final mixture should now look nice and smooth, with a runny consistency.
Pour your mixture into the loaf tin and bake for 60 minutes. It should have a nice, dark exterior when it's done - but not a burnt one!!
Once baked allow to cool. The cake should be almost firm to touch, but will firm up more as it cools.
This is a cake best left to mature flavour wise for as long as you can manage. But I completely understand if you can't wait... maybe one cheeky slice straight away!
Enjoy!
Notes
LOW FODMAP GUIDANCE
You can easily make this vegan by replacing the egg with 3 tbsp of aquafaba and using a dairy-free alternative to butter btw.
Black treacle (molasses) and Golden Syrup are high FODMAP in excess serving sizes (Black treacle: 5g, Golden syrup: 7g).
So it might be a good idea to wait until after the elimination phase of the diet to give this a go!
Thanks for reading how to make my gluten free Jamaican ginger loaf cake recipe! If you make it, I'd love to see how it turned out so don't forget to take a snap of your creation and tag me on Instagram!
Plus, I'm giving away a £50 supermarket voucher every month to my fave pic, so get baking!
Any questions about the recipe? Please do let me know by following me on Instagram and leaving me a comment!
Looking for something else to bake? Why not give my gluten free lemon drizzle cake a go?
Thanks for reading,
Becky xxx
Oh and don't forget to pin this for later!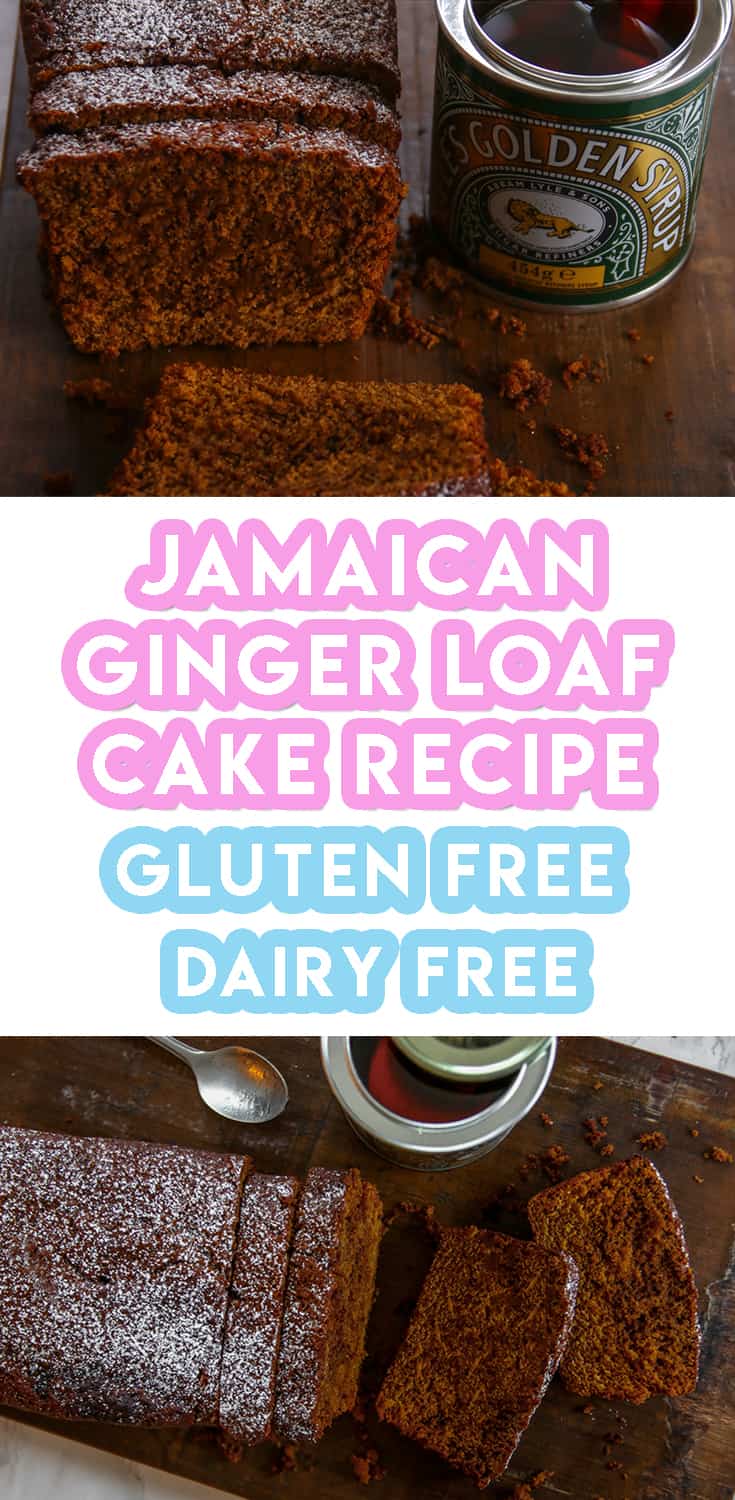 Comments