Hi there, I'm Becky! I'm 27 years old and a London-based gluten free recipe creator, photographer, freelance writer and vlogger. I'm half South-African, I love dogs way too much and I absolutely adore baking!
I'm passionate about food and all things gluten free, dairy free and I follow a low FODMAP diet. I love sharing my free from recipes, vlogs and travel guides whilst sharing exciting new products and places to eat here on the blog. I even won a few blog awards in the last year or so – woo!
If you'd like to work with me, please check out my freelance page.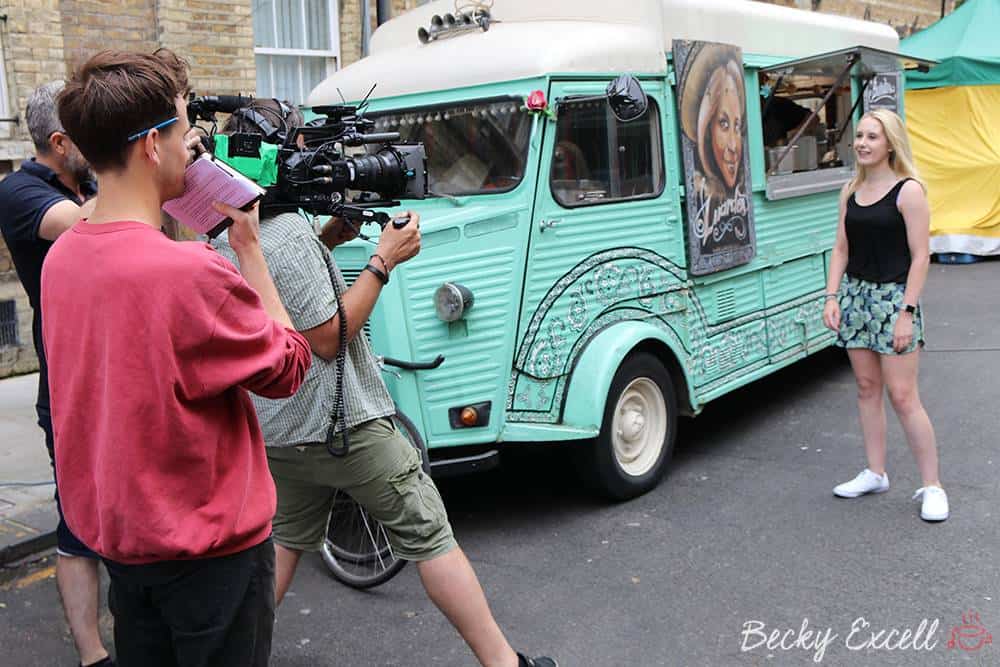 I started my blog back in 2013 when I first realised that gluten just wasn't agreeing with me. After several trips to the doctor over many years, I was diagnosed with IBS and told to avoid eating gluten for the foreseeable future.
From that point, I was on my own. It was one big (painful) trial and error roller-coaster to get to the point where I am today and my blog has been there with me every step of the way.
I decided to call my blog Gluten Free Cuppa Tea and I never looked back. People often assume my blog name came from my love of a good cuppa, but in all honesty, it was just because it rhymed… I didn't even like tea! Luckily, my love of peppermint tea came along some years later so the name actually makes sense now!!
After graduating, (hooray) I juggled my blog alongside many jobs working in digital marketing and PR agencies before finally deciding that it was time to give my blog the time it deserved.
I'm now proud to say that I'm a full-time recipe creator here on my blog and a freelance writer for The Metro and The Independent and I've never been happier. I mean, who actually gets to do what they love in life?!
I even won an award for best Allergy Blog 2017, Best Baking Blog 2017 and I was voted #1 in the Vuelio Top 10 Best Baking Blogs 2018. I'll try not to let it all go to my head!
Since then, my life has changed a lot and I'm so grateful for the chance to do what I love, full-time, after so many years. I've been on national radio, worked with tons of cook brands and made guest appearances and even featured in national TV ads. Check out some of my all-time highlights here if you're nosy like I am!
But what I love most of all has never changed: the lovely messages I get from you guys.
Thanks @gfcuppatea for your top london spots to eat post. went to @honestburgers last night and they were fab with NF, PF, GF, DF!

— Eat Allergy Safe (@eatallergysafe) July 6, 2017
@gfcuppatea thank you so much for your blog about gluten free in Amsterdam it's helped make my visit!!

— Laura (@lradyson) May 31, 2017
@gfcuppatea saw you at the @AllergyShow and wanted to say hi but you looked a bit busy! Thanks for all you do for us gluten free people 😍

— Jools (@jooliyah95) July 8, 2017
Honestly, it means so much just to know that I helped to brighten somebody's day through my blog. I'm certainly no stranger to how dietary restrictions can be a massive struggle and so often, nobody else understands.
I'm lucky enough that my boyfriend, Mark, has been so supportive of my blog and my difficult time with IBS. But it's no surprise that he understands really… because he's lactose intolerant and has IBS too! We're a right pair, aren't we?
But of course, I know a lot of people aren't fortunate enough to have someone there for them who understands. So I guess my hope is that I can be that person for the thousands of people out there just like me.
Anyway, enough about me! Why not get in touch with me on Facebook, Twitter, Instagram or in the comments on YouTube and let me know about you? Failing that, you can always email me here.
Thanks for reading,
Becky xxx
Comments