A gluten free chocolate marble cake is such an easy cake to make and this one is super chocolatey whilst still being dairy free and low FODMAP.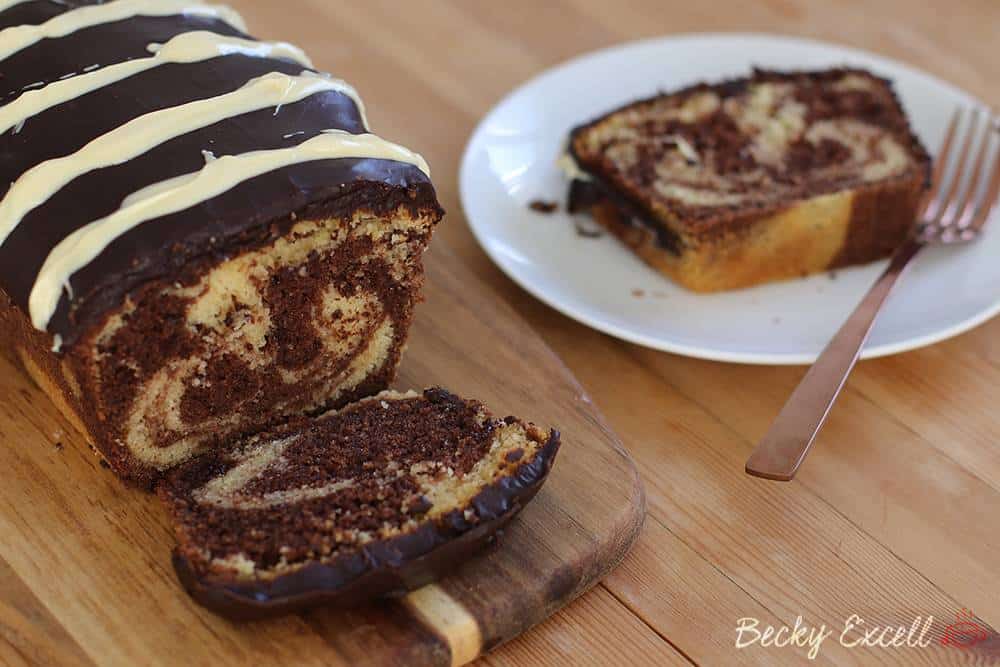 So, I'm 26 and up until last week, I'd never tried a gluten free chocolate marble cake before. Little did I know how much I was missing out on!
Whenever I go into Starbucks, they always have the most delicious looking chocolate marble cake. It has beautiful swirls, looks delightfully moist but there's only one thing I dislike about it… it's not gluten free!
So, of course, I thought I'd try and recreate that eye-catching Starbucks marble cake, but gluten free, dairy free and low FODMAP too.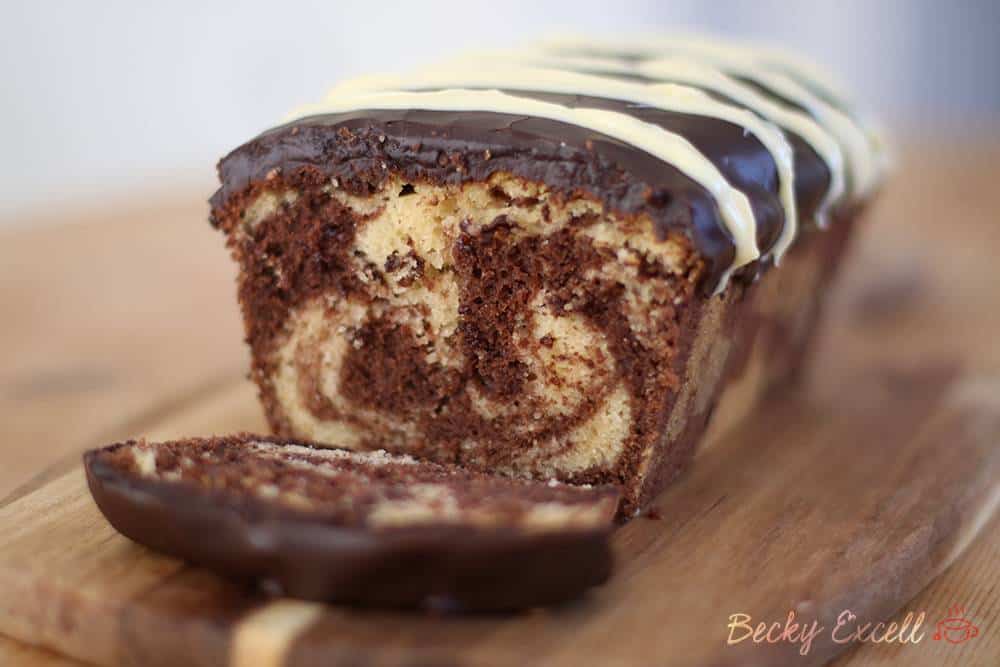 So for those of you who have never tried a gluten free chocolate marble cake, let me just say this: yes, it does taste as good as it looks.
It's not a chocolate cake per se, but it does have a lovely cocoa flavour running through the lovely light sponge. The chocolate ganache is where the chocoholics will really rejoice.
It's seriously so rich and indulgent that you won't believe that its dairy free. I like to add a little dairy free white chocolate as a finishing touch too.
Don't let the lovely marble effect trick you into thinking that baking my gluten free chocolate marble cake is difficult. It really is quite simple when you know how!
Once you've separated your cake mixture and spooned it into your loaf tin at random, it's simply a matter of using a skewer to create the hypnotic swirls I love so much.
My biggest tip to make my gluten free chocolate marble cake is when you top it with the chocolate ganache. It can be a little messy at first, dripping down the sides and whatnot. But once the ganache has set, it's so easy to tidy up the sides of the ganache with a knife to create nice, clean edges.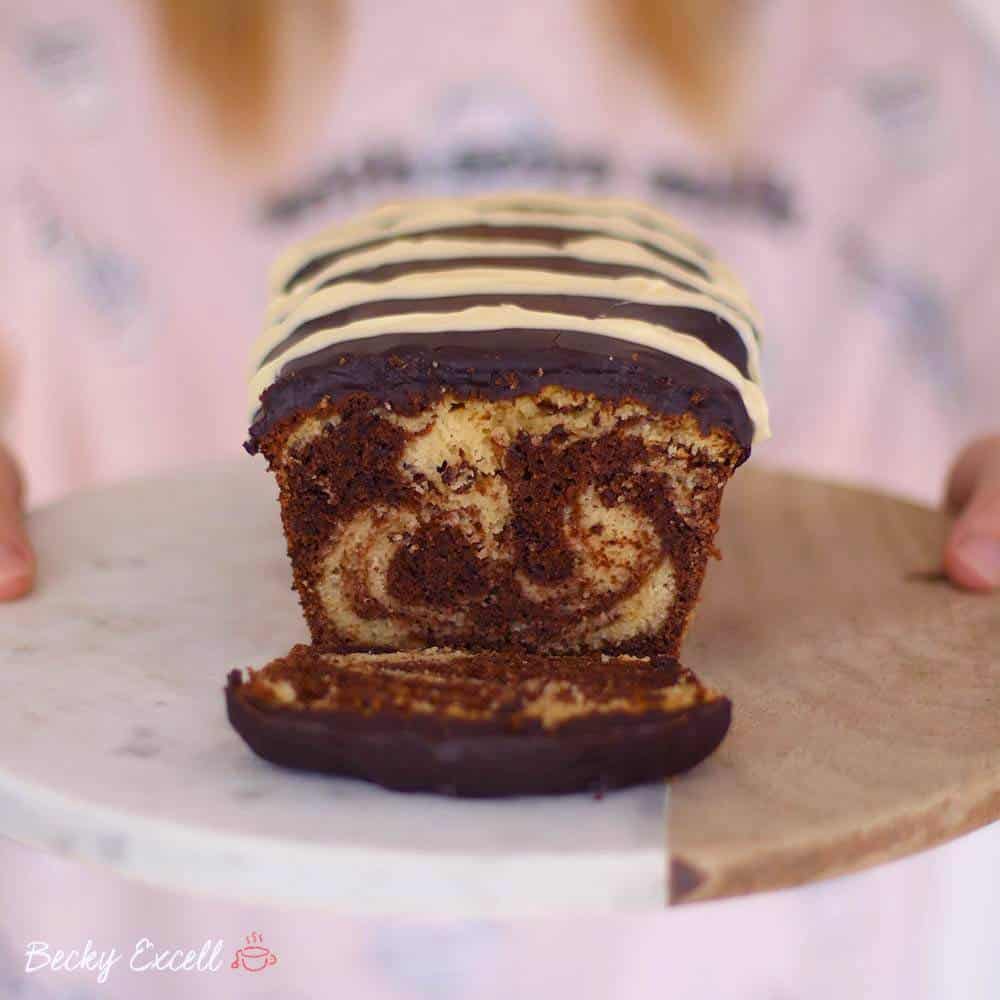 So here's the recipe if you fancy giving my gluten free chocolate marble cake a whirl (or I should probably say swirl!)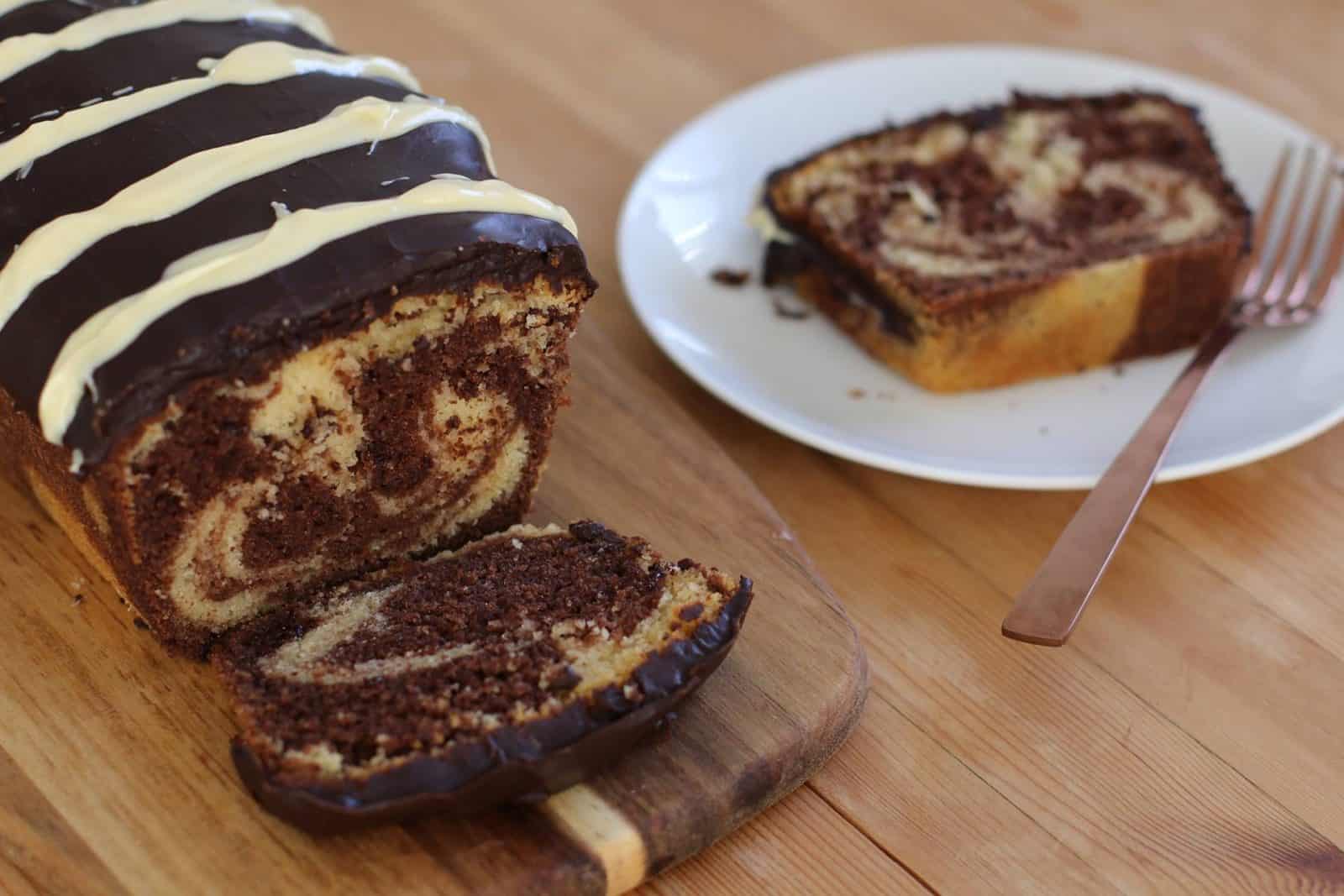 Gluten Free Chocolate Marble Cake
2017-08-02 15:46:20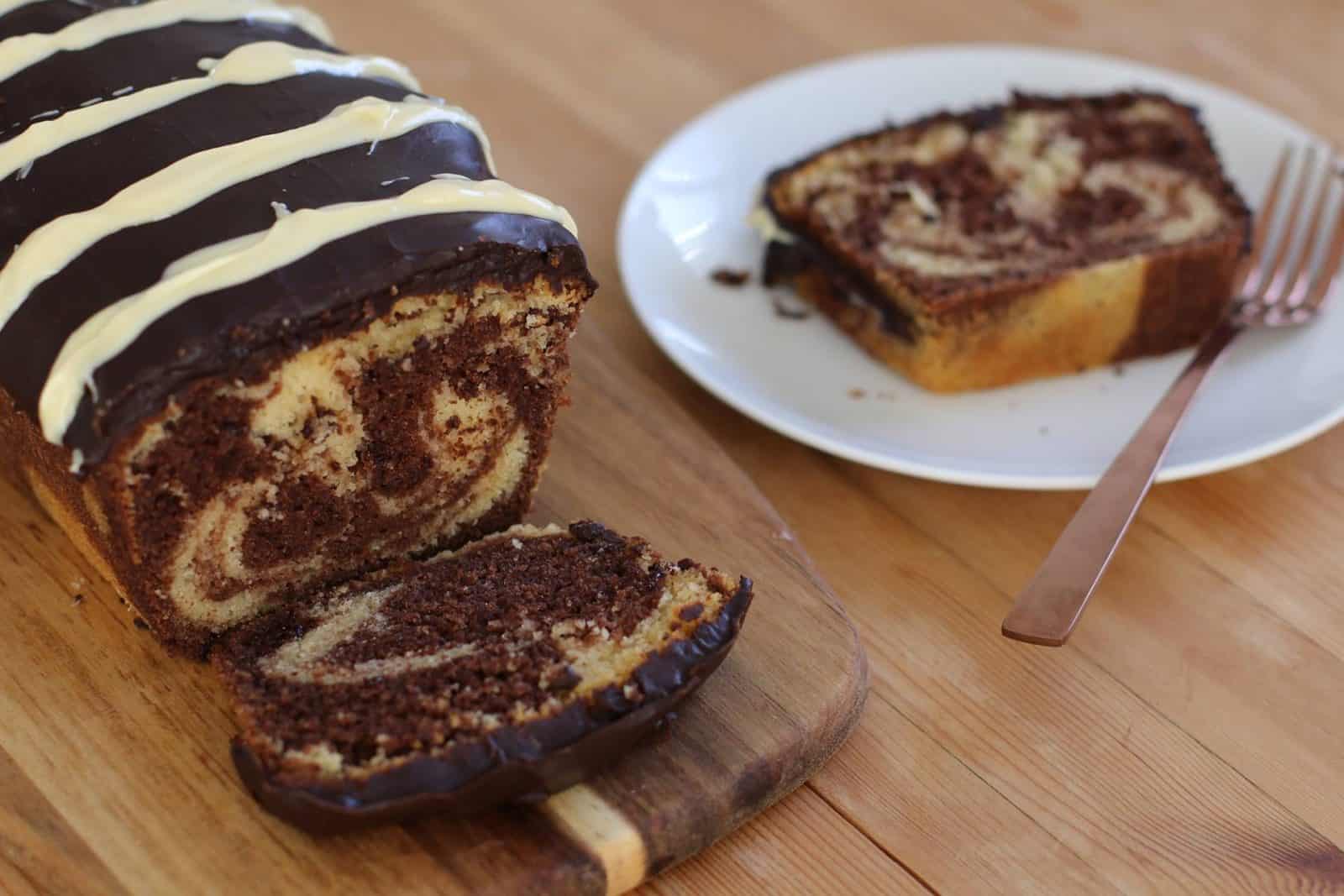 My gluten free chocolate marble cake is a dreamy chocolate cake. The marbled sponge is a blend of chocolate and vanilla whilst the chocolate icing is heavenly. It's also dairy free!
For the cake
* 225g dairy free spread
* 225g caster sugar
* 275g gluten free self raising flour
* 2 tsp baking powder
* 4 eggs
* 1/2 tsp vanilla extract
* 1 1/2 tbsp cocoa powder (ensure this is dairy free)
* 2 tbsp hot water
For the icing
* 50g dairy free spread
* 30g cocoa powder, sifted (ensure this is dairy free)
* 2 tbsp dairy free milk
* 200g icing sugar, sifted
* dairy free white chocolate, melted (to finish the topping)
Instructions
1) Line a 2lb loaf tin (standard size) with greaseproof/parchment paper.
2) Preheat the oven to about 160C.
3) Cream the dairy free spread and caster sugar together until pale, light and fluffy.
4) Add your beaten eggs very gradually. Mixing thoroughly in between each, also add your vanilla.
5) Fold in your flour and baking powder. Make sure everything is thoroughly mixed in. (If the mixture is a little thick you can add 1-2 tbsp of dairy free milk at this stage. I don't often find it to be necessary though)
6) Spoon half the mixture into a separate bowl.
7) In a small bowl, mix your cocoa powder and hot water together until perfectly smooth. Leave this to cool down.
8) Once cooled add to one of your bowls of cake mix, mix it in thoroughly.
9) At random spoon in your cake mixture into the tin. I tend to spoon one chocolate, followed by one vanilla etc this will ensure you get a marbled effect. Continue till the mixture is used up.
10) I like to then use a skewer to gently swirl my cake mixture a little more before placing in the oven.
11) Bake in the oven for 50-60 minutes, until cooked completely through.
12) Leave to cool in the tin for a few minutes before placing on a cooling rack to completely cool.
13) Once cool make the icing. Melt your dairy free spread in a pan and add cocoa powder. Mix it in and heat gently for around a minute.
14) Stir in your dairy free milk and icing sugar. Then remove from the heat and mix thoroughly. Keep stirring for a minute or so and the icing should thicken up nicely.
15) Spread the icing evenly oven the cake.
16) For a final (optional) touch melt a little dairy free white chocolate and drizzle over the top.
17) Allow to set.
18) Enjoy!
Notes
* For the cake mixture, if you prefer you can use the all-in-one method. I've tried both ways and I just prefer the fluffiness that the creaming in method seems to provide. Both methods make a great cake though!
Gluten Free Cuppa Tea | Food blog based in London, UK. Low FODMAP. Dairy free Recipes.. https://glutenfreecuppatea.co.uk/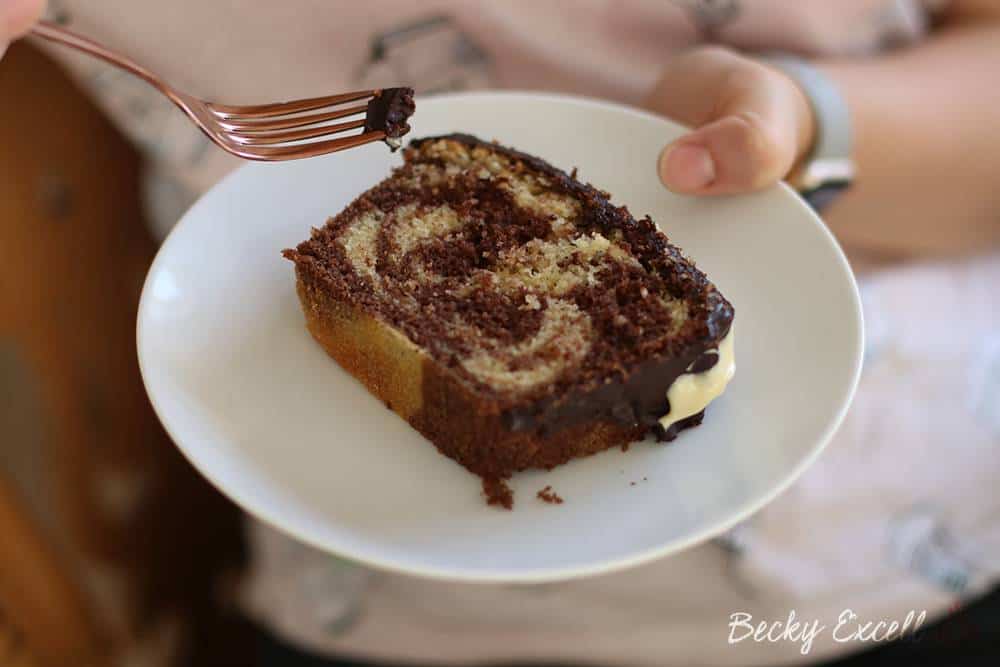 So there you have it, my gluten free chocolate marble cake! It really is a delicious cake that looks impressive whilst tasting great too. Let me know if you get the chance to give it a try by leaving a comment below or on Facebook / Twitter / Instagram.
Thanks for reading and happy baking,
Becky xxx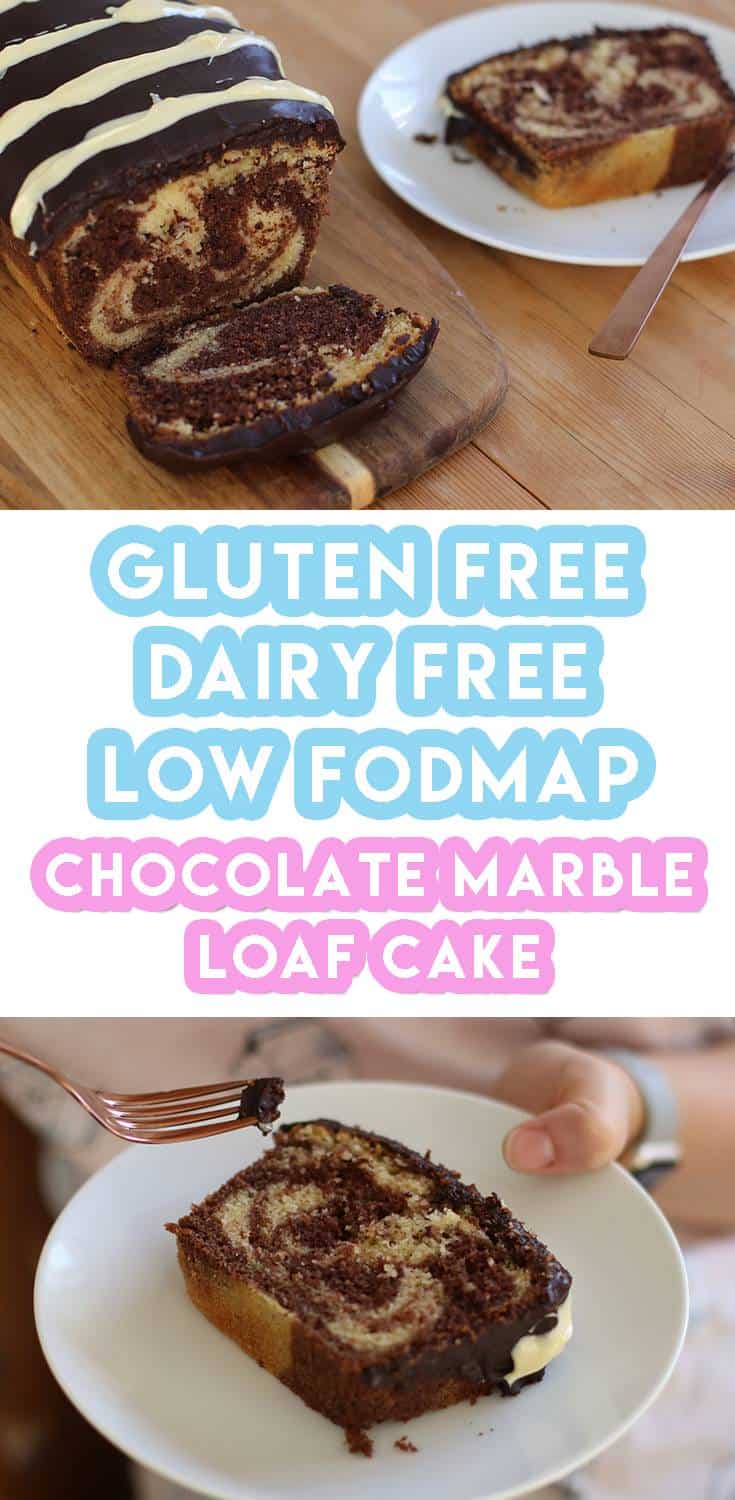 Comments