Here's my gluten free chocolate marble cake recipe… just like the one I can NEVER eat at Starbucks. This recipe is not only gluten free, but it's dairy free, low FODMAP and it tastes marble-lous.
Yep, that's right, I've been back in Starbucks and gazing through the glass at all the cakes and thinking "why can't I eat you???" Three hours of staring and being-asked-to-leave-the-shop-several-times later, I just decided to create my own gluten free chocolate marble cake recipe!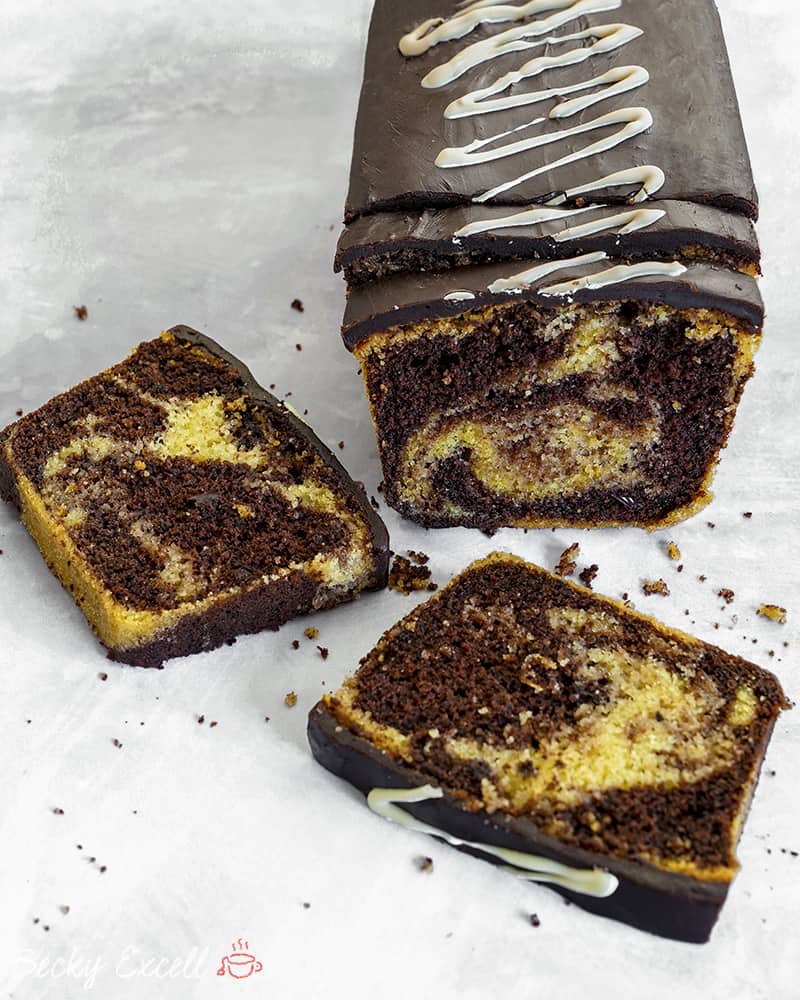 I'm sure you know by now that not being able to eat something is basically where I get the inspo for every single recipe on the blog. From frustration comes baking motivation!
I guess if I had to put it into a flow chart it would look a little something like this:
Can I eat that?
Yes? Eat it.
No? Recreate it.
Sadly, it's the second option 99% of the time for me. But at least I can then whack those recipes up on the blog and share them with you guys. Starting with my gluten free chocolate marble cake recipe!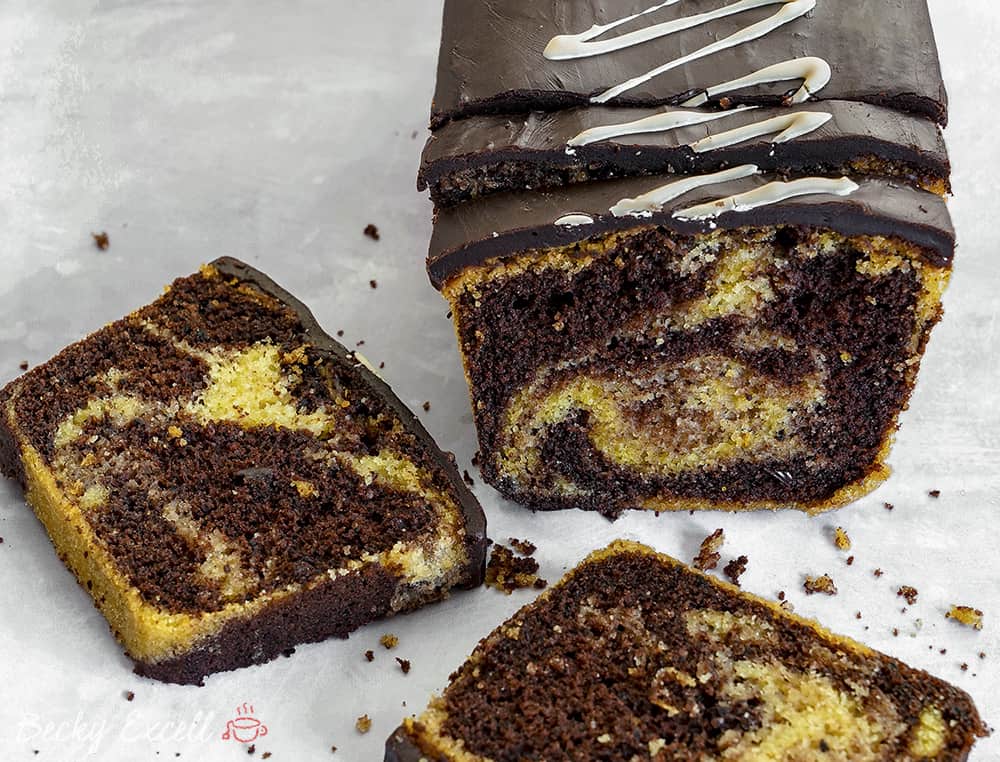 So for those of you who have never tried a gluten free chocolate marble cake, let me just say this: yes, it does taste as good as it looks.
(you can basically impress anyone by making this cake and it's not even that hard!)
It's not a chocolate cake per se, but it does have a lovely cocoa flavour running through the lovely light sponge. The chocolate ganache is where the chocoholics will reeeeeally rejoice!
It's seriously so rich and indulgent that you won't believe that its dairy free. I like to add a little dairy free white chocolate as a finishing touch too.
You can either pipe it on like I did above, or just drizzle it on with a spoon for a messier finish. It's up to you!
But yeah, don't let the lovely marble effect trick you into thinking that my gluten free chocolate marble cake recipe is super complicated or anything
(trust me, if I can make it, then you can defo manage. I'm more like Scary Berry than Mary Berry when it comes to baking)
So how do you get a lovely marbled effect that would 100% earn you a Hollywood handshake?
Well, you simply separate your cake mixture, keeping one plain and adding cocoa powder and milk/water to the other. Then spoon both cake mixtures into your loaf tin at random.
Lastly, use a skewer to swirl it all around. Bake Off here I come!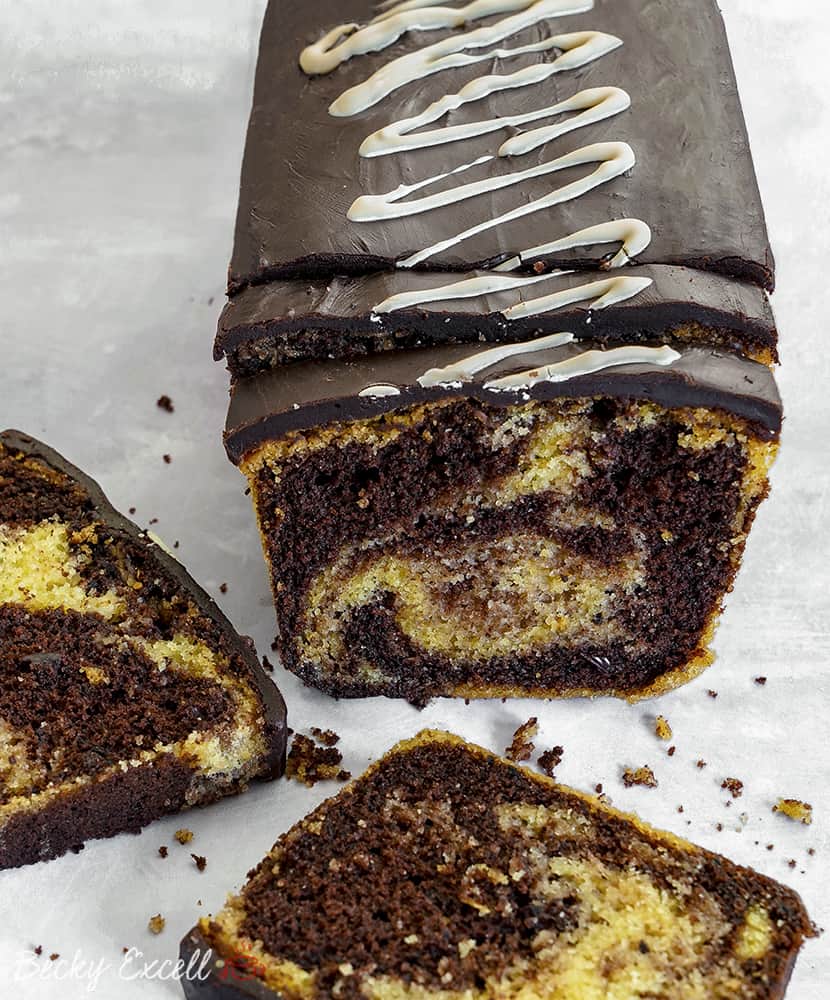 Oh and speaking of things I can never eat at Starbucks…
I also recreated their chocolate chip shortbread using just 5 ingredients and yes – it's dairy free and low FODMAP too! Click here to go check it out.
So here's the recipe if you fancy giving my gluten free chocolate marble cake recipe a whirl (or I should probably say swirl!)
Bonus points if you take it into Starbucks just to make you feel normal like I do 😂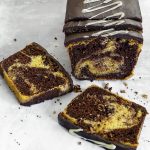 Gluten Free Chocolate Marble Cake
My gluten free chocolate marble cake is a dreamy chocolate cake. The marbled sponge is a blend of chocolate and vanilla whilst the chocolate icing is heavenly. It's also dairy free!
Ingredients
For the cake
225

g

dairy free spread

225

g

caster sugar

220

g

gluten free self raising flour

2

tsp

baking powder

1/4

tsp

xanthan gum

4 large

eggs

1/2

tsp

vanilla extract

3

tbsp

cocoa powder

(always sifted)

2

tbsp

milk

(any milk is fine here or alternatively hot water)
For the icing
50

g

dairy free spread

30

g

cocoa powder

(always sifted)

2

tbsp

dairy free milk

200

g

icing sugar

(always sifted)

dairy free white chocolate

(I melted around 30g)
Instructions
Preheat your oven to 160C fan. Line a 2lb loaf tin (standard size) with greaseproof/parchment paper. With a loaf tin always make sure the parchment paper goes over the edges to help you lift the finished loaf out.

Cream the dairy free spread and caster sugar together until pale, light and fluffy. I use my electric hand mixer.

Add your eggs gradually. Mixing thoroughly in between each, also add your vanilla.

Fold in your flour, xanthan gum and baking powder. Make sure everything is thoroughly mixed in.

Split the cake mixture into two separate bowls.

In a small bowl, mix your sieved cocoa powder and milk (or hot water) together until perfectly smooth (if hot water allow this to cool).

Once cooled add to one of your bowls of cake mix, mix it in thoroughly.

At random spoon in your cake mixture into the tin. I tend to spoon one chocolate, followed by one vanilla etc this will ensure you get a marbled effect. Continue till the mixture is used up.

I like to then use a skewer to gently swirl my cake mixture a little more before placing in the oven.

Bake in the oven for 55-60 minutes, until cooked completely through.

Leave to cool in the tin for a while before placing on a cooling rack to completely cool.

Once cool make the icing. Melt your dairy free spread in a pan and add sieved cocoa powder. Mix it in and heat gently for around a minute.

Stir in your dairy free milk and icing sugar. Then remove from the heat and mix thoroughly. Keep stirring for a minute or so and the icing should thicken up nicely.

Spread the icing evenly oven the cake.

For a final (optional) touch melt a little dairy free white chocolate and using a piping bag drizzle it over the top. Allow all the icing to completely set.
Recipe Notes
* For the cake mixture, if you prefer you can use the all-in-one method. I've tried both ways and I just prefer the fluffiness that the creaming in method seems to provide. Both methods make a great cake though!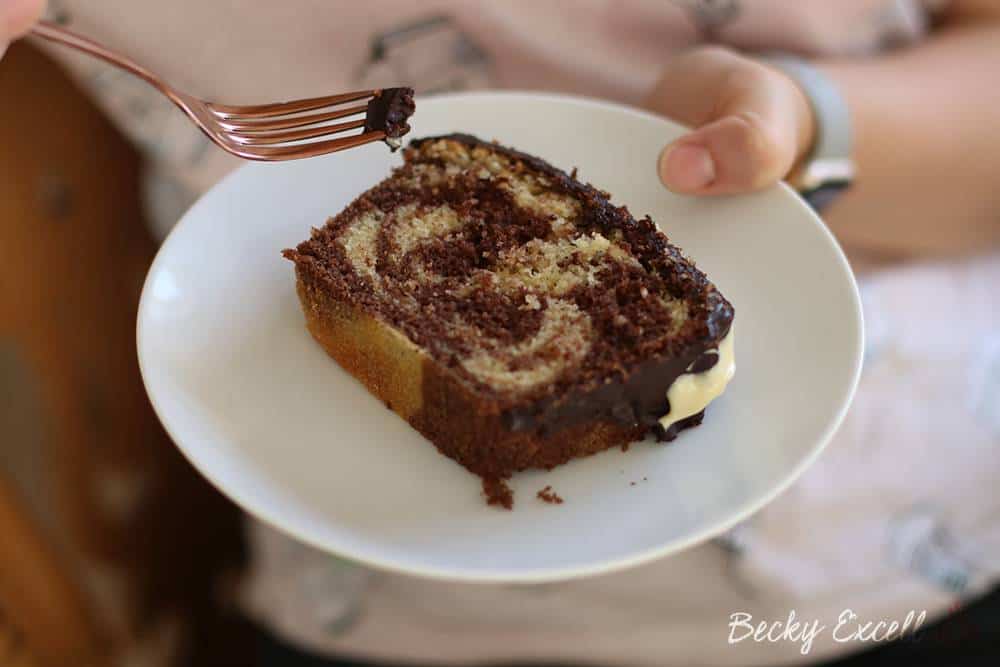 Thanks for reading how to make my gluten free chocolate marble cake recipe! If you make it, I'd love to see how it turned out so don't forget to take a snap of your creation and tag me on Instagram!
Plus, I'm giving away a £50 supermarket voucher every month to my fave pic, so get baking!
Any questions about the recipe? Please do let me know by following me Instagram and leaving me a comment!
Thanks for reading,
Becky xxx
Oh and don't forget to pin this for later!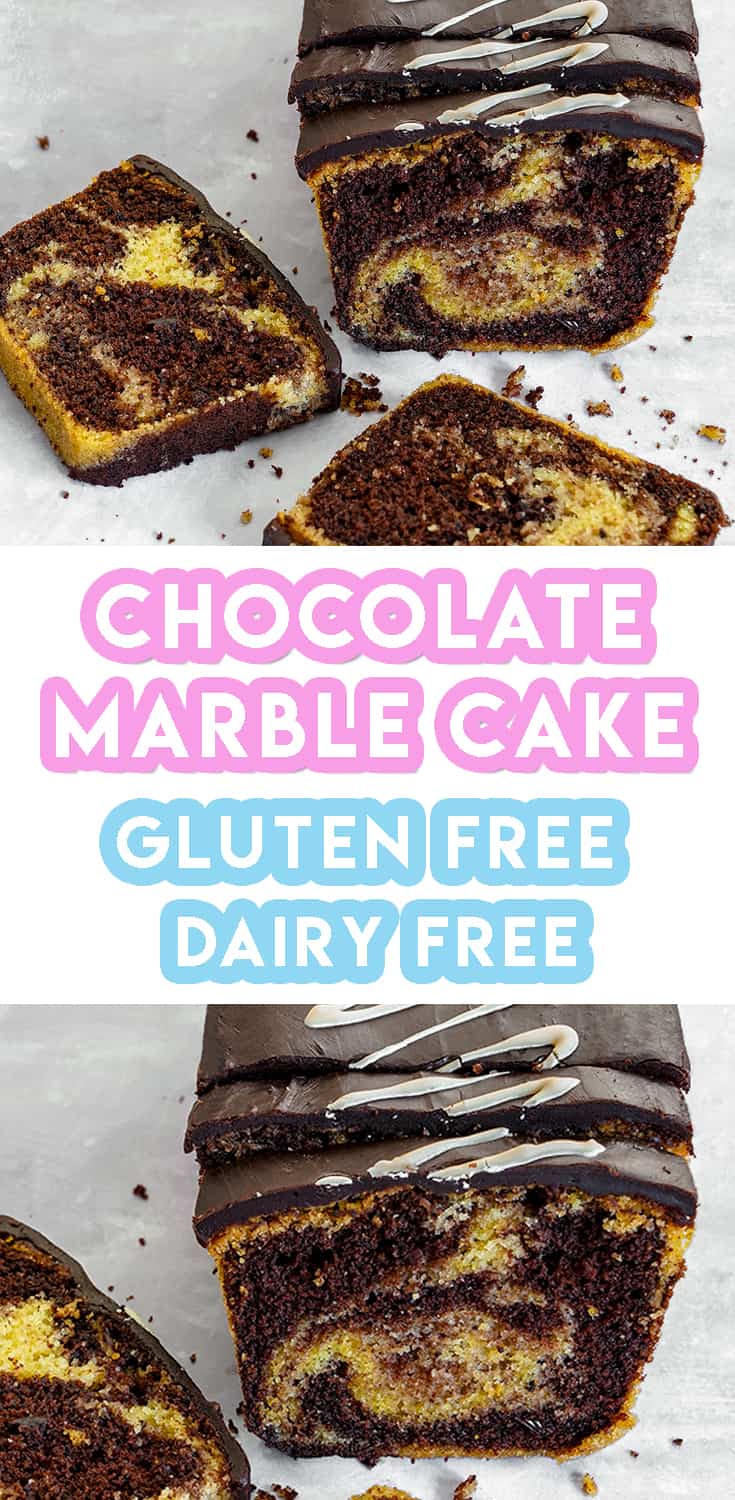 Comments