My gluten free peanut butter brownie recipe is oh-so-gooey on the inside and totally nuts. A bit like me! It also happens to be dairy free and low FODMAP too. Also a bit like me.
As you might know, I'm on a mission to restore the reputation of the much maligned gluten free brownie. No longer will it be a 'last resort' option when you're eating out. It's time to remind you of what a real brownie should taste like, so here's my gluten free peanut butter brownie recipe…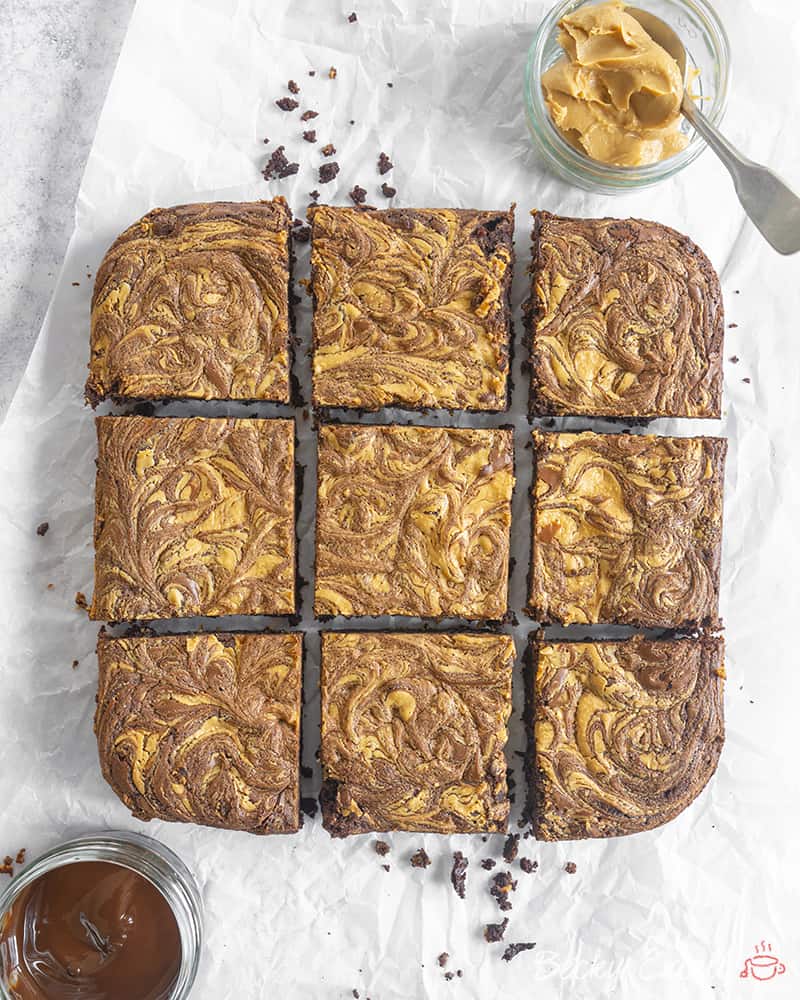 As you might have heard in my original gluten free brownie recipe, I'm going to try and prove to you that a brownie doesn't have to immediately mean… a frownie. If my original fudgy gluten free brownies weren't enough for you, you'll be pleased to know that I'm going one step further today.
Yep, I've thrown peanut butter into the equation and that can only mean one thing. It's peanut butter brownie time!
No? Well it is quite an old reference, I'll give you that. Either way, my gluten free peanut butter brownie recipe is here to stay. With a baseball bat.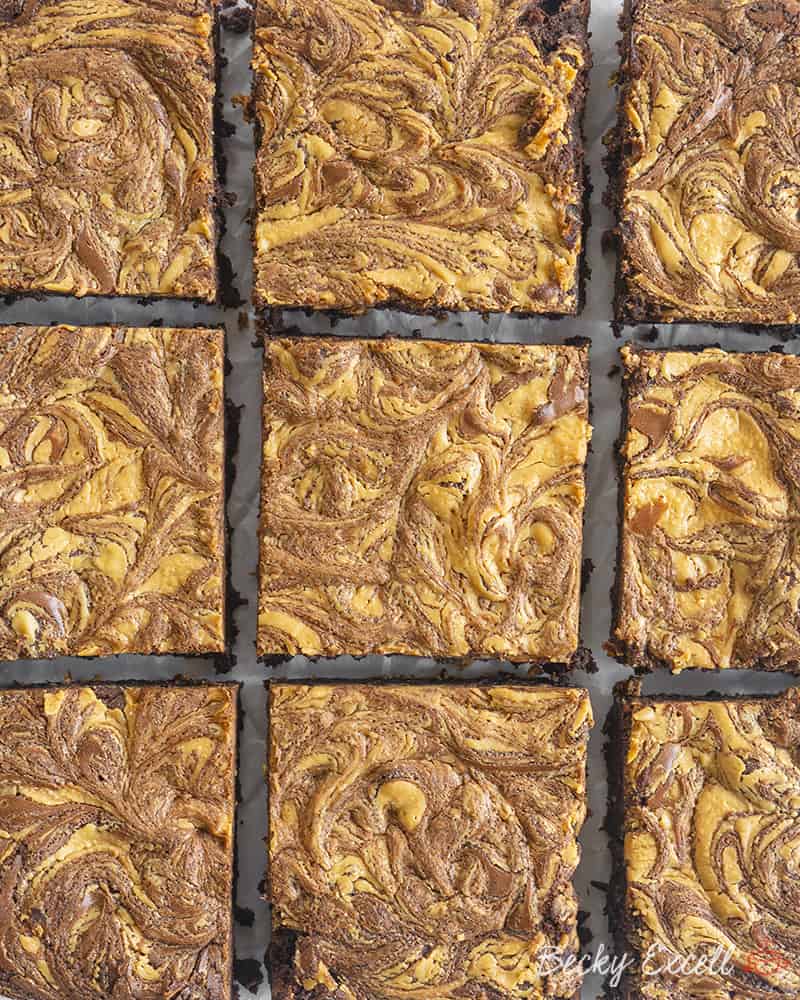 This recipe is as simple as making my original brownie recipe, but with a healthy amount of peanut butter swirled on top as a finishing touch. It's definitely not rocket science!
Don't let the kick-ass pattern fool you, it's so simple to get the same effect on your gluten free peanut butter brownies too. It's just a case of dolloping on your peanut butter, swirling it into the mixture and feathering it with a knife. The feathering simply involves 'drawing' lines across your swirled peanut butter by lightly dragging a knife through the mixture. Jobs a good'un.
Not only does it look beautiful, but it obviously adds such an explosion of indulgent, gooey, peanut butter bliss. Somehow it makes the brownies even more gooey than my original recipe, which is pretty unreal.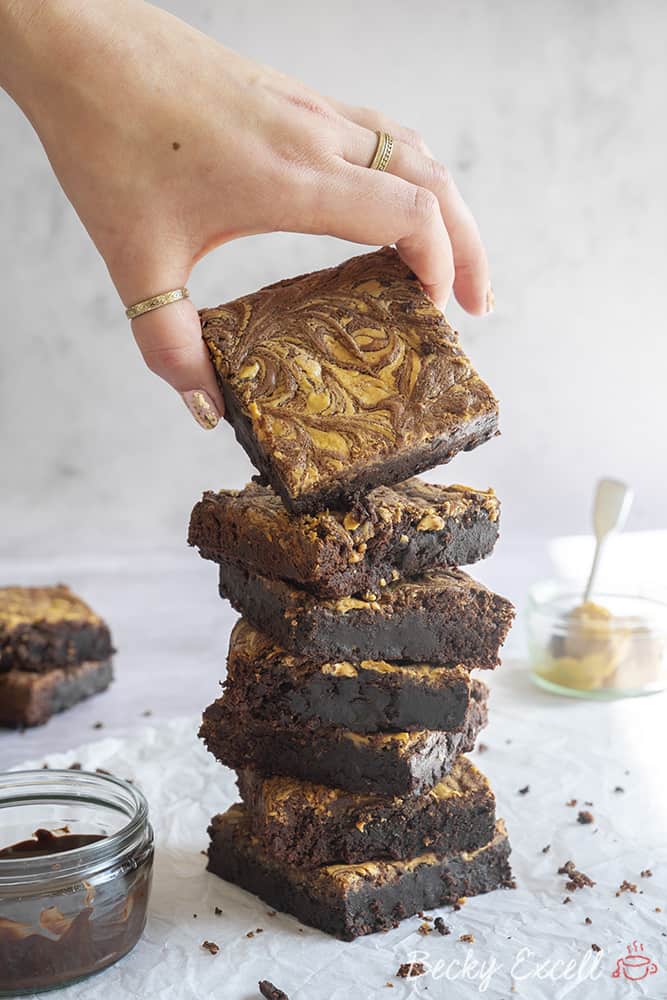 I really hope you can see from the photos how moist and fudgy my gluten free peanut butter brownie recipe is. I feel like the gluten free brownies that you buy in shops have somehow ended up basically being a chocolate cake. This saddens me greatly.
A brownie should not be a chocolate cake or anywhere near it! A brownie, to me, should be something you'd have for dessert, with a dollop of dairy free vanilla ice-cream on top (Swedish Glace if you're asking). The texture is totally different from cake and the flavour is so much more intense thanks to the dairy-free dark chocolate.
Whilst I'd always advise eating them fresh from the oven, if you're leaving them until dessert, just warm them up before you enjoy them. I love the hot-cold contrast of hot brownies and cold ice cream!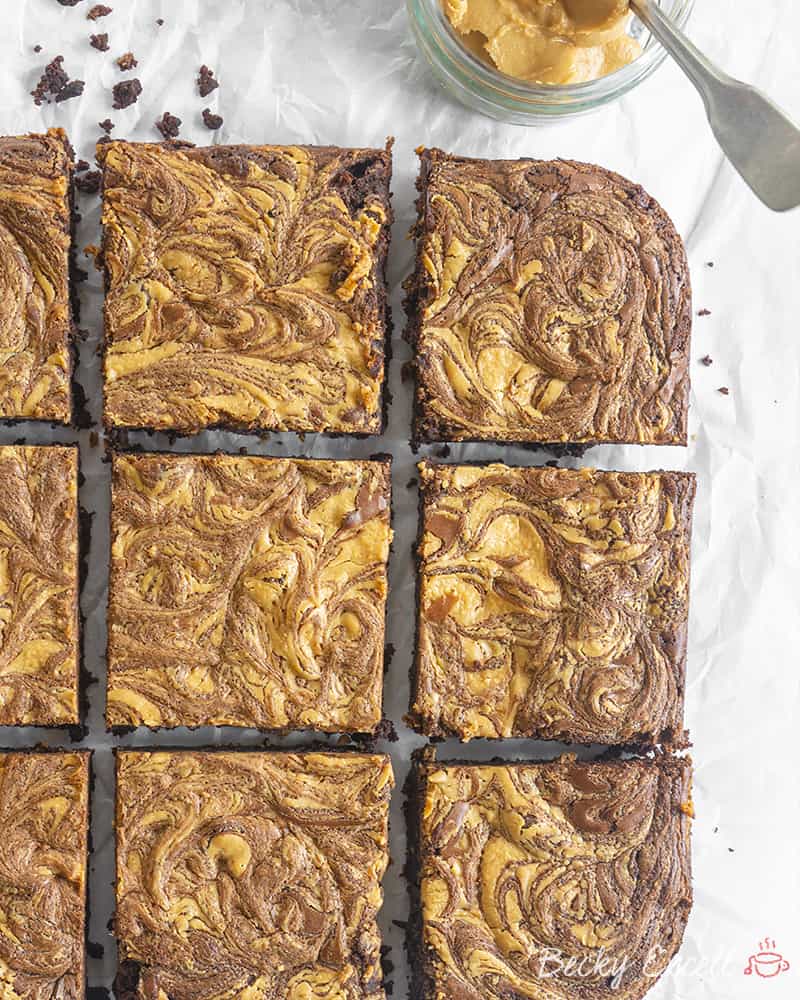 I'm not saying this arrogantly, but I feel like I finally understand baking (and gluten free baking) in general a lot more recently.
Basically, up until a year or so ago, all I could make was sponge cakes. Seriously! Four years of blogging and all I could make was sponge cakes. You've gotta admit, it's pretty impressive I even got this far, right?
It's not like I was incapable of making anything else, but any time I ever tried to do something out of my comfort zone, it was always a massive fail.
But ever since I smashed my arch-nemesis of baking (this recipe here which failed so much I almost gave up baking altogether) nothing seemed so scary any more!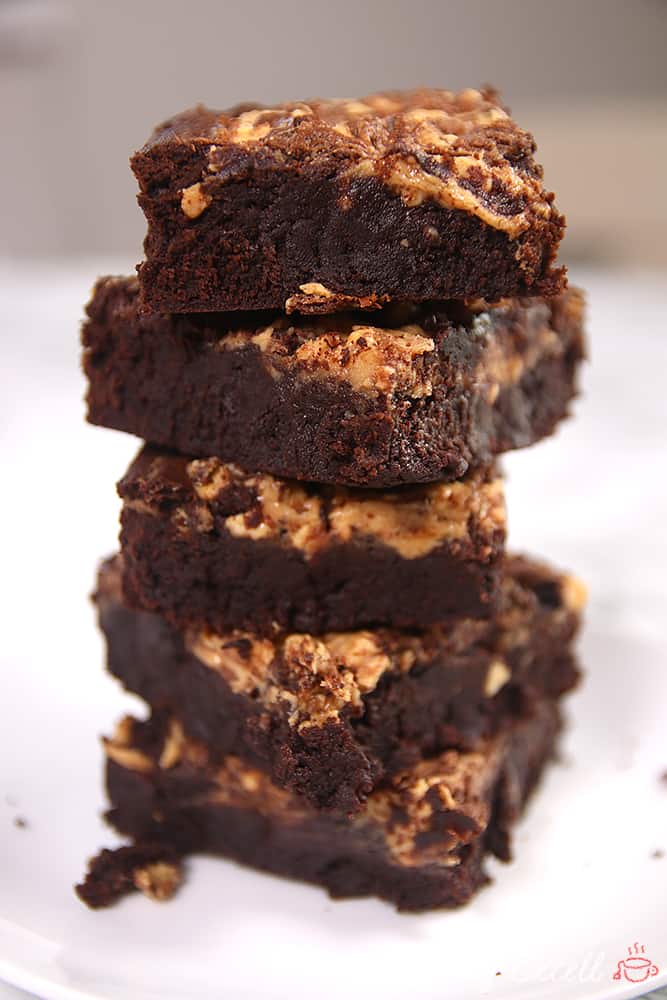 But anyway, what I'm trying to say is… you can trust that my gluten free peanut butter brownie recipe will do you proud. I don't create super-complex baking recipes that require you to have the piping skills of a professional cake decorator.
I don't create recipes that ask for ingredients you've never heard of. It's all just humble, classic baking that tastes bloody awesome and is pretty gosh darn simple to make at home. Yep, that's my gluten free peanut butter brownie recipe all over!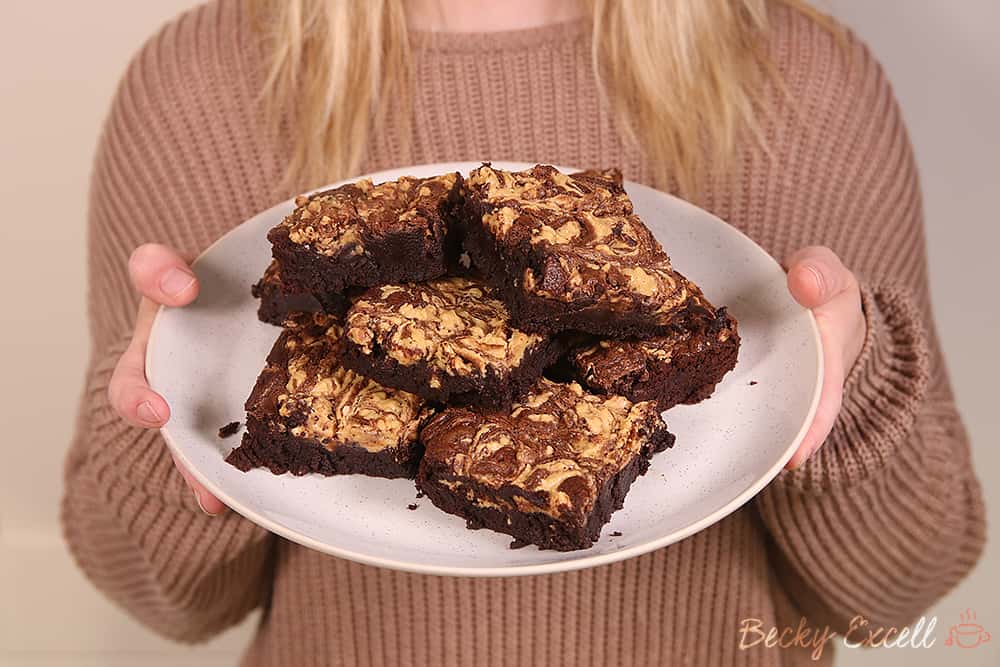 I'd normally give you a few quick tips here, but it's so easy to follow, you don't really need any! I will say though, if your brownies aren't gooey enough to your liking, they're probably a little overdone. If they're disintegrating then they probably need a little longer. Follow these steps and you won't have a problem.
Ok, are you ready? Here's my gluten free peanut butter brownie recipe!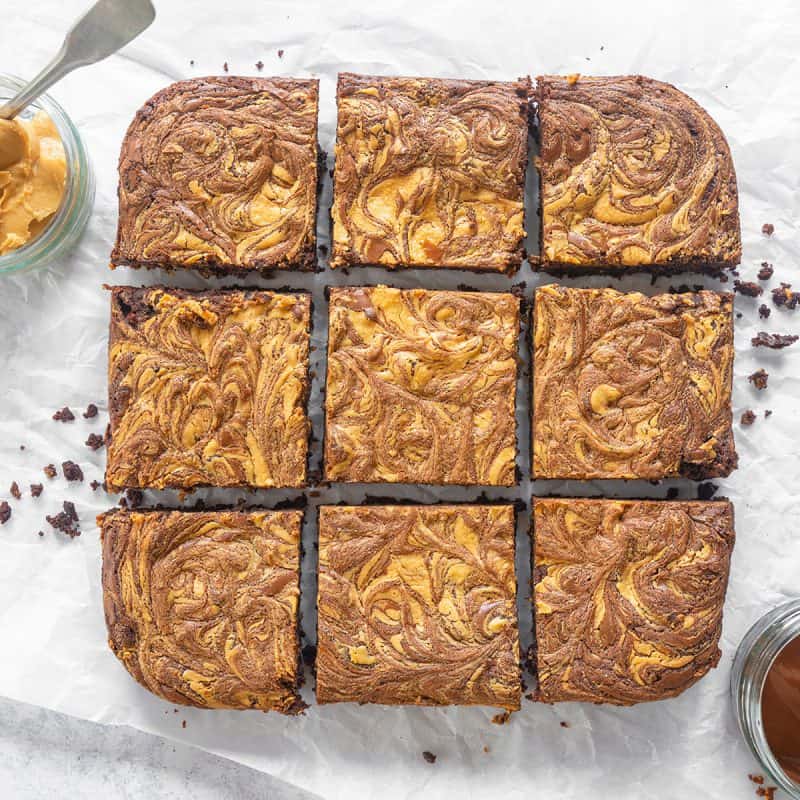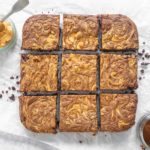 Gooey Peanut Butter Gluten Free Chocolate Brownie Recipe
Say hello to the ultimate peanut butter brownies - no gluten or dairy required!
Ingredients
90g gluten free plain flour

50g cocoa powder

200g dairy free hard margarine

200g dairy free dark chocolate

3 eggs

280g golden caster sugar

peanut butter
Instructions
Melt together your dairy free hard margarine and dairy free dark chocolate over a bain marie until completely melted. Mix together and leave out to cool down to room temp.

Sieve together your cocoa powder and gluten free flour in a bowl. Mix briefly until combined, put to one side.

In another bowl crack 3 eggs and pour in your golden caster sugar. Beat together (I use an electric hand whisk) until pale in colour and almost a little frothy.

Once the chocolate and margarine mixture is cooled to room temp, pour it into your egg/sugar mixture. Fold it in, it will initially marble and then turn super chocolatey.

Next fold in the your gluten free plain flour and cocoa powder mix. Ensure it's fully folded in.

Pour/spoon your brownie mixture into a prepared tin, smooth it over so it's even and level. (I used a square loose bottom tin with a little parchment/baking paper in the bottom)

Evenly spoon 9 dollops of peanut butter on top of the brownie mixture and swirl them around. Feather the mixture by dragging a knife in straight lines across it.

Bake for about 25 mins at 175C. Cooking for this amount of time at this temp should create incredible fudgy brownies.

Important!! Allow to cool completely before touching them!! Slice them up and enjoy!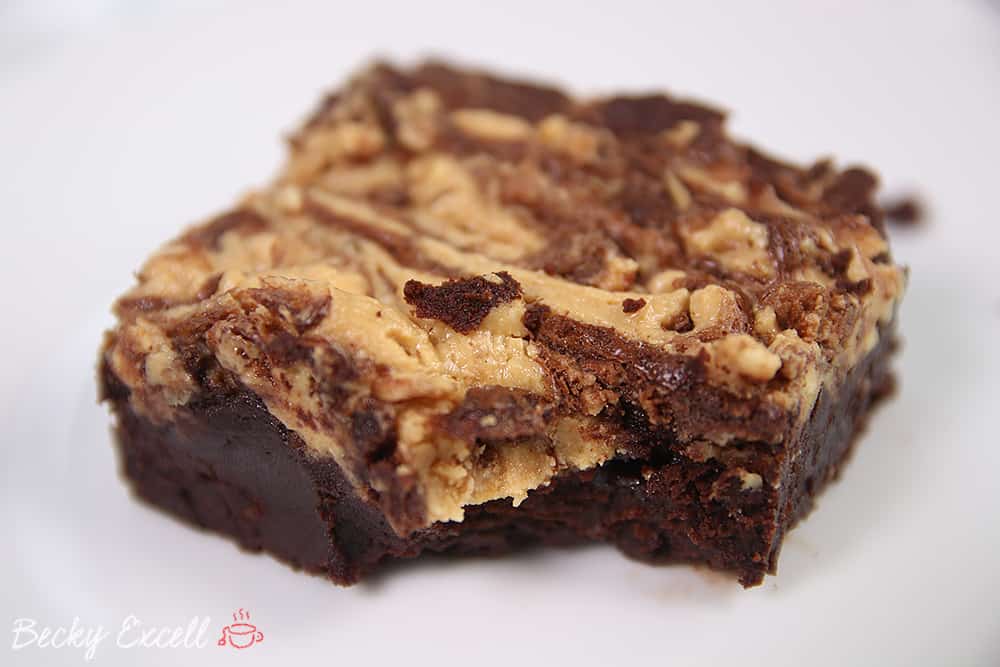 Thanks so much for checking out my gluten free peanut butter brownie recipe! After years of being tired of the sight of gluten free brownies, I'm now an absolute addict. I intend to make as many different brownie variations as I possibly can!
Any questions about the recipe? What different types of gluten free brownies would you like to see next? Cheesecake? Orange? Mint? Please do let me know by leaving a comment below or on Facebook / Twitter / Instagram!
Thanks for reading,
Becky xxx
Oh and don't forget to pin this for later!