I'm so happy to finally share my gluten free Victoria sponge cake recipe with you! It's also dairy free and low FODMAP too.
Yep, my blog has been running for 6 years and it's taken me that long to post a gluten free Victoria sponge cake recipe. Don't worry, this won't take you 6 years to bake, that's just me! Better late than never, I guess…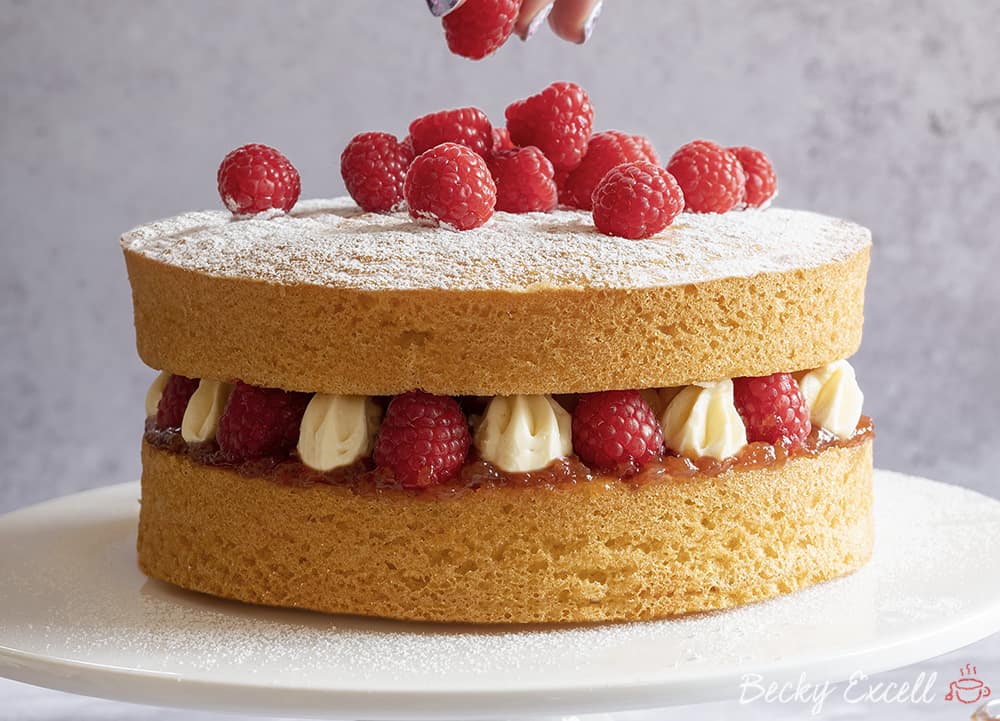 Before I became gluten free (for some reason I've phrased that like I became a wizard at Hogwarts) I always used the same recipe for my Victoria sponge.
It was an old Delia Smith recipe from a baking book my Mum had… I've actually just checked and the book is actually from 1977! Older than me my quite some way!!
But when I started trying to make the exact same cake – using gluten free flour instead – it turned out ok… but it wasn't the light, golden beauty that I remembered.
It was always a little too brittle and my sponges seemed to sink in the middle instead of having a nicely risen top. What was I doing wrong?!!
So naturally, I had to adapt the recipe somewhat to make it function as a gluten free cake. And that's what took me so bloody long to post this!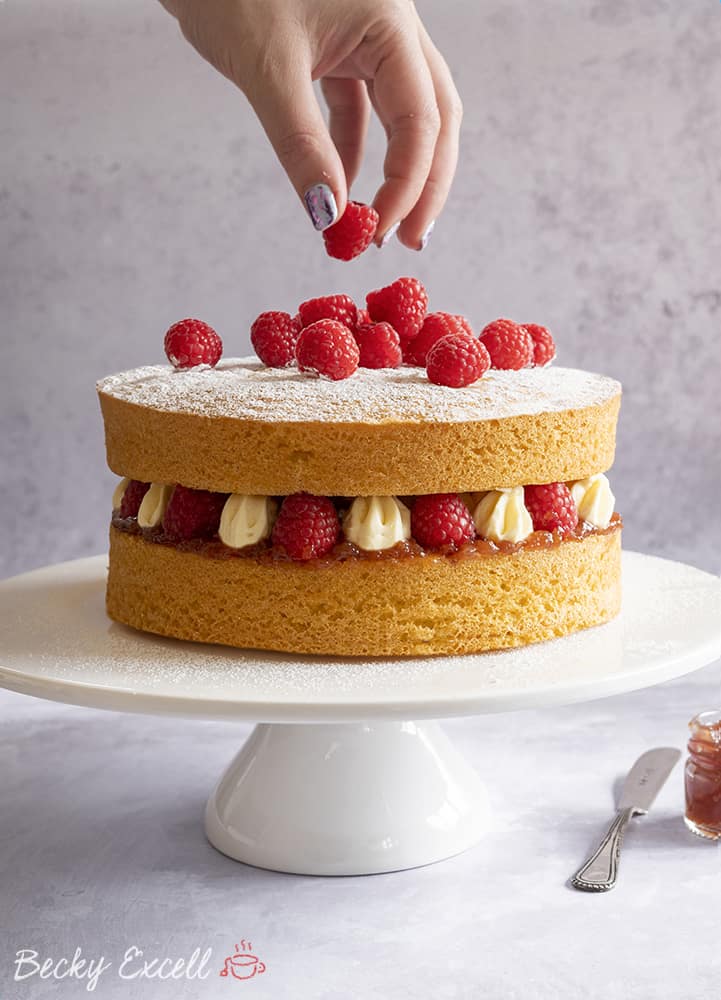 I fixed the crumbliness issue by adding a little xanthan gum which, if you didn't know, is a substitute for gluten that helps to better bind your baking together.
Just a little bit of xanthan gum immediately eliminated that brittle, crumbliness that you can often get with gluten free baking. And in terms of fixing the sunken middle of my sponges, well… I solved that problem too.
Delia's old school recipe always used 2 tsp of baking powder and it always seemed to work totally fine. But for some reason, one day they all started sinking in the middle on me!
So I decided to reduce the amount of baking powder from 2 tsp to 1 tsp and hey presto – those lovely, risen tops to my sponges were suddenly back.
Clearly, whilst baking powder is great for giving cakes a nice rise, too much means a sunken chasm in the middle of your cakes!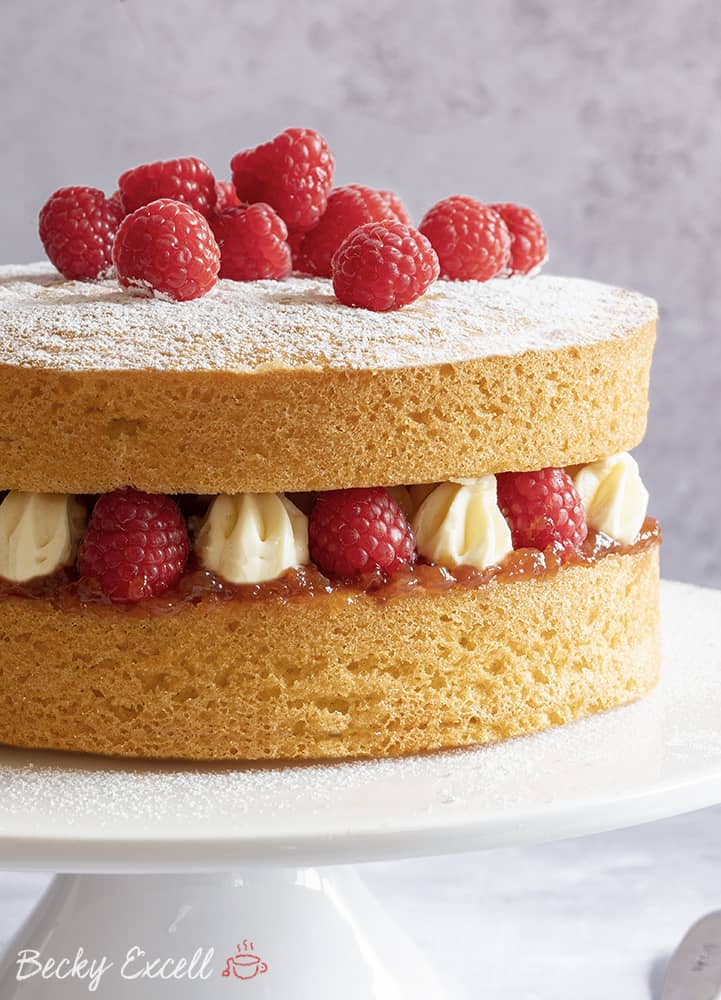 And with those two little niggles sorted, I'm now happy to share my gluten free Victoria sponge cake recipe (adapted from Delia's 1977 recipe!) with you in all its glory.
I decided to pipe my icing on and throw on a few fresh raspberries too, but it's really up to you how you present this beauty. You can just spread the icing and jam on either sponge if you'd prefer.
FYI – Delia's original recipe doesn't even have icing… it was just jam in the middle! I couldn't stand for that, so I've thrown in my own dairy free buttercream recipe as well.
If you don't need to be dairy free, you can feel free to use butter instead, but you might like to note that Delia's original old school recipe actually asked for soft margarine, not butter! Ok, so here's my gluten free Victoria sponge cake recipe 👇🏻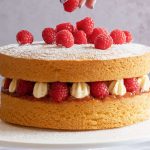 Gluten Free Victoria Sponge Cake Recipe (dairy free)
My gluten free Victoria sponge cake recipe is an absolute classic that's taken me years to perfect! It's also dairy free too if you need it to be.
Ingredients
For the sponge
225

g

gluten free self raising flour

1

tsp

baking powder

(ensure it's gluten free)

1/4

tsp

xanthan gum

225

g

margarine / spread / softened butter

(dairy free if necessary)

225

g

caster sugar

4

eggs

1

tsp

vanilla extract
For the butter cream icing
500

g

icing sugar

250

g

margarine / spread / butter

(dairy free if necessary)

1

tsp

vanilla extract
You'll also need...
raspberry (or strawberry jam)

fresh raspberries

(optional)

icing sugar

(for dusting on top)
Instructions
Prepare 2 circular cake tins (mine are 20cm) - grease them and cut a circle of parchment paper to sit in the bottom. Preheat your oven to 160C Fan.

Place all your sponge ingredients into a large mixing bowl and whisk until well combined and thoroughly mixed (1 minute should do it).

Divide the mixture between the two tins evenly.

Bake for around 30 minutes until golden (remember never to open the oven until you think they are definitely done). To check if the sponges are cooked, insert a skewer and if it comes out clean, it's done!

Leave the sponges in their tins for about 5 minutes before turning them out onto a cooling rack.

Whilst the sponges are cooling, make your buttercream. Start by adding your margarine / spread / butter to a bowl and cream it together. This can be done by hand or with an electric hand whisk.

Once creamed, gradually add your icing sugar - it seems like a lot but it will all incorporate itself.

Add your vanilla extract and mix once more.

To decorate, spread jam on the bottom layer of the cake. If you want to pipe your buttercream, place it in a piping bag and pipe a dollop followed by a raspberry and continue this around the edge. Then in the centre, just pipe lots of extra dollops of buttercream. Place your second sponge on top.

If you don't want to pipe your buttercream, spread your buttercream on one of your sponges, jam on the other and sandwich them together (you can also add fresh raspberries on top of the cake if you want).

Dust with a little icing sugar on top. Enjoy!
Thanks for reading all about my gluten free Victoria sponge cake recipe! If you make it, I'd love to see how it turned out so don't forget to take a snap of your creations and tag me on Instagram!
Any questions about the recipe? Please do let me know by following me on Instagram and leaving me a comment on a recent photo!
Thanks for reading,
Becky xxx
Oh and don't forget to pin this for later!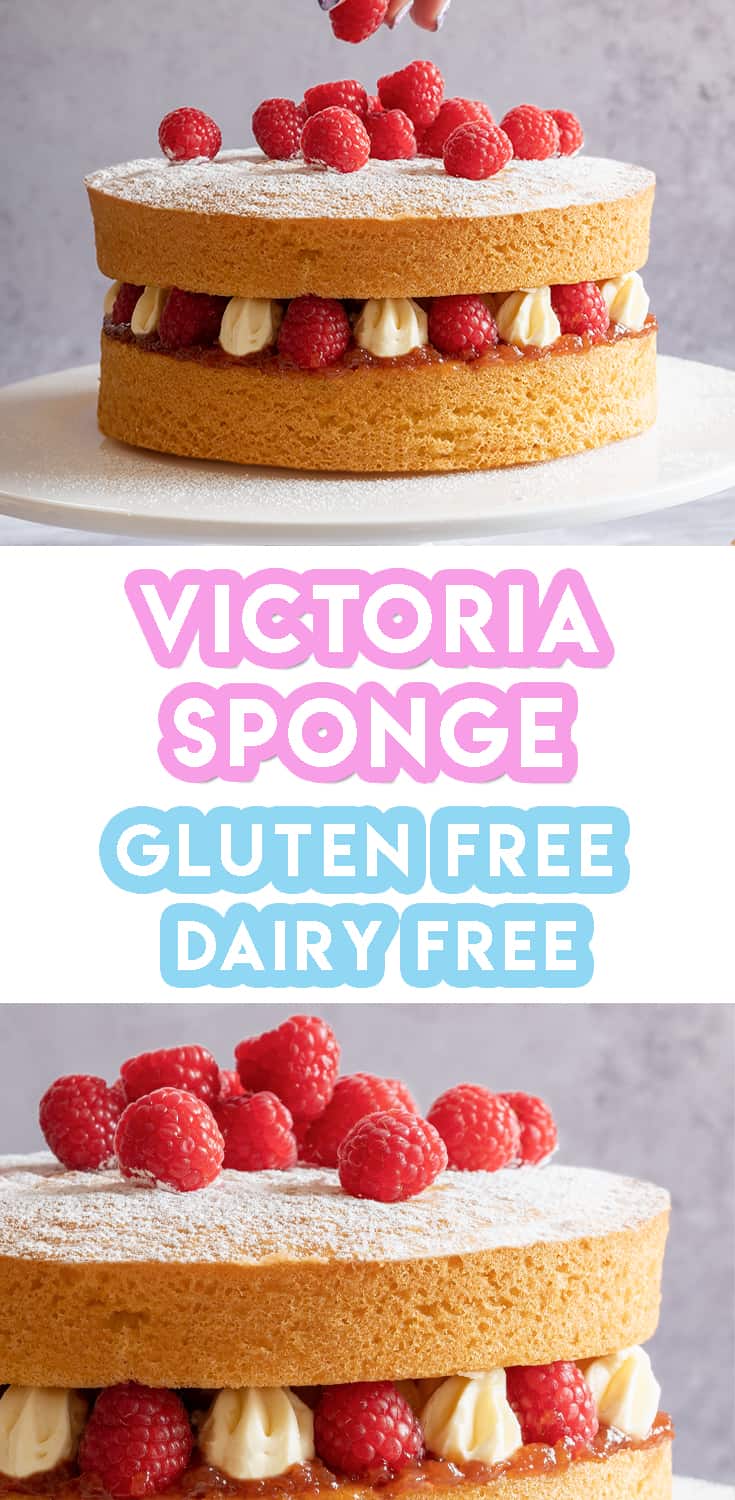 Comments