When life hands you lemons, make my gluten free lemon drizzle traybake recipe! It's also dairy free and low FODMAP too, how about that?
Life can be mega stressful and when I'm stressed, I tend to bake. It just seems to make all my cares go away, plus then you've got something beautiful to show for your time (hopefully!!) And that's sorta how my gluten free lemon drizzle traybake recipe was born…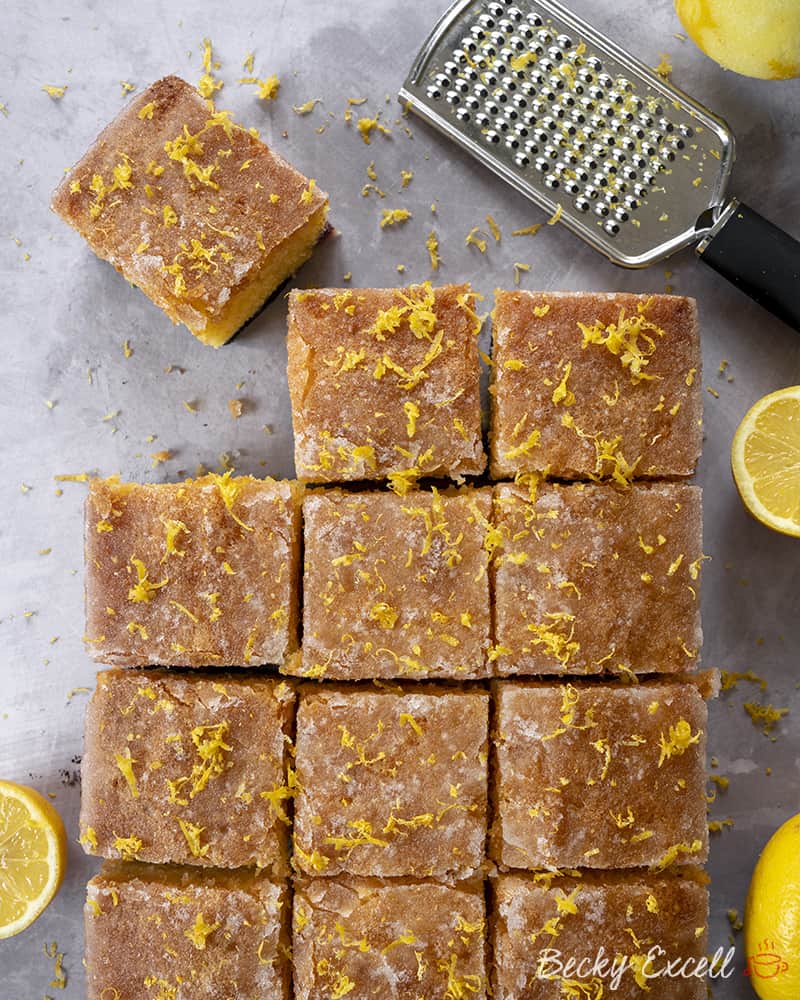 And it's only recently that I realised… without baking, I am so ill-equipped to deal with stress! I think most normal people can just tackle their problems head on, but I am definitely a 'bury my head in the sand' kinda gal.
(anyone else the same?!)
But sadly, I've had less and less time to bake recently and honestly. It's sort of like my stress relief… and without it, I've been really going a little bit doo-lally!
So I said to myself "right, no more work, no more e-mails, no more invoices until you've baked a cake!!!" So I rushed to my kitchen and whipped up a cake with whatever I had in my cupboards…
And it looked a little something like my gluten free lemon drizzle traybake recipe!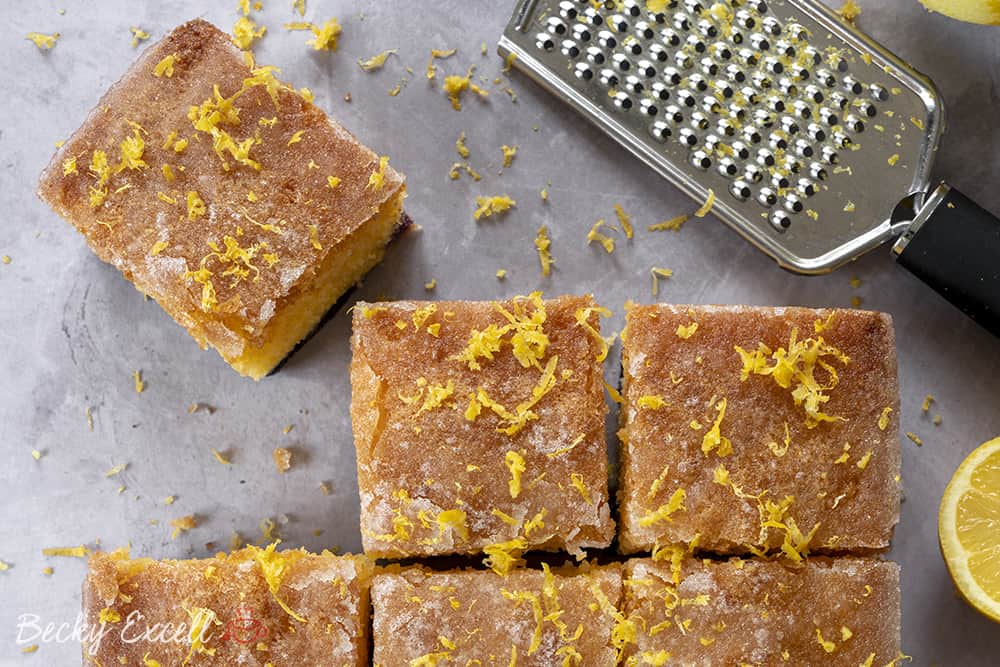 And honestly, it really is one of those cakes that is so simple to bake. I find that the complicated cakes just end up making me more stressed, which sorta defeats the point!!
You only need one-bowl for your sponge mixture too, which means less washing up – something I will never complain about any time soon!
Once you've whipped up your sponge mixture, simply spoon the mixture into your prepared baking tin and pop it in the oven. Then all that's left to do is make the drizzle, drizzle it on and grate some lemon zest on top.
So yeah – my gluten free lemon drizzle traybake recipe is not only great stress relief, but it's also easy peasy, lemon squeezy!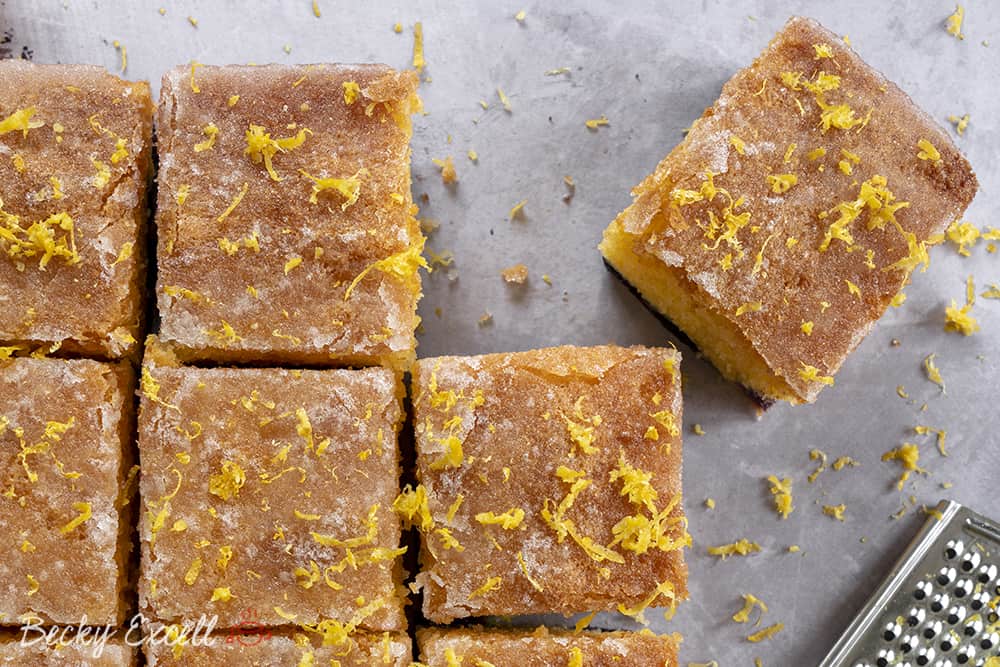 So basically what I'm waffling on about in this post is this: never underestimate the power of a really simple recipe when you're feeling a bit worn down and nothing else seems to cheer you up.
I think everyone needs a little creative outlet to keep you on the right track and baking is definitely mine!
I hope you enjoy making my gluten free lemon drizzle traybake recipe as much as I did. Here it is ??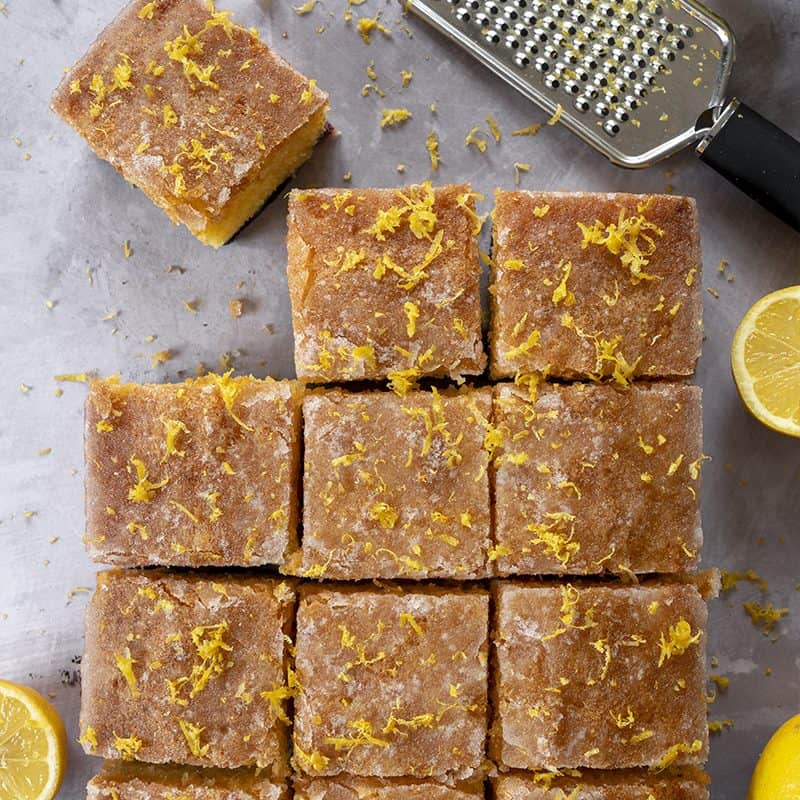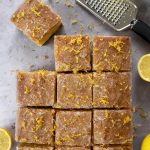 Gluten Free Lemon Drizzle Traybake Recipe (dairy free, low FODMAP)
My gluten free lemon drizzle traybake recipe is sooo easy to bake at home and it's dairy free and low FODMAP too! Who fancies a slice?!
Ingredients
For the cake
400

g

butter

(for dairy free use dairy free spread or margarine)

350

g

caster sugar

(golden caster sugar works well too)

6

eggs

4

lemons, zested

1-2

tsp

lemon juice

225

g

gluten free self raising flour

170

g

ground almonds
For the drizzle
175

g

granulated sugar

(less fine than caster so gives a better topping)

2

lemons, juiced

lemon zest

(to sprinkle on top at the end!)
Instructions
Preheat your oven to 160C fan. Prepare a rectangular baking tin - mine is approx 32cm x 21.5cm. I grease the tin and then use baking paper - the baking paper should go over the edges so you can lift out the cake once it's cooled.

Beat together the butter or dairy free spread and caster sugar.

Add the grated lemon zest of 4 lemons and beat until light and fluffy.


Add the eggs (add these one at a time and beat each thoroughly until combined before adding the next). Add your lemon juice at this point too.

Sift in your gluten free flour & fold it in.

Fold in your ground almonds.

Spoon the mixture into the prepared tin. Bake for about 55-60 minutes, until golden and cooked through.


Whilst your cake is baking, mix thoroughly together the juice of 2 large lemons and your granulated sugar for your drizzle.


Remove your cake from the oven and poke a skewer through it - if it comes out clean. then it's done!

Whilst the cake is still pretty warm, poke holes all over the top of it and gradually pour over the drizzle. (It seems like a lot of drizzle but the cake will absorb it quickly so keep adding a little at a time to make it super moist!)

Sprinkle the top of the cake with lemon zest.

Leave to cool in the tin and then lift out, using the baking paper and place on a cooling rack.

Cut a thin strip off each side (but don't waste, they can be enjoyed!!). Then cut the sponge into squares. Enjoy!
Thanks for reading all about my gluten free lemon drizzle traybake recipe! If you make it, I'd love to see how it turned out so don't forget to take a snap of your creations and tag me on Instagram!
Any questions about the recipe? Please do let me know by following me on Instagram and leaving me a comment on a recent photo!
Thanks for reading,
Becky xxx
Oh and don't forget to pin this for later!