Since it's Allergy Awareness Week 2019, I thought I'd share my gluten free red velvet traybake recipe. It's not only vegan and dairy free – it's actually free from *all* 14 allergens. How crazy is that?
And the best thing about this recipe? You'd never even know it was free from anything and that's what I pride myself on. So let's talk about my vegan and gluten free red velvet traybake recipe!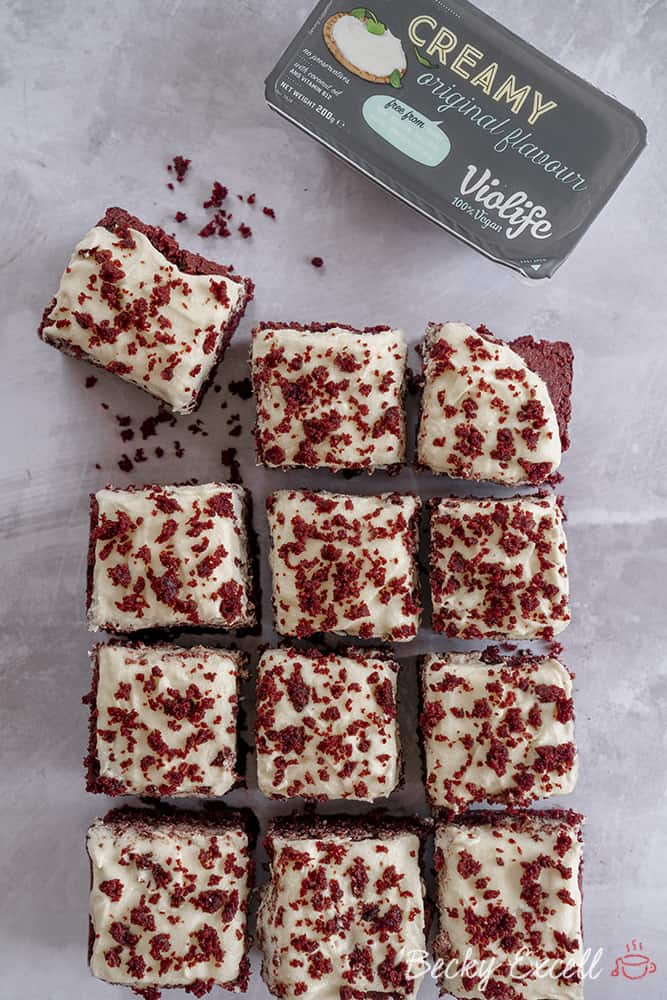 I absolutely love a red velvet cake, but in reality… how often do you even come across one that's gluten free?
(it's basically the unicorn of gluten free cakes – I'd love to see one, but I'm never quite sure if they even exist!)
And then when you throw dairy free, soy free and egg free/vegan into those requirements too… I think you would sooner see a unicorn!!!
But that's exactly why I thought my vegan and gluten free red velvet traybake recipe would be absolutely perfect for Allergy Awareness Week 2019. As we all know, having a food allergy can be tough… but you shouldn't have to miss out on your fave 'unicorn' foods because of it!!
Ok, let's start with the 'cream cheese' frosting. How on Earth do you make that with zero dairy?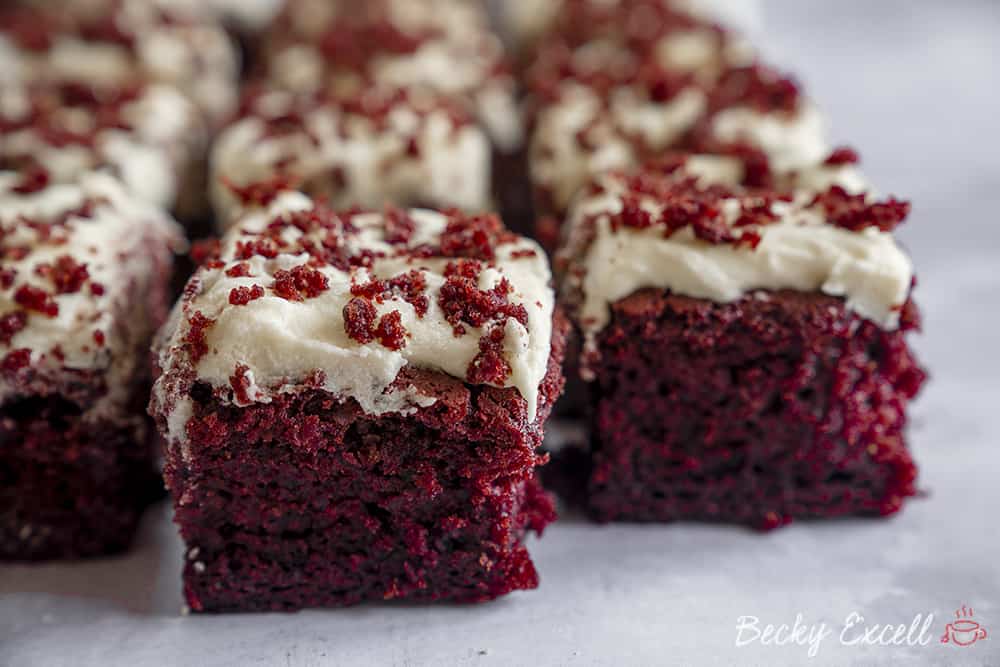 Well, the answer to that question was made very simple by Violife's Creamy Original Flavour.
After a little experimenting I was able to create a vegan and dairy free 'cream cheese' style frosting that totally blew away all my expectations.
It's creamy, sweet, perfect for spreading and it has that unmistakable 'cream cheese' like flavour that I never thought you could get without using dairy.
My boyfriend is lactose intolerant and taste tests all my dairy free baking… and he said it was the best cream cheese icing he's tasted in years!
Honestly, you just have to give it a try for yourself.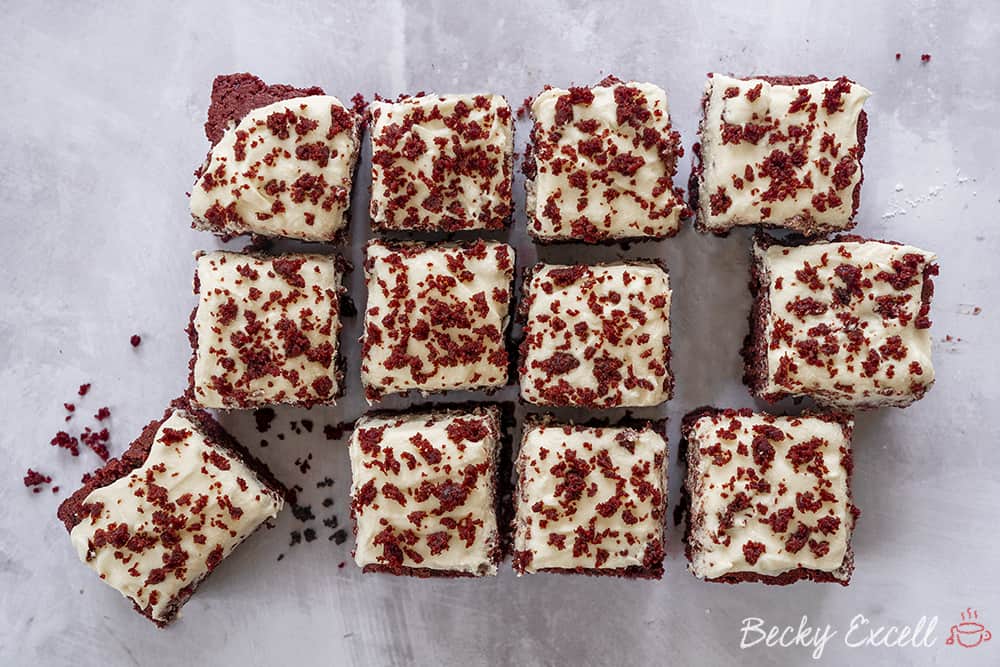 And FYI – I can now proudly say that this is the first ever vegan cake that I've successfully baked.
(yep, somehow in six years of blogging, I've only just managed to create a cake without eggs!!)
I'm a bit of an old school baker and I learned everything I know from my Mum – so basically every cake used to start with flour, butter, eggs and sugar. Anyone else a bit like that when it comes to baking?
So as you can imagine, this recipe was a massive departure for me, but you know what? It was shocked by how incredibly easy it was to bake.
If like me, you're new to vegan baking, make sure you give this recipe a try as I'm sure you'll surprise yourself just like I did.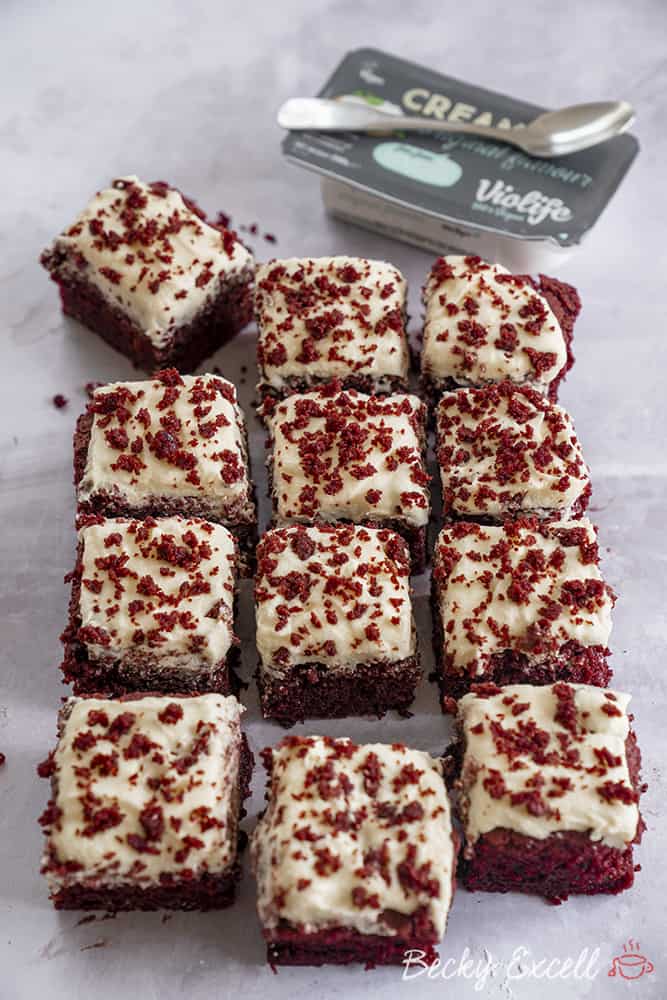 Violife are passionate about helping reuniting people with their favourite allergy-free dishes all year long and hopefully I've done them proud with this recipe.
The sponge cake turned out amazing – sooo lovely, moist and chocolatey… with the wonderful vibrant red colour you'd expect from a red velvet cake.
I honestly can't believe that this recipe is free from 14 allergens and I'm sure that when you take a bite, you'll agree too.
(oh wow, sound a bit full of myself there, don't I?)
Not sure where you can find Violife Creamy Original Flavour to create this recipe? Head over to their website to check out all of their stockists (it's basically everywhere!)
So here's my vegan and gluten free red velvet traybake recipe…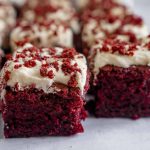 My Vegan Red Velvet Traybake (gluten free, milk free, soya free, nut free and egg free)
Total Time
1
hour
5
minutes
Ingredients
For the cake
400

ml

plant based milk

(rice milk or coconut milk, not from a tin)

40

ml

cider vinegar

390

g

gluten free self-raising flour

35

g

cocoa powder

(ensure this is vegan)

1/4

tsp

xanthan gum

(optional)

1/2

tsp

baking powder

(ensure this is gluten free)

1/2

tsp

bicarbonate of soda

1/4

tsp

salt

400

g

caster sugar

160

ml

flavourless oil

(vegetable oil works well here)

1

tsp

vanilla extract

2-3

tsp

red colouring paste

(ensure this is vegan)
For the frosting
200

g

Violife Creamy Original Flavour

100

g

vegan butter / baking block

355

g

icing sugar
Instructions
Prepare a rectangular baking tin with parchment paper and preheat your oven to 160C Fan.

In a jug pour your coconut milk and cider vinegar. Allow to sit together for 10 minutes.

In a large bowl place your flour, caster sugar, cocoa powder, xanthan gum, baking powder, bicarbonate of soda and salt. Mix together to combine.

Add to your bowl of dry ingredients your plant-based milk/vinegar mixture, oil, vanilla and red colouring paste. Mix these carefully together with a silicone spatula or metal spoon, ensuring no clumps of dry ingredients remain. Do this as quickly as you can – it's a lot of mixture so it took me about 20-25 seconds.

Spoon/pour the mixture into your prepared baking tin, ensuring it's evenly spread. Then place in the oven for about 50 minutes.

Remove from the oven once cooked (insert a skewer into the centre to check) and then leave to cool in the tin before lifting it out onto a flat surface.

Whilst your cake is cooling you can make your frosting. Using an electric hand whisk or an electric mixer mix together the Violife Creamy and the vegan butter / baking block. Do this until smooth and light.

Sieve in your icing sugar (about 100g at a time) mixing thoroughly between each addition. Once all the icing sugar is added your frosting is ready. You can keep it in the fridge until you need it.

Cut the edges off of your cake and crumble them (I just use my hands for this) – these will go on top of the frosting. If the edges of the cake aren't easy to crumble, chop them finely with a sharp knife.

Spread the frosting with a palette knife thickly all over your cake and then sprinkle with the red velvet crumb. Then slice into squares.

Thanks for reading all about my vegan and gluten free red velvet traybake recipe! If you make it, I'd love to see how it turned out so don't forget to take a snap of your creations and tag me on Instagram!
Any questions about the recipe? Please do let me know by following me on Instagram and leaving me a comment!
Thanks for reading,
Becky xxx
Oh and don't forget to pin this for later!
This is a sponsored post with Violife Foods.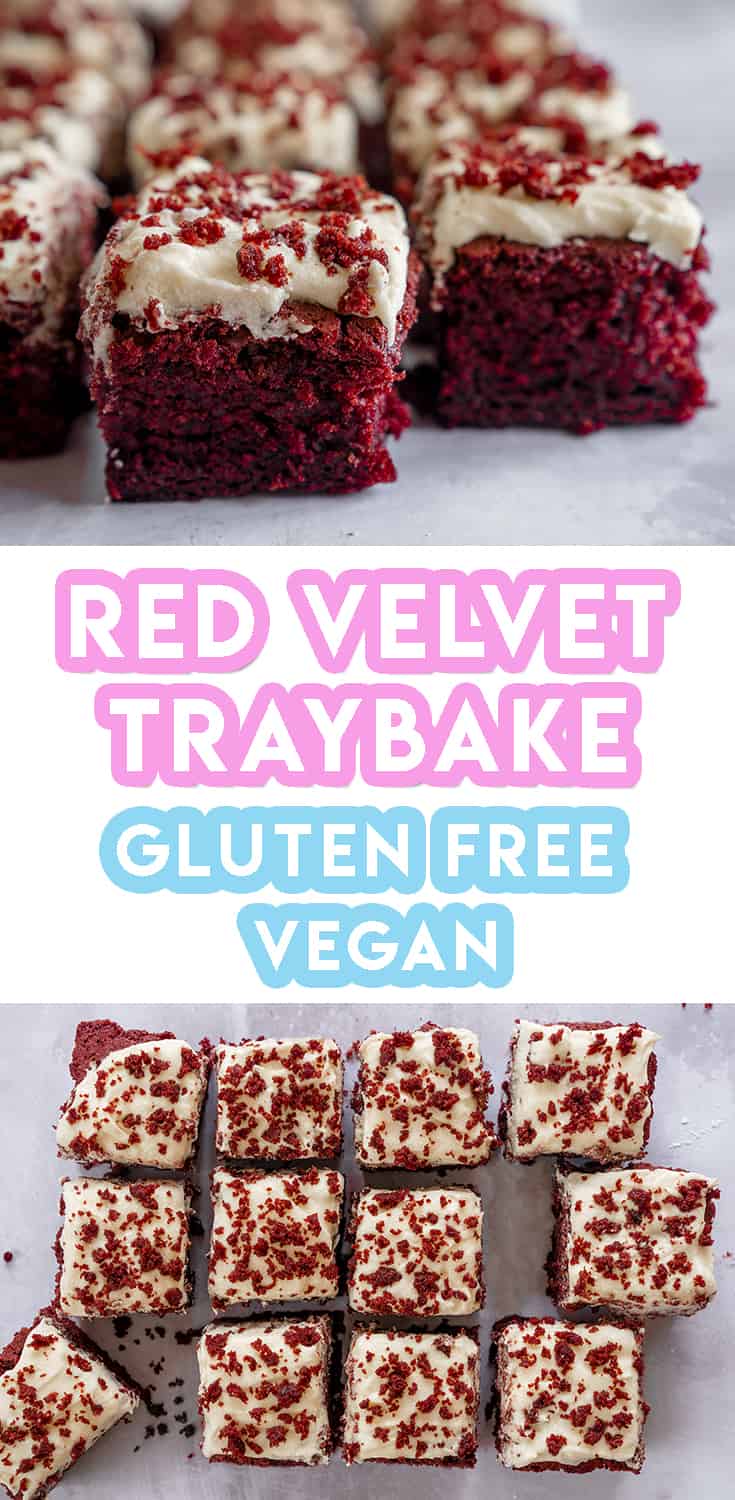 Comments