My gluten free coffee and walnut cake always goes down well with everyone who tries it. It's really simple to make and has a beautifully rich coffee flavour. It's moist and super light all in one cake. Oh and it's dairy free too!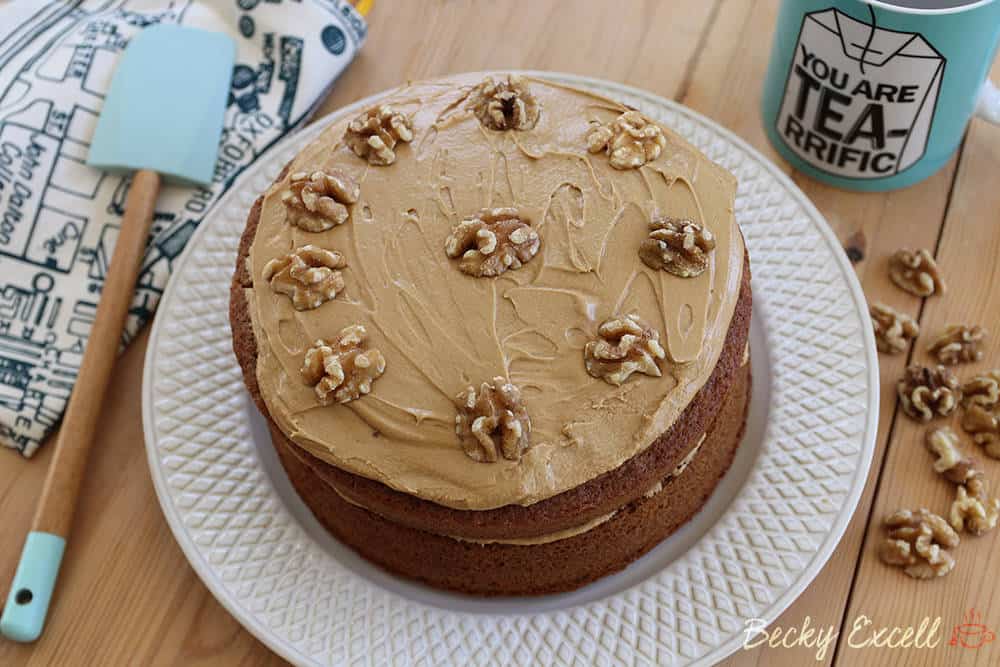 When I think of coffee, the first person that springs to mind is my mum. She loves coffee! A regular coffee drinker, a coffee and walnut cake lover, a coffee ice cream enthusiast… you name it! I myself am not a coffee drinker, I wish I was but I just find it so bitter. However, I still somehow love a coffee and walnut cake! So of course, when I fancy making a gluten free cake for my mum and I, it's got to be a gluten free coffee and walnut cake!
I've been making a dairy free & gluten free coffee and walnut cake for quite a while now, but I've never shared the recipe before. I thought today I would just incase you love gluten free coffee and walnut cake as much as we do!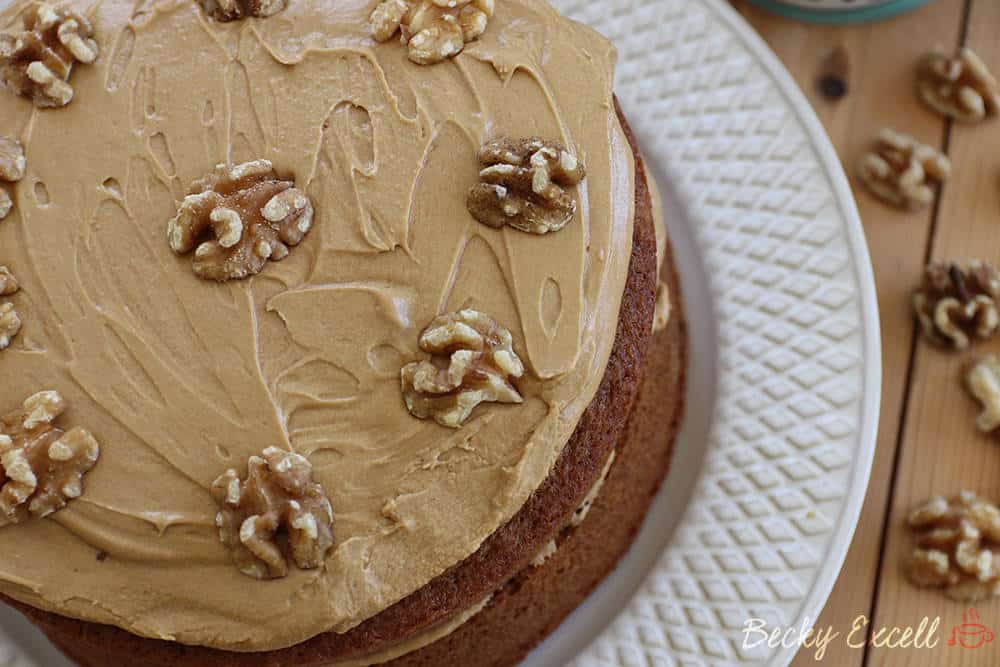 I love making gluten free sponge cakes. My whole life I have used the all in one method, but for this particular cake I make it using the standard creaming method. I want my gluten free coffee and walnut cake to be lovely and light and I find I can get more air into it by using this method.
Another change to my standard gluten free sponge recipe is that I use light brown sugar instead of caster sugar. I prefer its flavour alongside coffee, I think it softens the bitter taste ever so lightly more than caster sugar. I've always been a fan of using brown sugar for certain richer gluten free sponge cakes, however I must emphasise here that if you don't have any brown sugar to hand, caster sugar in the exact same measurement will work perfectly too.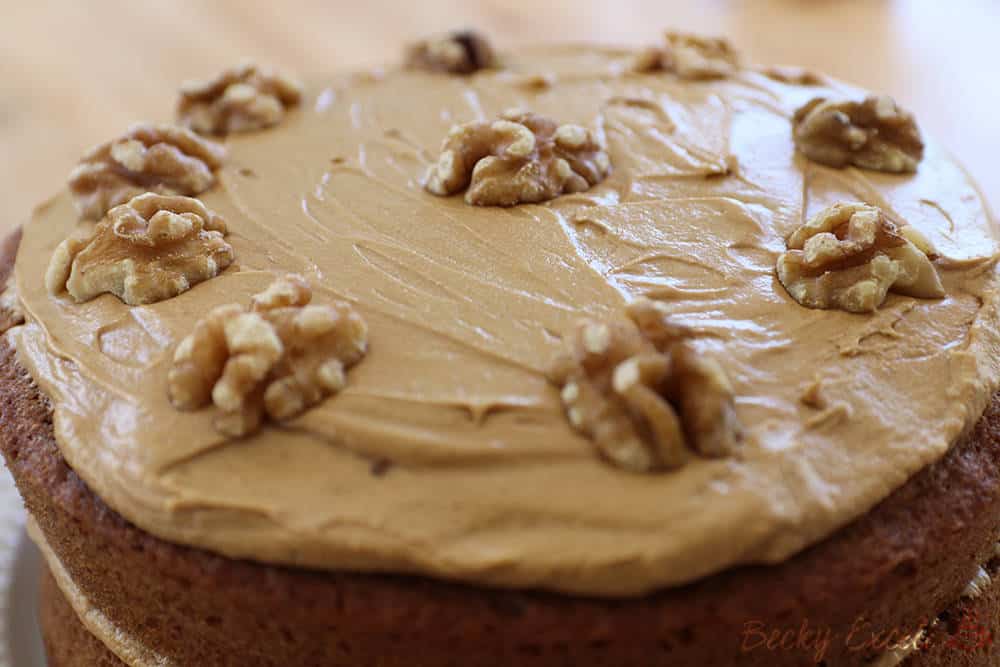 Something else I would recommend is that when you chop your walnuts, don't chop them too finely for within the cake. I've always loved my gluten free coffee and walnut cake for it's texture, it's lovely and moist as well as having some nice crunches throughout from the walnuts. I love mixing up textures.
I like to use the just regular instant coffee in my cake, I've tried instant expresso before and I just found it very overpowering. I just use Nescafé regular instant coffee, it works a treat. Do make sure you ensure you let the coffee and water paste cool before adding to both your cake mix and the butter cream, it doesn't take long and it's really important. Always be patient with cakes!
Anyway, mum & I have been loving this my gluten free coffee and walnut cake this weekend, Mark has been able to enjoy it too because it's a dairy free cake too. Without further ado, here is the recipe!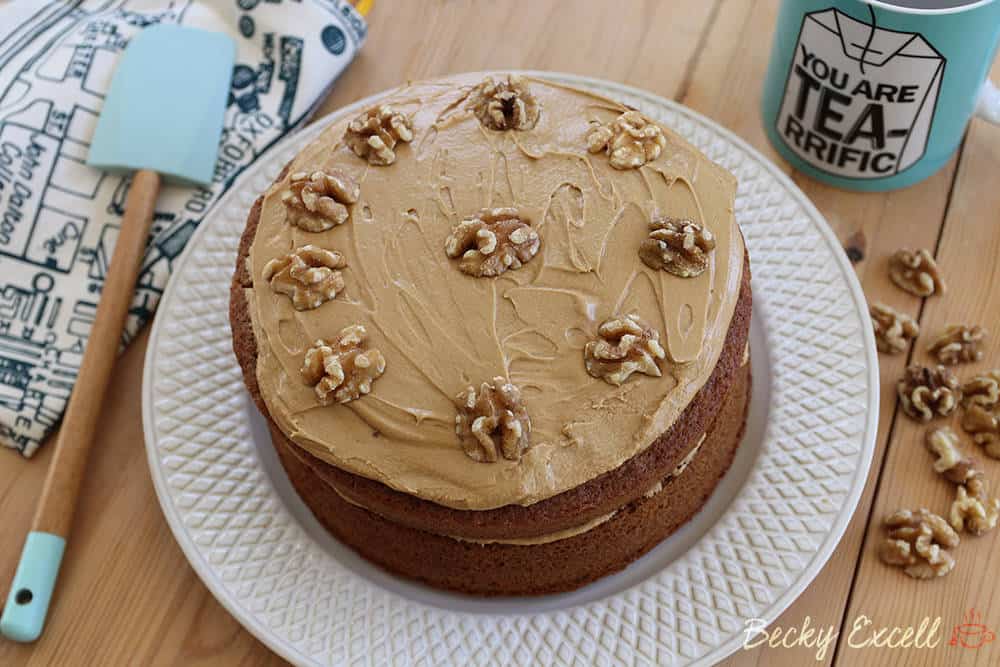 Gluten Free Coffee and Walnut Cake (Dairy Free)
2017-03-26 14:50:23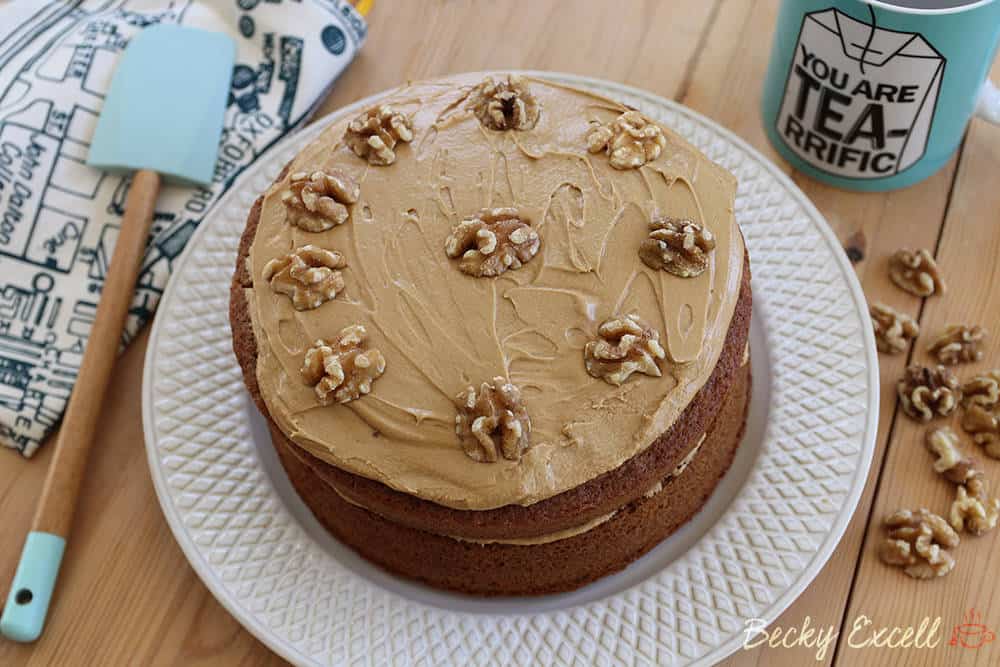 For the gluten free coffee and walnut cake
* 225g dairy free soft margarine
* 225g light brown sugar
* 4 eggs, beaten
* 225g gluten free plain flour
* 3 tsp gluten free baking powder
* 2 tbsp instant coffee (alongside 1 tbsp of boiling water)
* 100g walnut halves, toasted and chopped
For the coffee buttercream dairy free icing
* 165g dairy free soft margarine
* 425g icing sugar
* 2tbsp instant coffee (alongside 1 tbsp of boiling water)
* walnut halves (for topping)
Instructions
1) Heat your oven to 180c (160c fan)
2) Prepare your two cake tins.
3) Cream the margarine and brown sugar together, (I use a hand mixer for this) until light and fluffy.
4) Gradually add your four well beaten eggs. Make sure you do this very gradually to reduce the potential of curdling. Keep mixing with your hand mixer.
5) Fold in your gluten free flour and baking powder gently with a metal spoon.
6) Add your coffee, fold it in. (this needs to be 2 tbsp coffee mixed with 1 tbsp of boiling water, left to cool)
7) Add your toasted and chopped walnuts, fold these in too.
8) Divide your gluten free cake mix between your two prepared cake tins.
9) Bake in the oven for 25 minutes of the middle shelf, they should be well risen by the end!
10) Take out of the oven, briefly leave to cool in the tins before transferring to a cooling rack to cool completely.
11) For the icing, beat the dairy free margarine until soft and creamy.
12) Add in your icing sugar and mix together, add your coffee (again 2 tbsp of coffee with 1 tbsp of boiling water, left to cool)
13) Evenly top one sponge with plenty of your coffee butter cream, place your other sponge on top. (put enough butter cream in so it oozes a little out of the edges!)
14) Spread the rest of the coffee butter cream on the top of the cake.
15) Add some walnut halves on top to finish.
16) Slice and enjoy!
Gluten Free Cuppa Tea | Food blog based in London, UK. Low FODMAP. Dairy free Recipes.. https://glutenfreecuppatea.co.uk/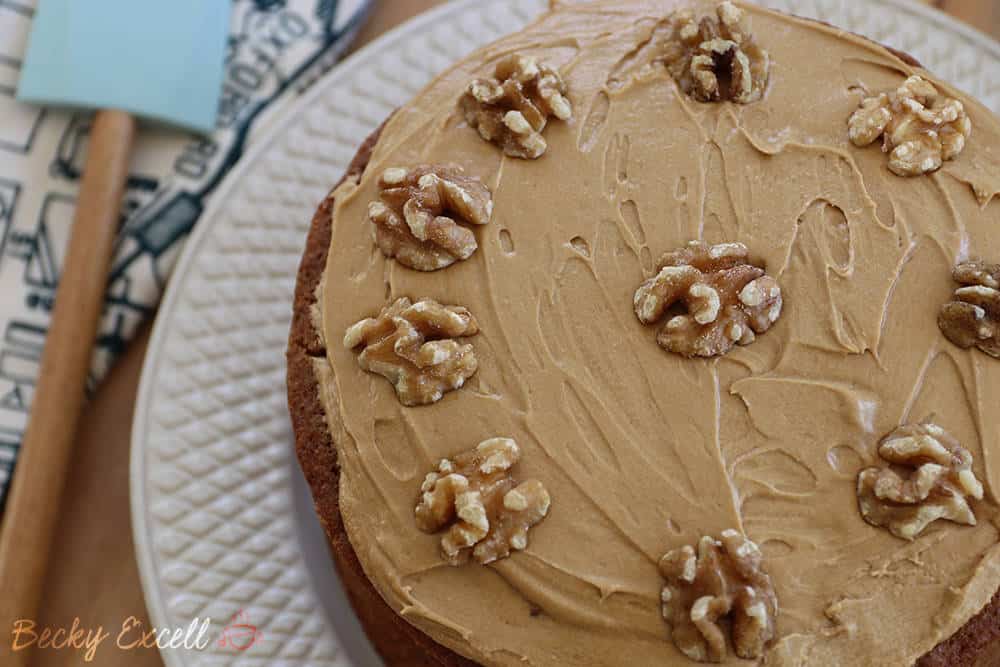 So there you have it, my gluten free coffee and walnut cake! I guarantee this will be a winner on any occasion. It's so simple to knock up in a really short space of time, I often make it on a Saturday morning if I know friends or family are coming round in the afternoon. I'd definitely recommend giving it a try 🙂 Please let me know how you get on if you do try it. Drop me a comment below, or scoot over to Twitter, Facebook or Instagram.
Thanks so much for reading,
Becky xxx
Oh, and don't forget to pin this before you leave 🙂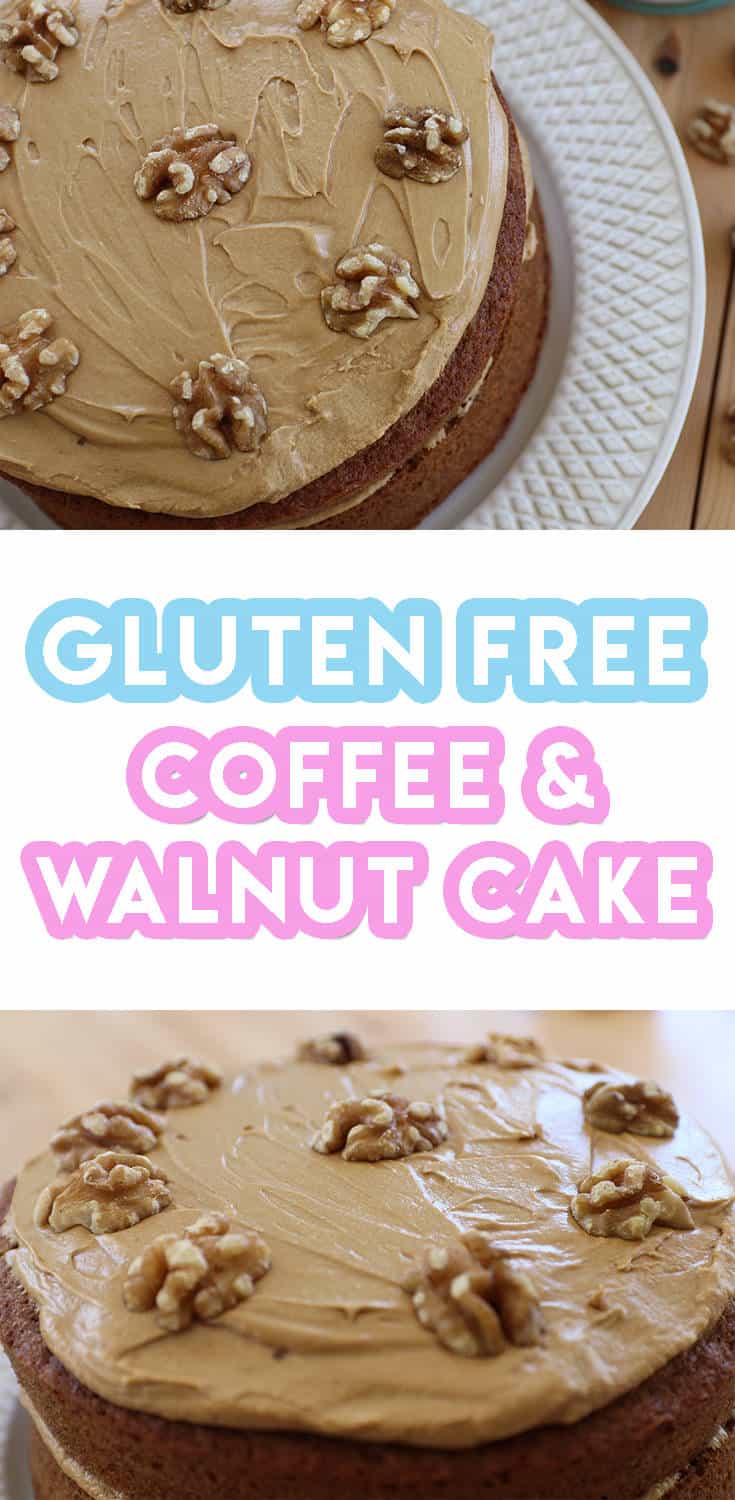 Comments