I absolutely *love* berry picking in the summer, so it's no surprise I'm here sharing my gluten free Bakewell traybake recipe! It's dairy free too, but shhh, nobody would ever know…
You just can't beat that classic Bakewell flavour combo, can you? But as much as I love a cherry Bakewell, there's sooo much more to a Bakewell than that! (don't tell Mr Kipling) Introducing my gluten free Bakewell traybake recipe…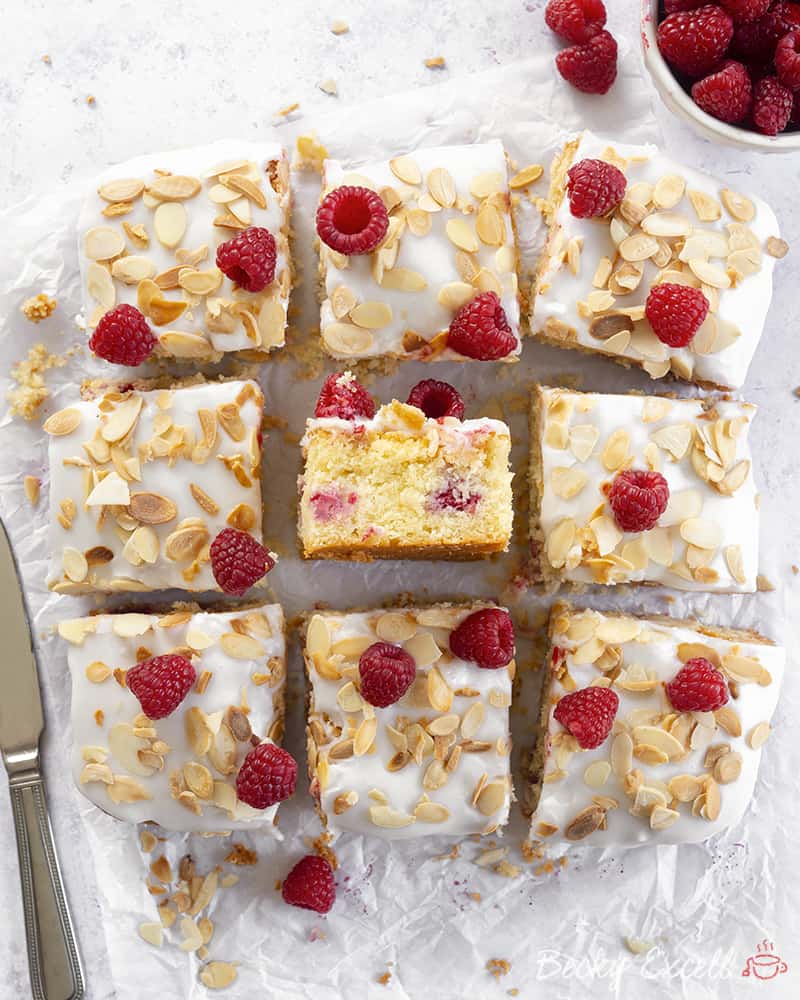 I have to admit always go a bit overboard when I go raspberry picking.
By the time I leave the berry picking farm, raspberry picking season is usually over because there's so few left.
(ok that might be a slight exaggeration)
If you've never been berry picking before, just go Google your local pick your own berry farm and see what's near you – it's so much fun to do! But what on Earth do I do with enough raspberries to make jam until the end of time?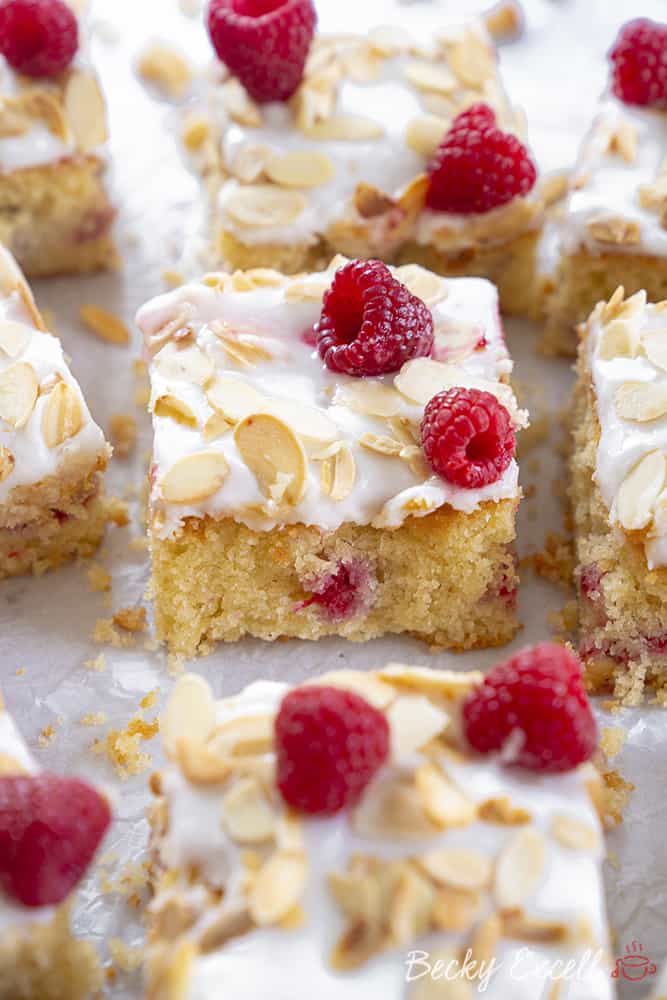 Well, I actually don't make jam – I just whip out my gluten free Bakewell traybake recipe!
It's got fresh raspberries in AND on top of the cake. Then for that lovely almond flavour, there's ground almond in the sponge (which gives it this amaaazingly moist texture) and then almond extract in the icing AND toasted flaked almonds on top.
The flavour combo is undeniably Bakewell, with a lovely frangipane flavour in every bite – one slice definitely isn't enough!
And actually… I STILL had raspberries left over ? I guess I might make jam after all!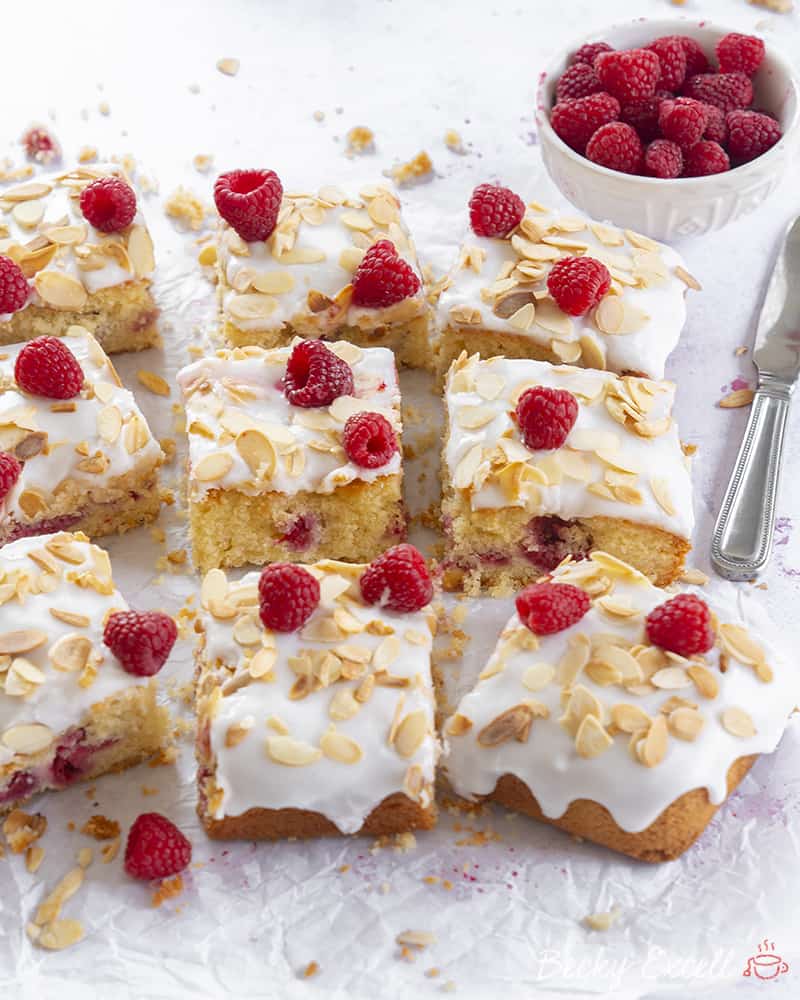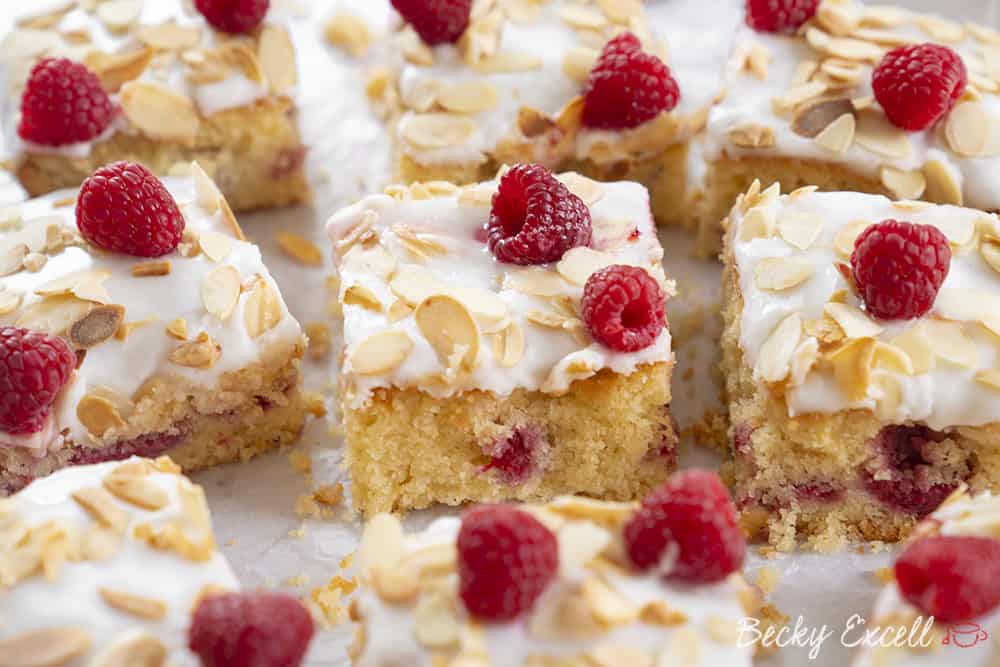 And FYI – I can't emphasise just how simple my gluten free Bakewell traybake recipe is to pull off.
I mean, this recipe is basically 'add cake ingredients to bowl, mix – decant the mixture into your baking tin, add fresh raspberries and bake'.
Then whack your icing on and finishing touches and the job's a good'un!
Honestly, you can't go wrong!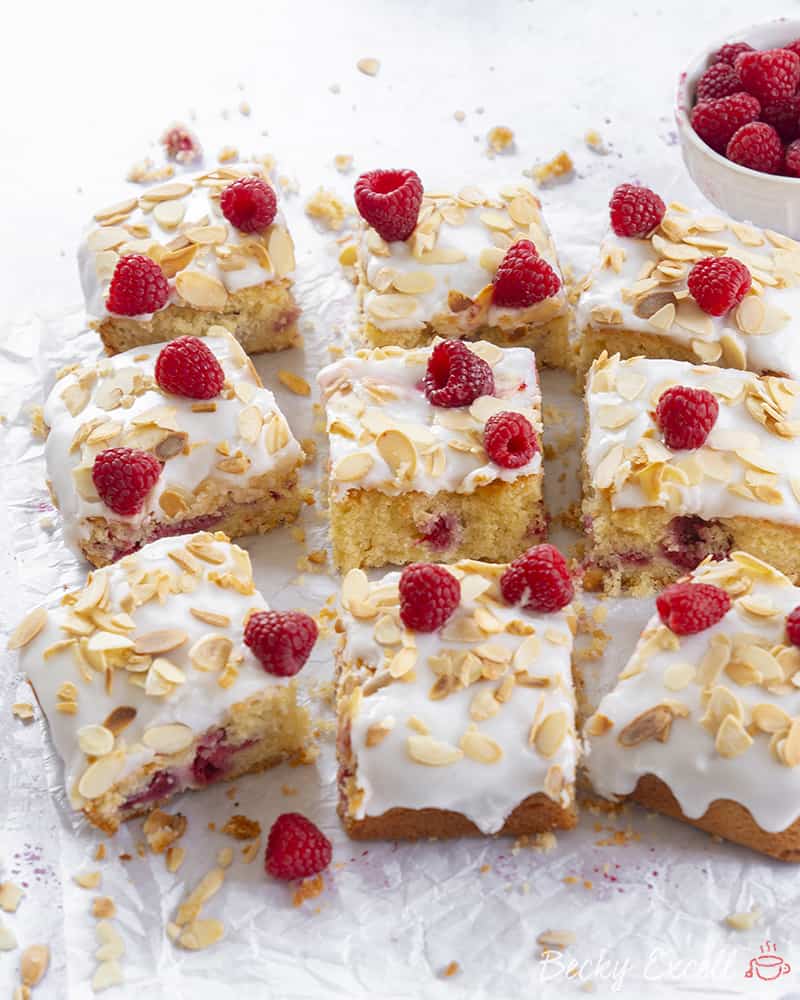 Of course – since so many of you always ask – this cake freezes really well, so if you have some leftover, don't be afraid to freeze it as soon as possible.
Oh and here's a link (affiliate) to the baking tin I used for this recipe over on Amazon. I also use this tin for brownies too!
Ok, so here's my gluten free Bakewell traybake recipe… ??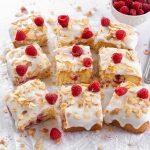 My Gluten Free Bakewell Traybake Recipe (dairy free)
Here's my gluten free bakewell traybake recipe! It's also dairy free too. If you love that bakewell taste, then you will absolutely love this cake!
Ingredients
For the cake
210

g

gluten free self raising flour

1/4

tsp

xanthan gum

210

g

ground almonds

210

g

caster sugar

3

large eggs

210

g

butter or dairy free spread / margarine

1 1/2

tsp

almond extract

160

g

fresh raspberries

(you can use a few less if you feel it's too many!)

1

tsp

milk

(dairy free if needed)
For the icing
300

g

icing sugar

2

tsp

almond extract

flaked almonds, lightly toasted

fresh raspberries
Instructions
Preheat your oven to 160C Fan and prepare your tin with parchment/baking paper (have a little extra paper so its easy to lift the cake out. The size of my tin is 9inches x 9inches.

Place all your cake ingredients into a large bowl and mix together. You will need an electric hand whisk or a stand mixer for this. Mix until well combined.

The mixture is pretty thick so don't worry if it feels thick to you, that's ok!

Spread just under half the mix in your baking tin, spreading right to the edges. It will be a fairly thin later.

Put your fresh raspberries all over the top of your first layer of mixture - no need to press them in hard.

Spoon the remaining mixture (should be just over half) on top on the raspberry layer. Spread it so it completely covers the raspberries. Yes, I know it doesn't seem like a lot of mixture and it's hard to ever imagining it covering it, but it will and it is enough! I even use my fingers to spread it right to the corners.

Place in the oven for about 50 minutes until golden. Then remove from the oven and leave to cool completely in the tin.

For the icing, sieve your icing sugar into a bowl and then add your almond extract and some water. Add the water gradually - starting with about 3-4 tbsp until you get the consistency you want. It shouldn't be too thin, it should be lovely and glossy.

Lift your cake out of the tin onto a serving board, cooling rack etc and spoon the icing over the cake, do this gradually, helping it to spread by using the back of a metal spoon.

Cover the icing whilst not set with the toasted flaked almonds and then add some whole raspberries dotted about.

Allow the icing to set fully and then carefully cut into slices/squares.
Notes
The size of my tin is 9inches x 9inches. This is the perfect amount for this size tin or slightly smaller, for a bigger tin increase the amount of ingredients by half again.
Thanks for reading how to make my gluten free Bakewell traybake recipe! If you make it, I'd love to see how it turned out so don't forget to take a snap of your bakes and tag me on Instagram!
Any questions about the recipe? Feel free to leave a Facebook comment below this post ??
Thanks for reading,
Becky xxx
Oh and don't forget to pin this for later!