My gluten free scones recipe is waaaay overdue! How on Earth am I only just posting a classic bake like this in my sixth year of blogging?! Well, better late than never I guess! This recipe has a vegan option and it's dairy free and low FODMAP too.
My gluten free scones recipe makes some of the softest, buttery scones I've tasted in years. I didn't know they could be so buttery, without butter (although feel free to use butter if you can eat it!) So if you're sick of gluten free scones that are like flat, rock solid hockey pucks, then this recipe is for you…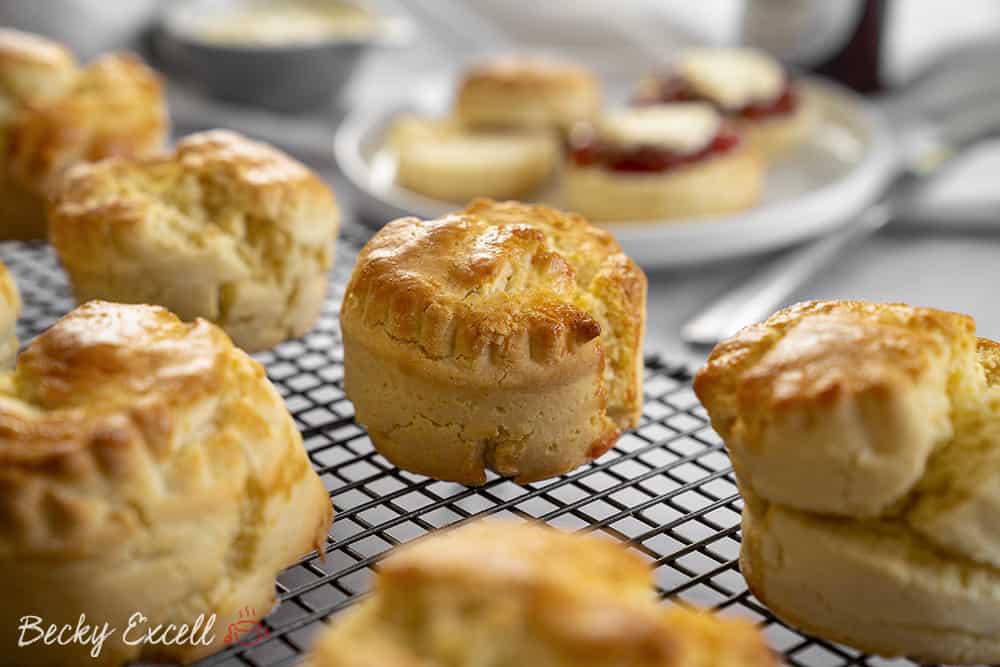 But let's get one thing out of the way first… is it pronounce as 'scon' or 'sc-own'?!
(I say 'scon', Mark says it the other way and we're from the same town… so we're probably not much help!!)
But whatever you call them, it doesn't have to change the fact that it's actually pretty hard to find a gluten free scone when you're out and about.
It's an iconic British classic, yet we seem to just be inundated with gluten free brownies everywhere you look… so I decided to finally create my own gluten free scones recipe!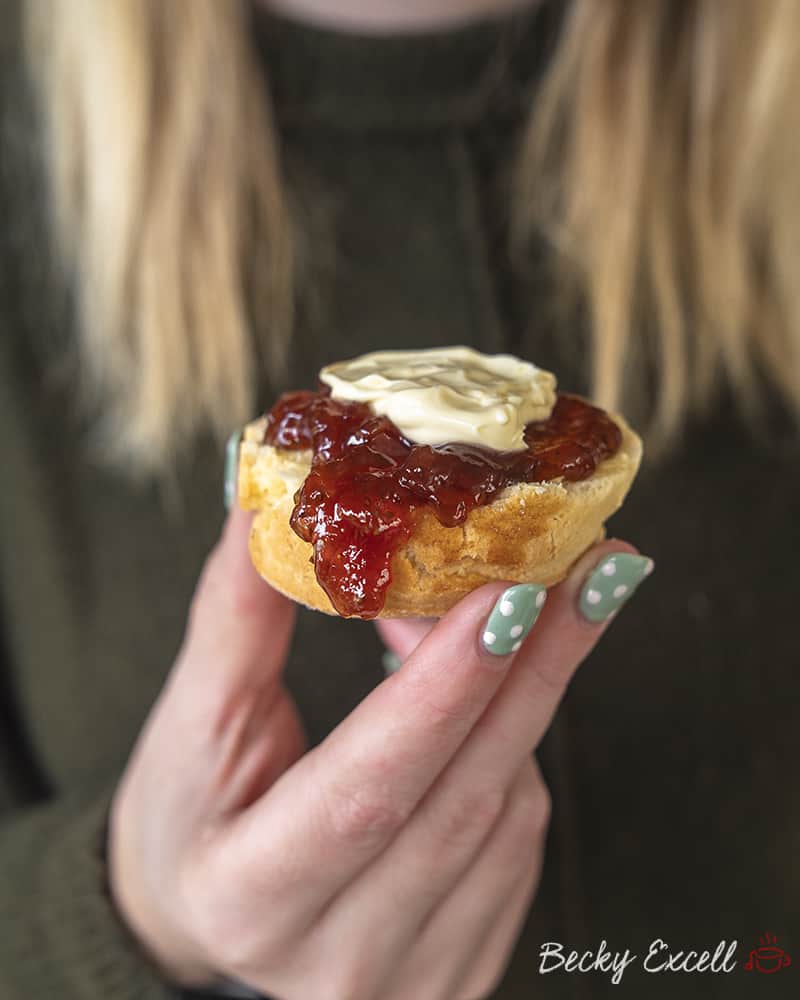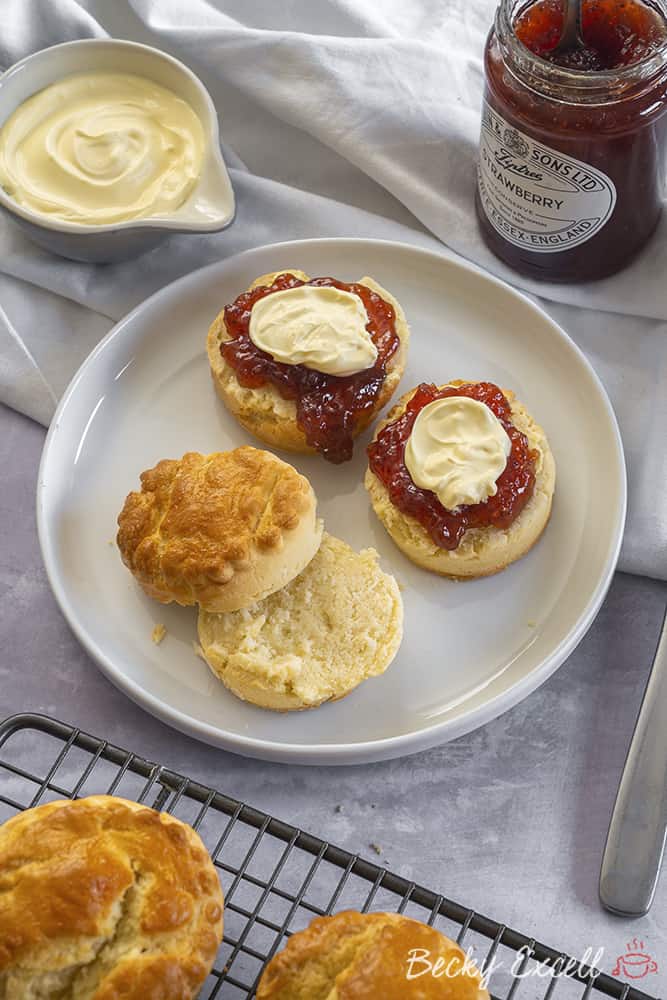 My gluten free scones recipe has come off the back of a couple of things.
Firstly, I went for a lovely afternoon tea late last year at the Corinthia and had some lovely, warm gluten free scones. From that day forth I realised that I want these on the regular!
Secondly, I've had soooo many requests for this recipe and your wish is my command (feel free to always message me recipe requests ❤️).
And fortunately for us, scones in general are actually really simplistic as recipes go. I mean, Mark always reminds me that it was one of the few things he used to make when he was at secondary school in food technology classes.
If 12 year old Mark was a whizz at scones I think we can all give gluten free scones a go!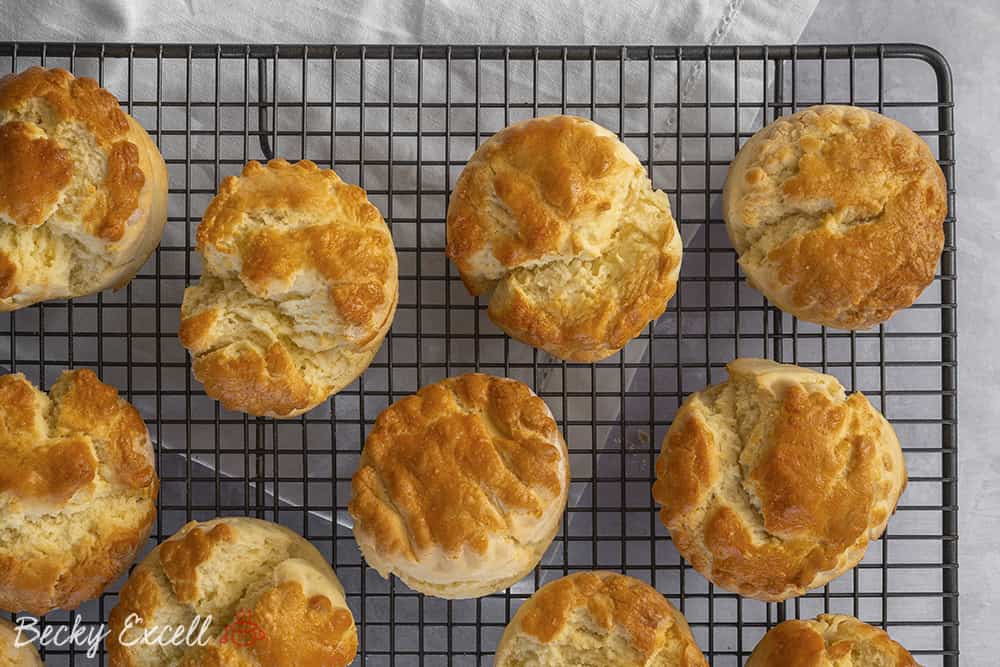 But the biggest dilemma apart from pronouncing the word scone is…
What goes on first? Jam? Or cream?!
We had a big debate about this and most of us settled on the Cornish method – jam first and cream second. But then my Mum goes for the Devon method as she likes to spread the cream instead of having a massive dollop on top.
(then Mark just breaks all convention and uses margarine, then jam and then cream (dairy free for him) as well 😂)
What order do you put your jam and cream on? Or does it really not even matter?! This feels very much like British problems!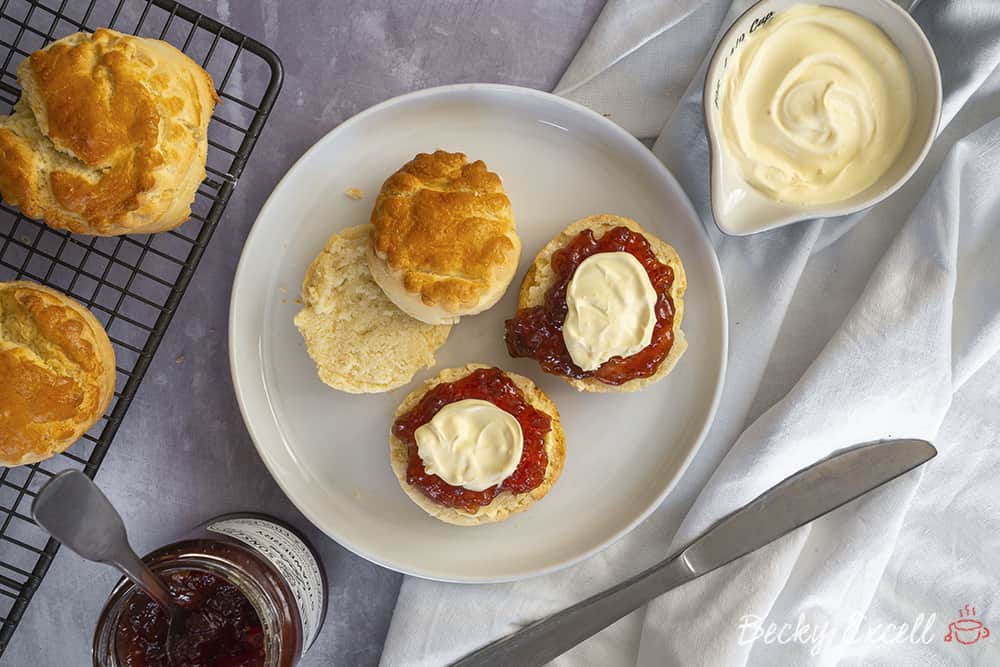 My gluten free scones recipe doesn't make a huge amount of scones – around 6 per batch as I like to make them really tall and towering.
But you could easily make slightly shorter scones and get more out of your dough – it's totally up to you.
What I like to do, just double the quantity of the ingredients listed below for around 12 lovely, tall scones. I do always think scones are best served up fresh though, so small batches aren't a bad thing!
Want to make this recipe vegan? It's very simple! Just use hard margarine instead of butter, almond milk instead of milk and almond milk instead of egg wash. Easy peasy! I make Mark a whipped coconut cream which is dairy free and vegan.
Let me know if you want the recipe for that too and I'll happily write it up. Ok, so here's my gluten free scones recipe!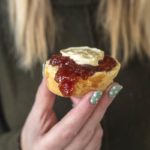 My Gluten Free Scones Recipe (vegan option and low FODMAP)
My gluten free scones recipe makes some of the softest, buttery scones ever! There's a vegan option and it's dairy free and low FODMAP too.
Ingredients
340

g

gluten free self raising flour

1

tsp

baking powder

1/4

tsp

xanthan gum

85

g

hard margarine or butter

4

tbsp

caster sugar

(this is optional to taste)

175

ml

milk

(any milk will work, I tend to use unsweetened almond milk)

3

tsp

lemon juice

1 1/2

tsp

vanilla extract

1

egg

(to make this vegan, as well as using dairy free milk and hard margarine rather than butter, you could brush the tops with almond milk instead of egg)
Instructions
Preheat your oven to 200C (fan). Prepare a baking sheet with parchment / baking paper.

Place your gluten free self raising flour, baking powder and xanthan gum in a bowl. Chop your hard margarine / butter into cubes and add that to the flour. Rub it in with your fingers till it forms what looks like breadcrumbs.

Stir in your caster sugar.

Gently warm your milk (I pop it in the microwave for about 35 seconds, don't let it get really hot, just lukewarm). Then add your lemon juice and vanilla extract. Put to one side to cool briefly.

Place your baking sheet in the oven whilst your make your scones. It helps that the baking sheet is hot when you place your scones on it.

Make a well in the middle of your dry mixture. Pour in milk and work it in using a metal spoon. Keep working it till it forms a dough (it might be a little sticky).

Flour (gluten free!) your work surface and your hands. Get the dough out of your bowl and fold it over a few times to bring the dough together. Then bring the dough into a rounded shape about 3.5cm thick.

Using a cutter (about 45mm to 55mm wide) push down into the dough and bring out your scones with the cutter. Push them out of the cutter and put to one side till your have used up all the dough (keep re-rounding the dough).

Brush the tops of the scones with beaten egg (or with an almond milk wash if you are egg free, or have followed this as a vegan recipe using dairy free milk and hard margarine).

Place the scones onto the hot baking sheet and pop them into the oven for about 12-15 minutes. They should be golden on top and have a golden base too 🙂

Serve up warm with whatever you fancy (jam then clotted cream for me!). You can rewarm them up later, eat them cold, or even freeze them for another day.
Recipe Notes
This mixture doesn't make that many (6-8 depending on the size of your cutter). If you want more I'd recommend doubling the ingredients. Or you can make more scones by just reducing the height of them... you don't necessarily need scones as tall as mine, I just like them that way!
Thanks for reading all about my gluten free scones recipe! If you make them, I'd love to see how they turned out so don't forget to take a snap of your creations and tag me on Instagram!
Plus, I'm giving away a £50 supermarket voucher every month to my fave pic, so get baking!
Any questions about the recipe? Please do let me know by following me on Instagram and leaving me a comment!
Thanks for reading,
Becky xxx
Oh and don't forget to pin this for later!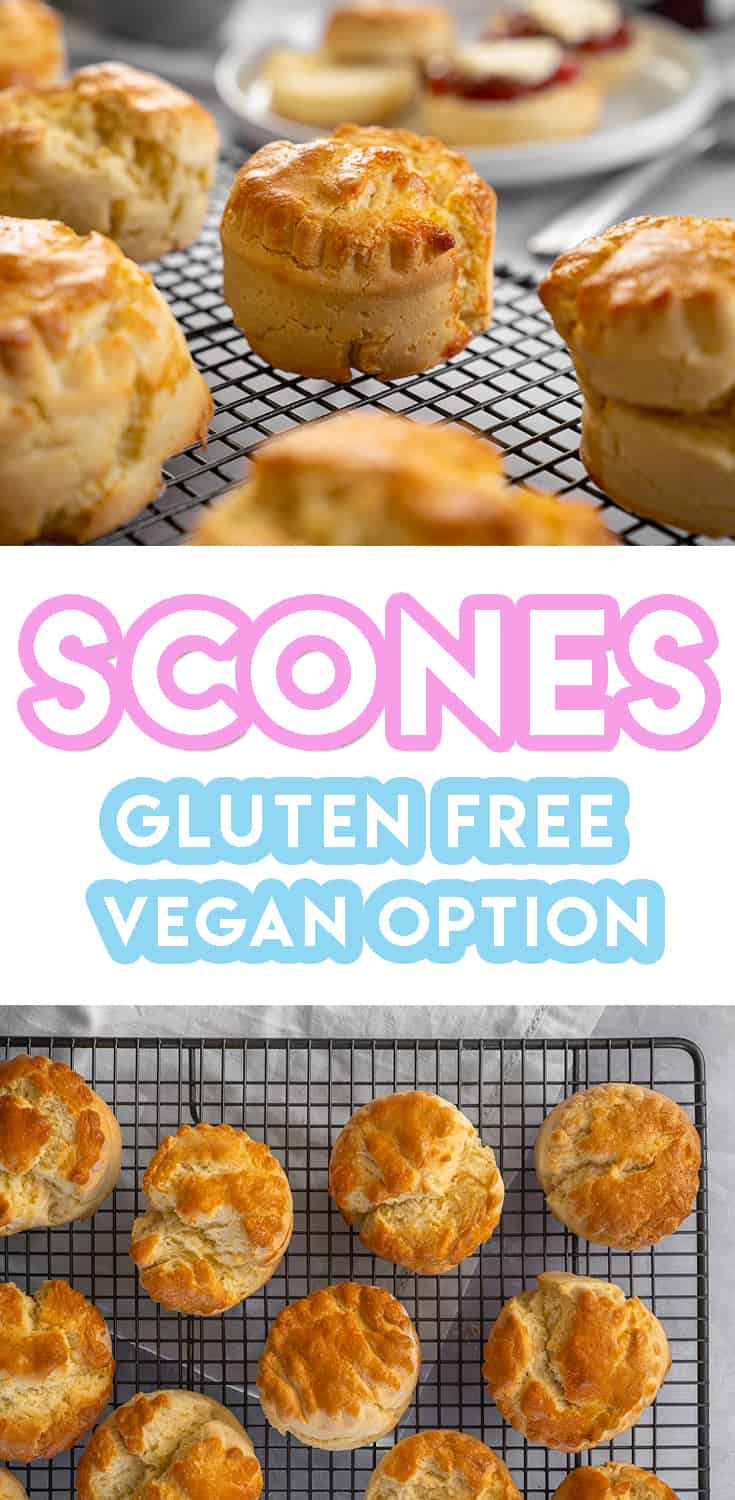 Comments