My gluten free chocolate brownie recipe is here to restore your faith in the much maligned gluten free brownie! And I'm going to do it totally dairy free and low FODMAP too. Now that sounds like a challenge!
Gosh, we all love to hate on a gluten free chocolate brownie don't we? But usually for good reason. Before I get into that, I promise you that my recipe is here to restore your faith in what should be thought of as a gooey, fudgy, intense, chocolate overload. Not a last resort!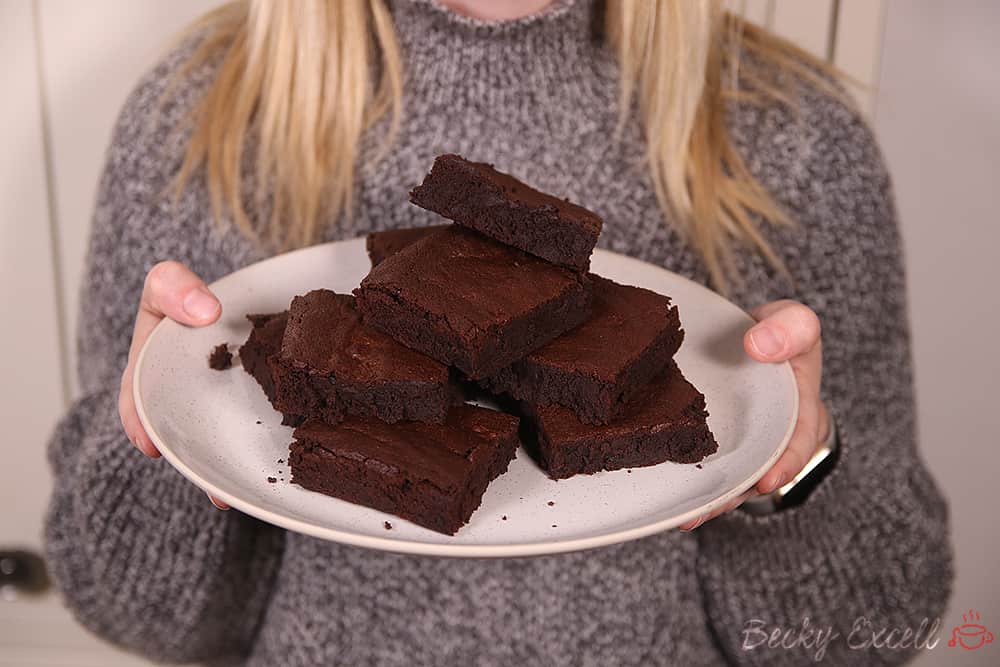 Did I miss the meeting? You know, the one where it was decided that a gluten free chocolate brownie was the 'one thing' that every restaurant/cafe would stock for us?
Like seriously. The cliche of the gluten free chocolate brownie so widespread across the UK, that it surely must have been implemented by a person who conveniently owns a gluten free brownie factory somewhere. How else can you explain it, really?
If you're unfamiliar with the gluten free brownie cliche, just try and look for a gluten free option in any coffee shop/cafe/or restaurant in the UK. Nine times out of ten, a gluten free chocolate brownie will be one of, or the only option available. This was even more applicable several years ago.
99% of the time, it won't be fresh either, it'll come wrapped up to minimise cross-contamination. Definite minus points for presentation. 2/10 overall.
But when did we all become so ungrateful?
I guess it's not that we're all horrendously ungrateful, we're usually very grateful just to find something safe to eat! But when did variety and choice get axed from the equation? I'm avoiding gluten and dairy, not excitement!
Sadly, as a gluten free chocolate brownie is often the only option for us, we've all associated it with that dreaded situation: 'well, it's better than nothing'. But a brownie shouldn't just be better than nothing… it should be better than everything!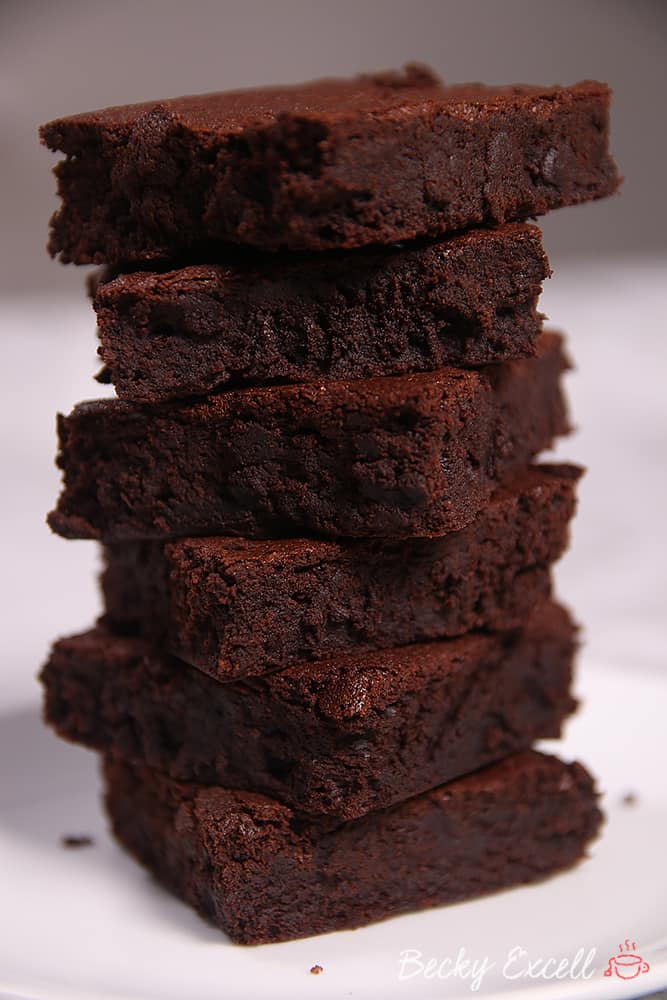 In the free from world, a gluten free chocolate brownie is a very loose term. It can extend anywhere from a beautiful gooey, chocolatey slice of heaven (usually then cross contaminated by cakes in close proximity) to an uninspiring slice of dry, chocolate cake (pretty much everything else). Chocolate cake is not a brownie!
Sadly, more often than not, an oblong chocolate cake in a plastic wrapper is the best we can hope for. Let's be honest, brownies should be mostly square, thick and served hot with a dollop of ice cream. When did they become oblong? Maybe we should take every cake and make it into an oblong for gluten free people?
I could go on. That's why I'm taking on the daunting task of trying to restore your faith in the gluten free chocolate brownie! But should I quit while I'm ahead?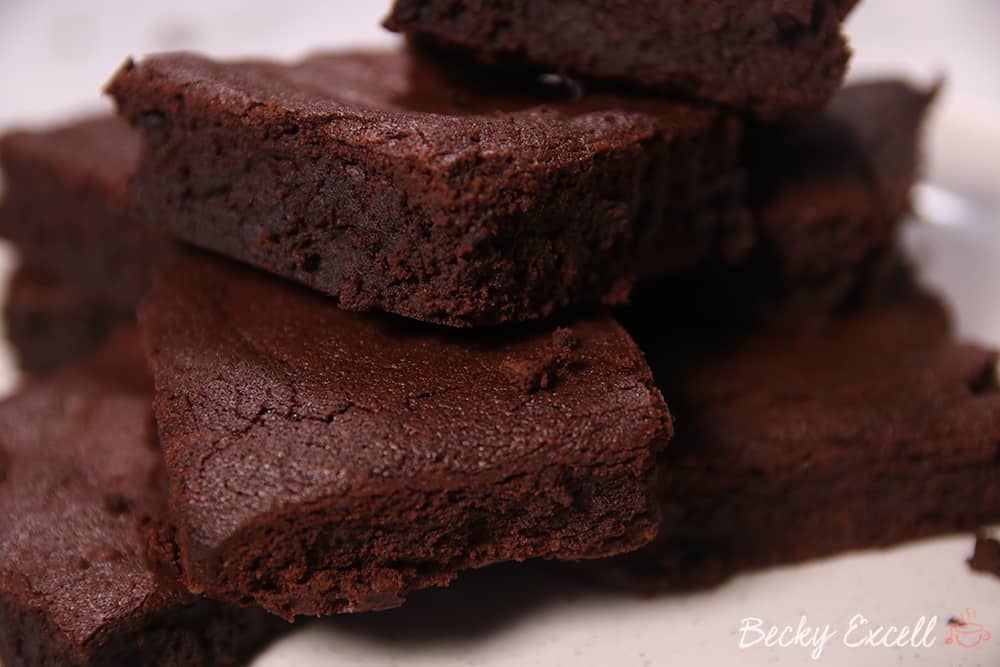 Let me get this straight first. My gluten free chocolate brownies are nothing like a chocolate cake. A brownie should be slightly chewy, fudgy and even gooey with a light, almost crispy top. That's the first tick.
One bite should be a first class ticket to chocolate heaven stopping off at 'bloody hell, that tastes amazing', terminating at 'is it ok if I have another one?' There's the second, slightly abstract, tick.
So forget everything you know about gluten free chocolate brownies (this might take several lifetimes) as I promise you… this recipe is how brownies should taste!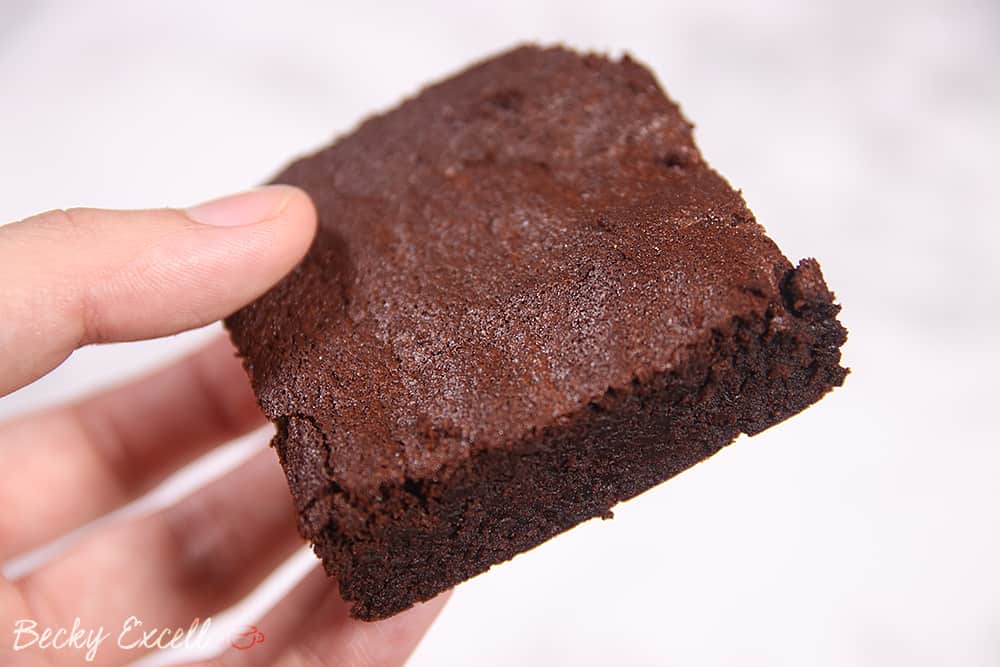 Don't make the mistake in thinking that not having any dairy in this recipe is some sort of typical 'free from compromise'. Dark chocolate is so perfect for brownies as it only enhances the deep, intense chocolatey taste. I use 74% dark chocolate, which is usually dairy free (check the ingredients first obvs) and I wouldn't ever use anything else. It's just perfect.
I hope you're learning by now, that I never make any compromises when it comes to baking gluten free, dairy free and low FODMAP! I guess you could just say that I create recipes that just happen to be free from all of those things, instead of starting with a great recipe and removing everything great about it.
Ok, I think you're finally ready to remind yourself what a real gluten free chocolate brownie tastes like. Make sure you're sitting down as it could be a bit of a shock! Here's the full recipe…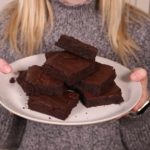 Fudgy Gluten Free Chocolate Brownie Recipe
Ingredients
90g gluten free plain flour

50g cocoa powder

200g dairy free hard margarine

200g dairy free dark chocolate

3 eggs

280g caster sugar
Instructions
Melt together your dairy free hard margarine and dairy free dark chocolate over a bain marie until completely melted. Mix together and leave out to cool down to room temp.

Sieve together your cocoa powder and gluten free flour in a bowl. Mix briefly until combined, put to one side.

In another bowl crack 3 eggs and pour in your caster sugar. Beat together (I use an electric hand whisk) until pale in colour and almost a little frothy.

Once the chocolate and margarine mixture is cooled to room temp, pour it into your egg/sugar mixture. Fold it in, it will initially marble and then turn super chocolatey.

Next fold in the your gluten free plain flour and cocoa powder mix. Ensure it's fully folded in.

Pour/spoon your brownie mixture into a prepared tin, smooth it over so it's even and level. (I used a square loose bottom tin with a little parchment/baking paper in the bottom)

Bake for about 25 mins at 175C. Cooking for this amount of time at this temp should create incredible fudgy brownies. (You can check them during cooking they may take a little less time)

Important!! Allow to cool completely before touching them!! Slice them up and enjoy!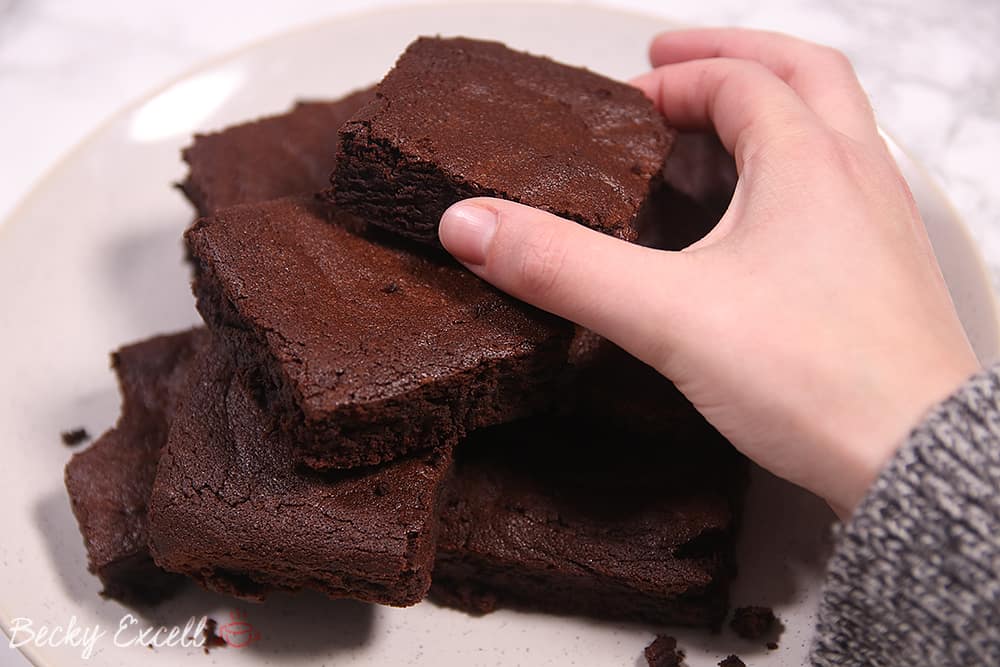 Thanks so much for checking out my gluten free chocolate brownie recipe! I'm not sure it's even possible to annihilate the cliche of the gluten free brownie, but that won't stop me from trying! If you're with me, then just give this recipe a try and leave me a comment below letting me know if I've converted you or not!
There's nothing I hate more than seeing a brilliant bake get a bad reputation because of sheer laziness. I hope I succeeded in restoring your faith in gluten free brownies!
Any questions about the recipe? Why do you think that brownies are always the go-to gluten free option available? Why do you think they never offer us anything else?! Please do let me know by leaving a comment below or on Facebook / Twitter / Instagram!
Thanks for reading,
Becky xxx
Oh and don't forget to pin this for later!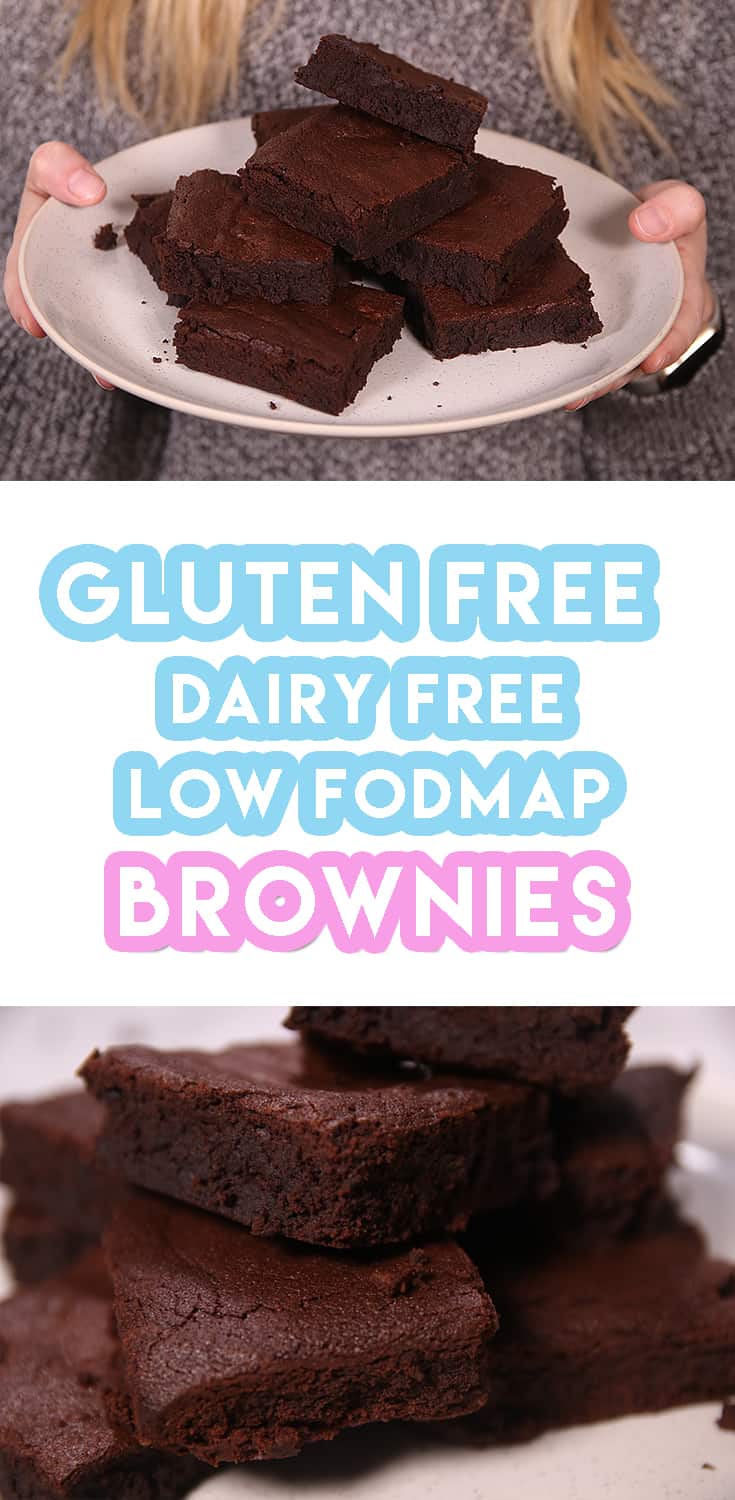 Comments