Gluten free chocolate brownies recipe – super gooey, fudgy and intensely chocolatey, made from 6 simple ingredients. You can easily make them low FODMAP and dairy free too if you fancy!
Gluten free chocolate brownies recipe – my BEST EVER, in fact! I promise you that my recipe is here to restore your faith in what should be thought of as a gooey, fudgy, intense, chocolate overload. Not a last resort!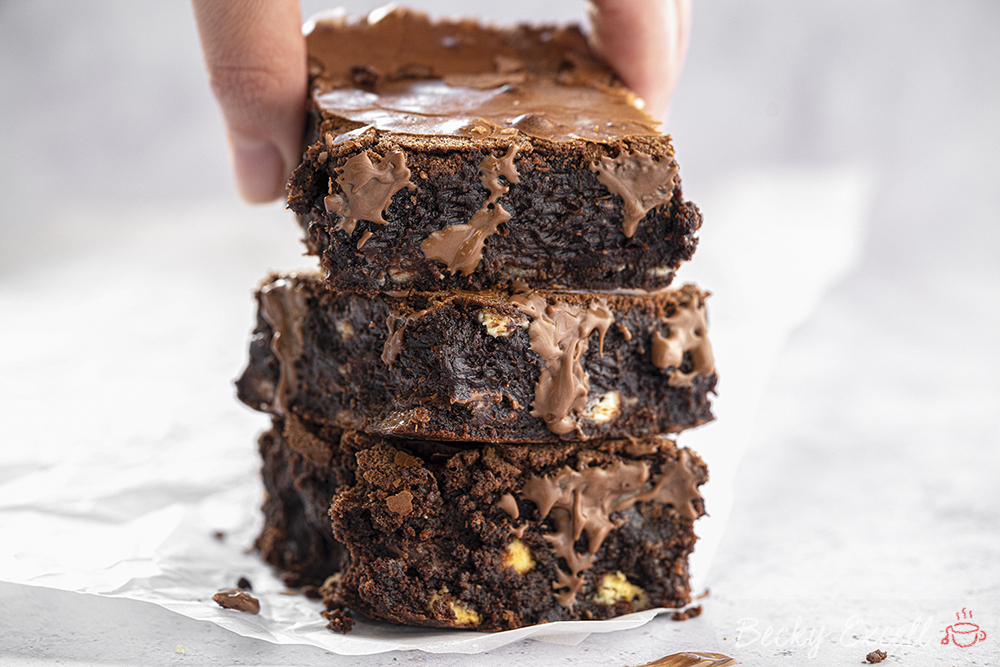 Did I miss the meeting? You know, the one where it was decided that a gluten free chocolate brownie was the 'one thing' that every restaurant/cafe would stock as the gluten-free option?
Though I'm always appreciative whenever there's anything I can eat at all, a little variety would be nice, agreed? I'm avoiding gluten, not excitement!
And to be honest, your average gluten-free brownie isn't exactly anything particularly special either. So combine that lack of choice with a disappointing brownie and it's suddenly very clear how we all got to the collective 'oh no, not another gluten free brownie' response.
When in reality, a brownie should be one of the best things on Earth – there's a reason muggles love them more than us… because muggle brownies are actually out of the world!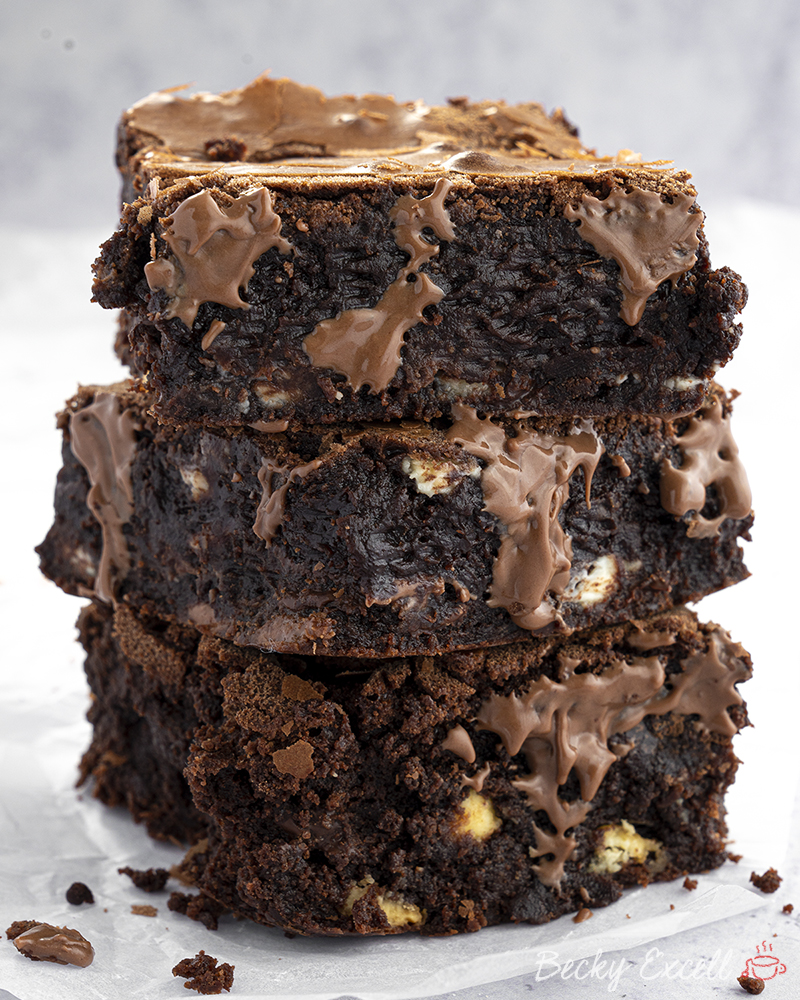 And that's exactly what I based my gluten free chocolate brownies recipe on – the type of brownies that sell out in seconds. Not the kind in a plastic wrapper that essentially taste like chocolate sponge cake.
Every bite of my brownies is packed with a lovely, gooey, fudgy texture, bursting with chunky chocolate chips if you fancy throwing them in. They have that characteristic cracked, paper-like crisp top and they taste like every chocoholic's dream.
Honestly, one bite and you'll never think of gluten free brownies the same away again. These are more like the kind of brownies you can have warm with ice cream for dessert – not 'cakey' or spongy at all.
I made these specifically to restore your faith in gluten free brownies and I'm proud so say that I did it using 6 simple ingredients. Here's what you'll need to make them, keep scrolling down until you see the recipe card for the method ??
Gluten free Chocolate Brownie Recipe – Ingredients
100g gluten-free plain flour
50g cocoa powder
250g butter (or dairy free alternative)
250g chocolate, I use half dark and half milk (dairy free if necessary)
4 medium eggs (or 3 large eggs)
280g caster sugar
180g chocolate chips, I use 60g of white, milk and dark (optional)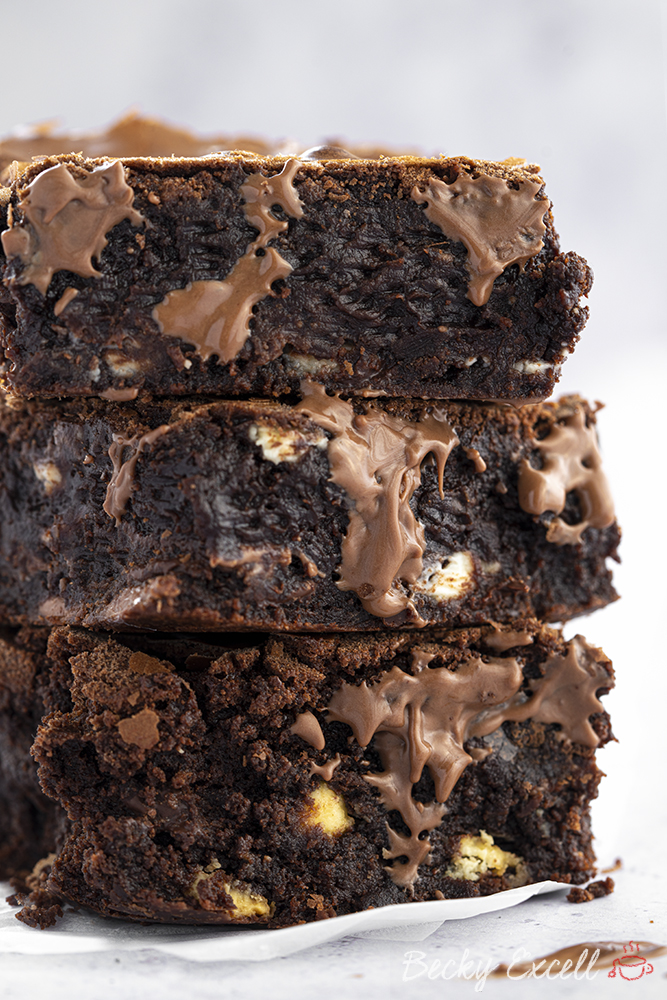 Ok, here's a few tips and frequently asked questions about my gluten free chocolate brownies recipe.
I strongly urge you to at least scan read these just in case any are relevant to you as they'll ensure you don't end up wasting a whole load of ingredients!
It also includes info on what products to use to make this dairy-free and low FODMAP.
Gluten free Chocolate Brownie Recipe – Frequently Asked Questions
Can I make this recipe gluten free?
It is gluten free, though nobody would know just by tasting it – trust me!
Bear in mind that minimising cross-contamination is hugely important if you're Coeliac or making this for someone who is. Here's some tips from Coeliac UK on minimising the risk of cross contamination.
Also, make sure that all ingredients used don't have any gluten-containing ingredients. Then make that that they also don't have a 'may contain' warning for gluten, wheat, rye, barley, oats (which aren't gf), spelt and khorasan wheat (aka Kamut).
Here's some more info from Coeliac UK on identifying safe gluten free products. Double check your sprinkles to make sure they're gf too.
Can I make your gluten free chocolate brownies recipe dairy free?
Yes, you certainly can! I actually originally made these brownies dairy free to begin with – here's how I did it.
First of all, use dairy free chocolate and chocolate chips, if optionally using. I prefer to use a dark chocolate that's naturally dairy-free (no 'may contain) over specifically dairy-free chocolate.
Lastly, instead of butter, use a dairy-free baking block, like Stork hard margarine. Or, any kind of hard dairy-free alternative to butter. That's it!
Can I make your gluten free chocolate brownies recipe vegan?
You can certainly give it a try! Follow the advice above to make these brownies dairy-free, then all you're left to contend with are the eggs.
Here's a few ideas you can use as egg replacements, so each of these = 1 egg.
3 tablespoons of aquafaba – water from a can of chickpeas. Keep the chickpeas for a future dinner!
Egg replacement powder – I'd recommend using Orgran as it's gluten free.
1 tablespoon of chia/flax seeds mixed with 2 tablespoons of water and left for 10 minutes in the fridge.
3 tablespoons of applesauce.
Is your gluten free chocolate brownies recipe nut free?
Yep, this is a nut-free recipe as far as ingredients go, BUT make sure you check the ingredients label on ALL the products you use just to be safe.
Even if the products don't contain nuts, they may have a 'may contain nuts' warning due to being produced in a factory that handles nuts.
You can never be too careful so always read the labels on everything first.
Is your gluten free chocolate brownies recipe low FODMAP?
If you use lactose-free chocolate, then yes! That's the only change you need to make – then it would be suitable for the elimination phase of the diet.
Can I make your gluten free chocolate brownies in a food processor or standing mixer?
I'd recommend avoiding a food processor to make this as it's not great for whisking and a little overkill for this recipe.
A standing mixer with the whisk attachment is great for whisking the eggs and sugar until pale, but I prefer to use an electric hand whisk, personally.
Otherwise, the rest of this recipe mostly involves a lot of folding in, so electric appliances aren't really required.
Can I make your gluten free chocolate brownies without any kind of electric mixer/appliance at all?
This recipe is an awesome one to make by hand because I only use an electric mixer for whisking air into the eggs and sugar.
So when it comes to whisking air in the eggs and sugar by hand, make sure you give it lots of welly. I make the rest of the entire recipe with a simple silicone spatula.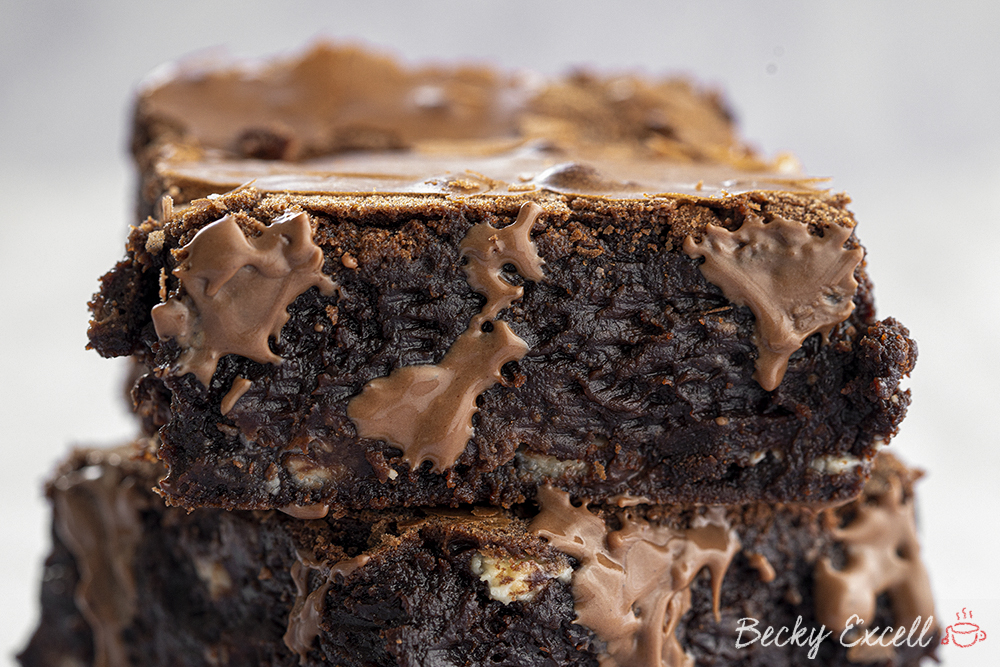 Do I need any special equipment to make your gluten free chocolate brownies recipe?
As I mentioned, you can easily make this entire recipe by hand, so you certainly don't need any crazy appliances or anything like that.
What you will need however is a 9″ square baking tin – here's the one I use. Apart from that, you'll just need a little baking paper too!
Can I make this recipe without xanthan gum?
There's actually no xanthan gum in any of my brownie recipes.
You'll see xanthan gum in a lot of my recipes as it's an essential ingredient in gluten free baking – in cakes and biscuits, it helps to replace gluten by binding the texture together.
Fortunately, that doesn't apply here as my brownies are always so gooey and fudgy – they hold themselves together!
Do I need weighing scales to make your gluten free chocolate brownies?
In short… yes, yes and yes! And I wouldn't advise attempting any my recipes without them. One of the worst things you can do in any recipe is alter the quantities by mistake or on purpose.
(unless you know what you're doing of course)
Why? Well, you're sort of just gambling with the recipe and praying that it turns out ok, don't you think? And I've generally already done the hard work there for you, so you don't have to do the guesswork with measurements!
A lot of work went into fine tuning ratios and quantities so I wouldn't mess around with them unless you really know your stuff. I'd recommending using digital cooking scales like these so you know you're getting an accurate measurement and replicating my recipe as accurately as poss.
Can I make your gluten free chocolate brownies without sugar?
I can understand the need to reduce sugar in our foods, but sugar is integral to the structure of this bake. As there's so little sugar in dark chocolate and no other sources of sugar in the recipe, that makes sugar play a very important role.
It not only adds sweetness to the brownie, but it also helps to achieve the lovely, crisp exterior on the outside of the brownie. So yeah, remove the sugar at your own risk!
Can I use other sugar apart from golden sugar in this recipe?
You can definitely use caster sugar instead of golden sugar in this recipe – I often do when I've run out of golden!
But I wouldn't recommend using any brown sugars. Also, please don't try and use syrups to replace the sugar as they will make the mixture too wet and it'll never cook properly!
What chocolate should I use for the brownies?
I'd recommend using half dark chocolate and half milk chocolate. It's always good to use at least half dark chocolate – it has less sugar and a higher cocoa content which makes these brownies super fudgy.
Milk and white chocolate are higher in sugar and milk, which can drastically affect the texture of your finished brownies.
How long can I keep your gluten free chocolate brownies for?
In an airtight container, they should last up to 7 days. When they start getting a little dry, they're probably past their best.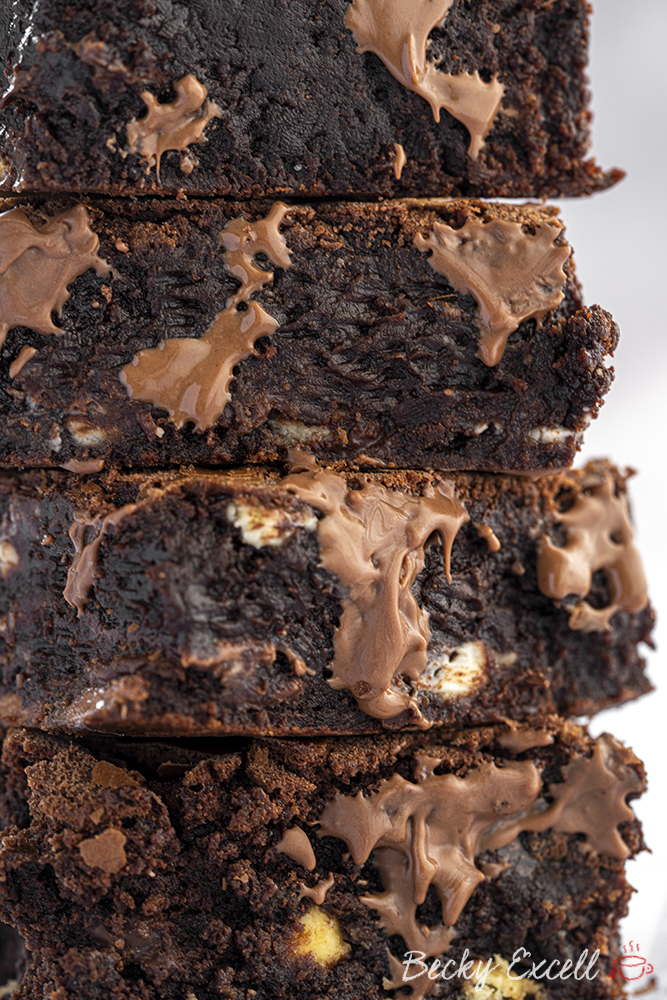 Can I freeze my gluten free chocolate brownies?
Yep! You can freeze them for up to 2-3 months without a problem – just make sure you put it in an airtight plastic container. It's probably a good idea to slice it all first so you can defrost a slice at a time.
A single slice should take around 4-5 hours to thaw at room temperature.
Can I print your gluten free chocolate brownies brownies recipe?
Of course! Just hit the print button located on the recipe below ?? (otherwise you might end up printing this entire post which would probably make your printer go into early retirement)
Gluten Free Chocolate Brownies Recipe: Troubleshooting
My brownies aren't fudgy and moist in the middle like yours. They're more like cake. What did I do wrong?
If you followed the recipe to the letter, then it's likely that your oven was either too hot, or they were in too long. Overbaking brownies will mean they have no moisture to them and become more like a chocolate cake.
Still perfectly edible, but not much of a brownie. Also, make sure you always use some degree of dark chocolate to make brownies for the best, fudgy finish.
My brownies are really wet in the middle instead of being fudgy. What did I do?
Firstly, if you haven't baked them long enough, they'll definitely be more on the sloppy side than nice and fudgy. We want them to be moist in the middle, but not so that they fall apart when cut.
When they first come out of the oven, they'll still be a little moist if you poke them with a skewer, but after allowing them to cool, they should be the perfect fudgy, consistency.
The skewer should come out 95% clean, with a little evidence of brownie on it. That's perfect!
Gluten Free Chocolate Brownies Recipe: Method
Oh and here's a printable version of my gluten free chocolate brownies recipe. Please remember to give it 5 stars if you tried it and enjoyed it as it helps people know it's worth trying too! ⭐️
I also made these brownies in a video which you can watch below the recipe card. So it might be worth giving it a watch before attempting them! ??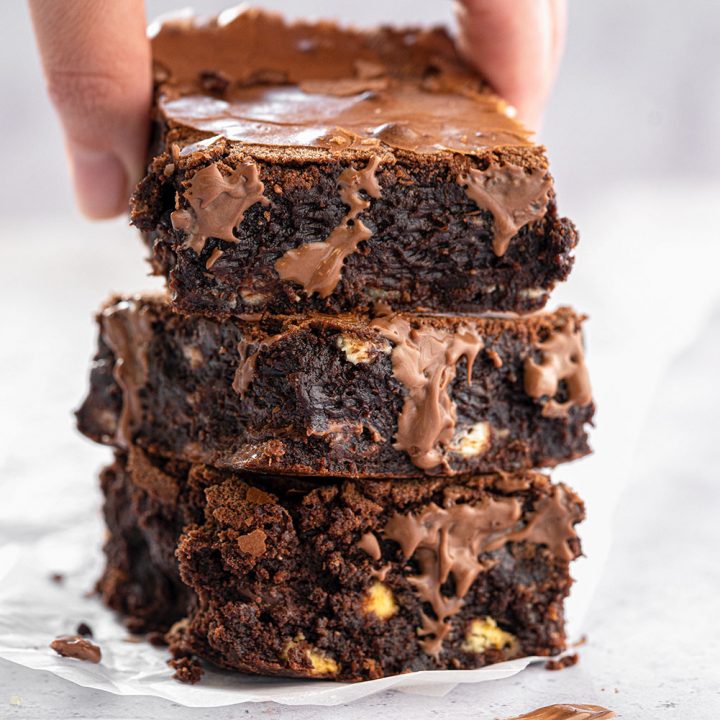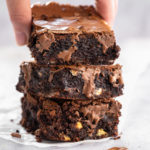 Gluten Free Chocolate Brownies Recipe - BEST EVER!
Gluten free chocolate brownies recipe using 6 ingredients. Super easy to make for beginners & so fudgy and chocolatey. Simple to make low FODMAP/dairy-free! See the blog post above on how to adapt this to be dairy-free, vegan or low FODMAP.
Ingredients
100

g

gluten-free plain flour

50

g

cocoa powder

250

g

butter

or dairy free alternative

250

g

chocolate

I use half dark and half milk (dairy free if necessary)

4

medium eggs

or 3 large eggs

280

g

caster sugar

180

g

chocolate chips

I use 60g of white, milk and dark (optional)
Instructions
Preheat your oven to 160C Fan / 180C and prepare a 9x9inch square tin with non-stick baking paper.

Melt together your butter and chocolate in a microwave or over a bain marie until completely melted. Mix together and leave out to cool down to just warm / room temp.

Sieve together your cocoa powder and gluten free flour in a bowl. Mix briefly until combined, put to one side.

In another bowl crack 4 medium eggs (or 3 large eggs) and pour in your caster sugar. Beat together (I use an electric hand whisk) until paler in colour and almost a little frothy.

Once the chocolate and butter mixture is cooled to room temp, pour it into your egg/sugar mixture. Fold it in with a spatula - it will initially marble and then turn super chocolatey.

Next fold in the your gluten free plain flour and cocoa powder mix. Ensure it's fully folded in.

Fold in your chocolate chips, if using.

Pour/spoon your brownie mixture into your prepared tin and smooth it over so it's even and level.

Bake for about 35-40 minutes. The brownies will wobble slightly upon removing from the oven but will firm up as they cool. If you want them even more gooey, cook for 5 minutes less, if you want a firmer brownie, cook for slightly longer. I find with brownies all ovens seem to really vary.

Its really important to allow your brownies to cool completely before removing from the tin and slicing them. I find they firm up even more after slicing.

Serve as a treat at room temperature or warm with some ice cream as dessert. Enjoy!
Notes
These brownies are chunkier than some of my other brownies. I chose to do this as they don't have any additional filling / topping. That's also the reason I bake them for longer compared to my other recipes.
If you want a slightly thinner brownie (like those of my other brownie recipes) you can reduce your chocolate and butter both to 200g each, stick to 3 large eggs and reduce your flour back down to 90g. Cook at the same temperature but for nearer 25-30 minutes.
For dairy free ensure you use dairy free alternatives for butter, chocolate and check the cocoa powder is dairy free too.
Nutrition
Serving:
1
g
|
Calories:
499
kcal
|
Carbohydrates:
55
g
|
Protein:
6
g
|
Fat:
30
g
|
Saturated Fat:
18
g
|
Polyunsaturated Fat:
9
g
|
Trans Fat:
1
g
|
Cholesterol:
105
mg
|
Sodium:
181
mg
|
Fiber:
3
g
|
Sugar:
42
g
Thanks for reading how to make my gluten free chocolate brownies recipe! If you make it, I'd love to see how it turned out so don't forget to take a snap of your creation and tag me on Instagram!
Any questions about the recipe? Please do let me know by following me on Instagram and leaving me a comment!
Thanks for reading,
Becky xxx
Oh and don't forget to pin this for later!