My gluten free lemon cake recipe is finally here! Thanks to all of you for messaging me things like 'where is the lemon cake recipe' or 'lemon cake????????' ? I would never get anything done without your reminders!! This recipe is also dairy free and low FODMAP too.
If you're a lemon cake lover, then you've come to the right place! This cake is sweet and zesty, super-moist with a wonderful homemade curd that you NEED to try. Introducing my gluten free lemon cake recipe…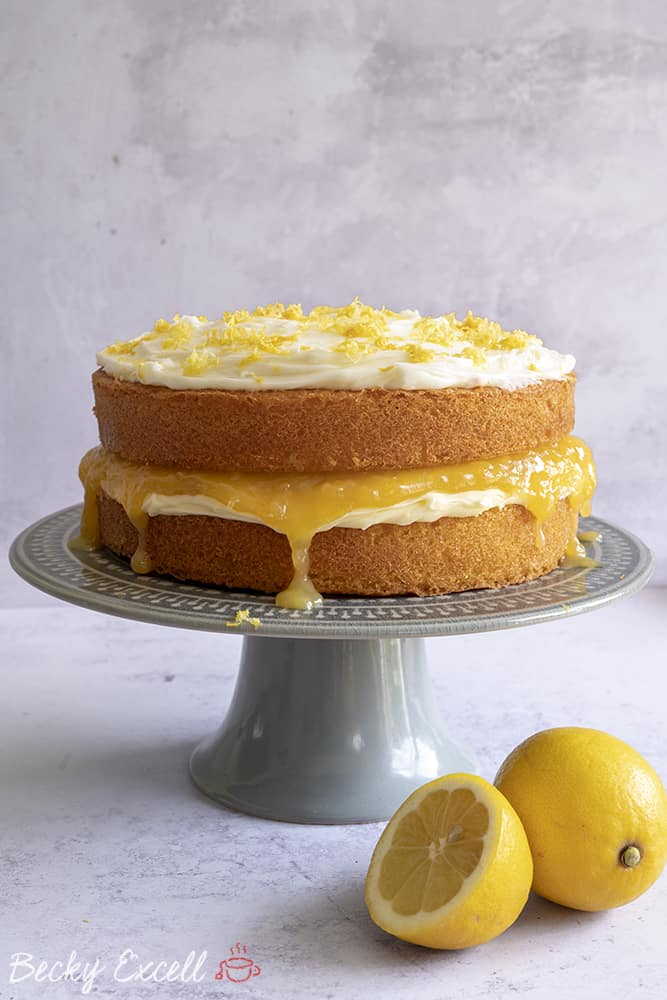 This was one of the first cakes I ever adapted to be gluten free waaaay back when I started avoiding gluten. I was totally new to gluten free baking and was low-key expecting my cake to either spontaneously combust or just taste like a washing up sponge.
And somehow… neither of those things happened!
(go me!)
As you can imagine, I was pretty shocked that my fave bake tasted literally identical without any gluten involved whatsoever. And looking back on it, it was that small success that probably spurred me on to bake another gluten free cake… and another… and another…
And well 10 years later… I guess I'm still going based on that original success!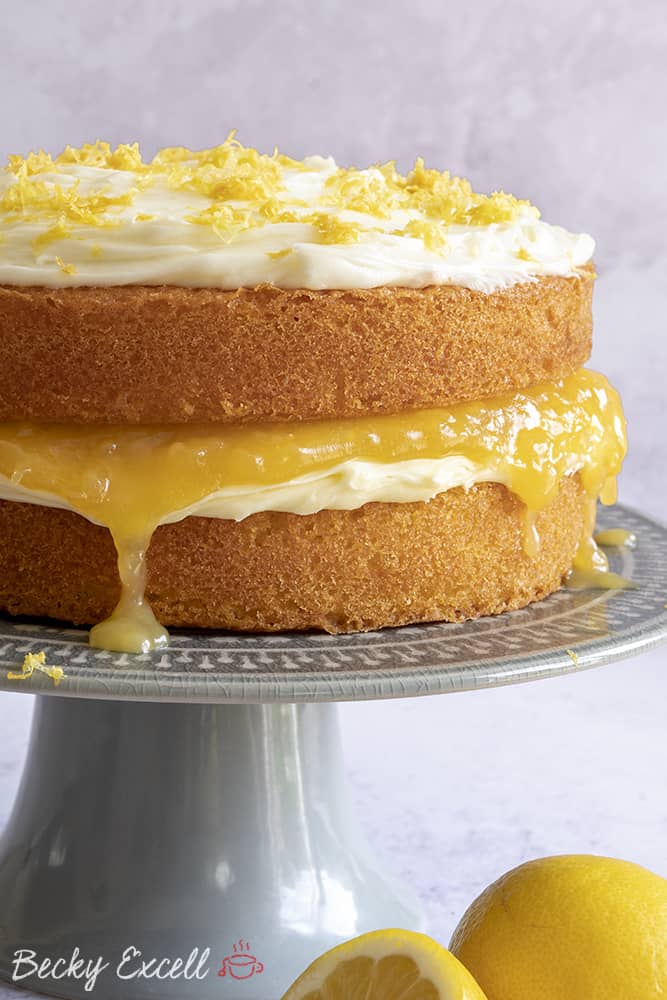 So what's my gluten free lemon cake like?
Well, the sponge itself is lovely and zesty, moist and thanks to a cheeky little bit of xanthan gum, it holds really well.
Then you've got a lovely, creamy lemon flavoured buttercream and my absolute fave… my homemade lemon curd. It's sweet, a little bitter from the zest and packed with lemony goodness!
Honestly, you HAVE to at least try it with the homemade lemon curd once, but I won't judge you if you buy a jar of lemon curd… (like I usually do ?)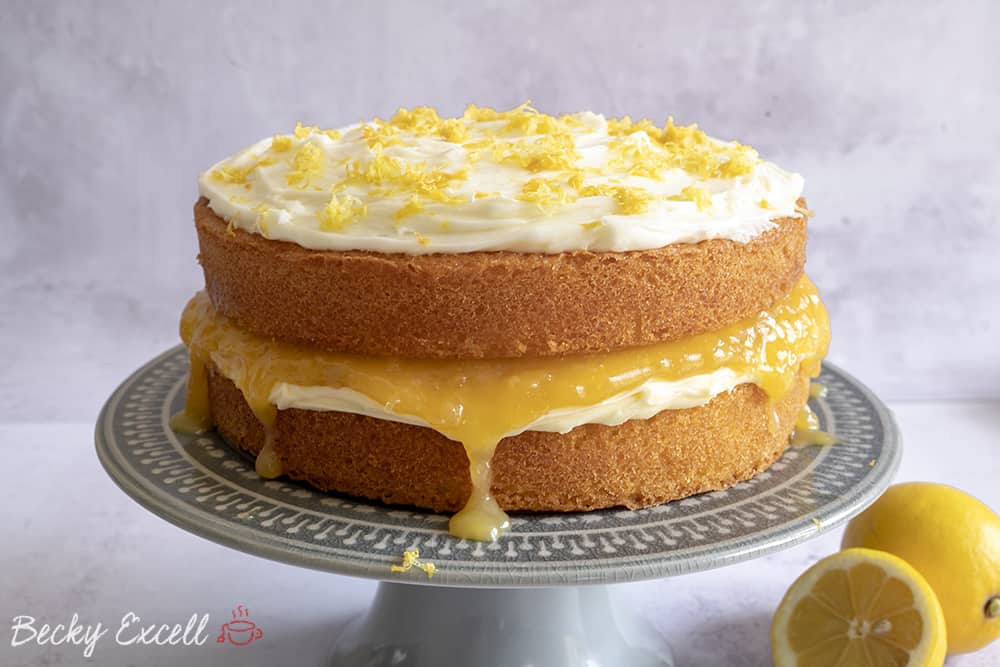 Making this dairy free is a doddle too, all you need to use is dairy free margarine where requested to in the ingredients. Easy peasy!
Ok so here's my gluten free lemon cake recipe!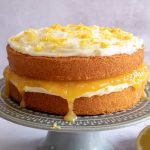 Gluten Free Lemon Cake
Looking for a gluten free lemon cake recipe? Here's my easy recipe with homemade curd - it's also dairy free and low FODMAP too!
Ingredients
For the sponge
225

g

self raising flour

1

tsp

baking powder

(ensure it's gluten free)

1/4

tsp

xanthan gum

225

g

margarine / spread / softened butter

(dairy free if necessary)

225

g

caster sugar

4

eggs

2-3

lemons, zested

1

tsp

lemon juice
For the lemon curd
2

lemons

(you will need zest and juice of both)

2

eggs

150

g

caster sugar

115

g

butter

(a dairy free hard margarine or block if necessary)
For the buttercream
500

g

icing sugar

250

g

margarine / spread / slightly softened butter

(dairy free if necessary, but ensure it's quite cold if so)

2

lemons, zested

1

tbsp

lemon juice
Instructions
Firstly make your lemon curd (you might want to do this ahead of time so it has plenty of time to cool down). Add your eggs to a sauce pan and whisk (hand whisk not electric) to combine.

Add the rest of your ingredients and pop it on a medium heat. Whisk your mixture, allowing the butter to melt and then continue to mix for a further 10 minutes (approx) until the lemon curd starts to thicken slightly. (Don't let it boil)

Leave to cool completely before popping it into a glass jar to thicken further in the fridge. It's then ready to use for the cake!

To make the sponge, prepare 2 circular cake tins (mine are 20cm) - grease them and cut a circle of parchment paper to sit in the bottom. Preheat your oven to 160C Fan.

Place all your sponge ingredients into a large mixing bowl and whisk until well combined and thoroughly mixed (1 minute should do it).

Divide the mixture between the two tins evenly.

Bake for around 30 minutes until golden (remember never to open the oven until you think they are definitely done). To check if the sponges are cooked, insert a skewer and if it comes out clean, it's done!

Leave the sponges in their tins for about 5 minutes before turning them out onto a cooling rack.

Whilst the sponges are cooling, make your buttercream. Start by adding your margarine / spread / butter to a bowl and cream it together. This can be done by hand or with an electric hand whisk. (Butter will always work best but dairy free options work fine too)

Once creamed, gradually add your icing sugar and beat it in until combined - it seems like a lot but it will all incorporate itself.

Gradually add your lemon juice (not all at once) continue to beat. Add your lemon zest at this stage too. It should now be the right consistency - spreadable but not runny. If you need to add a little extra icing sugar (too wet) or a tiny bit of milk (if too dry).

To decorate spread buttercream on the bottom sponge of the cake and liberally spread lemon curd on the other sponge (what will be the top layer). Carefully sandwich the sponges together by placing the lemon curd one on top.

Spread some more of the lemon buttercream on top of the cake and finish with a sprinkling of lemon zest. Enjoy!
Recipe Notes
You won't need all the lemon curd but you can keep any extra in a jar in the fridge for other bakes or even to have on toast.
Thanks for reading how to make my gluten free lemon cake recipe! If you make it, I'd love to see how it turned out so don't forget to take a snap of your bakes and tag me on Instagram!
Any questions about the recipe? Feel free to leave a Facebook comment below this post ??
Thanks for reading,
Becky xxx
Oh and don't forget to pin this for later!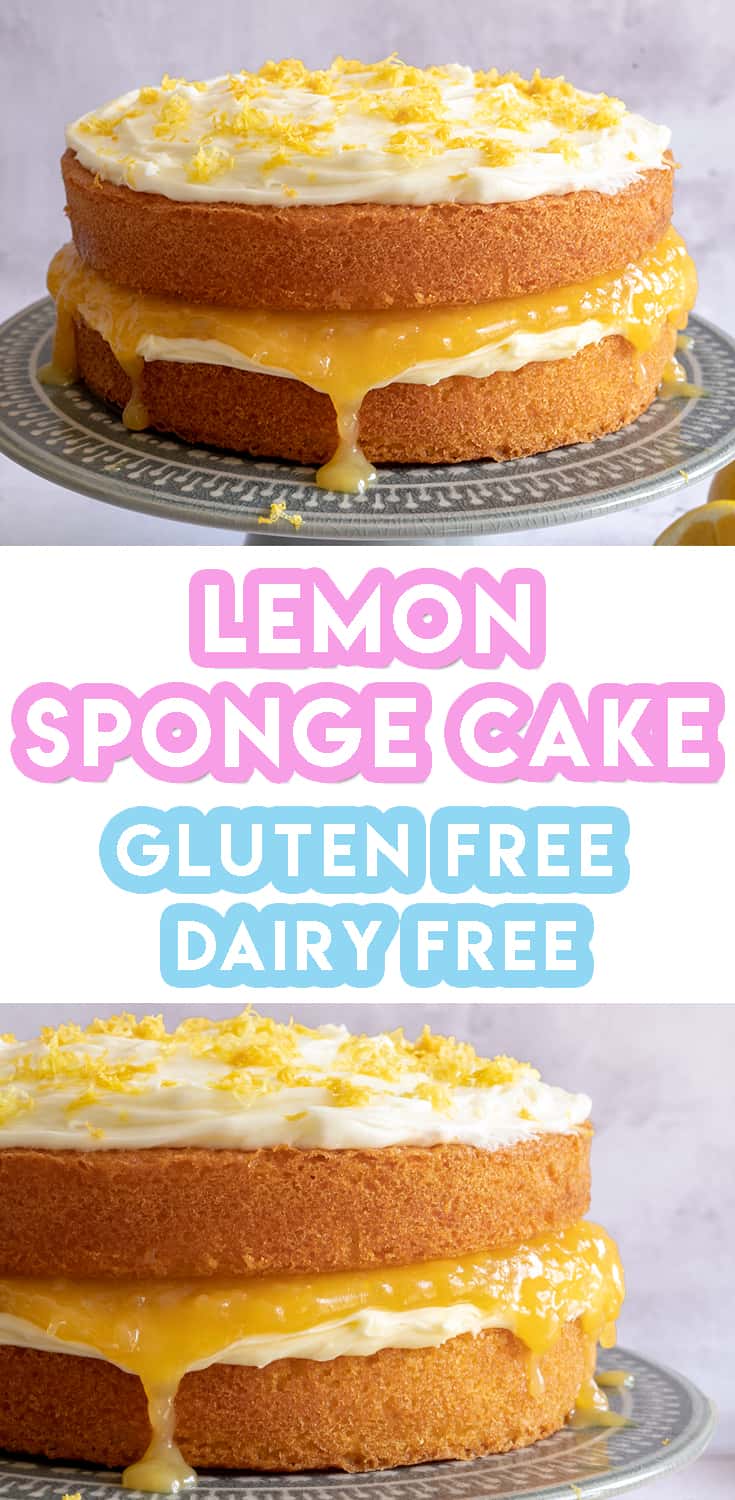 Comments