Whether you're a coffee addict or a coffee dodger, my gluten free coffee and walnut traybake recipe is for you! It's also low FODMAP and you can make it dairy free easy peasy too.
But how on Earth can a coffee cake be for those who erm… don't drink coffee?! Well, I guess that's all part of the magic of my gluten free coffee and walnut traybake recipe!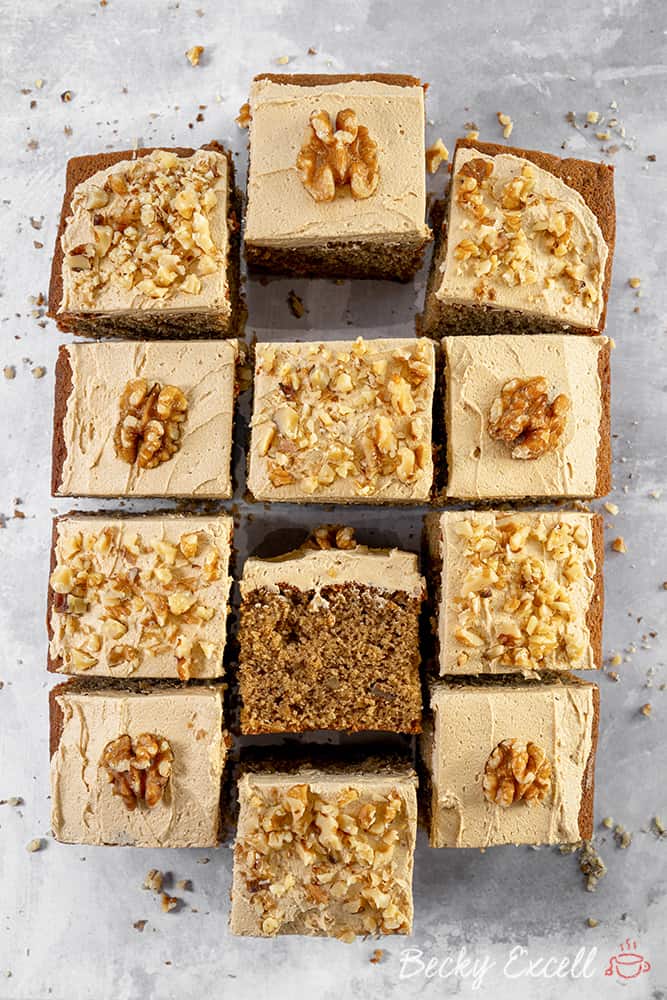 I don't really like coffee. There, I said it!
Despite undeniably being 'an adult' (didn't see that one coming) I still haven't quite latched onto the liquid that is essentially 'fuel for stressed and overworked adults'.
I've tried all the fancy coffees in every which way – with tons of frothy milk, with syrups in it, hot, cold, you name it. And it's just not my cup of tea!
(literally – I would happily have a peppermint tea instead!)
So why on Earth are we here talking about my gluten free coffee and walnut traybake recipe?!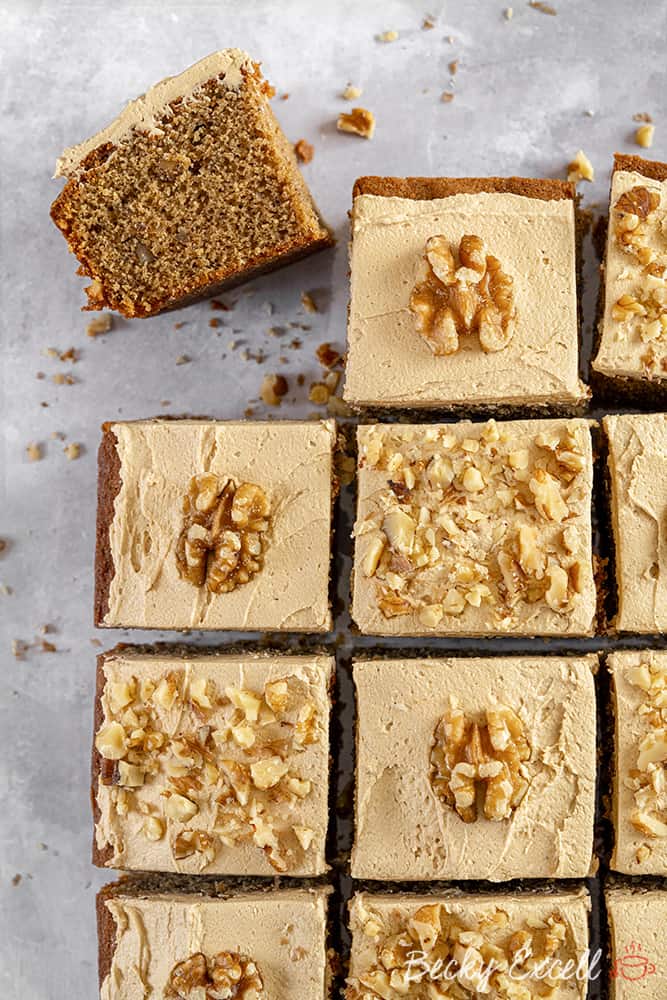 Well, it's because coffee and walnut cake is awesome!
Ok – I'm probably not getting that kick of caffeine that would actually perk me up when I need it, but who knows? Maybe this cake will be my gateway into one day *finally* drinking coffee?
But how can I love this cake if I don't even like coffee?!
It's quite simple really – it just tastes absolutely divine. There's a deep, rich coffee flavour (in the sponge and the icing) but with against that sweet buttercream and brown sugar, it combines to make the most wonderful caramel-like intensity.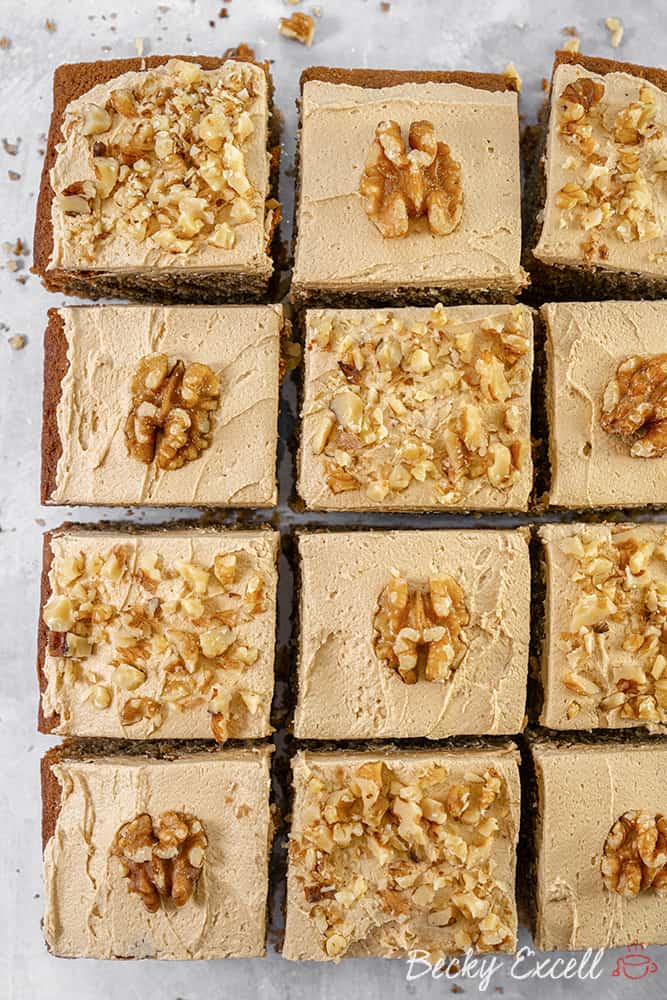 That's not to mention the lovely crunch and flavour from those walnuts too. Trust me – this recipe is a real game-changer for coffee dodgers and if you already love coffee then… you'll obviously love this too!
The sponge itself is lovely and moist and as I always say, you'd never know this cake is gluten free. In terms of taste, texture, looks… it's just impossible to be able to tell.
And even though I already have a gluten free coffee and walnut cake recipe on my blog, I absolutely had to 'traybake-ify' it and reshare it. Traybakes are just so much fun!
You end up with little bite-sized squares of awesomeness which are perfect if you have a bunch of guests around. And I mean, even though it's rare for me, you sometimes just don't want an enormous slab of cake, do you?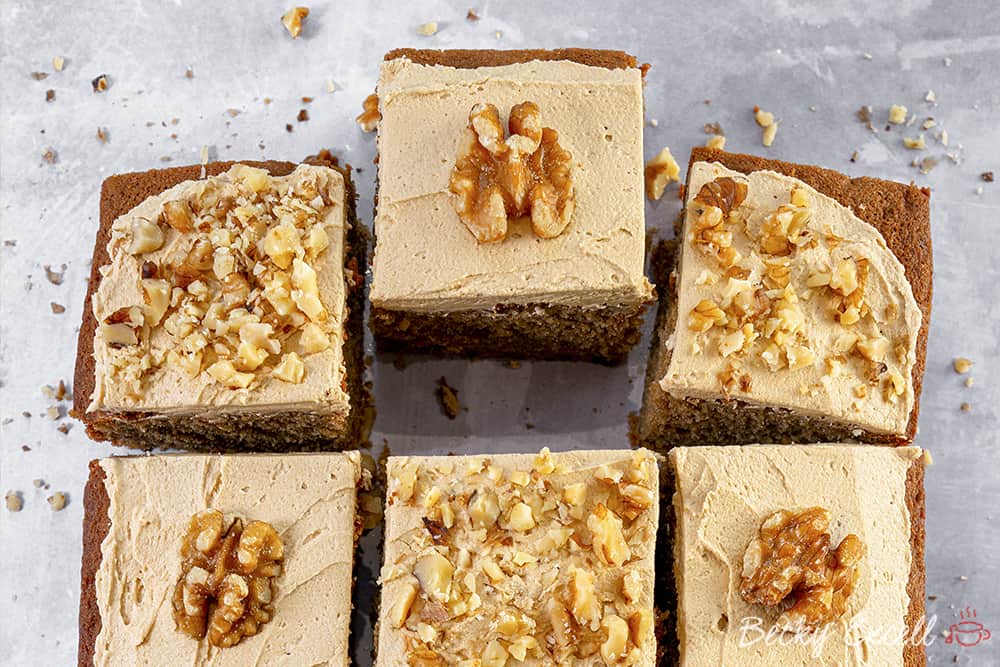 Ok, so here's my gluten free coffee and walnut traybake recipe!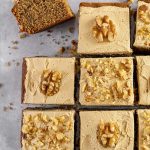 Gluten Free Coffee and Walnut Traybake
My gluten free coffee and walnut traybake is every coffee addict AND coffee dodger's dream! You can also make it dairy free too.
Ingredients
For the cake
350

g

gluten free self raising flour

1/4

tsp

xanthan gum

350

g

light brown sugar

350

g

butter, softened

(or dairy free alternative)

6

eggs

100

g

walnuts, finely chopped

4

tsp

instant coffee

(you'll mix with 1 1/2 tbsp of boiling water)
For the buttercream
175

g

butter

(or dairy free alternative)

390

g

icing sugar

2

tsp

instant coffee

(you might want an extra tsp if you like it stronger) (you'll mix with 1 tbsp of boiling water)

walnut halves

(for decoration)
Instructions
Preheat your oven to 160C  fan. Prepare a rectangular baking tin - mine is approx 32cm x 21.5cm. I grease the tin and then use baking paper - the baking paper should go over the edges so you can lift out the cake once it's cooled.

Dissolve your 3-4 tsp coffee in 1 1/2 tbsp of boiling water and leave to cool.

In a large mixing bowl, cream together your light brown sugar and your softened butter. Cream until lighter and fluffy. I use an electric hand whisk or a stand mixer.

Gradually add your eggs - 1 or 2 at a time, mixing in between each. (Remember if it curdles it doesn't matter really)

Fold in the gluten free self raising flour and xanthan gum to the mixture (this is a big mixture so make sure you carefully fold all the flour in properly).

Pour in your cooled coffee and fold through.

Add your finely chopped walnuts and carefully fold through once more.

Spoon your cake mixture into your pre-prepared baking tin and place in your preheated oven for 45 minutes until cooked through.

Leave to cool in the tin and then carefully lift onto a cooling rack.

To make your buttercream, start by dissolving your 2 tsp of coffee in 1 tbsp of boiling water and leave to cool.

Then ensure your butter is soft. I find it take a good hour out of the fridge, but never let it go too soft! Place your butter into a stand mixer and mix on a medium speed for about 5 minutes until the butter has gone a lot more pale in colour.

Add your icing sugar gradually. I add it in 2-3 stages and beat for about 3 minutes between each addition. Start your mixer slowly to save your kitchen from a real icing sugar mess, but then increase the speed to medium / high for each of your 3 minutes.

Next gradually add your cold coffee. Beat for 2-3 more minutes so it's fully combined, light and fluffy.

Spread the coffee buttercream all over the top of your cake.

Cut the cake into squares (you can cut the edges off first if you want, but it seems a waste!). Then finish by decorating with walnut halves / pieces. Enjoy!
Thanks for reading all about my gluten free coffee and walnut traybake! If you make it, I'd love to see how it turned out so don't forget to take a snap of your creations and tag me on Instagram!
Any questions about the recipe? Please do let me know by following me on Instagram and leaving me a comment on a recent photo!
Thanks for reading,
Becky xxx
Oh and don't forget to pin this for later!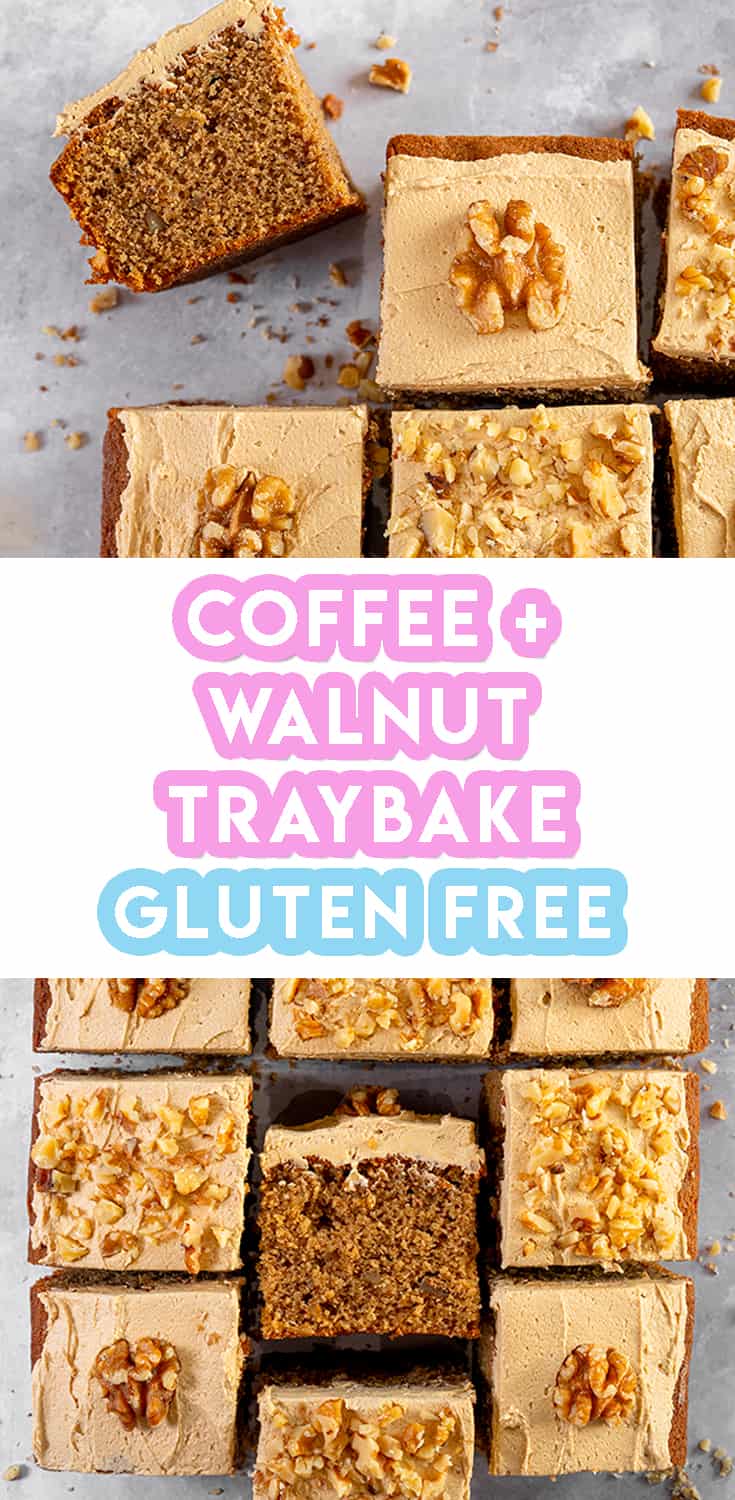 Comments