What's better than gluten free chocolate cake recipe? A gluten free chocolate traybake recipe of course! These little cubes of chocolatey joy are even dairy free and low FODMAP too.
There's something about a gluten free chocolate traybake that I absolutely love – and no, it's just because it's so simple to throw together! I'm confident that you'll agree, so that's why I thought I'd share my gluten free chocolate traybake recipe with you all today…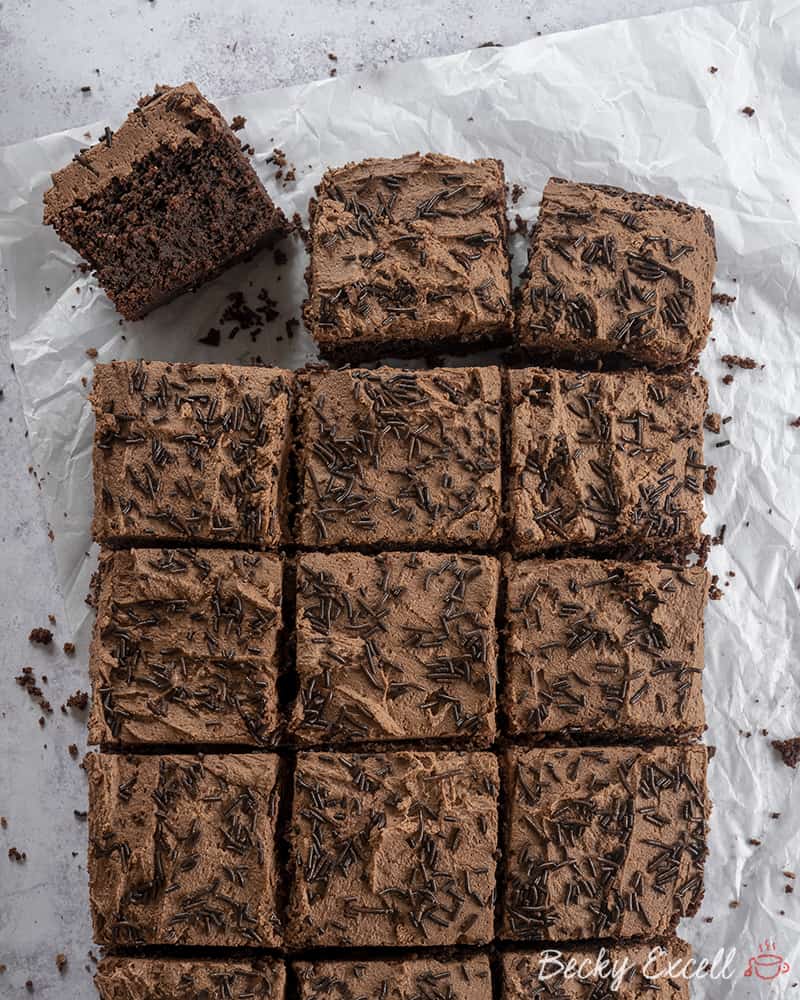 When I think of my dream chocolate cake, I'm thinking of a super moist, fudgey bite of chocolate heaven… Basically a cross between a sponge cake and a brownie!
But when you buy a chocolate cake, I'd often describe it more as a 'cocoa flavoured sponge' than anything close to the above.
Where's the moistness?! The rich taste of chocolate? They definitely do *not* satisfy my chocolate cravings one bit!
Well, I guess now you know why my gluten free chocolate traybake recipe exists…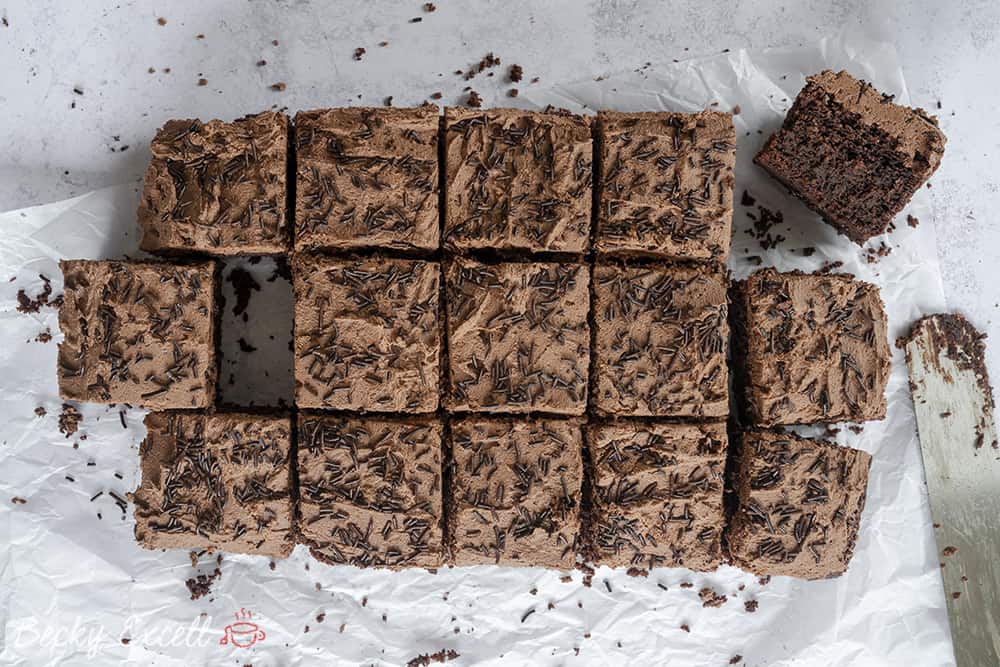 But why a traybake?
(or a sheet cake as they're often called across the pond)
Well, first of all, they're just that little bit easier to make than a regular cake – you just pour your cake mixture into your baking tin, bake and then after letting it cool, whack your icing on. Job done – no constructing or extra tins required.
But apart from it being that little bit simpler to throw together, there's something about these cute little cubes that you just can't beat…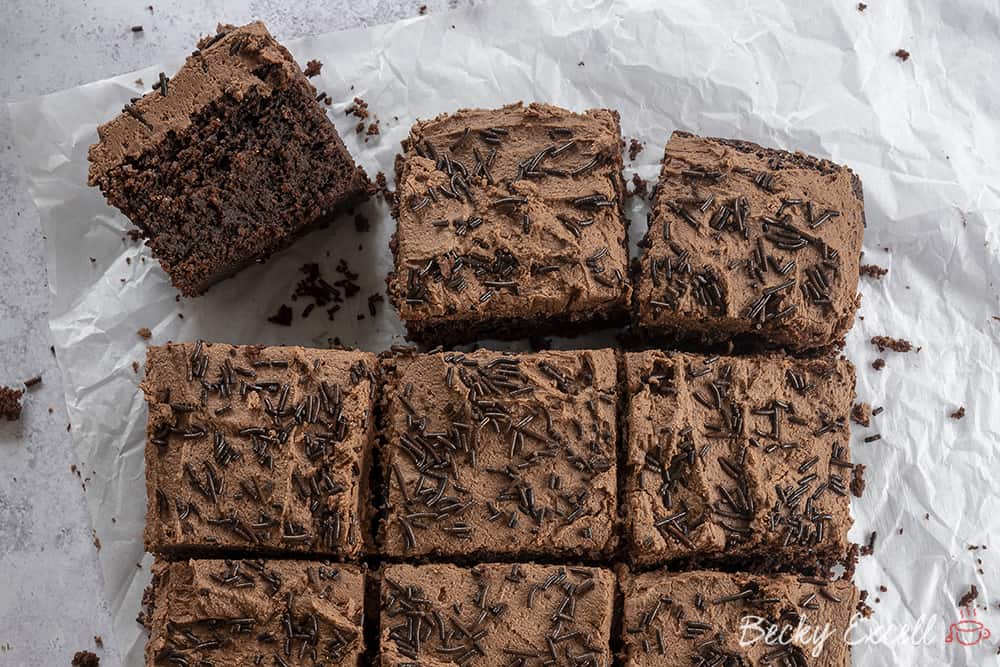 It's just an entirely different eating experience to sitting down and eating a slice of cake with a fork like a civilised person!
(though I won't judge you if you do)
For starters, if you cut them into rows of three, you're left with nice little modest portions which is great for me as I 100% cannot be trusted to cut my own slice from an enormous cake.
My eyes are often hungrier than my stomach!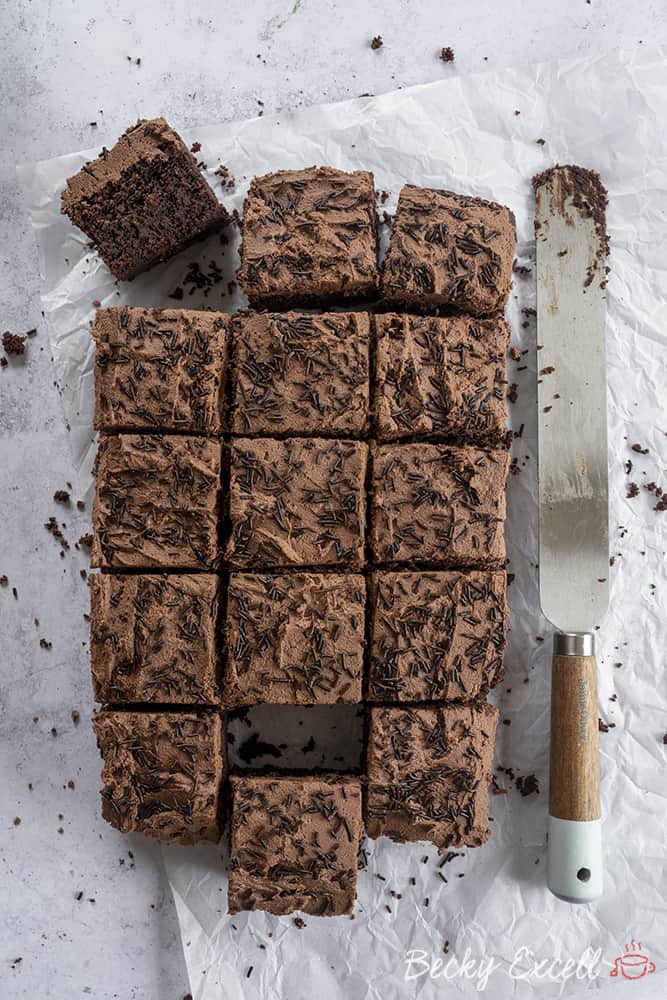 But most of all – I swear a traybake just tastes better somehow. I dunno if it's the magic of the little cubes, but I would kill to get my regular layer cakes to to turn out as moist and fluffy as my gluten free chocolate traybake recipe!
If you're low FODMAP, just make sure that all the milk you use is lactose free. Dairy free? Well, just go ahead and use dairy free butter/margarine/milk instead. Easy peasy!
Ok, so here's how to make those little cubes of joy…
My Gluten Free Chocolate Traybake Recipe
My gluten free chocolate traybake recipe is lovely and moist - like a cross between a brownie and a chocolate cake! It's dairy free and low FODMAP too.
Ingredients
For the cake
220

g

dark chocolate

(ensure dairy free if necessary)

220

g

butter

1

tbsp

coffee

(with 125ml of hot water)

170

g

gluten free self raising flour

25

g

cocoa powder

(ensure it's dairy free if necessary)

1/4

tsp

bicarbonate of soda

1/4

tsp

xanthan gum

200

g

light brown sugar

200

g

caster sugar

85

ml

buttermilk

(you can make your own by placing 1-2 tbsp of lemon juice in a jug and topping it up to 85ml with milk - any milk is ok. Ideal is whole milk but I often use dairy free milk too)

3

eggs
For the icing
225

g

butter

(dairy free hard marg - like Stork, if necessary)

450

g

icing sugar

45

g

cocoa powder, sieved

2 tsp

milk

(dairy free if necessary) (use as much or little as needed)
Instructions
Preheat oven to 160C Fan. Prepare your baking tin with parchment / baking paper. My tin is about 8 inches x 12 inches, so the popular 9x13 tin would be fine I'm sure.

If you are making your own buttermilk - put 1-2 tbsp of lemon juice in a jug and then fill it up to 85ml with milk (any milk will work - if you can have dairy, whole milk works best but I've made it with almond milk and its perfect too). Put your buttermilk to one side until you need it.

Melt your dark chocolate and butter in a glass bowl over some boiling water on the heat.

Once melted, make your coffee (1 tbsp to 125ml of hot water) and pour it into your melted chocolate/butter. Mix it together.

In a large bowl, add your flour, bicarbonate of soda, xanthan gum, cocoa powder, light brown and caster sugar. (I always sieve my cocoa powder especially to remove any lumps) Mix together.

In another bowl crack 3 large eggs and add your buttermilk. Mix together until combined.

Next pour your chocolate mixture into your dry mix bowl, followed by your egg/buttermilk mixture. Mix together - I did this by hand so as to not overmix. Mix until combined, make sure you mix all the way to the bottom so theres no dry flour chunks etc.

Spoon/pour your mixture into your pre-prepared tin and then place in the oven for about 1 hour.

Once baked remove from the oven and leave to cool in the tin.

Whilst the cake is cooling you can make your icing. Cream/beat your butter briefly so it softens a little more - your butter (or dairy free alternative should be at room temp).

Sieve your icing sugar and cocoa into a separate bowl and then gradually add it to the butter. Mix thoroughly between each addition until it's all been added.

If the icing is a little too solid add a couple of teaspoons of milk and mix again. Do this until the icing is at the right consistency for you. It should be smooth but not runny, it should hold its shape, but not be too stiff. (If you are making this icing dairy free I'd recommend chilling it again before placing it on the cake so it's more firm)

If you haven't already, now the cake is cooled, remove it from the tin and spread your icing all over the cake - as much or as little as you want. Then sprinkle on any decorations you want - I went for chocolate strands.

Cut into squares and enjoy!
Thanks for reading all about my gluten free chocolate traybake recipe! If you make it, I'd love to see how it turned out so don't forget to take a snap of your creations and tag me on Instagram!
Any questions about the recipe? Please do let me know by following me on Instagram and leaving me a comment on a recent photo!
Thanks for reading,
Becky xxx
Oh and don't forget to pin this for later!