Say hello to my 6-ingredient gluten free banana bread recipe! It's dairy free too and is basically my absolute fave recipe of this year.
So how does my 6-ingredient gluten free banana bread work? Well, you only need 6 ingredients (plus a few bowls) to make pure banana bread heaven!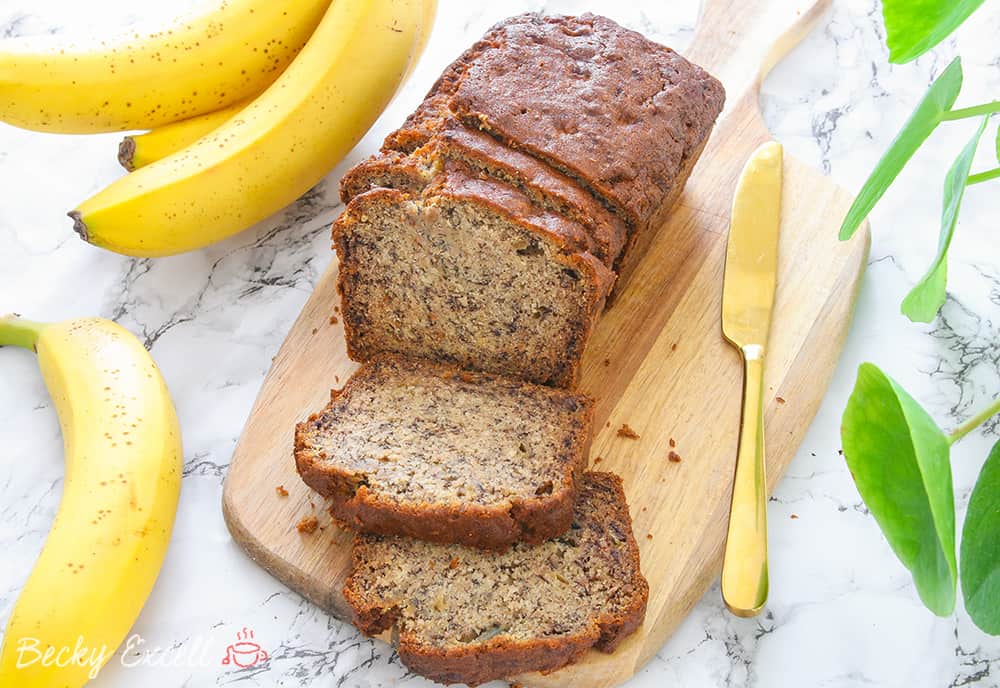 So I shared my original gluten free banana bread recipe four years ago but it was very different to this one.
It was great because it used apple sauce in replacement of fat and sugar. Pretty crazy right?
And yeah, it was reeeeally nice!!
But four years on, I thought I'd create a gluten free banana bread recipe that was 100% true to banana bread. Not like my own 'version' or spin on a banana bread. Am I making sense here?!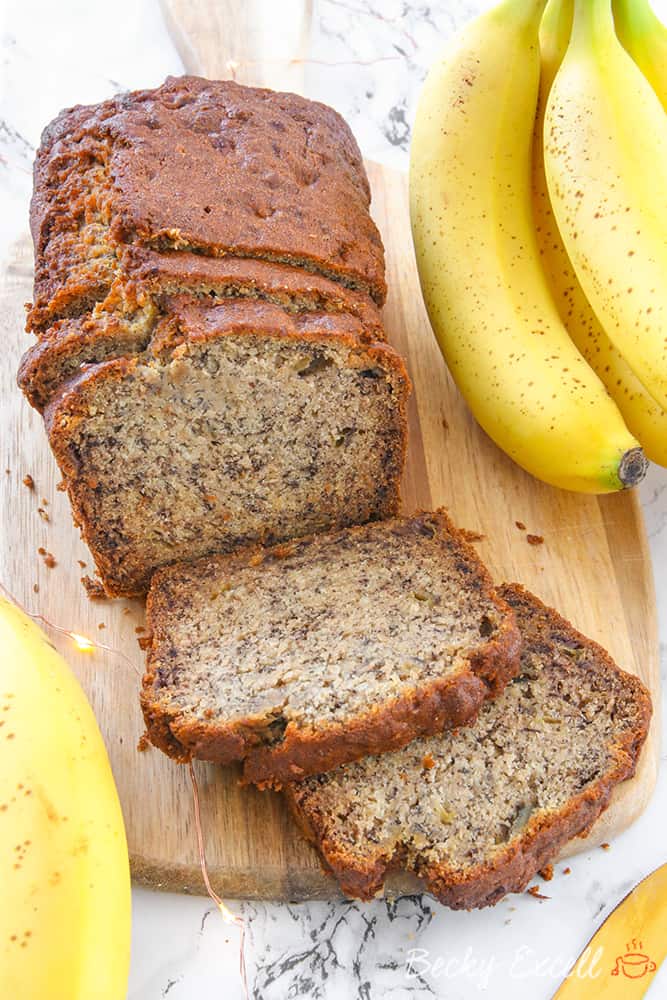 If I'm not making myself clear then I'll put it this way: this is the only gluten free banana bread recipe you'll ever need!
Forget the refined sugar free version, the zero fat versions, this is what I really crave when I want banana bread.
It's perfect as it is, but also great for toasting to get that lovely crisp exterior.
I'm not sure if you're aware but Aussies have really nailed banana bread in my opinion, so this is my version of an Aussie banana bread!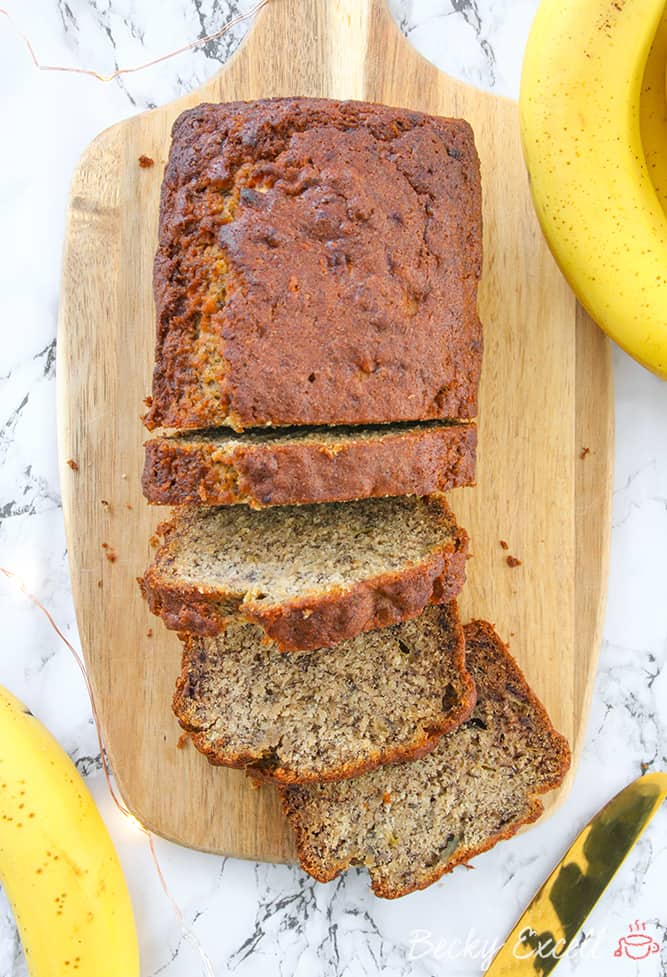 It really is the loaf cake that keeps on giving and because of how those ripe bananas keep things so moist – it lasts for days.
Make sure your bananas are super nice and ripe for this recipe! The ones that actually went into this cake were quite black and it turned out perfect.
If you're on the low FODMAP diet, this might not be the recipe for you OR you might just need a little restraint! You can only eat a third of a ripe banana (33g) so if you're in the elimination phase of the diet, you can eat a little… but I mean a little. You can eat a lot more banana if it's unripe, but unripe bananas just aren't as good!
Ok – it's time to share my 6-ingredient gluten free banana bread recipe with you!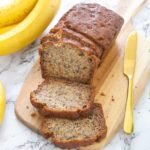 My 6-Ingredient Gluten Free Banana Bread Recipe (dairy free)
My 6-ingredient gluten free banana bread recipe is the only banana bread recipe you'll ever need! It's dairy free too.
Ingredients
500

g

bananas, mashed

115

g

butter or dairy free spread

(room temperature)

115

g

light brown sugar

250

g

gluten free plain flour

(I've also made this with gluten free self raising flour and it works really well, I didn't notice too much difference)

1

tsp

bicarbonate of soda

2

medium eggs, beaten
Instructions
Preheat your oven to 180C (160C fan).

Cream together the light brown sugar and butter (or dairy free spread) until light and fluffy.

Next add your beaten eggs alongside your mashed banana (I tend to just mash mine with a fork!). Either by hand or with a whisk, mix your eggs and banana in until combined. At this stage you'll realise how important it is to have very ripe bananas - if they are underripe it's harder for them to combine.

Add your gluten free flour and bicarbonate of soda to the bowl and mix briefly just to combine and so that no dry flour can be seen.

Spoon / pour your mixture into a preprepared 2lb loaf tin (I use parchment/baking paper). And place in the oven for about an hour.

Check that it's cooked by sticking a skewer into the centre and seeing if it comes out clean. If the cake is going too brown on top for your liking, you can always quickly cover it with a bit of foil nearer the end of baking. I find sometimes loaf cakes brown quicker on the outside than they cook!

Once cooked through, remove from the oven and allow to cool.

Serve up cold or warmed. Enjoy!
Recipe Notes
I have been known to add chocolate chips to my banana bread so that is definitely an option with this one. I also find that pecan or walnuts work particularly well too.
If you like a little bit of a warming flavour, I sometimes add 1 - 2 tsp of Cinnamon to the mixture too.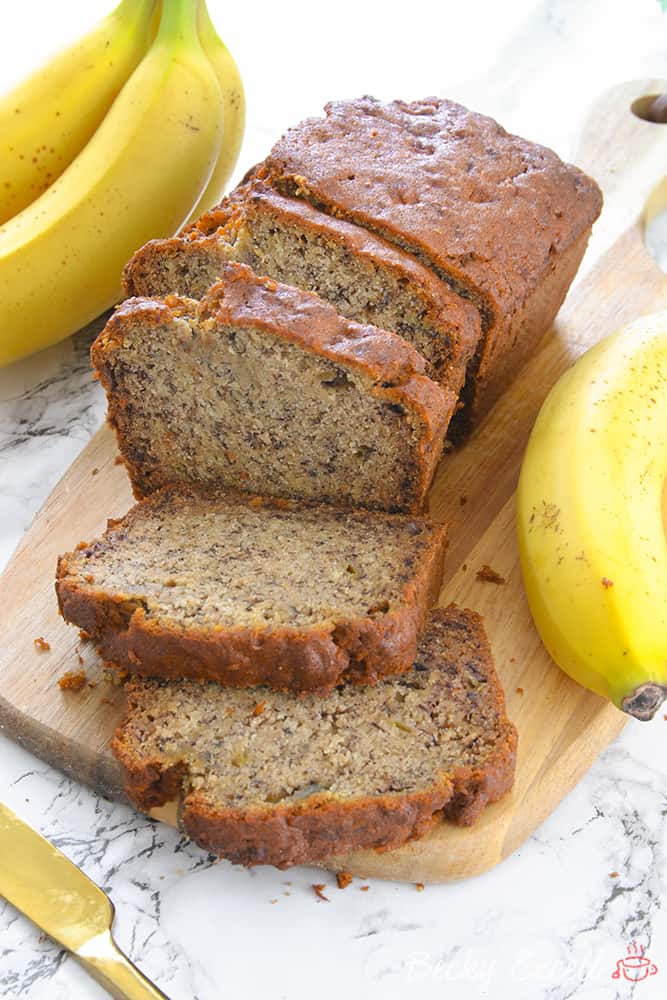 Thanks for reading how to make my 6-ingredient gluten free banana bread recipe! If you make it, I'd love to see how it turned out so don't forget to take a snap of your creation and tag me on Instagram!
Plus, I'm giving away a £50 supermarket voucher every month to my fave pic, so get baking!
Any questions about the recipe? Please do let me know by following me on Instagram and leaving me a comment!
Thanks for reading,
Becky xxx
Oh and don't forget to pin this for later!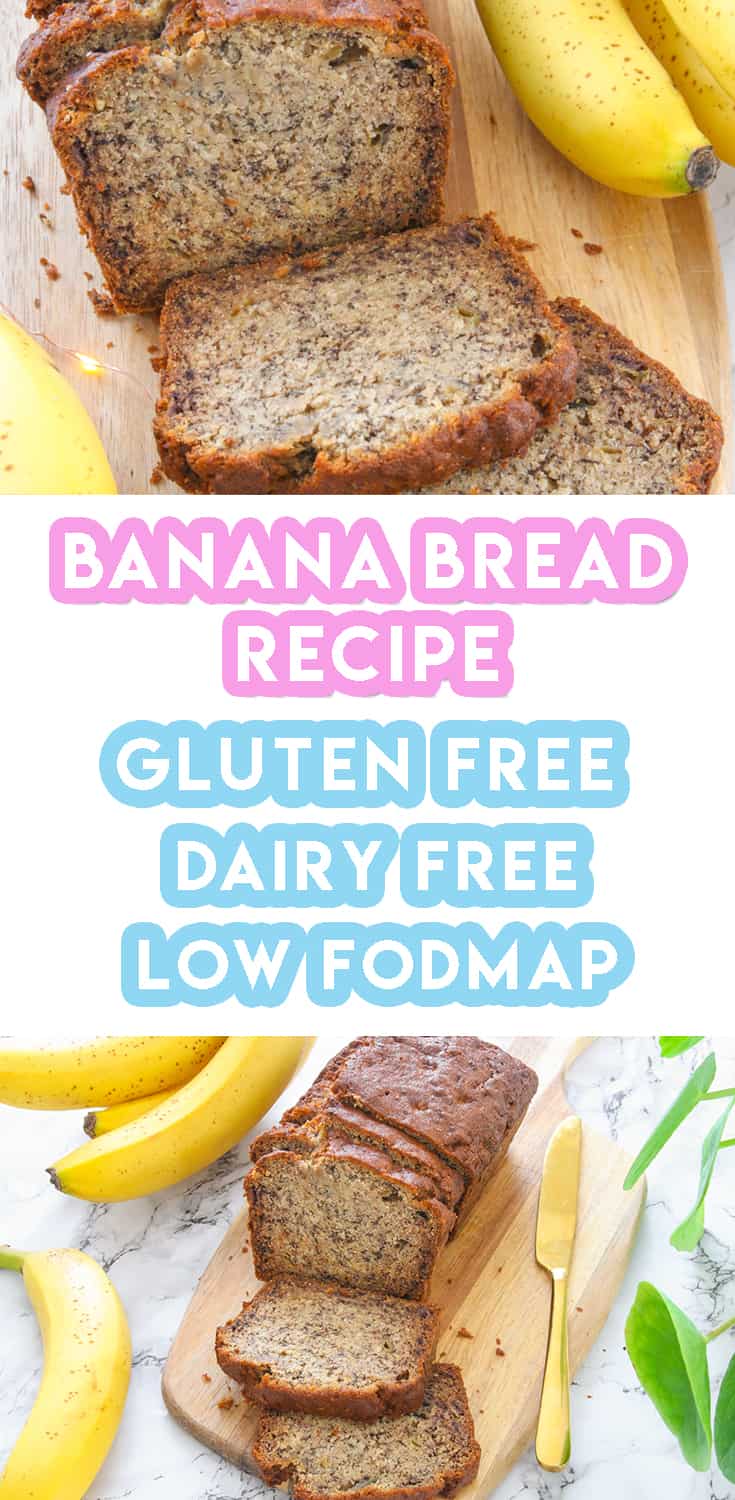 Comments