Gluten free Battenberg cake is one of those cakes that I have always wanted to attempt, but never got around to trying until yesterday.
Gluten free Battenberg cake… where do I start? It's a true classic cake that is rarely found out and about in gluten free form. Today I thought I'd show you how easy it is to create by sharing my delicious gluten free Battenberg cake recipe! You'll find that a slice of this beaut is also dairy free and low FODMAP too (but always eat almonds in moderation if you're following the low FODMAP diet).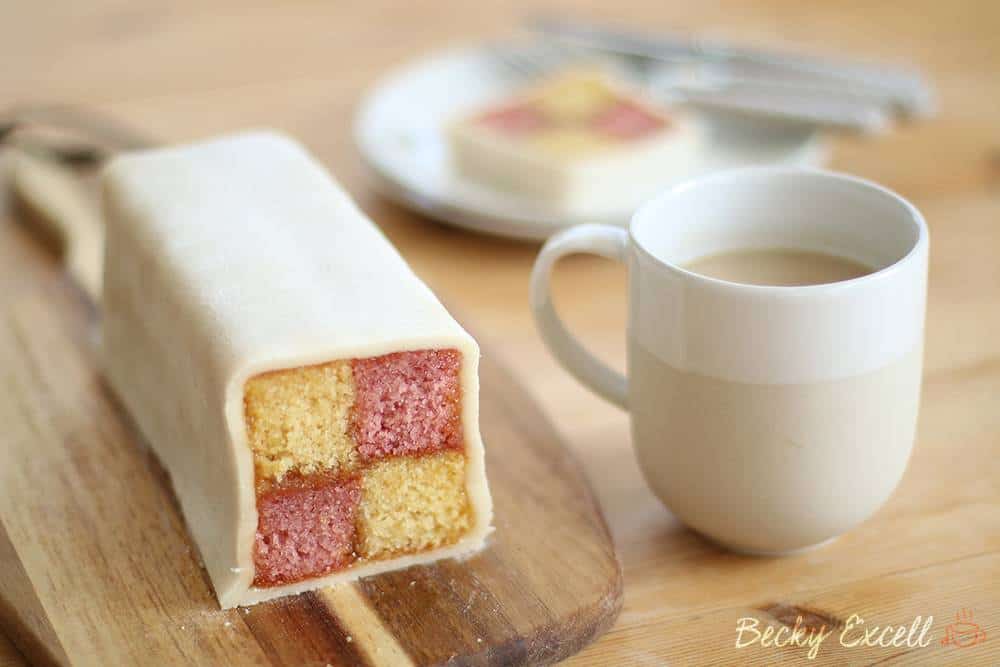 The Battenberg is a cake that every British person knows by look but I betcha that not everyone has tried it. I'm not sure why that is, maybe it's seen as a little old fashioned?
For me, it's a cake that brings with it tons of nostalgia and I mean, who can resist that pink and yellow checkerboard pattern?! I sure can't, hence why I had to bake a gluten free Battenberg cake myself!
It's a cake which I fondly remember sitting on the side whenever we visited my grandparents or family friends as a child. Honestly, it's the main reason that my Mum persuaded me to go visit!!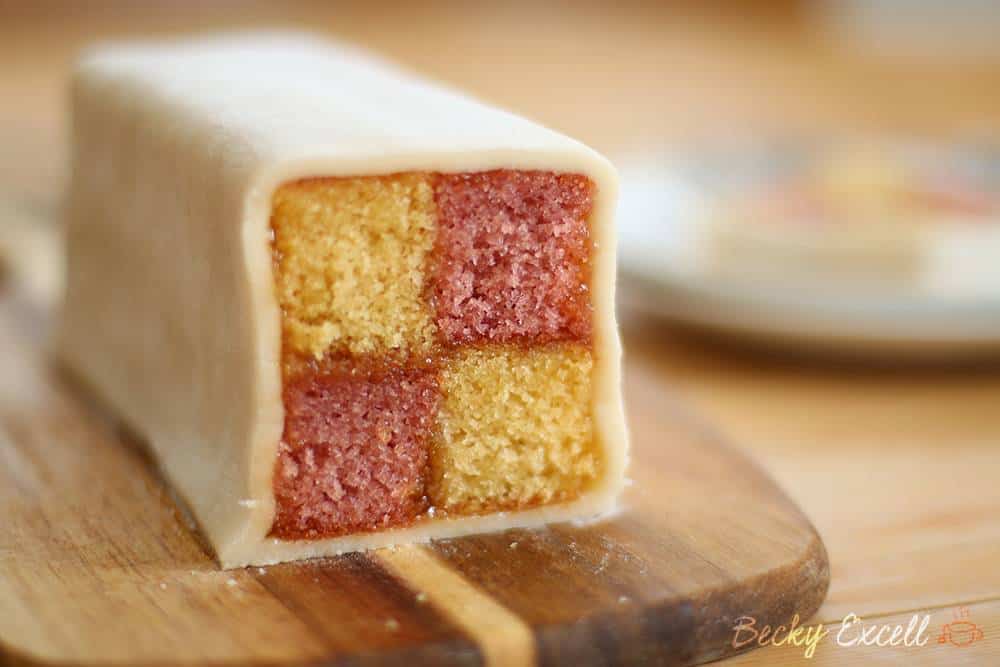 The gluten free Battenberg cake is an easy one to bake providing you are patient. I mean, it doesn't take all that long but it is slightly more fiddly than a standard Victoria Sponge cake of course!
The cake is made by baking two separate sponges – a 'yellow' gluten free almond sponge and a 'pink' gluten free vanilla sponge. The almond sponge isn't coloured of course, it's just your usual sponge colour, but for your vanilla sponge you will need to use a little food colouring to make it pink!
I use a pink food colouring paste rather than a liquid, it just works SO much better. One thing to remember is that when you take your pink sponge out of the oven, don't be worried that it doesn't look very pink. The outside will have browned quite a lot (you trim the edges off), but inside the cake will still retain its lovely pink colour.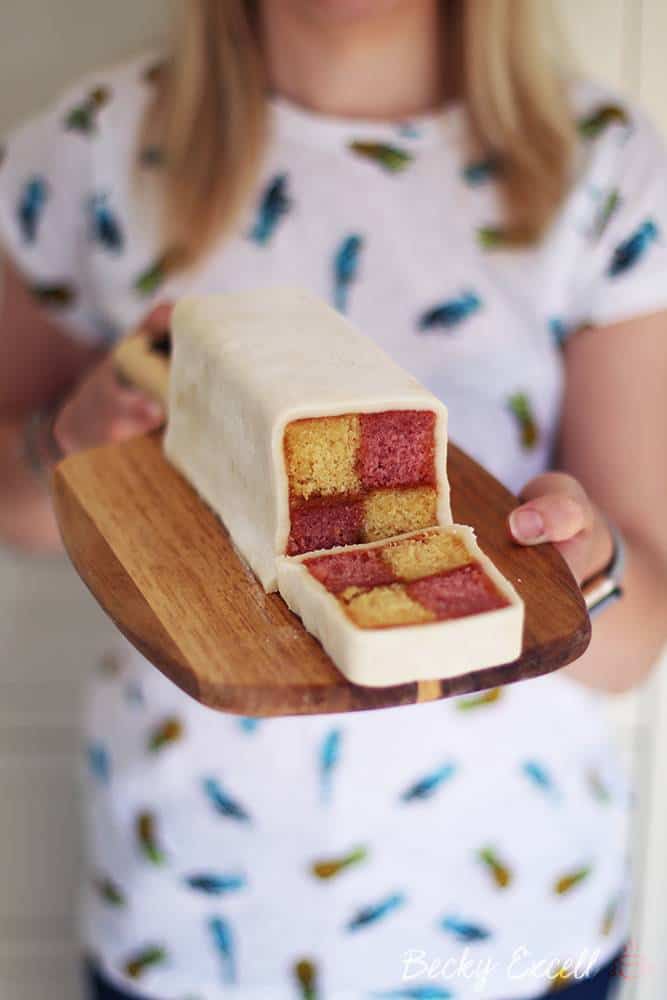 Another thing I thought I would mention is the 'glue' for the cake. It is most common to use apricot jam to stick each of the sections together but you can use any jam you fancy really, or, if you are like me you might want to consider a lemon curd – it works a treat!
As I mentioned earlier, Battenberg cake is strangely one of these classic cakes that not everyone has tried. Basically my gluten free Battenberg cake is a slice of heaven on a plate.
The vanilla and almond sponges compliment each other perfectly. The vanilla balances out the almond flavour of the sponge and marzipan to create that wonderful Battenberg taste we know so well.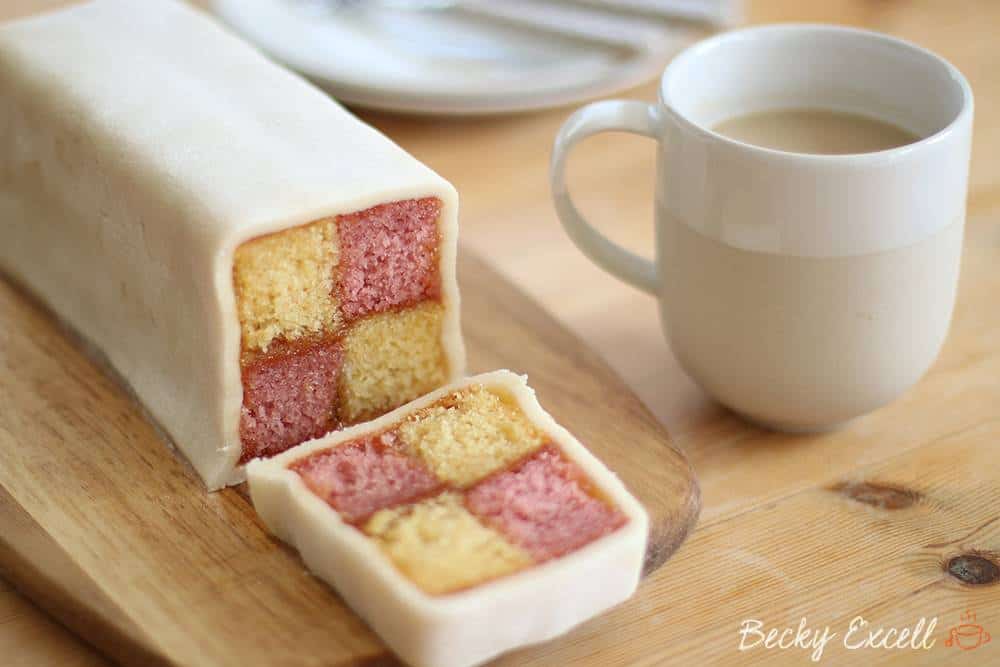 The gluten free Battenberg cake is a cake to be proud of. You can't knock it up that quickly first time round, but once you get the hang of it, it's an impressive show stopper whenever you have friends round for afternoon tea.
Making the perfect checkerboard effect does definitely require a little bit of measuring to get it perfect. But don't be put off, a simple ruler will suffice and a little extra time invested will more than pay off when your cake it done!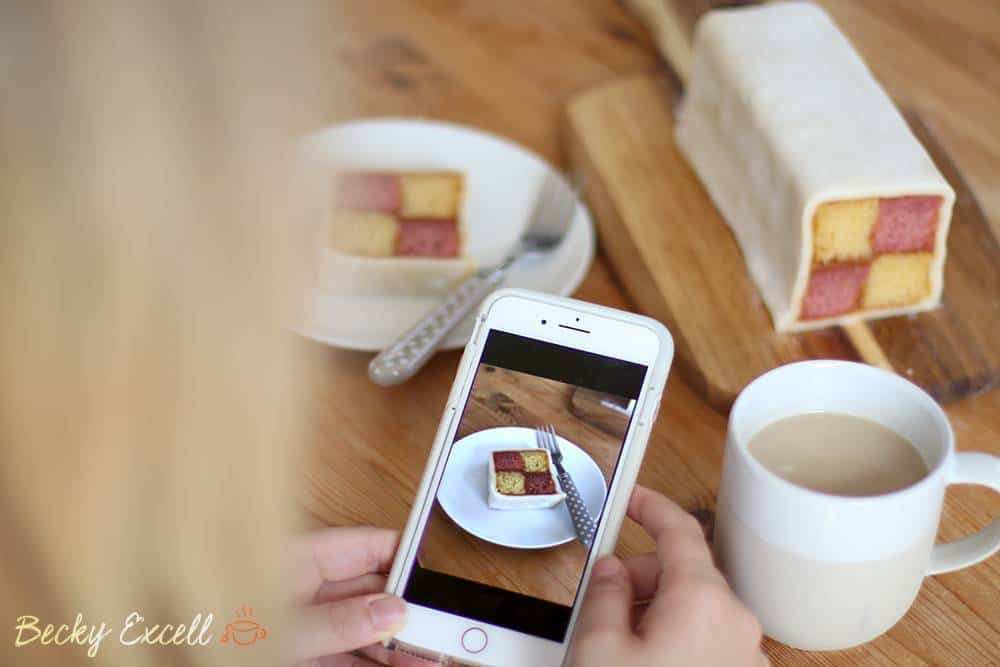 Right, without further ado, here is my gluten free Battenberg recipe!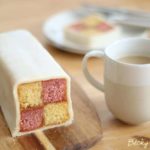 Gluten Free Battenberg Cake
My delicious gluten free Battenberg cake is the perfect cake to have with a cuppa tea. A tasty slice is also dairy free and low FODMAP.
Ingredients
For the 'yellow' almond sponge
175g soft dairy free spread

175g golden caster sugar

140g gluten free self raising flour

50g ground almonds

1/2 tsp baking powder

3 medium eggs

1/2 tsp vanilla extract

1/4 tsp almond extract
For the 'pink' vanilla sponge
175g soft dairy free spread

175g golden caster sugar

140g gluten free self raising flour

50g ground almonds

1/2 tsp baking powder

3 medium eggs

1/2 tsp vanilla extract

1/2 tsp pink food colouring paste
To assemble the Battenberg
200g dairy free lemon curd

I use this as a low FODMAP alternative to apricot jam to 'glue' the cake together!

800g white marzipan

I usually just buy 2 500g packs

icing sugar

for rolling out the marzipan
Instructions
Line your 20cm square tin with grease proof paper.

Firstly make your almond sponge. Using the 'all-in-one' method add your ingredients to a mixing bowl and mix together using an electric whisk until combined. (If you prefer you can use the creaming method)

Place your cake mixture into your prepared tin and cook in the oven for around 25-30 minutes or until cooked through.

Allow to cool in the tin for around 5-10 minutes before placing on a cooling rack to completely cool whilst you make your pink sponge!

Do exactly the same for your pink sponge, prepare your tin, mix together all the ingredients, place your cake mixture in the tin and cook in the oven for 25-30 minutes as before.

Allow your pink sponge to completely cook as well before you consider assembling.

Heat up your curd so that it is lovely and smooth for sticking together your cakes.

Trim the edges of both cakes with a sharp knife and then evenly cut both cakes into strips. (I measure the height of the cakes and then use that as a guide for how wide each strip should be)

For one Battenberg you will need two strips of yellow cake and two strips of pink cake. (You can cut more strips to make a second Battenberg if you wish or do whatever you wish with the rest of the sponge - just don't waste it!)

Make sure all of your sponge strips are the same length as well.

Cover a large surface with a little icing sugar and roll out your marzipan. It will need to cover the entire Battenberg so will need to be quite large and around 0.5cm thick.

Brush the marzipan liberally with your 'glue', for me this was my lemon curd.

Place one of each colour sponge onto the marzipan and brush all over with lemon curd (except the ends that will be on show!). Brush between the two coloured sponges so they stick together.

Place the other two sponges on top, the other way round to give the checkerboard effect.

Very carefully roll up your cake in the marzipan. Lift the marzipan up and over, try and keep it as tight to the cake as possible to reduce any gaps. Tidy up the edges with a sharp knife to make it nice and clean.

Slice it up and enjoy! It should keep for as long as your regular sponge cake would 🙂
Recipe Notes
* You will need a 20cm square cake tin. If you have two tins you could save yourself some time, but I just have the one and make my gluten free sponges one at a time.
* You will have enough here to actually make 2 gluten free Battenberg cakes if you wish. Or you could use the extra sponge for something else!
I really hope you get the chance to give my gluten free Battenberg cake recipe a try. Let me know if you do by leaving a comment below or on Facebook / Twitter / Instagram. I'm actually off to see my Grandma shortly and have already got her a slice (she can be the true judge!).
Thanks for reading & happy baking!
Becky xxx
Don't forget to pin this before you leave!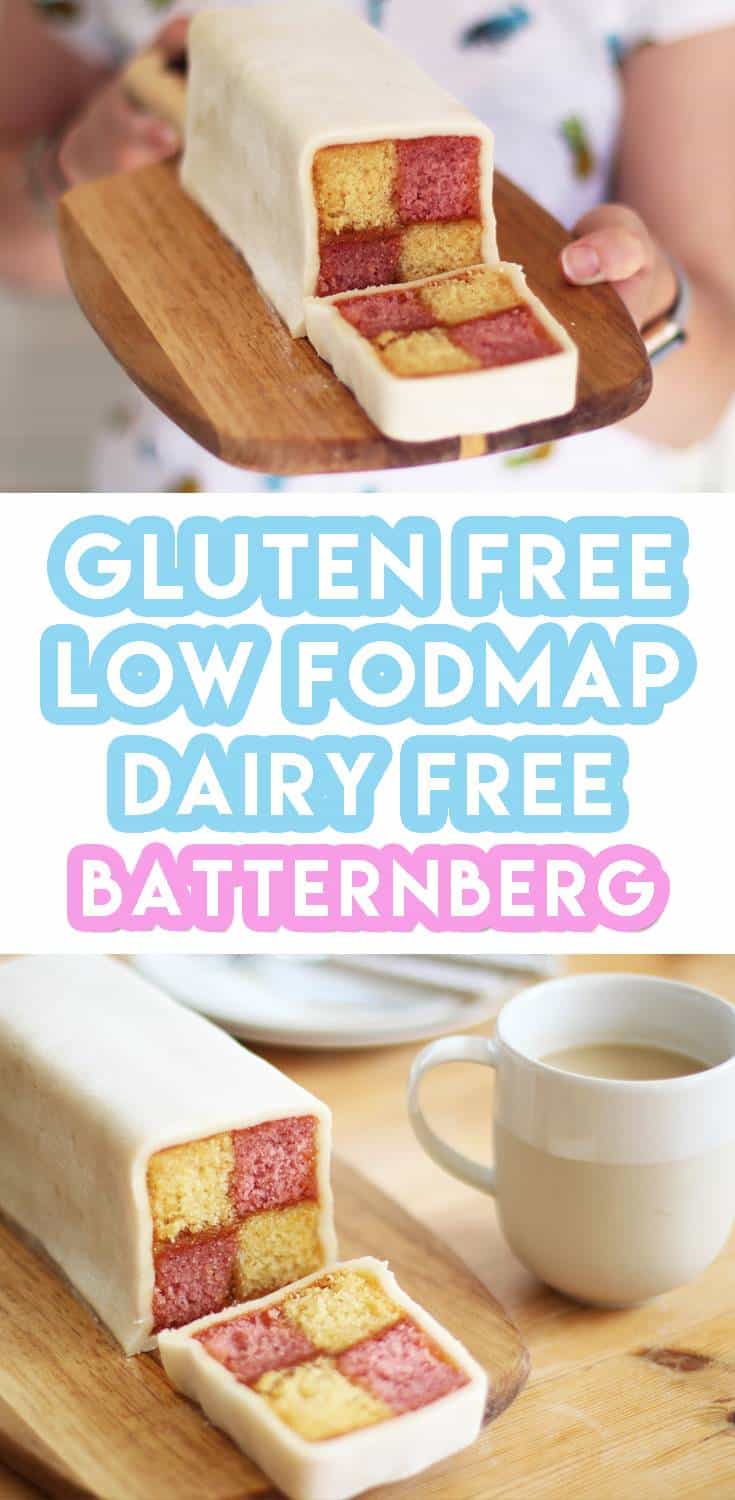 Comments