Gluten free Glasgow guide, anyone? Yep, after TONS of local Glaswegians shared their favourite restaurants, bakeries and cafes, the least I could do was share them with you lot too.
Gluten free Glasgow? You bet! I was blown away by the sheer amount of options out there, with everything from gluten free pizza, right up to fish and chips as well as Danish pastries. So here's 30 of the BEST places for gluten free in Glasgow!
Gluten Free Glasgow Guide: Intro
This is a little different to my usual gluten free travel guides that you'll find here. This one was crowd-sourced by TONS of you guys who so kindly recommended me tons of restaurants, bakeries and cafes prior to my trip to Glasgow.
Usually, I'd stay in a city for a week or two and dedicate my entire time to personally researching, taste-testing and quizzing all of the best places for gluten-free.
But this weekend, I went to Glasgow to the Allergy and Free From Show Scotland to do a cooking demo… and well, I'm on the train home writing this already!!
I didn't get to explore much at all, but it felt like a massive waste to not share all the insanely helpful info you guys shared with me on social media. And just because I couldn't make use of this info, it shouldn't mean that someone else can't!
So I decided to obsessively research EVERY place you guys mentioned to me just like I did with my other travel guides. So next time, I go this would be my gluten free Glasgow hit-list in this order…
(oh and I'll also thrown in where any dairy free options are available too where possible)
Gluten Free Glasgow Guide: 30 of the BEST Restaurants, Bakeries and Cafes 2020
1) Wild Flours, 526 Kilmarnock Rd, Glasgow, G43 2BL – 100% gluten free bakery
I've wanted to visit Wild Flours Bakery for longer than I can remember. It's an 100% gluten free bakery with no gluten allowed on the premises.
They do a huge range of gluten free cakes and bakes (sweet and savoury). The gluten free danish pastries and gluten free Empire biscuits are to die for! I wish I lived closer!!
You can eat in or takeaway and they also offer a gluten free celebration cake service. But what I want to talk about the most is their Beignets (they are like fried doughnuts), from Friday to Sunday you can get Beignets freshly fried to order.
I mean, you'd be silly to not go. This is definitely my top pick for gluten free Glasgow. I was so glad I got to try so many of their cakes at the Allergy and Free From Show.
2) Singl-End, 263 Renfrew St & 15 John St, G3 6TT
There are a couple of Singl-End's in Glasgow and both offer a great gluten free selection. They always have gluten free cakes on offer as well as having options for gluten free breakfast, brunch and lunch.
The menu isn't a gluten free menu but upon asking you will find out that most things have a gluten free option. They even do gluten free potato scones!
3) Dakhin, 89 Candleriggs, Merchant City, G1 1NP – 100% gluten free Indian restaurant
Dakhin is an 100% gluten free Indian restaurant, it's the first of it's kind in the UK and serves up southern Indian food.
The menu is super extensive and you don't even need to question whether anything is gluten free… because it all is!
They even have a section on the menu called 'breads' and everything is suitable. There is so much choice beyond your standard curry dishes, its a lot more authentic.
Dakhin has Coeliac UK Accreditation as well.
I had to put Atlantic Brasserie on this list as it actually has a low FODMAP menu! I rarely see low FODMAP menus at restaurants so if you are someone who struggles with the likes of onion and garlic, I would definitely recommend visiting.
Their online menu is really good as well giving a huge amount of detail into what each dish contains and whether it is suitable for coeliacs.
Cuisine wise I would say it is mainly french and its interior is very stylish. I think there is something on the menu for everyone here.
5) CATCH Fish & Chips, 186 Fenwick Rd, G46 6XF and 27 Gibson St, G12 8NU – Fish and chips restaurant with a separate fryer
CATCH Fish & Chips offers up gluten free fish and chips everyday of the week in two out of three of its venues.
They do have a further restaurant in Netherlee, but unfortunately that one doesn't have a separate fryer
Both the ones I have given the addresses for above do have separate fryers though at time of writing. Definitely make sure you check each time you go to be sure.
The two that do have separate fryers have a gluten free menu as well.
6) Bread Meats Bread, 104 St Vincent St, Glasgow G2 5UB and other locations
Bread Meats Bread is a proper burger restaurant that offers both gluten free buns (patties are gluten free too) and gluten free fries cooked in a separate fryer.
A lot of the menu is gluten free or can be adapted with just a few things that can't be.
Firstly I love the name of this restaurant, I love how quirky it is in it's style and most of all I love how much of the menu can be made gluten free.
The menu actually changes really regularly which is often not a good thing when it comes to gluten free as it's hard for places to always ensure it's safe. However, The Butterfly and the Pig do an amazing job of being fully aware of allergens.
In terms of finding gluten free in Glasgow, here you will find breakfasts, brunch, lunch, pub classics and even afternoon tea can be made gluten free (I'd always book gluten free afternoon tea in advance wherever you go!).
Honestly, check out the menu online and you'll want to go in and experience all the yummy gluten free options!
Meadow Road Coffee might not be an entirely gluten free place but all of their cakes are! And when I say ALL of their cakes are gluten free, I mean it!
They have a lot of cakes every. single. day. Sounds like it's worth the trip to me!
9) Red Onion, 257 W Campbell St, G2 4TT
Not the sort of name of a place that I would usually go for, seeing as I can't eat onion, BUT… The Red Onion is somewhere that has an extensive gluten free menu.
Most of the dishes are twists of Scottish classics and I had a few people recommend this one to me.
Not only do they have a good selection of starters and mains, but there is more than a couple of dessert options too. Worth the 6 hour train journey from Essex for me!
10) Pizza Punks, 90 St Vincent St, G2 5UB – Pizza restaurant with gluten free bases
If you fancy a takeaway pizza or sitting in at a restaurant, Pizza Punks in Glasgow is here for you gluten free pizza needs! You do pay an extra £1 for the gluten free base, which I never like, but hey!
The range of toppings in huge and does change so make sure you check before ordering about what toppings are definitely gluten free.
For those who are also dairy free they do offer dairy free cheese too.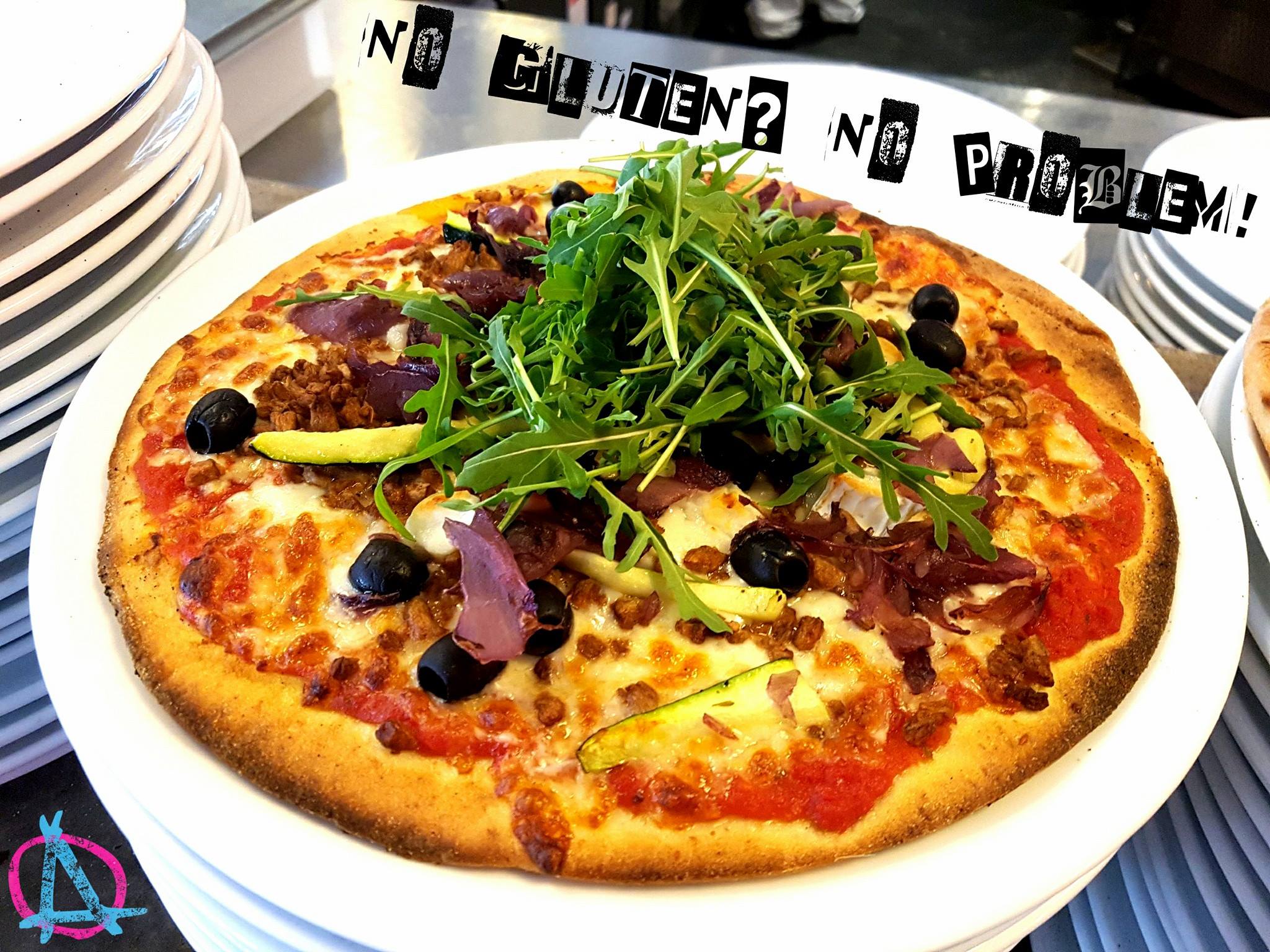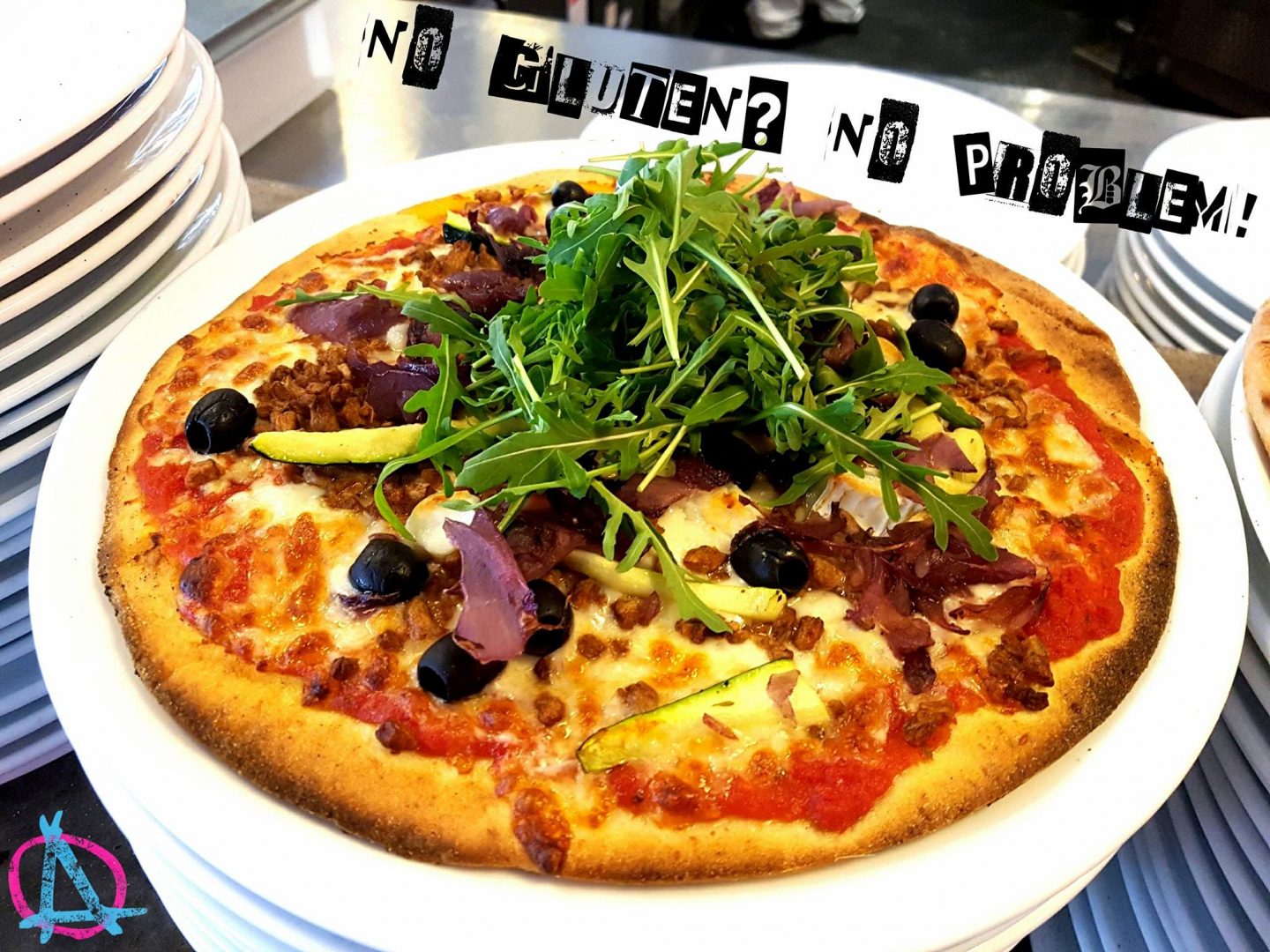 The Hanoi Bike Shop is a Vietnamese restaurant with a solid separate gluten free menu. There's plenty of pho on the menu as well as noodles and jungle curry.
Before the days where onion and garlic became difficult for me I would have been all over this restaurant, it sounds and looks epic!
Open for lunch and dinner, Urban Bar and Brasserie is situated very centrally in Glasgow making it the perfect place to go for a gluten free meal.
It has a separate gluten free menu on request and even has a piano player on a Friday and Saturday night – I guess I'd say it's the kind of restaurant you'd go to for a nice sophisticated evening (or pre theatre meal).
13) Bucks Bar, 111 W Regent St, G2 2RU – Fried-chicken restaurant with a gluten free menu
Bucks Bar has a dedicated cooking area and separate fryer for gluten free which is brings such joy to me, especially when this place does buttermilk chicken and fries. Yes, crazy, I know.
Another highlight on the gluten free menu is definitely the popcorn chicken and the Alabama fudge cake. I think I'd like to eat everything on the gluten free menu at Bucks!
14) Soho, 84 Miller St, G1 1DT
Soho is an American / Italian restaurant in Glasgow that offers a vast selection of gluten free options.
The menu states where a gluten free option is available and this includes on lots of pizza and pasta. They also offer dairy free cheese for those who cannot have dairy too.
15) Lychee Oriental, 59 Mitchell St, G1 3LN – Chinese restaurant with a gluten free menu
It's always exciting when you discover a Chinese restaurant that offers safe gluten free food. Lychee Oriental in Glasgow is exactly that.
It has it's own gluten free menu, which although is much smaller than the regular menu, offers a great selection of dishes.
It's still quite rare to find gluten free Chinese food at restaurants that is safe for gluten-free folks, but this definitely is one to go to in Glasgow.
16) Bibi's, 599-601 Dumbarton Rd, G11 6HY – Mexican restaurant with gluten free options
Bibi's Cantina has tons of options and a good sized gluten free menu. From fajitas to quesadillas – there are plenty of options that involve gluten free wraps.
I really dislike visiting a Mexican restaurant where I can't have gluten free wraps so Bibi's is definitely a place for me. It also does fab frozen margaritas I'm led to believe which I need to try for myself!!
Oh and don't forget they also do scrummy gluten free desserts!
Lots of Brazilian offerings on the menu, from tapas to mains. They do also offer a gluten free beer on the menu although I think I'd be going for one of the cocktails as they look fabulous!
18) Topolabamba, 89 St Vincent St, G2 5TF – Mexican restaurant with gluten free options
The super trendy Mexican restaurant that really understands gluten free as well as cross contamination.
The menu doesn't state what IS gluten free, instead it states 'NOT GF' this is because the majority of the menu is gluten free, so its easier to show what isn't! There is definitely something to suit everyone on this menu.
here's a heat rating next to a lot of dishes just so if you can't take too much spice you know what to go for. I always appreciate this!!
As always, alongside some delicious Mexican food I want a frozen margarita, and they definitely deliver on this front!
19) Stack & Still, 100-108, W George St, G2 1PJ – gluten free pancakes
Now you didn't think I hadn't found gluten free pancakes in Glasgow did you?!
Stack & Still has a gluten free vegan flour blend so that nearly of their pancakes can be made gluten free. They have three restaurants in Glasgow, with one being right in the city centre.
They do a mix of sweet and savoury pancakes and also you can put your own selection of toppings together from their giant list (just make sure you check exactly which toppings are gluten free and which are not!)
I noticed that you can even buy their gluten free pancake mix to take home. Although, I have lots of gluten free pancake recipes on the blog anyway!
20) Amarone, 2 Nelson Mandela Pl, G2 1BT – Italian restaurant with gluten free options
Amarone looks like the perfect family run Italian restaurant with lots of gluten free options.
There is an extensive menu which you can view on their website before you go to make sure you know what you fancy!
There is a huge variety of pizza, pasta, starters, fish and meat so definitely something for everyone.
21) Papercup Coffee Company, 603 Great Western Rd & 12 Belmont Ln, G12 8HX – gluten free cafe for coffee and cake
Their main cafe on Great Western Road can cater for gluten free folk really well. Papercup know how to do brunch properly and although the menu isn't the biggest, it's definitely a case of quality over quantity.
They usually have cakes out with some gluten free options often available too. Just make sure they are covered and away from other cakes correctly.
Not that I'm a coffee drinker, but I've heard their coffee is exceptional!
Mother India have a few restaurants in Glasgow and all of them really deliver on authentic Indian flavours and gluten free options.
Unlike Dakhin, unfortunately the breads are not gluten free here, but the vast amount of the menu is.
Mother India has been around a very long time in Glasgow and there must be a reason it has lasted this long!
23) Tribeca, 102 Dumbarton Rd & 51 Bell St, G11 6NX
I couldn't write this guide up without including Tribeca, a place that has been recommended to me before.
Gluten free pancakes, gluten free french toast and gluten free bread so you can enjoy some of the other brunch options (all on request).
I don't know what it's like in terms of evening meals but for brunch, having the option of pancakes and french toast does it for me!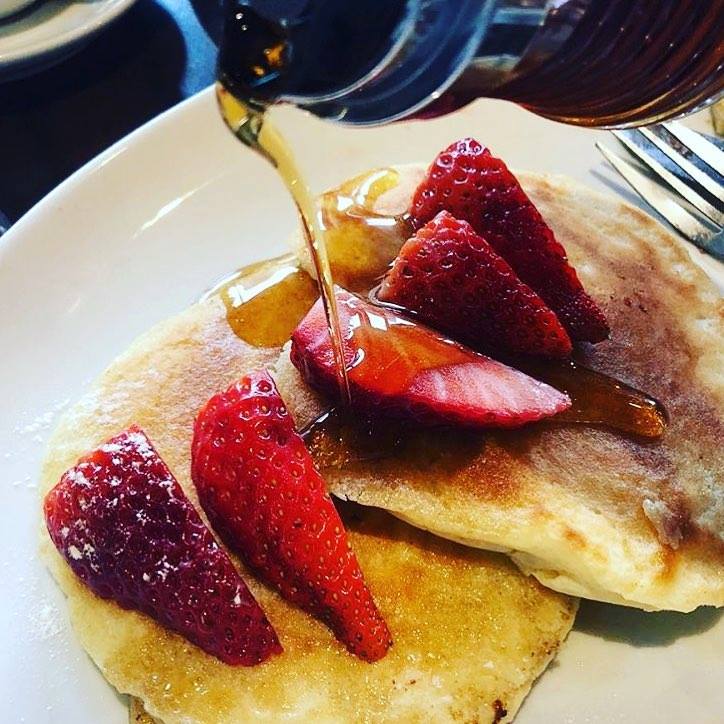 24) Cup Tea Rooms, 71 Renfield St, G2 1LP – gluten free afternoon tea
A good place to go in Glasgow for gluten free afternoon tea. There is a separate menu for gluten free afternoon tea so you can have a look at the sort of things you will get if you decide to visit.
I don't think anyone would be disappointed with the savoury selection, scones and cakes.
At present its only £24 per person, but you can also upgrade to have prosecco, champagne or cocktails!
Gluten Free Glasgow Guide: Chain restaurants to consider too
25) Zizzi
26) TGI Fridays
27) Nandos
28) Hard Rock Cafe
29) Pizza Express
30) Ask Italian
Gluten Free Glasgow Guide: That's all folks!
I really hope this has been a useful guide to gluten free in Glasgow. If you find anymore places that you would recommend just drop me a message in the comments below, or on Facebook / Twitter / Instagram.
Also if you have any other questions please do the same! Thanks so much to everyone who messaged me and made this guide possible, which will hopefully go on to help many other hangry gluten free people in Glasgow!
I really can't wait to go back (with Mark!) to experience some more gluten free in Glasgow asap! Please help make this guide as helpful as possible by sharing your experiences at the places mentioned in this guide, good or bad, in the comments below.
There are so many places in the UK with great gluten free options, where should I go next?
Thanks for reading,
Becky xxx