Looking for places to eat that cater for Gluten Free in Manchester? You are not the only one! Here is my guide to some of the best places I have been to for Gluten Free in Manchester. Feel free to check out the video & the guide below for a more extensive list!
1. Dough Pizza Kitchen, 75 – 77 High St, Northern Quarter, Manchester, M4 1FS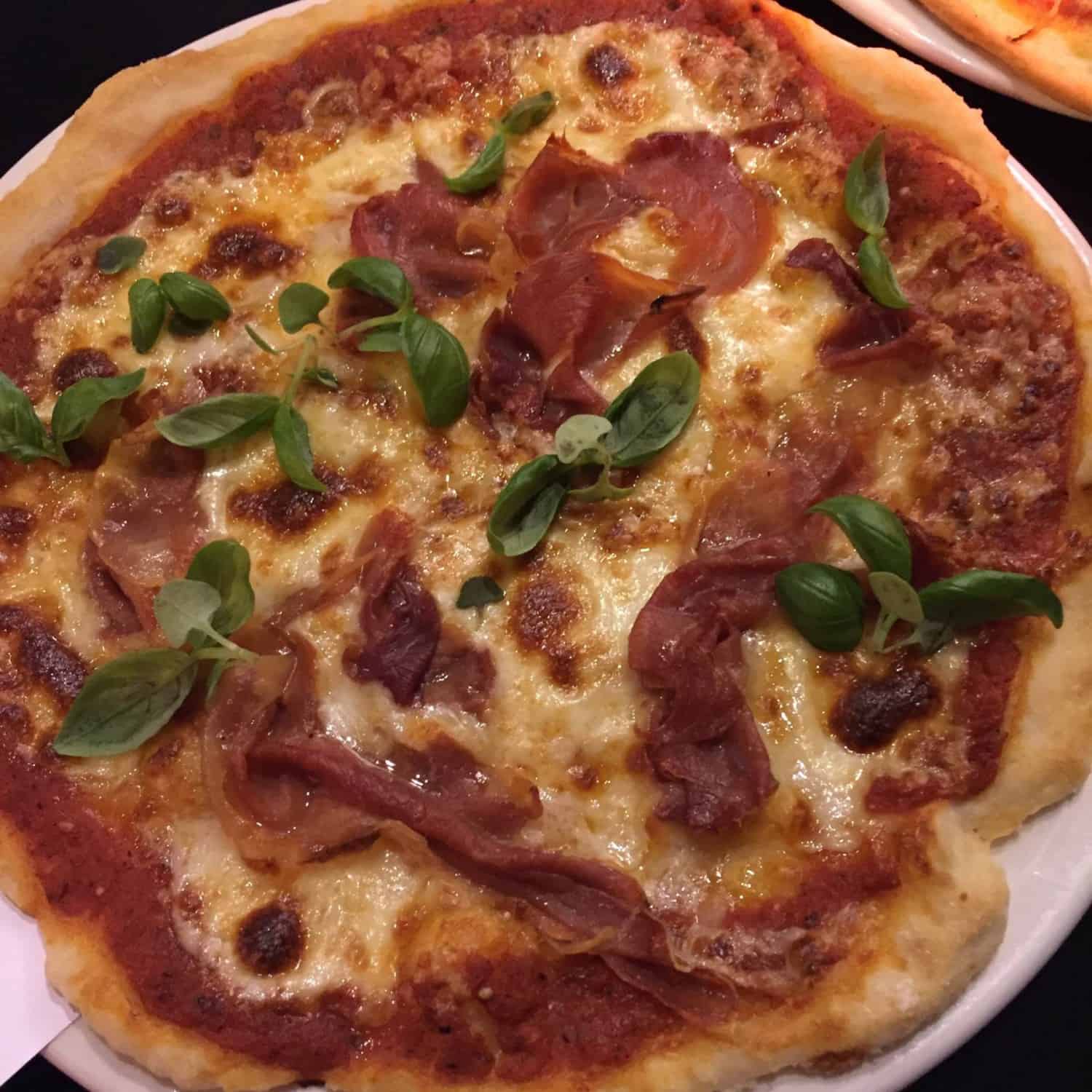 Dough is the ultimate venue for gluten free in Manchester in my opinion. Serving Pizza & Pasta of the highest standard. Your pizza can be made in a dedicated gluten free kitchen on a separate floor of the restaurant with a gluten free base (the best I have ever tasted) & it can also be made with dairy free cheese. Everything at Dough can be made gluten free. The menu is very easy to understand and staff are incredibly friendly too. Starters and desserts are also amazing, with plenty of gluten free and dairy free options. I couldn't recommend Dough any more highly, I love it!
2. Sweet Mandarin, 19 Copperas St, Northern Quarter, Manchester M4 1HS
Finding a Chinese restaurant suitable for a gluten free diet is an absolute nightmare in general terms across the UK. There are very few. However, one of the very best in Sweet Mandarin. The Gluten Free menu is extensive and filled with some delicious favourites of mine. From Sweet & Sour Battered King Prawns to Black Bean Chicken, you can get literally everything you would want. Sweet Mandarin in the restaurant run by the same lovely folk that created the gluten free Sweet Mandarin sauces you often see in supermarkets. The sauces are great, this restaurant is even better… the perfect place if you fancy a Chinese that's gluten free in Manchester.
3. Bagel Nash, Arndale Shopping Centre AND 4 Hardman Square, Manchester, M3 3EB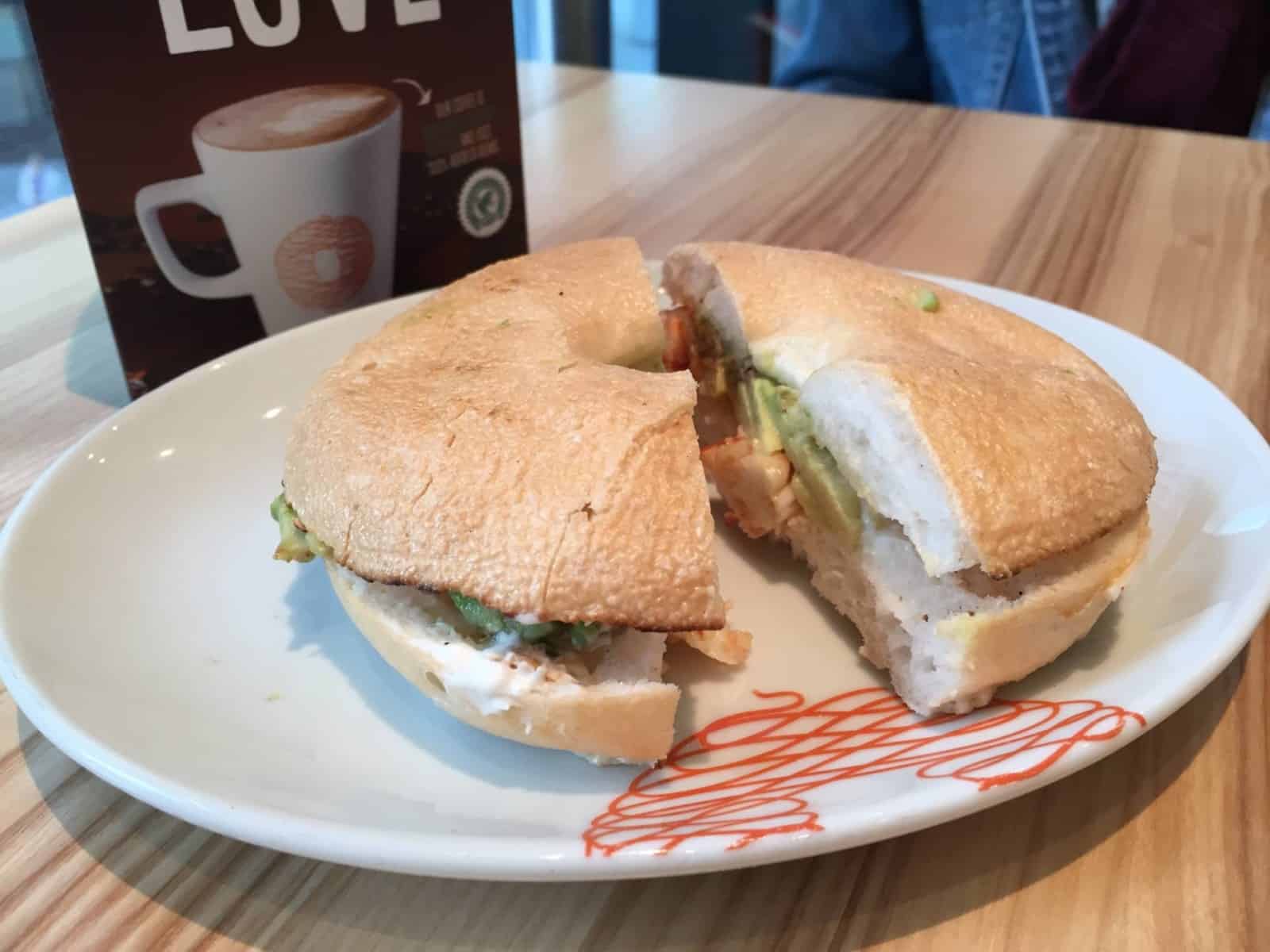 I love Bagel Nash, so much so that I've written about it before, & I like to go on about them on social media too! Bagel Nash does gluten free bagels and they are amazing. They are probably the best gluten free bagels I have ever had. Really soft, lovely toasted and the choice of fillings is extensive. I often go for the crayfish & avocado which I would highly recommend. There is one in the Arndale & another over in Spinningfields, so if you are in town & looking for a lunch that's gluten free in Manchester, this could be the choice for you.
4. Whittakers Fish & Chips, 12 Station Rd, Urmston, Manchester M41 9JN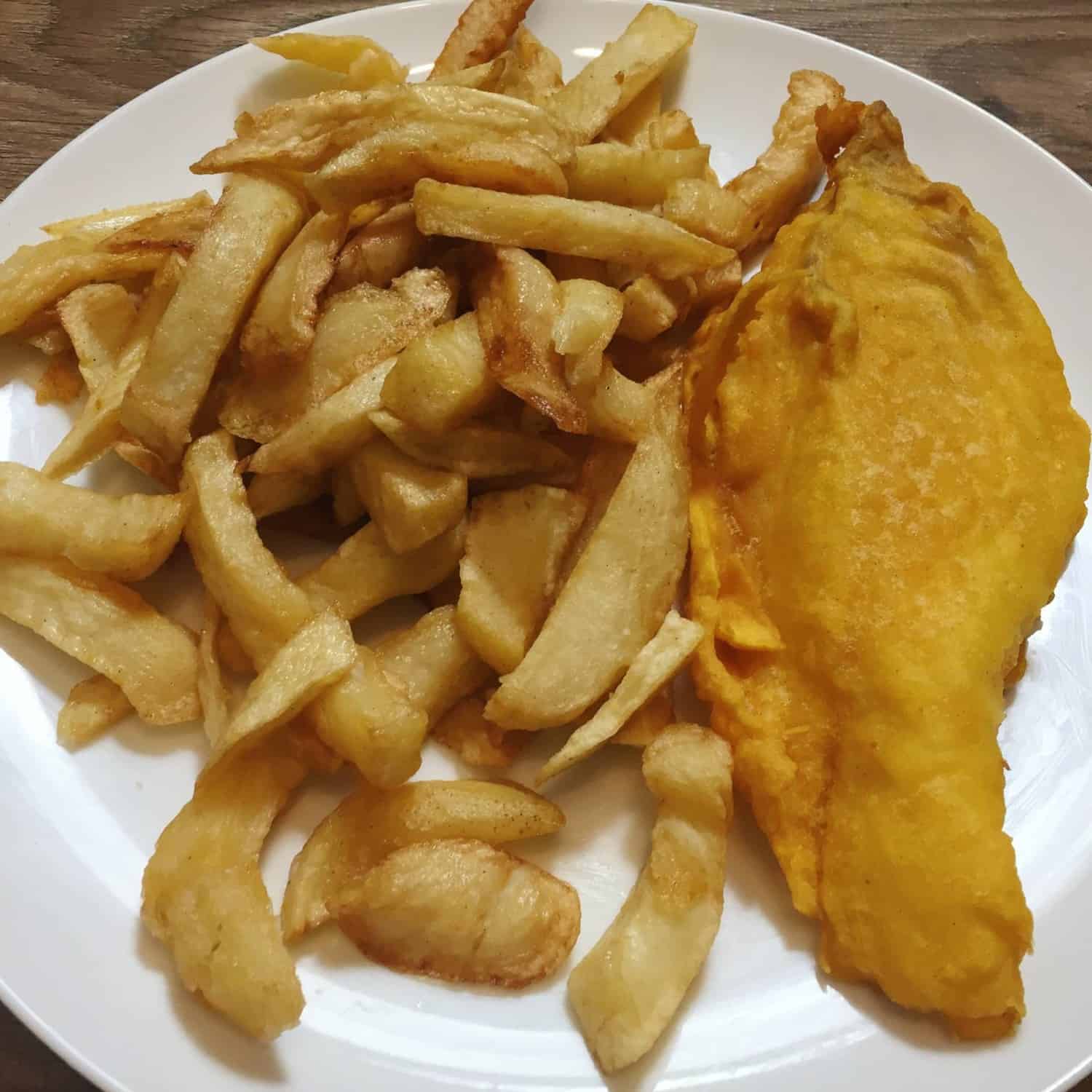 Not far from the Trafford Centre, Whittakers Fish & Chips is a dreamy place for gluten free in Manchester. A very traditional Fish & Chip Shop that serves Gluten Free every single day of the week. Not only do they serve gluten free fish & chips, they also serve gluten free savoury pies, gluten free cornish pasties, gluten free sausages & gluten free curry sauce + all the usual chip shop offerings! Oh & thats not all, they go beyond your wildest expectations by also providing fresh, homemade gluten free puddings. These vary, but think gluten free apple crumble, gluten free bread and butter pudding, gluten free lemon drizzle etc! Whittakers is an absolute diamond of a place & I would definitely recommend if you are looking for gluten free in Manchester.
5. Côte, 4-12 St Mary's St, Manchester M3 2LB
Recently Côte received accreditation from Coeliac UK for their gluten free menu & it is definitely well deserved. Côte offer a huge variety of different dishes to suit everyones tastes on the gluten free menu. When I visited recently I found the staff extremely friendly and understanding about allergens too. You feel like you are eating somewhere top quality when you visit Côte. The chips/frites are all 100% gluten free + the selection of meats & fish are perfection too. If you want a good steak, I would recommend Côte. Oh & they also offer a gluten free breakfast menu, which features gluten free bread, so you don't have to miss out at any time of day at Côte.
6. Evelyn's Cafe Bar, 44 Tib Street, Manchester M4 1NB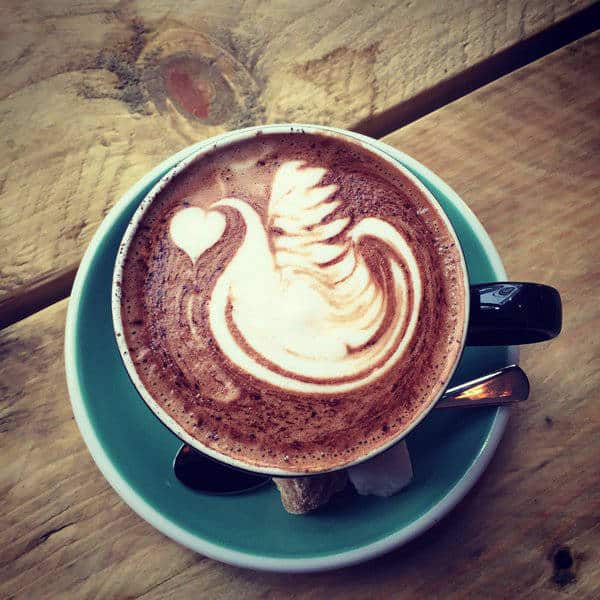 Evelyn's is a lovely restaurant that offers delicious food and drink all day & night. If you are looking for somewhere that staff are incredibly understanding about ensuring your food is gluten free, this is one of the places I would recommend. The food is modern, yet classic. It has that quirky, healthy twist to it; & what you will be pleased to know, is that it caters superbly for those eating gluten free in Manchester. The menu outside clearly states what is gluten free on their menu, but the staff are more than happy to make adjustments to dishes too. There is great variety of meat, fish & vegetarian options here + if your a 'quinoa & kale' kind of person you'll be exceptionally smitten!
There a couple of Classic Cakes in Manchester; one is in Reddish & the other is in Withington. Classic Cakes create the best looking celebration cakes I have ever seen. If you have a birthday coming up or another big day, this is definitely the place to go for a gluten free extravaganza cake! Not only do they do the very best in celebration cakes, they also have a wide selection of small bakery style cakes, some which are gluten free. I love the gluten viennese fingers especially.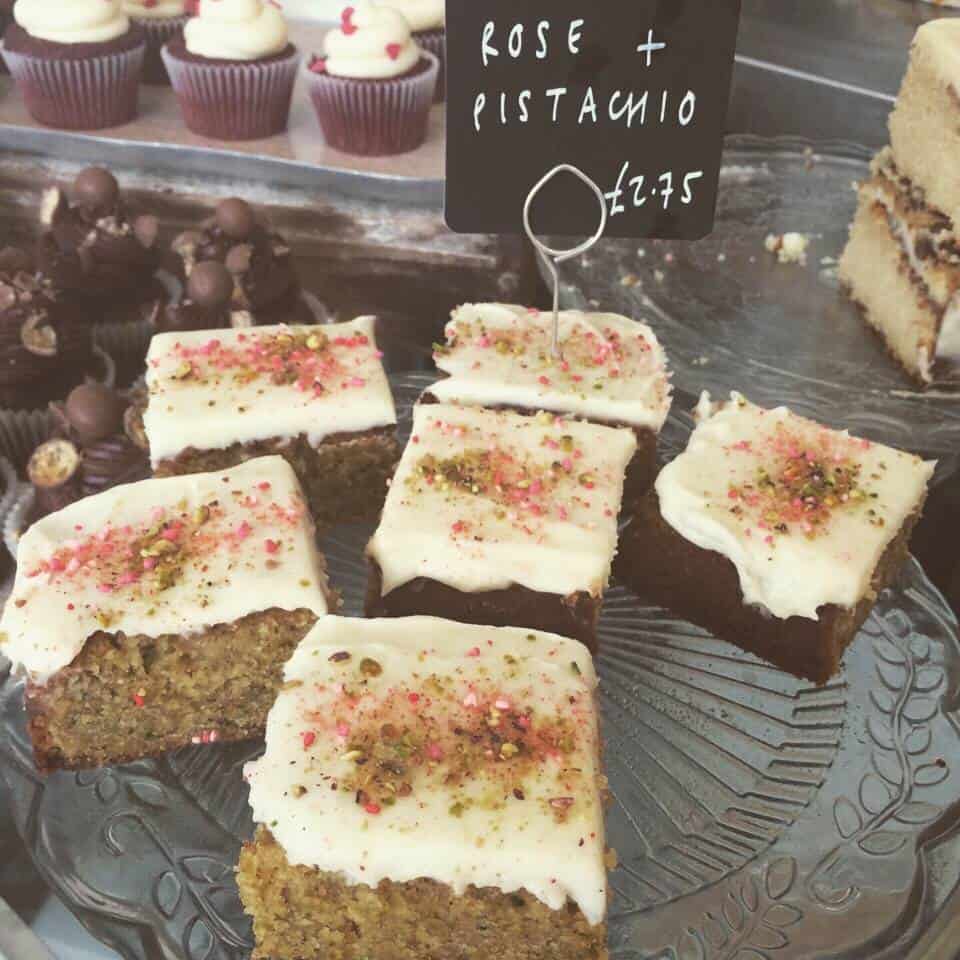 I mean, c'mon the name sells itself right?! Of course, as with a lot of the places I'm mentioning today, they are not solely gluten free, however, many of them offer an extensive range. And the dish ran away with the spoon is no different. It's a delightful tea room over in West Didsbury (on Burton Road), that just entices you in. The cakes & bakes always vary, but there is always something gluten free on offer. They have a wide range of possibilities in terms of gluten free cake & you can always make orders in advanced too. From Gluten Free White Chocolate & Raspberry Blondies, to Gluten Free Rose & Pistachio Cake they really do offer more choices than you would ordinarily find when looking for gluten free in Manchester.
9. Fosters Fish & Chips, Didsbury & Alderley Edge & Bramhall
Now Fosters Fish & Chips might ring a bell to a few folk as they tend to enjoy plenty of Fish & Chip Shop Awards! One of the best things about Fosters is that they serve Gluten Free Fish & Chips. HOWEVER, they only serve them on a Sunday. I wish they would serve them every single day, but having a Gluten Free Fish & Chip Shop (at least one day a week) literally just down the road from me is really great! They have 3 fish & chip shops around the Manchester area (Didsbury, Bramhall & Alderley Edge), all of which have a Sunday Gluten Free Fish & Chip night! They also have a delicious range of fish that goes beyond cod & haddock. Sea Bass & John Dory make an appearance on the menu at Fosters! Well worth a Sunday Takeaway!
8th Day Co-Operative is a shop that many people don't even know about in Manchester. Along Oxford Road this vegetarian and vegan supermarket (& cafe downstairs) is a real find, & it's full of free from food! There is a large selection of gluten free cakes behind the deli… the gluten free cheesecake brownie & the white chocolate caramel slice are definitely my favourites! The shop itself is full of gluten free pasta, flours, cereals, biscuits. It is also full of dairy free cheeses, milks, chocolate & ice cream. It's a must visit for gluten free in Manchester for free from foods to enjoy at home. They also sell VEGO & Ombar 🙂
11. Fig + Sparrow, Oldham St, Northern Quarter, Manchester M1 1JA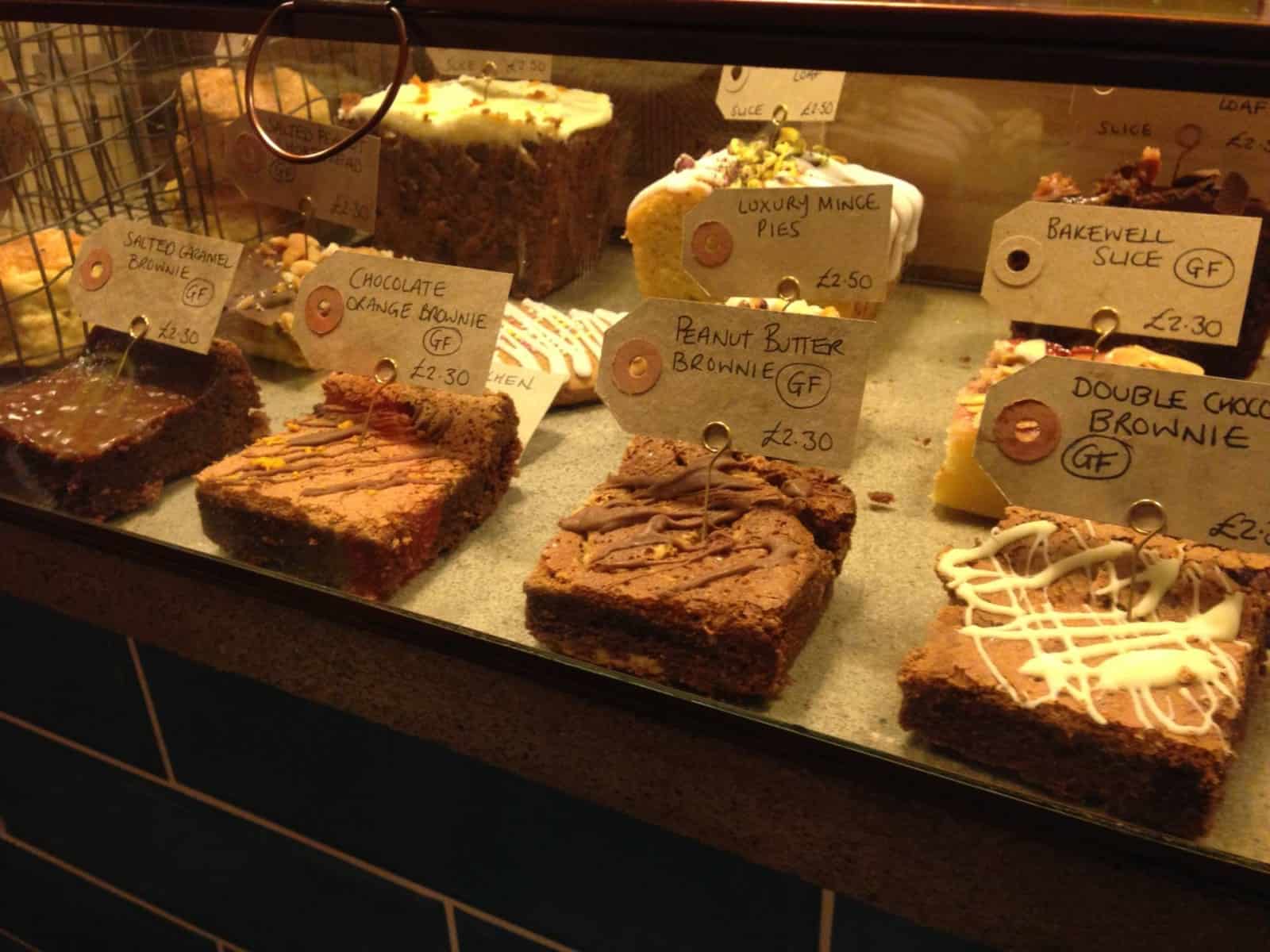 Fig + Sparrow is one of my favourite cafes that serve gluten free in Manchester's Northern Quarter. Two minutes walk from the hustle of the city centre streets this is a great venue to stop off at for a delicious gluten free tray bake style cake. There are usually quite a few options behind the counter that are labelled gluten free. Take a look next time you're in the area!
Fig + Sparrow also encorporates a shop into the cafe, selling lots of unique, quirkly and frankly beautiful kitchen & homeware pieces. It is one of my favourite places to shop in the Northern Quarter, so I'd take a peak just for that purpose!
12. Gusto, 4 Lloyd St, Manchester M2 5AB (& more locations across MCR)
There are quite a few Gusto's dotted around Manchester, so you will never be far away from one. The choices are not massive & you can't yet order a gluten free pizza here. But all of their pasta dishes can be served with gluten free pasta. The Lobster & Prawn works really well with gluten free pasta, and the Smoked Haddock Risotto is perfection. I thought I'd include a bit of Gusto on this list, just so that if you wander past one, don't think you can't eat there… you can!
13. Croma, Chorlton & Didsbury & City Centre & Trafford Centre & Prestwich
Gluten Free Pizzas are springing up left right and centre at the moment across all the chain restaurants and a lot of independents too. Croma has restaurants across Manchester and they serve gluten free pizza. So, it you aren't close by to Dough & you fancy some gluten free pizza, Croma would be a great alternative.
14. Federal Cafe & Bar, 9 Nicholas Croft, Manchester M4 1EY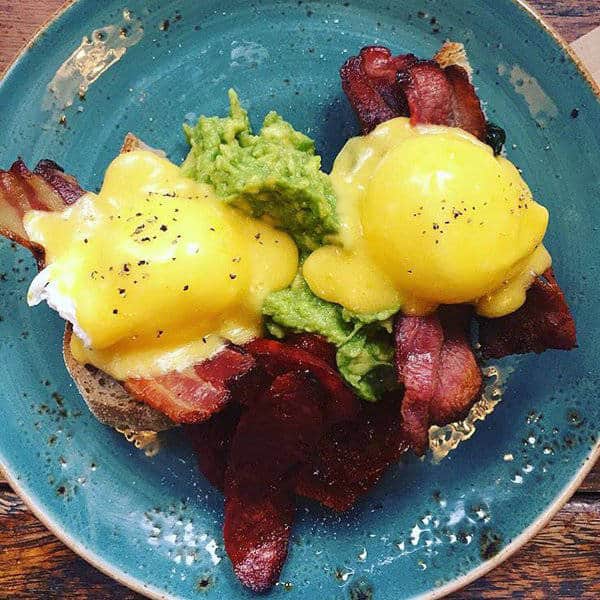 I thought I would point out Federal Cafe & Bar to you because it is so frickin close to the Arndale, yet you might miss it! It's on the Northern Quarter side of the Arndale & I think is the perfect place to go for brunch or lunch if you are in the city centre. They don't have a gluten free menu, but what they do have is gluten free bread & an amazing adaptable menu. I love a top quality Eggs Royale or Eggs Benedict and you can certainly get that here on some delicious gluten free bread. The sandwich choices are brill too, from truffled egg to chorizo or just some smashed avocado on toast. It's a simple, yet well thought out, slightly hipster looking joint & it ticks plenty of my boxes when it comes to gluten free in Manchester.
15. Yard & Coop, 37 Edge St, Northern Quarter, Manchester M4 1HW (NOT SUITABLE FOR COELIACS DUE TO CC)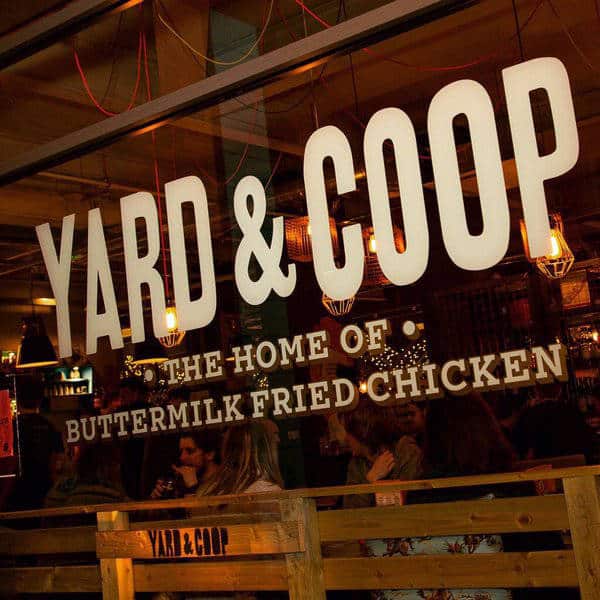 Yard & Coop, as you may have guessed, is all about CHICKEN! If you're looking for gluten free in Manchester, there are so many amazing looking places in the Northern Quarter & this has to be one of them. I loved the look of it the first time I set eyes on the place. Of course the first thing I did was to contact them to see whether I could eat anything there, I mean fried chicken isn't usually something that us gluten free folk can just get whenever we please! However, I was pleasantly surprised with the response I got from Yard & Coop who informed me that they can make all of their chicken gluten free & as well as that the wings can be made both gluten free & dairy free… RESULT!
16. Handmade Burger Co, 184 Deansgate, Manchester M3 3WB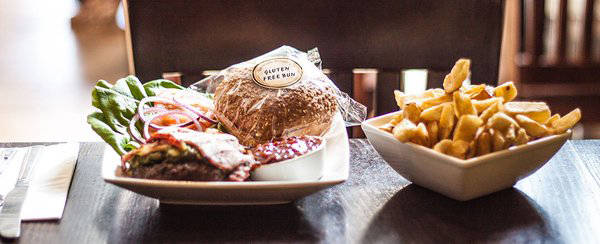 Another Coeliac UK accredited place here! Handmade Burger Co you will find on the Deansgate & their gluten free menu ROCKS! As you will have guessed from the name, this place is all about burgers. The buns are gluten free & come to your table sealed, so to avoid any chance of cross contamination. Initially I didn't really like the idea of the buns coming sealed, it seemed weird, but I've come to like this really, they do really care! The burger selection puts every other burger restaurant to shame, they have so so so much choice. They have a huge selection of different fillings for not only beef burgers but also chicken & veggie burgers too. I often find at most burger joints, those who are in search of a veggie burger, or even a chicken burger have a very limited choice. This is certainly not the case here. All the fries are also gluten free & the choice of fries is even more extensive than usual.. anyone for Denver Fries or maybe.. Hipster Fries?! This is a must visit for gluten free in Manchester, plus they are dotted all over the rest of the country too!
17. Mowgli, Corn Exchange House, 37 Exchange St, Manchester M4 3TR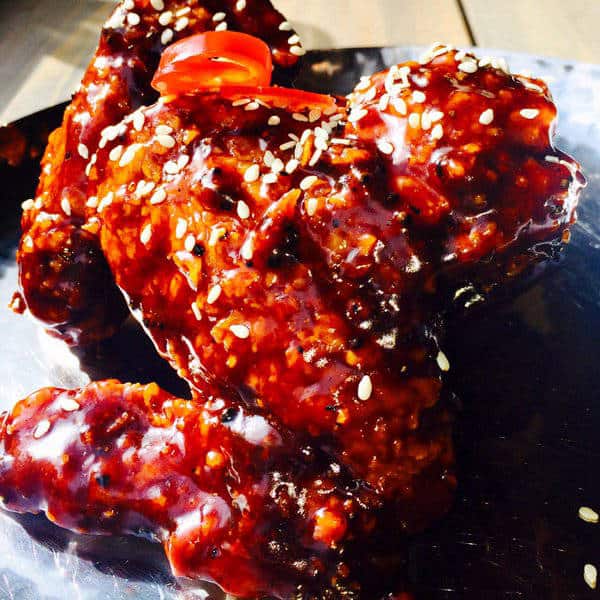 Mowgli is based within the Corn Exchange in Manchester – one of the best places to go for food in the city centre. The Corn Exchange venue itself is lovely, and the food choices is even better. Mowgli is Indian Street Food in the middle of Manchester. It's Indian food at its very best; & best of all they offer a gluten free menu & a vegan menu. This isn't somewhere to get your English/Indian classics like a Tikka Masala, this is more real. Theoretically Indian food should always be a safe bet for those following a gluten free diet as Indian food traditionally uses gram/chickpea flour instead of wheat, however this is rarely the case I have found. Mowgli however does follow tradition & therefore offers plenty to us gluten free folk. From dahls, to lamb keema & Mowgli's special sticky wings, you will definitely tantalize your tastebuds for gluten free in Manchester!
18. Hard Rock Cafe, The Printworks, Exchange St, Manchester M4 2BS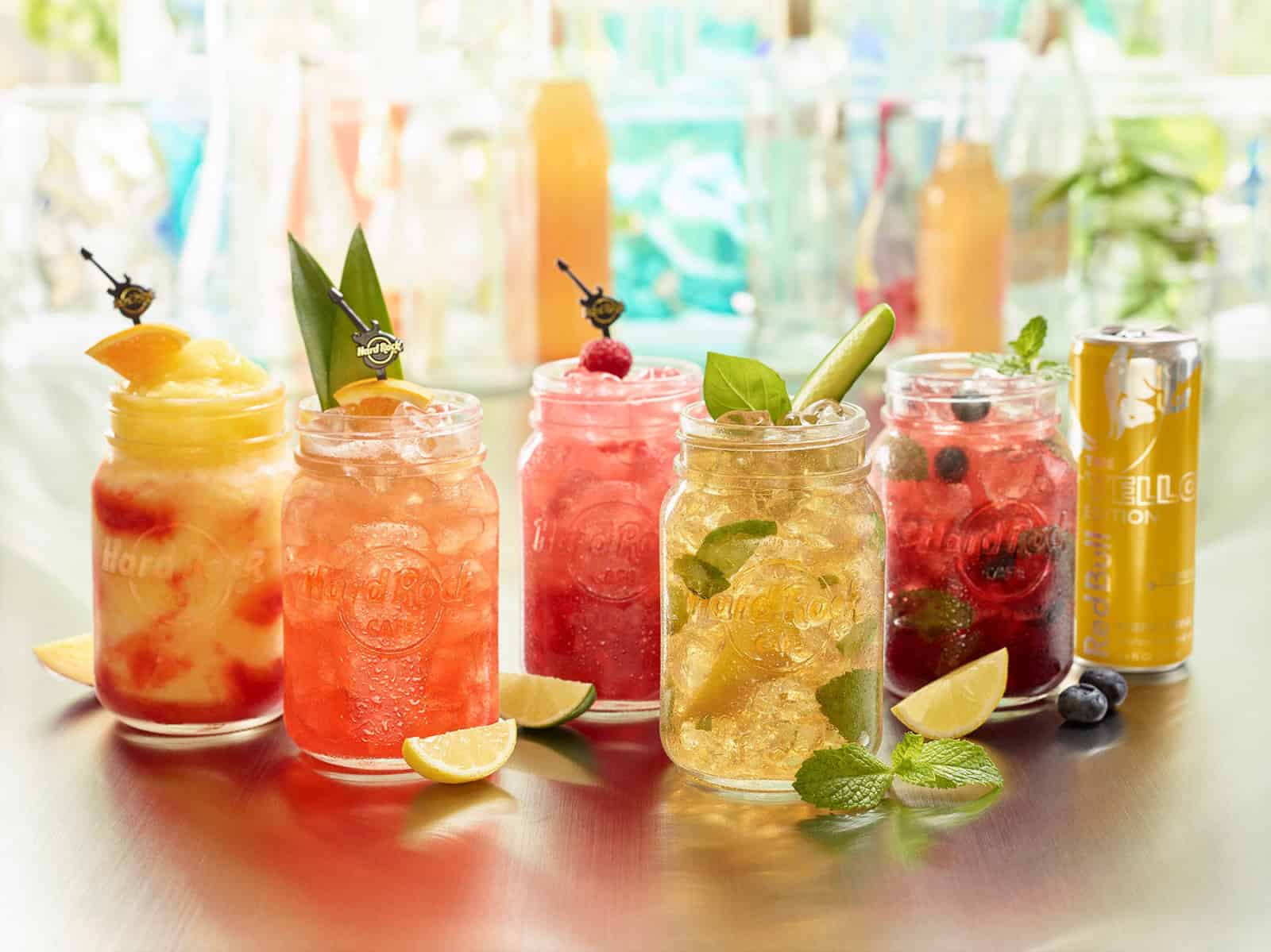 The Hard Rock Cafe is somewhere incredibly close to the hearts of Mark & I. We love them. The cocktails are amazing, the food is delicious & the atmosphere is first class. We used to go a hell of a lot before we realised gluten was a problem for me, since then we have laid off going… until now! The Hard Rock Cafe's in the UK have been accredited by Coeliac UK and now have an official gluten free menu. There is plenty of choice & they offer gluten free buns with all their burgers, as well as fries. There are gluten free starters & massive sundaes for dessert. No longer will us gluten free folk have to miss out on the best at The Hard Rock Cafe, we can now all go ham. BUT remember they are only accredited in the UK, so when abroad make sure you check. Basically if you hunger for gluten free in Manchester… just come to the Hard Rock Cafe…. it's awesome!
19. Chilli Banana, Wilmslow & Bramhall & Macclesfield
I guess Chilli Banana isn't actually in Manchester really. They have restaurants in Wilmslow, Bramhall & Macclesfield though, none of which are too far to travel really. Chilli Banana is all about Thai Cuisine! They are amazing with gluten free food & have a very extensive separate gluten free menu. They are very understanding when it comes to gluten free & allergens & I never find too many places that serve thai cuisine that are like this. On top of the fact that the menu is so brill, it is a top quality restaurant that everyone/anyone looking for gluten free in Manchester would enjoy visiting. I'll leave a link to the Gluten Free Menu from the Wilmslow restaurant here, it's too good to not have a look at!
20. COOK, 47-49 Water Ln, Wilmslow SK9 5BQ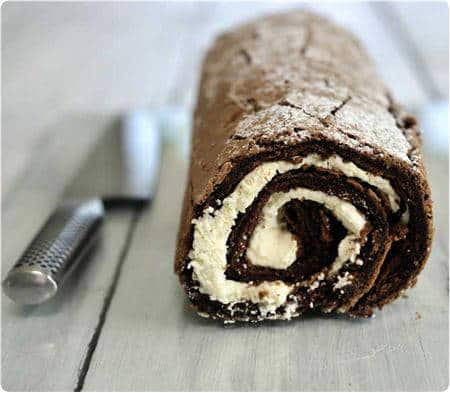 Another place not strictly in Manchester, but in Wilmslow is COOK. Now COOK isn't a restaurant, it's a place that makes frozen meals! Initially that doesn't sound all that great, but these are on another level. All these meals are handmade & even come with the name of the chef who made them on the packaging. Basically they offer a wide range of meals that you can buy if you want to eat quality food but don't really have the time to cook at the moment… maybe you are having your house renovated and you need something simple… or maybe you have a whole load of people round and want to feed them something delicious without the stress! There is a huge gluten free section to the COOK website and the choice of dishes is top notch. Main courses, desserts, side dishes, starters… just looking on the website now is making me hungry. They also offer a wide range of dairy free meals too. Their website is a great place for ideas too… check it out!
21. Reds True BBQ, 22 Lloyd St, Manchester M2 5WA
Plenty of choices as you would expect at a very meat heavy, Reds True BBQ! The Manchester branch of Reds are very accommodating & have a good understanding of allergens too. Plenty of choice stated on the menu & the staff are happy to help too… oh plus the food is frickin tasty! Gluten free in Manchester has never been so tasty!
22. Pho, The Corn Exchange, 37 Hanging Ditch, Manchester M4 3TR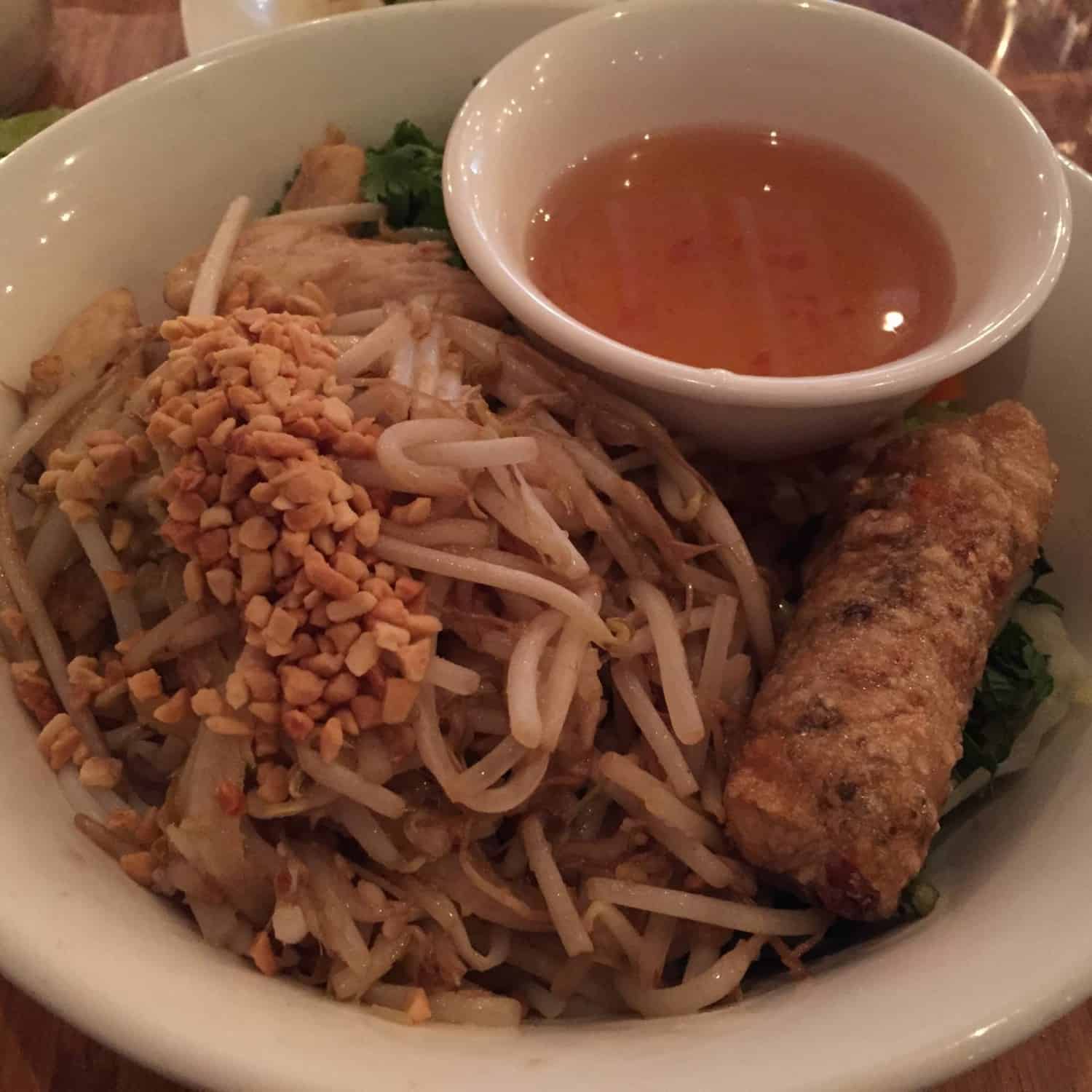 If you have followed my blog for a long time you will know I love Pho! Pre blog, on my first trip to Brighton back in 2010 I discovered Pho & have never looked back. I'm so pleased that in recent years Pho have started to expand across the UK as I really do believe you haven't experienced food till you've tried Pho. Pho is Vietnamese, it's all gluten free & accredited by Coeliac UK. The flavours are amazing, there is so much to choose from. I have always been a massive fan of the Bun Noodles (the spring roll is amazing) & of course you can't go to Pho, without having a Pho (noodle soup), its delish. This is definitely one of my top reccomendations for gluten free in Manchester.
23. V Revolution, 88 Oldham St, Northern Quarter, Manchester M4 1LF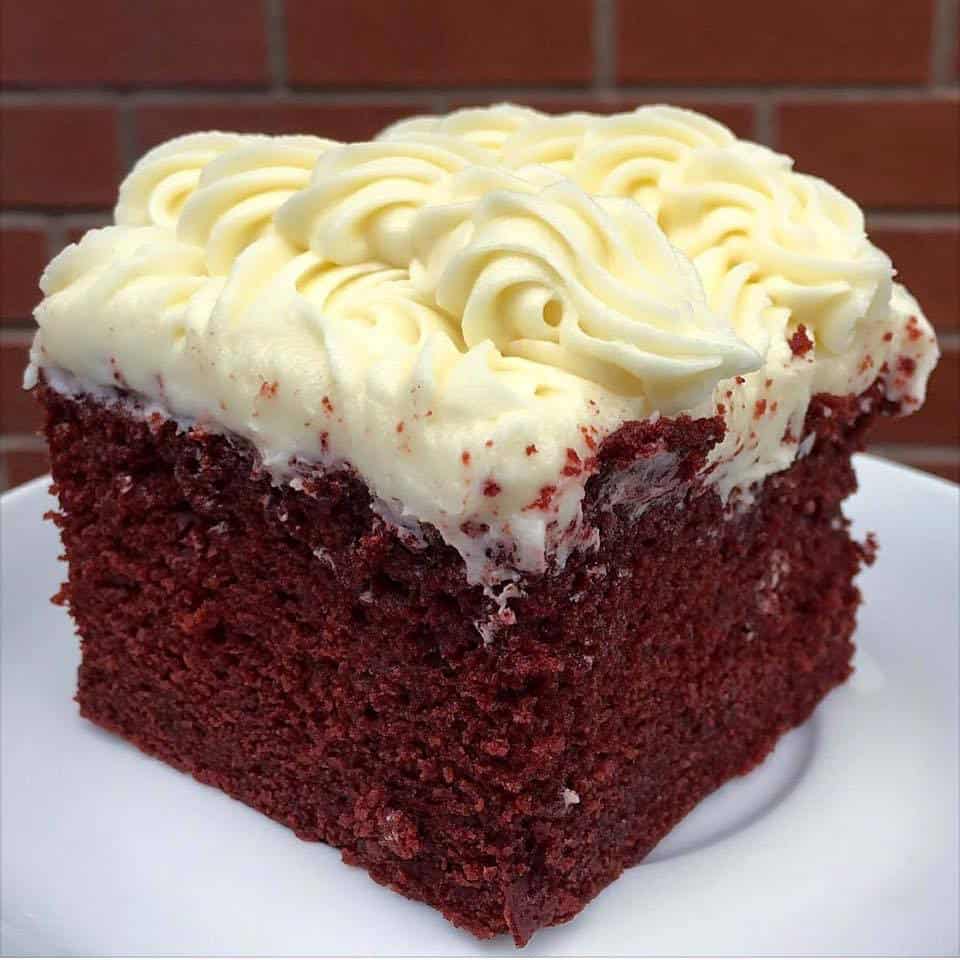 So V Revolution is a vegan cafe in the Northern Quarter. This is a recommendation more for all those dairy free folk & of course egg free people too. V Revolution creates vegan fastfood and plenty of freshly made cakes too. You will often find a gluten free cake within, so if you are in the area it's worth checking it out. Also they sell a whole host of dairy free cheeses & my favourite vegan chocolate VEGO!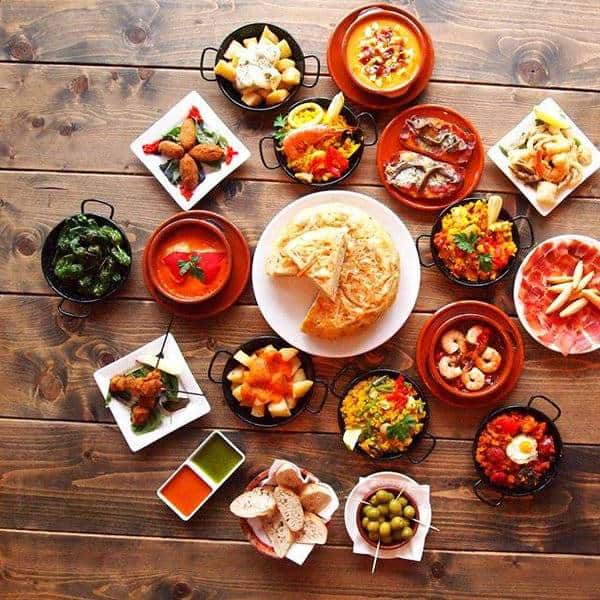 A delicious little Spanish tapas restaurant in the heart of Chorlton. Nearly all the dishes are gluten free & clearly marked on the menu. They understand the importance of both delicious tastes & gluten free. All my favourite tapas dishes I can eat here without having to worry which is a massive plus. Whilst there are plenty of tapas restaurants around offering gluten free in Manchester, this is my favourite.
25. Teatime Collective, St. Wilfrids Enterprise Centre, Royce Rd, Hulme M15 5BJ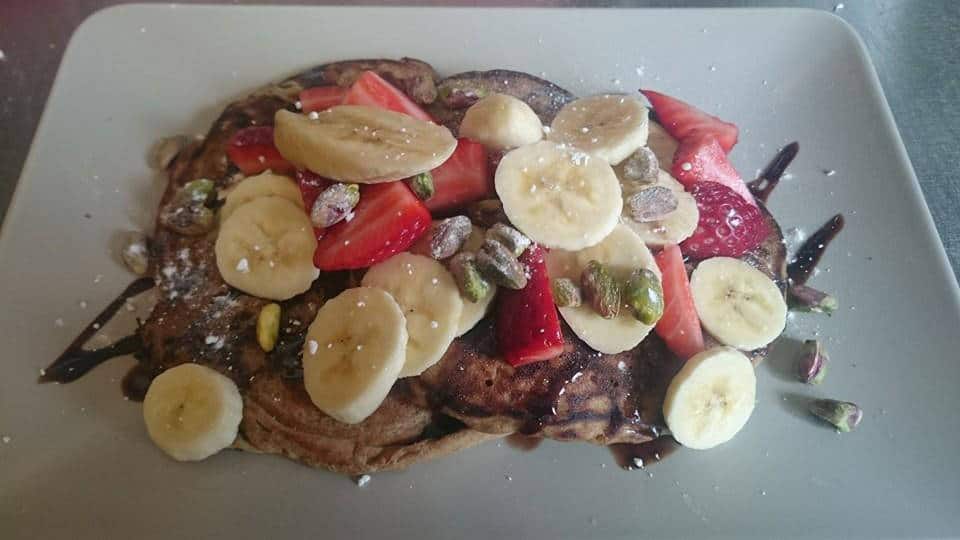 Teatime Collective is another vegan hangout. It feels like it's out of the way but its really easy to get to & there is plenty of parking too. It's quirky and cool & I'm pretty sure is still undiscovered by many folk. Mark & I have come here frequently whilst living in Manchester. One of my favourite things they do is a wide range of different dairy free & gluten free ice cream flavours; so definitely pop down here in the summer. They also serve lots of different breakfast, brunch & lunch food with a separate gluten free menu available.. try out the gluten free pancakes 🙂
26. Ed's Diner, 131 Market St, Radcliffe, Manchester M60 1TA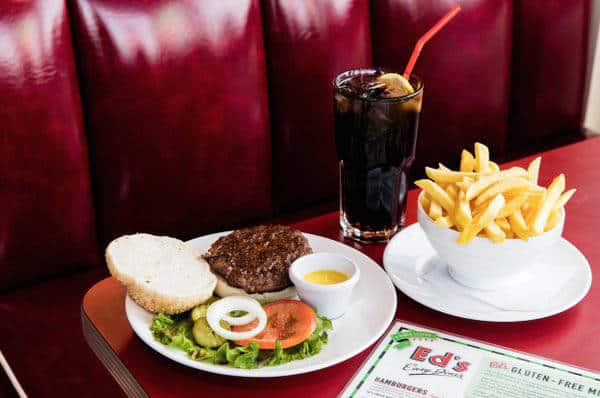 Ed's Diner is another one of these restaurants that has been popping up everywhere over the last few years. Fortunately for us, Ed's Diner offers gluten free in Manchester! I remember when I was much younger having a massive milkshake at the Ed's Diner in Soho; & ever since then I've loved the place. What's great about Ed's Diner these days for us gluten free folk is that they have got the wonderful… Coeliac Accreditation! Whether you fancy a hot dog, a pull pork bun, a cheese burger or even just a portion of bacon & cheese fries, Ed's Diner cannot be rivalled for an epic gluten free american diner experience. (Oh & if you didn't realise… in Manchester it is situated within Debenhams near Joe & the Juice!)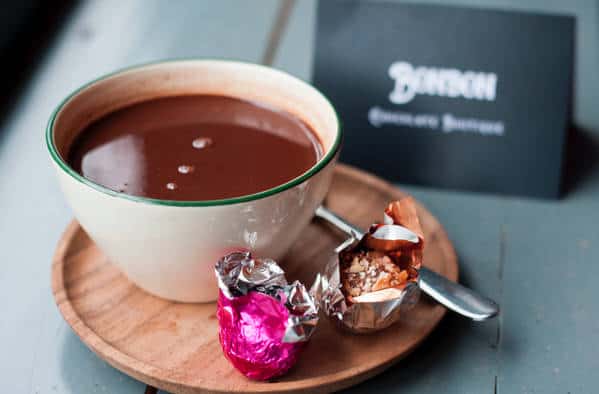 I love this place since my new found love of chocolate. Yes, I know that sounds strange, but when I was younger, I wasn't a big chocolate fan. These days I've become quite the fan of chocolate, dark chocolate in particular for some reason… I never thought this day would come! Bonbon Chocolate Boutique is a tiny place in the Northern Quarter for anyone & everyone who loves chocolate. It doesn't matter what type, it doesn't matter if you are vegan or dairy free… there is something for literally everyone. They serve a wide range of hot chocolates, chocolate truffles & well… more chocolate. Some of my favourite brands of chocolate you can also buy in here (Doisy & Dam for instance). It's a place well worth visiting, it's just cool!
28. Spudulike, Arndale Centre & Trafford Centre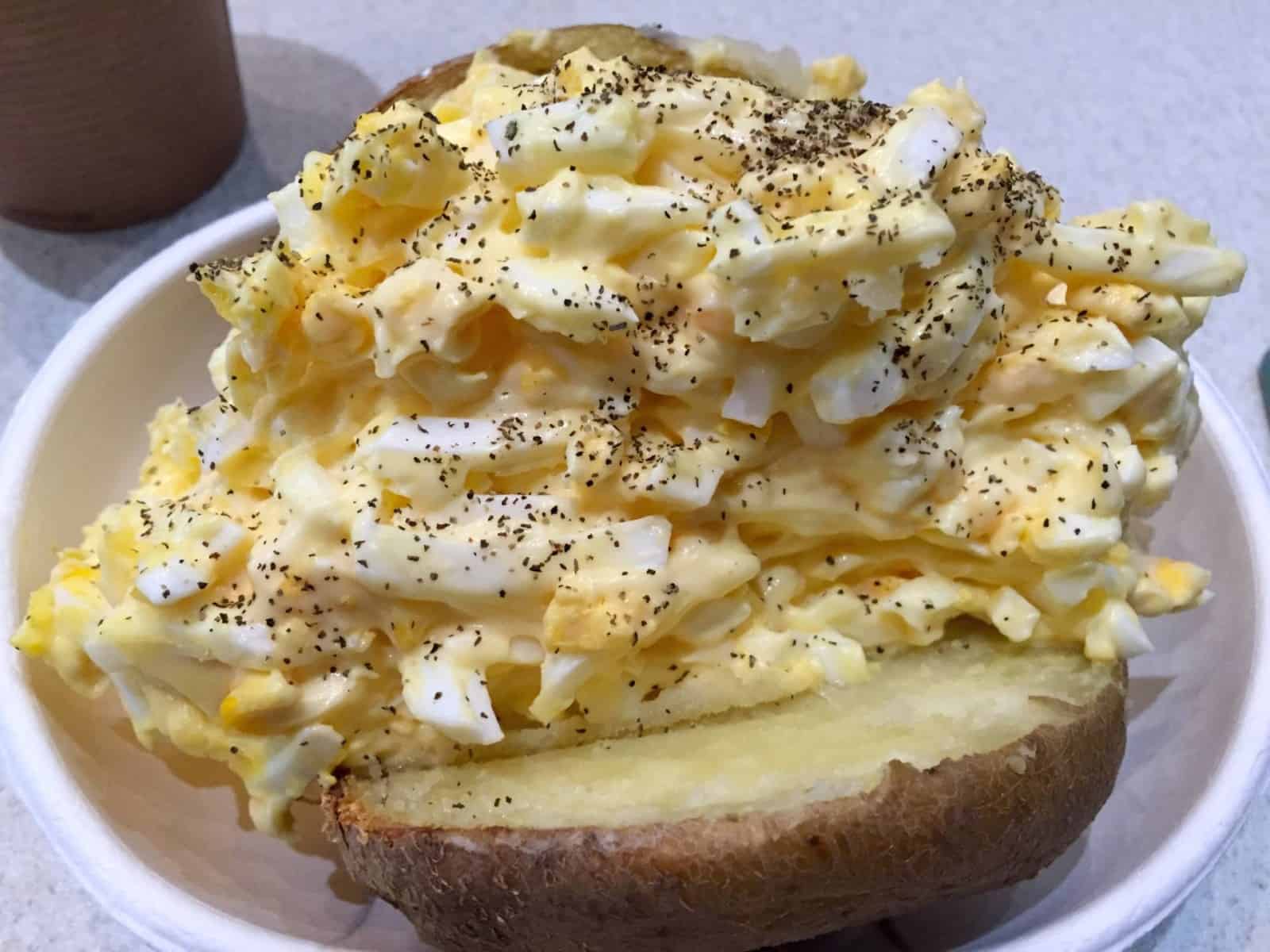 Yes, it's a place that does jacket potatoes, but Spudulike is so much more than that… it is the best place to get a jacket potato! Mark & I have been huge fans of Spudulike for years, for some reason it is just our perfect lunchtime food. I have no idea where Spudulike get their potatoes from, but they are huge in comparison to any I see anywhere else! There are a couple in Manchester, one in the Arndale & another in the Trafford Centre. For me, its a delicious and healthier option for a quick 'fast food' lunch. It's good value & the egg mayonnaise jacket potato is to die for! A jacket potato is such a simple thing, & it's one of my top recommendations for a simple gluten free lunch in Manchester.
And… a few more options for Gluten Free in Manchester for you:
Yo Sushi – a few of these in Manchester with plenty of GF options as well as GF Soy Sauce always being available on request.
Itsu – plenty of gluten free choices, beware of any soy sauce though.
Wagamama – though the menu isn't overly clear, the staff are very knowledgable & are always very willing to tell you the ways in which you can adapt most dishes to be gluten free.
Zizzi – Gluten Free Pizzas, Pasta & Risottos & DAIRY FREE CHEESE TOO!
Prezzo – Gluten Free Pizzas, Pasta & Risottos
Ask – Gluten Free Pizzas, Pasta & Risottos
Las Iguanas – Delicious varied choice of Latin & South American Food.. (Separate Gluten Free Menu)
Carluccios – Plenty of delicious Gluten Free options. (Separate Gluten Free Menu)
GBK – Gluten Free Buns (Separate Gluten Free Menu)
Nandos – Nandos is full of gluten free choices, love a Nandos Takeaway too!
TGI Fridays – Great chain for Gluten Free, highly recommend. (Separate Gluten Free Menu)
Jamie's Italian – Offers a wide selection of Gluten Free options.
Chiquitos – Has a Gluten Sensitive Menu.
Basaba Eathai – A delicious Thai restaurant with knowledgable staff & lots of options!
La Vina – Spanish tapas in the city centre, with lots of gluten free options.
So…
There you have it, my guide to destinations that offer gluten free in Manchester. Gluten Free is catered for so much better now than it once was and Manchester is certainly no exception to this rule. I had a great time living in Manchester over the past years & I will definitely be back plenty more times in the future to indulge in more gluten free in Manchester! Have you been to any of these places or do you have any recommendations of other places? I would love to know & I am sure lots of other folks would love to know too. Just leave a comment below, or on Facebook/Twitter. Oh & please subscribe to my YouTube channel for plenty more Gluten Free guides!
Thanks for reading & watching. Manchester is an amazing city & will always have a very special place in my heart.
Becky xxx
Comments