Loudons Edinburgh is an exciting & delicious cafe situated in the heart of the city. It has an amazing, vibrant atmosphere; and of course, has a menu stacked full of gluten free & dairy free mouthwatering options.
This is the first of a collection of posts documenting gluten free in Edinburgh, make sure to check back & follow me on Twitter / Facebook to keep up to date 🙂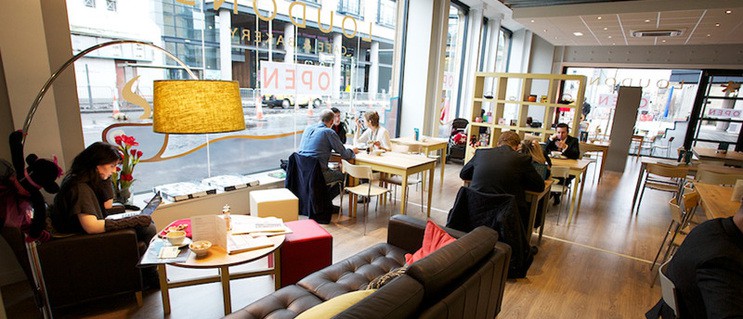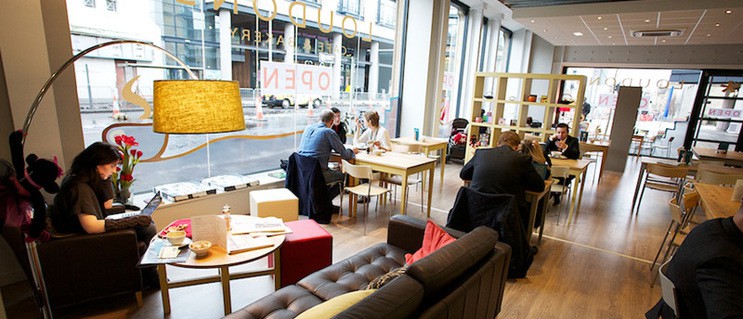 I had been given numerous recommendations from fellow gluten free foodies to visit Loudons whilst I was in Edinburgh. Seeing as it was the Easter weekend, & most people were enjoying time off work I was worried we wouldn't easily get a seat. Fortunately, Loudons is really open and spacious & there is plenty of room for everyone! It is definitely a suitable destination for everyone whether you have kids, want a relaxing place to do some work, a chill out place with friends or a great gluten free foodie experience during Edinburgh Fringe.
Upon arrival at Loudons, I asked our lovely server whether they had many gluten free options. She told me 'I had come to the right place'! She went on to explain that everything on the menu can basically be made gluten free – plenty is naturally gluten free too. I even went downstairs to discover they have their own onsite bakery where they make all their own gluten free bread and cakes.
On our first visit to Loudons we were overwhelmed by all the choices. However, the environment in Loudons makes you feel so relaxed & happy, that it was nice to take our time perusing the menu. The menu is extensive with a lengthy brunch and lunch menu. Brunch is all about Eggs, Pancakes, French Toast, Quinoa or a Full English (All available Gluten Free). Whilst the lunch menu contains Gluten Free Gnocchi, Gluten Free Quiches & Gluten Free Pizza amongst a range of other delicious delights! Click here for the Loudons' Menus.
After much deliberation we chose the Gluten Free & Vegan Banana, Coconut Pancakes as well as the Smoked Salmon & Poached Eggs on freshly baked Gluten Free Toast. It was so hard to decide, so we thought one sweet and one savoury dish to share would be perfect! When the food arrived I was blown away. The presentation made the food look so appetising & the smells coming off our plates were incredible.
The Banana & Coconut Pancakes came warm with a chopped up banana, slices of fresh strawberry & lots of maple syrup. I have never had gluten free pancakes out before and these were beyond insane. They were really fluffy and flavoursome. I loved the strawberries on top and of course the maple syrup just rounded the dish off to heaven. I can't believe the pancakes were both gluten free and vegan… anyone who tries these pancakes will not of had any better anywhere else!
The Smoked Salmon and Poached Eggs on fresh Gluten Free Toast was equally to die for. The bread was soft and full of delicious seeds. The crust on the bread was like nothing I have ever had from a gluten free loaf before. I just wanted more of the bread! As always smoked salmon & poached eggs is a winning combination. The eggs were cooked to absolute perfection. We finished our lunch feeling mighty satisfied, yet slightly sad that it was over!
Before we left we decided to go to the front counter and gawp at all the delicious cakes. Of course we didn't just gawp at them, we grabbed a couple to take back to the apartment to eat later on. I went for a gluten free lemon & raspberry cake, whilst Mark went for a vegan fudgey chocolate cake. Loudons had so many cakes I wanted to try out. The Gluten Free Lime & Coconut Squares and Gluten Free Scones looked beyond delicious. There were at least 7 different gluten free cakes amongst their wide selection on our visit. Best of all, they are all made in the bakery literally just below the cafe!
Not even 2 days had passed since our last trip to Loudons & even with so many delicious gluten free options in Edinburgh, we found ourselves craving more from Loudons; so we returned again for lunch! Mark & I both decided that on this trip we would both have something different to last time on the menu. This time I opted for one of my all time favourite dishes… Smoked Salmon & Scrambled Eggs with their delicious gluten free toast. Mark decided to try the french toast with maple syrup and bananas on their regular freshly baked bread. (You can always have this dish gluten free if you like, Mark just wanted to try what their gluten bread tasted like too!)
Now I feel like I might be starting to give Loudons a big head with this review, but they thoroughly deserve it. My smoked salmon and scrambled eggs was by far the nicest I have ever had & I have travelled to a lot of amazing restaurants & had this dish before. I loved the idea of mixing the eggs and salmon together. There was definitely no lack of smoked salmon by having it this way & it was seasoned perfectly. The bread was again amazing and was an absolute pleasure to eat!
I apologise for posting the above picture as this bread definitely contains gluten but I just couldn't resist as Mark enjoyed it so much! The best French Toast he has ever had… & to think that they can use their freshly baked gluten free bread to make this dish gluten free makes me want to get the train up to Edinburgh immediately!
Knowing this was our final trip to Loudons this Edinburgh adventure definitely made me a little down. We both decided this is one of the best cafes we have ever been to, possibly the best. The staff are some of the friendliest I have met, they are incredibly knowledgable and very efficient too. Nothing is too much for the staff of Loudons, we felt very welcome!
I am very pleased to say I managed to bring a little bit of Loudons Edinburgh home with me in the form of a loaf of their Gluten Free Bread. As I mentioned, it is freshly baked downstairs and you can buy it to take home with you. Most of the loaf is gone now, I have been enjoying it with every single meal!
So if you are based in Edinburgh or are thinking of visiting in the future I would put Loudons at the top of your agenda for a place to go. Whether you fancy breakfast, brunch, lunch or just a slice of cake, it is the perfect destination. The menu delivers on every level for those with intolerances and for those without. They are incredibly understanding of coeliac needs so any coeliacs can rest easy when they visit.
Let me know if you get a chance to visit Loudons Edinburgh & what you think!
Thanks for reading,
Becky xxx