For someone who's website is known as Gluten Free Cuppa Tea, I've had shockingly few afternoon tea experiences in my life. But that ends now! First stop – The Corinthia Hotel in London!
I don't think you can get much fancier than The Corinthia! It was a beautiful setting, but how well do they cater for us gluten free folk? Here's how I got on…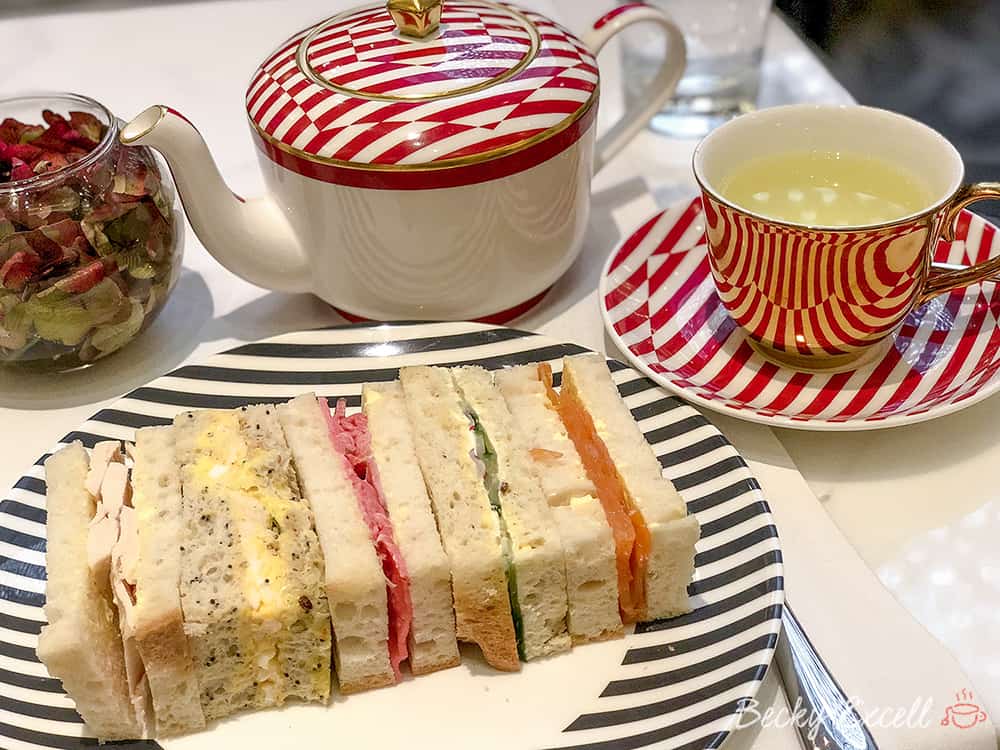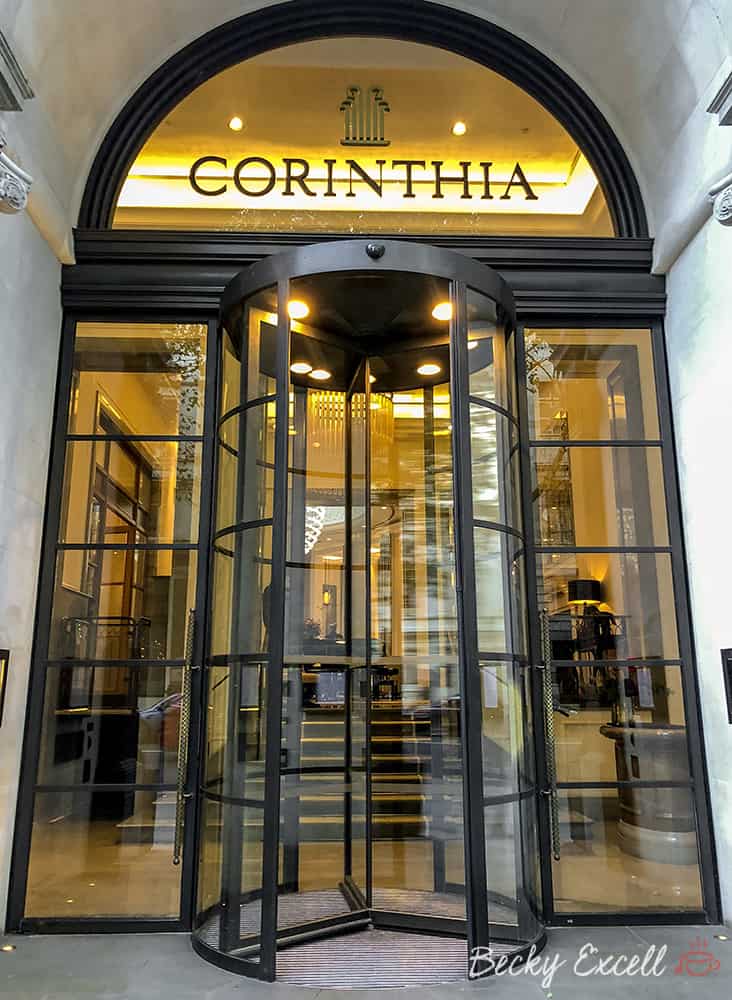 When it comes to thinking of where to go for afternoon tea, I always think of heading to all the fancy London hotels first of all.
One hotel I've been wanting to visit for years is The Corinthia so that's exactly where I thought I would start on my afternoon tea adventures!
The Corinthia hosts it's afternoon tea in the Crystal Moon Lounge. It's such a stunning venue with a Baccarat chandelier that dazzles like a full moon and a pianist that effortlessly plays all afternoon whilst you relax.
(check out the chandelier in the pic below – do you think it'd fit in my living room?!)
I really felt like I was somewhere very special so that's a big tick for the setting.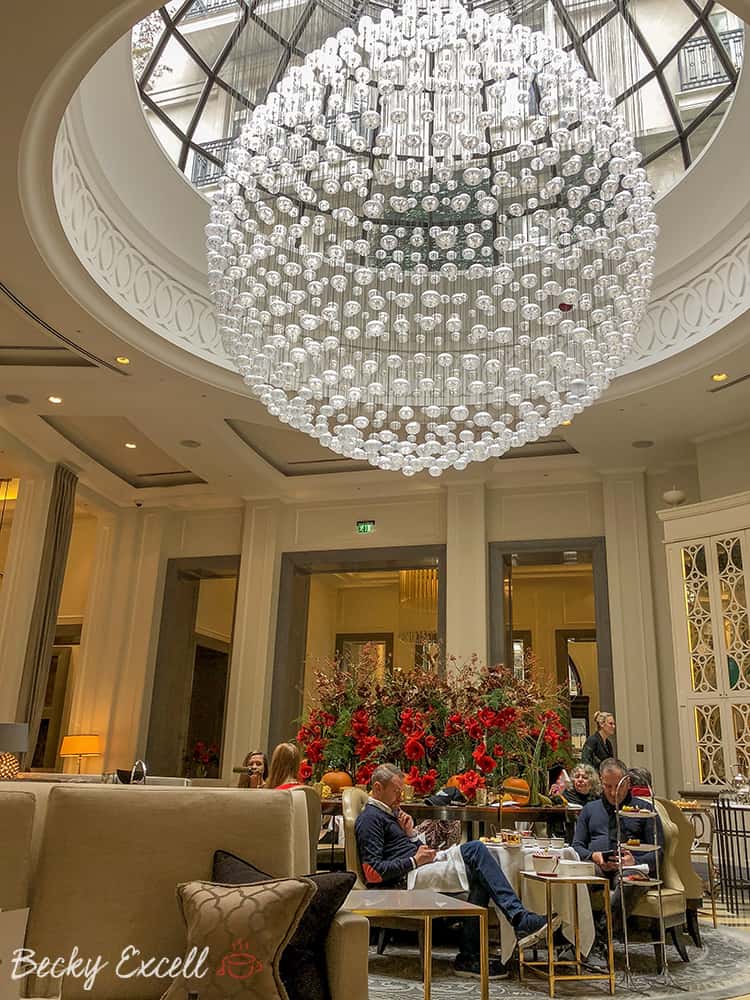 Before booking, I let The Corinthia know that I would need a gluten free afternoon tea and also gave them all my other dietary requirements too.
(including garlic and onion which I struggle to tolerate)
Fortunately, they said this wouldn't be a problem at all. I always recommend telling a restaurant ahead of time about your dietary requirements – it helps them prepare ahead of time and it also takes away the stress of eating out to some degree!
Now, I'm not the most adventurous when it comes to tea, so I opted for the fresh mint. For me, it's the perfect tea to have alongside a meal that I know is going to fill me up.
The Corinthia has a selection of bespoke tea blends which maybe I'll try one day when I'm feeling brave!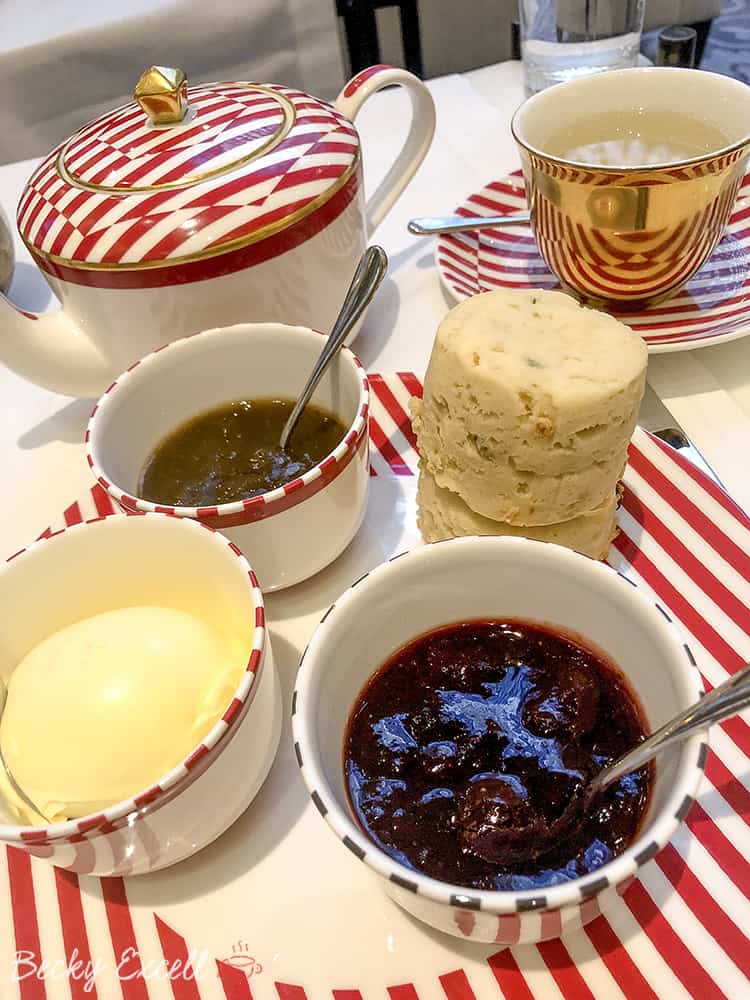 The sandwiches came first and were totally delicious and so perfectly made.
I had a variety of fillings, from egg to smoked salmon, but the cucumber, radish and cream cheese sarnie was my personal fave! The gluten free bread was lovely too, no holey bread in sight and I was even offered a second round too.
(I declined as there was still scones and dessert to come!!)
Next up came what I had been looking forward to – the scones.
Whilst the gluten free scones didn't come served in the cute boxes that the regular scones came in, they were all that I was hoping for and more. The 'more' being the rhubarb and tonka bean jam alongside the clotted cream. It was an amazing combo – tonka bean has a bit of a vanilla-like taste to it!
We did have quite a lengthy debate on whether we should add jam or cream first. I added jam first, but I won't judge you if you do it the other way around!!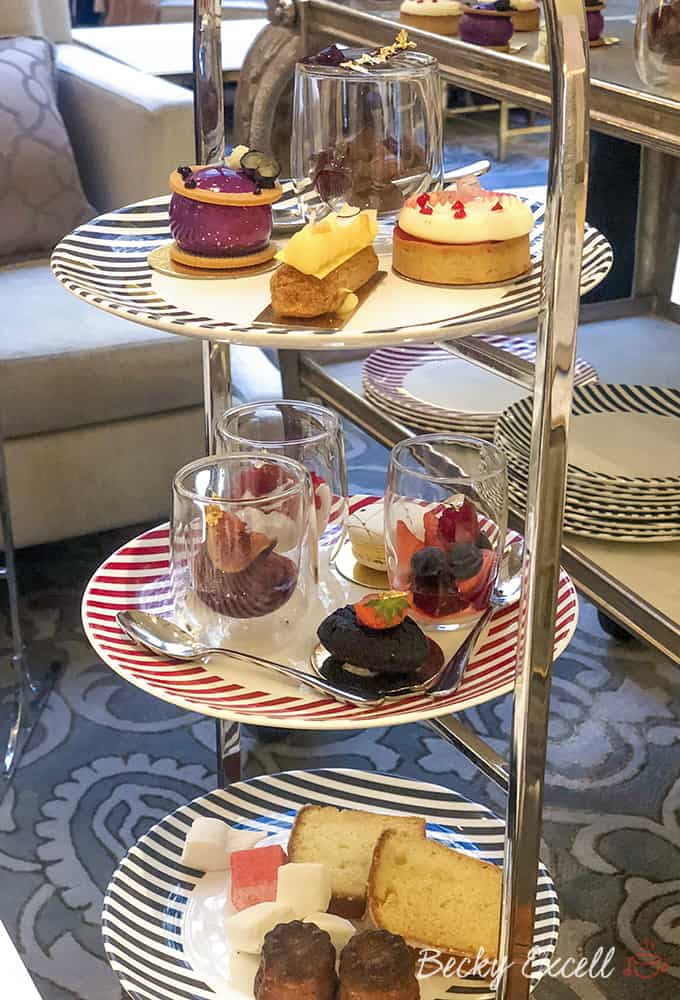 Then came the main event… the cakes!
Again, my cakes were served on a separate plate on the dessert trolley to avoid any cross contamination.
My selection included the most delicious fresh macaron I've ever had and a rich, moist chocolate brownie. I'd usually frown upon a chocolate brownie, but this one was next level!
There was also a decadent chocolate mousse and creamy, meringue fruit pots which were absolutely lovely.
I'm not gonna lie though. After seeing what my fellow gluten-eating guests were having, I immediately craved a tart or an eclair of some sort!!
But overall, it was a great selection that was presented beautifully and done to such a high standard.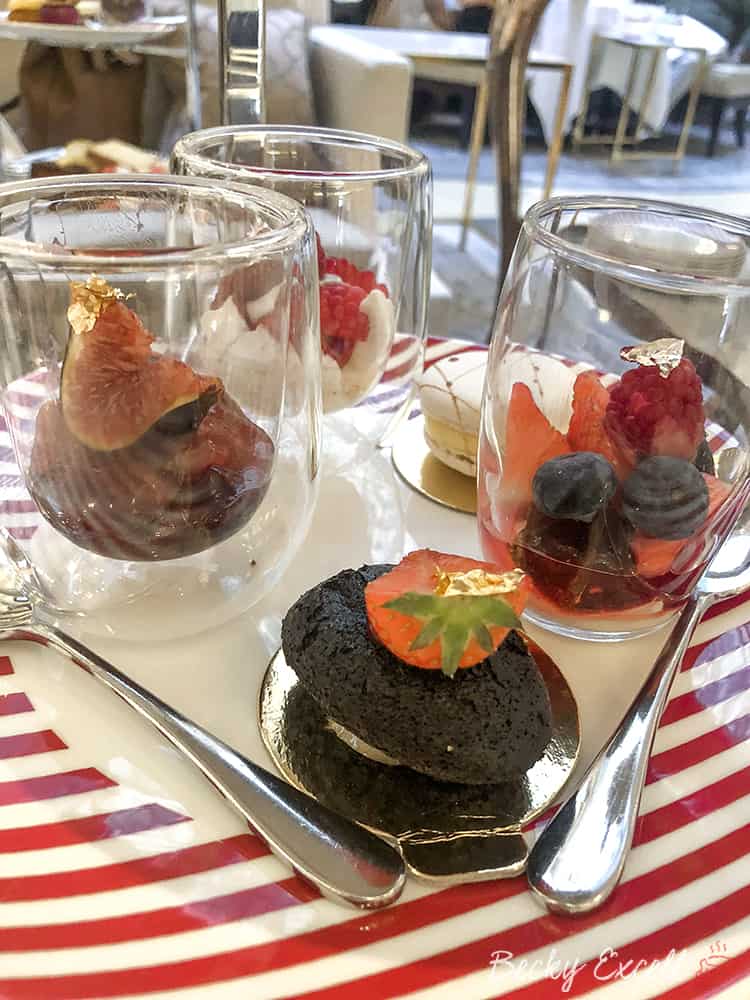 I honestly couldn't have been better looked after either. The staff were friendly, attentive and knowledgable from the moment I arrived. I loved how they were all very aware of cross contamination.
They actually announced to the entire table that no one was to touch my jam, clotted cream or the spoons that came with them.
(if only I could employ that guy to follow me around and announce cross contamination rules to the room whenever I eat!)
I also noticed on our table that I was the only one with red striped crockery (everyone else had black). So I wondered whether this had something to do with differentiating my gluten free offerings… I assume so!
To finish off what was a wonderful afternoon, we got to check out one of The Corinthia's Penthouses – and omg.
I'm not sure I will ever get the chance to go in one again! It was absolutely incredible and the picture below is of me standing on the rooftop terrace of the two floored penthouse. I should have just hidden in a cupboard and stayed there!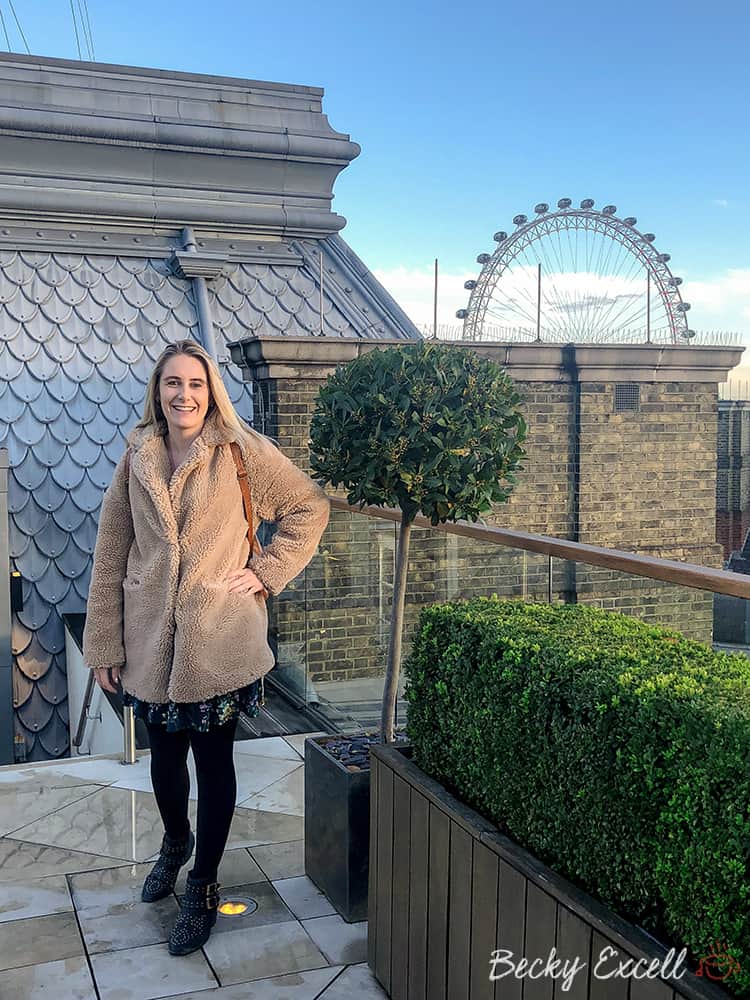 I really did have a fabulous time at The Corinthia. Their gluten free afternoon tea offerings were brilliant alongside the setting and service.
I'd love to go back and experience more of what the hotel has to offer too. I've heard great things about the spa!
Anyway, onwards to my next afternoon tea experience! I hope for there to be many more on the blog in the coming months. If anyone has any recommendations in London or beyond, then please let me know!
Thanks for reading,
Becky x
The experience was gifted by Hotels.com, but all views are my own.