Ok, so I never really ever need an excuse to visit my fave free from ice cream parlour. But here's 5 reasons you need to visit Yorica! in London ASAP if you still need a little convincing!
But where is it? Well, set your Google maps to 130 Wardour Street, W1F 8ZN and you defo won't regret it. It's 2 minutes from Oxford Street and 6 minutes from Covent Garden too. So now you know where it is, here's the 5 reasons you need to visit Yorica! in London ASAP…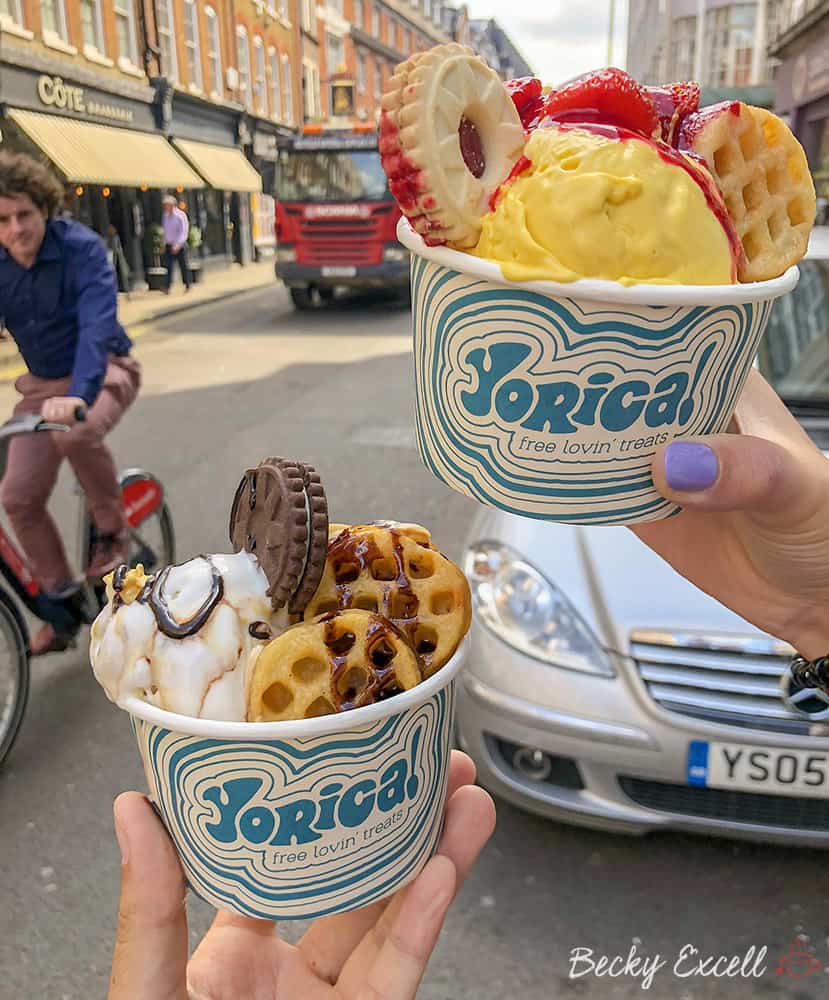 1. It's free from all 14 major allergens. No way!
Yep, that's right. All of them.
So that's gluten free, dairy free, soy free, egg free, nut free, peanut free… and all the other ones too!
Basically, there's no allergens on the premises, full-stop. In anything. I know. Crazy! With flavours like double choc cookie, salted caramel and popcorn (and even nut-free options like chocolate and hazel-NOT) it's hard to believe, isn't it?
It's actually the first of it's kind to be free from 14 major allergens in the whole world. Sounds like you'd better pay them a visit then!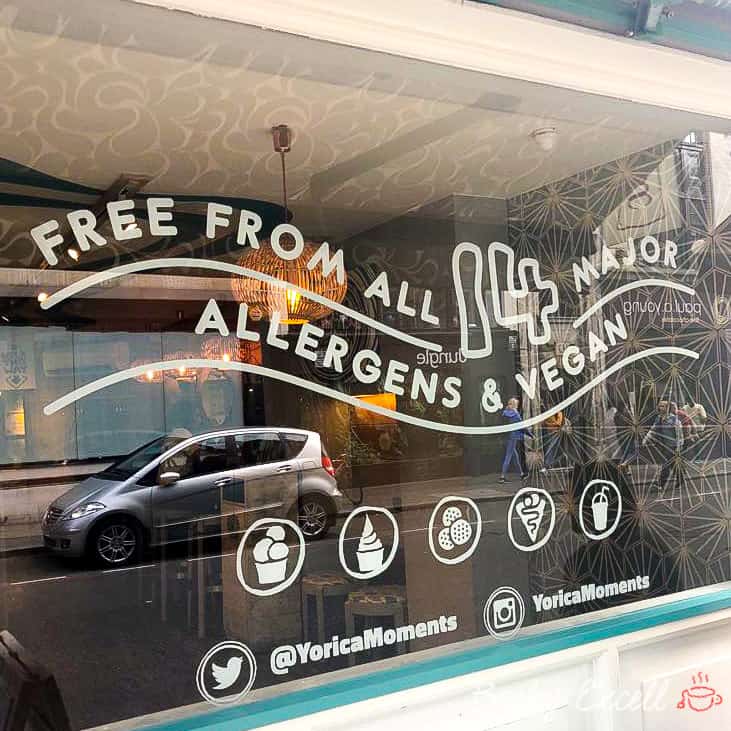 2. It's all 100% vegan too.
Yep, no products derived from animals in sight either. That even includes all their ice cream, toppings, frozen yoghurt, waffles, pancakes… pretty awesome, right?
Like how is that even possible?!
Even their cleaning products are vegan and cruelty free. Now that's what I call keeping a clean sheet!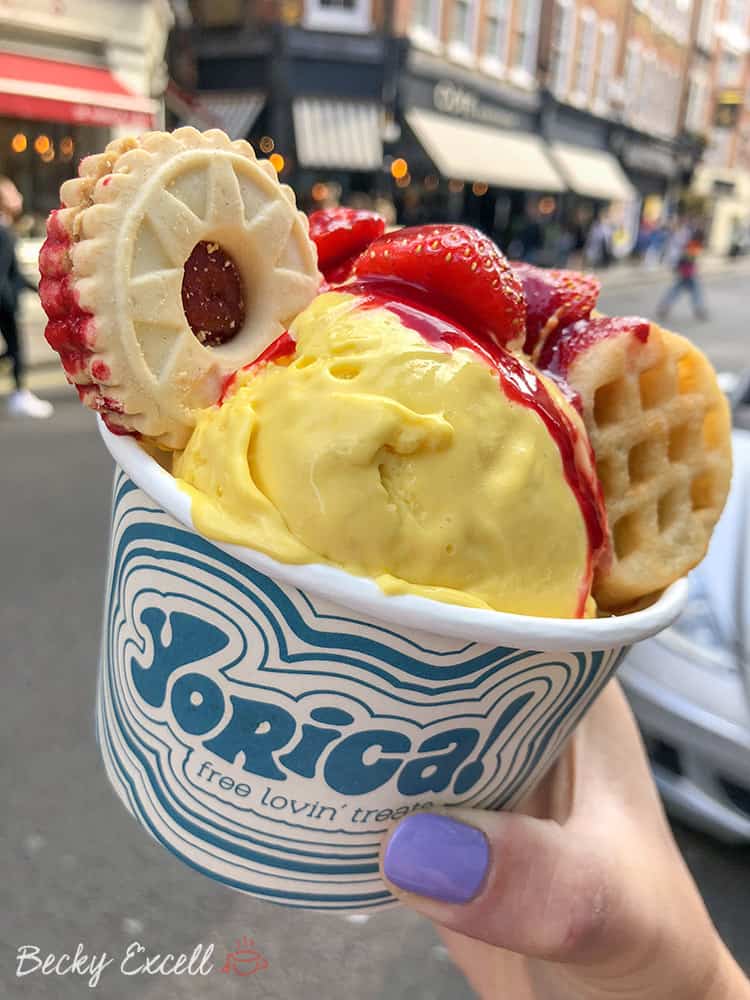 3. It's all made in a dedicated allergen-free facility.
That means zero chance of cross contamination on anything and everything from Yorica.
So not only is there none of the 14 major allergens on the premises, but that goes for the facilities they use to produce their awesome treats too.
If Yorica can do this, then I think it's defo time more places followed suit!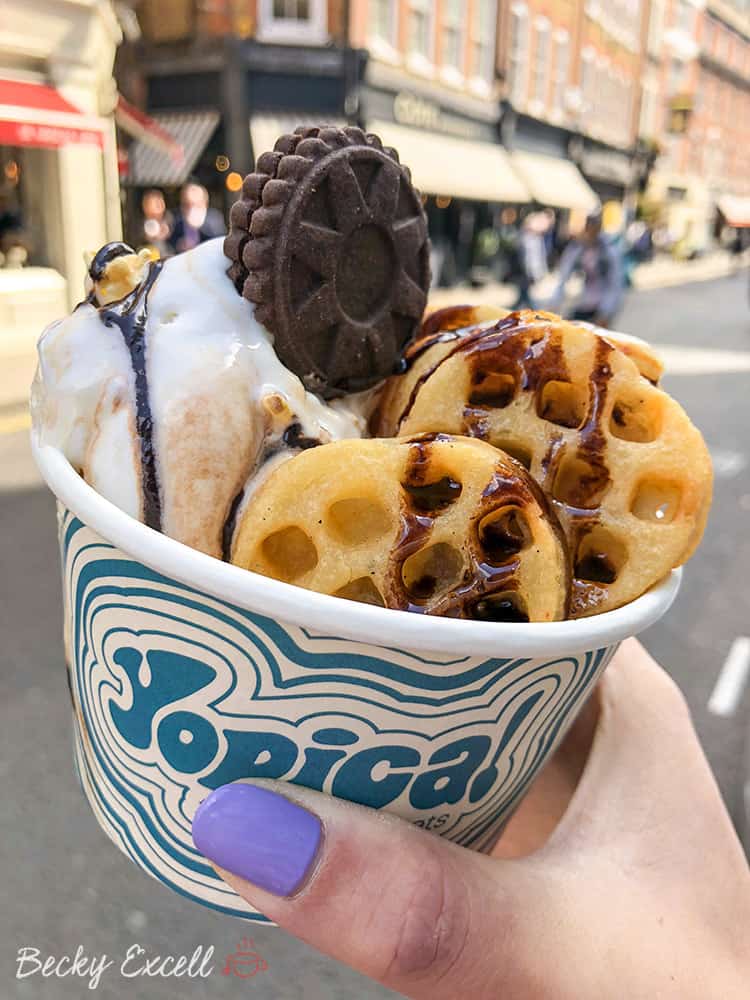 4. You can even have crepes and waffles too.
Yep, that's right. Waffles and crepes are available and made fresh to order.
Let's just remind ourselves that they'd all be gluten free, dairy free, egg free etc. too…
Pretty mind blowing considering that the ice cream was enough for me!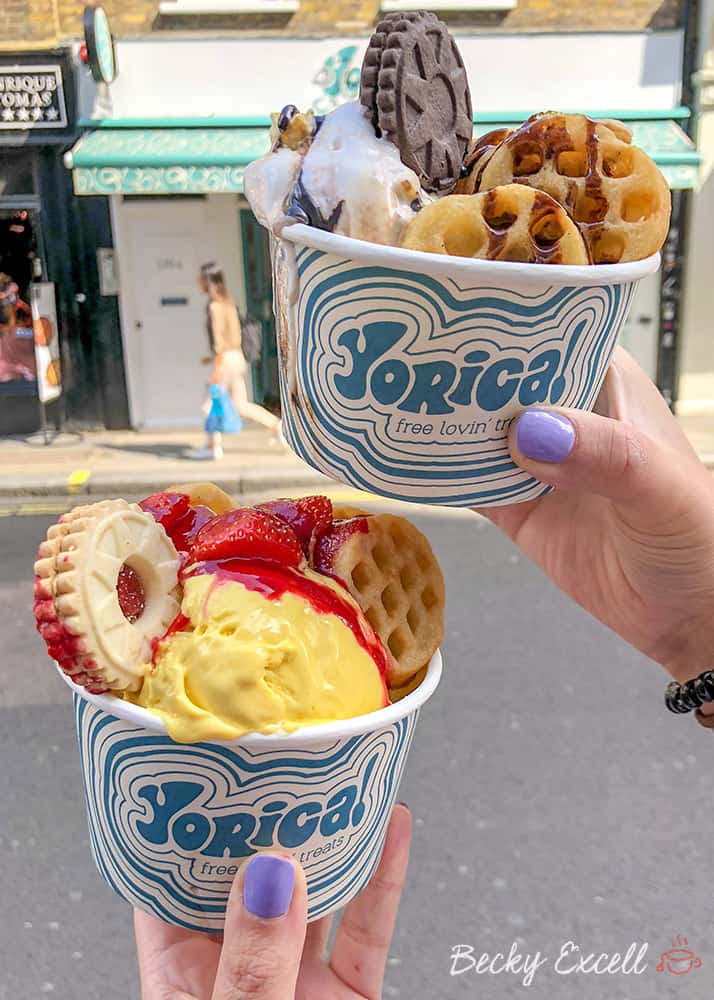 5. You'd never know it was free from anything at all.
Of course, what would be the use of something being free from all 14 allergens and vegan if it didn't taste like all your wildest dreams in one mouthful?
Well good news for you – it does!
Not only that, but everything just looks totally on point and so Instagrammable (sorry, yes, I am one of those people!) In the 5 minutes we spent taking these photos outside Yorica, at least 3 random strangers commented on just how good they looked.
Now I don't know about you, but I never expected anyone to be jealous of my 14 allergen free food!! Even the guy on the bike in the first photo of this post is eyeing them up – it's hilarious!
That's a rap!
Thanks so much for reading the 5 reasons you need to visit Yorica! in London ASAP! Are you going? Have you been? Let me know your thoughts! I really hope that this place helps you or your kids have that special moment where you can have literally anything on the menu and not just a few small token options.
Any questions? Feel free to ask by leaving a comment below, or if it's in a hurry, Instagram is probably the best place to reach me. Please follow me on Facebook or Twitter if you fancy too!
Thanks so much for reading,
Becky xxx