On the hunt for gluten free in Brighton? Allow me to present you with my personal gluten free treasure map.
Gluten free in Brighton isn't in short supply, but here's 32 of my personal favourite places eat, chill out and generally wish I still lived in Brighton!
I went to the University of Sussex a few years ago and I will forever come back to revisit these amazing places. Here's my guide to gluten free Brighton…
1. Wolfies of Hove, 90 Goldstone Villas, Hove, BN3 3RU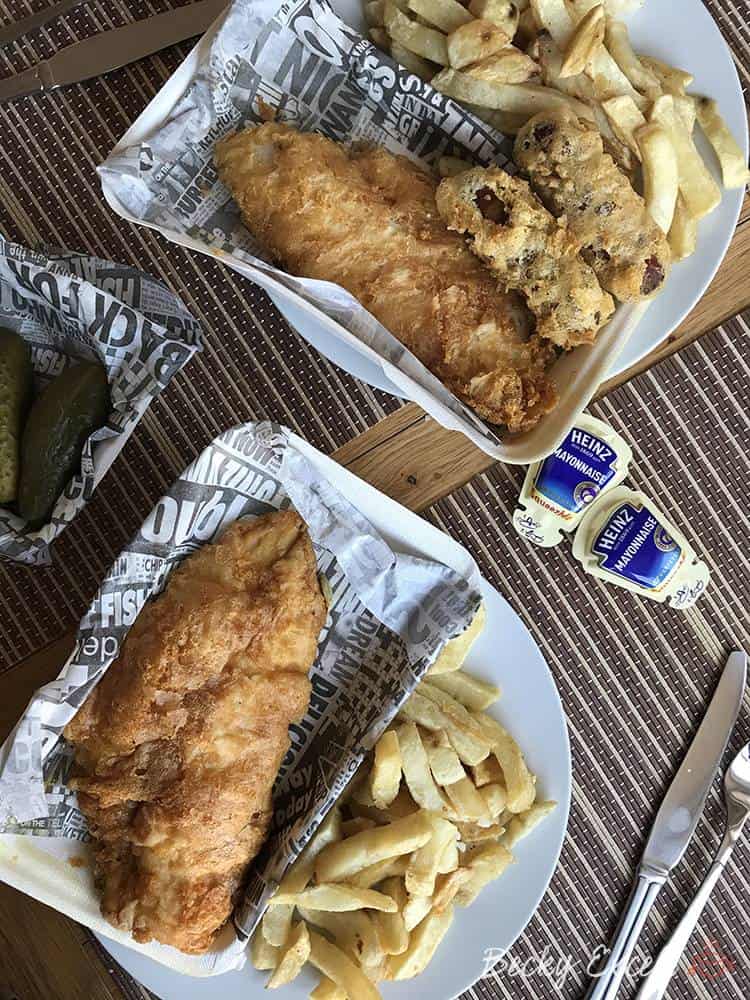 My first stop for gluten free in Brighton would have to be Wolfies of Hove. Gluten free fish and chips are available every single day at Wolfies and they use a completely separate gluten free fryer to guarantee no cross contamination.
Of course, fish and chips wouldn't be the same without… gluten free battered sausages! I hadn't eaten one in about 8 years, but Wolfies made it well worth the wait.
2. V & H Cafe, 63B Holland Rd, Hove BN3 1BA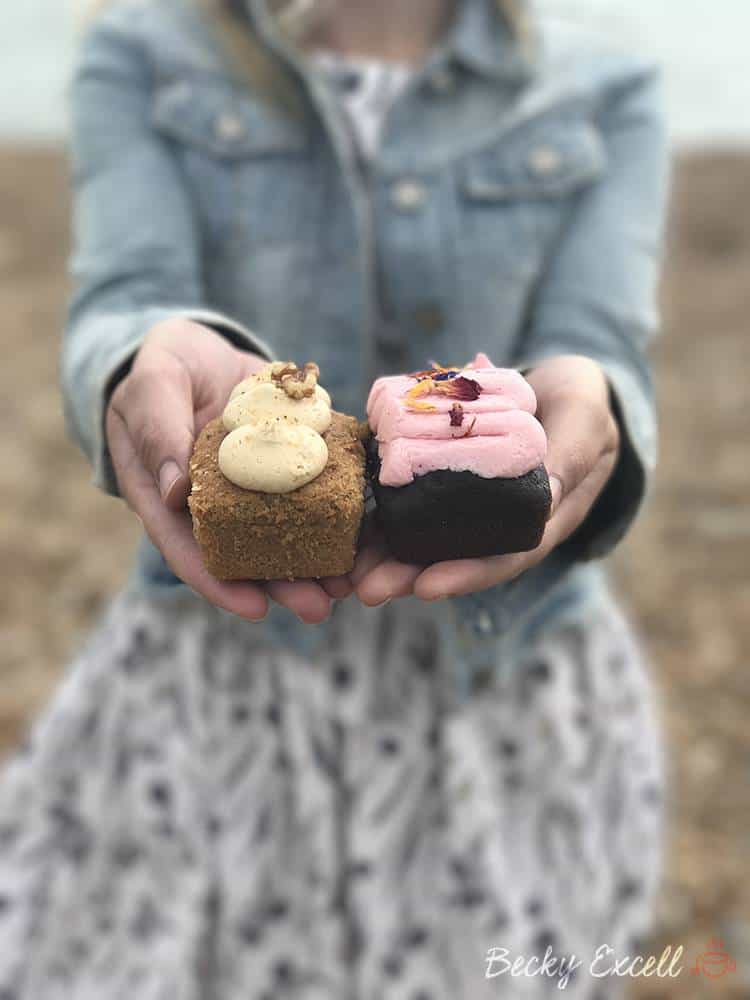 V&H is one of mine and Mark's favourite discoveries for gluten free in Brighton. Not only are the staff super friendly but the cafe feels super homely and of course, the food is on another level.
First of all, their selection of freshly baked gluten free and dairy free cakes taste every bit as good as they look. I'd recommend going for brunch as anything served on their gluten free toast is simply heavenly!
3. Moshimo, Bartholomew Square, Brighton BN1 1JS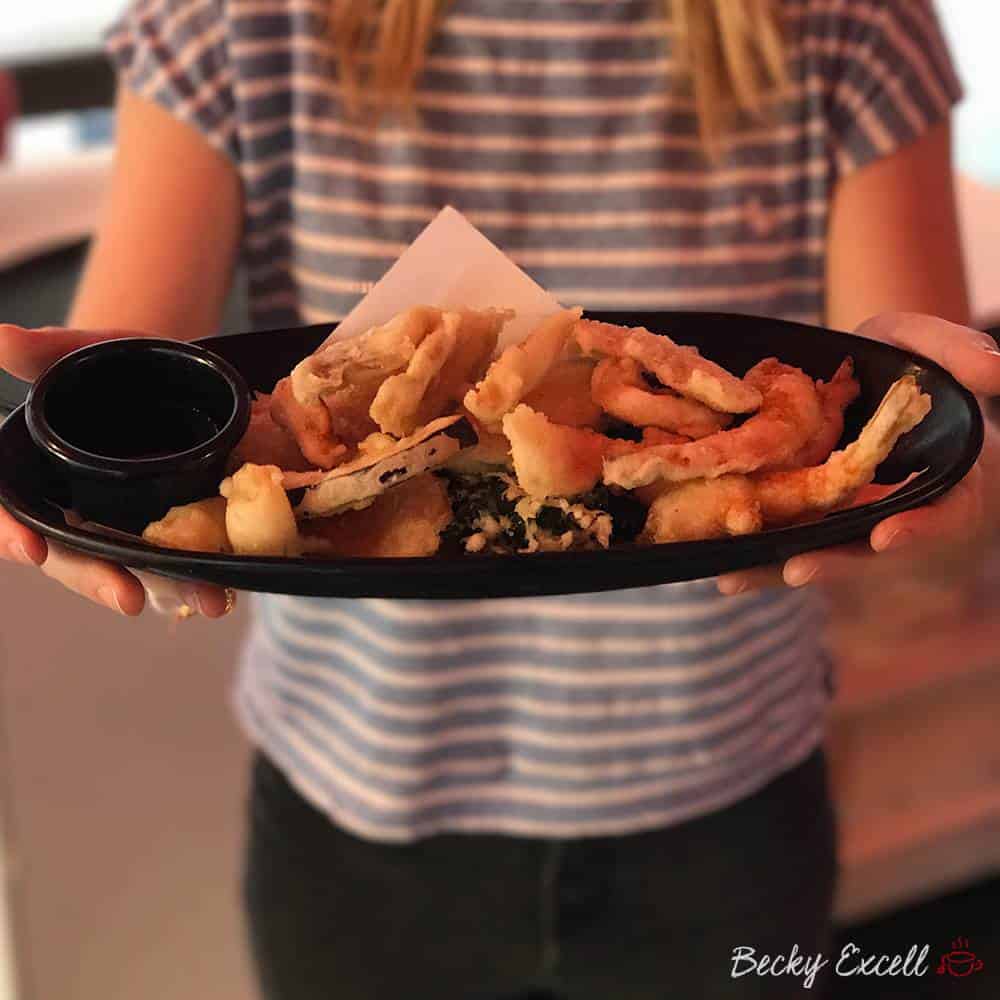 Did you know that Moshimo was the first conveyor belt sushi restaurant in the UK? Well, you do now! Apart from being first in that respect, their gluten free Japanese food is first class too.
They have gluten free soy sauce available upon request and a full gluten free menu too. Haven't had the pleasure of trying gluten free tempura yet? Trust me, you won't find it done better than at Moshimo. Arigato Moshimo!
4. Fatto A Mano, 77 London Rd, Brighton BN1 4JF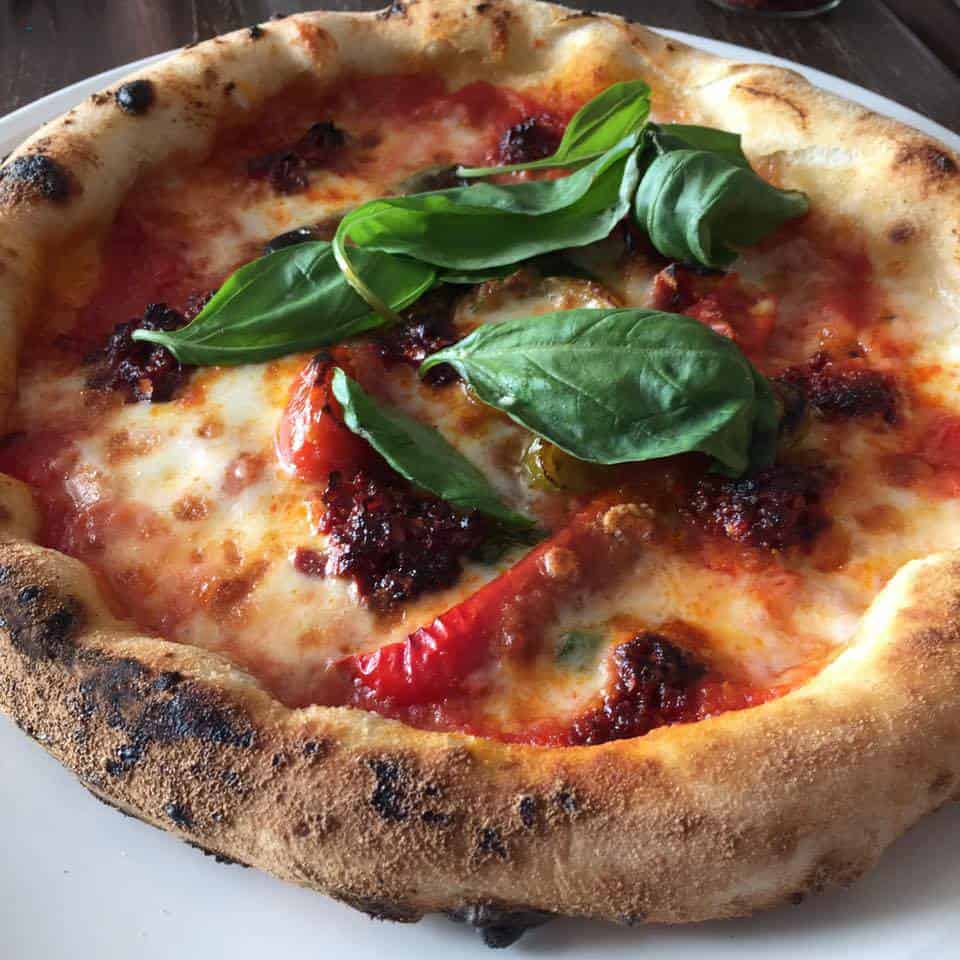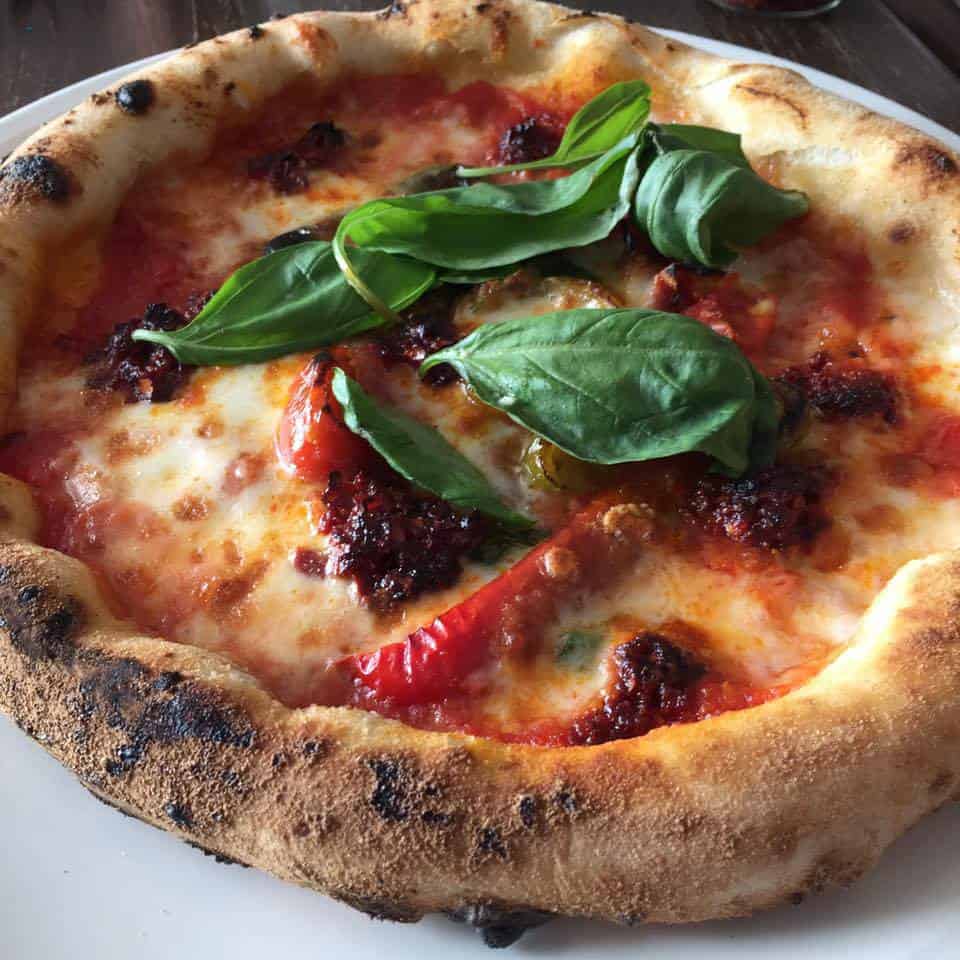 When you first take a look at Fatto A Mano's pizza, you won't believe that it's gluten free. Then, when you taste it… you still won't believe it's gluten free! Their pizza dough is made fresh on site every day and the result is mind-blowing.
You can find them on London Road and in Hove too, so there's no excuse not to head down to Fatto A Mano for gluten free in Brighton.
5. Bagelman, 16 Duke Street, Brighton, BN1 1AH (and other locations)
Bagelman is my go-to place for lunch in Brighton. Their gluten free bagels are amazing and their choice of fillings are even better. A good gluten free bagel is such a rare thing!
They always offer to make my gluten free bagel on a separate board to avoid cross contamination too which is a nice touch for those of you who are Coeliacs too.
6. The Farm Tavern, 13 Farm Road, Hove, BN3 1FB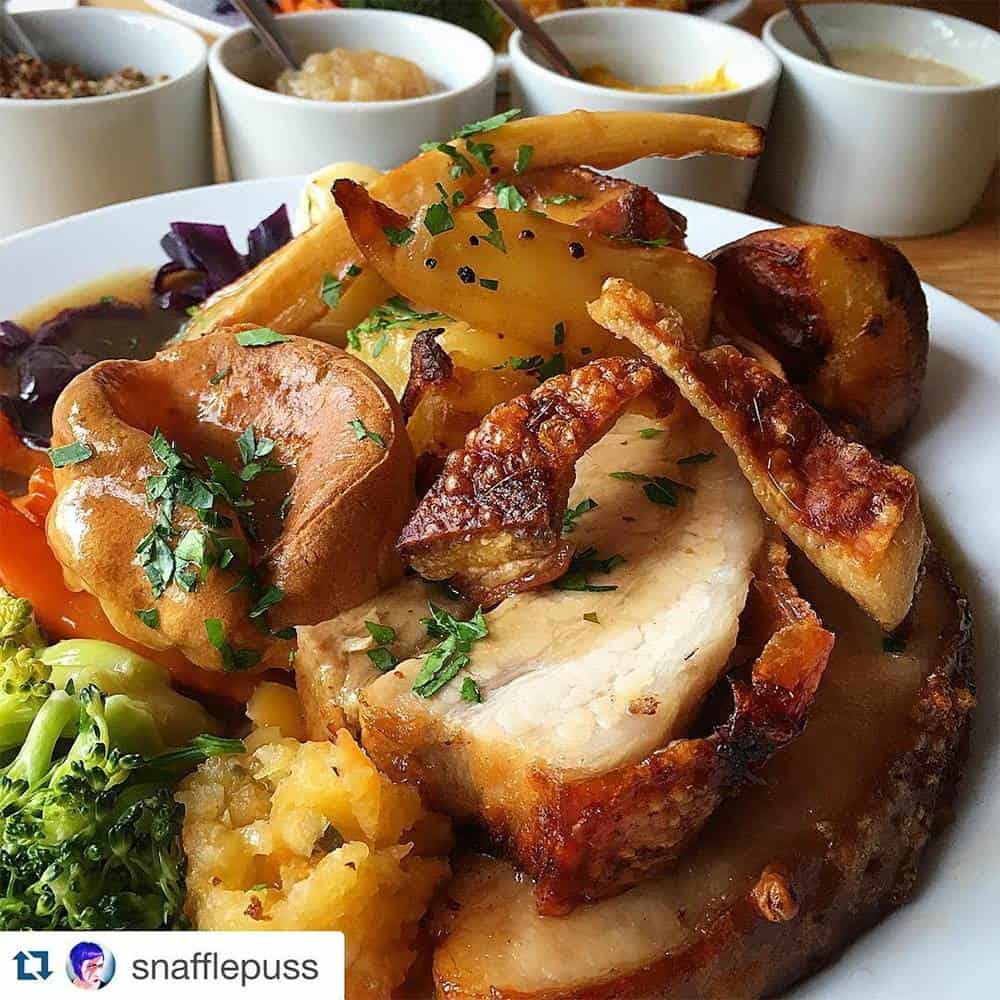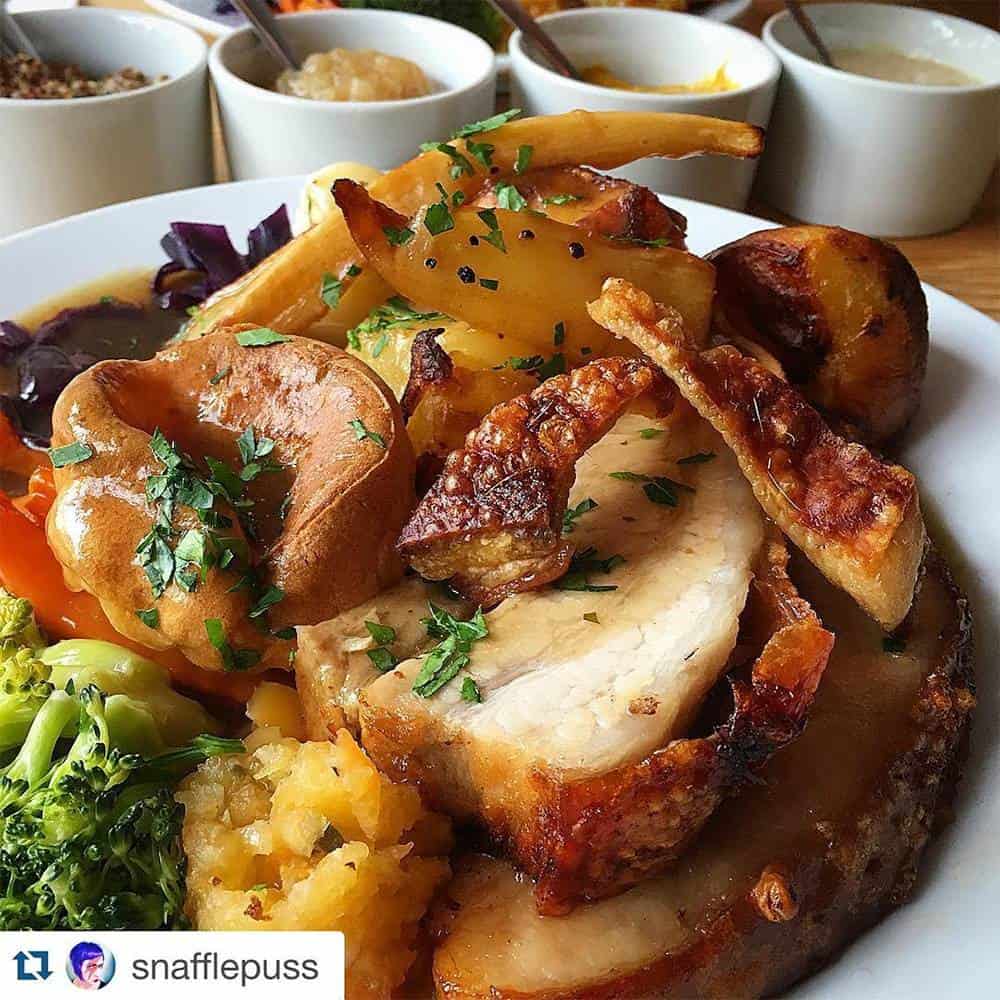 The Farm Tavern not only makes the BEST gluten free roast in Brighton, but they are also so accommodating when it comes to allergies and intolerances.
Don't forget to check the dessert menu to see what's gluten free too, because your mind may just be a little be blown when you do.
7. Prestonville Arms, 64 Hamilton Rd, Brighton and Hove, Brighton BN1 5DN
The Prestonville Arms is a pub with a menu that's 100% gluten free thanks to their resident chef Munkeechops (Neil Parker).
Serving up traditional pub food as you've never seen/tasted before, the Prestonville Arms is definitely a gem of a pub for gluten free in Brighton.
8. Coggings & Co, 87-93 Dyke Rd, Brighton BN1 3JE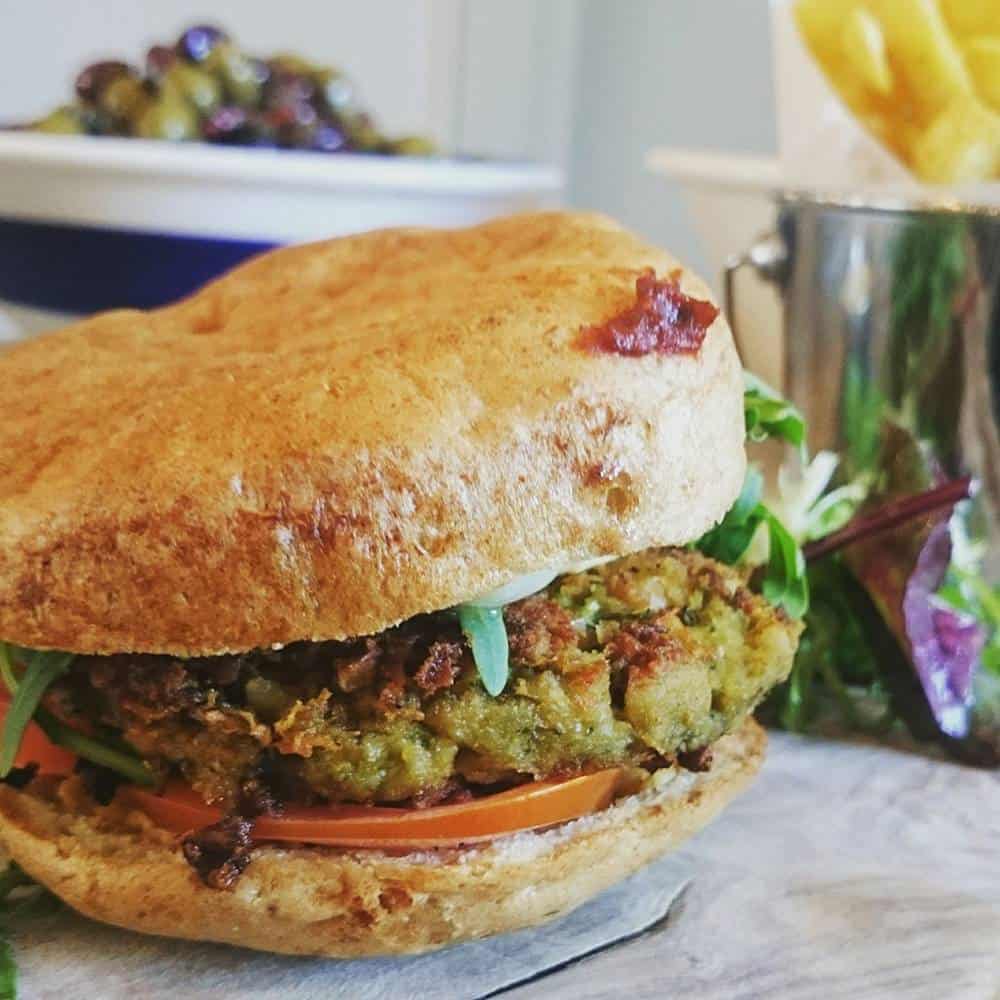 If you are looking for a place to grab a gluten free burger in Brighton then Coggings and Co should be your first port of call.
All of their beef burgers are gluten free and they offer beautiful gluten free buns thanks to Rana's Bakery at no extra cost.
9. Black Mocha, 103 Gloucester Rd, Brighton BN1 4AP
Black Mocha is my favourite hangout in Brighton. There's a great selection of gluten free cakes on offer every day that will keep you coming back for another slice, again and again.
Mark and I have absolutely fallen in love with their dark hot chocolate too. You seriously won't find a better hot chocolate in all of Brighton.
10. Infinity Foods, 25 North Road, Brighton, BN1 1YA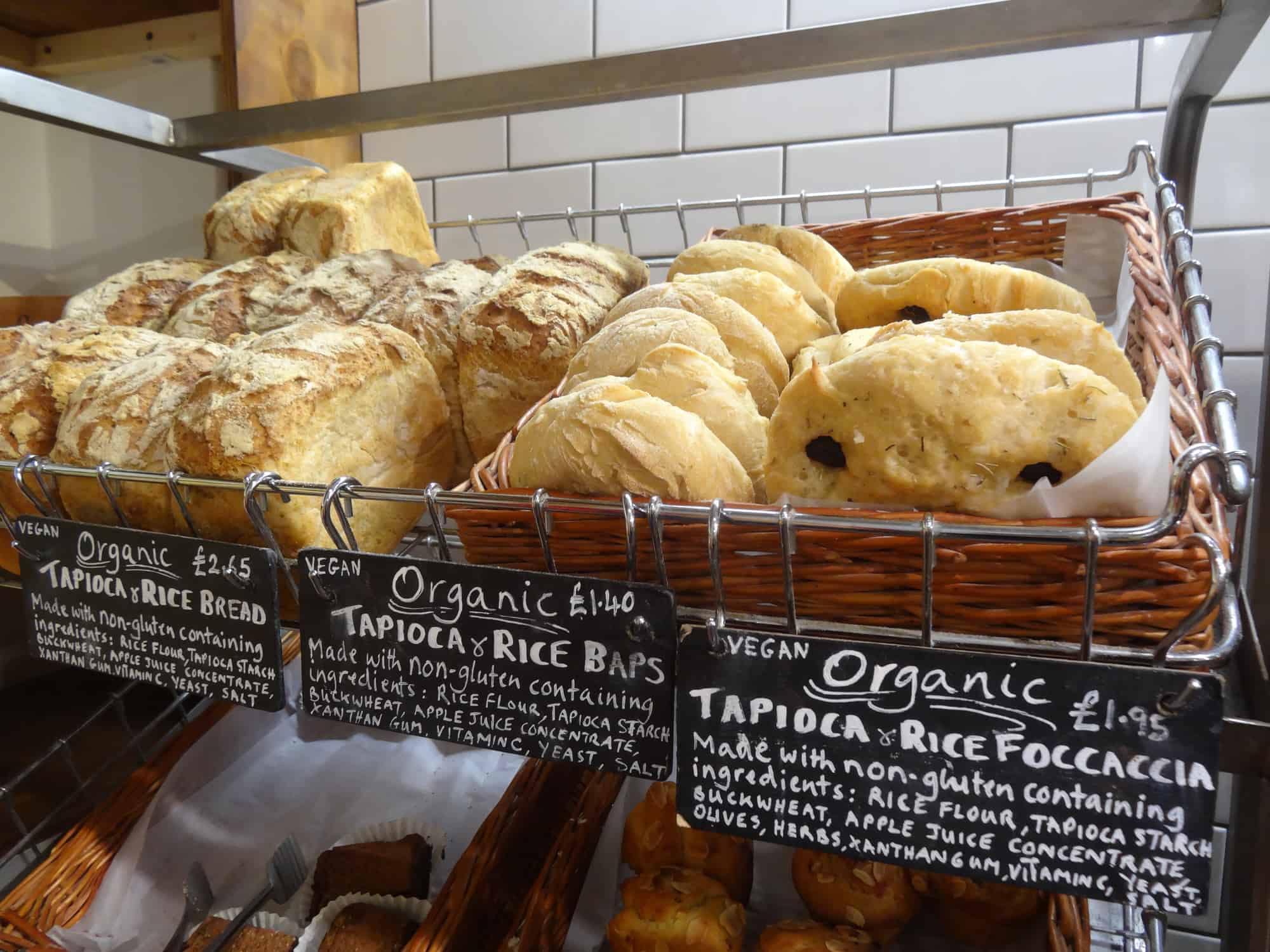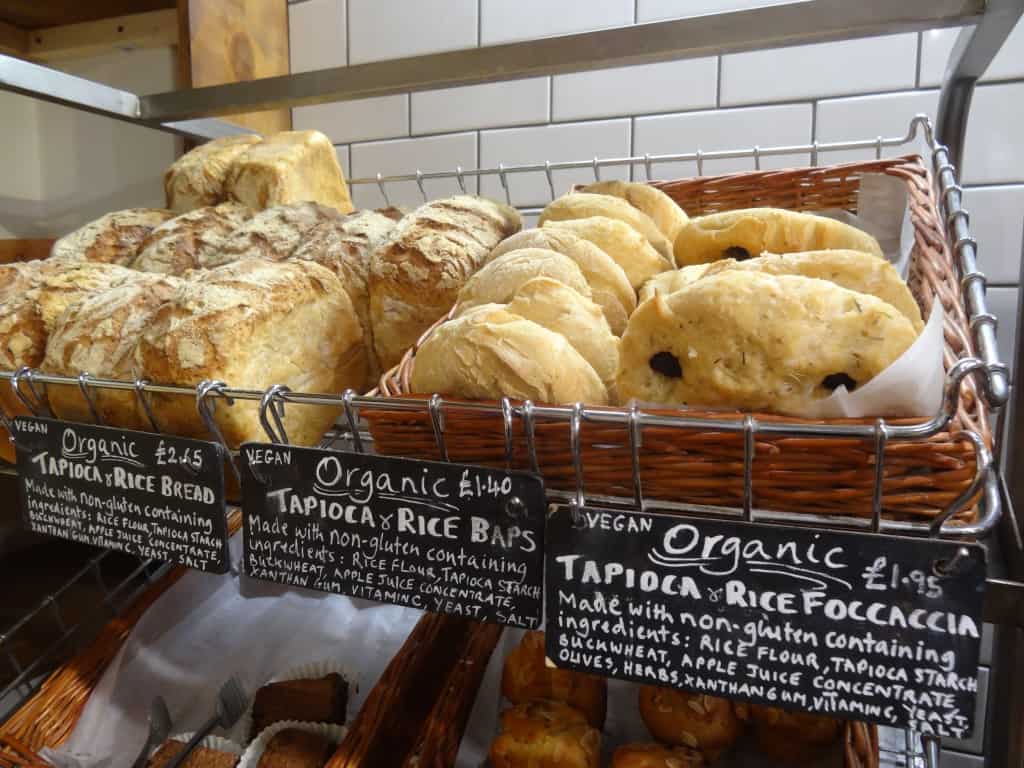 Infinity Foods is an independent supermarket situated in the North Laine area of Brighton. It sells a huge range of gluten free, vegan and dairy free products – you name it they'll have it.
My favourite part of Infinity Foods however, is their on-site organic bakery. It's all handmade & freshly baked daily at Infinity Foods by a very small team. Their range of freshly baked non-gluten containing loaves, foccaccias, baps and pizza slices are too good to be true.
11. Little Bird, 16 Kensington Gardens, Brighton, BN1 4AL
You're never short of places to eat freshly baked gluten free cake in Brighton. Little Bird is one of my favourites for this. It's a cosy cafe in the heart of North Laine.
I always go for their delicious gluten free chocolate, banana & pineapple cake. A trip to Brighton wouldn't be the same without a trip to Little Bird.
12. Cloud 9, 15a Kensington Gardens, Brighton, BN1 4AL (and other locations)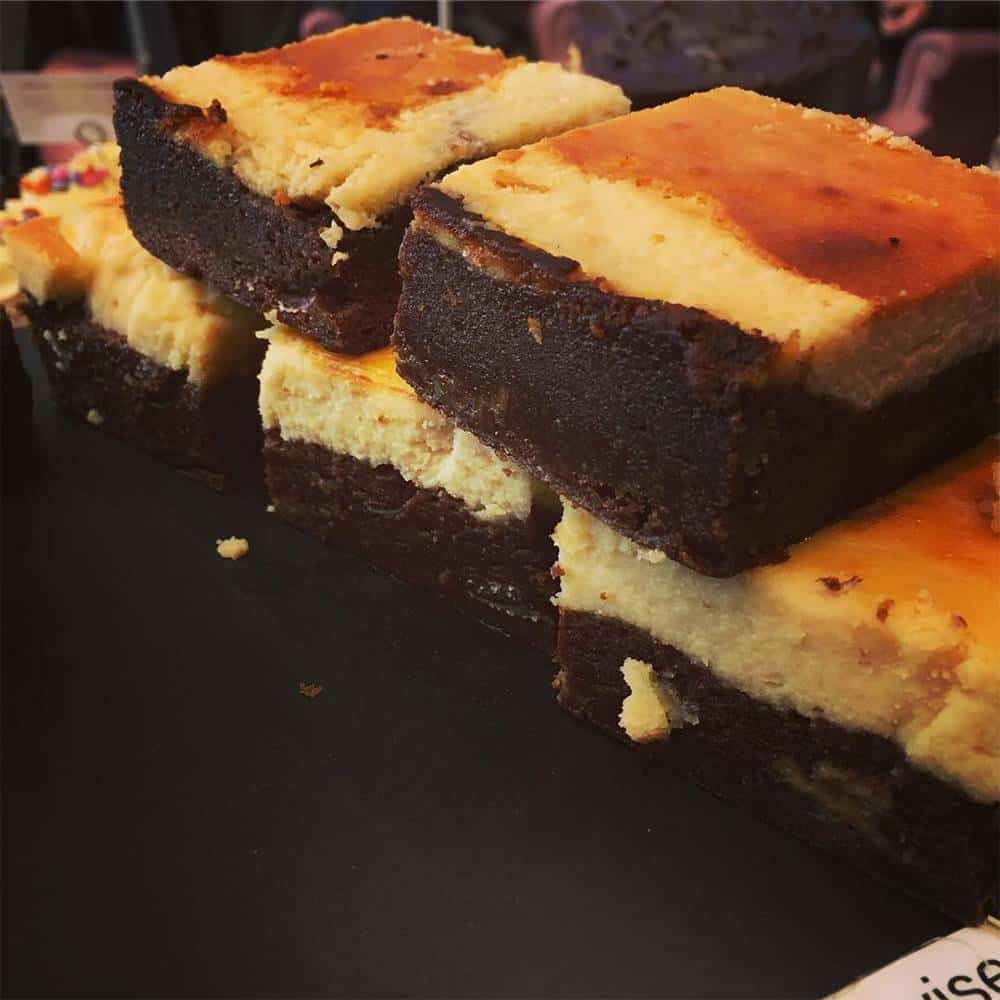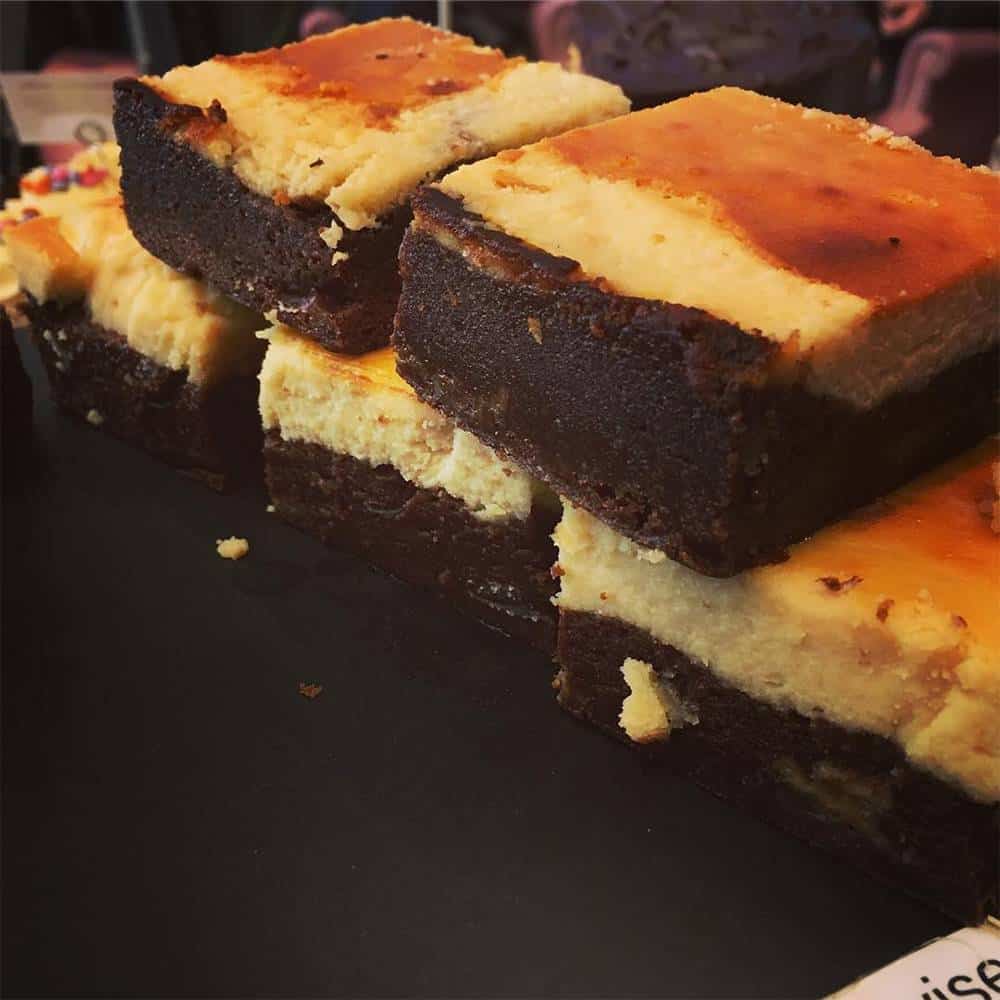 There's nothing in Brighton quite like Cloud 9. You'll spot one of their two bright pink cafes in Brighton from a mile away. One is literally opposite Little Bird in the North Laine.
The other is situated in The Lanes area. Both sell equally delicious cakes and always have non-gluten containing options on offer (Though, for the delicious ice creams, head to The Lanes Cloud 9). Before you ask, yes they do taste as good as they look.
13. Mange Tout, 81 Trafalgar Street, Brighton, BN1 4EB
Mange Tout is a French Bistro open for breakfast/brunch & lunch every single day & dinner on Thursday/Friday/Saturday. We always go for brunch and even at 11:30am it is advisable that you book a table, unless you want a lengthy wait.
I always go for scrambled eggs and smoked salmon on top of some delicious, freshly baked gluten free toast. The gluten free bread is out of this world, making Mange Tout the perfect place for gluten free in Brighton.
14. Boho Gelato, 6 Pool Valley, Brighton, BN1 1NJ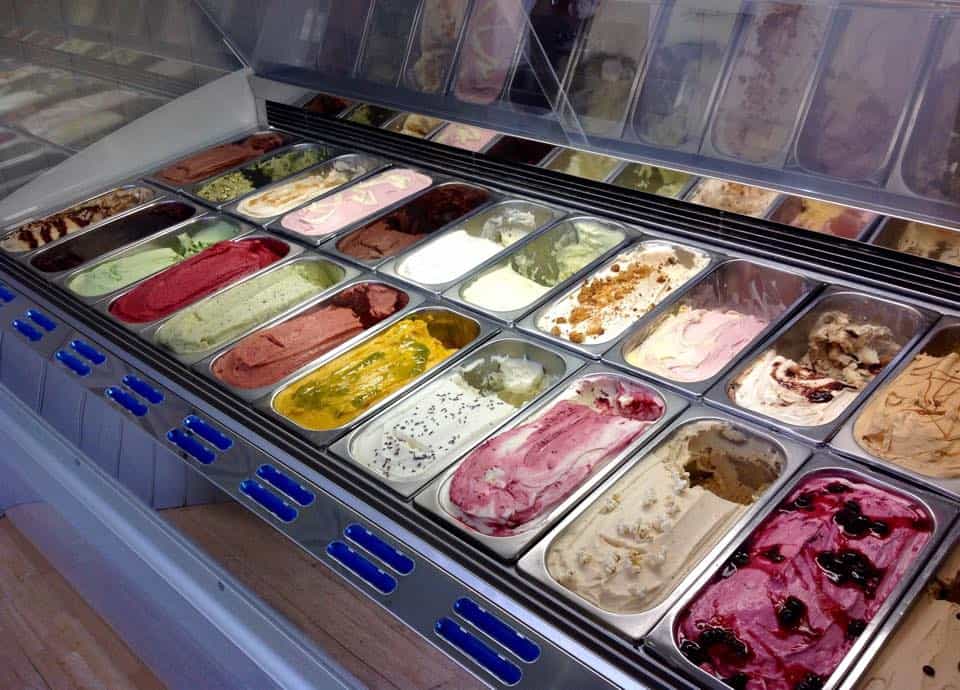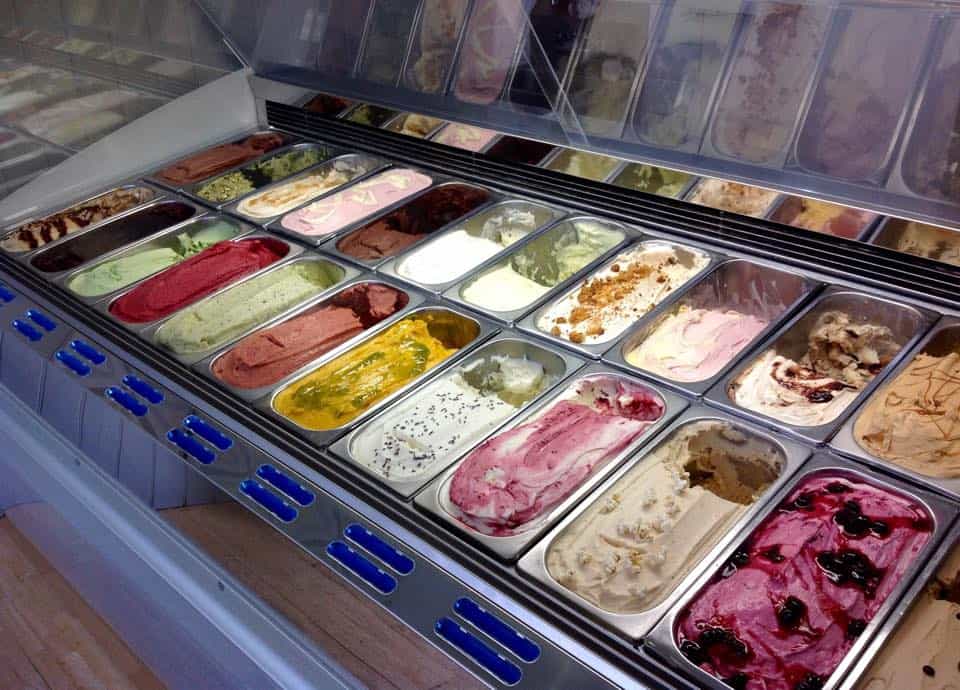 So Boho Gelato is all about ice cream/gelato/sorbet. It's close to Brighton Seafront & perfect for those on a gluten free diet but better still… its a great place for dairy free too.
If you are thinking of going, I would recommend the dairy free (and gluten free) Peanut Butter Sea Salt Caramel flavour. You won't regret it!
15. Pizza Face, 35 St Georges Road, Brighton, BN2 1ED (and other locations)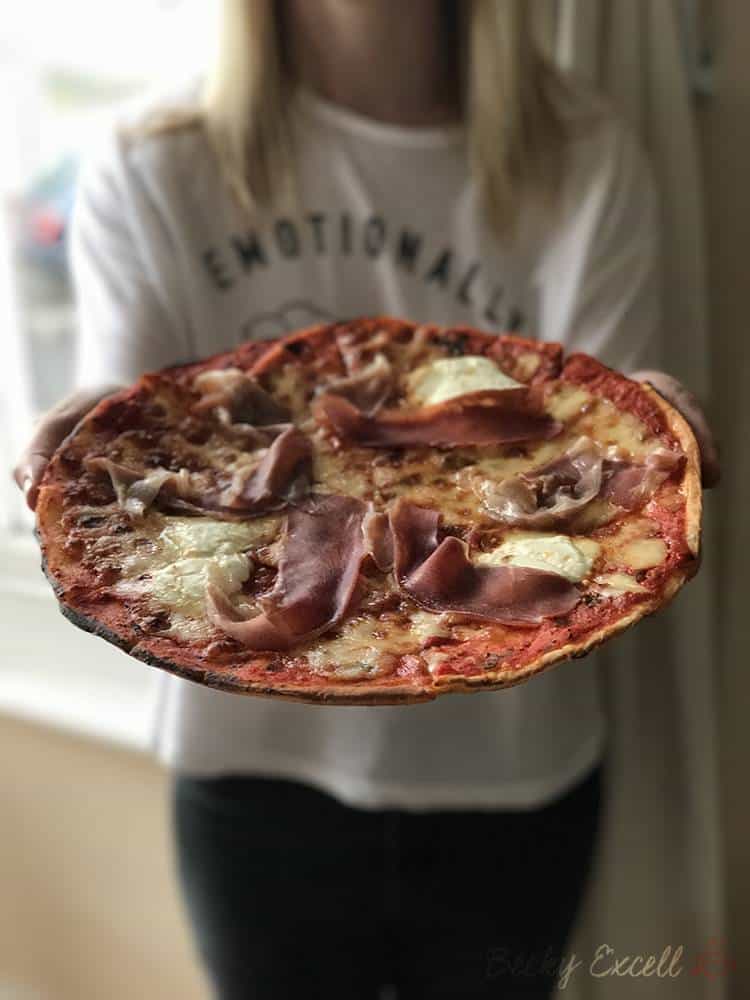 Pizza Face is our go-to choice for pizza delivery when it comes to gluten free in Brighton. I'd highly recommend a gluten free pizza called the Parma for a mouthwatering combo of prosciutto and large dollops of mascarpone cheese.
Mark always has his pizza with vegan cheese too, which is an added bonus. A place where you can have pizza gluten free and dairy free is always a top recommendation from me.
16. Foodilic, 163 Western Road, Brighton, BN1 2BB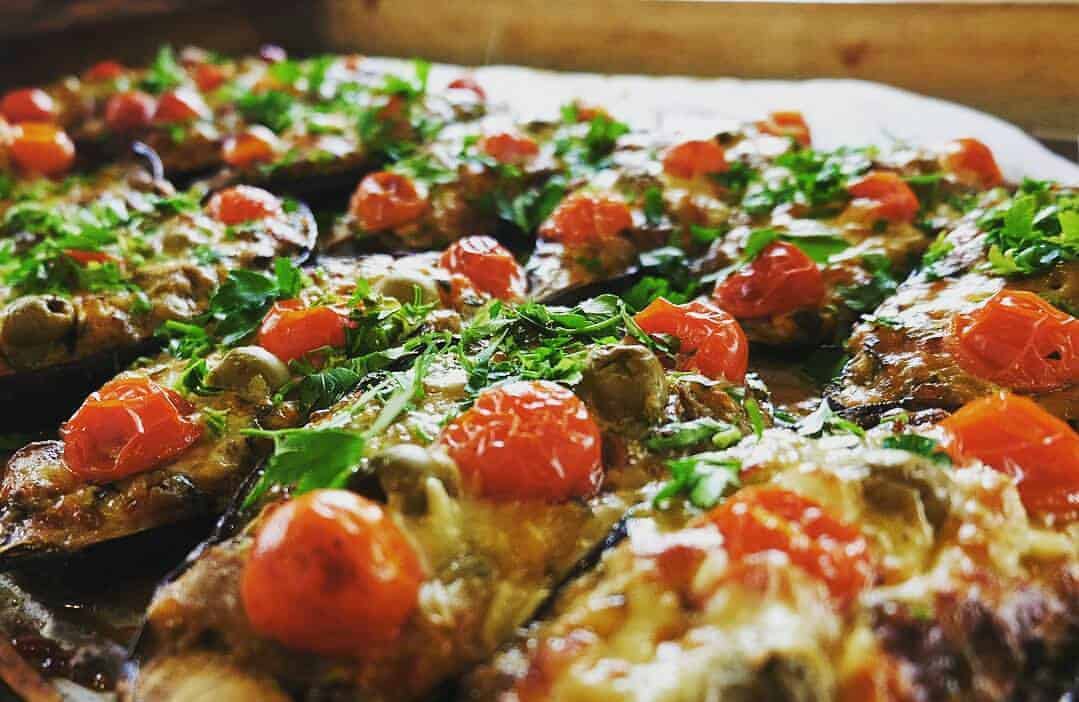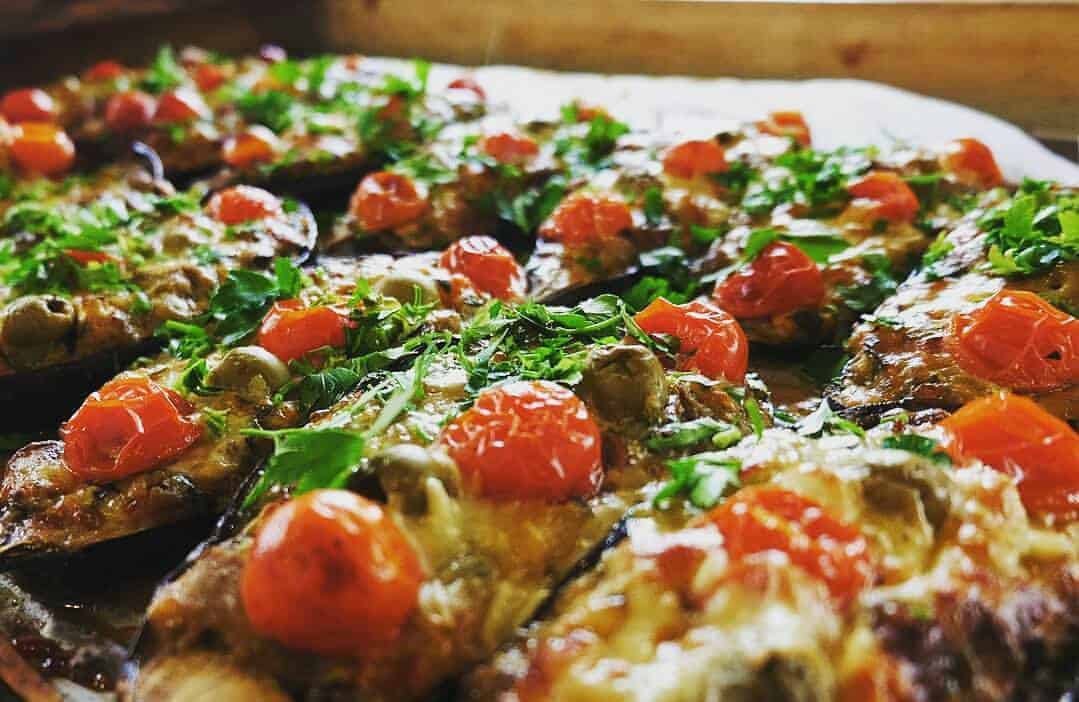 Another gluten free Brighton gem that I would recommend, especially at lunch time, is Foodilic. It's an eatery that prides itself on being not only delicious, but also highly nutritious.
The gluten free options at Foodilic are great. You can have some salmon or chicken alongside sweet potato wedges, salads, quinoa. There are gluten free quiches, savoury tarts, even gluten free custard tarts.
17. Morelli Zorelli, 40 Western Road, Hove, BN3 1JD
Another amazing place to get gluten free pizza in Brighton is Morelli Zorelli. Here you can sit in or have a takeaway (home delivery is even an option too).
All their gluten free pizzas are made on Venice Bakery UK pizza bases. If you've been following me for a while, you'll know their bases are one of my all time favourites.
18. The Chilli Pickle, 17 Jubilee St, Brighton BN1 1GE
The Chilli Pickle comes highly recommended by everyone I've ever met in Brighton and luckily for us, their gluten free options are great too.
You'll find endless choices of authentic Indian cuisine, from curries to hand-made gluten free dosas. Ask for the gluten free menu and thank me later.
19. Terre à terre, 71 East St, Brighton BN1 1HQ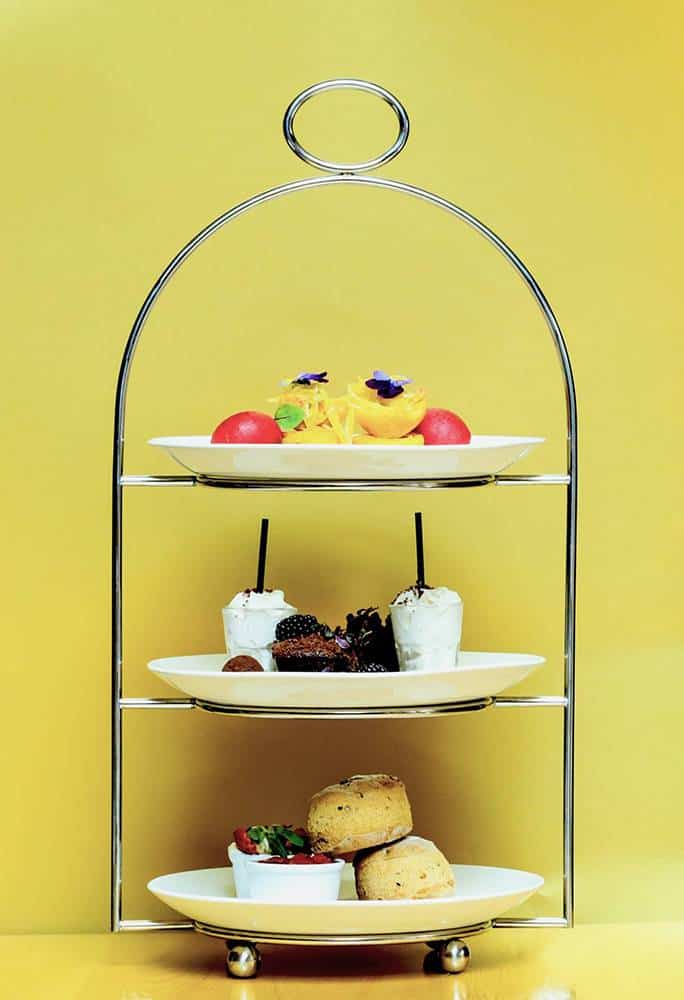 Terre à Terre is a vegetarian restaurant with endless gluten free choices. A great place for gluten free vegetarians as well as everyone else too. Trust me, meat eaters will not be disappointed!
They also offer an amazing gluten free afternoon tea option too.
20. Purezza, 12 St James's Street, Brighton BN2 1RE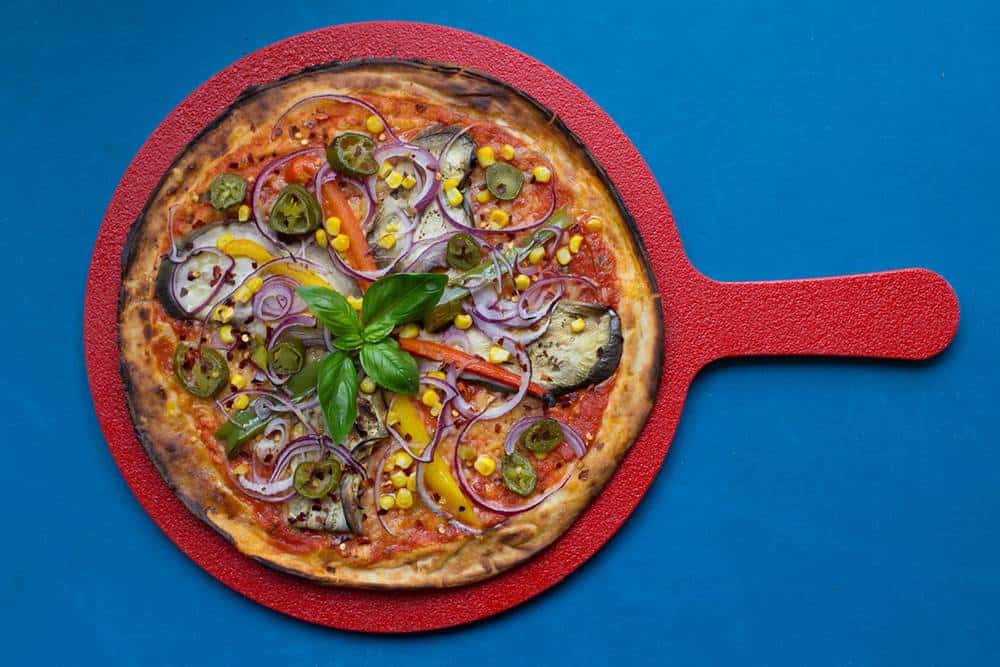 Purezza was the first vegan pizzeria in the UK. It offers amazing gluten free pizza bases as well as a mind-blowing gluten free mac 'n' cheese.
Remember all the cheese is dairy free here, trust me it's good! You can even have a gluten free cheese board… with dairy free cheese!
21. La Choza, 36 Gloucester Road, Brighton BN1 4AQ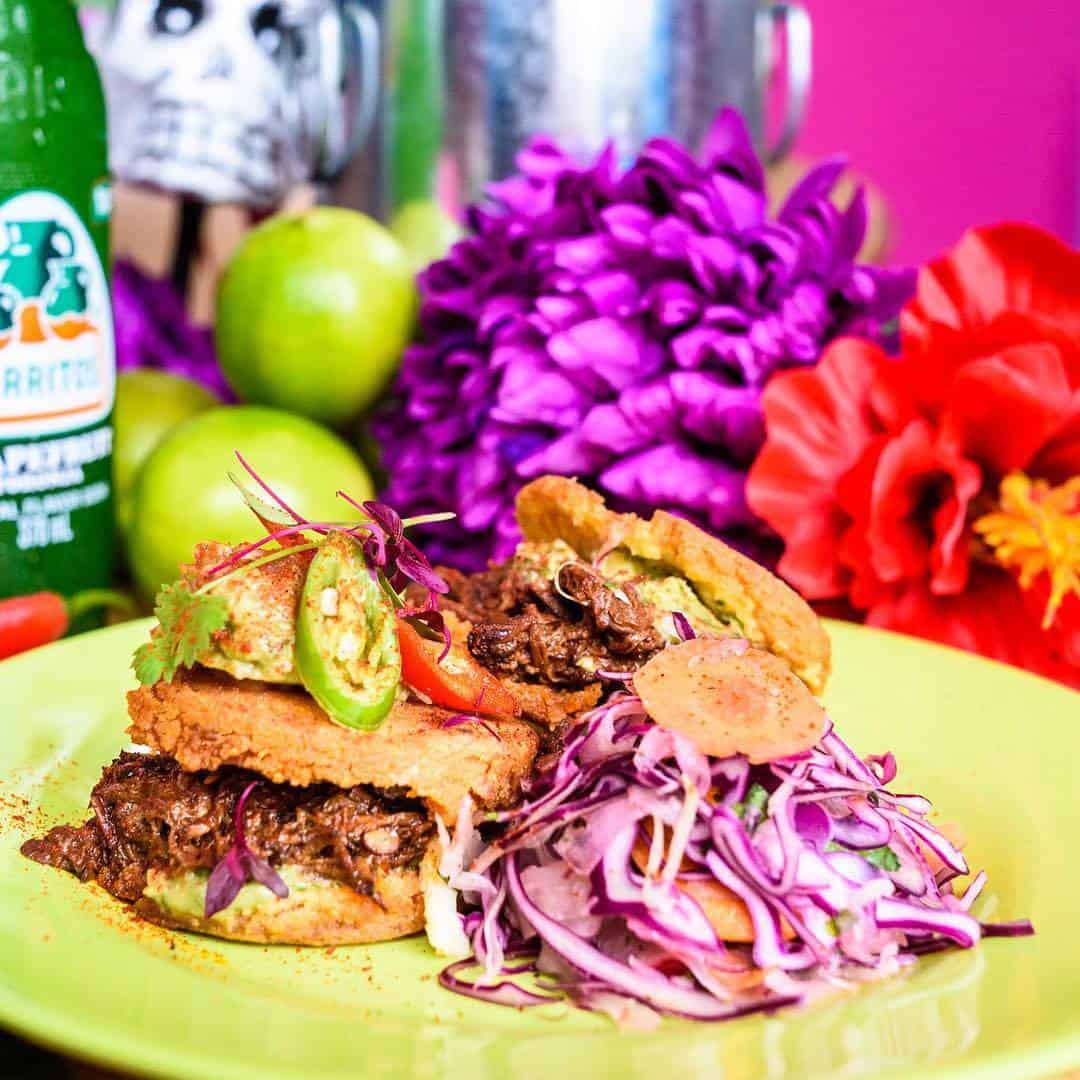 La Choza offers lots of gluten free Mexican options. Authentic Mexican cuisine is pretty positive for gluten free eaters generally and La Choza's soft corn tacos are great!
Definitely remember to book if you can. They also have a restaurant on Western Road but I would definitely recommend Gloucester Road, the atmosphere is tip top.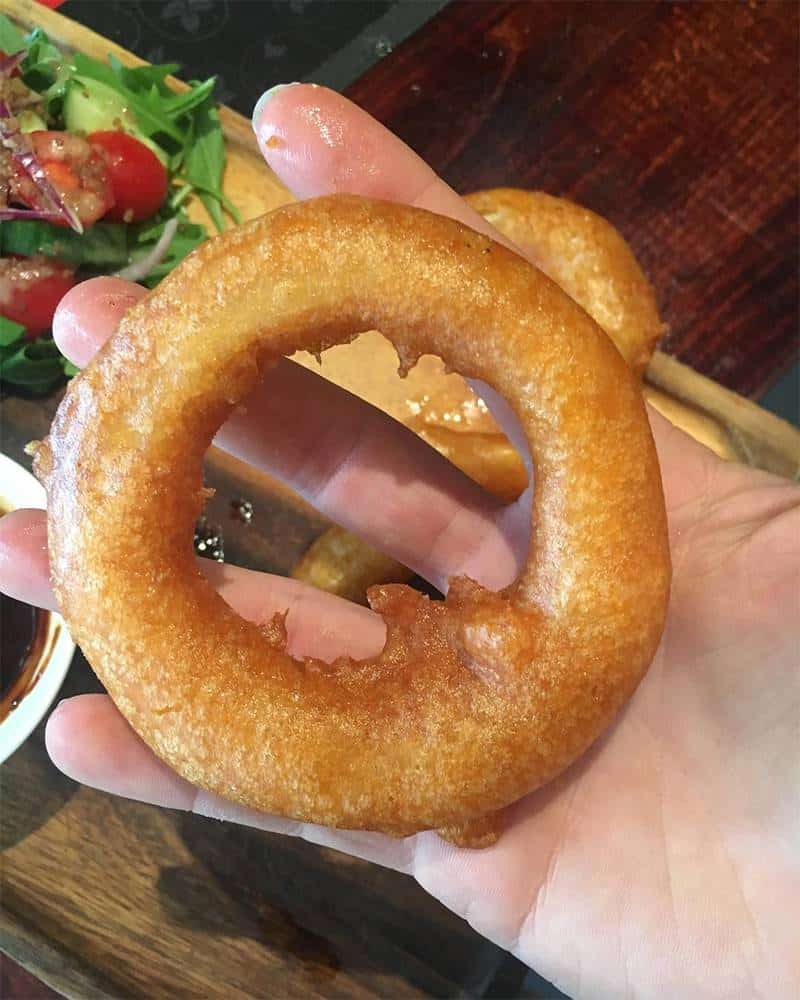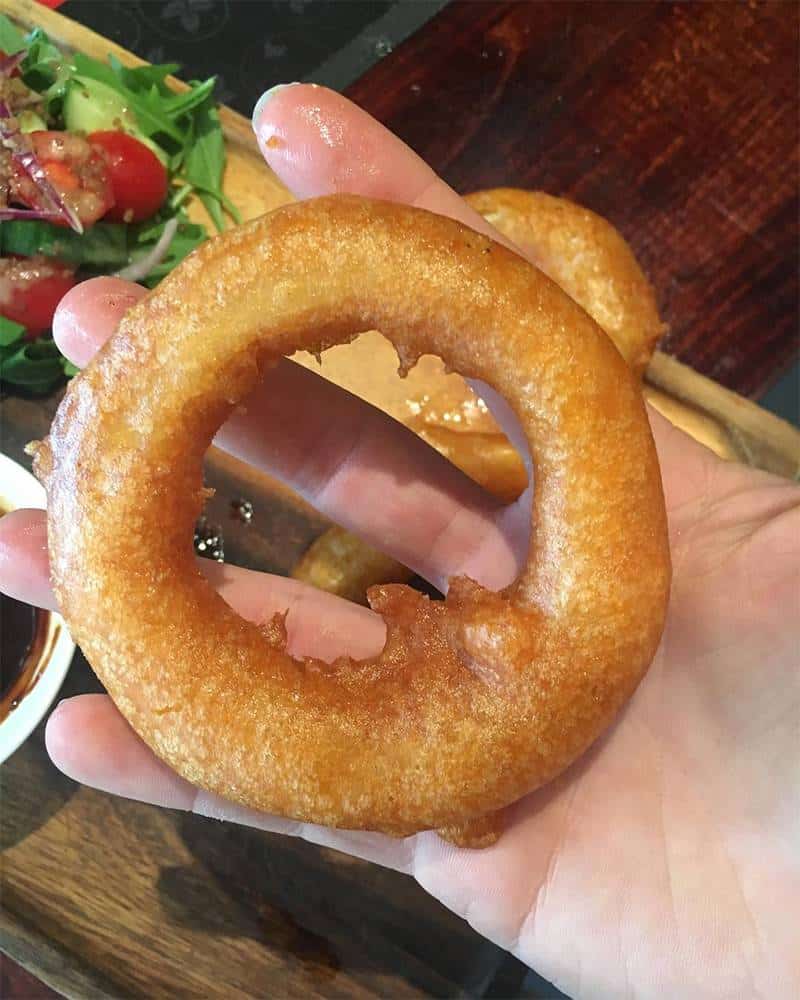 The Earth and Stars is a lovely pub that offers plenty of gluten free options from Sunday roasts, fish and chips to desserts and everything in between!
They are also one of the few places I've ever come across that serves gluten free beer on draught. Next round is on you!
23. Curry Leaf Cafe, 60 Ship St, Brighton BN1 1AE
The Curry Leaf Cafe creates amazing Indian street food from brunch until dinner.
The food served up is incredibly authentic which means a huge amount of it is gluten free. The menu is clear and shows both gluten free and dairy free options.
24. Iydea, 17 Kensington Gardens, Brighton BN1 4AL
Iydea is a great place to find gluten free options at lunchtime. It's a well loved Brighton insitution so don't be surprised that it's busy!
At lunch you go up and choose your main, sides and toppings, with gluten free options being clearly labelled. They serve breakfast too (gluten free bread is an option).
25. The Caxton Arms, 36 North Gardens, Brighton BN1 3LB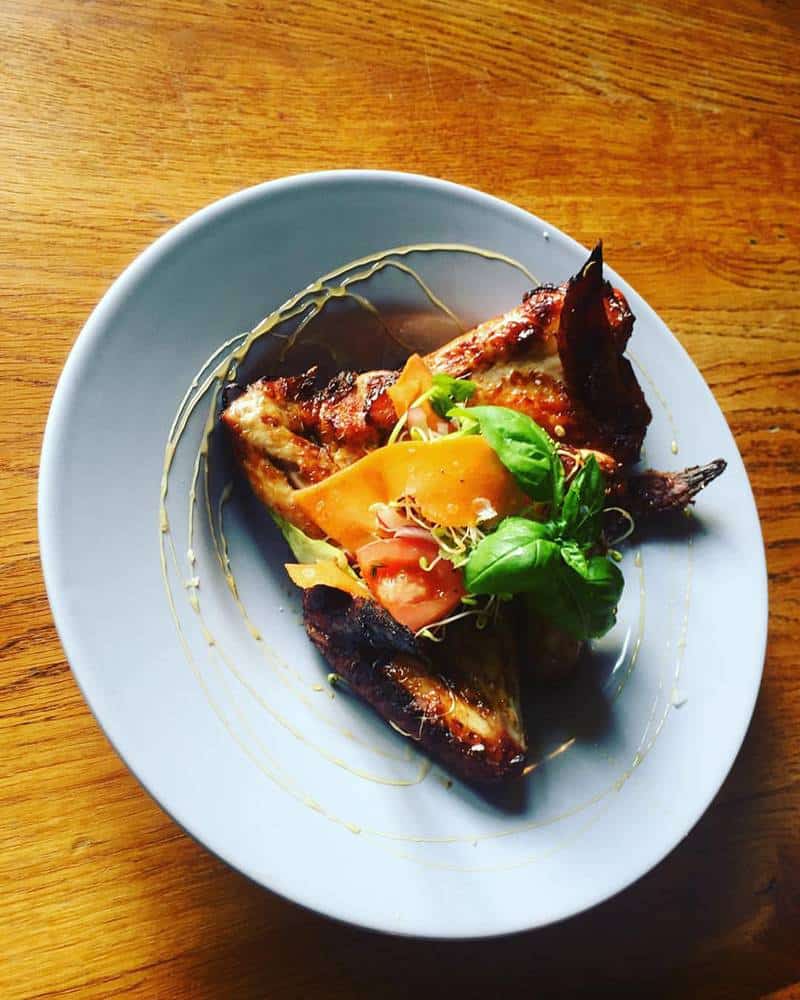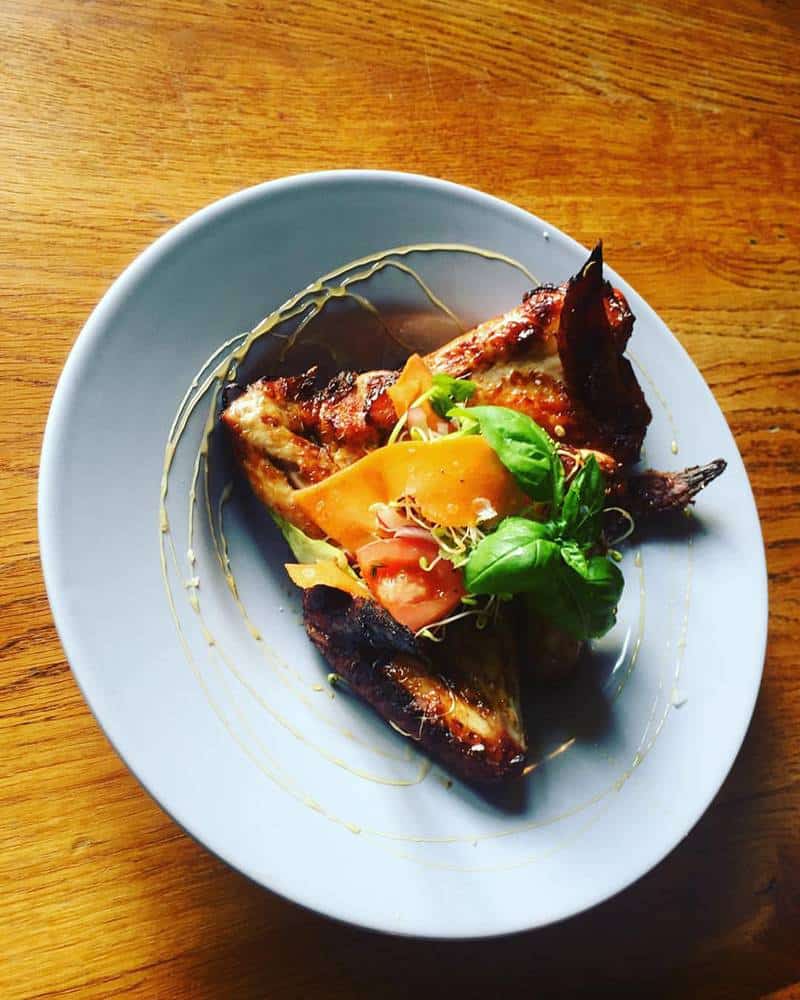 A classic Brighton pub with lots of gluten free options, including Sunday roasts.
The Caxton Arms has a really friendly atmosphere and is a little tucked away so it's not always too busy.
26. Loungers (Alcampo and Modelo) 84-86 London Road & 143/145 Church Road
You might have been to a Loungers somewhere else in the UK because they do have a few around. One of the best things about Loungers is that they have a really extensive separate gluten free menu.
There are lots of gluten free brunch options as well as gluten free burger buns for your burgers. Alcampo is just a really nice place to hang out too!
27. The Flour Pot Bakery, 40 Sydney St, Brighton BN1 4EP (and other locations)
The Flour Pot Bakery make fresh gluten free bread that is truly amazing. There's at least a couple of places in this list that get their gluten free bread from The Flour Pot Bakery and I always mention how amazing it is!
Most products in The Flour Pot Bakery are not gluten free but it's worth going for some fresh GF bread. You won't be disappointed.
28. The Walrus, 10 Ship St, Brighton BN1 1AD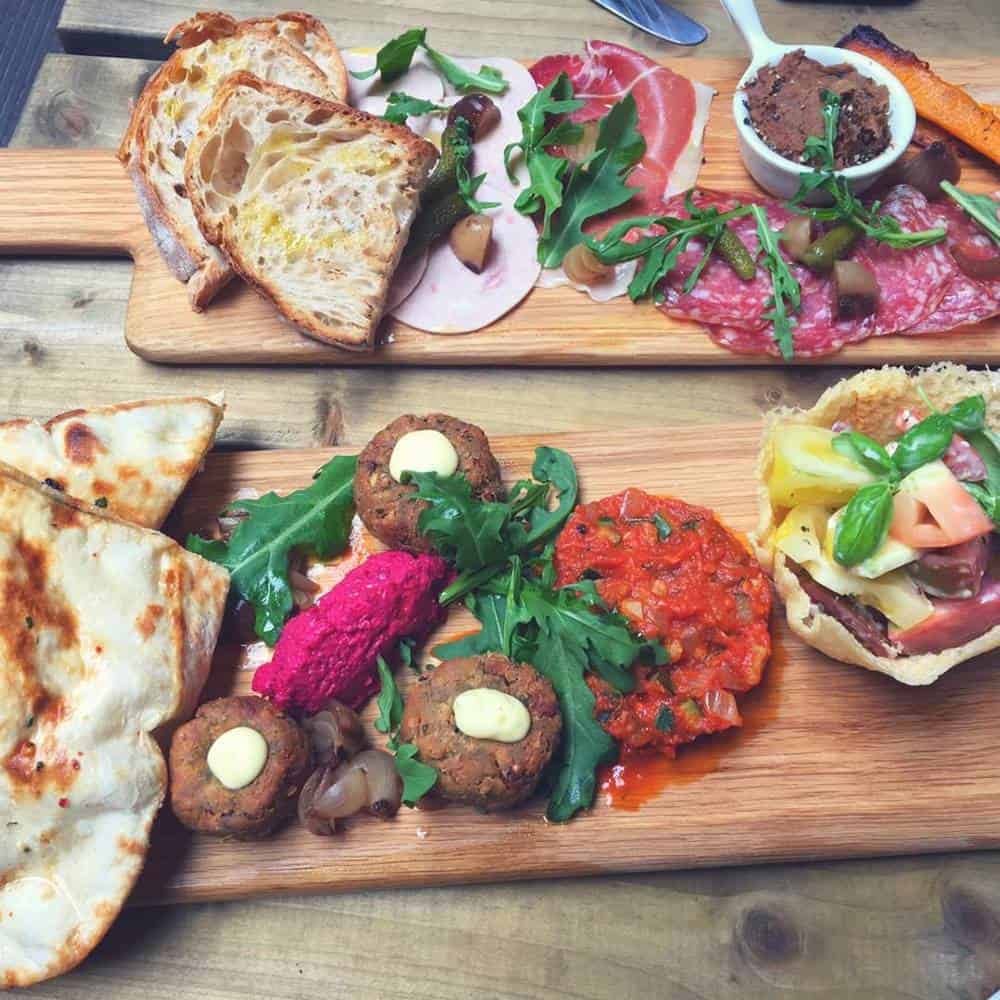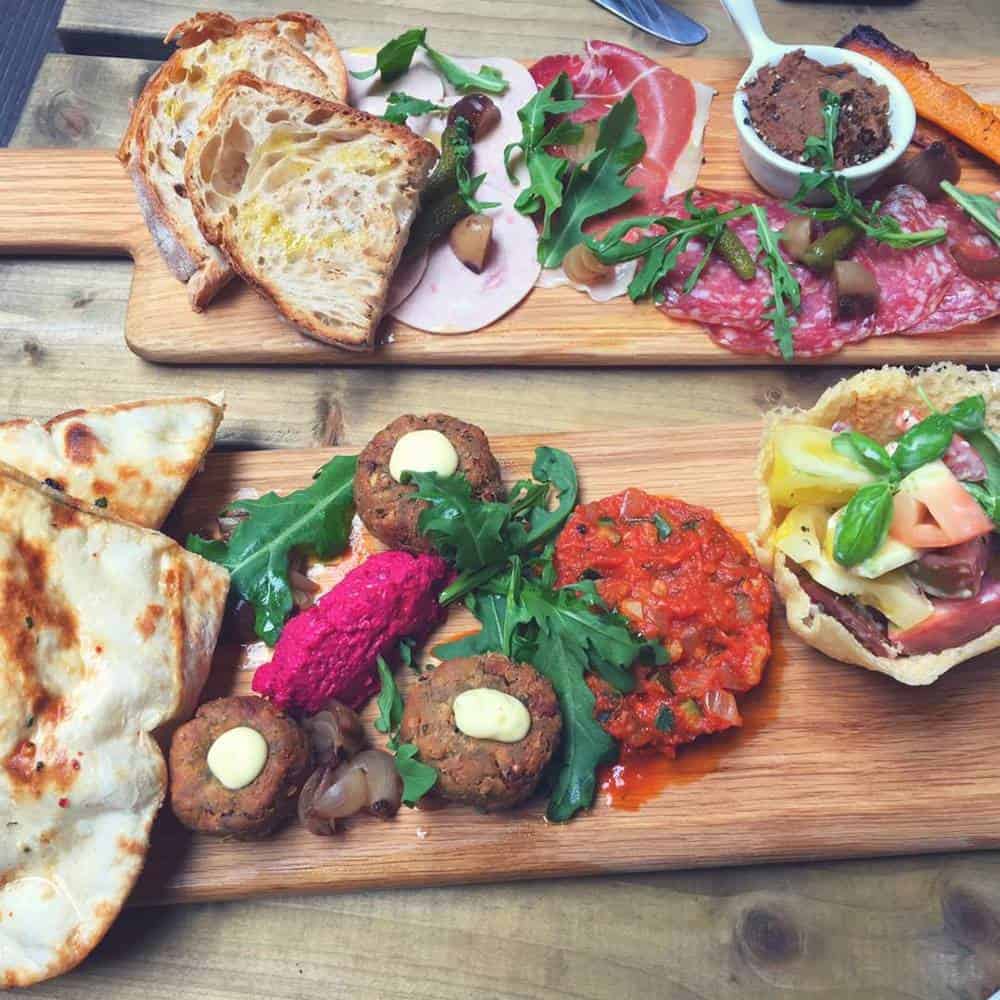 The Walrus is a beautiful pub inside and out. I love the style of this place and it has a whole lot of gluten free options to boot.
The highlight on the menu has got to be gluten free beer battered fish and chips. Considering Brighton is a seaside town it definitely isn't the easiest to find gluten free fish and chips at a sit down restaurant. But now, you only really need to find The Walrus now!
29. Cafe Coho, 83a Queens Rd, Brighton BN1 3XE (and other locations)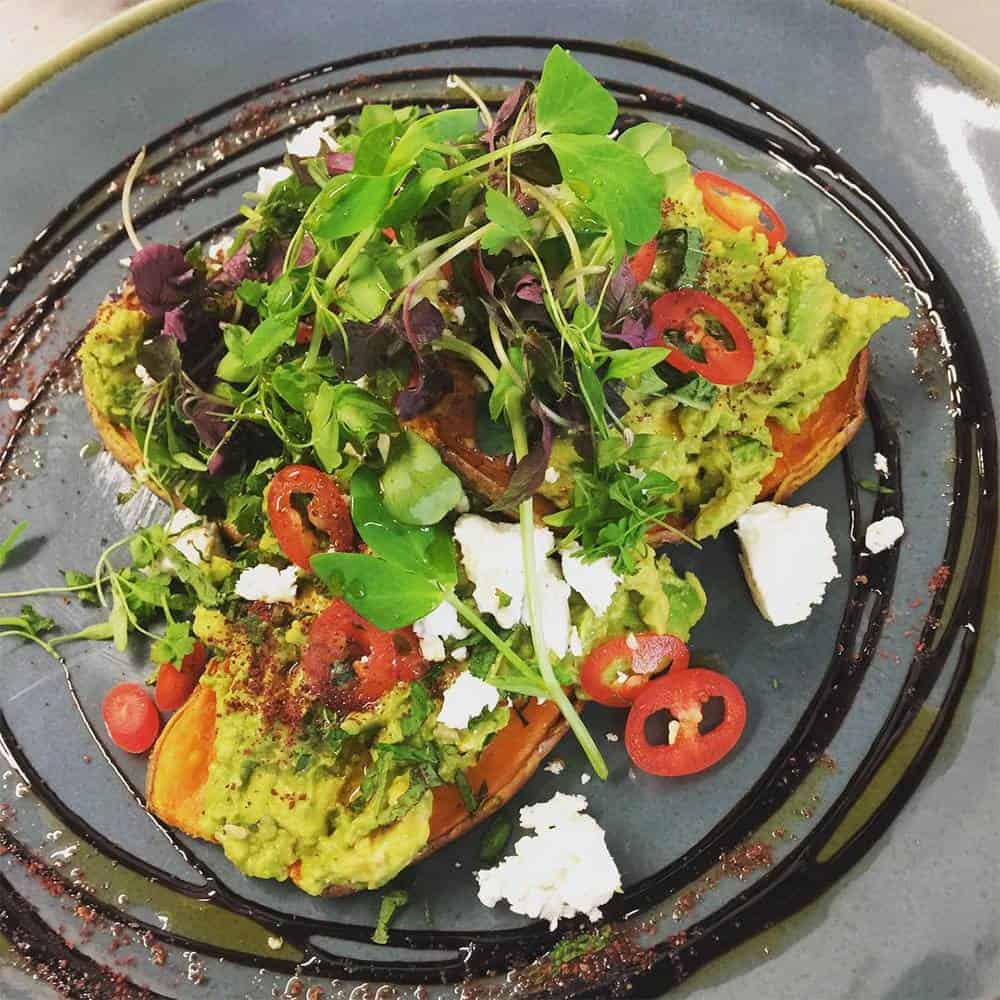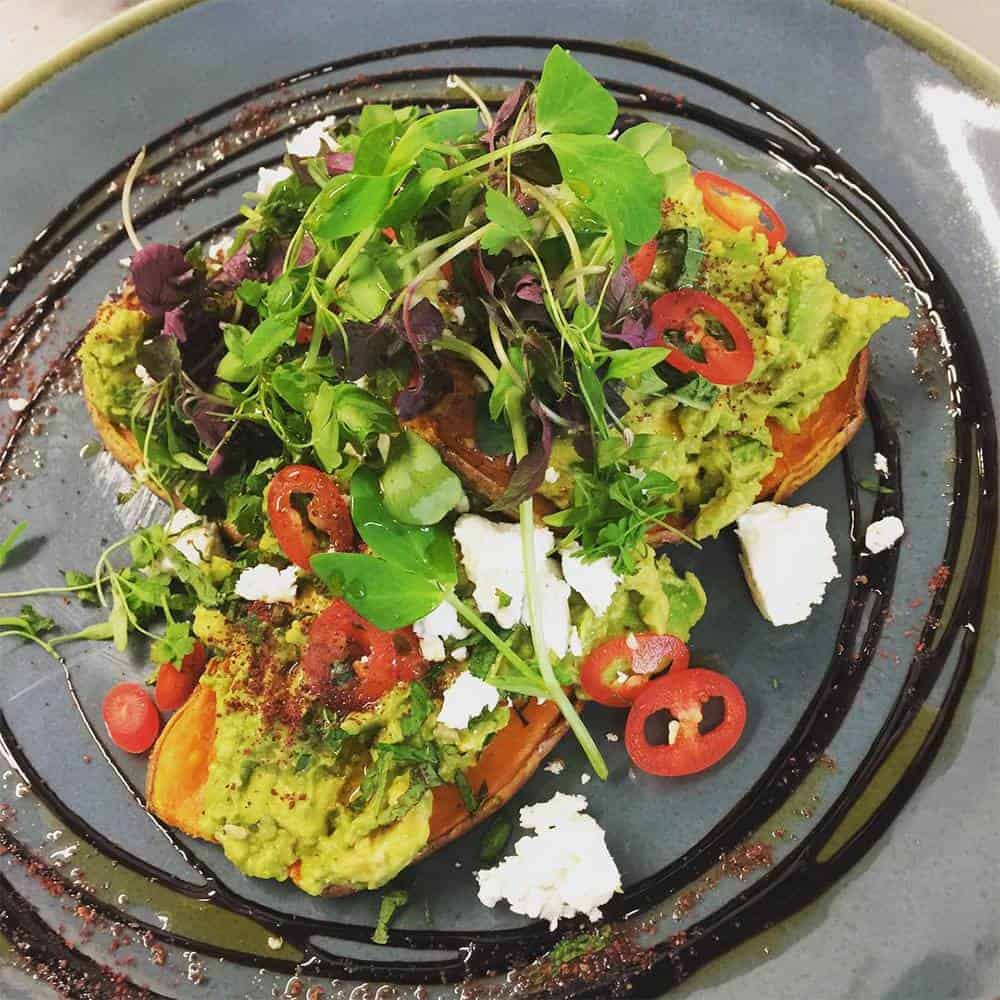 Cafe Coho is a lovely place to chill out with gluten free brunch options and gluten free cakes.
Whilst their Queens Road branch is perfect for somewhere near the station, I love the Ship Street cafe – it's a great place to people watch!
30. Wai Kika Moo Kau, 11A Kensington Gardens, Brighton BN1 4AL
The ever popular veggie and vegan hot spot, Wai Kika Moo Kau, should also be a hot spot for us gluten free folk.
They always have gluten free options, including some delicious gluten free cakes.
31. Metrodeco, 38 Upper St James's St, Brighton BN2 1JN
If you are looking for gluten free afternoon tea, then Metrodeco is the place for you.
As a side note, you do need to make them aware in advance that you're gluten free, so that they can prepare. If you can do that, they will most definitely prepare you something special!
32. The Almond Tree, 109C Dyke Rd, Brighton BN1 3JE
The Almond Tree is a little out of the centre of Brighton but a very worthwhile spot to visit if you are in the area.
Offering plenty of gluten free and vegan options, you will not come away hungry, only full of delicious gluten free food!
Brighton's Chain Restaurants
Of course, with Brighton being a city, it has a huge amount of chain restaurants, almost all of which offer gluten free options. I thought I would just list a few below if you fancy a chain restaurant on your gluten free Brighton adventure!
Phew, that was fun, wasn't it? Gluten free in Brighton really is a doddle when you know where to go, which is just one of the many reasons why Brighton is an amazing place to visit.
Of course, vegan options are everywhere too which means so many of these places cater for dairy free options too. Brighton is a place that's so welcoming to everyone from all walks of life, so of course, that means dietary requirements as well!
What I really want to know however, is what are your favourite places to enjoy gluten free food in Brighton? Did I miss anywhere off the list? Leave any suggestions in the comments below or on Facebook/Twitter.
Thanks for reading,
Becky xxx