Gluten free pancake recipes anyone? Whether it's actually Pancake Day or just an unofficial pancake day in your house, these 10 recipes are guaranteed to make you/your family say 'I can't believe this is gluten free'.
I've made a few gluten free pancake recipes on the blog, but today I thought I'd finally put them all in one place. I'm helpful like that! There's everything from crepes, to fluffy American style blueberry pancakes, galettes and more.
(though if you live in my house, you won't need more than the first recipe because being adventurous is scary)
So let's get started with crepes first of all (even though I just call them pancakes… anyone else the same?!) Here they are…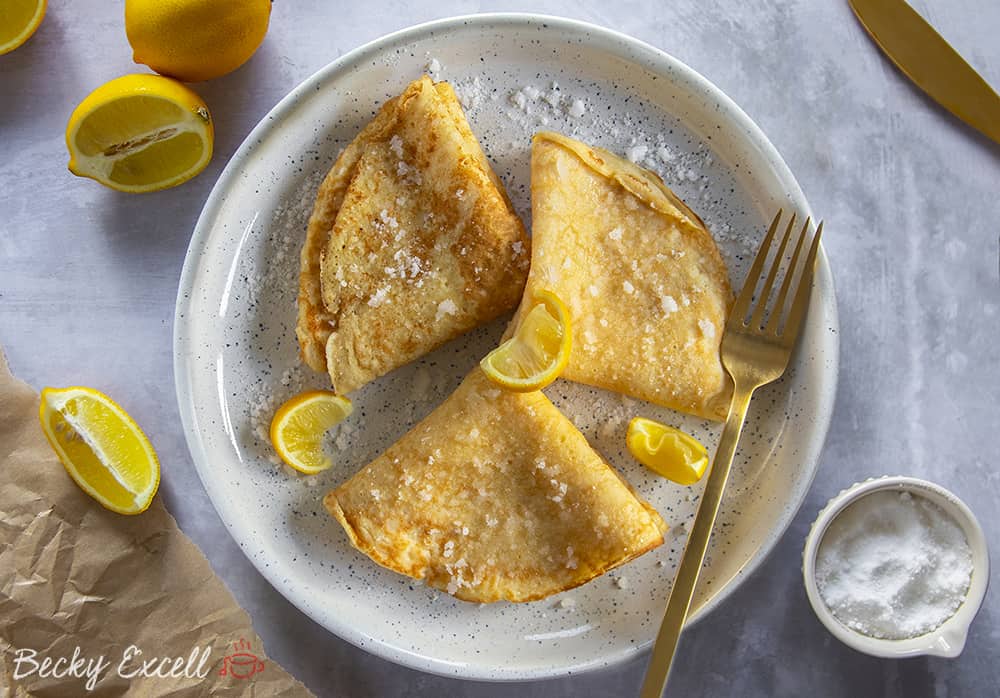 Now, you just can't beat a good gluten free crepe and that's why this recipe is first in at number one.
You actually only need 3 ingredients and a little oil for frying and you're ready for action. You can even use dairy free milk if you'd prefer and this recipe is low FODMAP too if you use lactose-free milk.
(also how have I made it this far into the post and not made a pancake pun yet?)
Well this recipe is flippin' awesome because you really can top it in soooo many different ways. I love the classic lemon and sugar combo, but my close faves are Nutella and banana as well as raspberries and strawberries with maple syrup…
I'm getting quite hungry just writing this!
But yeah, this is the recipe I think of when I say 'pancakes' but happily call them crepes if you'd prefer! Either way, this is pretty much the only gluten free pancake recipe you'll need on Pancake Day and beyond.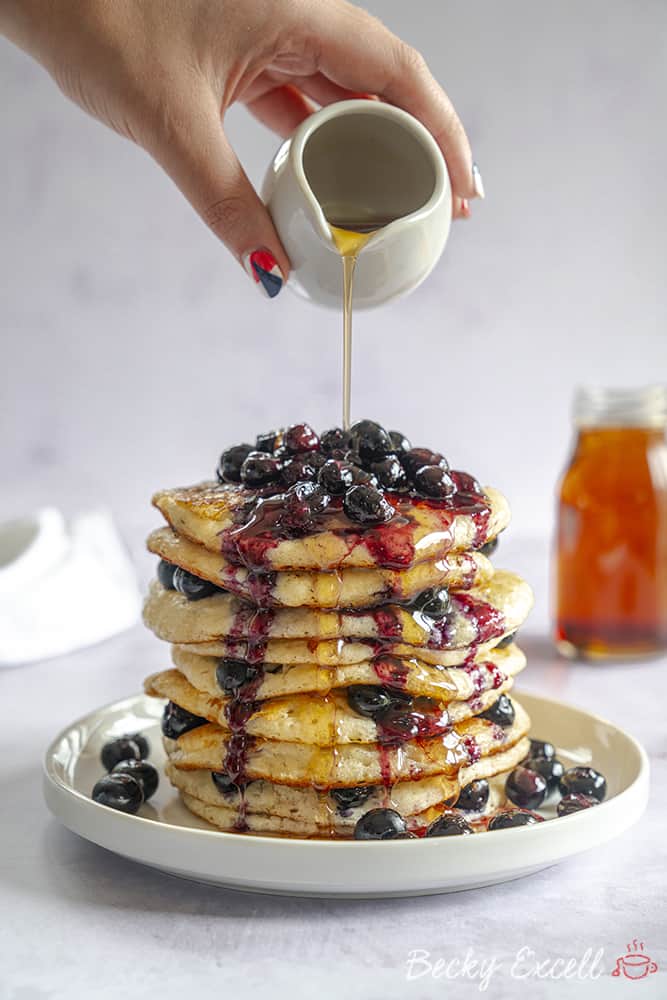 Next up in my gluten free pancake recipe round-up is my 5-ingredient blueberry pancake recipe.
Now this recipe is close to my heart because it's the first time I made light and fluffy pancakes that tasted how I remembered.
And yep, you guessed it – you only need 5 ingredients. Pretty crazy when you consider that one of the ingredients is blueberries, right?!
If you love a stack of pancakes instead of rolling them up then this is definitely the recipe for you. There's zero sugar in the pancakes (apart from the natural sugar in blueberries) so make sure you serve these up with a little maple syrup.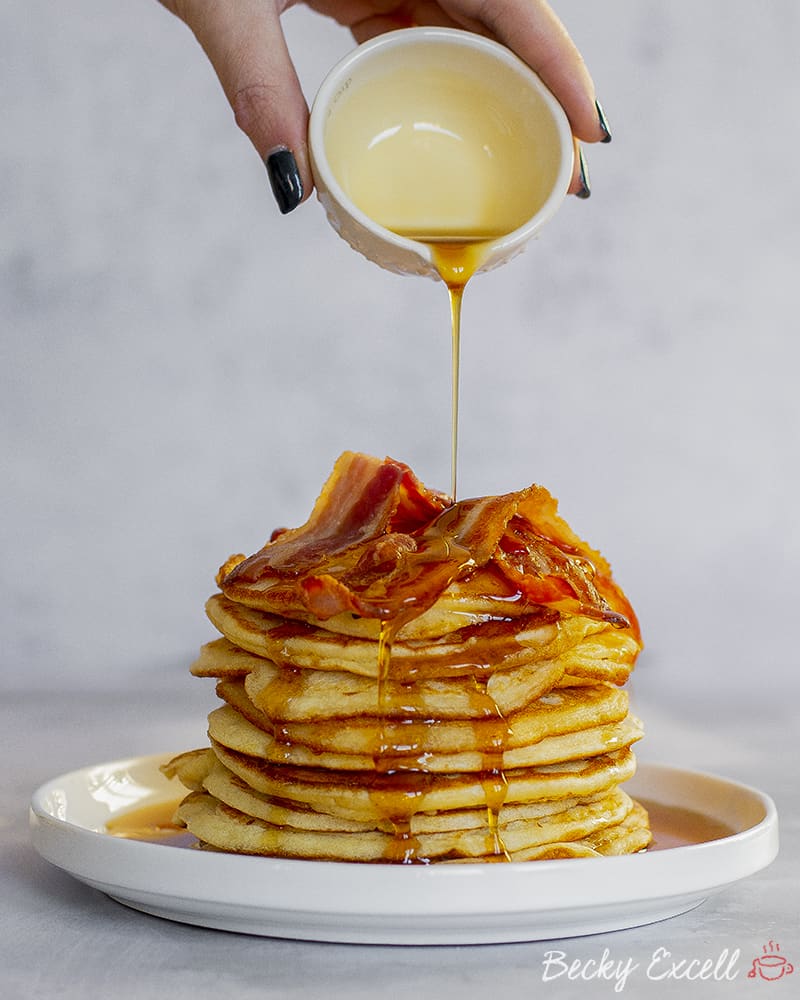 My first experience of American-style pancakes was on my final day in Disneyland Paris when I was about 7 years old.
We had a 'character breakfast' which basically is when Mickey, Minnie and the rest of the crew come round and say hello at your table.
It basically made my seven year-old life.
But what I remember equally as much were the amazingly thick yet fluffy pancakes they had out for breakfast every day.
(sorry Pluto, but you can't out-do good pancakes)
So I decided to create my own gluten free American pancakes recipe that reminded me of the first time I ever ate them – probably while looking a bit like this… (oh and don't forget to click here for the recipe.)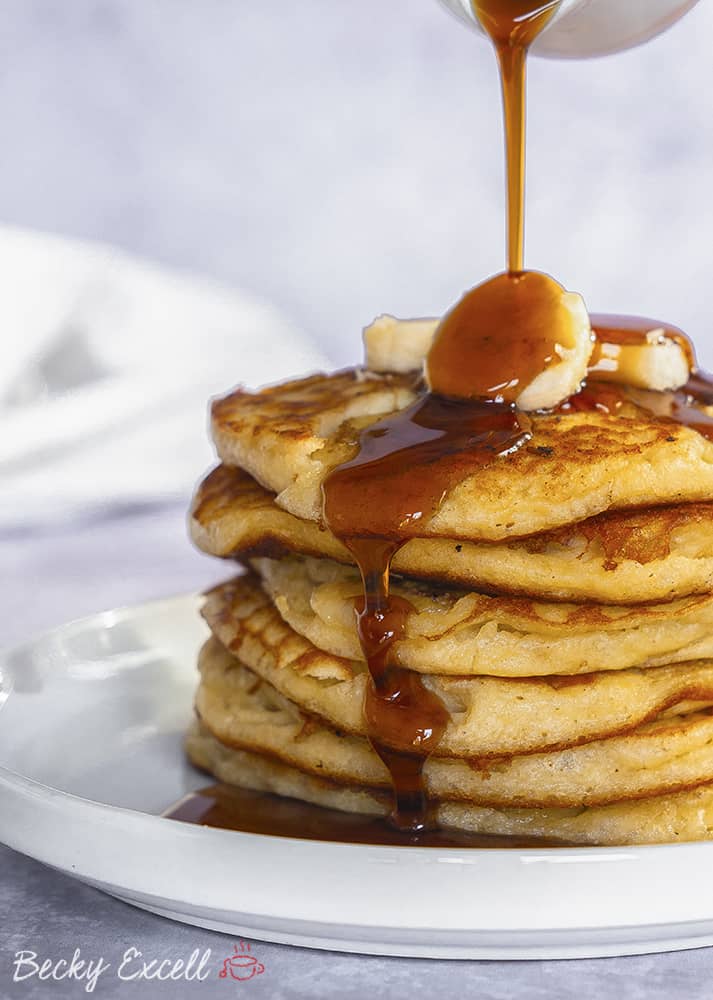 So far with all my gluten free pancake recipes, I've tried to keep things to the bare essential ingredients, with no added extras.
But with my triple banana pancakes, I really wanted to go the extra mile, throw in a few more ingredients and make something totally out of this world.
So not only do my pancakes have banana in them (twice) I also serve them up with a banana-infused syrup to nail the trilogy.
The result is a banoffee like stack of suuuuper thick pancakes that don't even need any topping… apart from maybe even more banana if you're a fanatic like me!
So if you're feeling like pushing the boat out, my gluten free triple banana pancakes recipe is the perfect place to start.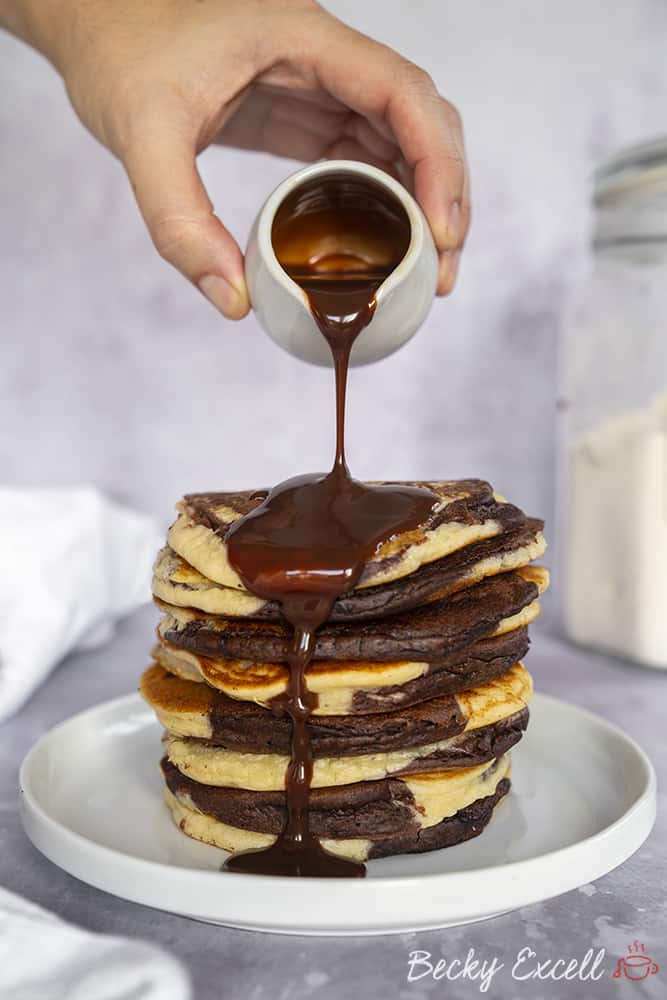 I mean, if you're looking to wow people with your gluten free pancakes, then stop right there! Thank you very much.
(sorry, I went full Spice Girls there for a second)
My gluten free marble pancakes taste as good as they look and honestly, they're not even hard to make.
I basically took my gluten free American pancakes recipe (listed at number 3), split the batter into two bowls, made one bowl vanilla-flavoured and the other one chocolatey.
That's not especially difficult now, is it?!
Then you just alternate spooning in your vanilla and chocolate pancake batter into the frying pan.
Lastly, simply take the back of your tablespoon and swirl it all around until it's all well-marbled. Sound good? Click here for the recipe.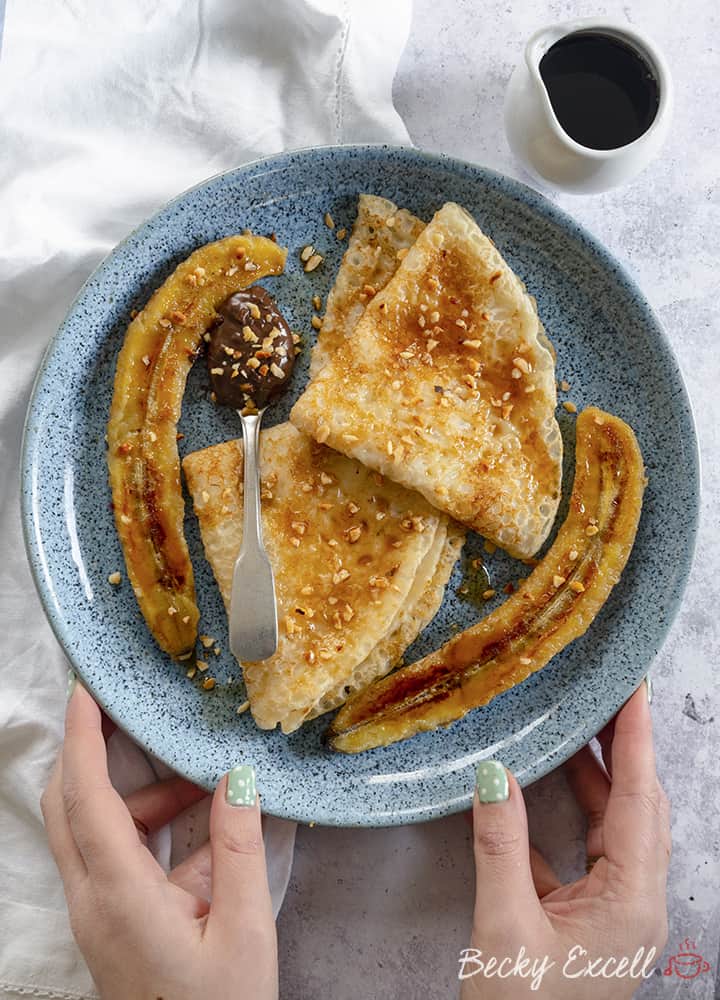 Eggs are in everything, which is a definite no-go if you're vegan… so that's basically 99% of all pancakes known to man ruled out!
So I really wanted to create a few vegan (and gluten free) versions of my fave pancake recipes, so there were options in this post for everyone.
(I definitely know that feeling when you look at a menu in a restaurant, or a list post like this and you can't even eat anything!)
And you know what? The vegan version of my crepes turned out to be amazing. I really thought that substituting the egg for baking powder would mean that they wouldn't bend/fold and they'd be really brittle… but nope.
They're everything you'd ever want in a crepe, so if you're gluten free and vegan, make sure you give them a try. Oh and only 4 ingredients too – crazy!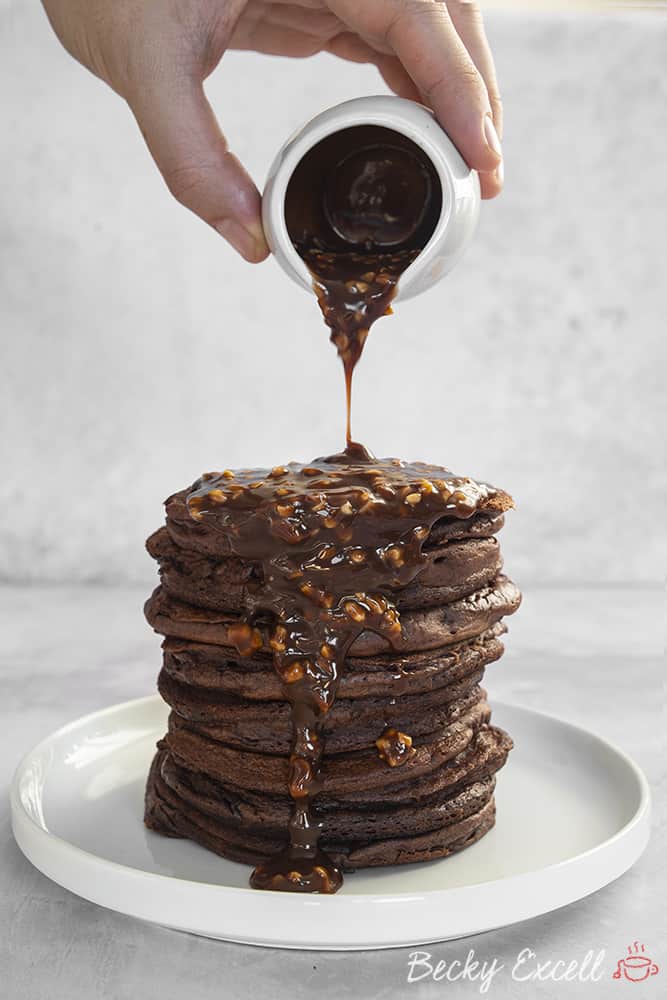 I think of pancakes as something you have for breakfast, but after creating my gluten free chocolate pancakes recipe… now I'm not so sure!
(if you do have this for breakfast though, you're clearly an absolute legend ?)
I really wanted to make these suuuper thick and I was really pleased with how they turned out… I mean, look at the thickness of them! They're super light, fluffy and sososo chocolatey.
Then the sauce – yaaaasss! I felt like having maple syrup with chocolate pancakes felt like a bit of a mis-match, so I decided to create my own Ferrero Rocher-style sauce instead.
It turns out that it was the greatest decision ever and not just because you only need 3 ingredients to make it. Purely because it tastes divine!
If you're already sold on making these, then click here for the recipe.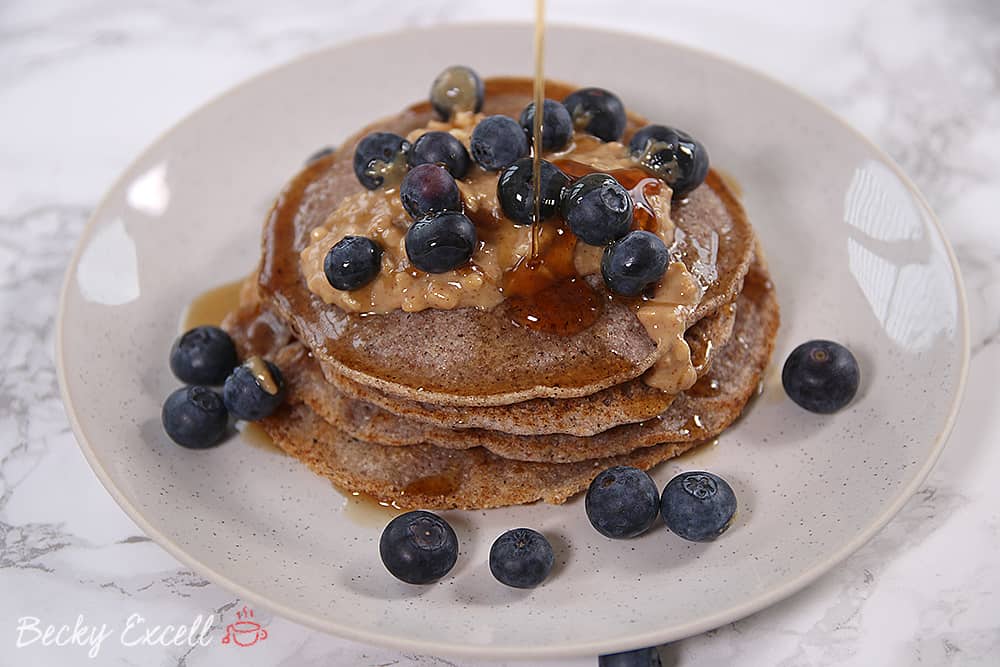 Ok, now we're in the realms of adventurous by my standards!
I'm sure most of you have tried buckwheat flour before, but here's the low down just in case…
Buckwheat flour is a wonderful gluten free flour to use as it has a bit more of a wholemeal, nutty taste. So actually, you can use this recipe for sweet or savoury pancakes, it's totally up to you.
But what's pretty awesome is that this recipe needs no eggs, making it totally vegan. And no, you don't need to use egg replacer, chickpea water or anything weird like that… it just works!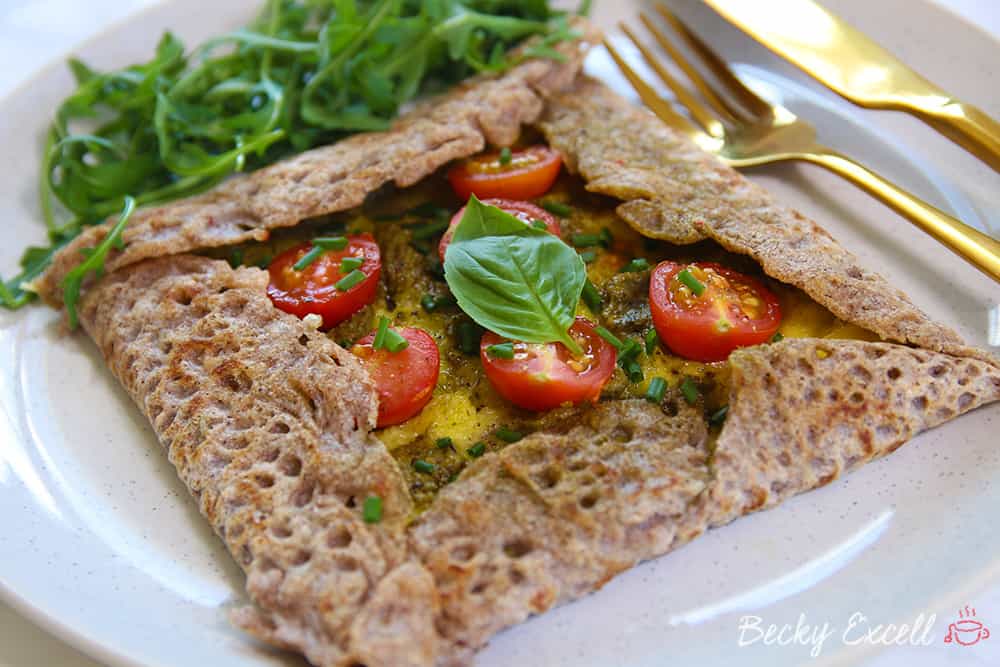 I created this simple gluten free pancake recipe right after I came back from Paris – my vegan buckwheat galettes with with pesto and dairy free cheese.
(ok I did unpack my bags first!)
The actual galette only has 3 ingredients – buckwheat flour, water and salt. That's it! You can happily use these for sweet fillings if you like, but in Paris, they're traditionally folded into a square shape with lots of lovely savoury fillings in the middle.
As this is another gluten free and vegan recipe, I opted for dairy free cheese and pesto which was amazing! Now I just need to book another trip to Paris ASAP…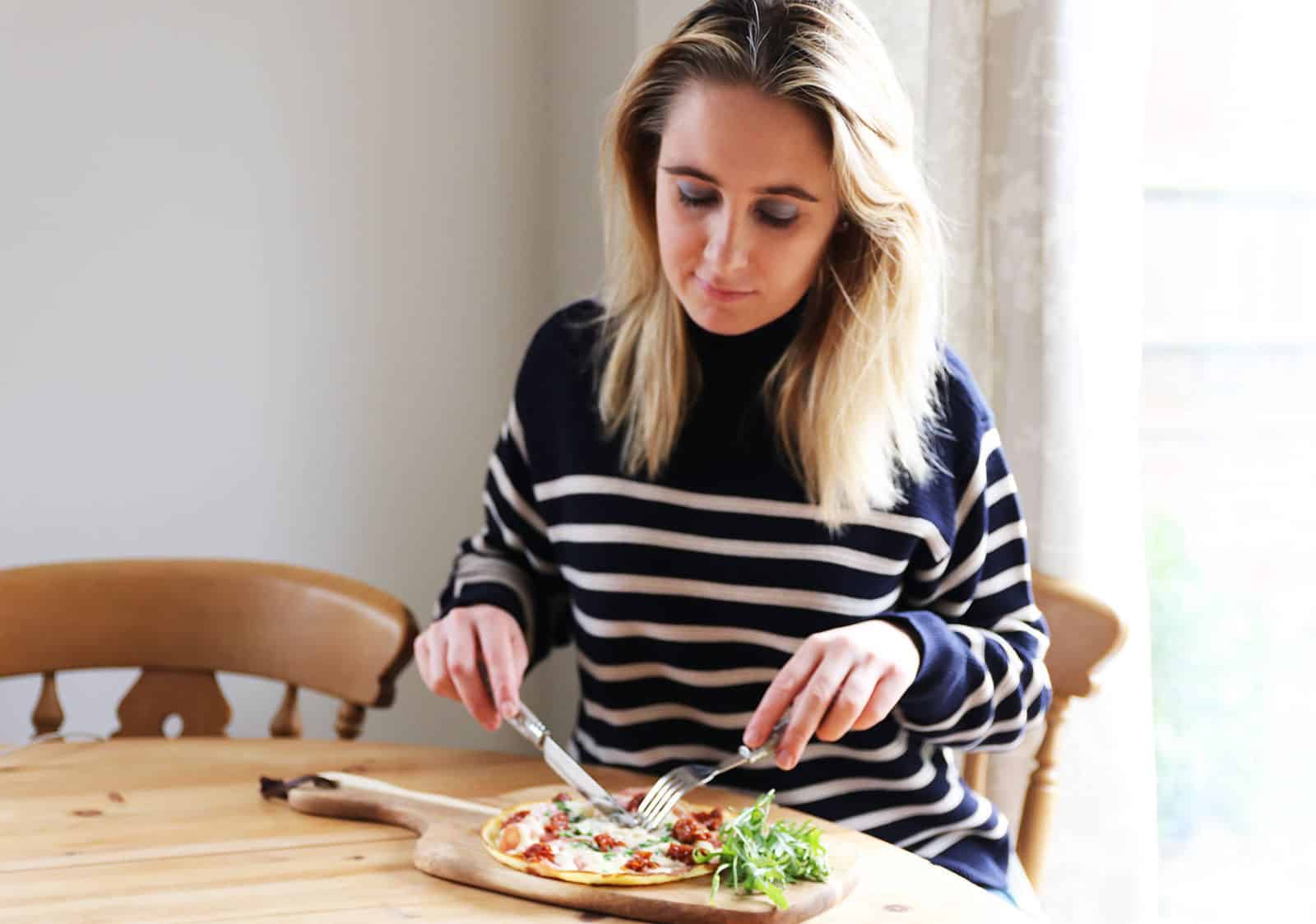 Here to confuse you when it comes to deciding whether or not it's acceptable to have savoury toppings on your crepes is my final gluten free pancake recipe!
Yep, this one is made with goat's milk and even has a homemade goats cheese sauce (and ham/sun-dried tomatoes) on top of it.
(because why not just break all the rules?)
If you're genuinely considering making this on pancake day, then hats off to you because you're clearly an 'outside of the box thinker' and all around pancake enthusiast.
Or, you just really bloody love goat's milk – I'm not sure which one!
Either way, click here for the recipe.
Enjoy!
Thanks for reading my round-up of the 10 gluten free pancake recipes you won't believe you can eat! If you make any of them, I'd love to see how they turned out so don't forget to take a snap of your creations and tag me on Instagram!
Plus, I'm giving away a £50 supermarket voucher every month to my fave pic, so get cooking!
Any questions about the recipe? Please do let me know by following me on Instagram and leaving me a comment!
Thanks for reading,
Becky xxx
Oh and don't forget to pin this for later!