Can gluten free pancakes really be dairy free and low FODMAP too? Oh yes. But being from the UK, when I say pancakes, I'm more referring to the thin, light Crêpes rather than thick, fluffy American style pancakes of course.
Gluten free pancakes or gluten free crêpes? In my mind, it doesn't matter what you call them, as long as you make me a big stack of them! Of course, these gluten free pancakes are dairy free as well as low FODMAP too… and guess what? They taste just like the pancakes my Mum used to make, rolled up with sugar and lemon. I've actually made a video showing you exactly how easy it is to make these gluten free pancakes so click the video above to watch the magic happen!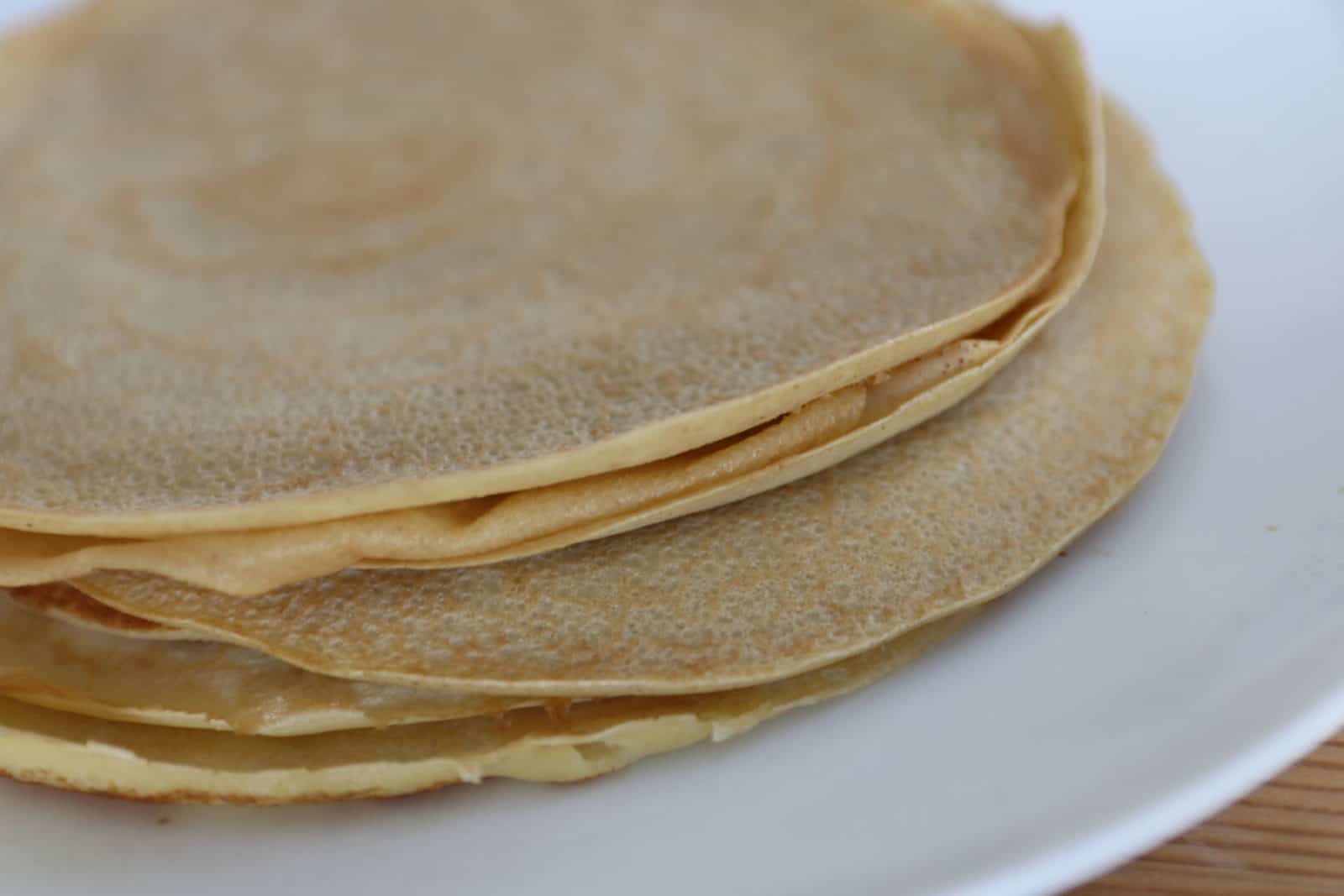 The reason I say that this is the only gluten free pancakes recipe you'll ever need is because, well… it just works! These pancakes will remind you of every good pancake day that you can remember (yes, even the ones when you could eat gluten if you can remember that far back!) These beautiful, light, crispy and thin pancakes can be rolled up, topped with fruit or just eaten with a little sugar and lemon. I'm only here to tell you how to make them, not how to eat them!
Pancake day is always a bit of an occasion in our house, because me and Mark simply can't eat at many of the enticing crêperies that keep popping up nowadays. Even our favourite 100% gluten free and dairy free pancake place in Brighton is shutting down this pancake day! 🙁 But that's why pancake day is so special to me and Mark… we finally get to eat gluten free pancakes that are dairy free and low FODMAP too! And where better to eat them than in your own home?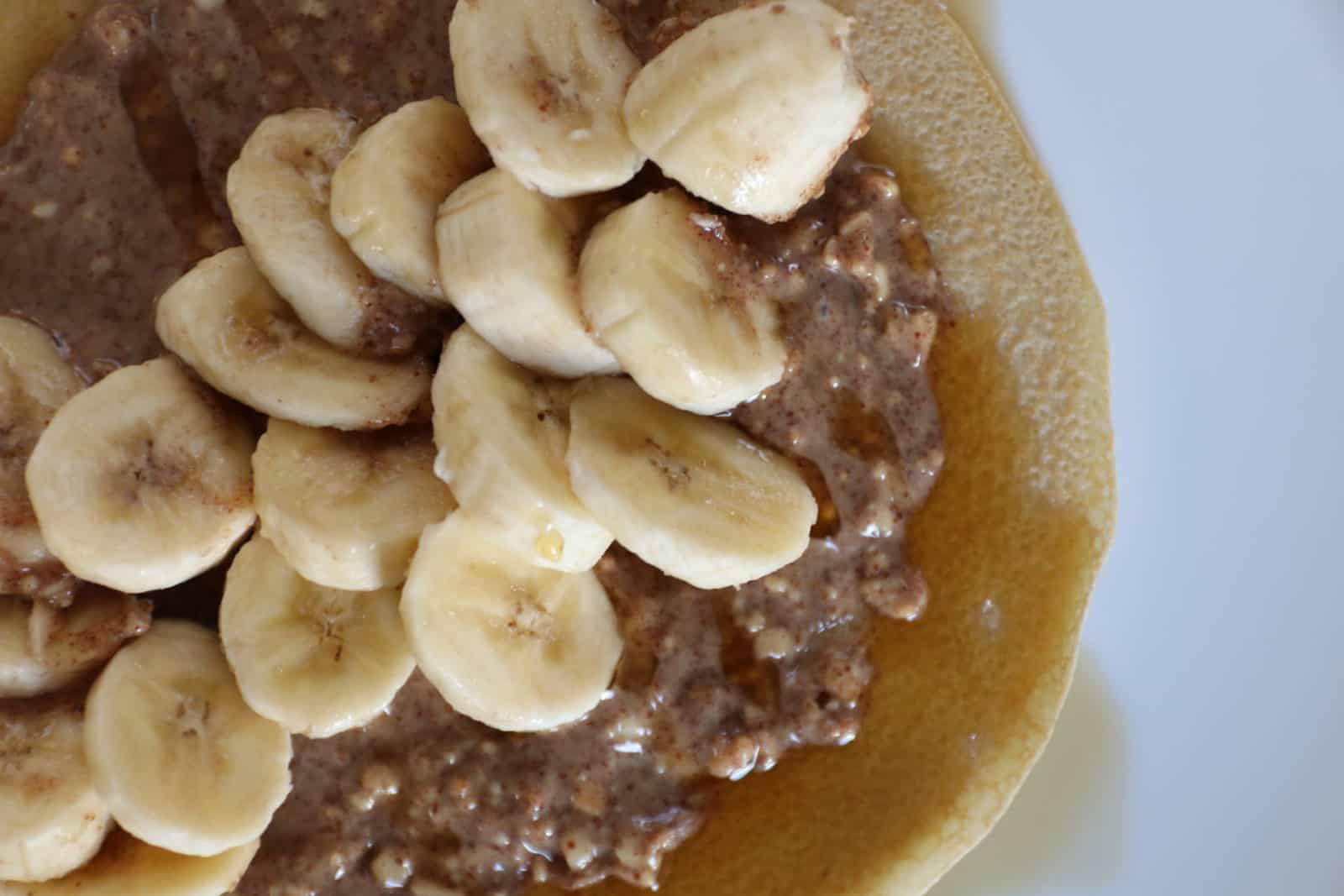 This gluten free pancake recipe is incredibly simple to make and definitely something that is not just for pancake day in our house. Gluten free pancakes should be made all year round; they are far too delicious to make once a year. We have a little conveyor belt system for making gluten free pancakes… I make the gluten free pancake batter, then Mark fries the pancakes and whilst he does that I prepare all the delicious toppings. As you can see on this occasion peanut butter, banana and maple syrup was the ticket, but gluten free pancakes are really versatile and facilitate so many different low fodmap toppings. My homemade dairy free 'nutella' / low fodmap chocolate spread is perfect on gluten free pancakes too, click here for the recipe if that's something you'd prefer!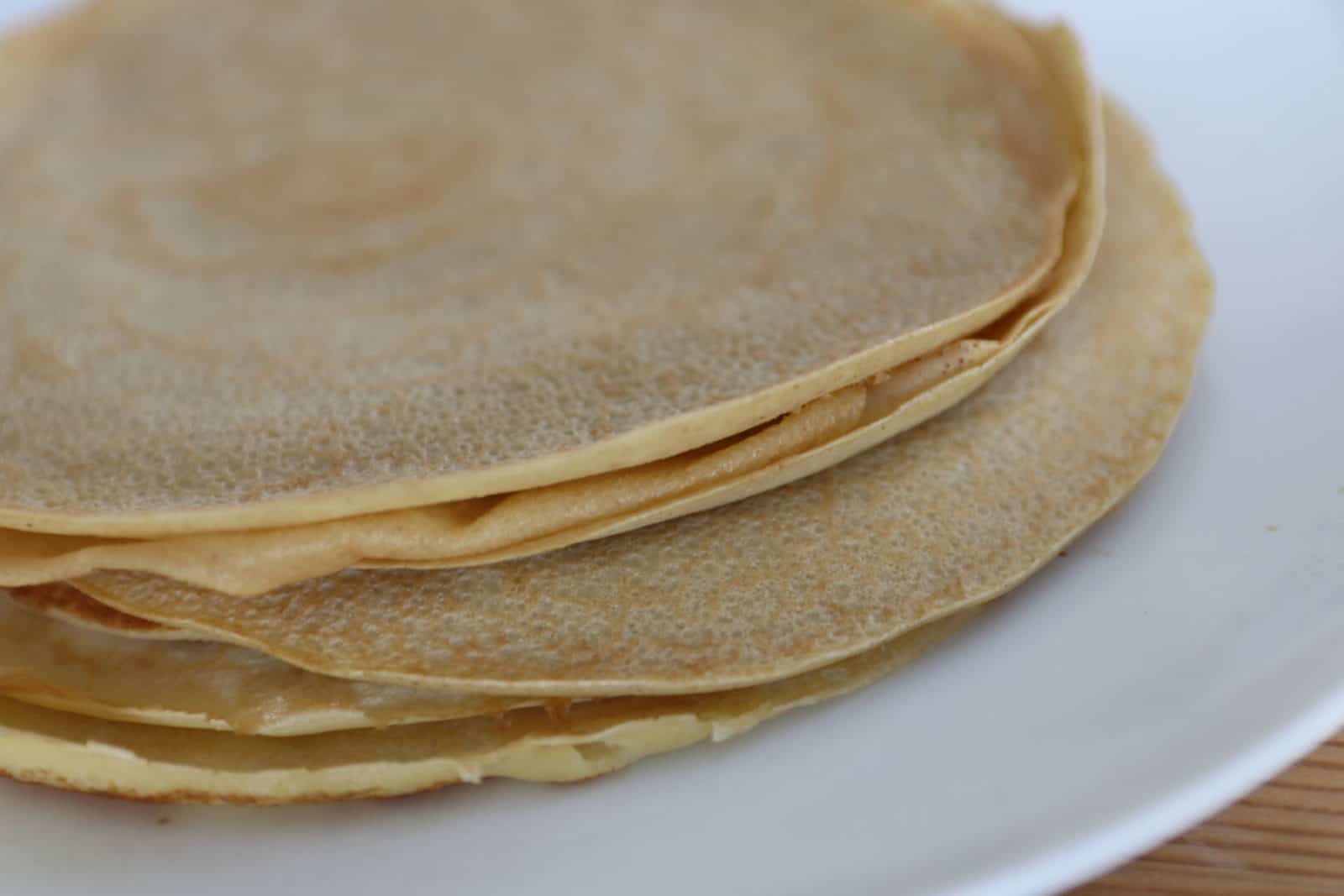 Gluten Free Pancakes / Crepes Recipe
2017-07-21 22:47:18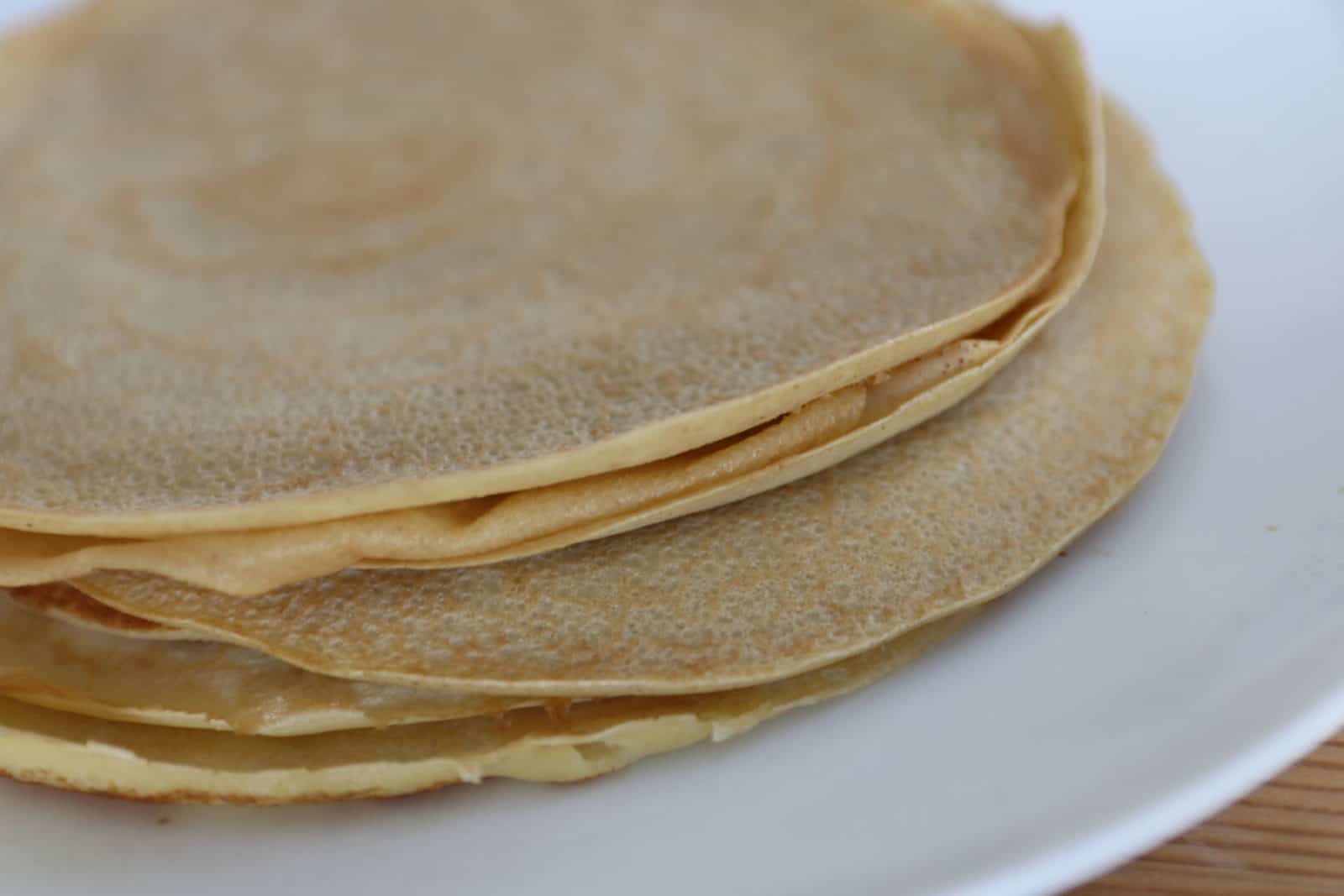 Serves 2
Ingredients
* 110 g Gluten Free Plain Flour
* 2 Large Eggs
* 230 ml Dairy free milk or Lactose free milk
* Oil or Dairy-free spread For frying
* Your choice of toppings
Instructions
1) Pour your gluten free plain flour into a mixing bowl.
2) Crack in two large eggs and whisk / beat together until smooth.
3) Gradually pour in your dairy free milk whilst whisking. Do this until you have a lovely thin gluten free pancake batter. Place in a jug ready to make your pancakes!
4) Heat a little oil or dairy free spread in a frying pan, make sure the pan is nice and hot!
5) Pour the batter evenly into your frying pan, and tilt the pan to ensure the entire base is covered.
6) Fry on each side for around 30 seconds.
7) Maybe a cheeky flip?!
8) Repeat till you have enough pancakes for everyone.
9) Top with fodmap friendly fruit such as bananas & blueberries, or whatever takes your fancy!
Enjoy!
Notes
The toppings featured in this post are peanut butter, banana and maple syrup but whatever is your cuppa tea will do!
Gluten Free Cuppa Tea | Food blog based in London, UK. Low FODMAP. Dairy free Recipes.. https://glutenfreecuppatea.co.uk/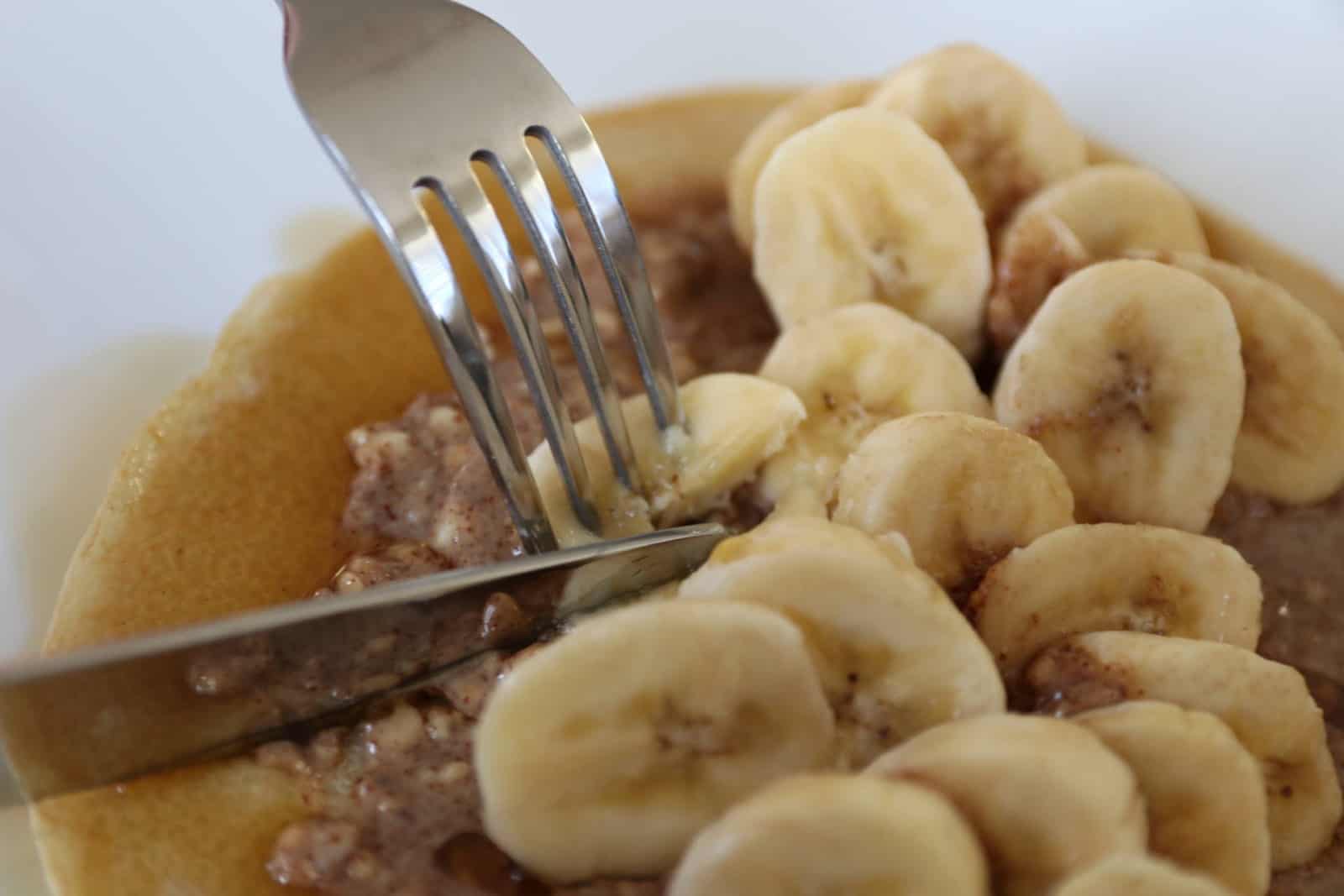 It would be really interesting to know what your ultimate gluten free pancake toppings are. Do you keep it simple? Or, do you go all out with a full on indulgent feast?! I guess it's just whatever floats your boat. Anyway, let me know by leaving a comment below, or on Facebook/Twitter.
Enjoy making these gluten free pancakes. Remember they are every bit as much dairy free pancakes too AND low fodmap – for me and Mark, the perfect combination! (Oh and also absolutely delicious!)
I hope to hear that some of you have attempted a few gluten free pancake flips!
Thanks for reading and watching,
Becky xxx
Oh, and don't forget to pin this before you leave!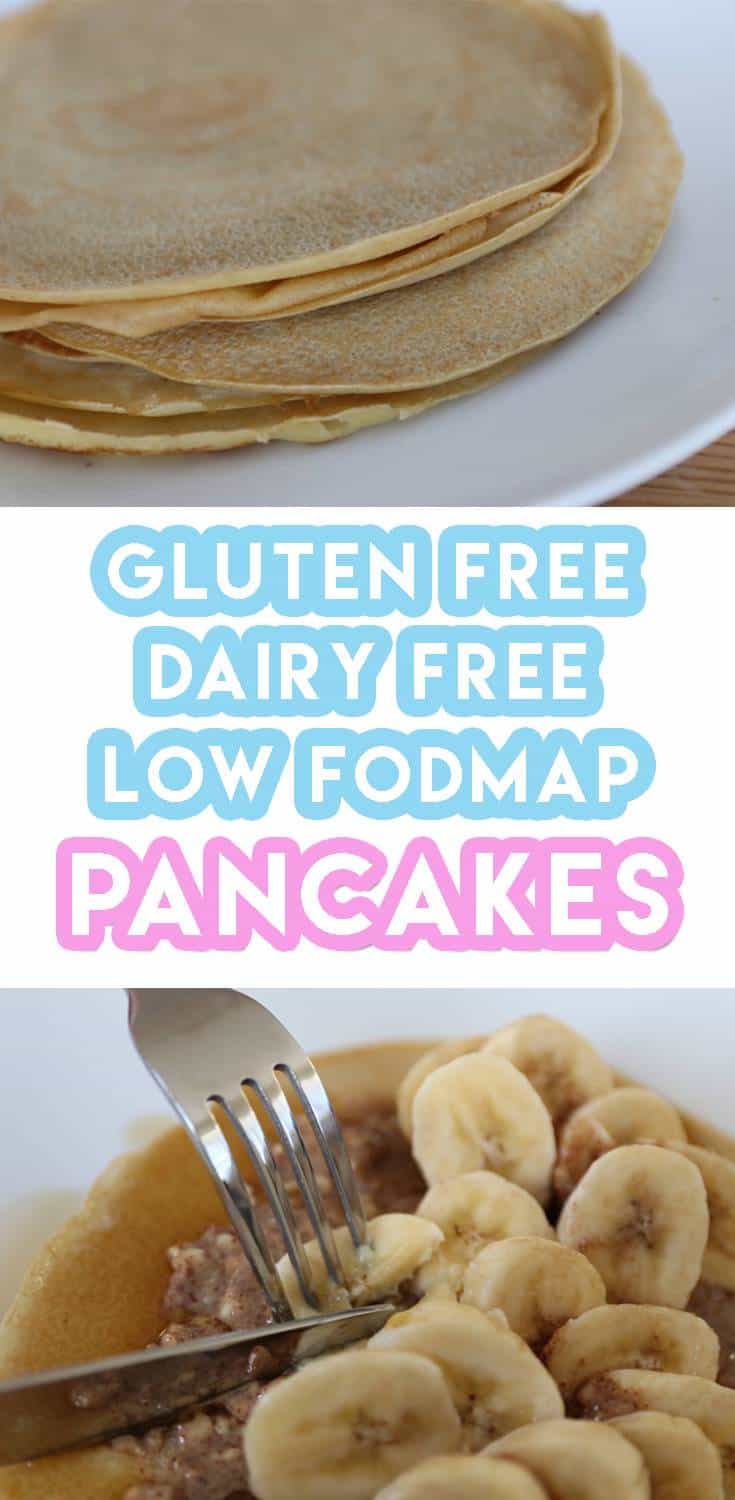 Comments