Being gluten free in Paris wasn't a great experience when I first went back in 2010. But on my recent trip, my mind was a little blown by the amount of gluten free patisseries, bakeries, boulangeries, cafes and restaurants. Here's my 'sans gluten' guide to Paris!
Since so many of you guys asked where I went and what I got up to, here's a guide of 30 of the best places for gluten free in Paris 2020. Thanks to all the hundreds of you who recommended places to me on Twitter, Facebook and Insta – I had the best time (as you can see!)
One thing I would say is that you should always check opening times. Plenty of eateries will shut outside of meal times and quite a few are shut entirely on Sundays and/or Mondays.
Oh and just an extra point, if you are looking for dairy free… there are lots! Most places like to refer to it as 'sans lactose' in Paris.
Disclaimer: Whilst I've put a lot of work into this guide and double-checking everything is gluten free – things may change over time, so always make sure you ask first and check for cross contamination before eating. Enjoy!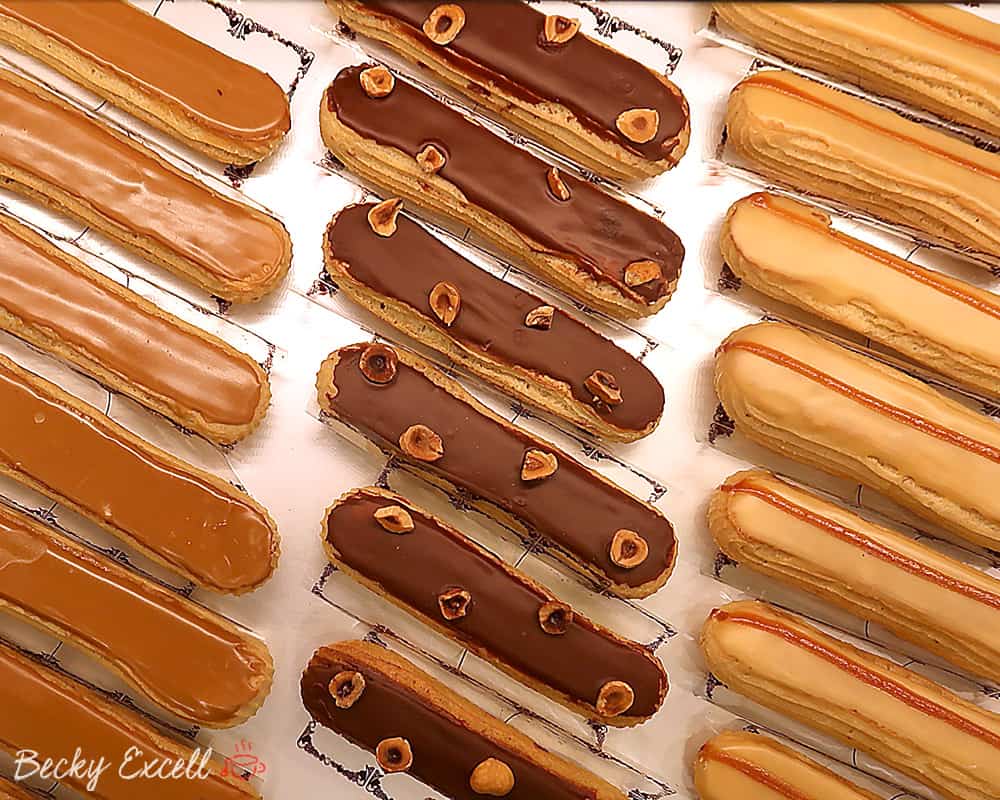 This 100% gluten free patisserie is a must visit. The gluten free eclairs are to die for and come in a variety of flavours. The selection of tarts, cakes and pastries is vast with plenty of lactose free options too.
It's a great place to pick up a gluten free croissant or pain au chocolat – I had both and they were incredible!
They also offer savoury options too which are perfect for lunch, with the option to eat in or takeaway. As one my faves for gluten free in Paris, it had to be at number one!
2. Noglu (various locations) 16 Passage des Panoramas, 75002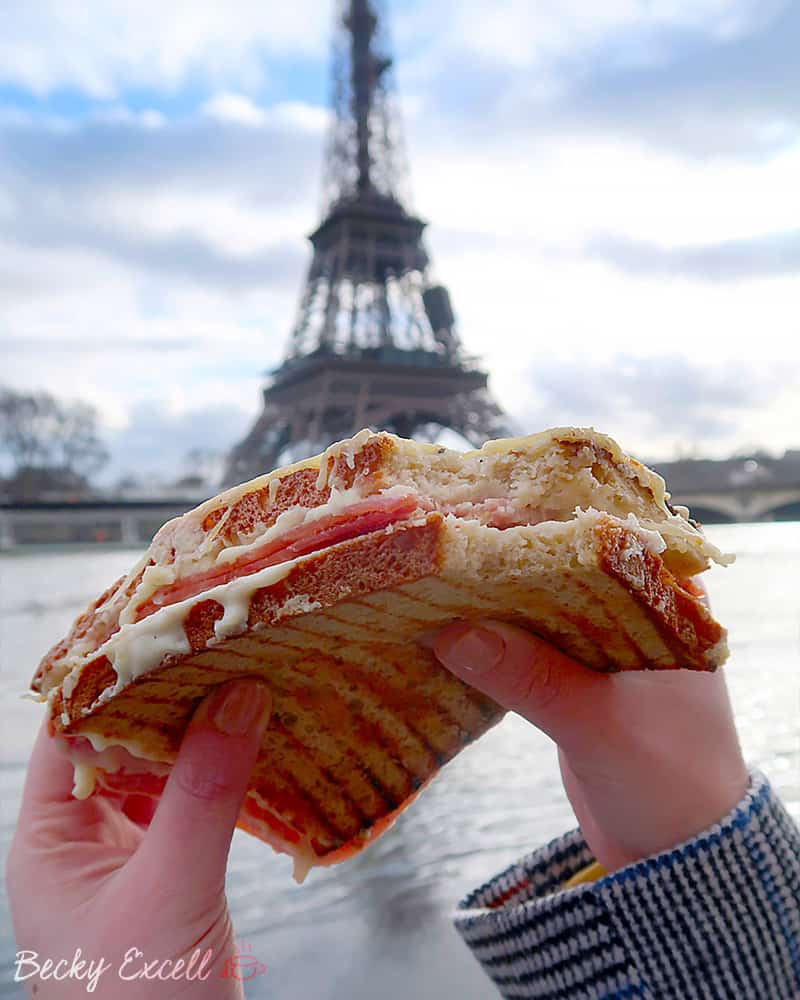 Noglu have a couple of restaurants in Paris. One down a lovely Parisian passage way with a Noglu bakery almost opposite. The other is below the river in the Saint Germain des Près area.
Everything Noglu does is 100% gluten free (hence it's name!). The bakery offers a huge selection of gluten free pastries, cakes and of course, baguettes (with plenty of dairy free options too). They also do sandwiches to takeaway – the croque monsieur is the best I've ever had!
In terms of the restaurants, there is plenty on offer too. From burgers to quiche and lasagne.
3. Chambelland, 14 Rue Ternaux, 75011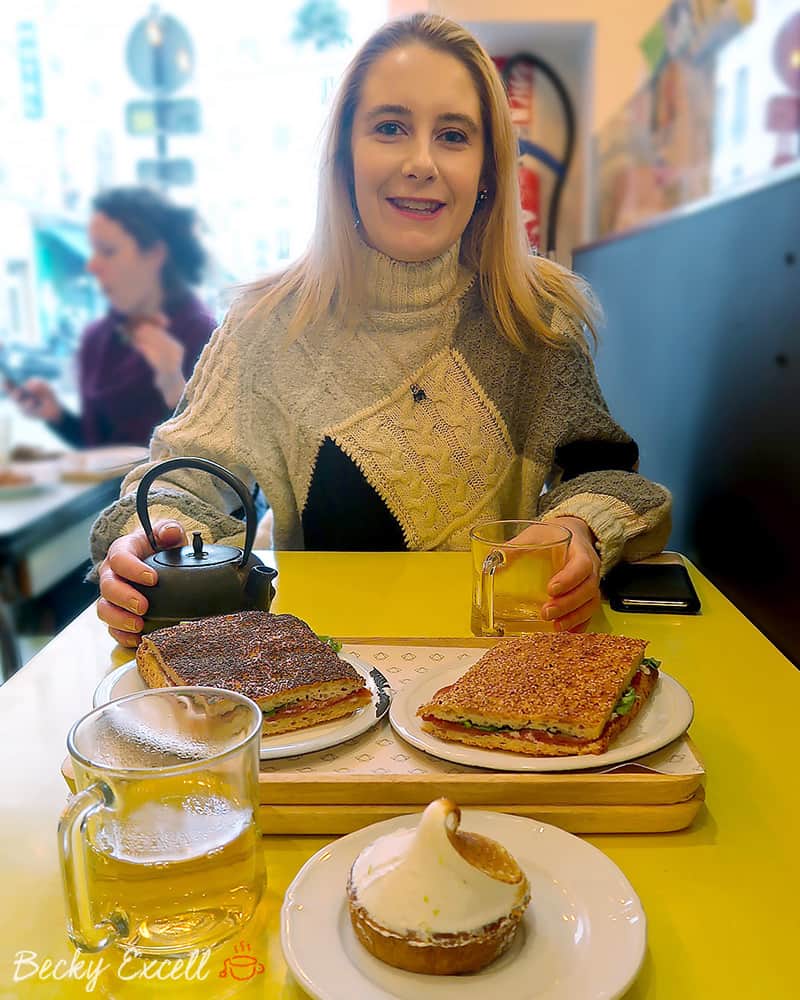 Still searching for gluten free in Paris? You honestly won't find better gluten free bread anywhere else (in Paris and the world!). I actually believe the bread I had at Chambelland might be some of the best bread I have ever had. Even when I could eat gluten!
Again, Chambelland is another 100% gluten free destination that I would highly recommend. We visited numerous times as we couldn't get enough. They offer lots of unreal cakes and pastries (again with lots of dairy free options).
We had lunch at Chambelland which was probably my favourite. They have a choice of a meat sandwich, a veggie sandwich or soup/salad which changes daily.
I loved the Chambelland gluten free bread THAT much that I brought some home with me! Honestly try their focaccias!
4. Sitron, 15 Rue Marie Stuart, 75002 CLOSED – SADLY SITRON HAS CLOSED PERMANENTLY 🙁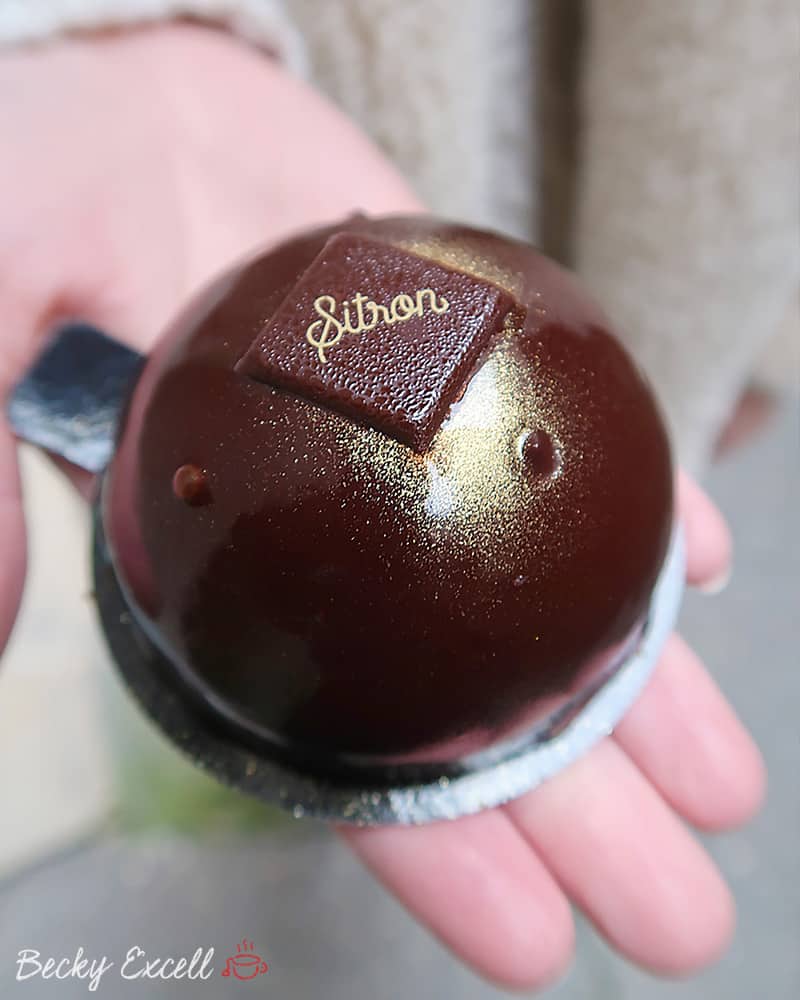 Sitron is a 100% gluten free patisserie that creates some of the very best pastries I have ever tried. They offer so many dairy free options too, like the one in the photo above. Rich, indulgent chocolate and a buttery biscuit base, totally dairy and gluten free. Mind-blowing!
So many of their pastries are so delicately put together – layers of real beauty.
We literally took a whoooole box of pastries away with us that we enjoyed on an evening in at our apartment, but you can sit in too. A definite must visit for gluten free in Paris!
5. Onyriza, 38 Rue du Château d'Eau, 75010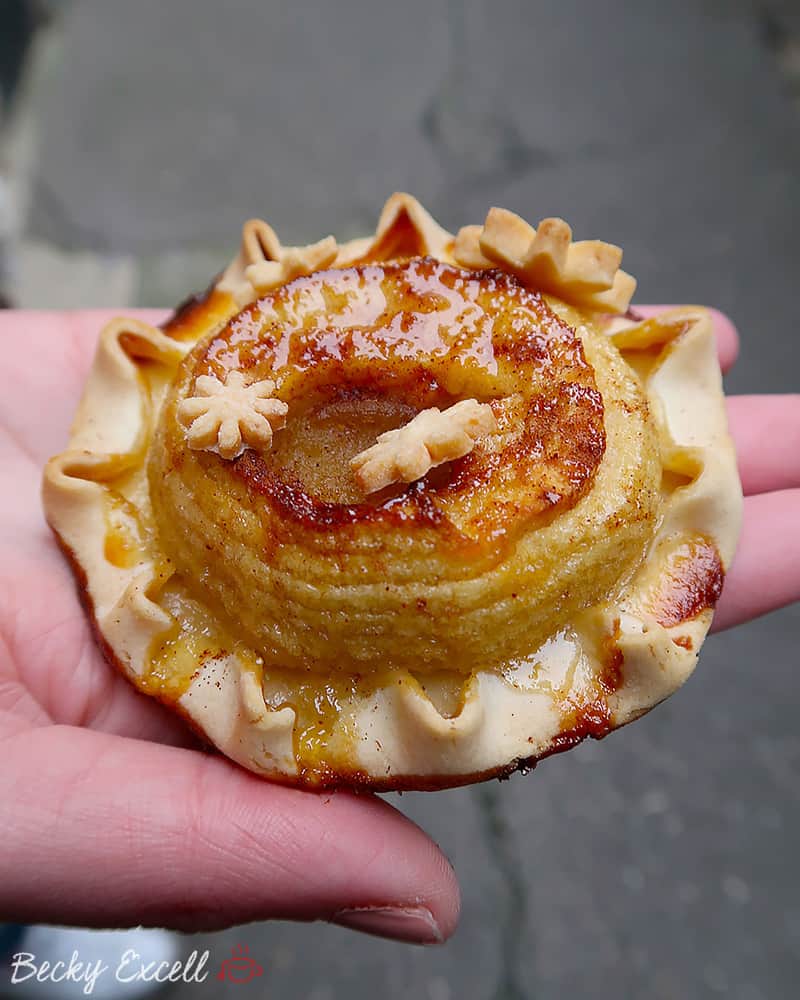 Onyriza wins for being one of the most friendly places we visited. It is an 100% gluten free patisserie with such a friendly vibe. I couldn't recommend it enough!
Fortunately Onyriza was very close to our apartment and it was one of our regular favourites for gluten free in Paris.
I can't even begin to imagine how some of the pastries are put together, they are so elegant and an absolute joy to eat!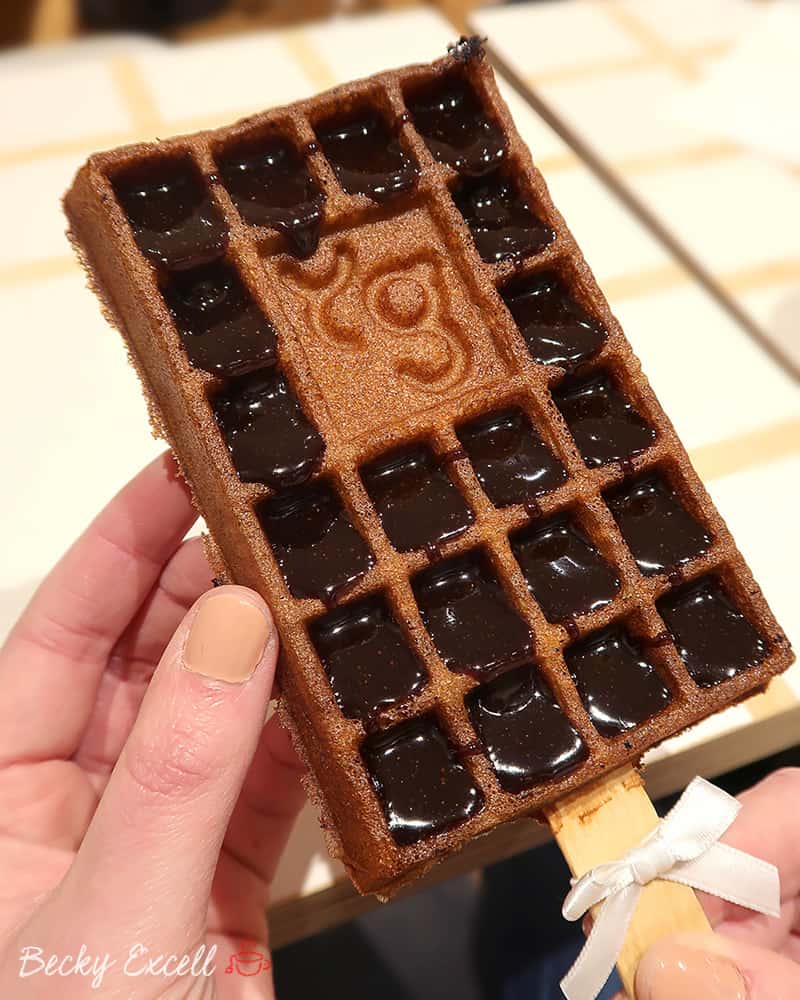 When I heard the name of this place, I wasn't sure – I just don't like the phrase 'guilt free' in relation to food. However, this is a MUST visit in Paris and not far from Notre-Dame.
This is another 100% gluten free place and it is all about waffles! The sweet waffles come on a stick with a bow (super cute!), and the topping options are amazing. I really like the lemon and the chocolate hazelnut ones (both dairy free too).
They also do savoury waffles with a great selection of toppings. I just wish I knew how to make them at home!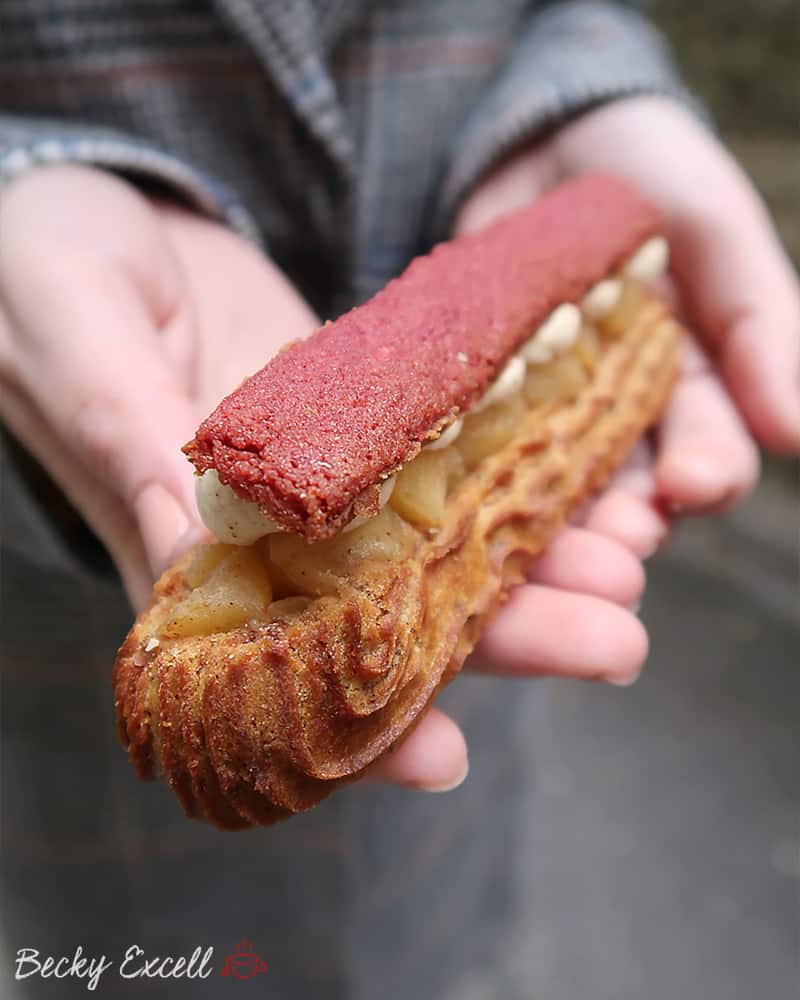 We bumped into Foucade by chance whilst we were wandering around the Madeleine area. It's a 100% gluten free patisserie with most of it also being dairy free too.
They pride themselves on being quite healthy, which is reflected in some of the more obscure ingredients that they use compared to some of the patisseries I have mentioned above. The eclair you see above was a truly unique, work of art – you won't find creations like this anywhere else in Paris.
It's also a great brunch spot for gluten free in Paris too.
8. Café Mareva, 38 Rue du Faubourg du Temple, 75011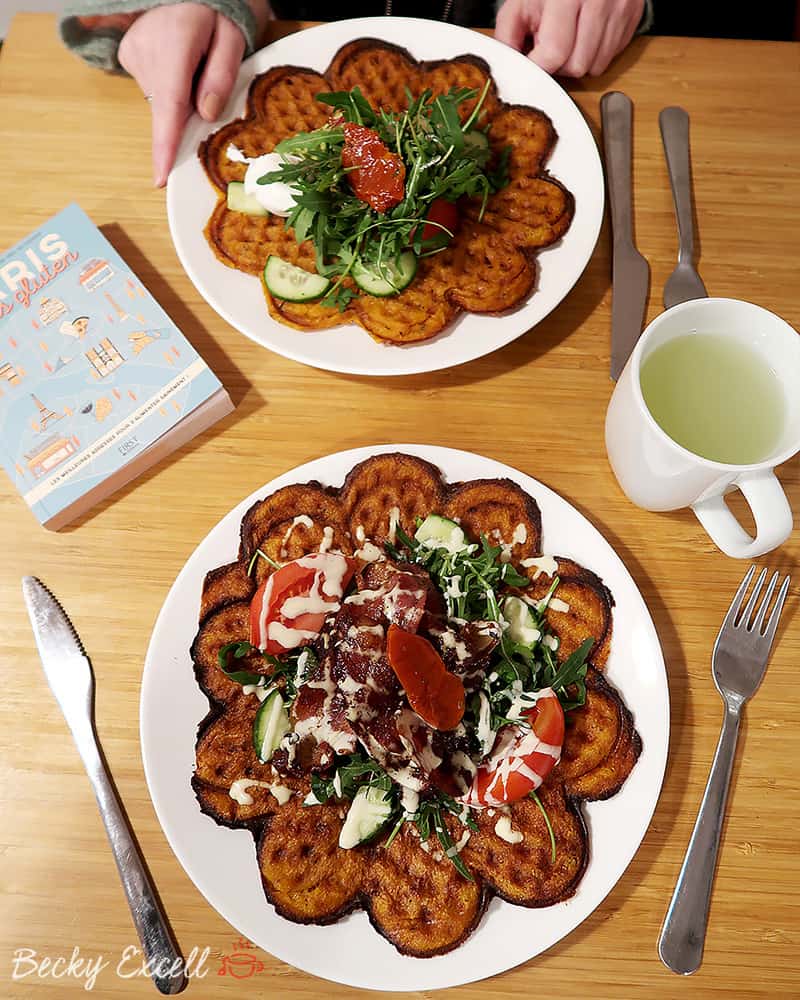 We went to Café Mareva for my birthday lunch whilst in Paris and it definitely didn't disappoint. This place is 100% gluten free and dairy free so Mark and I had pretty much a full menu to choose from.
What we came for was the waffles! The waffles are made from sweet potato and you can have them with sweet or savoury toppings. I opted for a BLT waffle. The menu is greater than this too with smoothie bowls, avocado toast etc.
We grabbed the most incredible vegan chocolate dessert to take away with us (and a couple of forks for the road!).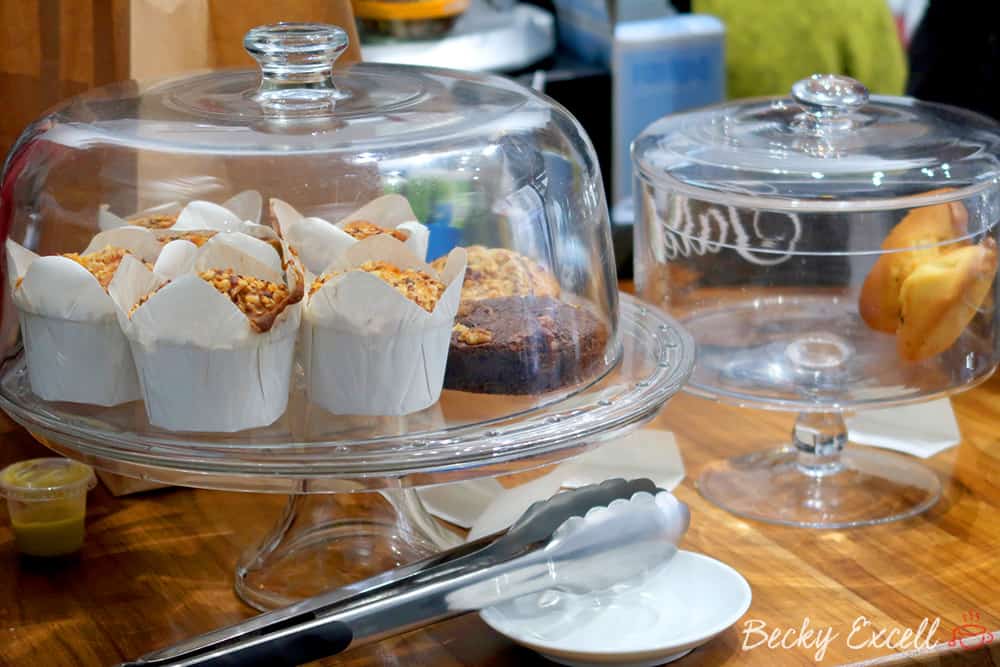 Not only is Le Cairn Coffee Shop brilliant for being 100% gluten free but it is also really close to the Eiffel Tower.
I've found that whilst there are plenty of gluten free places dotted all over Paris, around the Eiffel Tower area things are a little more limited. Le Cairn Coffee Shop is just around the corner so it's a great stop off for gluten free in Paris if you are over that way.
They offer cakes, salads AND also sandwiches from Noglu (don't leave it too late for the sandwiches though, they don't have too many). I grabbed myself another croque monsieur from here!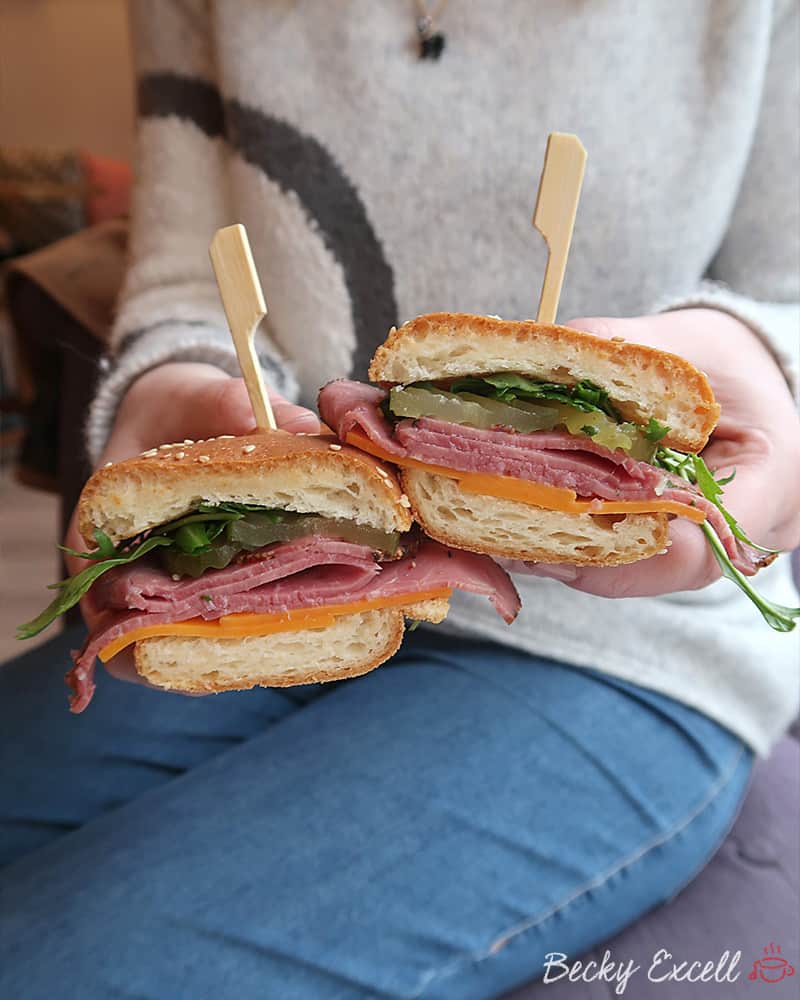 Hunting for a lunch that's 100% gluten free in Paris? Bears and Racoons is well worth taking the Metro out to (we got off at Charonne). It's a 100% gluten free cafe where you can get the best sandwiches that are all prepared in front of you, fresh.
Their sandwiches are all made in the most amazing sub rolls (I had one called the Grumpy Bear). It felt like we were eating at Subway but then the food was 100% better and the surroundings were 200% better! I literally could have chilled out in there all day.
11. Biosphère Café, 47 Rue de Laborde, 75008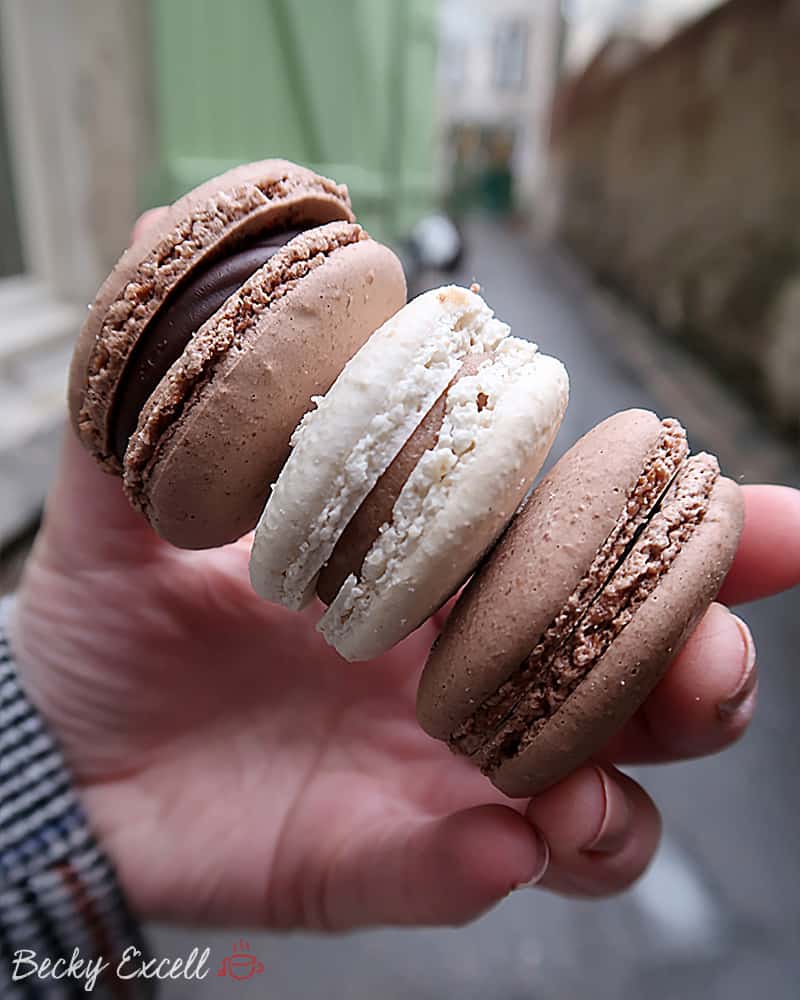 This lovely cafe is another 100% gluten free one in the centre of Paris. It offers a vast array of different choices so there is definitely something for everyone and many of the options are dairy free too.
From galettes, pancakes and pizza to freshly baked croissants, pastries and cakes, it's a great place to opt for if you aren't sure what you fancy.
Also they do brunches on Sunday which you have to book in advance for. We were due to go, but then Mark was poorly so we had to cancel. It looked so amazing though so we will definitely be booking for next time!
12. Thank You My Deer, 112 Rue Saint-Maur, 75011 (now closed)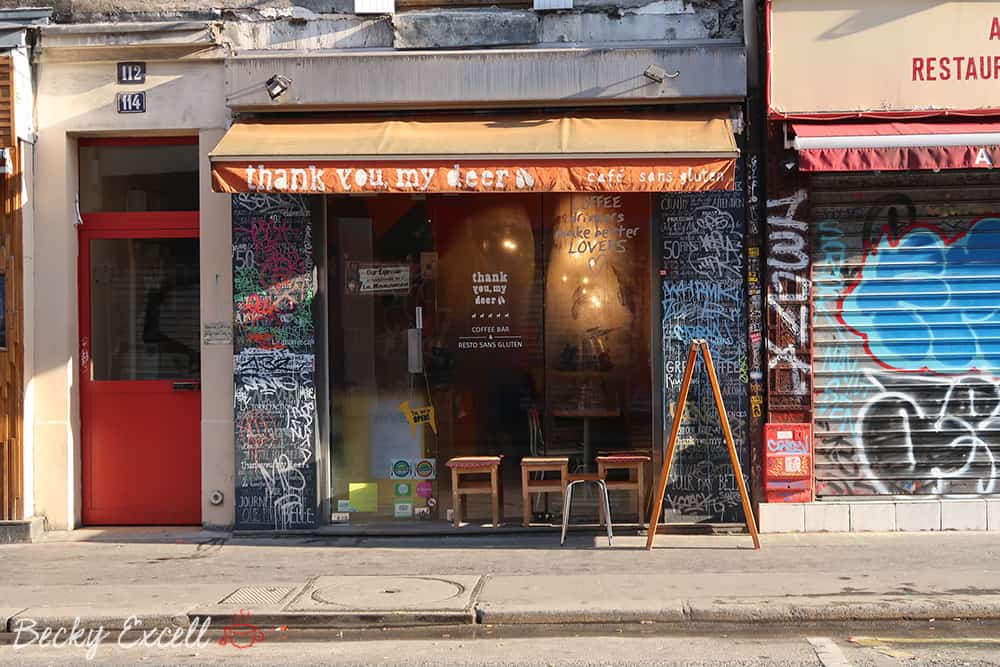 Thank You My Deer wins the award for the best named place in my guide. Not only that, it's 100% gluten free!
It's a lovely place to stop off at for breakfast, lunch or just for a pastry/cake and a coffee (there are always dairy free options available). They bake their own fresh bread daily, make their own granola and serve up tasty open sandwiches, salads and platters.
Thank You My Deer is another great lunch spot for gluten free in Paris, especially at the weekends. The menu changes every week but what doesn't change is that it is always gluten free!
13. Breizh Café (various locations) 109 Rue Vieille du Temple, 75003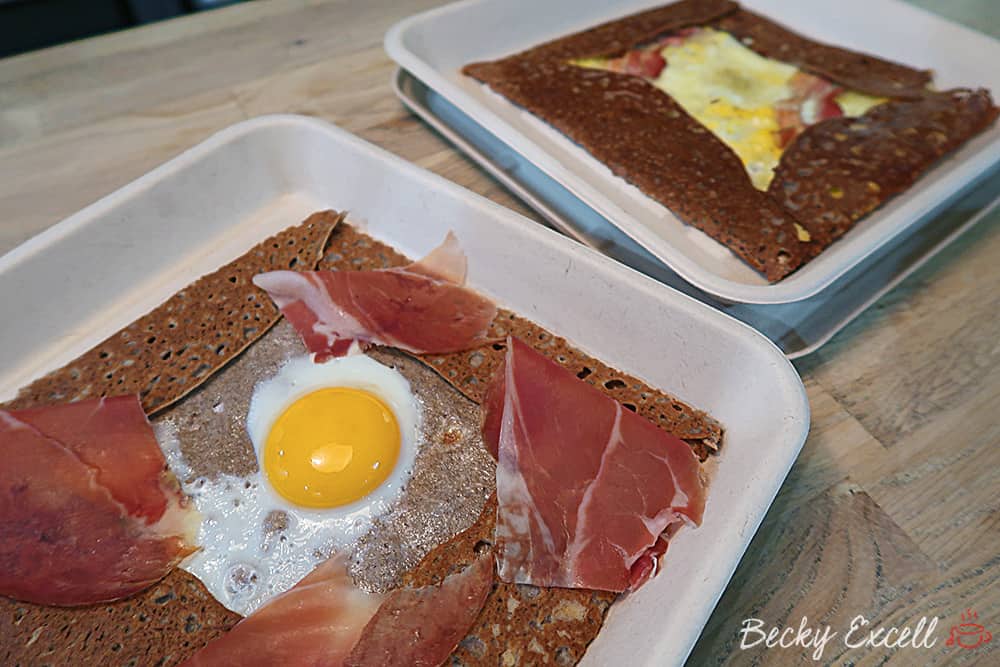 The best destination for a gluten free galette hands down in my opinion is Breizh. It's great for brunch, lunch and dinner, as it is open late.
The restaurant itself has a real hustle and bustle vibe to it and the menu has lots of choice – from your more standard fillings, to some you may never of thought about before. (There is some Japanese influence in this place!)
It's a really good idea to book, we found this out the hard way and got ours to takeaway (hurray for AirBnB!).
14. La Giunguette d'Angèle (various locations) 2 Rue du Général Renault, 75011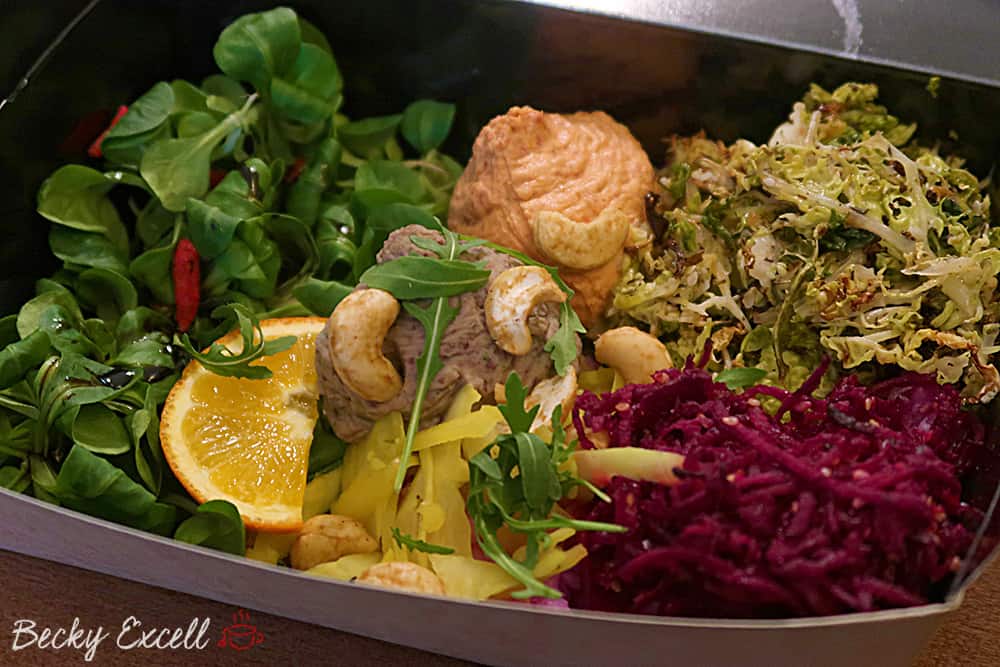 This is another 100% gluten free eatery to feast your eyes on. La Guinguette d'Angèle has two locations in Paris. One (the original) is purely a takeaway and the other is a small but perfectly formed restaurant.
Their menu changes every single day, but you can always check what they are serving ahead of time on their Facebook page as they post it first thing in the morning.
Both locations offer a hot dish, lunchbox, soups, juices, smoothie bowls as well as plenty of homemade cakes and cookies. I'm pretty sure it is vegan too which is an added bonus for those who want it.
If you ever get to try their white chocolate and matcha cookie, do it! An awesome place for gluten free in Paris!
15. Kopi Cream, 16 Rue Daval, 75011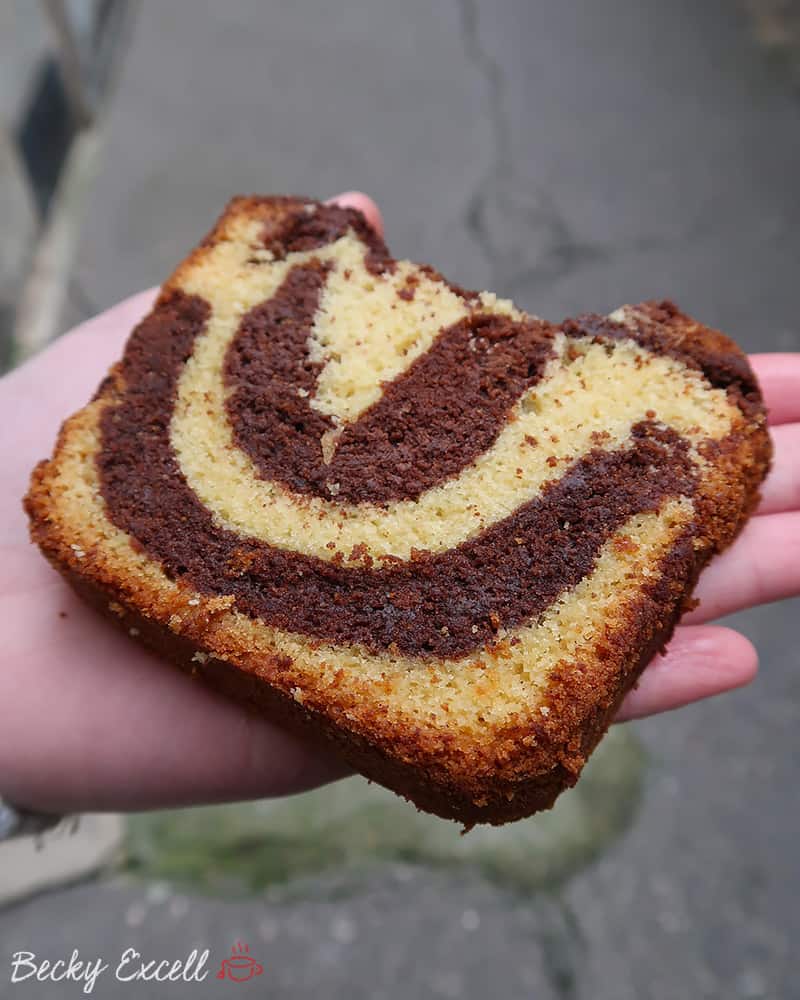 Kopi Cream is a super cool and 100% gluten free coffee shop. It's a great place to stop at for an afternoon cuppa and a slice of cake (the marble cake is epic). It's also the perfect lunch spot if you are in the area, as they have gluten free sandwiches and quiche.
For me, its also the ideal spot if you want to just sit back and relax for a bit and catch up on a few emails (I never switch off on holiday, I know it's bad!). It's definitely a place that I'd recommend if you're searching for gluten free in Paris around the lovely Bastille area.
16. La Maison du Sans Gluten, 12 Rue d'Hauteville, 75010 – SADLY LA MAISON DU SANS GLUTEN HAS CLOSED PERMANENTLY 🙁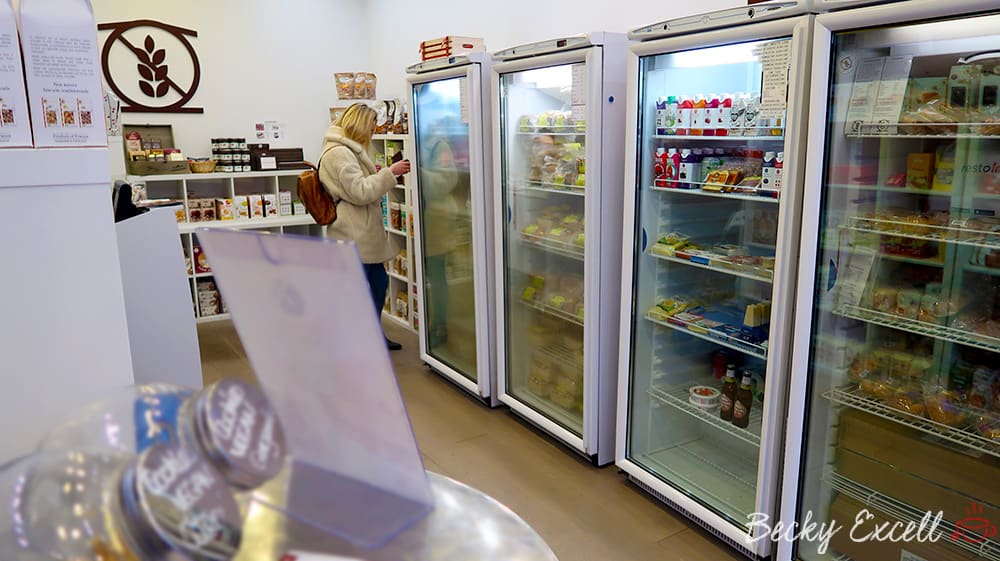 It was literally lifesaving having this gluten free shop so close to our apartment. As the name suggests, it is literally a shop that only sells gluten free food. If you have an apartment whilst staying in Paris, then this is definitely a great place to visit.
All the essentials and more are stocked here. If you need breakfast cereals, pizzas, croissants, they have it all! Some of their stock is frozen, so bear that in mind if you can't keep it frozen.
For me, it's just a great place to visit and explore all the amazing products they have on offer. Heck, I brought some back to the UK with me!
17. Eat Gluten Free, 5 Rue Caron, 75004 – SADLY EAT GLUTEN FREE HAS CLOSED PERMANENTLY 🙁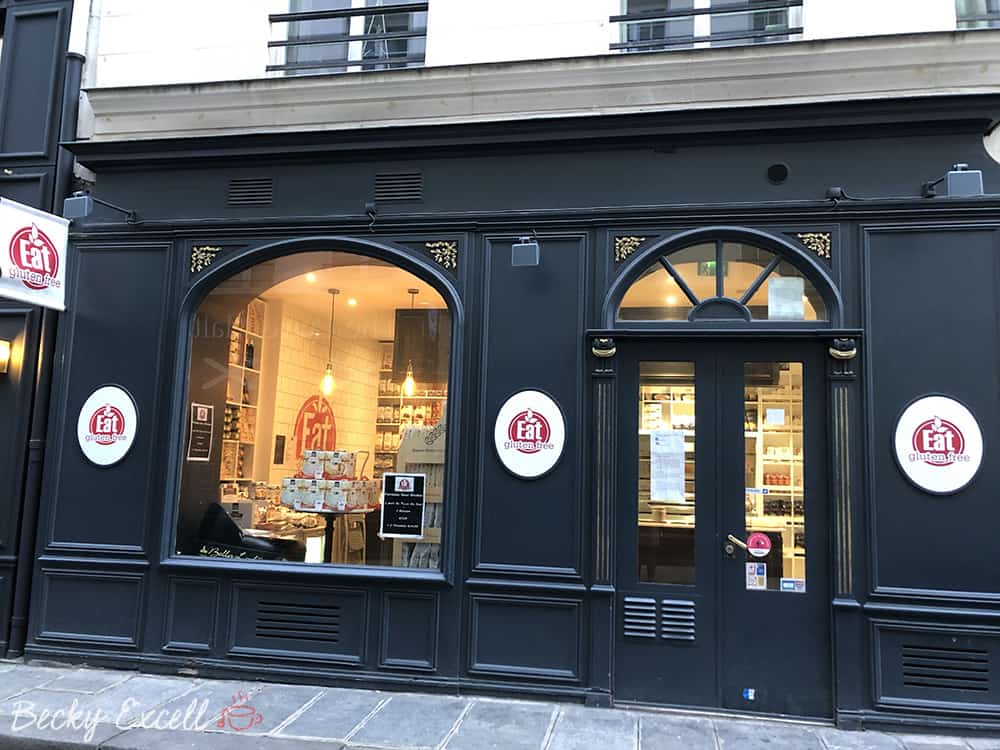 Another place we just bumped into by chance was Eat Gluten Free. I couldn't quite believe that I was just walking down a Parisian street and walked into this! That's just how good gluten free in Paris is.
It's basically a gluten free shop that sells lots of gluten free products (like a mini GF supermarket) but, better still, it has hot food too! They make fresh gluten free pizza and you can buy it by the slice. Now that's how you make a gluten free person feel normal!
One thing to note that it isn't open all the time, so check before you go 🙂
18. Il Quadrifoglio, 19 Boulevard Bourdon, 75004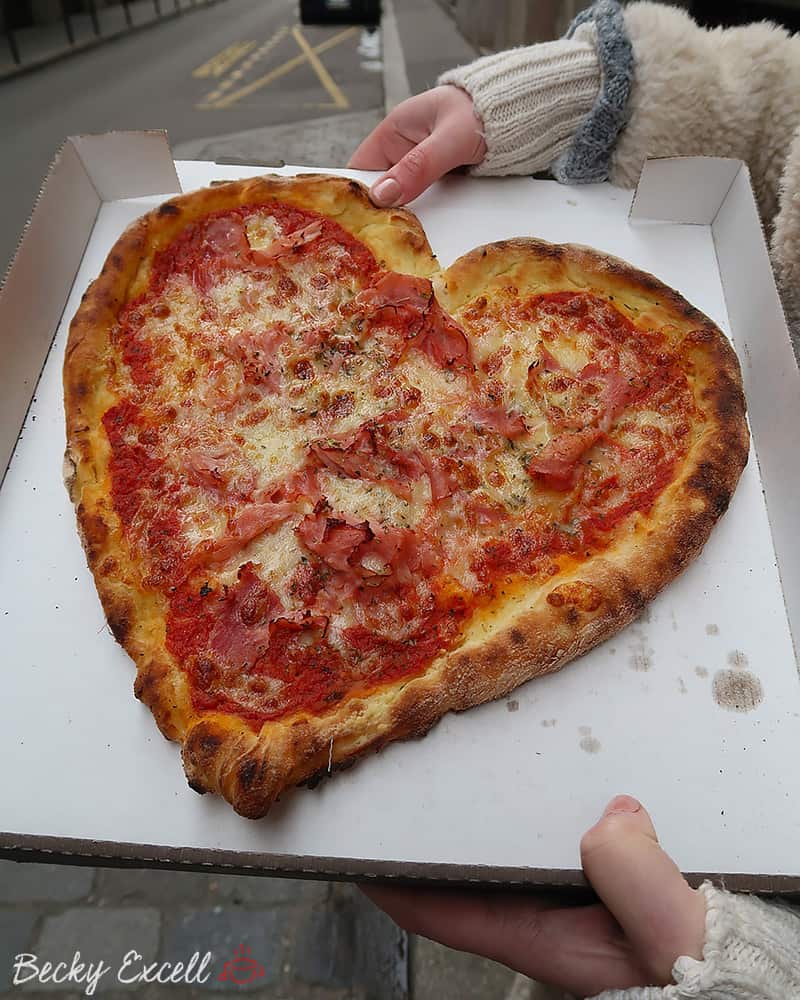 Wherever I am in the world, I seem to always have at least one pizza on my holiday. I just love pizza. Il Quadrifoglio is a great place for an evening meal if you are looking for gluten free in Paris.
What I love the most is that my pizza came in the shape of a heart! I have no idea how they made the crust so damn good, but it was delicious. It costs extra to have it gluten free FYI.
They make and roll out the dough in the restaurant which is not a fully gluten free environment so it's definitely a good idea to mention to them if you are Coeliac.
19. Hard Rock Cafe, 14 Boulevard Montmartre, 75009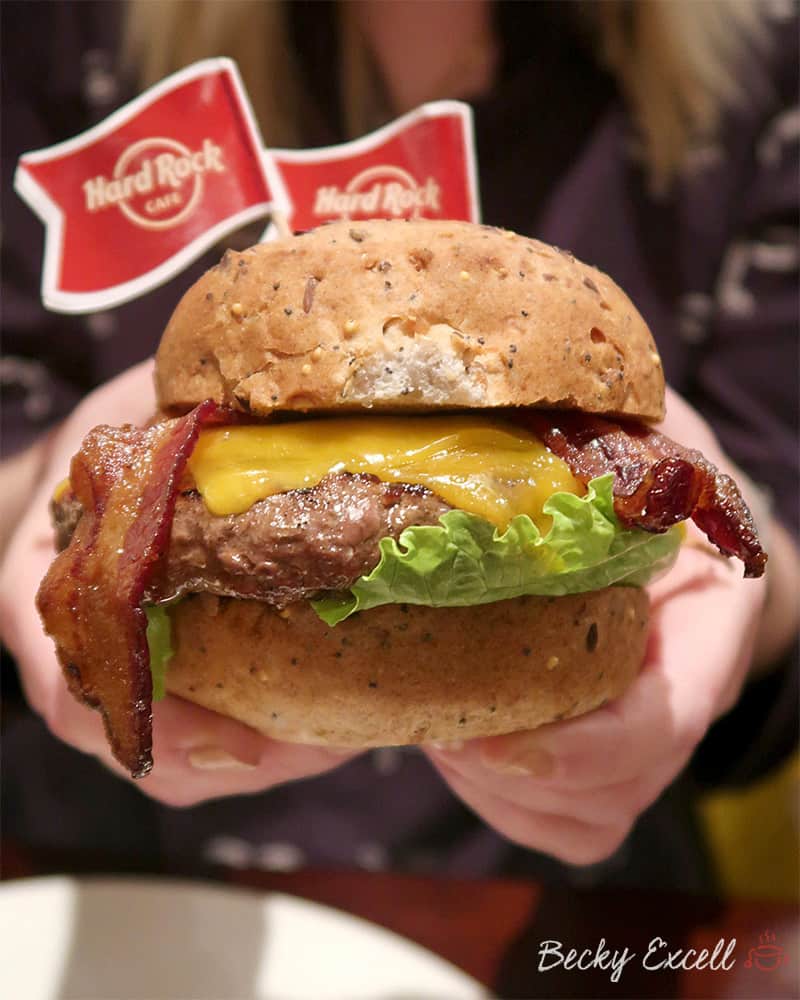 Mark and I have always been massive Hard Rock fans. We spent a lot of time in the Paris Hard Rock on our last holiday here back in 2010 so we had to come back 10 years later!
Hard Rock I always find to be a pretty safe bet wherever you are in the world for having good food and a good night.
The Hard Rock in Paris has a gluten free menu which I enjoyed a massive burger off of. Oh and you can't forget the cocktails of course!!
This cosy Italian restaurant is 100% gluten free and feels incredibly traditional. The menu is small but expansive and changes regularly.
From fresh pasta, to gnocchi and polenta, there is something that everyone will enjoy. Oh and of course – the most authentic tiramasù you will find (the owner's grandmothers recipe!).
I asked in advance about dairy free for Mark and she replied saying it wouldn't be a problem (but I think I would contact in advance just to let her know).
21. Little Nonna, 12 avenue Niel, 75017
If you are on the hunt for a gluten free evening meal, Little Nonna is an 100% gluten free pizzeria in Paris.
They offer more than just pizza though, they also offer pasta, gnocchi, salads and gluten free desserts too.
22. Yem'a, 41 Rue Godot de Mauroy, 75009
This is another 100% gluten free spot, not far from the wonderful bakery, Helmut Newcake. As well as being fully gluten free it is also a vegan cafe.
They are well known for serving up big bowls of goodness at breakfast and lunchtime. First thing in the morning, you can grab a bowl of porridge, granola or muesli.
At lunch, you can fill your bowl with up to four different dishes, from curries to guacamole, to quinoa or some roasted veggies and hummus. Oh and don't forget all the desserts are also gluten free.
23. BigLove Caffè, 30 Rue Debelleyme, 75003
BigLove Caffè is somewhere Mark and I really wanted to go but didn't get a chance because of the queue! I don't believe there is reservations and we probably chose the busiest time to pop by (just before it opened for evening service).
The reason we wanted to go so much is because all their pizzas are 100% gluten free. I've heard good things about them and really wanted to give one a try. Next time I guess!
The rest of the menu is not gluten free (so the pasta etc.) However there are options on it that are naturally gluten free. They also have gluten free bread here so if you just fancied some avocado toast, BigLove would be perfect.
24. Apeti, 72 Rue du Cherche-Midi, 75006
I've had a a few people ask me about vegan and gluten free in Paris. Apeti is both of these things, 100% gluten free and 100% vegan!
When we visited, we were having a look at the menu outside, when we were greeted by the owner who was incredibly friendly and understanding of gluten free.
He invited us in with open arms, even though they had just shut for the afternoon! It's a great little lunch spot with lots of options as well as cakes and desserts.
25. Manicaretti, 60 Rue de Paradis, 75010
Now this is a little gem that many people might not have heard about. It was just around the corner from our apartment and unfortunately I only discovered it the day before we left!
One reason you might not have heard much about this place in terms of gluten free is that they don't mention it. However, Manicaretti is in fact 100% gluten free!
The menu isn't massive but the choices are great, with a whole host of freshly made, traditional Italian dishes. Lasagne, risotto and of course homemade gluten free cakes too!
26. Café Pinson, 6 Rue du Forez, 75003
Another thumbs up for 100% gluten free at Café Pinson. How is there so many places for gluten free in Paris?!
This is a lovely little place to hang out and grab a delicious brunch, lunch or dessert. I went for some of their madeleines which I had heard were amazing and they didn't disappoint.
As well as being gluten free, Café Pinson is also fully dairy free and vegetarian (a lot of vegan options are available too). It's open throughout the day and into the evening so it's definitely a good place to remember for gluten free in Paris.
27. Rice Trotters (various locations) 22 Rue du Colisée, 75008
Rice Trotters is another 100% gluten free destination. As the name suggests, rice is BIG on the menu here.
Rice is involved in some way in every single dish here. It quickly reminds you when looking at the choices available how much rice is eaten around the world in so many different dishes!
It's open early, so you can have your dose of rice pudding with toppings for breakfast. I'd highly recommend a visit for something a bit different.
28. Exki (various locations) 82 Boulevard du Montparnasse, 75014
We came across quite a few of these across Paris and they are good to look out for if you are on the go. They are almost like healthy fast food restaurants.
You can eat in or takeaway and there are quite a few items that are labelled 'sans gluten'. From soups, to a few of the hot dishes, as well as some of the cakes.
29. Grom (various locations) 16 Rue Vieille du Temple, 75004
If you are heading to Paris in the warmer months of the year then you will definitely need to head to Grom. Grom is an Italian gelato haven. You will find some of the best ice cream and sorbets here. The cones and cookies are all gluten free too… result!
There are some nice sorbet flavours for those who are dairy free which is positive. Plus, if you are going in a colder month of the year, go anyway for an amazing gluten free hot chocolate (it's great!).
Last but not least in my gluten free Paris guide is Love Juice Bar.
Love Juice Bar is a small but brilliant 100% gluten free spot. As the name suggests, there is loads of delicious fresh smoothies and juices on offer. But not only that, they offer one of the best avocado toasts around as well as smoothie bowls that will leave you coming back for more.
Supermarkets you can visit for gluten free in Paris
I found the supermarkets in Paris to be really good for gluten free. There was always lots of choice and they all seemed to have free from sections. Remember it's important to look out for 'sans gluten'. Within the same section as sans gluten I often found a lot of 'sans sucre' (sugar free) which wasn't necessarily gluten free. So always check first!
Monoprix
Franprix
City
Bio c' Bon
Naturalia – more like Holland & Barrett but lots of gluten free food

Biocoop

Marks and Spencer Food (has a lot of the same free from products that we have here in the UK)

Carre Four

La Grande Epicerie de Paris

Also you will see tons of products in a similar area that say 'bio'. Bio is organic and the French seem to very big on organic produce.
Blogs and people you need to follow for gluten free in Paris
It's great to follow a few local blogs by native gluten free Parisians! Here's a few of my faves that pointed me in the right direction…
Mark also bought me a couple of books which were great for gluten free whilst we were there: Paris sans gluten and also another one called Paris sans gluten! They are in French but with a little Google Translate I understood!
Overall thoughts on gluten free in Paris…
Paris definitely exceeded my expectations when it came to gluten free / sans gluten. The amount of restaurants, cafes and patisseries that were 100% gluten free was incredible. It meant I was never ever hungry!
I will say that I did find dinner times a little trickier. Lunch time there is SO much choice but in the evenings a lot of the 100% gluten free places are shut which left me with a bit of a dilemma some nights.
Of course there are plenty of places that do offer gluten free options in the evenings. However, I had been so used to the ease of these 100% gluten free locations in Paris, that then having to search out different places in the evenings, seemed a lot harder. (I was so full from eating gluten free pastries a lot of the time anyway!)
We also chose to stay in an Airbnb when we were in Paris so we had our own kitchen. This was really great as it allowed us to cook ourselves using products we found in the supermarkets, and also, we could keep cakes and pastries in the fridge! (We liked eating breakfast in the apartment before heading out for the day too.)
I made a post on how to choose a good AirBnB to stay in which you can find here. I would 100% recommend Airbnb wherever you are travelling, we find it so useful with our food intolerances.
Go book a trip to Paris now!
I really hope this has been a useful guide to gluten free in Paris. If you find anymore places that you would recommend just drop me a message in the comments below, or on Facebook / Twitter / Instagram. Also if you have any other questions please do the same!
I really can't wait to go back to experience some more gluten free in Paris asap! And who knows where my next trip will be, let me know where I should go next!
Thanks for reading,
Becky xxx
Oh and don't forget to pin this for later!