If you're on the hunt for gluten free in London, here's 30 places you absolutely MUST visit in 2021. I'm happy to finally present to you: my ultimate gluten free guide to London (with tons of dairy free options too)…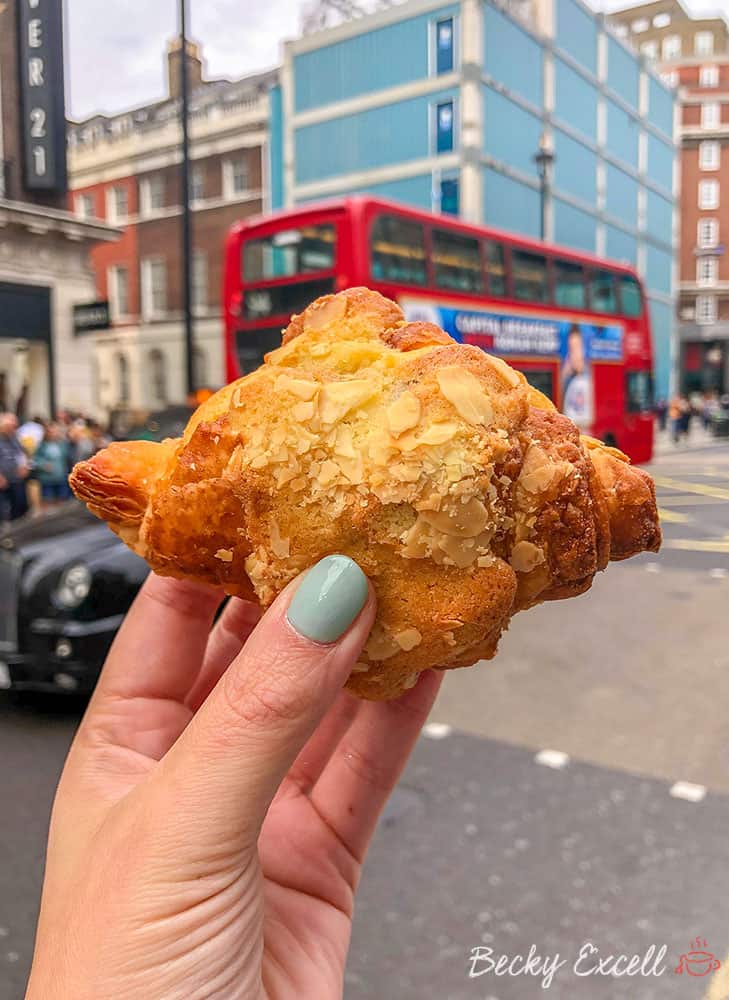 You definitely needn't worry about going hungry in London – especially now that you've found this blog post! With a little thought and planning, you can easily make sure you're never far from somewhere that's gluten free. When it comes to gluten free in London, you're spoilt for choice.
Oh and there's quite a few places with dairy free choices too, so I'll mention them when appropriate. Let's get started with the guide, shall we?
Disclaimer: Whilst I've put a lot of work into this guide and double-checking everything is gluten free – things may change over time, so always make sure you ask first and check for cross contamination before eating if needed. Enjoy!
1. Mayfair Chippy, 14 North Audley Street, W1K 6WE and 140 Minories, EC3N 1NT
For the best gluten free fish and chips in London head to the Mayfair Chippy. They don't shout about gluten free on their menu but they can do everything battered safely in a separate fryer.
Eating in here is fab as the decor is lovely and the service is even better, but equally, you can order a takeaway.
From gluten free fish and chips, to halloumi and chips (the halloumi is INCREDIBLE!), to gluten free battered sausage and even a vegan option of battered jackfruit and tofu. The Mayfair Chippy is not somewhere to be missed on a trip to London.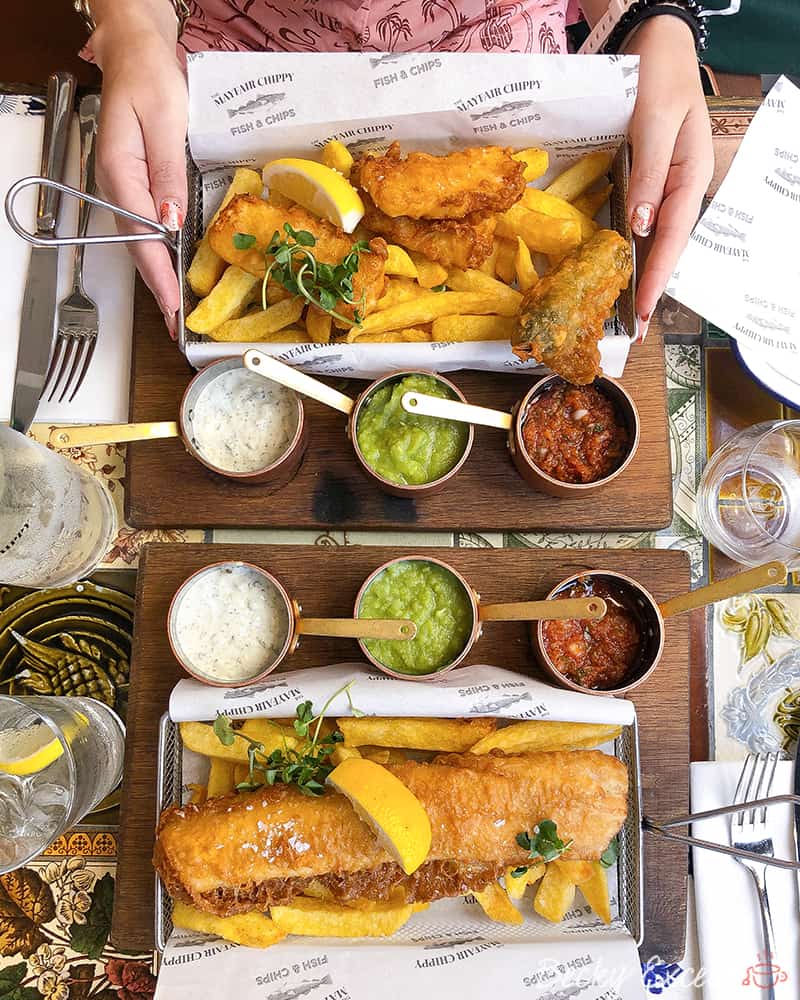 2. Yorica 130 Wardour Street, Soho, W1F 8ZN
Yorica is a 100% 14 allergen free ice cream parlour. Yep, that's right – everything they sell is gluten free, dairy free, egg free, soy free, nut free… the list goes on! It's even 100% vegan too – but you'd never know it by looks or taste.
Not only that, but they also sell crepes and waffles too… and yes, they're 14 allergen free – everything is! I even wrote a full blog post just on Yorica last month.
There aren't many places that offer gluten free in London on this scale, so you absolutely need to go.
3. Cookies and Scream 130 Holloway Road, Islington, N7 8JE
Cookies and Scream is a 100% gluten free and vegan cookie & shake bar based on Holloway Road, Islington. Yep, that's right, everything is gluten free, dairy free and egg free too.
My favourite shake has got to be the cookie dough ball shake… or the salted caramel shake… I can't decide! Sometimes I ask them to combine both for me… and they do!
Their selection of cookies, cakes and bakes changes daily, with everything from gooey brownies, to peanut butter cookies and even cookie sandwiches too. It's a lovely place to chill out and they even have a nice outdoor courtyard at the back.
4. Coori 289 Sandycombe Rd, Richmond TW9 3LU
Coori is a 100% gluten free restaurant that you absolutely MUST go to if you head over to Kew Gardens. It just a 7 minute walk away!
Yes, I said 100% gf! They don't even allow gluten on the premises, so you can eat with total peace of mind.
Their menu has some amazing Italian faves but their specials change all the time and you'll find a proper mix of other cuisines from around the world mixed in.
If you only get to eat one thing, have a gluten free pizza. The bases are AMAZING and probably one of the best I've ever eaten in the UK.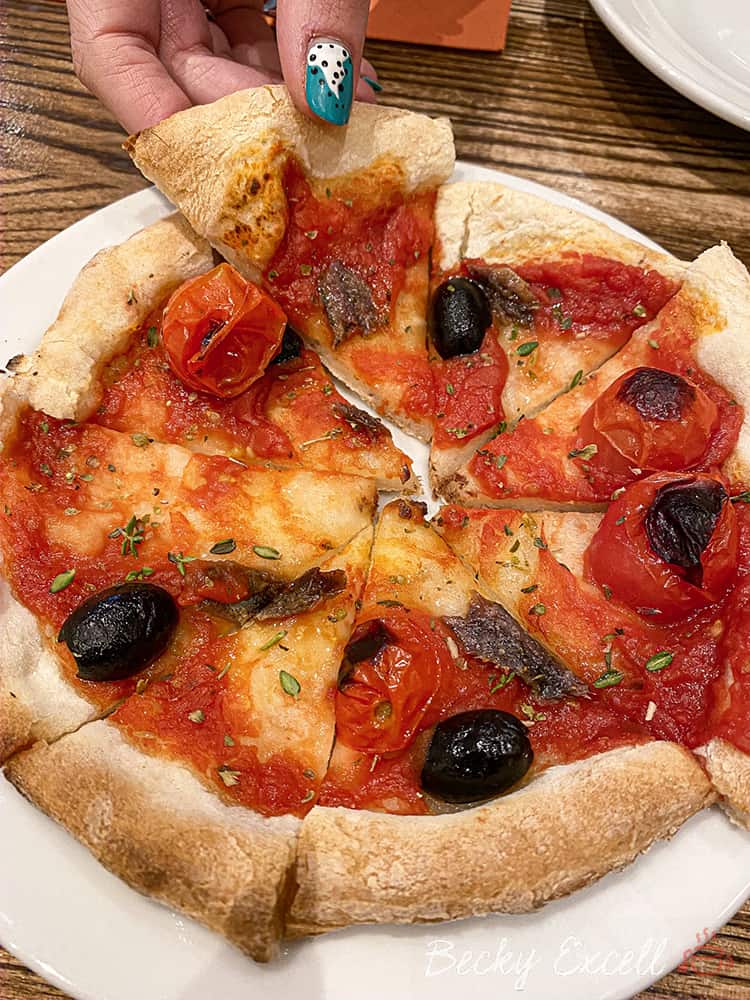 5. Niche 197-199 Rosebery Avenue, London, EC1R 4TJ
Niche is the restaurant that we have all been yearning for. It's the perfect place to go for dinner in London as it's a 100% gluten free restaurant!
The menu is vast and also offers dairy free options for those who need them too. From sausage and mash to chicken pie, from mac & cheese to gluten free fried chicken – this place has everything.
It's very close to Angel tube station so if you're in the area it's a great place to go for gluten free in London, I'd recommend booking as it does get busy in the evenings, as you can imagine!!
6. Apres Food Co 72 St John St, Clerkenwell, EC1M 4DT
The Apres cafe is 100% gluten free cafe with amazing options for all times of day.
Their breakfast menu has sooo many options like breakfast cookies, porridge, granola, to a cooked breakfast. Lunch is a mix of vibrant, fresh salads, curries, noodles and other hot meals too.
Apres cafe is open in the evenings from 6:30-9:30pm now too from Mondays to Fridays for dinner too.
7. Station 26 Coldharbour Lane, Unit 26 Brixton Village Market, SW9 8PR
Yep, we've reached number 7 on the list which makes Station 26 the seventh 100% gluten free place on the list!
Right in the heart of Brixton Village Market, serves fusion food for lunch and dinner. Think Asian crabcakes for a starter and a chicken schnitzel for main – does it really get better than that?
They also have a brunch menu with awesome things like poached eggs on a gluten free brioche bun with Hollandaise and salmon or halloumi cheese.
(Remember that it's closed on Mondays and Tuesdays!)
8. Leggero 64 Old Compton Street, W1D 4UQ
Based in Soho, Leggero (previously named La Polentaria) is run by Italians who know how to make the best Italian food whilst still making it 100% suitable for us gluten free folk.
Think dishes served with homemade gluten free pasta and even cheesecake and tiramisu. It's near a lot of the West End theatres (& 2 minutes from where I once worked!) so I'd highly recommend if you are looking for authentic Italian gluten free in London. Gluten free London at its finest!
Situated in the wonderful setting of the One Aldwich hotel, Indigo is an upmarket restaurant that's 100% gluten free AND dairy free. It's also accredited by Coeliac UK.
They have everything on the menu from gluten free fish and chips to sticky toffee pudding and tons more traditional English options.
In One Aldwych they also do the most AMAZING gluten free afternoon tea which can be made entirely dairy free too if you fancy.
Here's a shot of me enjoying myself! ??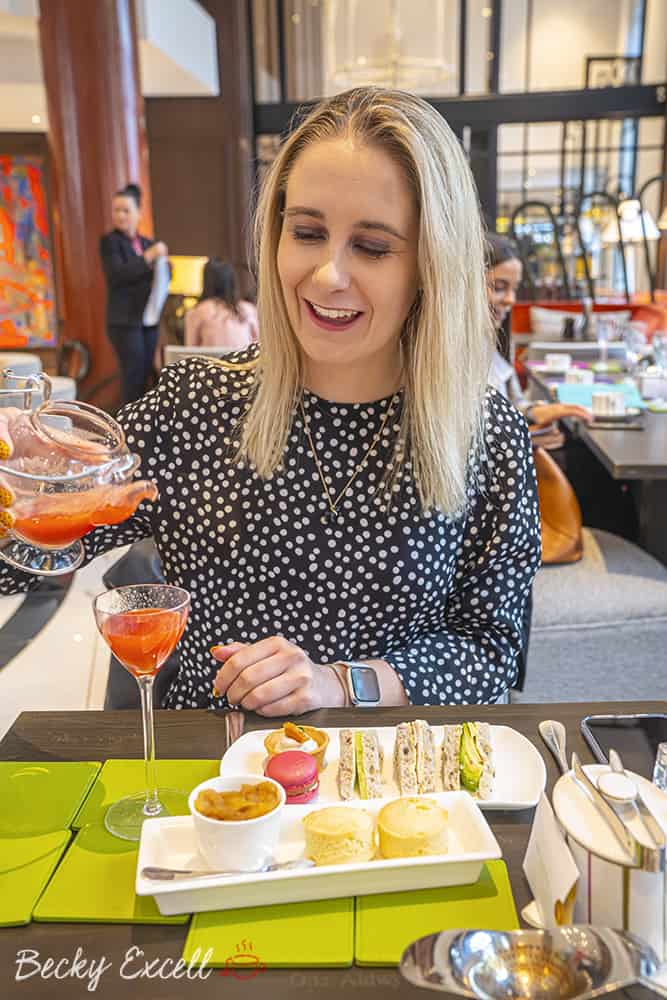 For me, it doesn't matter what time of year it is. If I'm in London and near Piccadilly, I'm heading to Grom and getting an ice cream in a gluten free cone!
Yep, all the cones and ice cream are 100% gluten free at Grom. There's even a few dairy free sorbet flavours too!
As soon as you leave the tube station at Canada Water, you can basically see Leadbelly's right from where you stand. It's a self-proclaimed 98% gluten free restaurant with nearly every option on the menu being gluten free.
Think gluten free fish and chips, steak and ale pie, southern-fried chicken and tons more options.
They're even great with adapting food where needed if you can't tolerate onion or garlic like me!
12. Honest Burgers 4A Meard Street W1F 0EF (tons of locations across London)
Honest Burger is hands down, the best spot for a burger on this list.
Their gluten free buns are amazing – plus they even do gluten free chicken wings and onion rings.
Of course, all their fries are gluten free too. This is mine and Mark's fave spot for a fast dinner!
Honest is definitely in my top 5 recommendations for gluten free in London!
13. Leon Spitalfields Market, 3 Crispin Place E1 6DW (tons more locations across London)
Leon is essentially a healthy fast food restaurant and fortunately, you're never far away from one.
Of course, there's tons of light bites and salad options, but I personally love the gluten free chicken burgers and GFC (gluten free fried chicken nuggets).
It's the perfect place for lunch on the go and it's probably the most convenient place for gluten free in London on this list.
14. Naturally Chinese 59-63 Brighton Rd, Surbiton KT6 5LR
Naturally Chinese is the first and only Coeliac UK certified Chinese restaurant in the UK. They have a dedicated gluten free menu with tons of dumplings, spring rolls, spare ribs and tons more for starters.
In terms of mains, you'll be spoilt for choice with roast duck, beef in black bean sauce, sweet and sour chicken, chicken curry – and that's just a few dishes out of about twenty.
If you've been missing Chinese food, then Naturally Chinese is defo the place to go for gluten free in London!
15. Rossopomodoro Seven Dials 50-52 Monmouth Street WC2H 9EP
Finding pizza that's gluten free in London seems to be more troublesome than it should be. Of course I know the chain restaurants all offer gluten free pizza, but when I visit other cities I find there are some amazing central gluten free pizza restaurants, its not as easy in London.
HOWEVER… Rossopomodoro stands out for me as being one of the very best gluten free pizzas around. You do need to let them know that you want a GF pizza in advance but it's worth it as I have experienced some excellent pizzas here. They have quite a few restaurant locations across London so you're never too far away from one.
You can't leave London without trying a portion of Hobson's gluten free fish and chips! They have a mini gluten free menu comprising of battered fish, onion rings and even apple crumble and sticky toffee pudding.
They fry all gluten free battered food in a separate fryer too!
17. The Bach 12 Broadway Market, E8 4QJ & 98 Hoxton St, N1 6SG
The Bach (pronounced the 'batch') is one of my fave spots for brunch and lunch in all of London.
Mark always goes for gluten free and dairy free blueberry pancakes and I love a gluten free toastie or something from their brunch menu.
So much of their menu can be made gluten free and it's just generally a cool place to chill out.
The food hall in Selfridges is a glorious place if you're gluten free! After all, it's home to tons of Borough 22 doughnuts too.
Borough 22 make the most Instagrammable doughnuts in the UK, but they're not just a pretty face. They're gluten free, dairy free and vegan too.
Make sure you also check out Manna Dew in the Brass Rail cafe as they have gluten free chocolate twists and cinnamon and raisin swirls… yep gluten free pastries!
Dolly's Cafe (on the same floor as the food hall) has even more of their amazing gluten free pastries (like apricot slices and mixed berry tarts) but you can't take these away. You have to be seated to order them.
Worth it in my opinion!
19. Broadway Market Broadway Market, E8 4QJ (Saturdays only)
Every Saturday, Broadway Market appears as if by magic. I'd definitely call it the best gluten free market in London.
You can check out my guide to Broadway market over here of all my fave stalls at the market.
Just as a quick whizz through, make sure you go to Floris Foods (best gluten free donuts), Eat'n'Mess (amazing cookies and cakes) and Finest Fayre (gluten free scotch eggs). Make sure you read my post linked above if you're thinking of heading there!
20. Borough Market 8 Southwark St, London SE1 1TL
Borough market is a hotspot in London regardless, but especially on Wednesday through to Sunday when the Free From Bakehouse is there.
As you can imagine, they have tons of gluten free (and dairy free) cakes.
21. Greenwich Market 5B Greenwich Market, SE10 9HZ
If you're near Greenwich market, it's definitely worth stopping by – especially on a Saturday and Sunday.
At the weekends, Ruby's of London is there showcasing some of their wonderful gluten free and vegan cakes and bakes.
But if you can't make it there at the weekend, definitely go and check out Planet Pancakes who are there all week. They do mini gluten free pancakes with a range of toppings which are amazing!
22. Pearl and Groove 341 Portobello Rd, London W10 5SA
Pearl and Groove is another late additional to the 100% gluten free places on this list. Everything is 100% gluten free and they even have tons of dairy free and vegan options too.
Pearl and Groove are famous for their mini gluten free loaf cakes that you see in the photo below. Yes, they do taste every bit as good as they look!
But make sure you stick around brunch/lunch too!
23. Chateau Chiswick 213 Chiswick High Rd, Chiswick, London W4 2DW
Chateau Chiswick is a bakery and cafe that's perfect for breakfast, brunch or lunch with tons of gluten free options.
The main headline here is the amazing gluten free, dairy free and vegan cakes/tarts on offer. There's tons and they all look too good to eat!
24. Farmacy 74-76 Westbourne Grove, London W2 5SH
Farmacy is a healthy 100% vegan restaurant in Notting Hill with tons of gluten free options. Their dessert menu is especially awesome with a warm chocolate chip cookie and a glass of almond milk as well as a banana bread and peanut butter pudding.
We love going there for brunch purely for their chocolate chip waffles and house pancakes which are both gluten free, dairy free and vegan! I'm pretty sure brunch is only available at weekends though, so bear that in mind.
(though they did make us brunch specially for us during the week when we asked!)
There's tons of cool, trendy vegan options for breakfast and dinner too, but we both struggle to tolerate onion and garlic so weren't really able to try them ourselves. Let me know how they are!
Another Islington bakery that offers plenty of gluten free is Romeo's Sugar Free Bakery! As the name suggests, Romeo's prides itself on being sugar free. Nearly all the cakes on offer are gluten free and many are both dairy free and vegan too.
They look beautiful and taste even better, the gluten free mille-feuille is amazing! They also do gluten free crepes at the weekend which I'd highly recommend trying out.
26. Bird 42-44 Kingsland Road E2 8DA (more locations across London)
If you are on the lookout for gluten free fried chicken in London then Bird is a great option for you.
All of their fried chicken is prepared without gluten so there is definitely something delicious on the menu for you to choose.
They also do a wide range of made in house sauces which are the perfect dipping accompaniment to your gluten free fried chicken!
27. Dishoom 12 Upper St Martin's Lane WC2H 9FB (more locations across London)
Dishoom is a great option if you are looking for gluten free Indian food across London. There are 4 Dishoom restaurants, all centrally located across the capital, all with extensive gluten free menus.
There is plenty on offer from gluten free curries to traditional Indian desserts. What I like most about Dishoom is that it feels very authentic!
28. Vida Bakery 139 Brick Ln, E1 6SB
Vida Bakery is a bakery that's completely vegan, with loads of gluten free options too. The head baker of Vida Bakery, Dani, is a Coeliac herself and they do not handle any wheat flour in their kitchen. It's 99% gluten free, with the 1% of gluten being that they use things like Oreo's on one of their vegan options.
But it's one of the only bakeries that I've ever seen where you can buy a slice of gluten free rainbow cake!
They also have tons of cupcakes (even one with a mini gf doughnut on top) with lots of gluten free flavours to choose from. You're defo going to find something cute and Instagrammable here!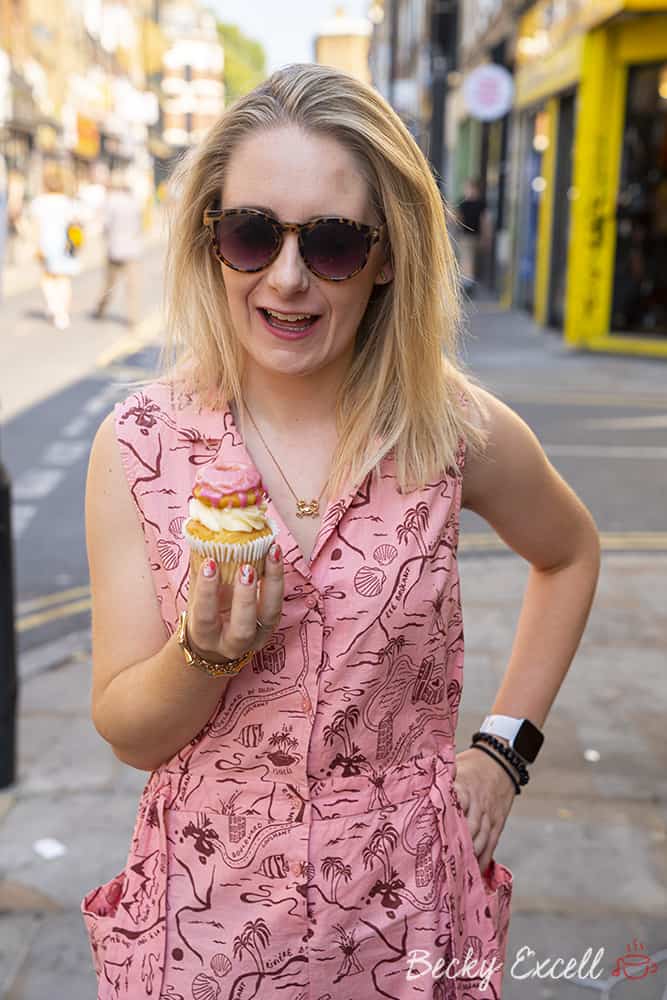 29. Cupcakes and Shhht 10 The Artworks, Elephant Rd, London SE17 1AY
Whilst you can go to Cupcakes and Shhht for brunch, most of their best gluten free options lie in their vast selection of gluten free and vegan cakes.
They do some of the best gluten free cupcakes in London as well as some amazing cookie sandwiches too.
30. Flat Iron 47-51 Caledonian Road, Kings Cross N1 9BU (tons more locations across London)
Flat Iron have tons of locations across London and if you're looking for a good steak with gluten free friendly sides, then you've found your calling.
They have one option for your steak – the flat iron steak. And that's it! Then you choose your sides – from chips, to side salads, roasted vegetables and a sauce. It's simple yet soooo good!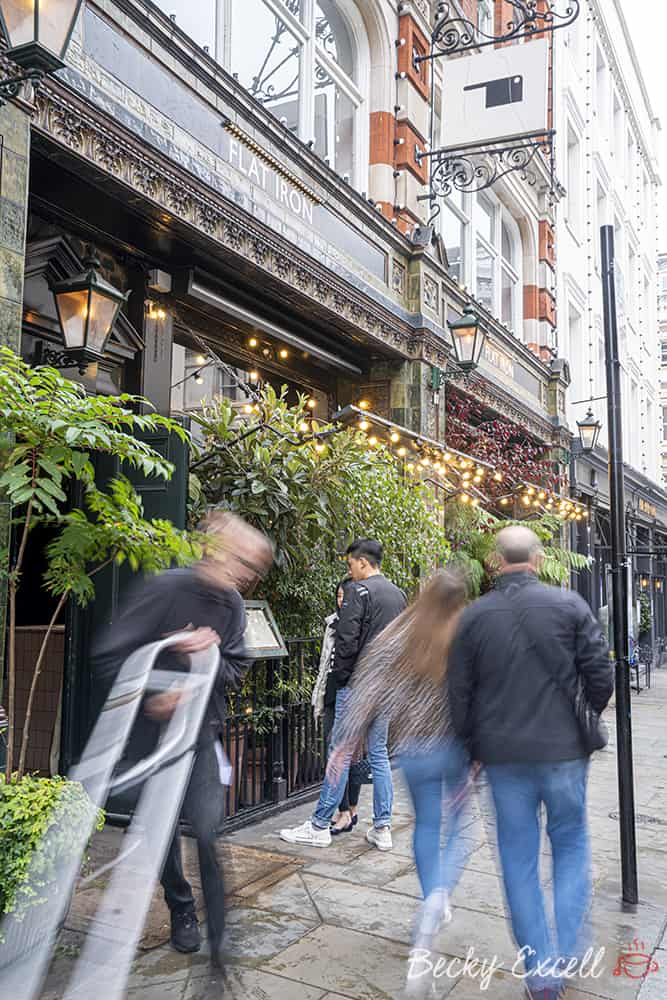 31. Farmstand 42 Drury Lane, WC2B 5AJ
If you're looking for a fresh, healthier gluten free option for lunch on the go, look no further than Farmstand. Most of what they offer is gluten free.
When you walk up to order, you'll immediately feast your eyes on a colourful banquet of dishes and sides to choose from. It's the sort of place where you pick your protein, then your veggies and sides with it. What you end up with is a beautiful box of deliciousness!
The staff were really helpful when it came to asking about what did and didn't contain onion/garlic (which I'm intolerant to) so I'd definitely go back on the regular. They even do gluten free muffins too!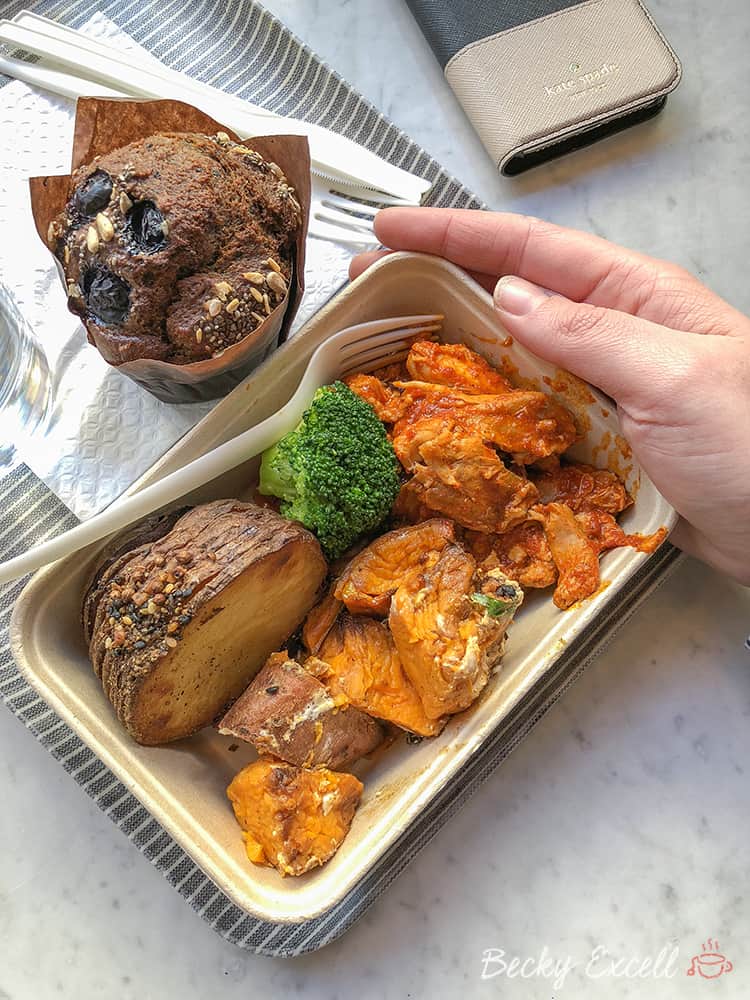 Supermarkets you can visit for gluten free in London
Wholefoods
Wholefoods is a great place for picking up gluten free and vegan products. It's very pricey, but quite a lot of the products aren't easily available elsewhere.
For instance, with Beyond Bread (the 100% gluten free cafe) shutting down all it's cafes recently, the only place you can purchase their products is at Wholefoods. The Beyond Bread offering in Wholefoods includes croissants, cinnamon buns, bread and a selection of cake slices.
Wholefoods is the sort of place where you can pick up gluten free food on the go for lunch, or purchase products to take home for another day.
Planet Organic
The exact same goes for Planet Organic, though they're not usually as enormous as Wholefoods.
Marks and Spencer
Ok, ok, Marks and Spencer is literally everywhere in the UK. But if you're really stuck for lunch options when you're out and about, you can always count on M&S to bail you out. They have loads of gluten free sandwiches, wraps and pasta, as well as a few cakes too.
I think that's enough to keep you busy!
I really hope this has been a useful guide to gluten free in London. If you find anymore places that you would recommend just drop me a message in the comments below, or on Facebook / Twitter / Instagram. Also if you have any other questions please do the same!
Heading to Paris soon? Don't forget to check out my gluten free guide to Paris too.
Thanks for reading,
Becky xxx
Oh and don't forget to pin this for later!