Gluten-free cookie recipes – 22 of them to be more specific! They're all super simple to make, absolutely delicious and you'd NEVER know any of them were gluten-free AT ALL. Tons of them can be made dairy-free too, if you fancy.
Gluten-free cookie recipes, anyone? I've got quite a few to share with you today! So I have no doubt that when you're in the mood to bake cookies, you'll most definitely find something here that tickles your fancy. There's everything from classic choc chip cookies, to triple chocolate, cookie bars and even a cookie cheesecake too. Nearly all of these recipes are made without xanthan gum too – it's not necessary in cookies!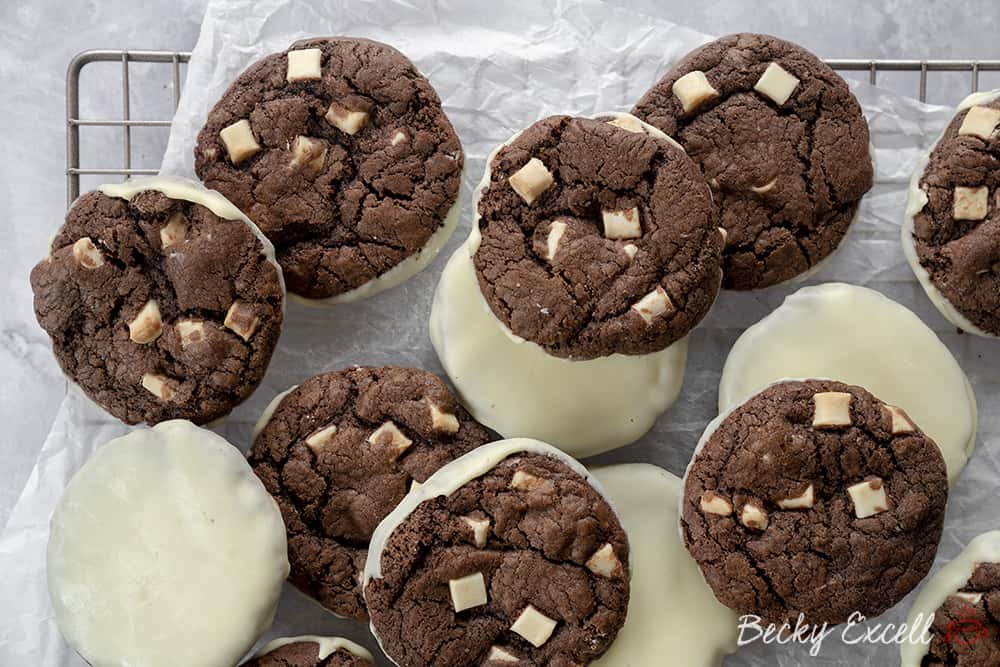 Of course, I absolutely had to kick off my round-up of gluten-free cookie recipes with a classic: gluten-free chocolate chip cookies.
These are the cookies that started it all, as almost every recipe in this post was adapted from this one.
They're light and crisp on the outside, chewy in the middle and packed with chocolate chips. Proper bakery-style cookies, not like hard biscuits!
You'd never know these were gluten-free, so if you fancy starting with the basics, this recipe is absolutely perfect.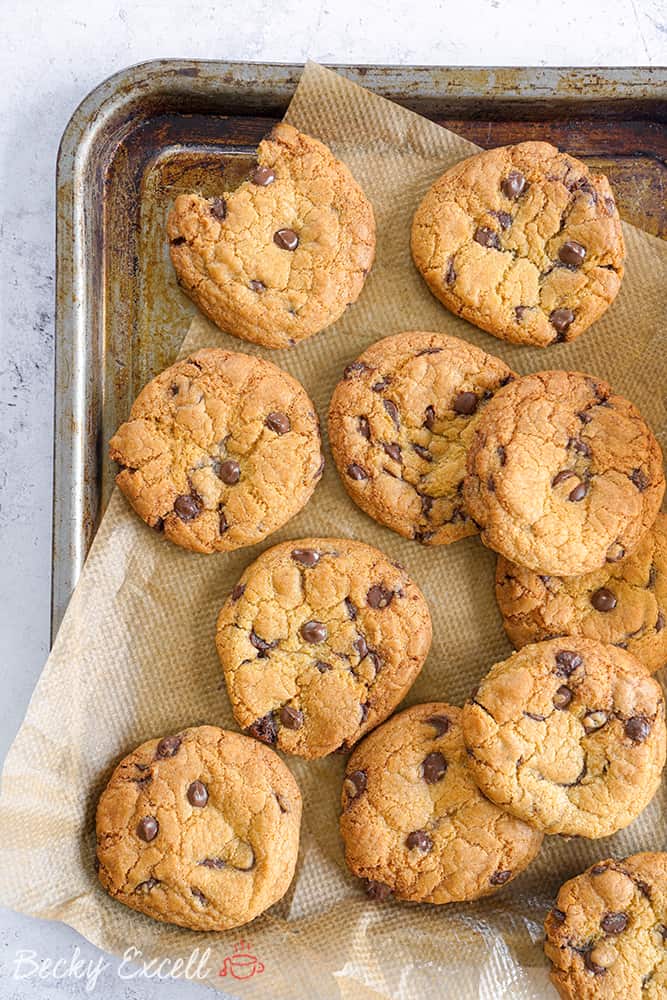 And who could resist my triple chocolate chip cookies?
They're also crisp on the outside and chewy (like cookie dough) in the middle, but of course, the cookie base is now chocolatey!
Plus, they're then packed with white and dark chocolate chips – making the full chocolate trilogy.
Of course, like all these recipes – they're super easy to make!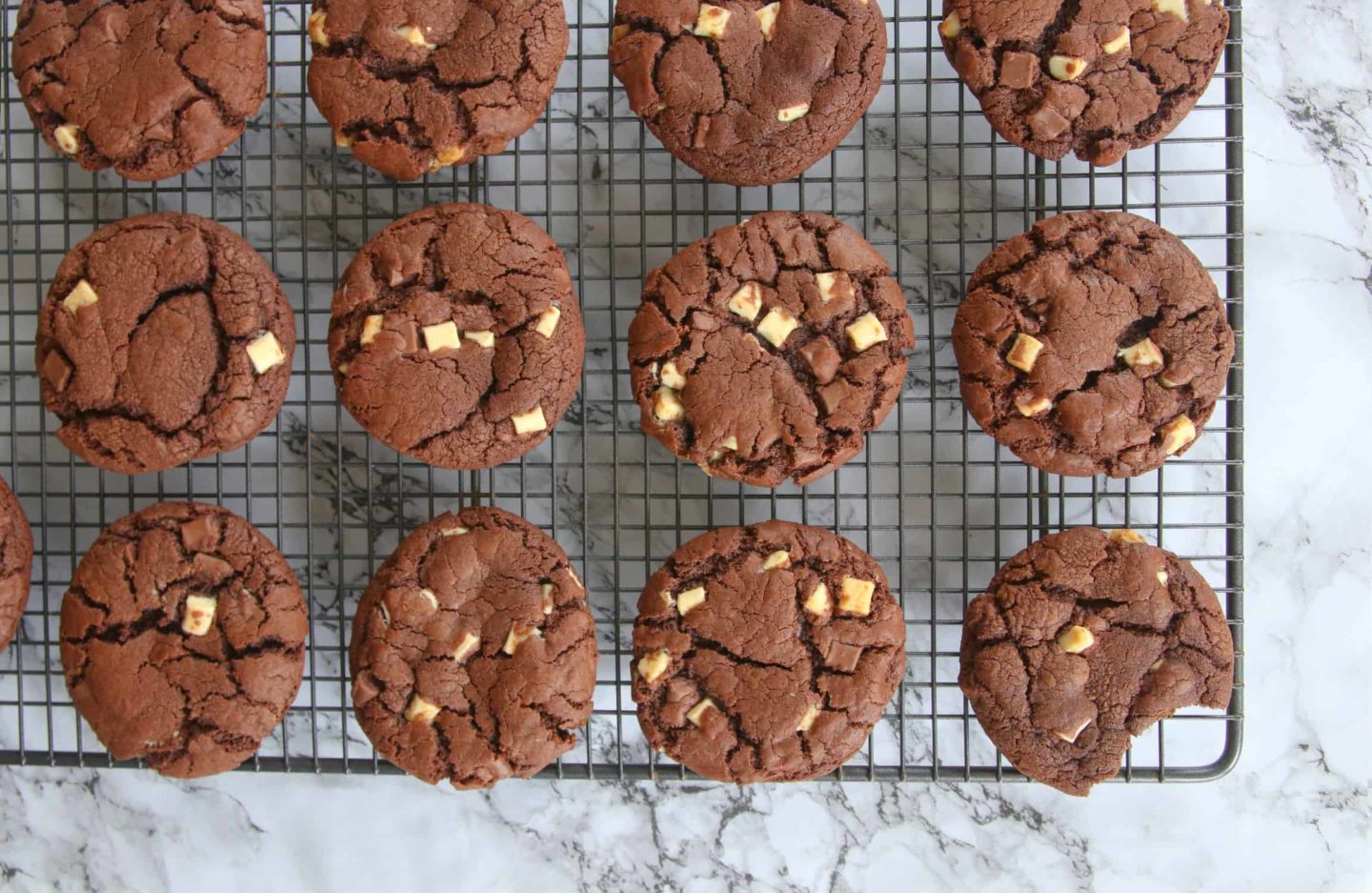 These are a real favourite whenever I post them on Instagram. They're essentially my classic cookies, but with a lovely, thick milk chocolate base.
And all you have to do is simply dip them into melted milk chocolate and then let them set!
So I thought I'd create a brand new post just to reflect those simple extra steps. And I'm so glad I did, because you guys seem to love them even more than the classic version!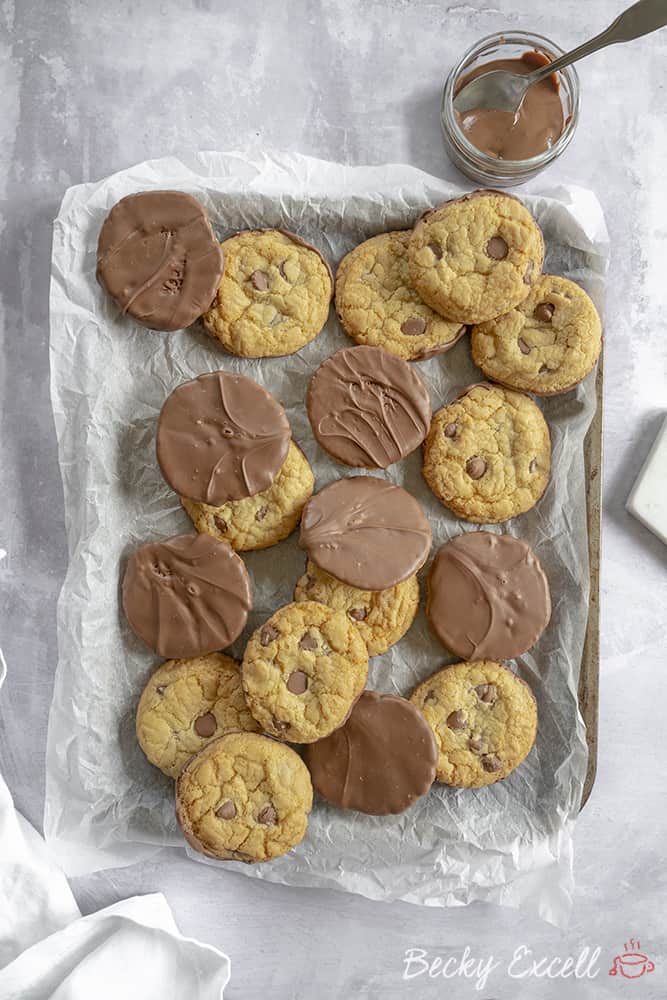 Of course, the world (and my gluten-free cookie recipes post) doesn't end at chocolate chip cookies!
I'm absolutely addicted to peanut butter cookies, but I could never find a recipe that was everything I was searching for.
I wanted them to be crisp on the outside, chewy in the middle, with tons of peanut butter flavour and a crunchy finish. So I made my own!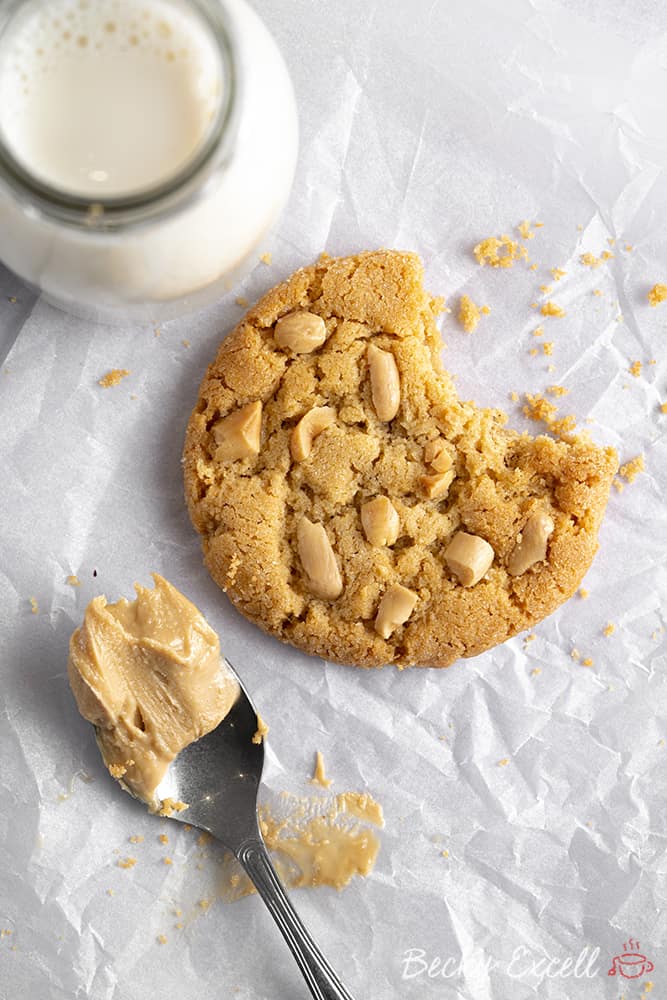 These are the ULTIMATE cookies in my opinion! Whilst it's super easy to mix up my cookies and throw in whatever you want, getting raspberries into cookies isn't always easy.
But with this recipe, it is! I actually use fresh raspberries in this recipe and they bake in so well.
Combined with chunky white chocolate chips, these are a flavour combo that you absolutely must try.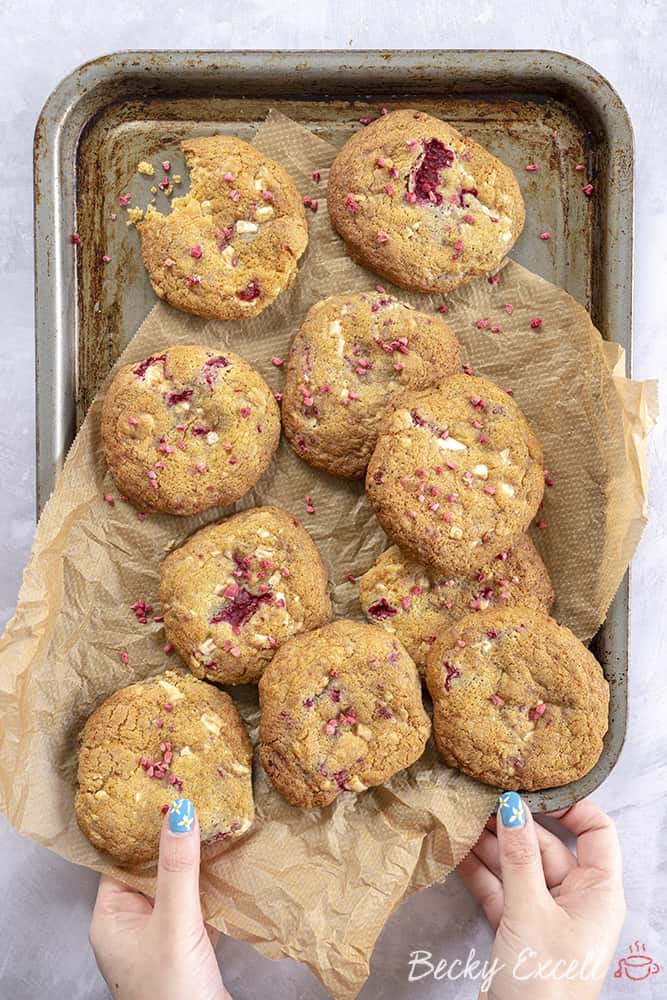 Yes – cookies can easily be made into an awesome traybake-style cookie! And you know what? They might even be better than traditional cookies ?
Why? Well first of all, they're even easier and quicker to make than my classic cookies. There's no need to roll them into balls and then chill them.
That shaves off at least 30 minutes from your baking time!
Plus, when they're bars, you get EVEN MORE chewy, cookie dough texture in the middle which is only a good thing. Give them a go and let me know what you think!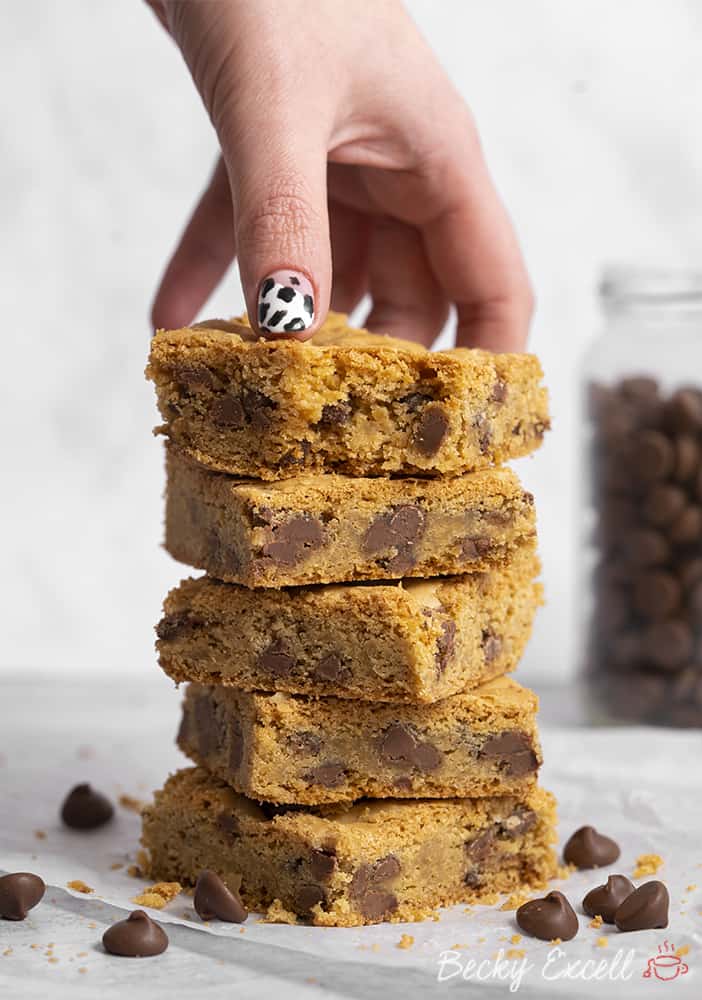 What do you mean you never thought of making a cookie cheesecake? ? My gluten-free cookie recipes wouldn't be complete without this one!
I actually used shop-bought gluten-free cookies (from the free from aisle) to make this one – you know, since you're making a cheesecake and all.
So in that sense, it's actually really easy to make. The biscuit biscuit base is made from crushed cookies, topped with a chocolate chip vanilla filling and lots of cookies.
When one cookie just isn't enough, give my no-bake choc chip cookie cheesecake a go!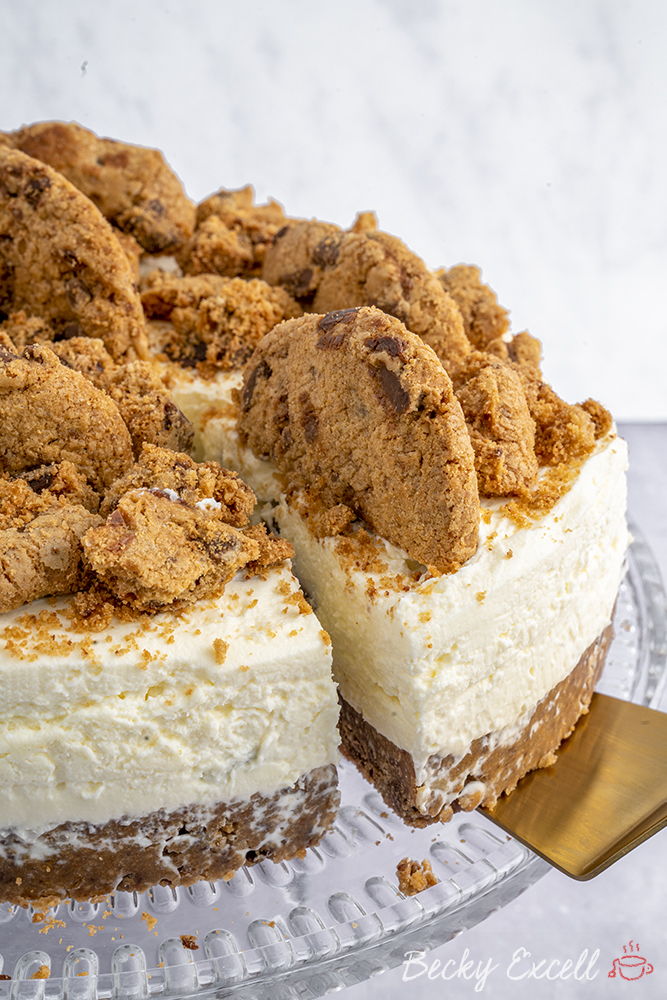 As I'm sure you can tell from how many gluten-free cookie recipes are in this post, I sit up, awake, at night wondering how I can make cookies even better.
And it seemed like a bit of a no-brainer to fill them with Nutella! What do you think?
You can easily make this one dairy-free too believe it or not!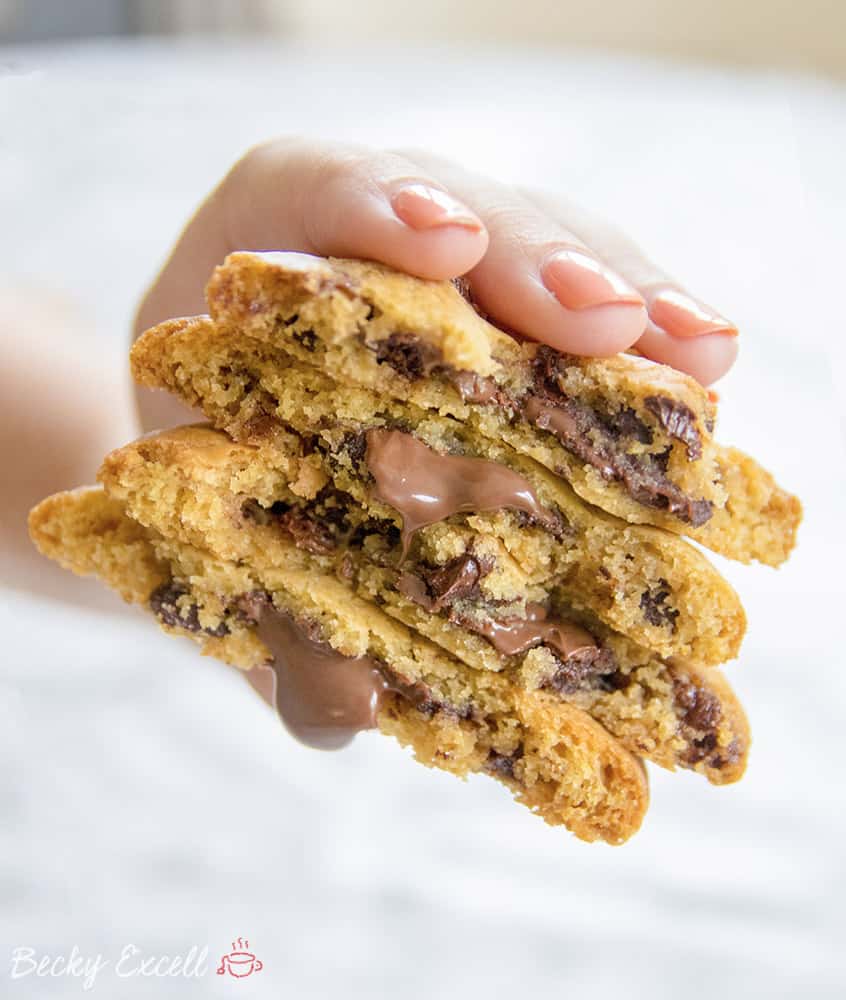 Now, this is actually a twist on my classic peanut butter cookies.
But instead of topping them with peanuts and granulated sugar, I use my thumb to make a hole in each cookie dough ball and add a little jam.
Hence why they're called thumbprint cookies! The result is a lovely peanut butter and jam combo that needs no hyping up.
Plus, if you're lucky a few might come out perfectly heart shaped like mine did!
Now I must first preface this post by saying that regular Smarties are NOT gluten-free – for some reason they contain wheat!
But I found gluten-free 'Smarties' in Aldi that didn't! So obviously, this is the first thing I did with them.
Make sure you check the ingredients and 'may contain' warnings on them though as Aldi seem to change these products (and their ingredients) a lot.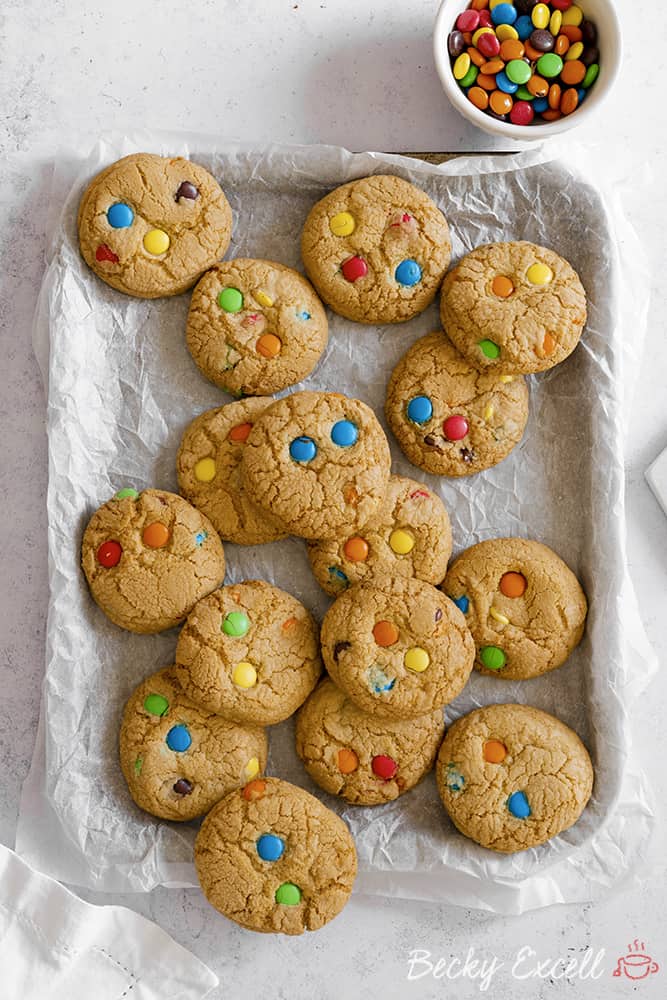 This might just be YOUR absolute favourite of all my gluten-free cookie recipes.
These are double chocolate cookies dipped into white chocolate to give them a lovely, thick, creamy base.
Honestly, I can't express how good that white chocolate base is on a double chocolate cookie. It's well worth melting a little chocolate for – it only takes an extra 10-15 minutes longer!
These are probably my most decadent, indulgent cookies out of all my gluten-free cookie recipes.
With a thick cookie base packed with white and milk chocolate chips and a gooey layer of salted caramel, then topped with more cookie, I'm sure you can imagine why!
Every bite is crisp, chewy with that sweet taste of caramel and creamy milk chocolate chips running through it.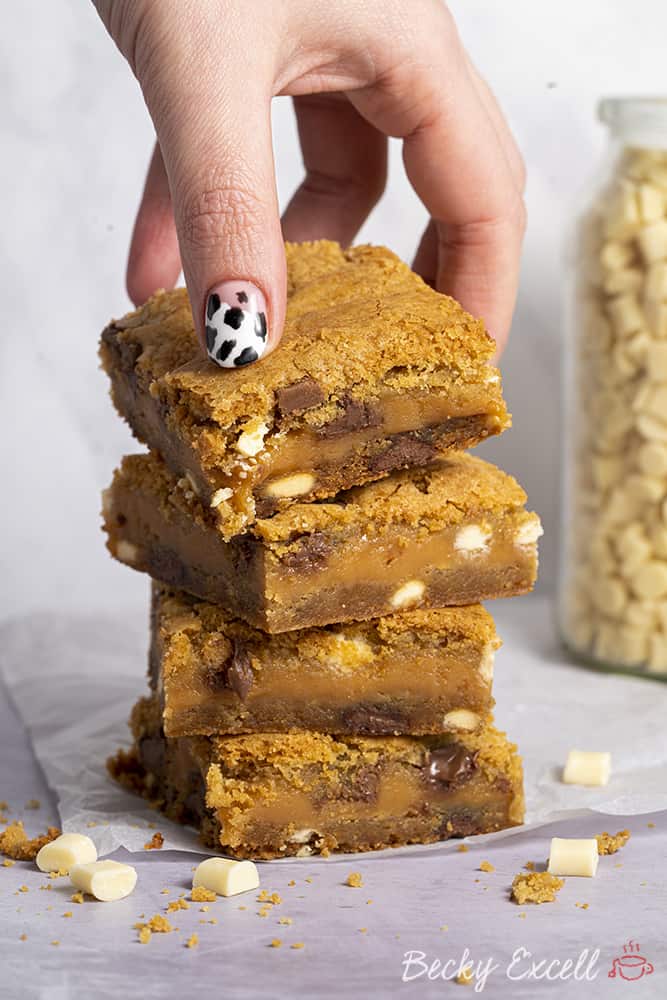 Depending on when you're reading this, you might still easily be able to find mini Creme eggs in supermarkets (which are of course, gluten-free in the UK).
If you can, then great! Because nothing beats big chunks of chocolate and that oozing fondant filling.
Creme eggs are too good to only be enjoyed during the Easter period!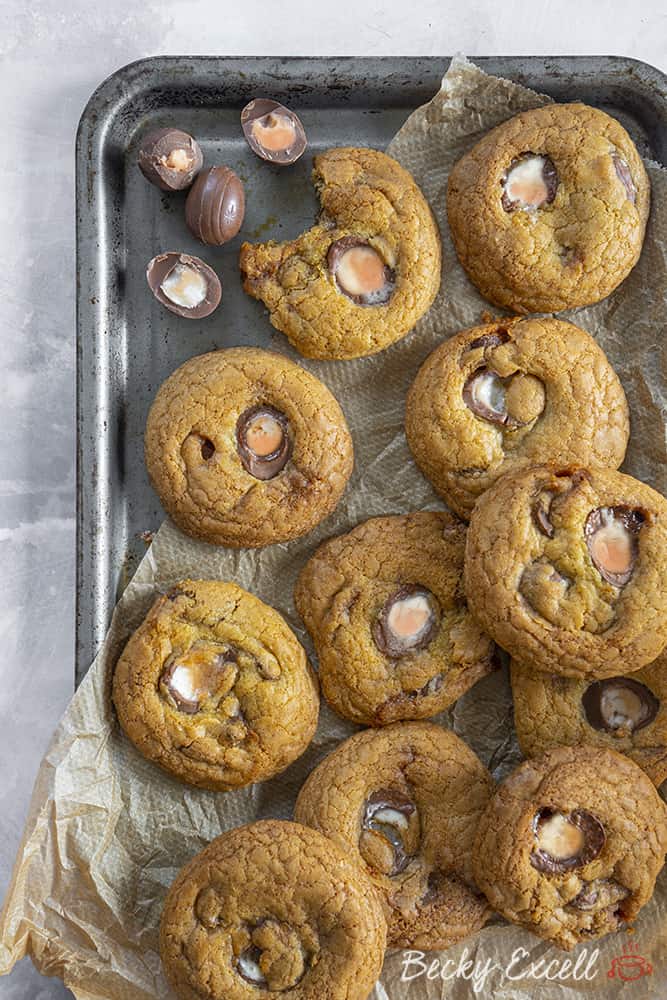 In these beauties I used the biggest chocolate buttons that I could find!
As the buttons are lovely and chunky, they come out really melty and gooey when they're done.
Simply find a bag of big, chocolate buttons, make sure they're gluten-free, then make these ASAP.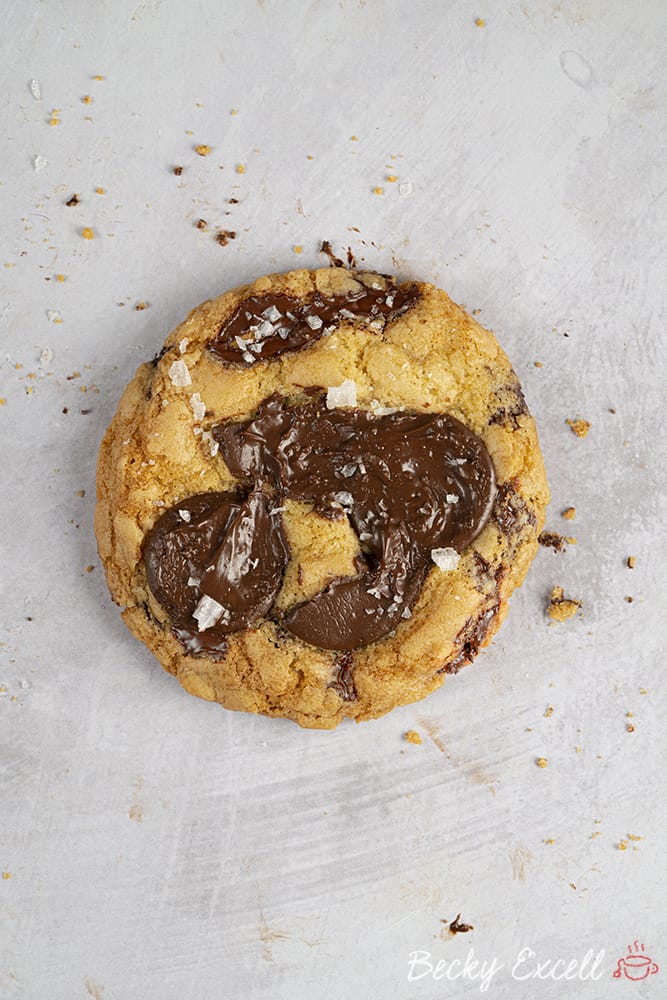 Now this is my kind of sandwich! Each cookie sandwich is made up of two chunky white/milk choc cookies.
Then, sandwiched between them is a sweet, yet chocolatey Nutella buttercream – lovely, light and fluffy.
Why have one cookie when you can have two? (at once!)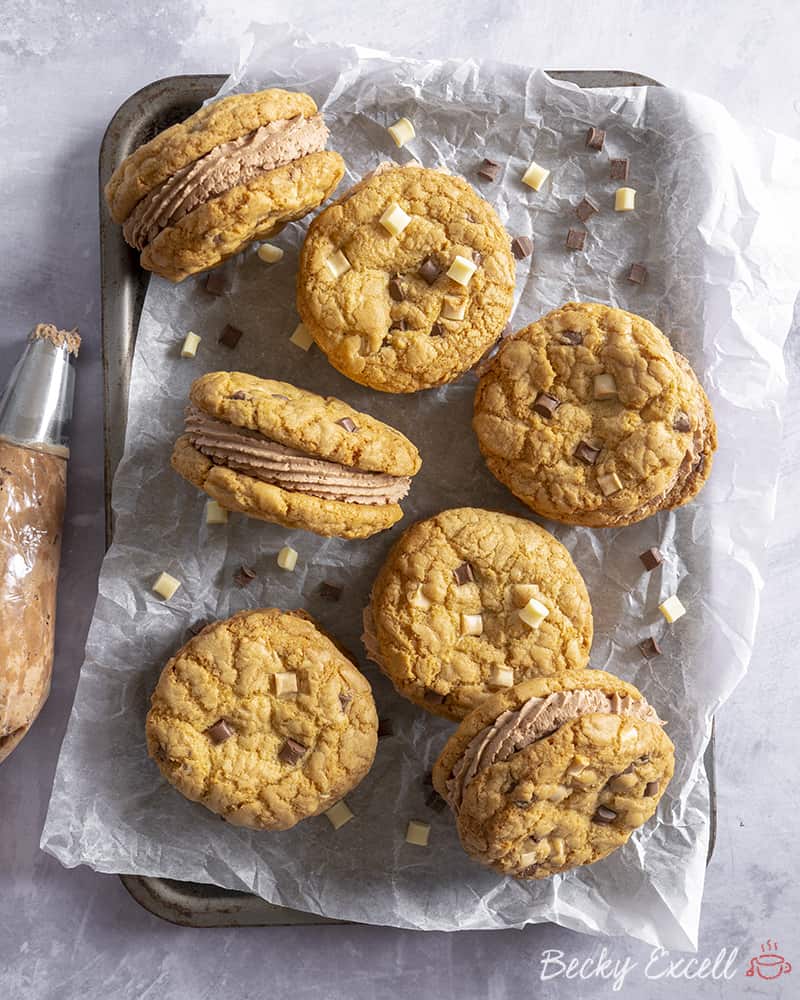 These are probably your fave Easter cookies – after all, you can't beat mini eggs, can you? (which are of course, gluten-free in the UK)
Every bite is packed with chunky chocolate mini eggs and a little added sweetness thanks to the colourful egg shells.
The only hard part about making this is trying not to eat all the mini eggs when you're baking them!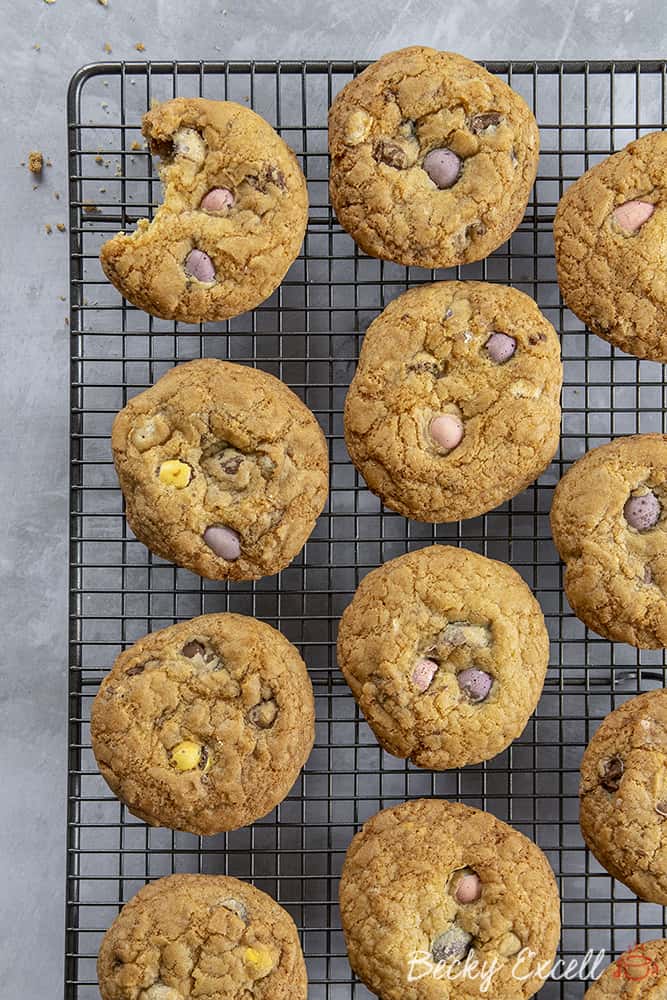 Did you know that those cute little Kinder milk bars are gluten-free?
They're basically like Kinder Surprise chocolate, but in a bar! Of course, Kinder Buenos aren't gluten-free, but Schar Meltos are – so that's what I paired with my Kinder bars.
In case you didn't know, they're a gluten-free version of a Kinder Bueno. Perfect for my Kinder chocolate cookie bars!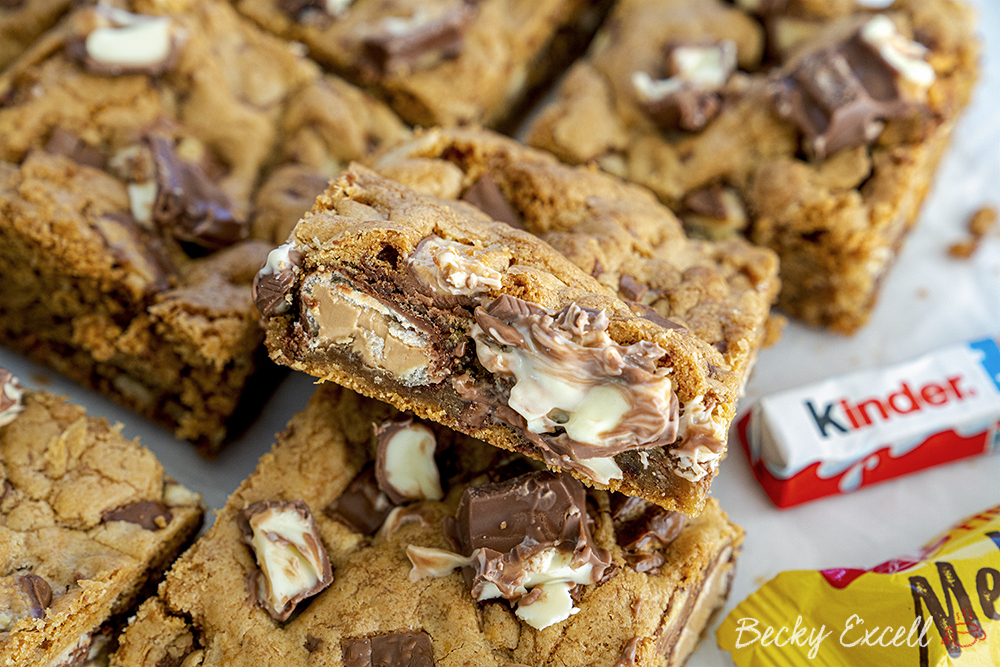 These are the ULTIMATE cookie – super thick, with tons of cookie dough-like filling in the middle – packed with all the melty Easter chocolate I could find.
You could easily make these using chocolate chips instead of the Easter chocolate if you can't find any.
These cookies are characteristically humped in the middle (from freezing the cookie dough balls) which means they're lovely and gooey inside.
Trust me, you just have to try these to know how good they are. There's unlike any other cookie in this list.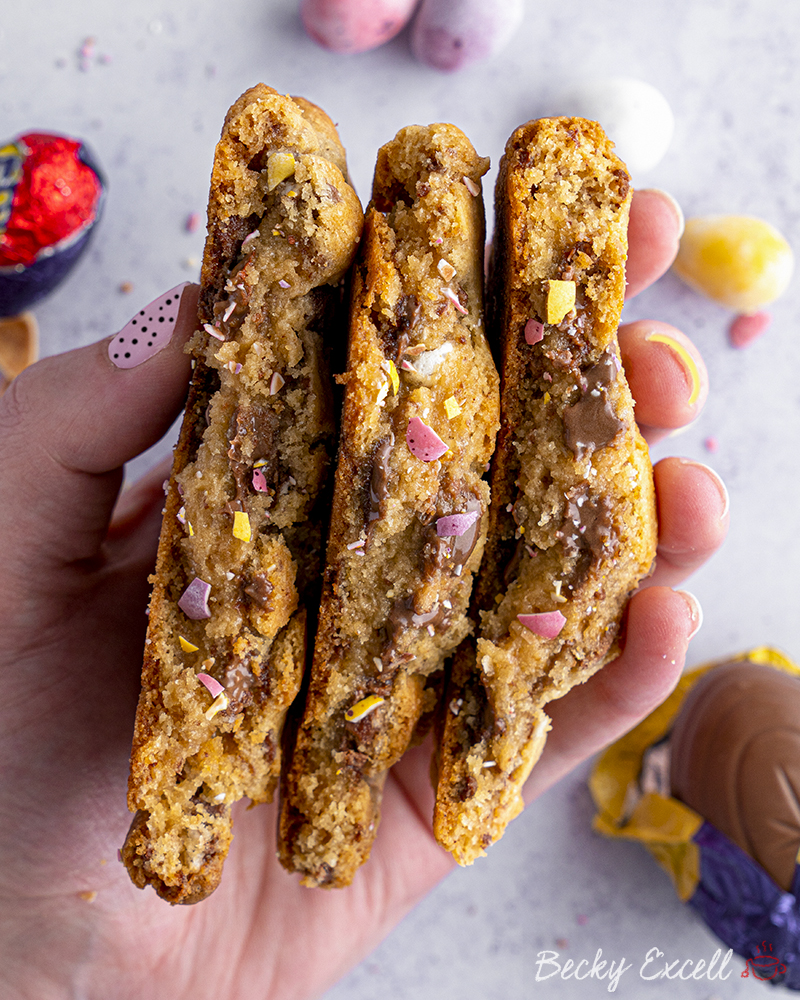 Recognise these? They're my classic peanut butter cookies, but with a lovely peanut butter buttercream (or should that be peanut buttercream?!) in the middle.
With the cookies being crisp yet chewy and the buttercream bringing that sweet, fluffy centre, a cookie sandwich has never tasted so good.
Of course, with all of my gluten-free cookie recipes, you'd never know they were gf at all!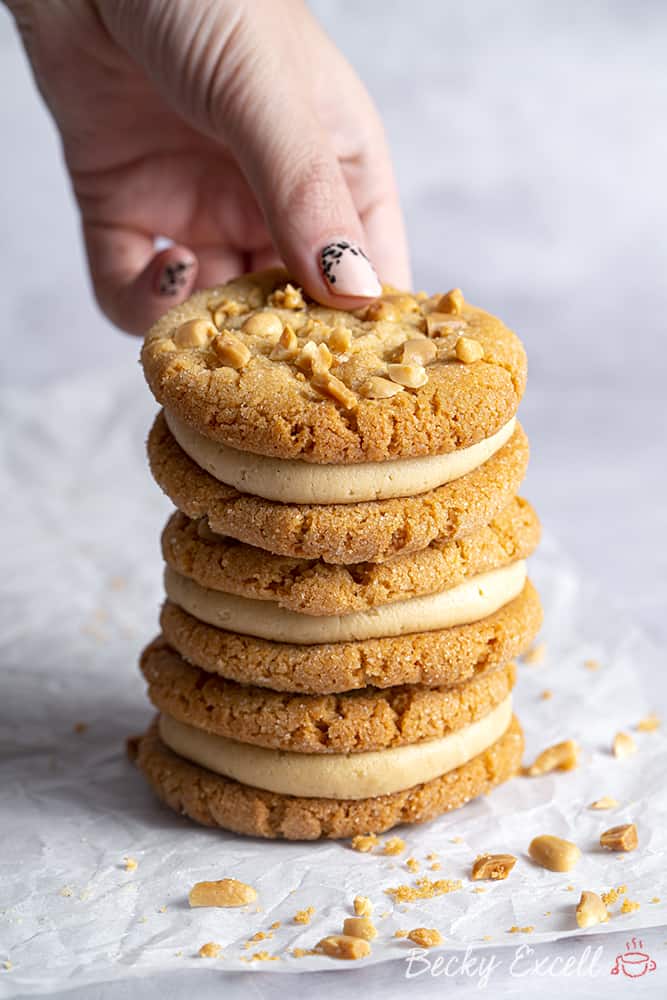 You might currently be thinking 'what on Earth are these?' Well, let me tell you!
A brookie is a brownie crossed with a cookie. So the bottom layer is made up of lovely crisp, chunky cookie.
Then the middle layer is gooey, fudgy chocolate brownie, finished with a chocolate ganache and sprinkles on top.
If you've never tried a brookie before, then trust me – you need to!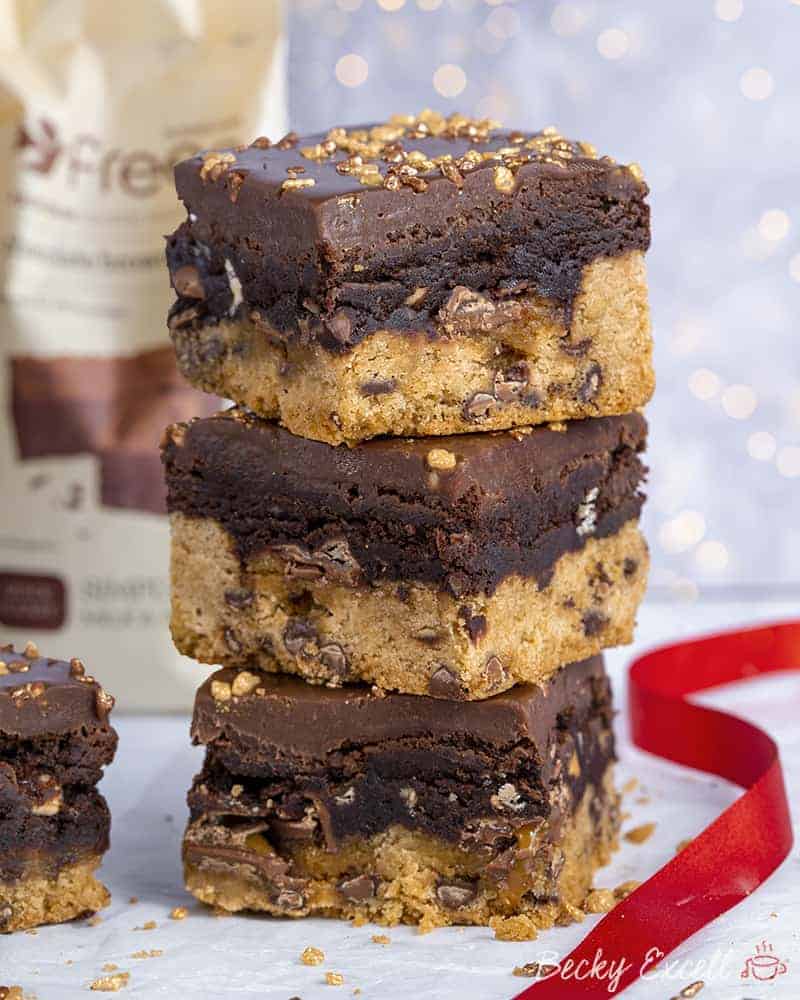 Did you know that the KitKat bunnies are gluten-free? How crazy is that?
Yes, something branded KitKat that we can actually eat! So naturally, I absolutely had to embed some into my chunky chocolate chip cookie bars.
The result is absolutely out of this world, so make sure you give these a try!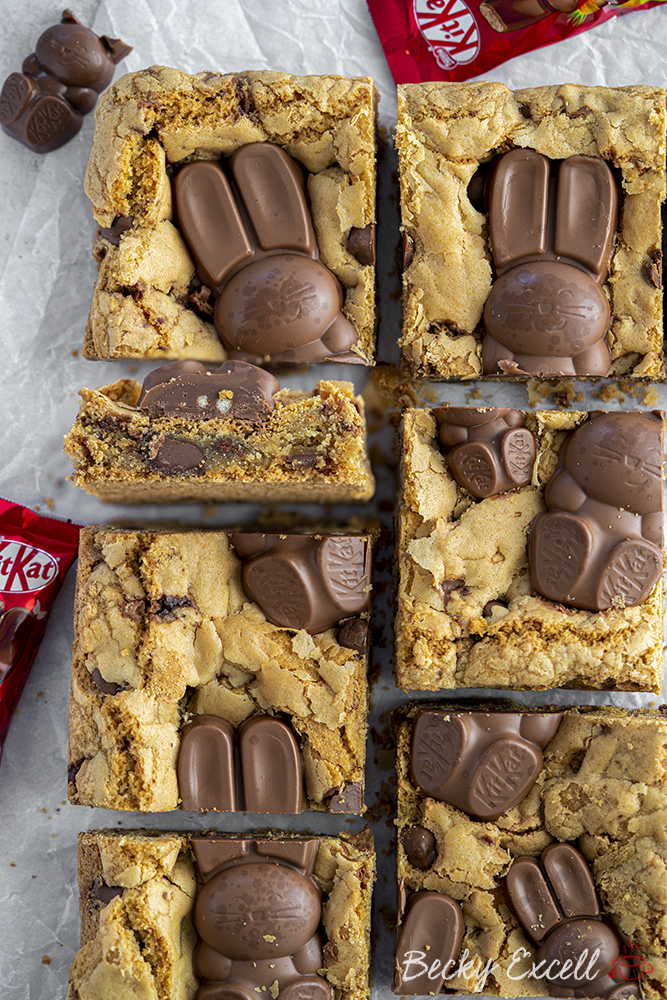 Last but not least, it's another mini egg favourite to round off my gluten-free cookie recipes post – mini egg cookie bars.
Mini eggs work so well in cookie bars as they're already pretty chunky, but now with tons of chunky, smashed mini eggs.
You may never want to use regular chocolate chips after trying these!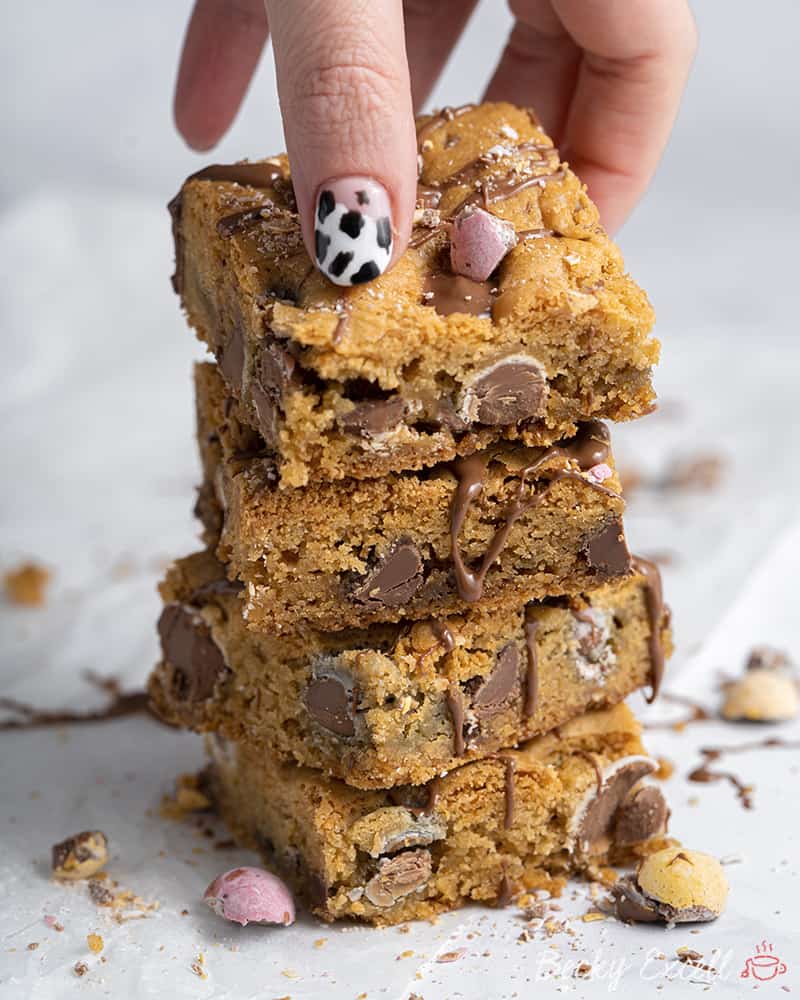 Thanks for reading all about my gluten-free cookie recipes! If you make any, I'd love to see how they turned out so don't forget to take a snap of your creation and tag me on Instagram!
Any questions about the recipes? Please do let me know by following me on Instagram and leaving me a comment!
Thanks for reading,
Becky xxx
Oh and don't forget to pin this for later!
Comments