My gluten free brookie bar recipe is super easy to make – especially with the little hack I've got for you in this one. They're a combo of a brownie and a cookie and I've even sneaked in a few little extra festive finishing touches too.
Yep, that's right, my gluten free brookie bar recipe makes a brownie crossed with a cookie! So imagine a gooey, chocolatey brownie on top, with crunchy chocolate chip cookie on the bottom – sounds good, right? I know you guys love some of my simple recipes and this is definitely one of them – so get your aprons on!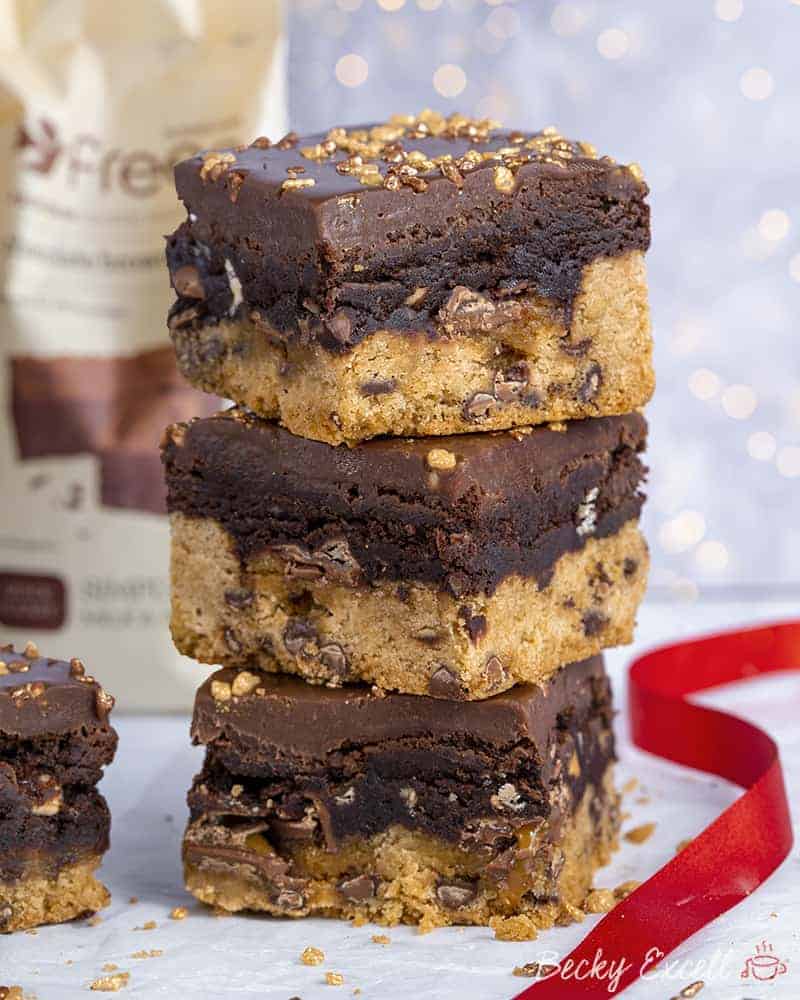 I wanted to create a real people-pleaser for the festive season and my gluten free brookie bar recipe seemed perfect. I mean, if I turned up to a Christmas buffet and there was a plate-load of these… let's just say I'd be over the moon.
(or all over the buffet table to be more specific!)
So what are they exactly? Let's start from the bottom and work our way up! Firstly, you've got a crunchy, golden chocolate chip cookie base, with rich, gooey, white chocolate chip brownie on top of that.
Oh and did I forget to mention that there's chocolate caramels in the middle of those two layers too? My fave Christmas treat out of any box/tin of chocolates has always been the milk chocolate caramel ones… anyone agree?! So that's my first festive touch to this recipe!
Then I topped my brookie bars with a creamy milk chocolate ganache and my fave Christmassy crunchy sprinkles. All I want for Christmas is a brookie bar now!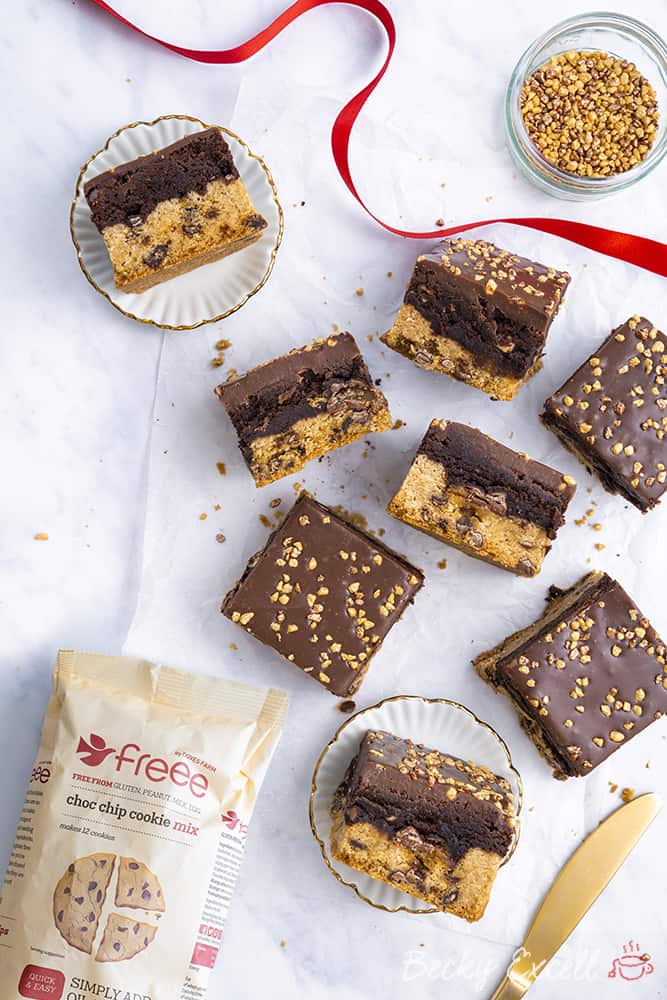 So what's my special little hack for making my gluten free brookie bar recipe so simple to make?
It's the FREEE baking mixes! Yep, that's right, you can make these in next to no time by FREEE's choc chip cookie mix AND their chocolate brownie mix. FREEE also do a sponge mix too which I've used tons in the past too, but you won't need it for this recipe today.
(in case you were wondering where you can buy the mixes, just head over to their website here and you'll be able to get them all delivered to your doorstep)
And the great news is that all of their mixes are gluten free and can easily be made dairy free too. I mean, how awesome is that?
Every time I use a FREEE baking mix, they're totally fool-proof and the end result always tastes awesome. Sometimes I can't even say that about my own baking ?
If you didn't know already, their gluten free flour range covers a lot of bases too – in their range, they have plain white flour, white bread flour, brown bread flour and self-raising white flour FYI. I use their flour blends in every single baking recipe on my blog in case you didn't know already!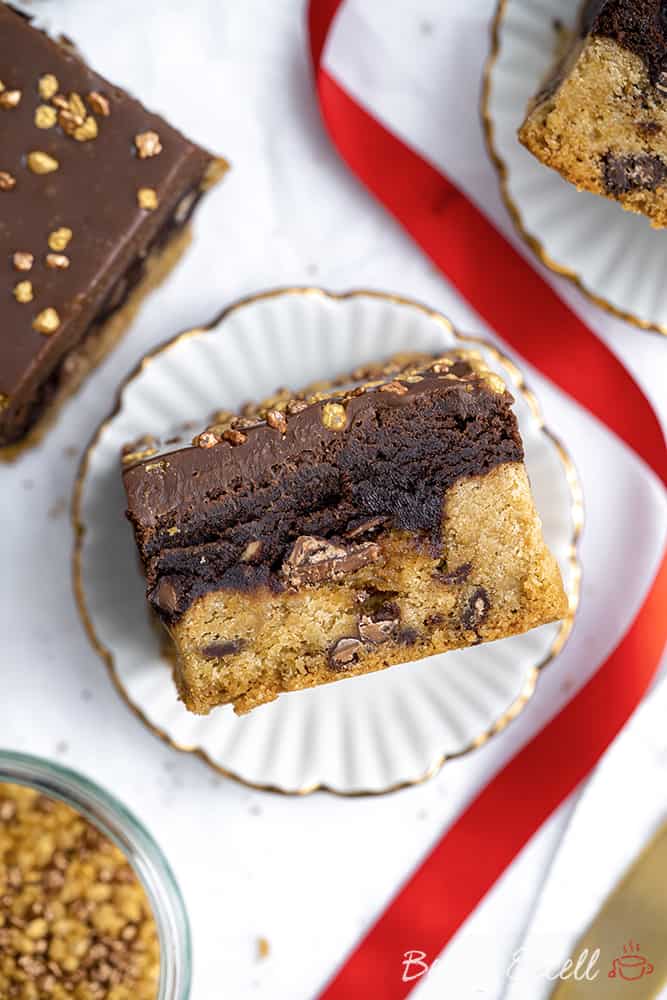 But what do they actually taste like? Just… wow. If I had to use one word – it'd be 'wow'.
(ok, I will try and describe them more specifically than that in a sec!)
The FREEE brownie and cookie mixes just combine to make a whooole new thing if you know what I mean. A totally different taste/texture and flavour compared to having them separately.
Then throw in the chocolate caramels along with the chocolate ganache and crunchy sprinkles on top… just trust me – you just *have* to make these and taste them for yourself!
So in every bite, you've got a crunchy cookie base, gooey brownie, bursts of caramel and creamy chocolate ganache. For me, it's just like tasting everything I thought I'd never be able to eat at Christmas.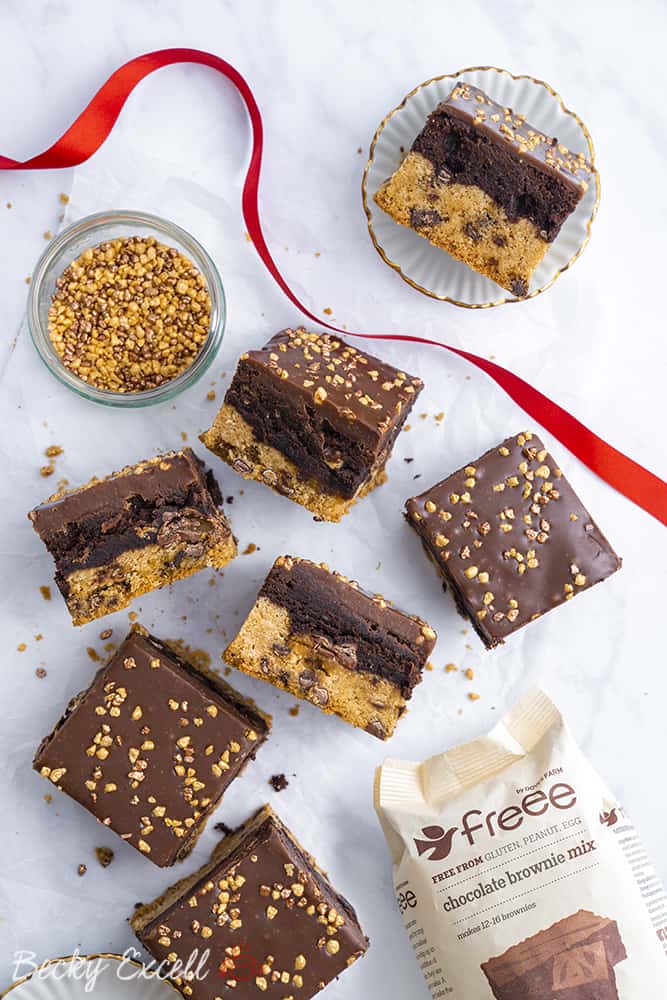 And before we get to the ingredients and method, here's a few frequently asked questions/tips on how to make my gluten free brookie bar recipe without a hitch…
Can I make this recipe gluten free?
It is gluten free!
Can I make your gluten brookie bar recipe dairy free?
Of course you can! Start by replacing all chocolate in this recipe with dairy free chocolate – that's an easy swap!
Both the FREEE choc chip cookie mix and brownie mix don't contain dairy, so no need to worry there. Whilst the brownie mix asks you to add milk, you can easily substitute this for dairy free milk. And instead of using butter for the brownies, you can just use dairy free hard margarine.
Lastly, for the ganache, simply use a dairy free alternative to cream instead and you're good to go.
Is your gluten free brookie bar recipe nut free?
Yep, this is a nut-free recipe as far as ingredients go. Even the FREEE choc chip cookie mix AND brownie mix are both nut free too.
But please, please make sure you check the ingredients label on ALL the other products you use to bake this just to be safe. That especially applies to chocolate, but I do mean every other product here too!
Even if the products don't contain nuts, they might have a 'may contain nuts' warning due to being produced in a factory that handles nuts.
You can never be too careful so always, always read the labels on everything first.
Can I make this using a food processor or standing mixer?
Of course you can! I don't actually use a standing mixer or food processor to make the cake mixture for this recipe – I use an electric whisk.
But to be honest, any of the above works totally fine and will cut down on elbow grease.
If using a food processor or standing mixer, just make sure you keep scraping down the sides with a spatula so that none of the mixture gets left out.
Can I make your gluten free brookie bar recipe without any kind of electric mixer at all?
Yep and you actually don't really need any kind of fancy electric mixer to make this at all. Just a wooden spoon or a spatula will do just fine.
Of course, you'll likely need a little extra time and elbow grease to make sure all of your brownie/cookie mixtures are well-combined.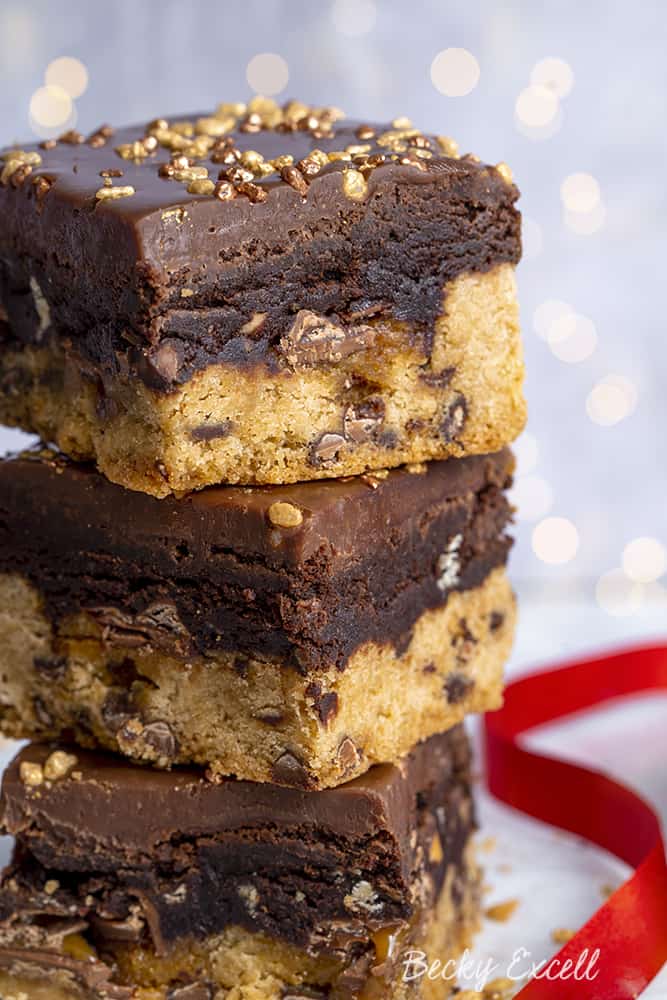 Do I need any special equipment to bake your gluten free brookie bars?
Certainly not! As I mentioned, a food processor, standing mixer or electric whisk will cut down on prep time, but they're not mandatory.
What you will need however is a 9″ square baking tin – here's the one I use. Apart from that, you'll just need a little baking paper and that's about it!
What sprinkles should I use to bake your gluten free brookie bars recipe?
I used a mixture of gold crunch sprinkles and bronze crunch sprinkles from Tesco.
They're gluten free and dairy free too, but not all sprinkles are so be careful. Always triple check the ingredients just to be safe!
Do I need weighing scales to bake your gluten free brookie bars?
In every recipe on this website, the answer to this question is always yes, yes and yes! Why? Because you should never bake whilst basically guessing the quantities.
And not surprisingly, the answer here is also yes to weighing scales! Whilst there isn't actually a lot of measuring involved in this recipe at all thanks to the use of FREEE's baking mixes… you will still need some scales for measuring.
You'll need them to accurately measure out the oil for the cookies, plus the milk and butter for the brownies. And whilst you're there, you might as well use them to measure out the ganache ingredients too.
Trust me, if you don't have some scales for baking then it might be time to invest in some!
How long can I keep your gluten free brookie bars for?
I've kept my gluten free brookie bars for about 3-5 days in an air-tight container with no problems. If you need to keep them any longer than that, I'd highly recommend freezing them in slices (see advice below for doing that).
When the cookie base starts getting a little soft and the brownie starts to get dry, I'd say they're a little past their best.
Can I freeze your gluten free brookies?
Of course! I've frozen them for up to 2-3 months no problem.
I'd recommend slicing them up first – otherwise it'll take an age to defrost! That way, you can also defrost a few slices at time instead of defrosting the whole slab, which you might not be able to eat all at once.
When you want to eat them, a slice should take around 3 hours to defrost at room temperature.
How can I tell when my brookie bars are done?
The brownie should look nice and lightly crisped on top – not dark, with a hard crust (overdone) or gooey/wet (underdone).
When they're starting to look nicely done on top, simply poke them with a skewer and it should come out completely clean. Then you can proceed with the ganache once it's all cooled a little.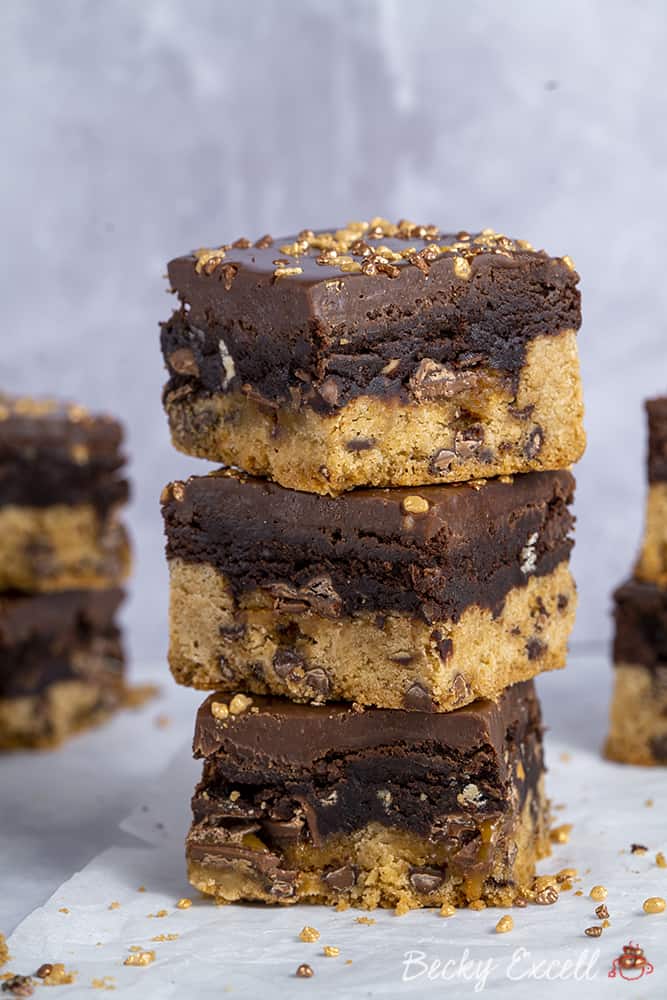 Can I print your gluten free brookie bar recipe?
Of course! Just hit the print button located on the recipe below ?? (otherwise you might end up printing this entire post which would probably make your printer go into early retirement)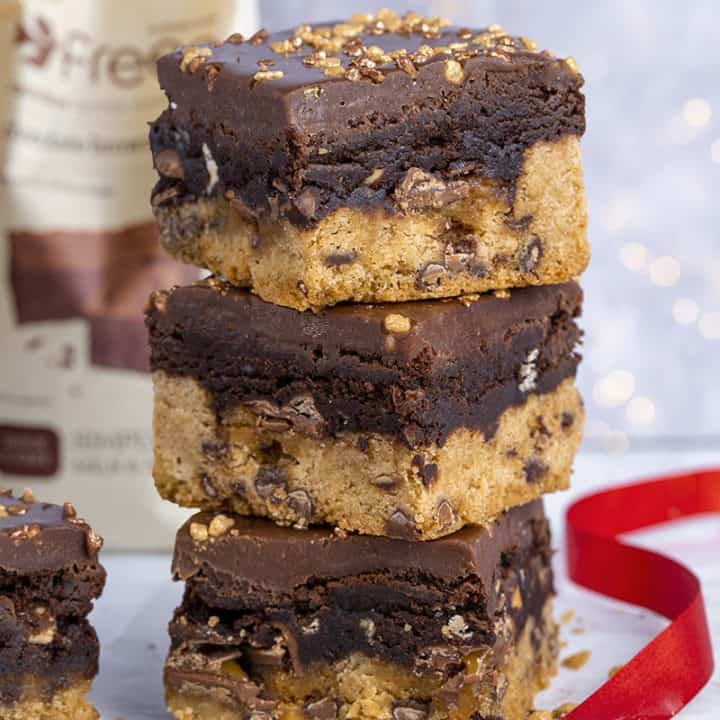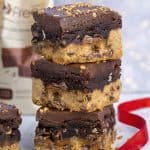 Gluten Free Festive Brookie Bars
Gluten free brookie bars recipe, anyone? They're a combo of a choc chip cookie and a gooey brownie on top. See the blog post above for advice on making these dairy free.
Ingredients
For the cookie layer
FREEE Gluten Free Choc Chip Cookie Mix

4

tbsp

water

2

tbsp

oil
For the brownie layer
FREEE Gluten Free Chocolate Brownie Mix

200

ml

milk

150

g

butter

melted

75

g

white chocolate chips

chocolate caramels

as many as you have left in the chocolate box!
For the ganache layer
150

g

milk chocolate

cut finely

150

ml

double cream

gold and bronze crunch sprinkles

or any decoration you like!
Instructions
Prepare a square 8 or 9 inch tin with baking paper. Leave a little excess so that you'll be able to lift it out using the paper at the end.

Make the choc chip cookie mix into dough as described on the packet.

Once made into dough, spread it in your baking tin all the way to the edges. I used my fingers to push it carefully into a nice and flat, even layer. Try to get it as even as possible.

Place it to chill in the fridge for 30 minutes or the freezer for about 15 minutes whilst you make your brownie mix.

Make your brownie mix as per the instructions. Fold in some additional white chocolate chips once it's looking nice and glossy and combined.

Preheat the oven to 160C Fan / 180C.

Once the cookie dough is chilled, place some chocolate covered caramels (or your caramel / chocolate of choice) on top of the cookie layer - as many or as few as you like.

Then pour the brownie mixture on top of it all and spread it to the edges. Try to get this layer really flat and even too.

Cook in the oven for about 30 minutes, or until cooked right through. Sometimes the centre can take a little longer, so make sure you check with a skewer after the cook time is up. I've found on occasions it can take 45 minutes when I've used another oven!

Once cooked allow to cool completely in the tin.

When it's completely cooled, make a quick chocolate ganache. Do this by chopping your chocolate very finely with a shape knife (until almost flake like) and placing it in a bowl.

Heat your double cream in a saucepan until just before boiling point. Then pour over your flakey chocolate. Make sure the cream covers the chocolate and then leave it without stirring for 5 minutes.

After 5 minutes, stir the mixture until it combines and becomes smooth.

Pour the ganache over the top of the now cooled baked brownie/cookie and spread it so it goes to all the sides. Again, get it as flat and even as poss.

Sprinkle any decorations on top whilst the ganache is still wet.

Then place the whole thing in the fridge (in the tin) for at least an hour until the ganache has set.

Remove from the tin and slice into squares.

Enjoy!
Nutrition
Serving:
1
g
|
Calories:
273
kcal
|
Carbohydrates:
19
g
|
Protein:
8
g
|
Fat:
18
g
|
Saturated Fat:
10
g
|
Polyunsaturated Fat:
8
g
|
Cholesterol:
57
mg
|
Sodium:
66
mg
|
Fiber:
1
g
|
Sugar:
14
g
Thanks for reading all about my gluten free brookie bar recipe! If you make them, I'd love to see how they turned out so don't forget to take a snap of your creations and tag me on Instagram!
Any questions about the recipe? Please do let me know by following me on Instagram and leaving me a comment on a recent photo!
Thanks for reading,
Becky xxx
Oh and don't forget to pin this for later!