Gluten free Snickers caramel tart recipe – 100% no-bake, which means no oven or gluten-free flour required. Nobody would ever know this beauty was gf at all!
Gluten free Snickers caramel tart, anyone? You guys seem to absolutely adore my no-bake recipes, so here's a little about it and how to make it in a flash…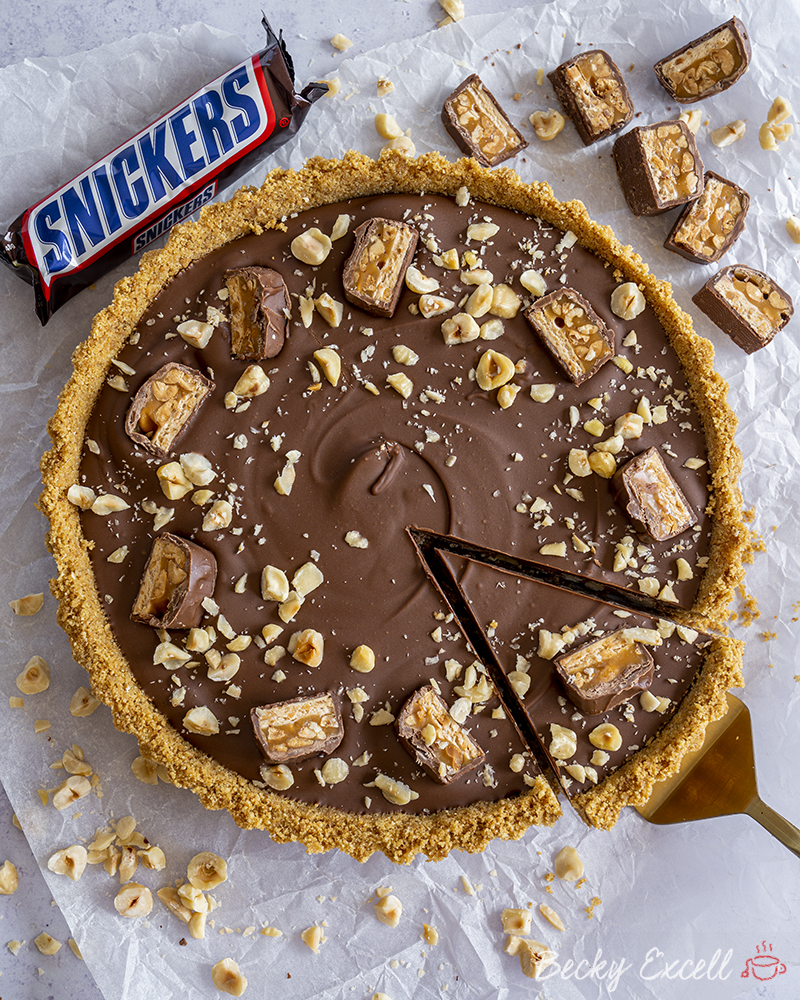 First of all – here's the big question: are Snickers bars gluten-free?
Yep, here in the UK, a Snickers bar is gluten-free! It has no gluten-containing ingredients and no 'may contain' warning. According to Coeliac UK, that makes it safe for us to eat!
But as I always say, don't just take my word for it, click here and check for yourself. I always try to encourage everyone to get into the habit of checking labels because well… it's basically your new hobby when you can't eat gluten!
So if you've been dodging Snickers bars thinking they contain gluten… then dodge no more!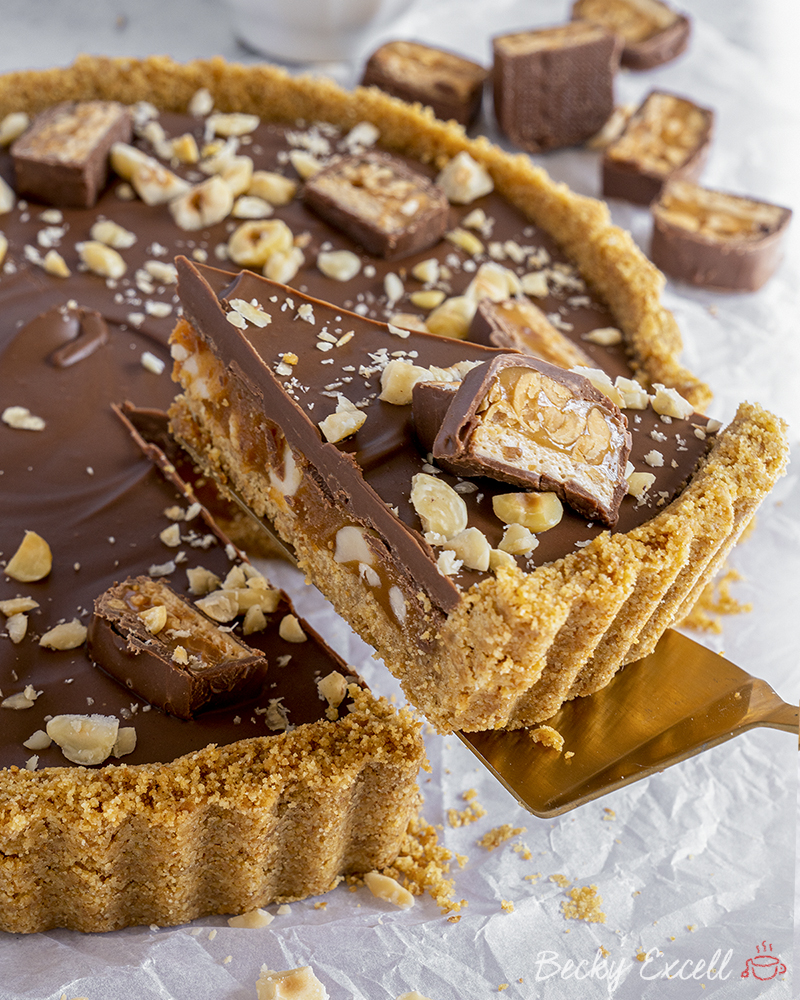 So now the important stuff is out of the way, what's my gluten free Snickers caramel tart recipe like?
I'm glad you asked! (yes, I do have conversations with myself on your behalf) First of all, the 'pastry case' is actually a buttery biscuit base with tons of bite and texture.
Plus – no need to faff about making pastry! Then, there's a layer of caramel packed with chopped roasted peanuts, adding lots of crunch and an intensely sweet flavour.
Last but not least, the chocolatey layer is made from melted chocolate and peanut butter for the ultimate Snickers-like flavour combo.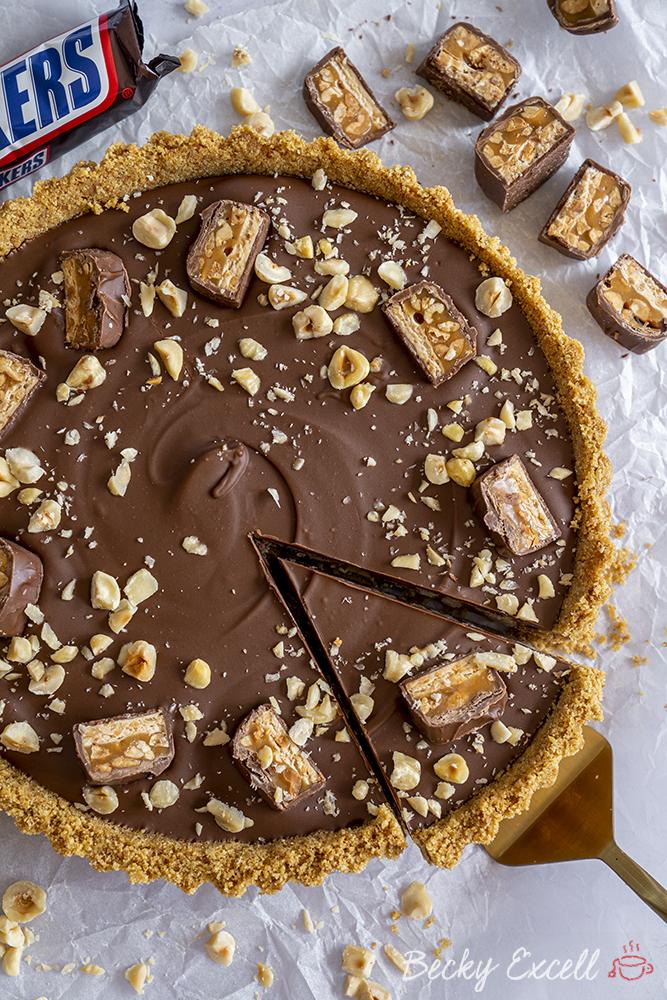 Obviously, I then absolutely had to top it with tons of chopped nuts and yep – you guessed it, sliced Snickers bars!
I used chopped hazelnuts on top, but you can feel free to use more roasted peanuts, if you like.
And the result is absolutely out of the world. Needless to say, nobody would ever know this is gluten-free. After all, the only dedicated gluten-free product in my gluten free Snickers caramel tart is a pack of gluten-free digestive biscuits.
So definitely don't feel like you can't share this with all your live-in muggles. Or, maybe this one is just too good to share? ?
Ok, here's a few tips and frequently asked questions about my gluten free Snickers caramel tart recipe.
I strongly urge you to at least scan read these just in case any are relevant to you as they'll ensure you don't end up wasting a whole load of ingredients! It also includes info on what products to use.
Gluten free Snickers caramel tart recipe: Frequently asked questions
Can I make this recipe gluten free?
It is gluten free, though nobody would know just by tasting it – trust me!
Bear in mind that minimising cross-contamination is hugely important if you're Coeliac or making this for someone who is. Here's some tips from Coeliac UK on minimising the risk of cross contamination.
Also, make sure that all ingredients used don't have any gluten-containing ingredients. Then make that that they also don't have a 'may contain' warning for gluten, wheat, rye, barley, oats (which aren't gf), spelt and khorasan wheat (aka Kamut).
Here's some more info from Coeliac UK on identifying safe gluten free products.
Can I make your gluten free Snickers caramel tart recipe dairy free?
Most of my recipes are really easy to make dairy free with a few simple swaps. But unfortunately, by the time I adapted everything to be dairy-free, it would basically be an entirely different recipe!
I do have a similar recipe here which is a little easier to adapt to be dairy free – simply look for this frequently asked question over on that post on what products to use instead.
Can I make your gluten free Snickers caramel tart recipe vegan?
Again, because of the dairy required in the caramel and the fact that this uses Snickers bars, this isn't an easy one to make vegan.
I do have a similar recipe here which is a little easier to adapt to be vegan – simply look for this frequently asked question over on that post on what products to use instead.
Is your gluten free Snickers caramel tart recipe nut free?
Sadly not – this a very peanut-heavy recipe! Feel free to check out my chocolate and salted caramel no-bake tart if you fancy making a nut-free version.
Is your gluten free Snickers caramel tart recipe low FODMAP?
Sadly, because of the high dairy content, this recipe isn't suitable for the elimination phase of the low FODMAP diet.
So this recipe might be best attempted once the elimination phase of the diet is over and you've successfully reintroduced lactose/dairy products.
Can I make your gluten free Snickers caramel tart in a food processor or standing mixer?
You actually don't need a standing mixer for this recipe at all. But what would really help is a food processor!
I used my food processor to blitz the biscuits into a fine dust so that it would be nice and easy to shape into my pastry tin.
Can I make your gluten free Snickers caramel tart without any kind of electric mixer/appliance at all?
You can, of course, make this without any assistance from any appliance – you just need a little extra elbow grease. Well, a lot more actually!
You'll need to smash up your biscuits into a fine dust so that they're easily shaped into the pastry tin. To do this will take a lot of bashing!
So just grab a zip-lock bag and a rolling pin and go ham on them until they're really nice and fine – it is definitely possible.
Then, you're good to continue making this recipe without any other appliances needed – just a fridge I guess.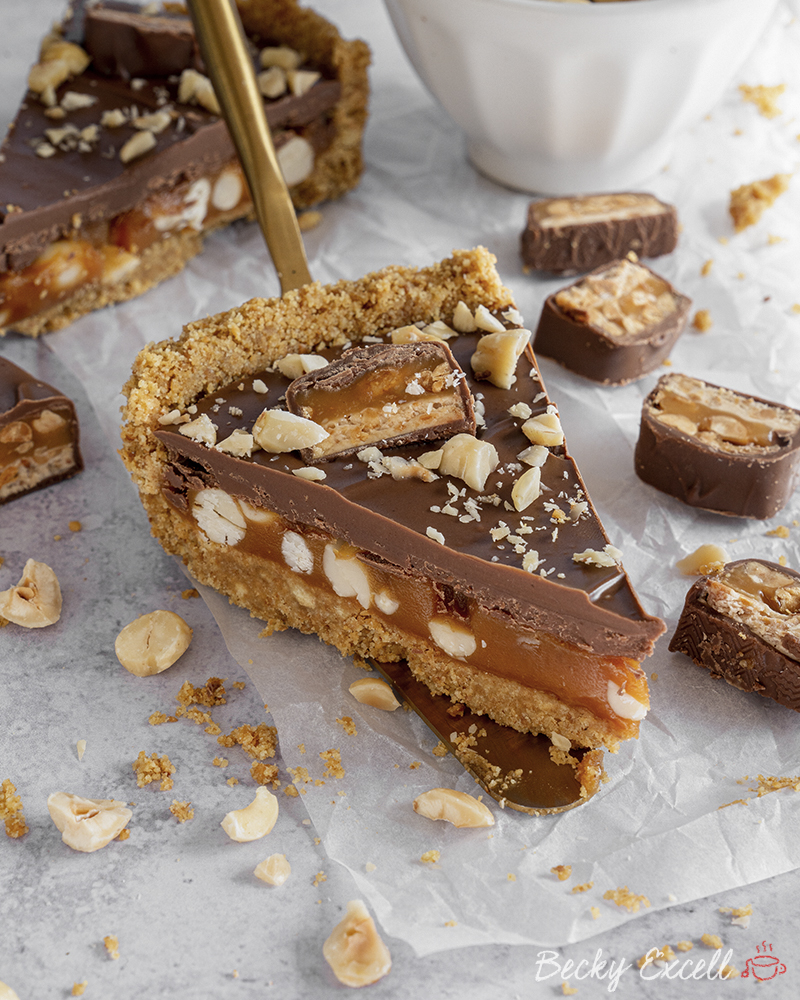 Do I need any special equipment to make your gluten free Snickers caramel tart recipe?
You won't need anything in particular apart from a good 23cm (9 inch) pastry tin with a loose bottom like this one.
I wouldn't really recommend trying this in a tin without a loose bottom, otherwise it can be very hard to remove from the tin when you want to serve it up.
(especially as the biscuit base is more easily breakable than pastry is)
Using a tin smaller than mine will mean that each slice will be thicker and take longer to set, so bear that in mind! A bigger tin will result in a flatter tart and potentially a thinner base which may not hold the filling as well.
Can I make this recipe without xanthan gum?
There's no added xanthan gum in this recipe at all.
You'll see xanthan gum in a lot of my recipes as it's an essential ingredient in gluten free baking – in cakes and biscuits, it helps to replace gluten by binding the texture together.
Otherwise you can end up with a very crumbly bake. Fortunately, that doesn't apply here!
What gluten free biscuits should I use for the base?
In the photos I used some gluten-free digestive biscuits from Tesco's free from aisle. However, you can actually use whatever biscuits you fancy! Gluten-free Hob Nobs would work well here too.
What type of peanuts should I use for the caramel?
First of all, whatever peanuts you're using, make sure they're gluten-free. For this recipe, roasted peanuts work best.
Unroasted peanuts give off a very raw peanut flavour which doesn't taste very Snickers-like at all. Then, dry roasted not only often contain wheat, but they also contain seasoning like onion powder and paprika.
Certainly not suitable for a dessert-style tart ?
Do I need weighing scales to make your gluten free Snickers caramel tart?
In short… yes, yes and yes! And I wouldn't advise attempting any my recipes without them. One of the worst things you can do in any baking recipe is alter the quantities by mistake or on purpose.
(unless you know what you're doing of course)
Why? Well, you're sort of just gambling with the recipe and praying that it turns out ok, don't you think? And I've generally already done the hard work there for you, so you don't have to do the guesswork with measurements!
A lot of work went into fine tuning ratios and quantities so I wouldn't mess around with them unless you really know your stuff.
I'd recommending using digital cooking scales like these so you know you're getting an accurate measurement and replicating my recipe as accurately as poss.
Can I make your gluten free Snickers caramel tart without sugar or with less sugar?
I can understand the need to reduce sugar in our foods, but this recipe is one where I wouldn't recommend it!
For starters, the base is made purely from biscuits, which will always contain sugar. Caramel, of course, contains sugar. As I'm sure you can guess… you can't make caramel without sugar!
So if you're trying to dodge sugar, you might want to dodge this recipe entirely. You can happily give my 4-ingredient choc chip banana bars a go, however!
How long can I keep your gluten free Snickers caramel tart for?
Obviously keep this in the fridge at all times – it should last around 4-5 days. Also try to keep it in an airtight container, or covered with clingfilm.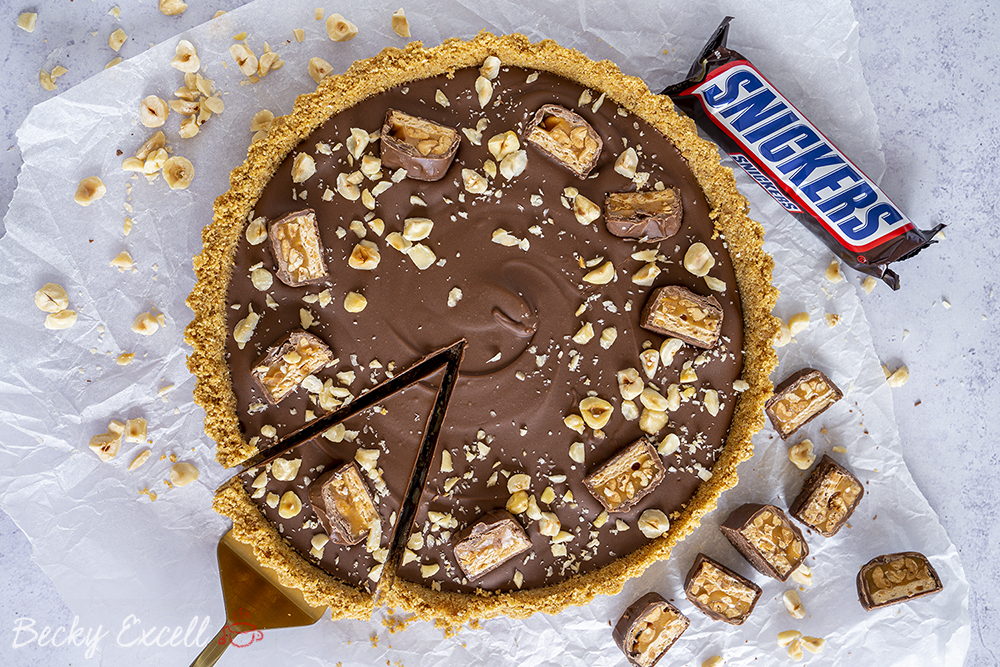 Can I freeze my gluten free Snickers caramel tart?
Yep! You can freeze it for up to 2-3 months without a problem – just make sure you put it in an airtight plastic container. It's probably a good idea to slice it first so you can defrost a slice at a time.
If you want to defrost the whole thing at once, you can leave it at room temperature to thaw for around 12 hours. A single slice will probably take about 5 hours to thaw, so get it out ahead of time!
Can I bake my gluten free Snickers caramel tart in the oven?
No, please don't! This is a no-bake tart, meaning that it's made to be chilled in the fridge and that's it.
I can guarantee that if you try and bake this in the oven, you'll just end up with a big mess to clear up ?
Can I print your recipe?
Of course! Just hit the print button located on the recipe below ?? (otherwise you might end up printing this entire post which would probably make your printer go into early retirement)
Oh and here's a printable version of my gluten free Snickers caramel tart recipe. Please remember to give it 5 stars if you tried it and enjoyed it as it helps people know it's worth trying too! ⭐️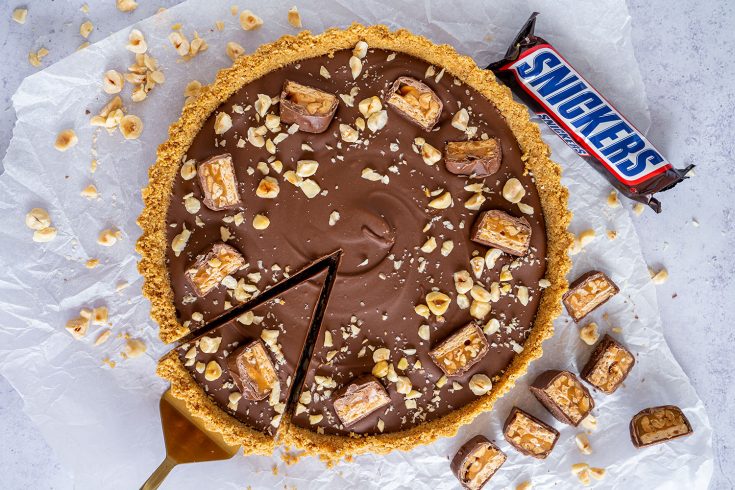 Yield: 10-12 slices
Gluten Free Snickers Caramel Tart Recipe - No-Bake
Prep Time: 3 hours

Additional Time: 3 minutes

Total Time: 3 hours 3 minutes

Gluten free Snickers caramel tart recipe - totally no-bake so simple to make with no flour or oven required! Yes - Snickers really are gf!
Ingredients
For the biscuit base
350g gluten free digestive biscuits (shortbread or other biscuits would work too)
165g butter, melted
For the caramel
200g caster sugar (or granulated)
90g butter, softened to room temperature
120ml double cream
pinch of salt
150g roasted peanuts (ensure they are gluten free)
For the topping
250g chocolate (milk or dark would work)
50g smooth peanut butter (ideally a creamier one)
chopped nuts
1-3 Snickers bars
Instructions
Firstly make your base. In a food processor, blitz your biscuits into a crumb-like texture. If you don't have a food processor you can bash them with a rolling pin as well! You do want quite a fine consistency for this though.
Pour your melted butter into your crushed biscuits and mix together in a bowl.
Spoon your mixture into a loose bottom fluted tart tin (mine was 23cm across) and then using the back of a spoon and also your hands, press the mixture into the tin - both into the base and up the sides. Try to get it as even and flat as you can.
Chill this in the fridge for around 30 minutes - 1 hour. Whilst this is happening you can sort out your caramel.
To make your caramel, add your sugar to a saucepan on a medium heat. Stir the sugar continuously and it will gradually become a more of a golden, amber coloured liquid.
Once completely melted, add in your butter and stir for a couple of minutes continuously until the butter has melted.
Whilst continuing to mix all the time on the heat, slowly pour in your double cream. Don't worry that it bubbles lots! Once all added, allow to boil for about a minute before removing from the heat.
If you want to add salt, do this now and then allow to cool.
Once cooled, add in your roasted peanuts and mix to combine. Your caramel should be a thick, pourable consistency. If it's too thick, just warm it up slightly. Pour the caramel onto your biscuit base and allow to chill briefly so that the caramel can set.
To make your topping, melt together your peanut butter and chocolate over a bain marie or in the microwave until completely melted. If in a microwave, melt it in 20-30 second bursts and them stir to stop the chocolate from burning.
Pour your melted chocolate over the caramel so it evenly covers it. I used my pallet knife to swirl the chocolate too.
Sprinkle on some chopped nuts and finish with slices of snickers bars, then allow the chocolate to set in the fridge for ideally no less than a couple of hours.
Slice up and enjoy!
Notes
Store this dessert in the fridge as it has fresh cream in it 🙂
Recommended Products
Nutrition Information:
Yield:
12
Serving Size:
1
Amount Per Serving: Calories: 688Total Fat: 47gSaturated Fat: 23gTrans Fat: 1gUnsaturated Fat: 19gCholesterol: 67mgSodium: 357mgCarbohydrates: 62gFiber: 3gSugar: 47gProtein: 9g

Nutritional info is estimated and not always accurate.

Thanks for reading how to make my gluten free Snickers caramel tart recipe! If you make it, I'd love to see how it turned out so don't forget to take a snap of your creation and tag me on Instagram!
Any questions about the recipe? Please do let me know by following me on Instagram and leaving me a comment!
Thanks for reading,
Becky xxx
Oh and don't forget to pin this for later!
Comments