What's better than gluten free chocolate dipped chocolate cookies? Well, my gluten free double chocolate dipped cookies recipe of course! You can easily make these dairy free too if you fancy.
Yep, I'm back with another recipe that's basically me taking an old recipe, dipping it in chocolate, then posting it as a new recipe. Maybe I should do that with all my recipes… or does a chocolate dipped lasagna not do it for you? Better stick to my gluten free double chocolate dipped cookies recipe then!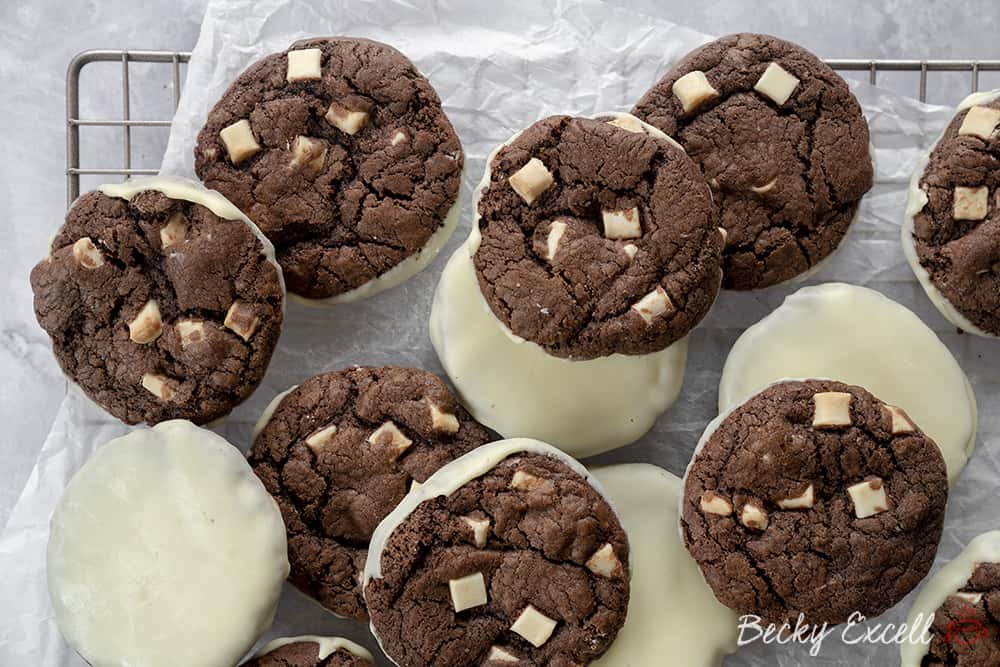 As you all know, since perfecting my gluten free choc chip cookies recipe, I've dedicated waaaay too much time to creating every variation under the sun.
(I call this 'going full cookie monster')
But can you really blame me? I mean, I feel like I've finally created gluten free cookies that nobody would ever know were gluten free. Honestly!
So apologies if I seem a bit obsessed at the mo!
So yeah, they've got a lovely thin, crisp layer on the outside and a wonderful chewy texture on the inside – sorta like a cookie you'd love to have warm, with some creamy ice cream!
In the past, I've always found that my gluten free cookies were:
a) like hard biscuits
b) really dry, or…
c) just not like the cookies I missed eating, so I'm talking about the supermarket kinds, the kinds from Subway or the kinds of cookies from Ben's Cookies!
And my gluten free double chocolate dipped cookies are sort of like a mix of all my fave cookies combined.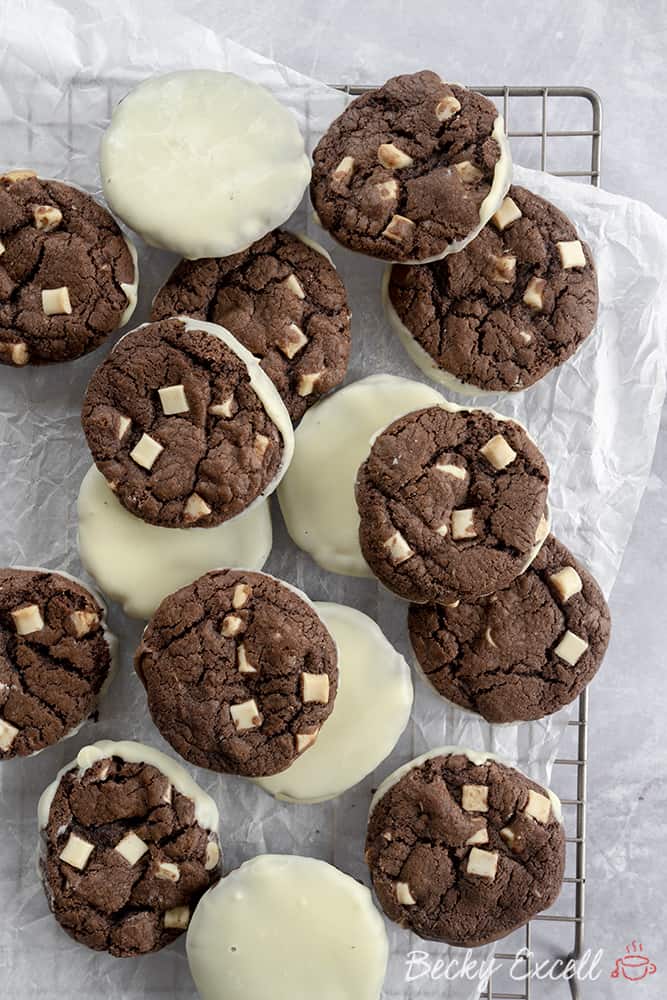 And if you fancy making these dairy free, go right ahead! I often do for Mark and they always turn out exactly the same.
I mean, for starters, I always use margarine to make these cookies anyway instead of butter, so that's an easy peasy swap.
Then, just sub white chocolate and white choc chips for dairy free equivalents. Boom!
I mean, it's tough to find fresh, soft and chewy gluten free cookies like these out in the wild… but gluten free AND dairy free? Well, I'd probably sooner see a unicorn.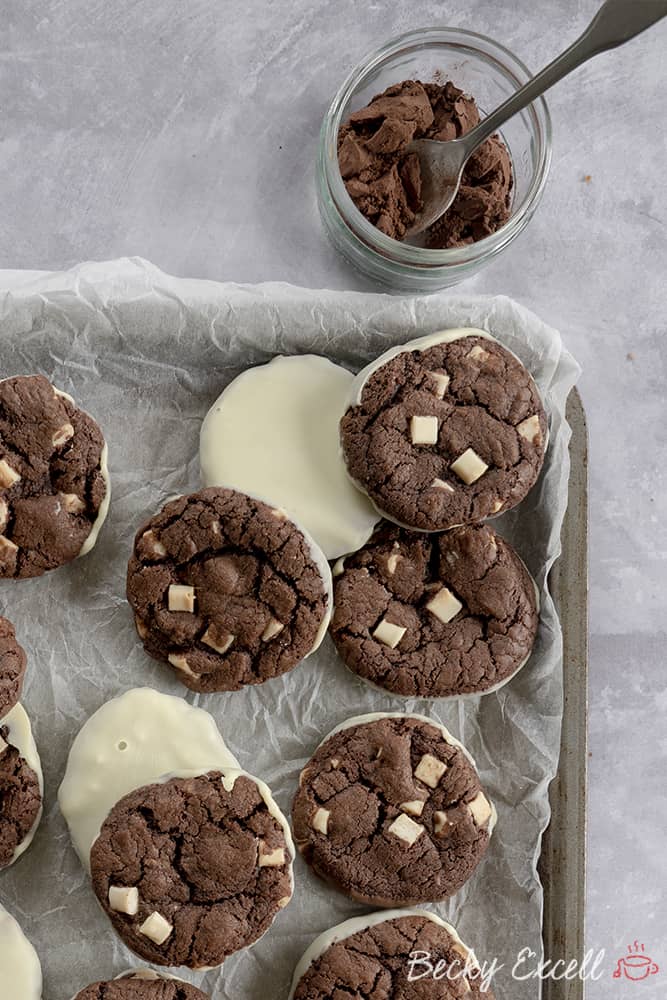 Ok, so here's my gluten free double chocolate dipped cookies recipe!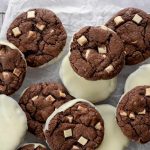 My Double Chocolate Dipped Cookies Recipe (dairy free option)
My gluten free chocolate dipped cookies recipe are the ultimate treat that nobody would EVER know is gluten free. There's a dairy free option too!
Ingredients
100

g

caster sugar

100

g

light brown sugar

120

g

butter or hard margarine if dairy free

(I tend to use the hard Stork baking block)

1

large egg

1/2

tsp

vanilla extract

260

g

gluten free plain flour

30

g

cocoa powder

(make sure it's gluten free and dairy free if necessary)

1/2

tsp

salt

1/2

tsp

bicarbonate of soda

160

g

chocolate chips

(I tend to use mainly white chocolate chips for these, but you can use milk chocolate too) - ensure you use dairy free if needed

250

g

white chocolate

(dairy free if needed)
Instructions
In a bowl, mix together both your light brown sugar and caster sugar with your melted hard margarine. Mix until it all comes together and is fully combined.

Add your egg and vanilla extract to the bowl and continue to mix (with a wooden spoon) until combined once more.

In a separate bowl, add your gluten free flour, bicarbonate of soda, salt and cocoa powder (I always sieve coca powder) then briefly mix.

Add your flour mix to your original bowl and mix till combined. Make sure your mixing bowl is big as this is quite a lot of flour. It can be hard work and takes time to really combine it all but it'll form a perfect cookie dough (you could use a stand mixer but I prefer to do cookie dough by hand).

Add the chocolate chips and give them a good mix in so they are dispersed evenly.

Cover your mixing bowl with clingfilm and chill in the fridge for about 45 minutes (you can make the cookie dough ahead of time also and keep it in the fridge until you need it).

Heat your oven to 170C and prepare a couple of baking trays with good quality, non-stick baking paper.

Remove your cookie dough from the fridge and roll your dough into balls (about the size of a golf ball) and place them on your trays. This time I actually weighed my balls to ensure they were even. Each was about 55-60g. They will spread but not as much as my regular chocolate chip cookies - the cocoa powder reduces this.

Pop into the preheated oven for 15 minutes - they should have flattened out to look more like cookies.

Remove from the oven and leave to cool on the baking tray before moving them. They'll be very soft at first so allow to cool.

For the chocolate base, melt your chocolate in a large glass bowl over some boiling water. Once it's melted, allow to cool quite a bit. White chocolate can be quite thin when melted and thickens as it cools.

Take each of your cooled cookies one at a time and carefully dip their bottoms into the chocolate so it's completely covered. I find with white chocolate you might need a couple of dips as it's thinner than dark and milk chocolate when melted. Place each cookie melted chocolate up on a baking tray. Once you've filled a tray, place these in the fridge to completely set.

Once they are set, they're ready to eat! Enjoy!

You can keep them in the fridge or in an airtight box. Don't keep them in the sun, or the chocolate will melt!!
Thanks for reading all about my gluten free double choc dipped cookies recipe! If you make it, I'd love to see how it turned out so don't forget to take a snap of your creations and tag me on Instagram!
Any questions about the recipe? Please do let me know by following me on Instagram and leaving me a comment on a recent photo!
Thanks for reading,
Becky xxx
Oh and don't forget to pin this for later!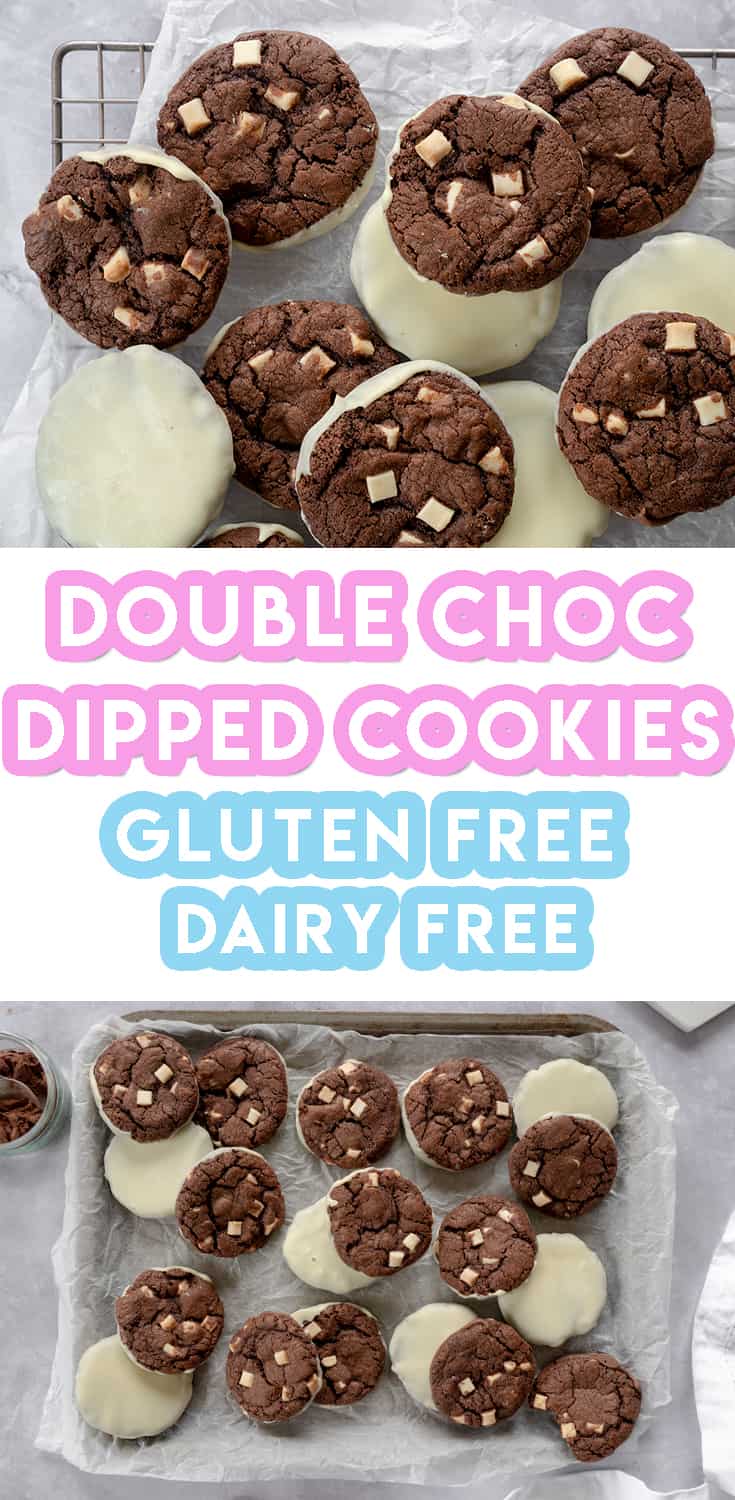 Comments