My gluten free peanut butter cookies recipe uses a super easy method AND you can easily make it dairy free if you fancy too.
I've spent a long time perfecting my gluten free peanut butter cookies recipe to make sure that they taste mind-blowingly awesome… AND they're mega simple to make. And today's the day I post them!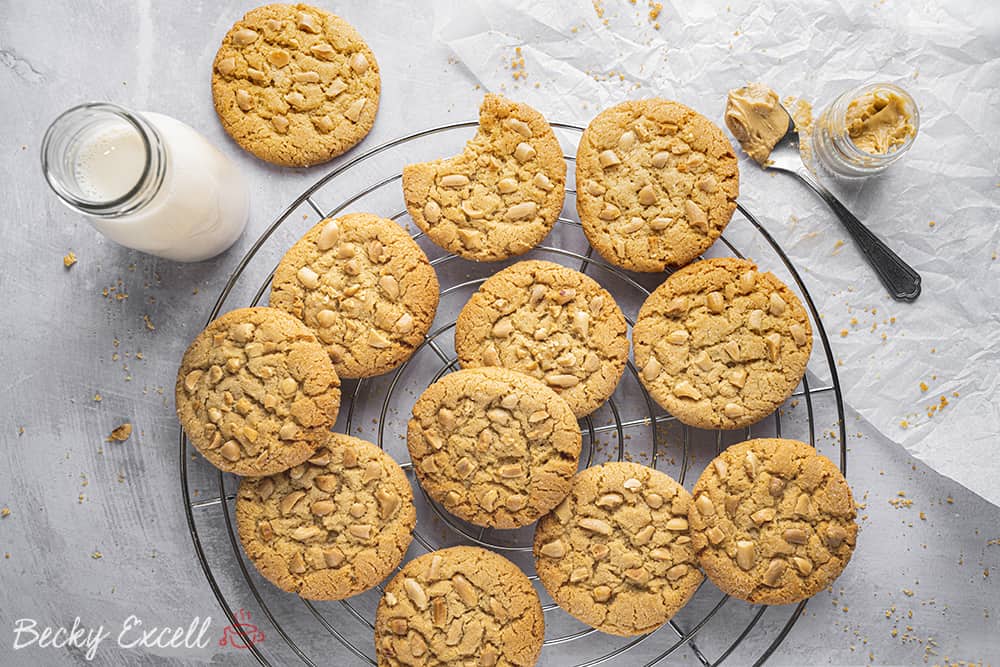 So what makes the perfect peanut butter cookie for me? Hopefully you like the sound of what I do, so here goes…
I LOVE cookies with a slightly crisp outside that are soft and chewy in the middle – so you can tick that one off the list first of all ✅
They need that almost peanut butter-like texture in the centre too and the flavour to boot – that's another tick!
Lastly, I want that lovely crunch to contrast against that lovely chewy centre – much like my fave crunchy peanut butter. Triple tick!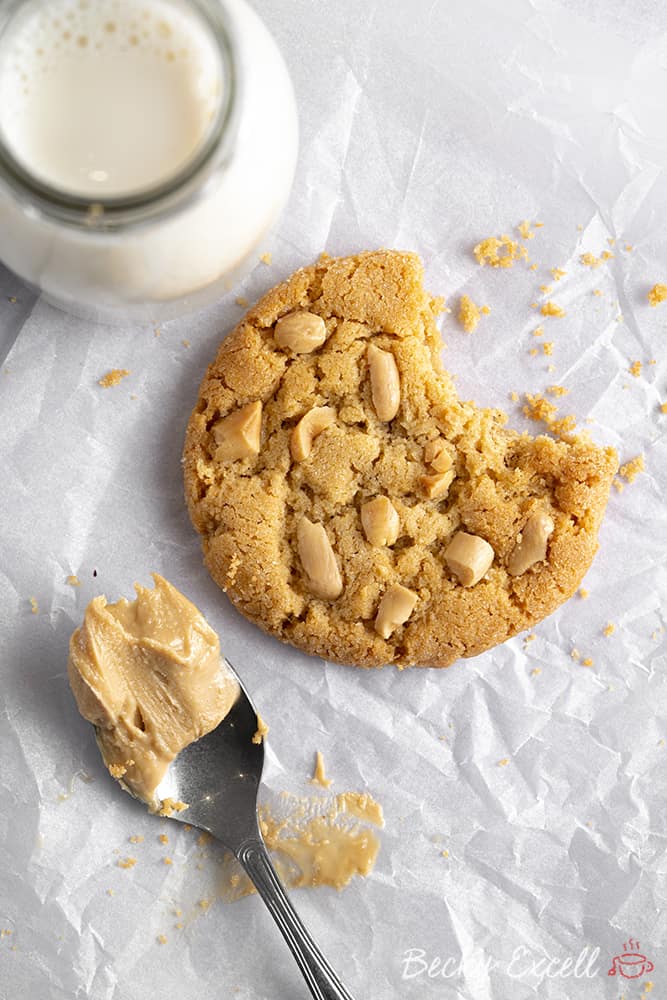 And with my gluten free peanut butter cookies recipe, you can easily make my ideal PB cookies every time without fail!
So why is this an easy peasy method? Well, because you only need one bowl to make the cookie dough – then you chill the dough in the fridge for a bit – then roll out the dough into balls and bake in the oven.
Simple, right? The most important part really is that you chill your dough for long enough (about 1-2 hours) and that's it. You should be good to go!
You really can't mess this one up – and as I always say, if I can make this… you definitely can! I'm no expert!!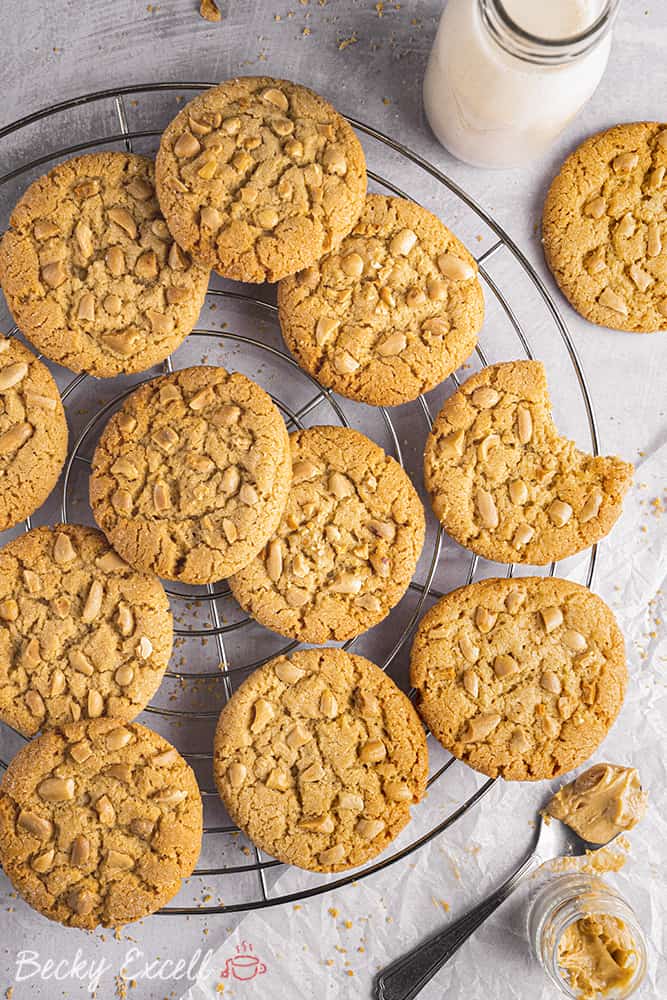 And you don't need a boat-load of weird or hard-to-find ingredients to attempt my gluten free peanut butter cookies recipe either.
I usually have all this in my cupboards anyway, so you can easily whip up a batch of these whenever you want.
The only thing you might not have is granulated sugar (it's different to caster sugar) but it's not mandatory or anything. It's just to give each biscuit a little added texture and make them sparkle.
Here's your shopping list of things you'll need… ??
Ingredients
100 g caster sugar
100 g light brown sugar
140 g butter, melted, (or dairy free alternative)
160 g gluten free plain flour
250 g peanut butter, (smooth or crunchy – but ideally a more creamy peanut butter)
1 egg
1/2 tsp bicarbonate of soda
1/2 tsp vanilla extract
1/4 tsp xanthan gum, (if you don't have it, it doesn't matter so much for this recipe)
Optional extras
75 g granulated sugar
50 g chopped peanuts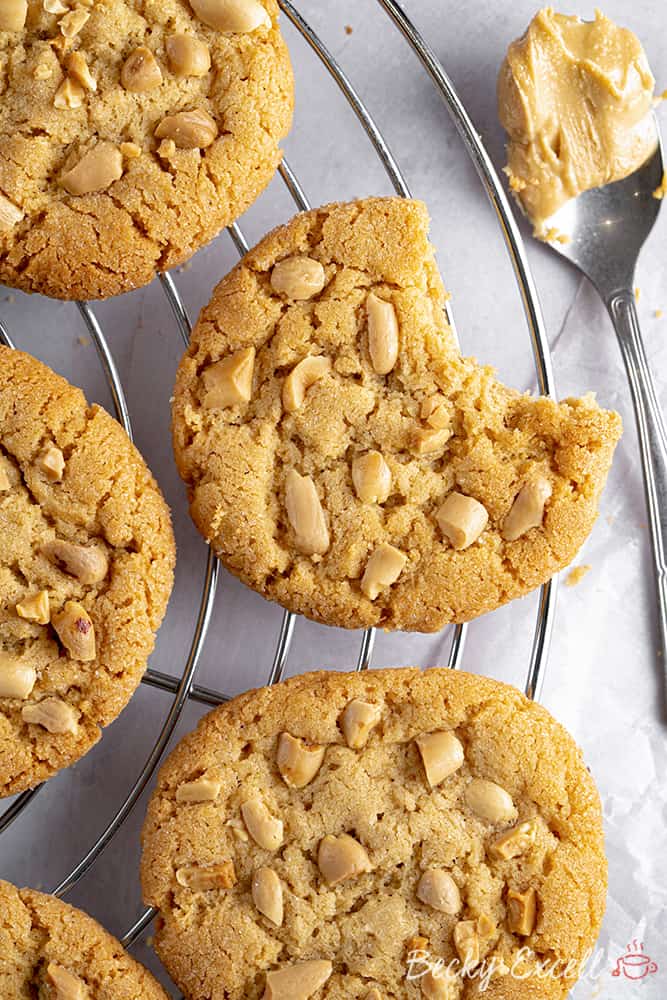 Oh and before we get started, here's a few frequently asked questions that I'm sure a few of you will be wondering about this recipe ??
Here's some tips/FAQs for creating the perfect gluten free peanut butter cookies…
Can I make this recipe gluten free?
It is gluten free!
Can I make your gluten free peanut butter cookies dairy free?
Of course you can! And this one is super-easy.
All you'll need to use is hard margarine instead of butter – I used a block of Stork. It's gluten free too obviously!
This is one of those recipes that makes barely no difference whether it's dairy free or not. So the choice is yours.
Can I make this recipe vegan?
If you follow the steps above to make this recipe dairy free (using Stork instead of butter) then all you've got left to contend with is one egg.
Here's a few ideas you can use as egg replacements, so each of these = 1 egg.
3 tablespoons of aquafaba – water from a can of chickpeas. Keep the chickpeas for a future dinner!
Egg replacement powder – I'd recommend using Orgran as it's gluten free.
1 tablespoon of chia/flax seeds mixed with 2 tablespoons of water and left for 10 minutes in the fridge.
3 tablespoons of applesauce.
So use one of those egg replacement options and you've got gluten free AND vegan peanut butter cookies!
Is your gluten free peanut butter cookies recipe nut free?
Sadly not – this a very peanut-heavy recipe! Feel free to check out my gf choc chip cookies recipe if you still have a cookie craving.
Can I make your gluten free peanut butter cookies in a food processor or standing mixer?
Of course you can and to be honest – a standing mixer would probably make your life much easier easier! I use an electric hand whisk to make this as I'm just used to using it.
(here's a link to the electric whisk I often use)
I've never actually tried to make this in a food processor either, but just make sure that the mixture is really well combined and that you scrape the sides down occasionally too. The same goes for a standing mixer.
You can of course, bake this without any assistance from any appliance – just a good ol' fashioned wooden spoon will do. Just make sure you give it a lot of welly, otherwise your mixture won't be consistent and might not bake properly.
Do I need any special equipment to bake your gluten free peanut butter cookies?
Certainly not! I literally bake these just using a bowl and a spatula. You need a little more elbow grease, but otherwise, that's all you need!
You'll probably need a microwave the butter though (or use a bain marie on the hob) – just some way to melt the butter until completely melted.
You'll obviously need a fridge also to chill the dough before rolling into balls – not sure if that constitutes being called 'special equipment' though!
Do I need weighing scales to bake your gluten free peanut butter cookies?
In short… yes! And I wouldn't advise attempting any of my recipes without them. One of the worst things you can do in any baking recipe is alter the quantities by mistake or on purpose.
(unless you know what you're doing of course)
Why? Well, you're sort of just gambling with the recipe and praying that it turns out ok. And I've generally already done the hard work there for you!
A lot of work went into fine tuning ratios and quantities so I wouldn't mess around with them unless you really know your stuff.
Can I make this recipe without xanthan gum?
You'll see xanthan gum in a lot of my recipes as it's an essential ingredient in gluten free baking. Without gluten to bind the biscuit together, you can be left with a much looser texture which can be crumbly and easily fall apart.
Plus, there's no xanthan gum in gluten free plain flour, like there is in self-raising. So adding xanthan gum tends to be more vital in a recipe (like this one) that uses plain gf flour.
But what if you didn't have any, or simply wanted to remove xanthan gum from the recipe entirely? As I always say, I definitely wouldn't recommend removing xanthan gum from my recipes if you can avoid doing so!!
If you struggle to tolerate xanthan gum however, this particular recipe wouldn't end in complete disaster if you didn't include it. The eggs and peanut butter are great ingredients which will help bind the cookies together, so you can probably get away with it this time.
Some people have asked if they can use psyllium husk powder instead of xanthan gum and you could definitely give it a try in this recipe – though I don't recommend using it for cakes.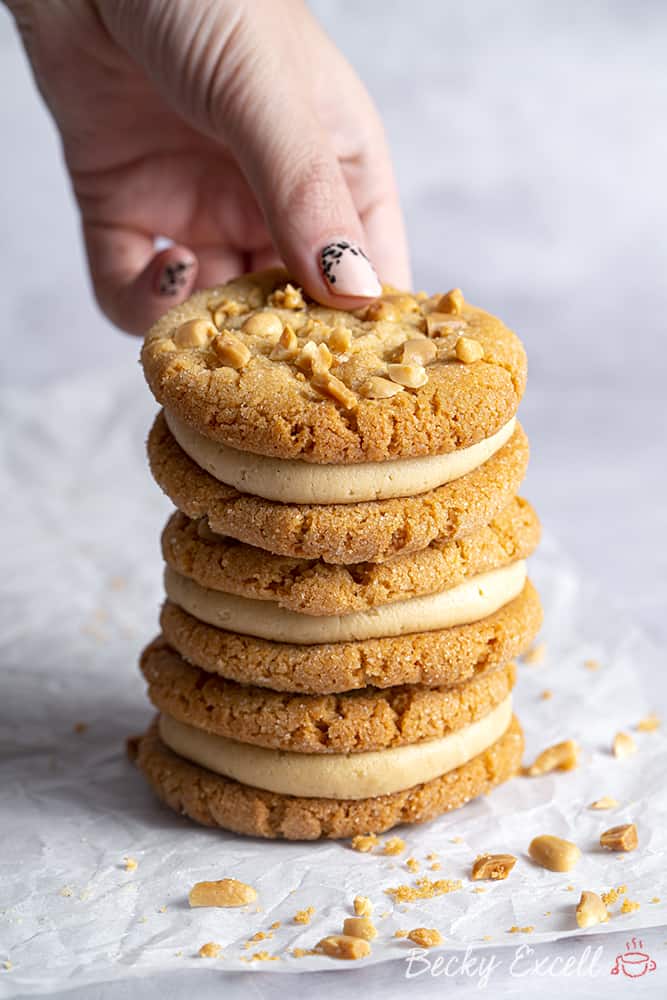 Can I bake your gluten free peanut butter cookies with less sugar?
I can definitely understand the need to reduce sugar in our foods, but this is one of the recipes where I wouldn't advise it at all!
Of course, the sugar isn't just for sweetness – it's integral to the structure of the cookies once baked and is sooo important.
The sugar caramelises to produce a nice, crispy exterior on the outside and without that… they're not gonna be nice, crisp out the outside, soft in the middle cookies at all are they?!
You can of course skip the optional granulated sugar which will help a little.
Can I bake this recipe using just one type of sugar instead of two?
Of course! Just bear in mind that light brown sugar adds more of a caramel-like flavour so it's worth making sure you use some brown sugar in your mix.
Feel free to experiment with whatever sugars you like, as long as it isn't less than 200g.
I wouldn't recommend using any syrups in place of sugar either, as it can greatly affect the consistency of your mixture – I wouldn't imagine you'd be able to roll them into balls as they'd be too wet!
How long can I keep your gluten free peanut butter cookies for?
I've kept my cookies for around a week and they still taste as good as they day they were made. Obviously store them in an air-tight container too.
You can always reheat them for 20-30 seconds in the microwave at 900W for the 'fresh out of the oven' feel too.
When they lose the crispiness on the outside, they're probably starting to get past their best.
Can I freeze your gluten free peanut butter cookies?
Of course! I've frozen them for up to a month and after allowing them to fully thaw, you'd never know they were frozen.
After thawing, I'd recommend baking them in the oven for 5 minutes or so just to remove any excess moisture before enjoying them warm though.
How can I tell when my gluten free peanut butter cookies are done?
They should look nice and golden, but not actually browned or browning at the edges.
Poking them doesn't help much because they won't be nice and crisp until they've cooled a little. So just aim for how mine look in the photos and if you take them out early – no bother!
Just pop them back in until you're happy with the colour. Oh and make sure you leave them to cool before sampling them!!
Troubleshooting
My gluten free peanut butter cookies weren't soft and chewy in the middle – they were hard and crunchy.
Sounds like they were over-baked. So either your oven is way too hot or you're leaving them in too long.
Remember, that we just want a slightly crisp outside, leaving them soft and chewy in the middle. We're not aiming for hard biscuits here so don't over-bake them!
My gluten free peanut butter cookies spread too much and were flat like pancakes!
You might not have allowed enough time for the dough to chill in the fridge.
This is a really important stage in the recipe as it not only allows the dough to harden up a bit so they're easier to roll into balls, but it's also important for baking them.
If the dough is warm before it goes in the oven, it'll spread a lot quicker and result in flatter cookies!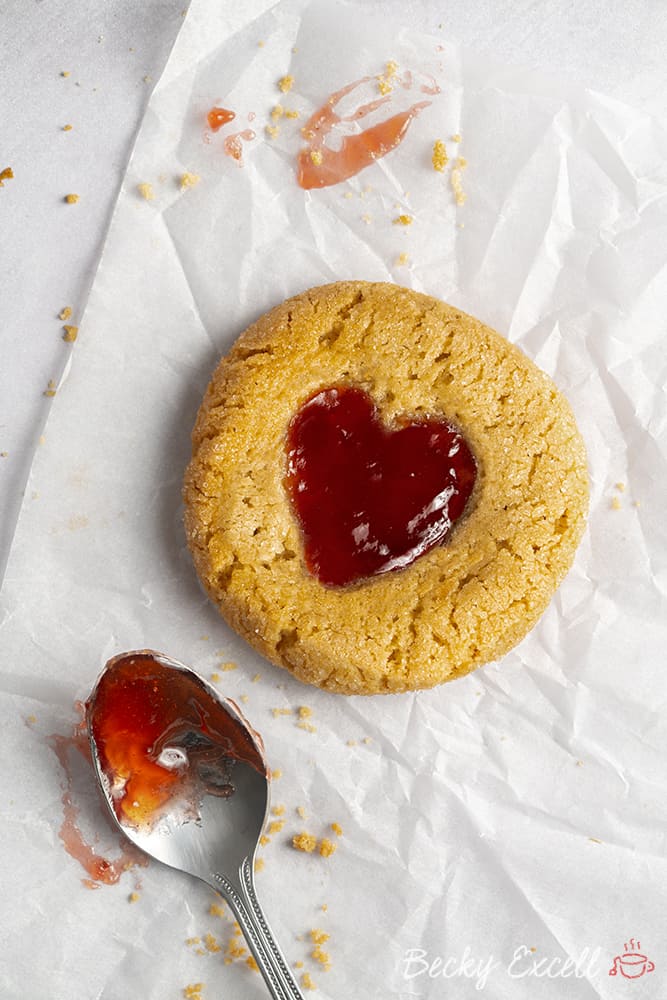 My gluten free peanut butter cookies were too thick, what did I do wrong?
When the cookies come out of the oven, it's a good idea to give the tray a swift but gentle tap on a hard surface a couple of times.
While the cookies are still soft, this will encourage them to flatten – otherwise you can end up with cookies that are fairly thick.
My cookies don't look as good as yours – I can't see any peanuts in the top!
That's because I added a few extra chopped peanuts to the tip of each dough ball just before baking them. Feel free to do so if you fancy too!
But if you want to go for that perfect, finished look, do what I do: once you've rolled your cookie dough into balls, add a few chopped peanuts into the top of each ball.
That way, when they spread, you'll have a lovely cookie covered in peanuts and a nice added crunch!
My batter was still quite wet when it went in the fridge… what did I do wrong?
That means you didn't mix the dough for long enough! You need to mix it until it comes together like cookie dough, so don't stop before it does.
Measuring everything out accurately will ensure you don't have too much in the way of wet ingredients either.
My batter was still wet after chilling and when I was rolling the balls?
If you did mix your dough until it came together well, then it's likely that you didn't chill your cookie dough long enough.
So whack it back in the fridge and be patient! The temperature of the dough is quite important so that it's easy to roll and also doesn't spread too quickly when baking into flat pancakes.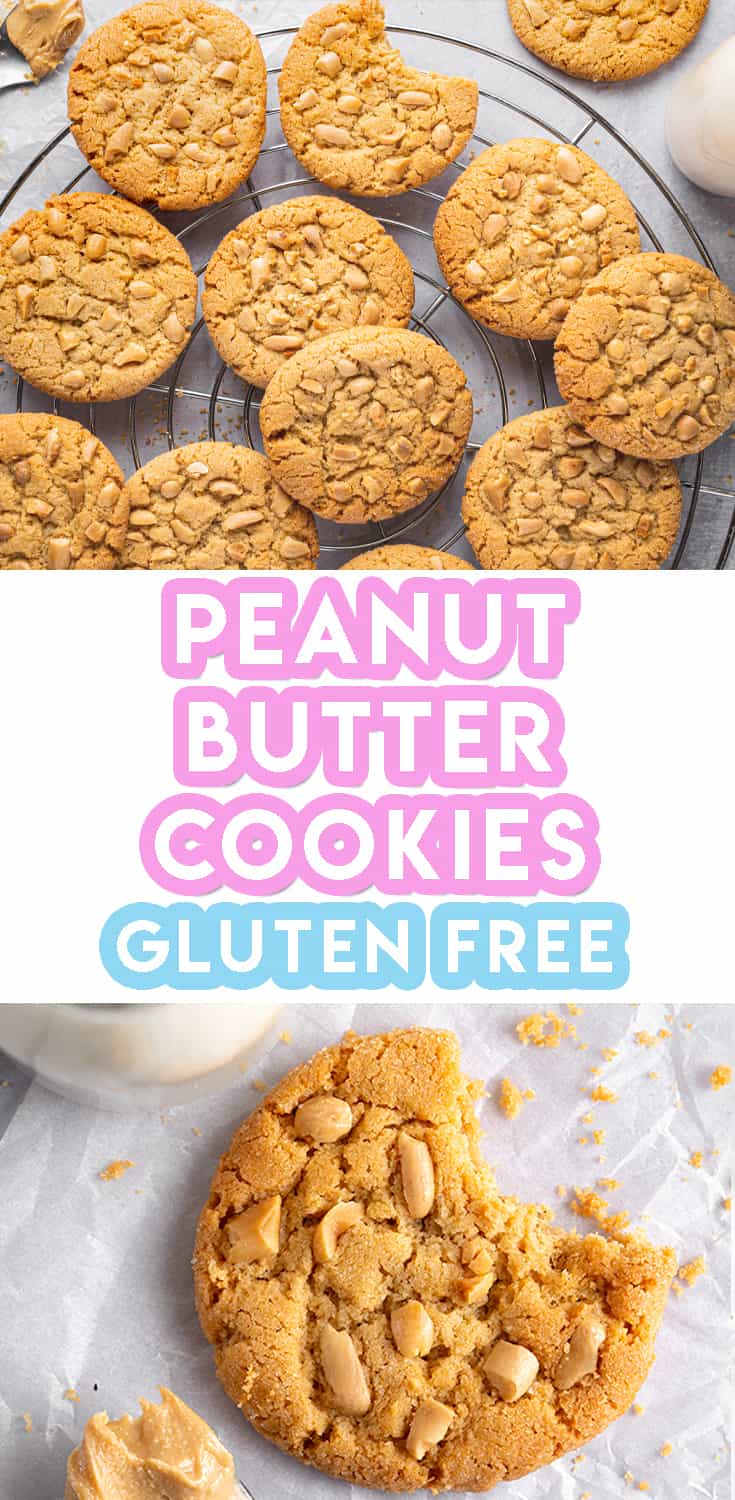 Can I print your gluten free peanut butter cookies recipe?
Of course! Just hit the print button located on the recipe below ?? (otherwise you might end up printing this entire post which would probably make your printer go into early retirement)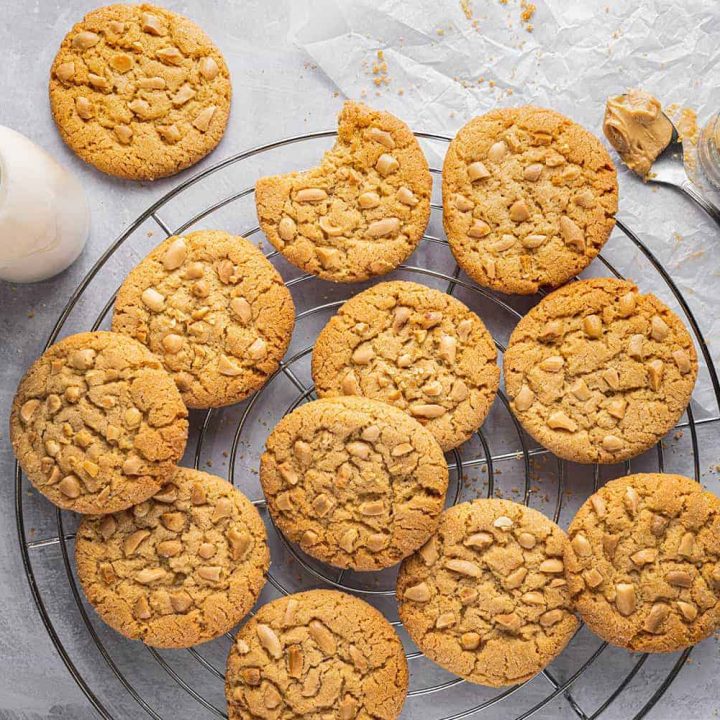 Gluten Free Peanut Butter Cookies Recipe (dairy free option)
My gluten free peanut butter cookies recipe is simple, easy and my BEST EVER recipe! You can easily make them dairy free too if you fancy.
Ingredients
100

g

caster sugar

100

g

light brown sugar

140

g

butter

melted, (or dairy free alternative)

160

g

gluten free plain flour

250

g

peanut butter

(smooth or crunchy - but ideally a more creamy peanut butter)

1

egg

1/2

tsp

bicarbonate of soda

1/2

tsp

vanilla extract

1/4

tsp

xanthan gum

(if you don't have it, it doesn't matter so much for this recipe)
Optional extras
75

g

granulated sugar

50

g

chopped peanuts
Instructions
Place your caster and light brown sugar is a bowl. Add your melted butter and mix throughly until combined.

Add in your egg and vanilla and mix in until combined.

Next add your peanut butter. Using an electric handmixer. Mix until smooth and combined.

Then add in your gluten free flour, bicarbonate of soda and optionally a 1/4 tsp of xanthan gum. Mix together until fully combined.

Chill in the fridge for 1-2 hours (cover the bowl with cling film). You can chill for longer too if you want to make the dough in advance.

Preheat your oven to 160C Fan / 180C and prepare 2 large baking trays with baking paper.

Once the dough has chilled, remove from the fridge and roll into balls (mine weighed about 35g each).

This step is optional: put your granulated sugar onto a plate and gently roll each dough ball in it. This will give it a lovely sparkle and crunch when it comes out the oven. You can also push in a few small pieces of peanut into the top of each ball - optional once more.

Place on your baking tray (leave gaps between them as they spread) and bake in the oven for about 15 minutes.

Remove from the oven and allow them to cool on the baking tray. Move over to a cooling rack to finish cooling completely.

Enjoy!
Nutrition
Serving:
16
Servings
|
Calories:
281
kcal
|
Carbohydrates:
29
g
|
Protein:
6
g
|
Fat:
17
g
|
Saturated Fat:
6
g
|
Polyunsaturated Fat:
8
g
|
Cholesterol:
30
mg
|
Sodium:
150
mg
|
Fiber:
1
g
|
Sugar:
18
g
Thanks for reading how to make my easy gluten free peanut butter cookies recipe! If you make them, I'd love to see how they turned out so don't forget to take a snap of your bakes and tag me on Instagram!
Any questions about the recipe? Please do let me know by following me Instagram and leaving me a comment!
Thanks for reading,
Becky xxx
Oh and don't forget to pin this for later!