My gluten free Nutella-stuffed choc chip cookies are probably my proudest creation. Plus, you can even make them dairy free too – say what?!
Ok, yeah I know Nutella isn't dairy free – but this is! It basically tastes exactly like Nutella, but it's dairy free and you can find it in most supermarkets. So now that's all cleared up, time to share my gluten free nutella-stuffed choc chip cookies…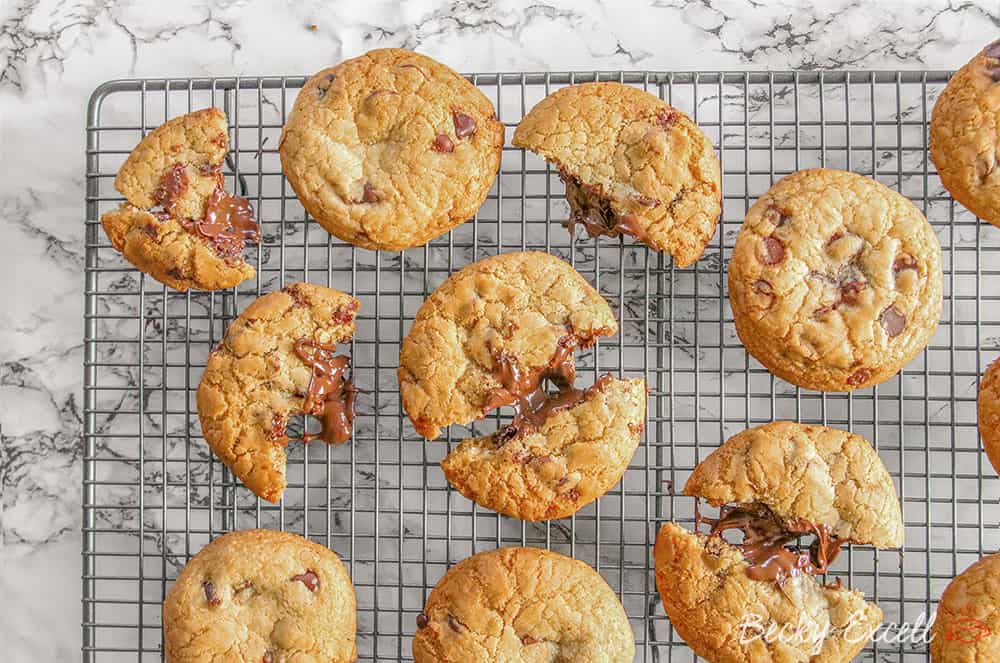 Basically, this recipe is a little twist on my regular gluten free choc chip cookies recipe (which are pretty mind-blowing as they are) but with Nutella or dairy free equivalent inside.
When you bite into them, a lovely blob of hazelnut spread just oozes out and it's probably the best thing ever.
I'm pretty sure 99% of food would benefit from Nutella oozing out of the middle of it. Pancakes? Yes. Bagels? Hell yes. Sushi? Well… why not?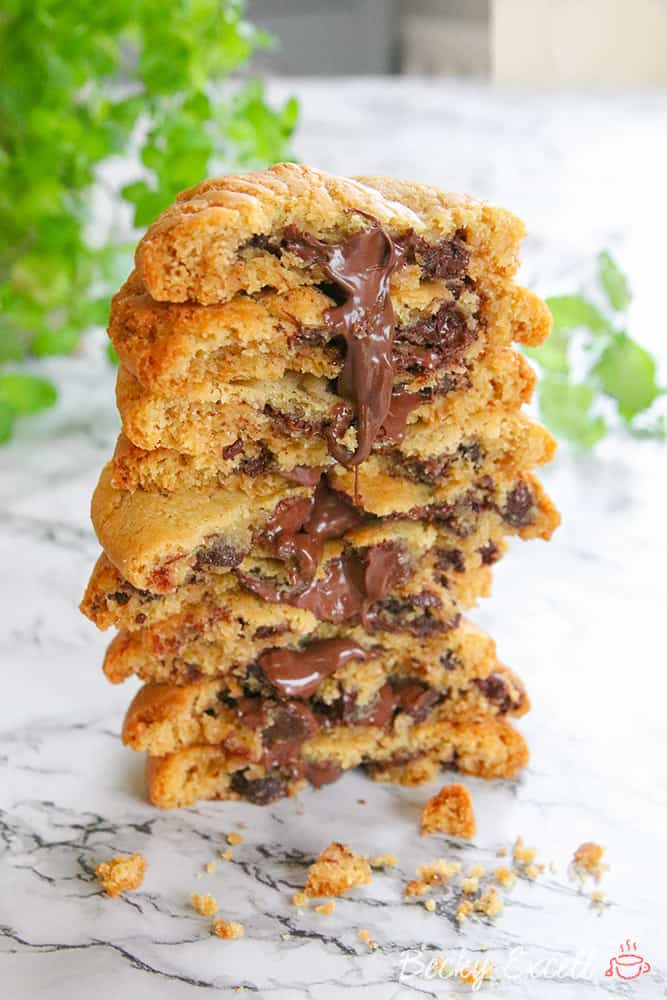 And probably the best thing (apart from eating them) is how dangerously easy they are to make.
Once you've mixed up your big bowl of cookie dough and not eaten it all without restraint (quite difficult at this point), you just roll out a few little balls.
Then, I cut each of the balls in half, shoved a bit of Nutella or dairy free hazelnut and chocolate spread in the middle and put the ball back together.
Easy peasy!
I used my cookie recipe from my classic chocolate chip cookie recipe, but obviously with a one minor tweak – chocolate and hazelnut spread!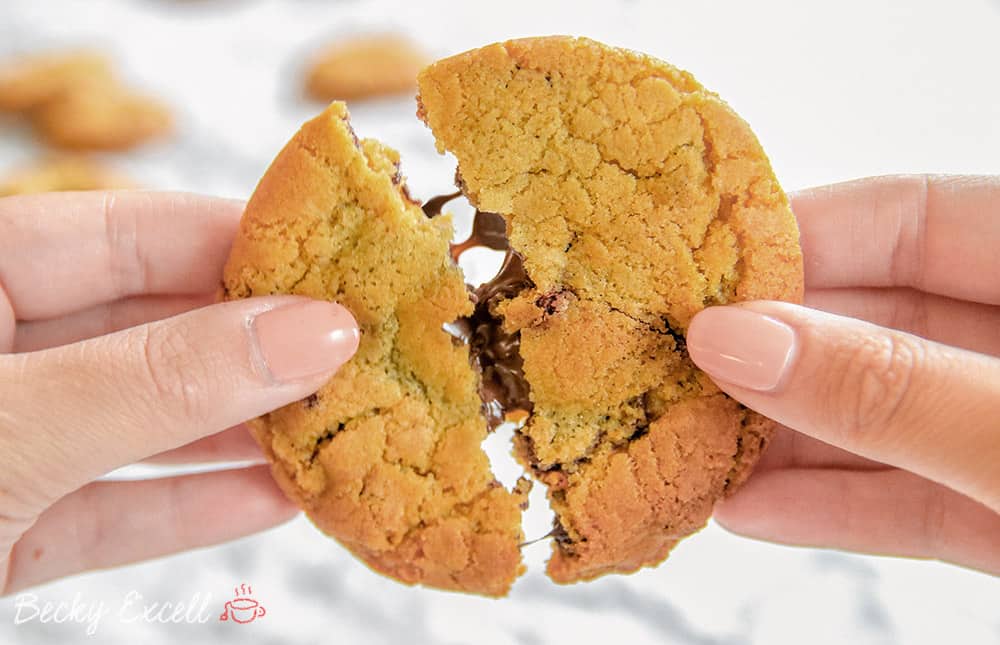 I mean, I thought my regular gluten free choc chip cookies recipe was good.
Now I can't imagine making them without sneaking in at least half a batch of Nutella-stuffed ones.
They're soft, chewy with chunky chocolate chips and an explosion of chocolate and hazelnut spread in the middle.
Paint me blue because I think I just turned into the cookie monster!!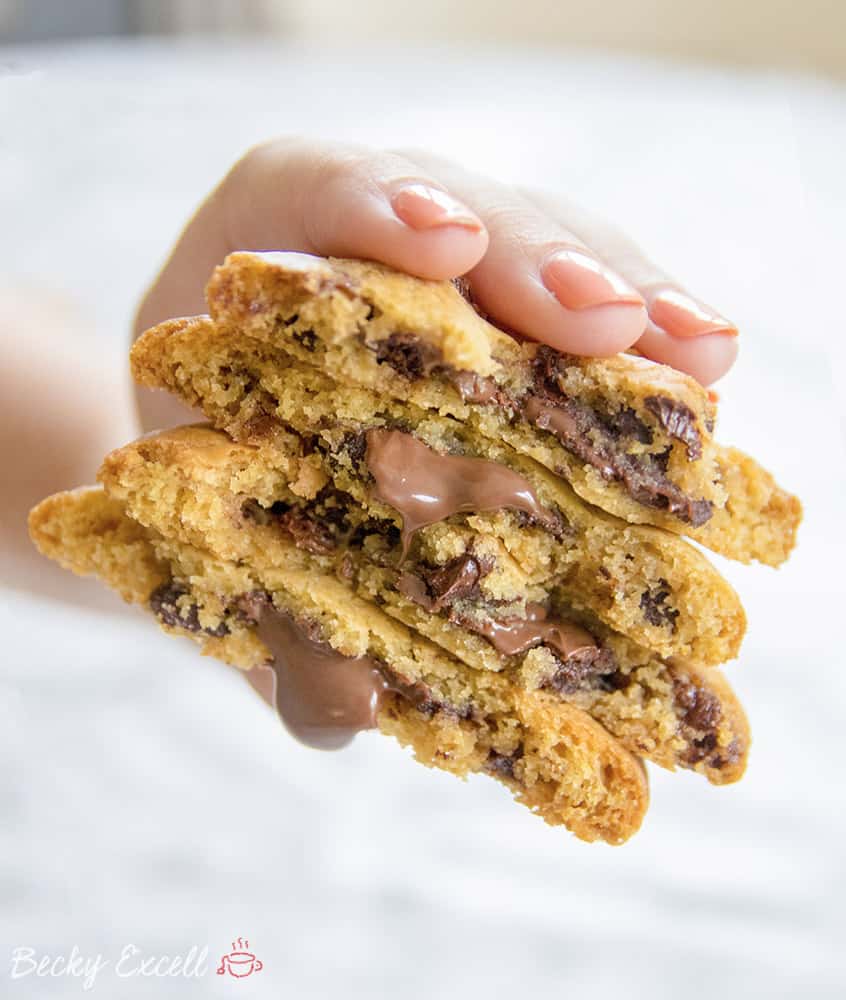 Ok enough of the hard sell – here's my gluten free Nutella-stuffed choc chip cookies in all its glory!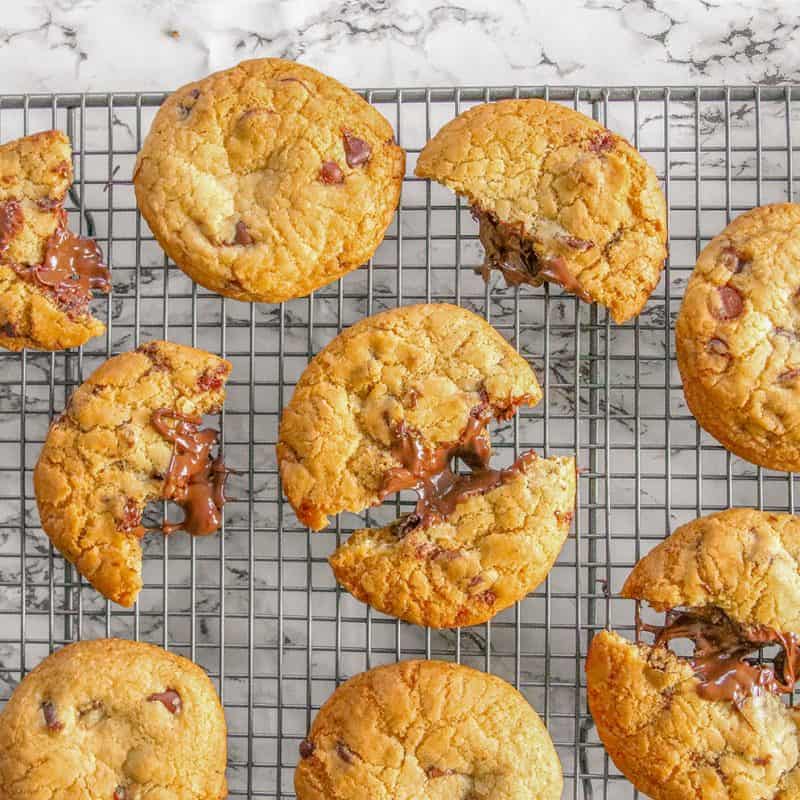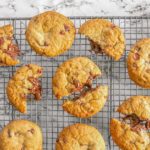 My Gluten Free Nutella-Stuffed Choc Chip Cookies Recipe (dairy free option)
You NEED to try my gluten free nutella-stuffed choc chip cookies ASAP! They're soft and chewy with oozing Nutella in the middle and can be dairy free too!
Ingredients
100

g

caster sugar

100

g

light brown sugar

120

g

hard margarin, melted

(I've always used the hard block of Stork which is dairy free - if you don't need dairy free you could use butter)

1

large egg

1/2

tsp

vanilla extract

300

g

gluten free plain flour

1/2

tsp

salt

1/2

tsp

bicarbonate of soda

160

g

chocolate chips

(dairy free if necessary)

jar of nutella, chilled in the fridge

(or a dairy free chocolate spread if necessary)
Instructions
Make sure your Nutella (or dairy free chocolate spread) has been chilling in the fridge and don't remove until you need to use it.

In a bowl, mix together both your light brown sugar and caster sugar with your melted hard margarine. Mix until it all comes together and is fully combined.

Add your egg and vanilla extract to the bowl and continue to mix (with a wooden spoon) until combined once more.

In a separate bowl, add your gluten free flour, bicarbonate of soda, salt and briefly mix.

Add your flour mix to your original bowl and mix till combined. Make sure your mixing bowl is big as this is quite a lot of flour. It can be hard work and takes time to really combine it all but it'll form a perfect cookie dough (you could use a stand mixer but I prefer to do cookie dough by hand).

Add the chocolate chips and give them a good mix in so they are dispersed evenly.

Cover your mixing bowl with clingfilm and chill in the fridge for about 45 minutes (you can make the cookie dough ahead of time also and keep it in the fridge until you need it).

Heat your oven to 170C and prepare a couple of baking trays with good quality, non-stick baking paper.

Remove your cookie dough from the fridge and roll your dough into balls (about the size of a golf ball).

Cut each ball in half and sandwich 1/2 tsp of chilled nutella in between the two halves and then roll into a ball again with your hands. Because the nutella is chilled this should be fairly easy to do - the nutella / chocolate spread should be fairly solid.

Place each of your filled cookie dough balls onto your trays. The cookies will spread a little so leave some gaps between them - I usually cook mine in a couple of batches.

Pop into the preheated oven for 15 minutes - they should have flattened out to look more like cookies and be a lovely golden colour (Oven times vary so it might be a little longer, but I always pop mine in for 15).

Remove from the oven and leave to cool on the baking tray before moving them. They are very soft at first but will firm up as they cool.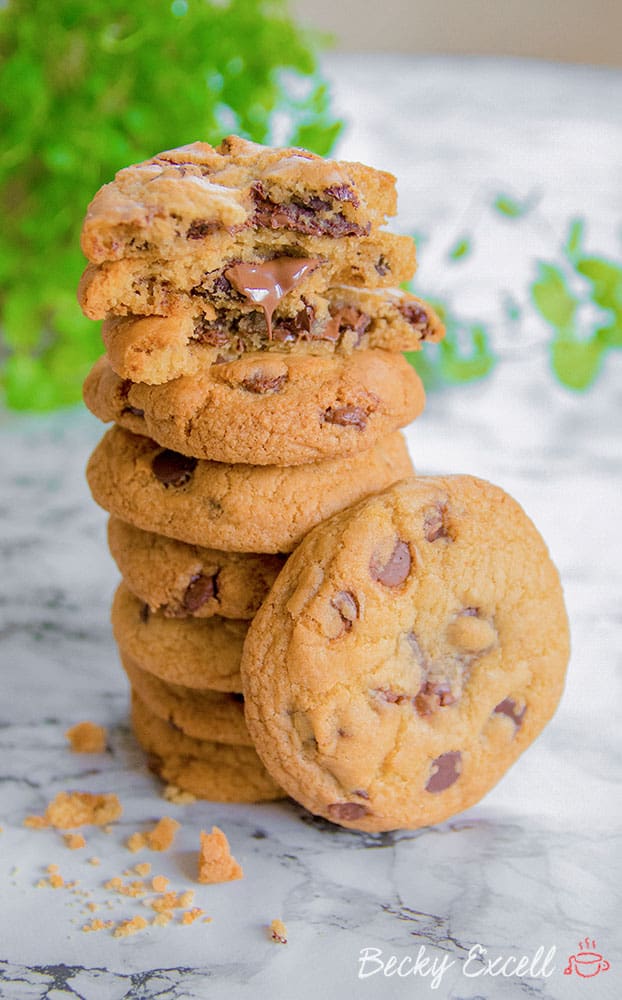 Thanks for reading how to make my gluten free Nutella-stuffed choc chip cookies recipe! If you make them, I'd love to see how they turned out so don't forget to take a snap of your bakes and tag me on Instagram!
Plus, I'm giving away a £50 supermarket voucher every month to my fave pic, so get baking!
Any questions about the recipe? Please do let me know by following me Instagram and leaving me a comment!
Thanks for reading,
Becky xxx
Oh and don't forget to pin this for later!