What's better than a gluten free cookie? Two gluten free cookies of course – especially when made into one of these beauties! Yep, here's my gluten free Nutella cookie sandwich recipe which you can easily make dairy free too.
I don't know if you've noticed, but I'm really proud of my gluten free and dairy free cookie recipe! I've used it to make every variation under the sun… apart from my gluten free Nutella cookie sandwich recipe of course!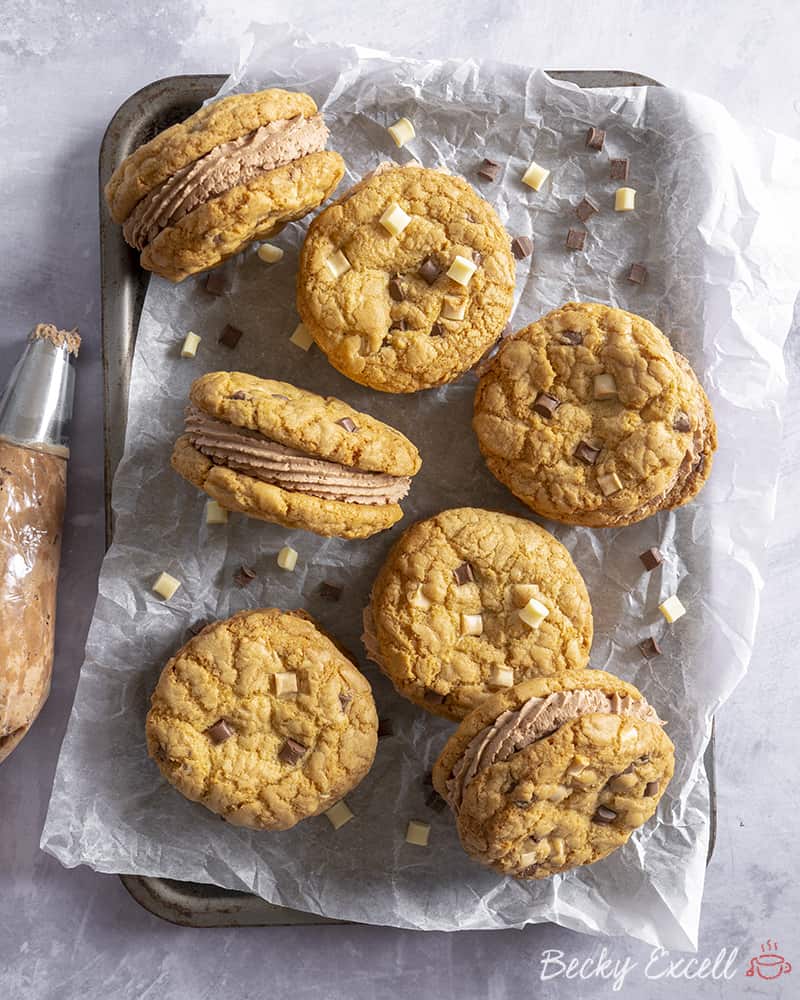 Let's talk about my *original* gluten free choc chip cookies recipe for a mo.
(you can choose the conversation topic next time!)
It's a recipe that I'm immensely proud of because it produces cookies that literally nobody on Earth would know were gluten free.
They're crisp on the outside, chewy in the middle and sweet with chunks of chocolate in every bite. You know… just like everything you could ever dream of in a cookie!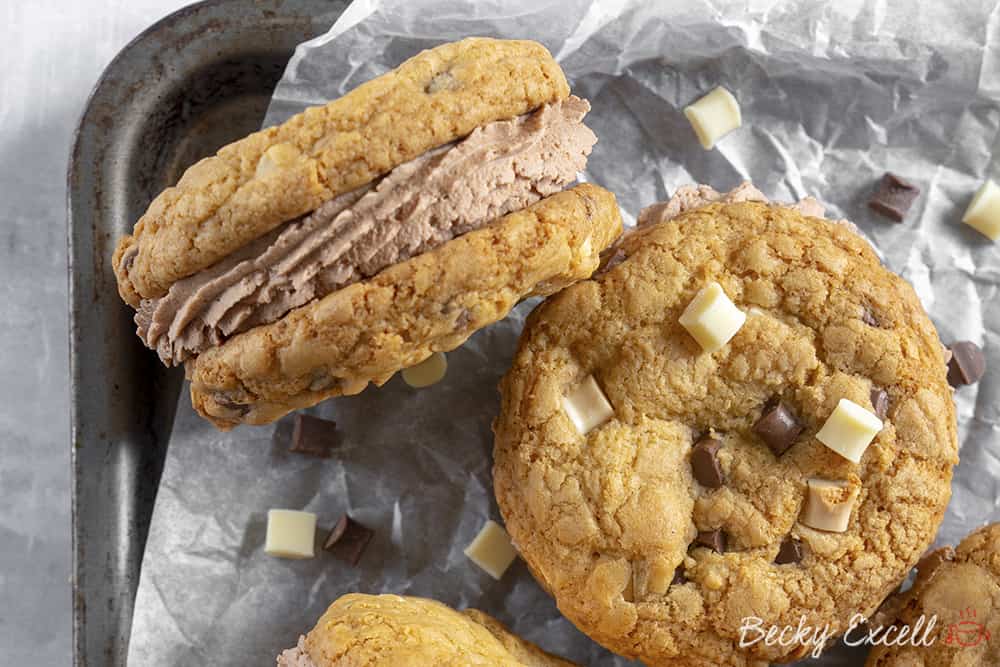 So once I'd truly nailed that recipe after YEARS of rubbish results, I knew I had to recreate every cookie I'd missed out on over the years.
I've done choc chip, double chocolate, white chocolate and raspberry, Smarties-like cookies, Easter cookies… and now… introducing my gluten free Nutella cookie sandwich recipe!
Each cookie sandwich is basically one of my cookies with milk and white chocolate chunks with a creamy Nutella buttercream piped in the middle.
Every bite is just pure joy!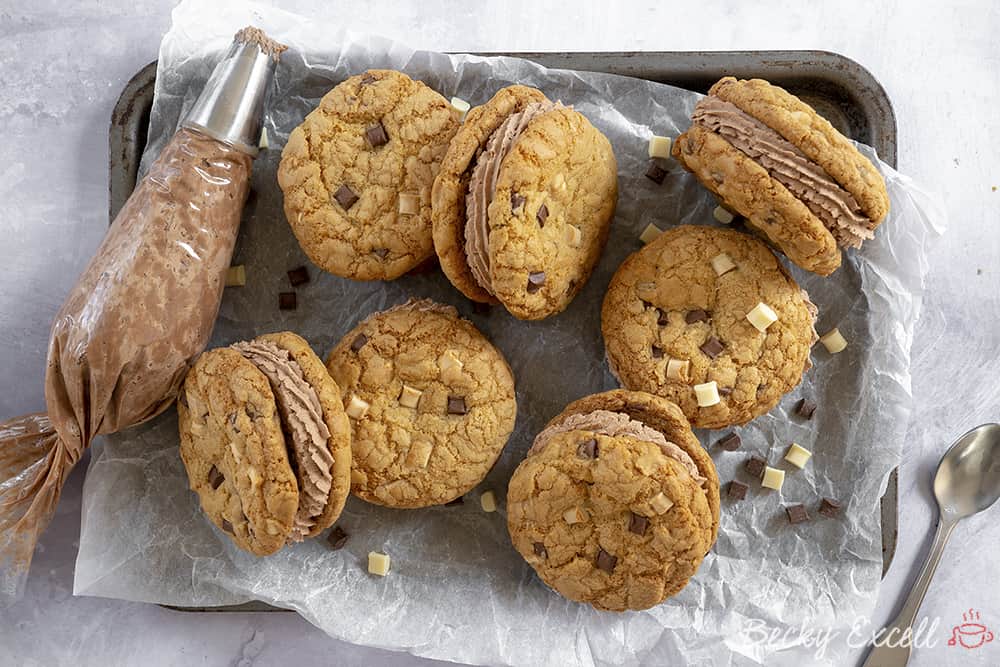 And just like my original cookie recipe… make this is easy peasy! The only extra steps are whipping up some buttercream and piping it (I won't judge you for slapping it in!) in between two cookies once they've cooled.
I've experimented using other spreads instead of Nutella too – like Crunchie spread which is actually gluten free funnily enough. It worked perfectly!
Of course, making this dairy free (as I often do because my boyfriend demands it!) is simple too. Instead of using butter in the cookies, I often just use a block of Stork hard margarine.
The same goes for the icing and instead of Nutella, you can always use a dairy free Nutella from the free from aisle too.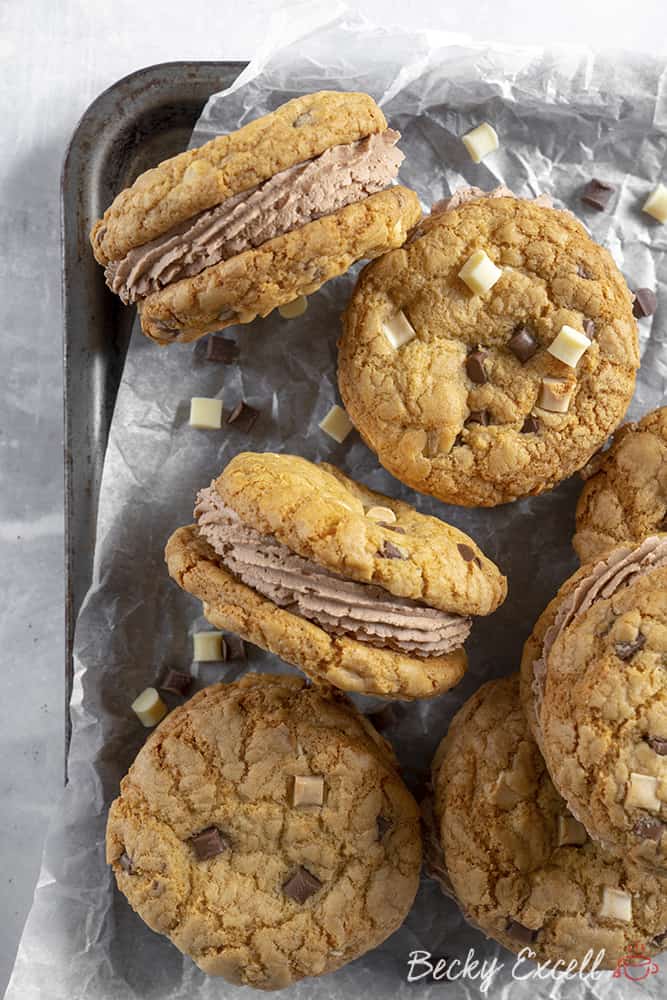 Ok, so here's my gluten free Nutella cookie sandwich recipe! ??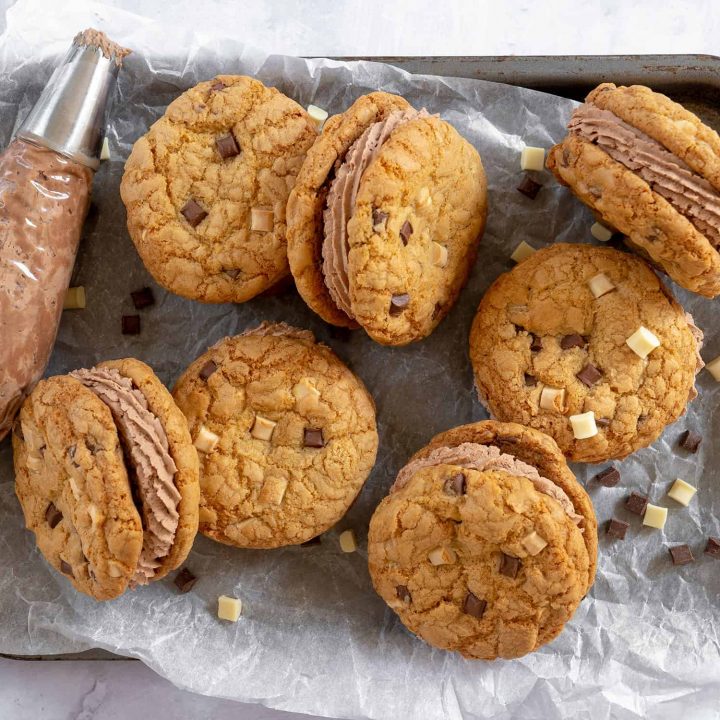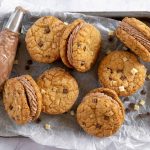 My Gluten Free Nutella Cookie Sandwich Recipe (dairy free option)
My gluten free Nutella cookie sandwich recipe is simple to make and even better to eat! Better still, nobody would ever know it's gf!
Ingredients
For the cookies
100

g

caster sugar

100

g

light brown sugar

120

g

butter, melted

(for dairy free use a hard block of Stork)

1

large egg

1/2

tsp

vanilla extract

300

g

gluten free plain flour

1/2

tsp

salt

1/2

tsp

bicarbonate of soda

80

g

milk or dark chocolate chips

80

g

white chocolate chips
For the buttercream filling
175

g

butter, room temperature

(for dairy free alternative, a hard block of Stork works well)

390

g

icing sugar

260

g

chocolate spread

(Nutella is great for this, as is the Crunchie spread - for dairy free use a dairy free one)

1

tbsp

milk (any type)

(optional)
Instructions
For the cookies
In a bowl, mix together both your light brown sugar and caster sugar with your melted hard margarine. Mix until it all comes together and is fully combined - don't stop mixing until it fully combined!

Add your egg and vanilla extract to the bowl and continue to mix (with a wooden spoon) until combined once more.

Add your gluten free flour, bicarbonate of soda and salt to the bowl. Mix until combined. Make sure your mixing bowl is big as this is quite a lot of flour. It can be hard work and takes time to really combine it all but it'll form a perfect cookie dough (you could use a stand mixer but I prefer to do cookie dough by hand).

Add the chocolate chips and give them a good mix in so they are dispersed evenly.

Cover your mixing bowl with clingfilm and chill in the fridge for about 45 minutes (you can make the cookie dough ahead of time also and keep it in the fridge until you need it).

Heat your oven to 170C and prepare a couple of baking trays with good quality, non-stick baking paper.

Remove your cookie dough from the fridge and roll your dough into balls (about the size of a golf ball - around 53g - I weigh mine so they're even!) and place them on your trays. The cookies will spread a little so leave some gaps between them - I usually cook mine in a couple of separate batches.

Pop them into the preheated oven for 15 minutes - they should have flattened out to look more like cookies and be a lovely golden colour.

Remove from the oven and leave to cool on the baking tray before moving them.
For the buttercream filling
Make sure your butter is soft enough before you begin. Place your butter into a stand mixer alongside your chocolate spread. Mix on a medium speed for about 5 minutes. (If you don't have one, an electric hand mixer will do).

Add your icing sugar gradually. I add it in 2 stages and beat for about 3 minutes between each addition. Start your mixer slowly to save your kitchen from a real icing sugar mess, but then increase the speed to medium / high for each of your 3 minutes.

Your buttercream should now be complete. If it is too stiff you can add a tbsp on milk but I never find it that necessary.
To assemble your cookie sandwiches
You can either just spread the filling or pipe the filling for your cookie sandwiches. If you are piping, spoon your buttercream into a piping bag with a large star nozzle and pipe onto the bottom of one cookie. Then sandwich another cookie on top. Same applies if you are just spreading - spread some buttercream on the bottom of one cookie and sandwich another on top!
outro