Gluten free Kinder cookie bars recipe – they're super simple to make! Did you know that cookie bars are even easier and quicker to make than cookies? No rolling into balls or chilling required!
Gluten free Kinder cookie bars recipe, anyone? Of course, they're not just good because they're easy and quick… they taste bloody amazing!! So let me first tell you all about what's in them…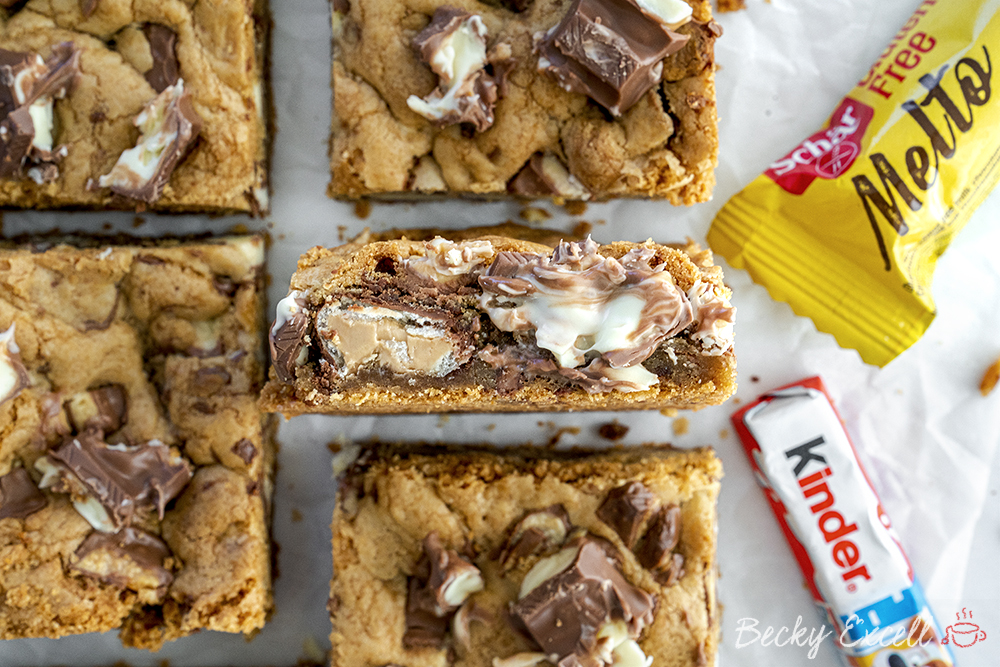 First of all, yes – this is a twist on my classic gluten free cookie bars recipe!
But instead of using chocolate chips, I've gone for a mix of my favourite Kinder chocolate bars… well, not quite, actually!
Of course, as I'm sure you all know by now: a Kinder bueno is definitely NOT gluten free. But guess what? A Schar Melto is essentially a gluten free mini Kinder Bueno – sorry if you didn't know that and unexpectedly just had your mind blown.
You'll need 4 of them them for this recipe, so head down to your local free from aisle and grab a few when you next see them.
So yep, I've thrown a few of those in but ALSO… those cute little Kinder bars too. Yep, they're gluten free too! But don't take my word for it – you can read the ingredients for those here.
The best part about those is that they're so cheap too! You'll find them with all the other chocolate in the supermarket.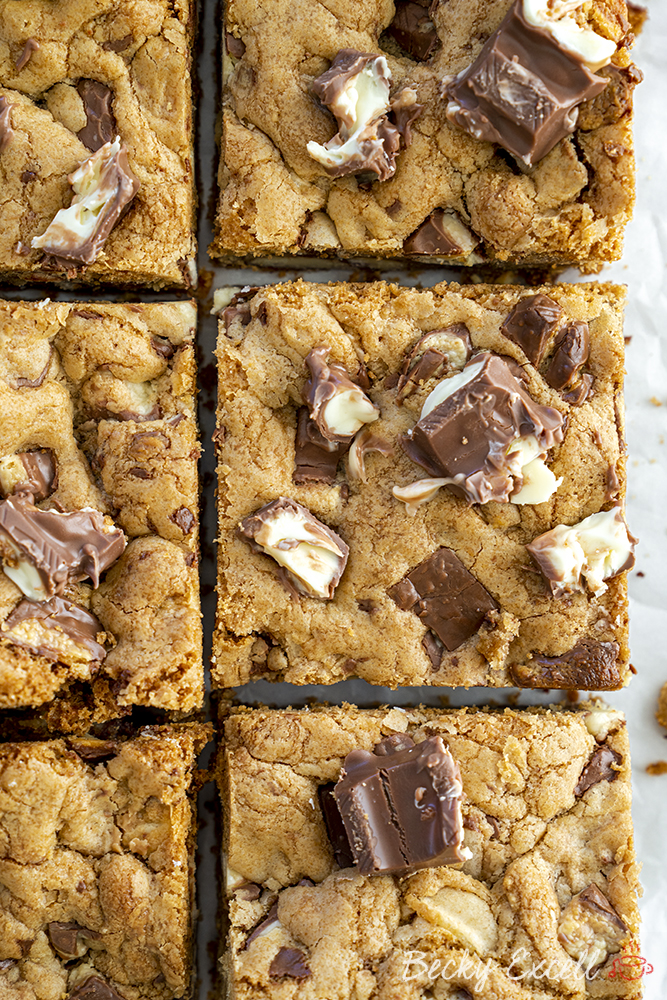 In case you've never had one of those mini Kinder bars, they're basically like a chunkier version of the chocolate you'd get in a Kinder Surprise egg.
(wow, didn't realise I'd spend the next 30 minutes of my life looking at all the 'prizes' you'd find inside a Kinder Surprise on eBay 😂)
And of course, the main event here is the cookie bars! Not only are they easier to make than cookies, but they're even chunkier.
That means even more chewy, gooey cookie middle and more chocolate in every bite. How does that sound?! They're absolutely heavenly in my totally unbiased opinion!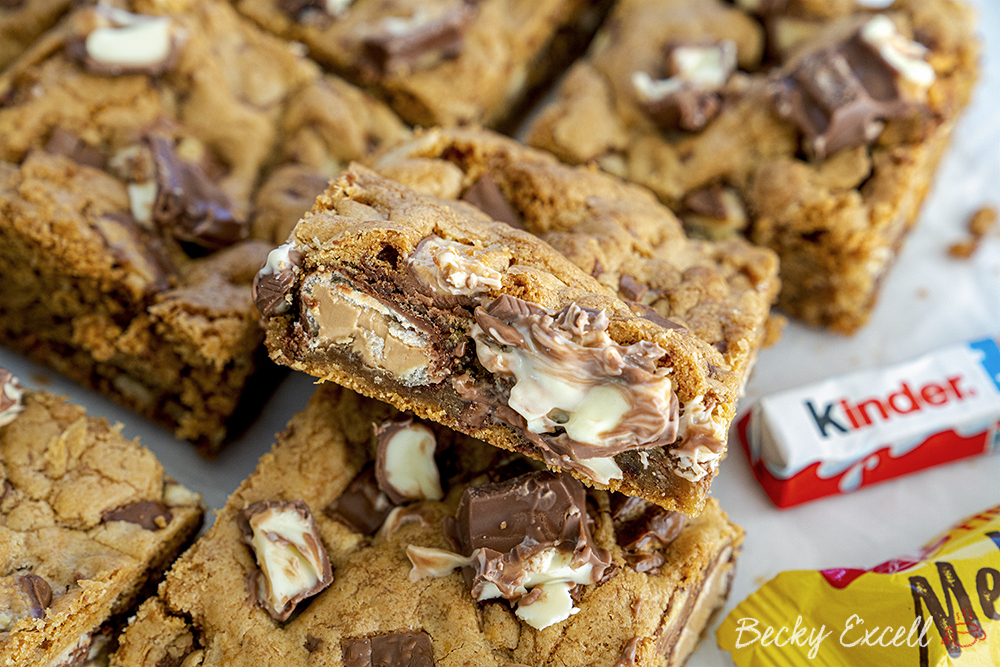 Can I make this recipe gluten free? Is it suitable for Coeliacs?
It is gluten free, though nobody would know just by tasting it – trust me!
Bear in mind that minimising cross-contamination is hugely important if you're Coeliac or making this for someone who is. Here's some tips from Coeliac UK on minimising the risk of cross contamination.
Also, make sure that all ingredients used don't have any gluten-containing ingredients. Then make that that they also don't have a 'may contain' warning for gluten, wheat, rye, barley, oats (which aren't gf), spelt and khorasan wheat (aka Kamut).
Here's some more info from Coeliac UK on identifying safe gluten free products.
Can I make your gluten free Kinder cookie bars dairy free?
Whilst the cookie bars itself can easily be made dairy free by using hard margarine instead of butter, sadly the Kinder/Schar chocolate is not dairy free.
If you're still interested in making them with dairy free chocolate chips, head over to my original recipe and make that instead!
Is your gluten free Kinder cookie bars recipe nut free?
Sadly, the Schar Meltos contain hazelnuts, so this recipe isn't nut free. You can always replace them with more Kinder bars which don't contain nuts and don't appear to have a 'may contain nuts' warning.
Please be sure to triple check the ingredients on everything you use in this recipe. Don't take any chances!!
Can I make this recipe vegan?
You can, but it'd be quite different!As the Kinder/Schar chocolate isn't dairy free, you'd need to replace them with a suitable vegan alternative of the same quantity.
Then all you've got left to swap out is one egg. Here's a few ideas you can use as egg replacements, so each of these = 1 egg.
3 tablespoons of aquafaba – water from a can of chickpeas. Keep the chickpeas for a future dinner!
Egg replacement powder – I'd recommend using Orgran as it's gluten free.
1 tablespoon of chia/flax seeds mixed with 2 tablespoons of water and left for 10 minutes in the fridge.
3 tablespoons of applesauce.
1 small, mashed ripe banana
Is this recipe low FODMAP?
Due to the dairy in the Kinder/Schar chocolate, this recipe would not be suitable for the elimination phase of the low FODMAP diet.
Check out my classic gluten free cookie bars recipe which are simple to make low FODMAP by using lactose-free chocolate chips.
Can I make your gluten free Kinder cookie bars in a food processor or standing mixer?
Of course you can and to be honest, a standing mixer would probably be easier! I always make this just by hand because I always have – not because it's better or anything.
But to be honest, there's something so satisfying about when it comes together and you're using your hands. And less washing up – hooray!
I've never actually tried to make this in a food processor myself. But if you do, just make sure that the mixture is really well combined and that you scrape the sides down occasionally too. The same goes for a standing mixer.
Do I need any special equipment to bake your gluten free Kinder cookie bars?
As I mentioned, you can easily make this entire recipe by hand, so you certainly don't need any crazy appliances or anything like that.
What you will need however is a 9″ square baking tin – here's the one I use. Apart from that, you'll just need a little baking paper too!
Do I need weighing scales to bake your gluten free Kinder cookie bars?
In short… yes! And I wouldn't advise attempting any of my recipes without them. One of the worst things you can do in any baking recipe is alter the quantities by mistake or on purpose.
(unless you know what you're doing of course)
Why? Well, you're sort of just gambling with the recipe and praying that it turns out ok. And I've generally already done the hard work there for you!
A lot of work went into fine tuning ratios and quantities so I wouldn't mess around with them unless you really know your stuff.
What chocolate should I use to bake your gluten free Kinder cookie bars?
You'll need 4 bars of Schar Melto and 2 packs of Kinder bars.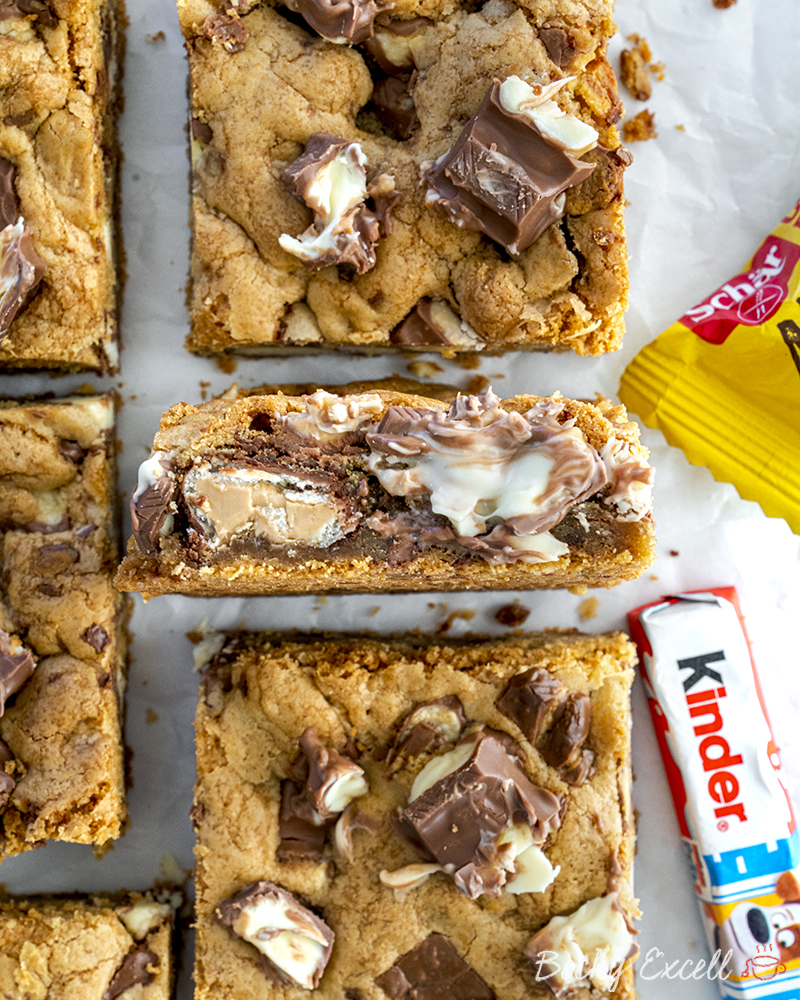 Can I bake your gluten free Kinder cookie bars with less sugar?
I can definitely understand the need to reduce sugar in our foods, but this is one of the recipes where I wouldn't advise it at all!
Of course, the sugar isn't just for sweetness. It's integral to the structure of the cookies once baked and is sooo important.
The sugar caramelises to produce a nice, crispy exterior on the outside and without that… they're not gonna be nice, crisp out the outside, soft in the middle cookie bars at all are they?!
Can I make this recipe without xanthan gum?
In some of my recipes, yes, but I wouldn't recommend leaving xanthan gum out of this one. You'll see xanthan gum in a lot of my recipes as it's an essential ingredient in gluten free baking.
Since we're using gluten free plain flour in this recipe, which has no xanthan gum in it all (self-raising flour has a little in), it'll make it even more important.
Some people have asked if they can use psyllium husk powder instead of xanthan gum, which would work here too. It can make cakes a little crumbly, but it shouldn't make a different here.
So TLDR; definitely use xanthan gum if you can!!
Can I make this recipe using other gluten free flours like buckwheat flour or coconut flour?
There's a big difference between 'gluten free plain/self-raising flour' and a *singular* type gluten free flour. When I say 'gluten free plain or self-raising flour' in a recipe, I mean a BLEND of gluten free flours, not just one, singular flour.
Most gluten free flour you buy in the supermarket typically contains a blend of rice flour, potato flour, maize flour, tapioca flour AND buckwheat flour. That's a lot of different flours!
In gluten free self-raising flour, there's usually even a little baking powder and xanthan gum in it too which always helps.
So to replace it with just one specific type of flour… that's not going to cut it at all. Definitely go for a gluten free flour blend.
How long can I keep your gluten free Kinder cookie bars for?
I've kept my gluten free cookie bars for around a week. They still taste as good as they day they were made! Obviously store them in an air-tight container too.
You can always reheat them for 20-30 seconds in the microwave at 900W for the 'fresh out of the oven' feel too.
When they lose the crispiness on the outside, they're probably starting to get past their best.
Can I freeze your gluten free Kinder cookie bars?
Of course! I've frozen them for up to a month and after allowing them to fully thaw, you'd never know they were frozen. Each bar should take around 3-4 hours to thaw at room temperature.
After thawing, I'd recommend baking them in the oven for 5 minutes or so just to remove any excess moisture before enjoying them warm.
Can I eat your gluten free chocolate chip cookie dough?
Well, I suppose the sensible answer is that they contain egg and eating raw egg isn't the most advisable thing in the world…
But yes, I do eat some when I'm making it and it tastes great! 😂
It's probably more advisable to use one of the vegan egg replacements I just listed above to make it a little more of a good idea!
How can I tell when my gluten free Kinder cookie bars are done?
They should look nice and golden, but not actually browned or browning at the edges.
Poking them doesn't help much because they won't be nice and crisp until they've cooled a little. So just aim for how mine look in the photos and if you take them out early – no bother!
Just pop them back in until you're happy with the colour. Oh and make sure you leave them to cool before sampling them!!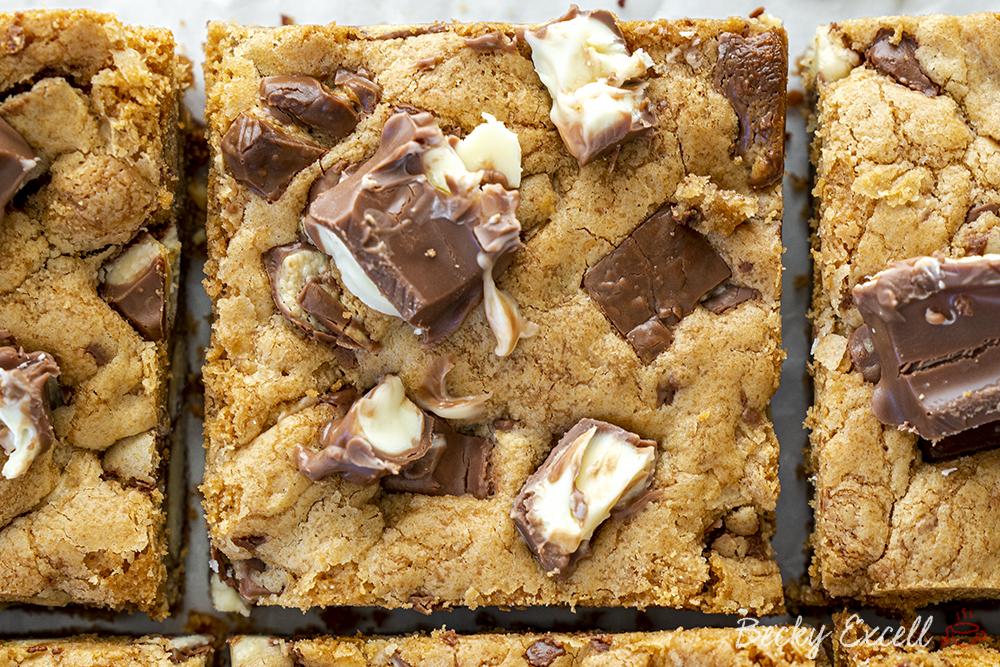 Can I print your gluten free Kinder cookie bars recipe?
Of course! Just hit the print button located on the recipe below 👇🏻 (otherwise you might end up printing this entire post which would probably make your printer go into early retirement)
Ok, so here's my gluten free Kinder cookie bars recipe. Please rate it 5 stars if you liked it as it helps others to know it's a recipe worth trying! Feel free to leave your written reviews in the comments below this post 👇🏻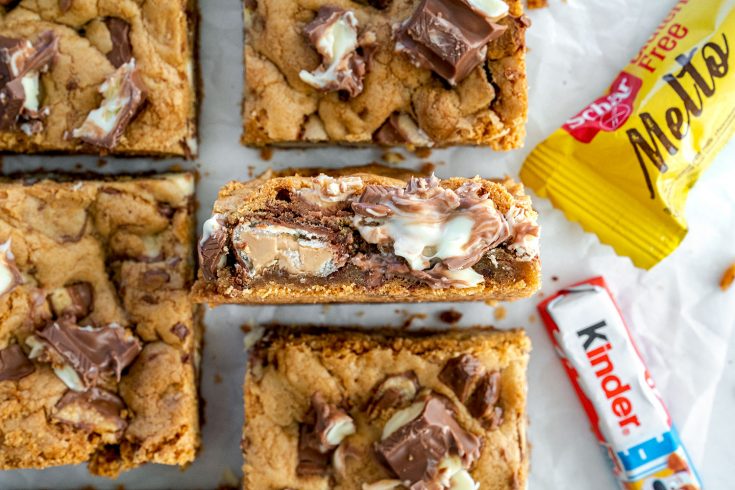 Yield: 9
Gluten Free Kinder Cookie Bars Recipe - EASY METHOD!
Prep Time: 25 minutes

Cook Time: 25 minutes

Total Time: 50 minutes

Gluten free Kinder cookie bars recipe! Super simple to make and easier to make than cookies - of course, use Schar Meltos instead of Kinder Buenos!
Ingredients
130g butter
50g caster sugar
150g light brown sugar
1 large egg (egg replacer if necessary)
1 tsp vanilla extract
280g gluten free plain flour
1/4 tsp xanthan gum
1 tsp bicarbonate of soda
1/2 tsp salt
1 tbsp cornflour (also known as corn starch)
200g Kinder chocolate, chopped (2 packs of 8)
120g Schar Melto, chopped (4 individual bars)
Instructions
Preheat your oven to 160C Fan / 180C. Prepare a 9inch square baking tin with baking paper (leave enough overhang to lift out the bars later once cooked).
Add your melted butter and both sugars to a large bowl and mix together. Do this until totally combined - it will take a few minutes with a spatula by hand.
Add in your egg and vanilla extract and mix again until fully combined.
Add in your flour, xanthan gum, bicarbonate of soda, salt and cornflour and mix (I still do this by hand). It can take quite a bit of time to fully combine but you should be left with a yummy cookie dough!
Add in your chopped up Kinder chocolate and chopped Melto bars and mix into the dough evenly. Leave a small amount of the chocolate to pop in the top of the cookie bars.
Place your cookie dough into your prepared tin. I spoon mine in and push it to the edges making sure its an even layer without any gaps. (Get your hands in there if need be!)
Push some Kinder chocolate into the top of the cookie dough.
Place in your preheated oven for about 22-25 minutes until a skewer comes out fairly clean.
Leave to cool in the tin (you can lift them out to cool on a cooling rack after about 20 minutes if you want to). You might like to add some extra pieces of Melto or Kinder Chocolate to the top to melt on whilst its cooling - completely optional!
Cut into squares. Enjoy!
Recommended Products
Nutrition Information:
Yield:
9
Serving Size:
1
Amount Per Serving: Calories: 430Total Fat: 19gSaturated Fat: 12gTrans Fat: 0gUnsaturated Fat: 6gCholesterol: 57mgSodium: 253mgCarbohydrates: 59gFiber: 2gSugar: 33gProtein: 6g

Nutritional info is estimated and not always accurate.

Thanks for reading all about my gluten free Kinder cookie bars recipe! If you make it, I'd love to see how it turned out so don't forget to take a snap of your creations and tag me on Instagram!
Any questions about the recipe? Please do let me know by following me on Instagram and leaving me a comment on a recent photo!
Thanks for reading,
Becky xxx
Oh and don't forget to pin this for later!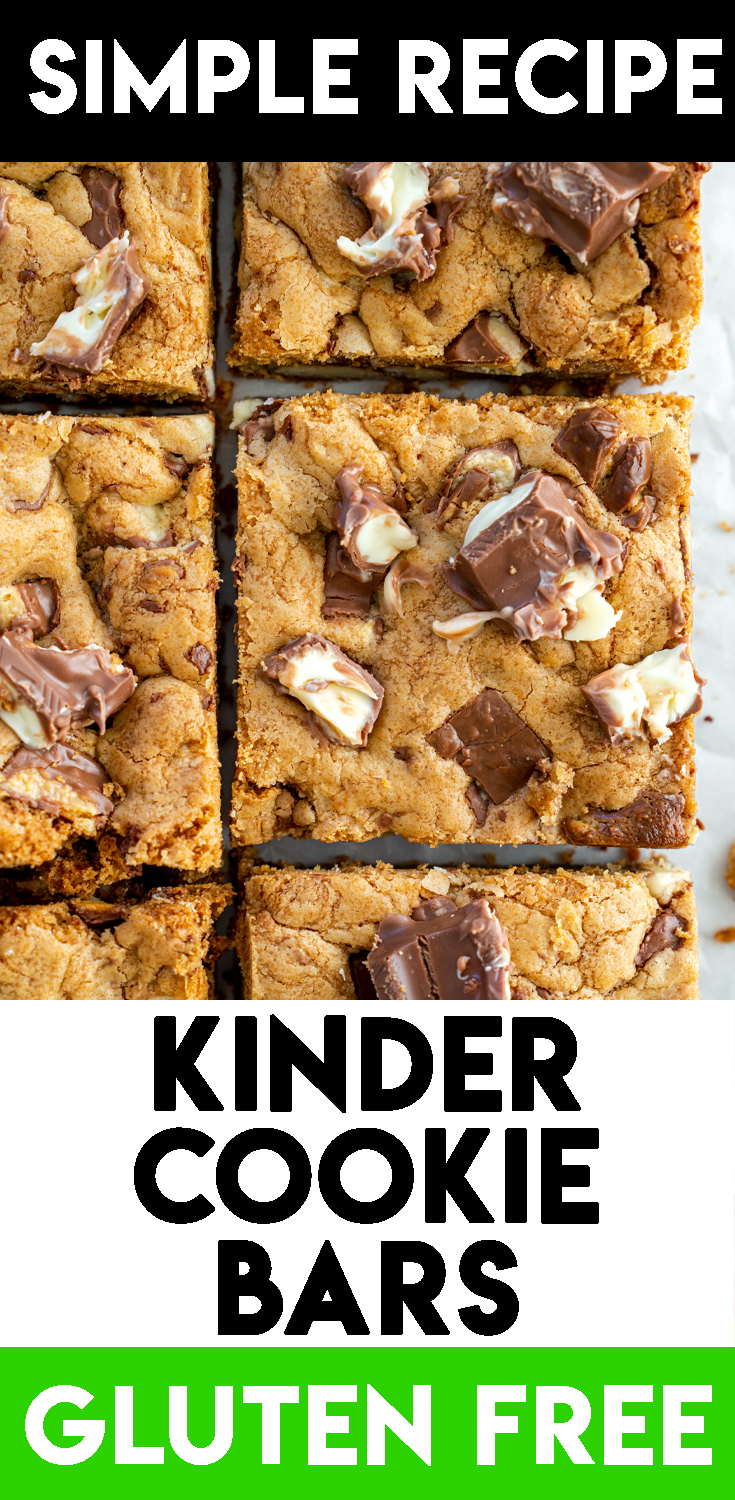 Comments