Yep, I've finally created a gluten free 'Smarties' cookies recipe! But how?!! After all, Smarties are definitely NOT gluten free…
Well, if you pop down to Aldi and look in the chocolate section, you might come across 'Choc Um's which are basically Smarties… but they're gluten free in the UK ? And that's how my gluten free 'Smarties' cookies recipe is possible!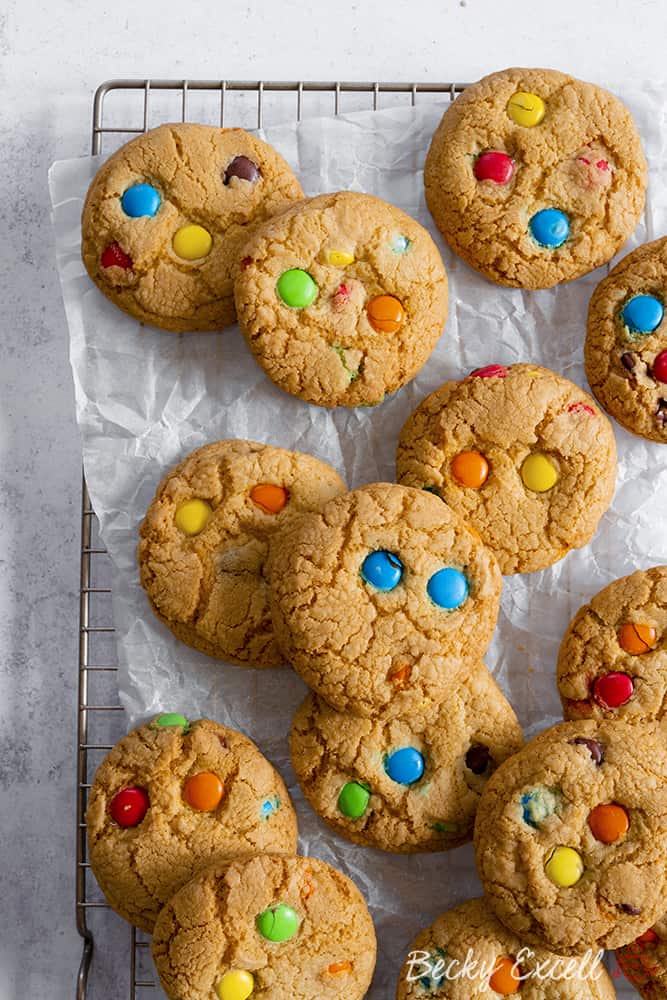 Can you believe that in this day and age, actual Smarties still contain wheat flour?
I mean… they're just milk chocolate in a sugar shell right… what on Earth is the need for wheat flour?!!
(apart from ensuring that a huge proportion of people can no longer eat your product, i guess!)
Oh and if you're wondering what to look for when you get into Aldi, then here's what 'Choc Um's look like…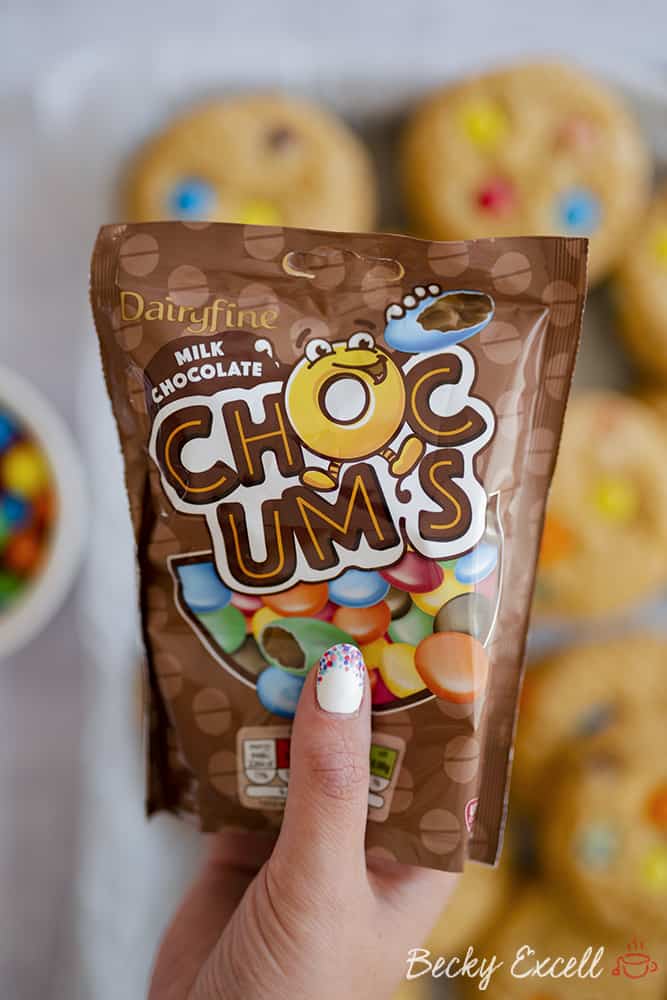 For this recipe, I used my cookie recipe from my classic chocolate chip cookie recipe, but obviously with a few minor tweaks!
It's literally as simple as replacing chocolate chips with 'Choc Ums' and you're sorted.
And the end result is AMAZING. Chewy, soft and sweet cookies with chunky little bites of chocolatey goodness and that lovely crunch from the sugar shell.
Honestly, nobody would ever know these are gluten free – I promise!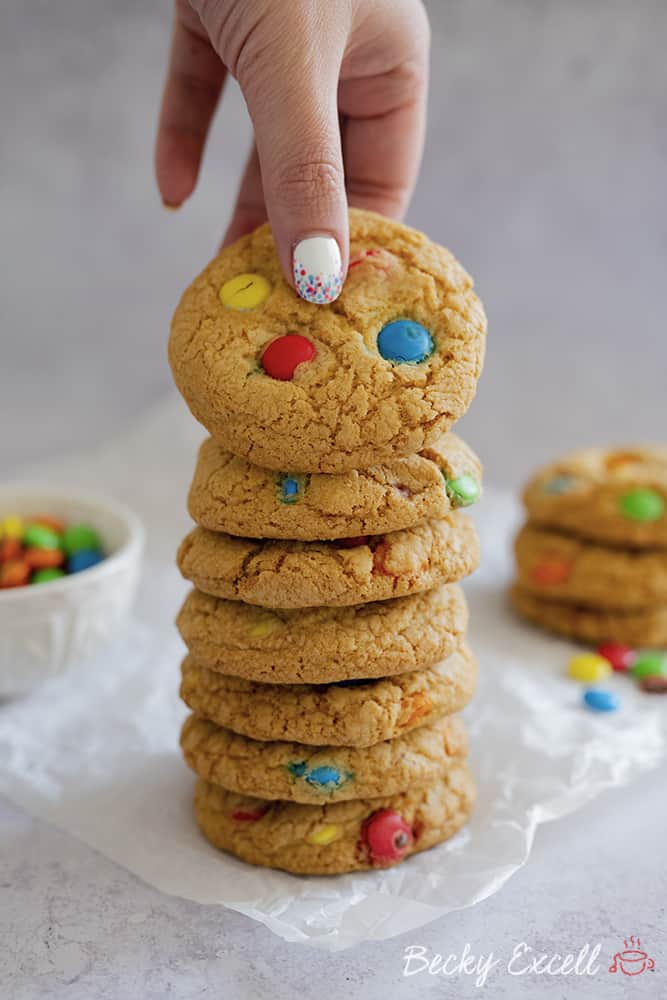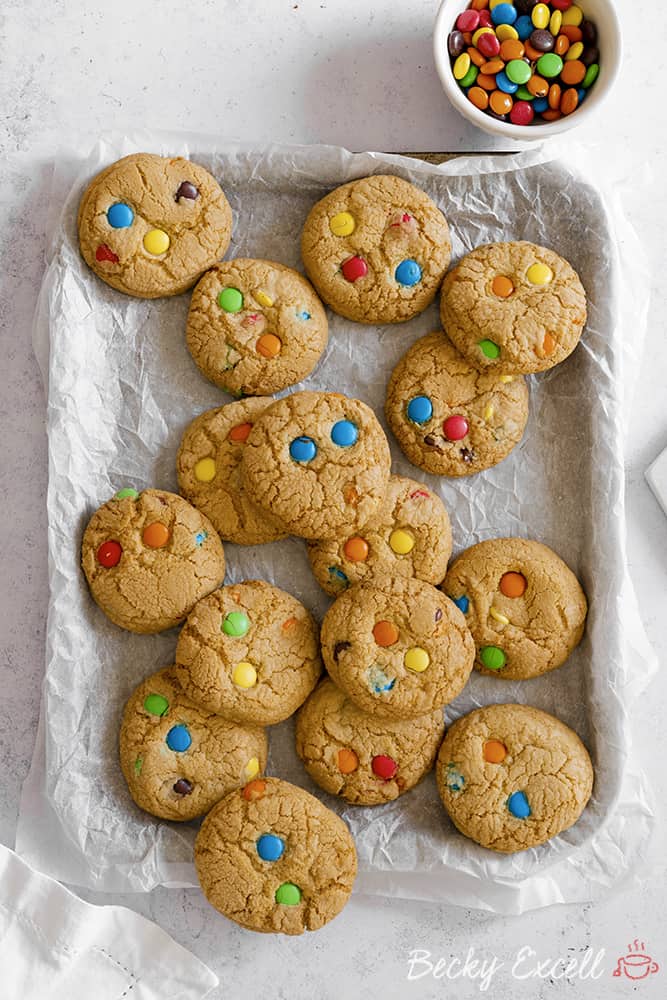 Sad that there's no dairy free option? Me too! When it comes to easy additions to add to baking that are gluten free AND dairy free… your options become extremely limited!
But if you still fancy making dairy free cookies, you can always give my gluten free choc chip cookies or gluten free triple choc chip cookies a go. They're both dairy free and use the same cookie recipe!
Oh and if you skipped past everything to just find the recipe (shame on you), then I'll say it again – Smarties are NOT gluten free but in the UK, Aldi 'Choc Ums' are gluten free! As always, make sure you check the ingredients for yourself first too.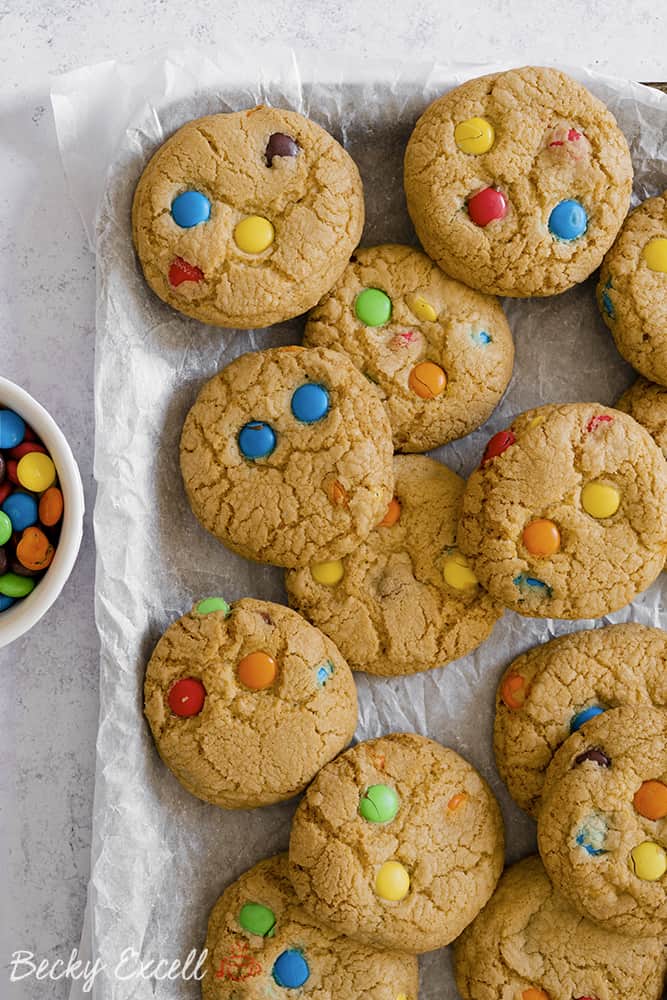 Ok so here's my gluten free 'Smarties' cookies recipe!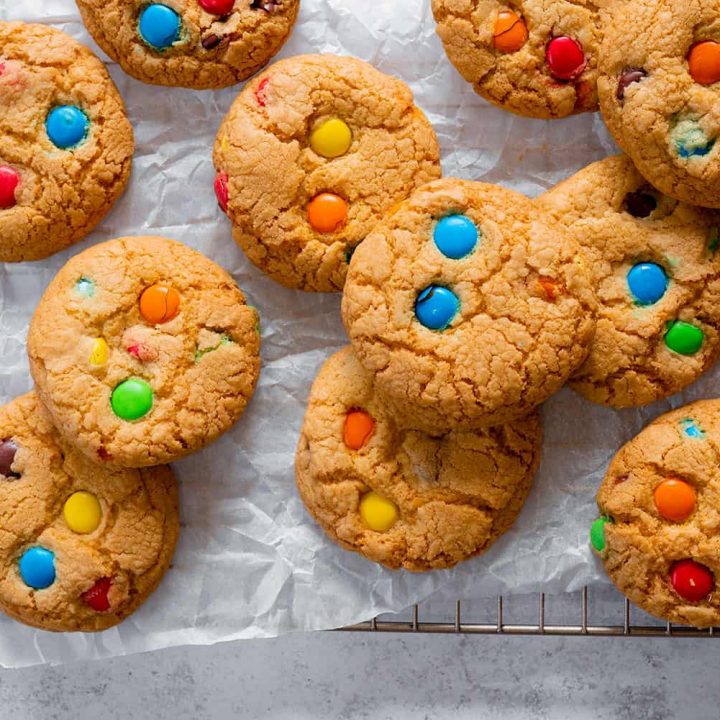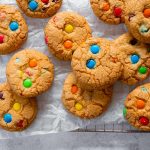 My Gluten Free 'Smarties' Cookies Recipe
Here's my gluten free 'Smarties' cookies recipe using Aldi's Choc Ums which taste EXACTLY like Smarties... but of course, they're gf!
Ingredients
100

g

caster sugar

100

g

light brown sugar

120

g

hard margarine or butter, melted

1

large egg

1/2

tsp

vanilla extract

300

g

gluten free plain flour

1/2

tsp

salt

1/2

tsp

bicarbonate of soda

160

g

gluten free smarties

(These are from Aldi - Milk Chocolate Choc Ums - see above in the post for a picture of the packaging)
Instructions
In a large bowl, mix together both your light brown sugar and caster sugar with your melted hard margarine. Mix until it all comes together and is fully combined.

Add your egg  and vanilla extract to the bowl and continue to mix (with a wooden spoon) until combined once more.

Add your flour, salt and bicarbonate of soda to your bowl and mix until combined. It can be hard work and takes time to really combine it all but it'll form a perfect cookie dough (you could use a stand mixer but I prefer to do cookie dough by hand).

Add the about 130g of the gluten free smarties to the mixture and give them a good mix in so they are dispersed evenly.

Cover your mixing bowl with clingfilm and chill in the fridge for about 45 minutes (you can make the cookie dough ahead of time also and keep it in the fridge until you need it).

Heat your oven to 160C Fan and prepare a couple of baking trays with good quality, non-stick baking paper.

Remove your cookie dough from the fridge and roll your dough into balls (about the size of a golf ball). Use your remaining 30g of gluten free smarties to place 2-3 in the top of each ball. This will ensure that you get the nice bright colours showing through on every cookie.

Place the cookies on your trays. The cookies will spread a little so leave some gaps between them - I usually cook mine in a couple of batches.

Pop into the preheated oven for 13-15 minutes - they should have flattened out to look more like cookies and be a lovely golden colour

Remove from the oven and leave to cool on the baking tray before moving them.
Thanks for reading how to make my gluten free 'Smarties' cookies recipe! If you make it, I'd love to see how it turned out so don't forget to take a snap of your bakes and tag me on Instagram!
Any questions about the recipe? Feel free to leave a Facebook comment below this post ??
Thanks for reading,
Becky xxx
Oh and don't forget to pin this for later!