Have you been craving soft and chewy gluten free choc chip cookies? I'll assume that was a big, fat yes! Here's my mega-simple recipe – it's even dairy free and low FODMAP too.
Why oh why can I still never find freshly baked, soft and chewy gluten free choc chip cookies when I'm out and about? 2018 – I expected better of you. No bother – here's a recipe that'll fix all that, sharpish…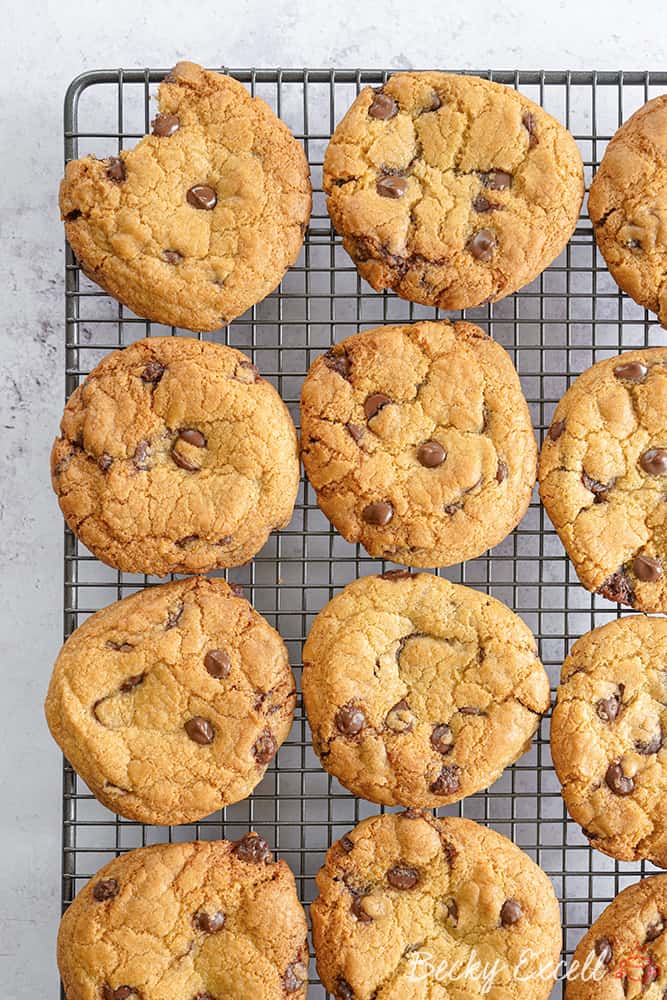 I'm getting to the point in my gluten free life that I now expect one decent gluten free option at the very least whenever I walk into somewhere. That's not too expectant, is it?
I mean, let's say I walk into a bagel bar for example. In 2018, I don't think it's unreasonable to expect that out of the 8 different types of bagel they offer, one would be gluten free. I could then choose my filling and hey presto – I'm eating out like a normal person, hooray!
The same goes for cafes with sandwiches, restaurants with dessert menus and coffee shops with cakes – nine times out of then, there will always be one gluten free option, right?
(even if it is just another bloody gluten free brownie!!)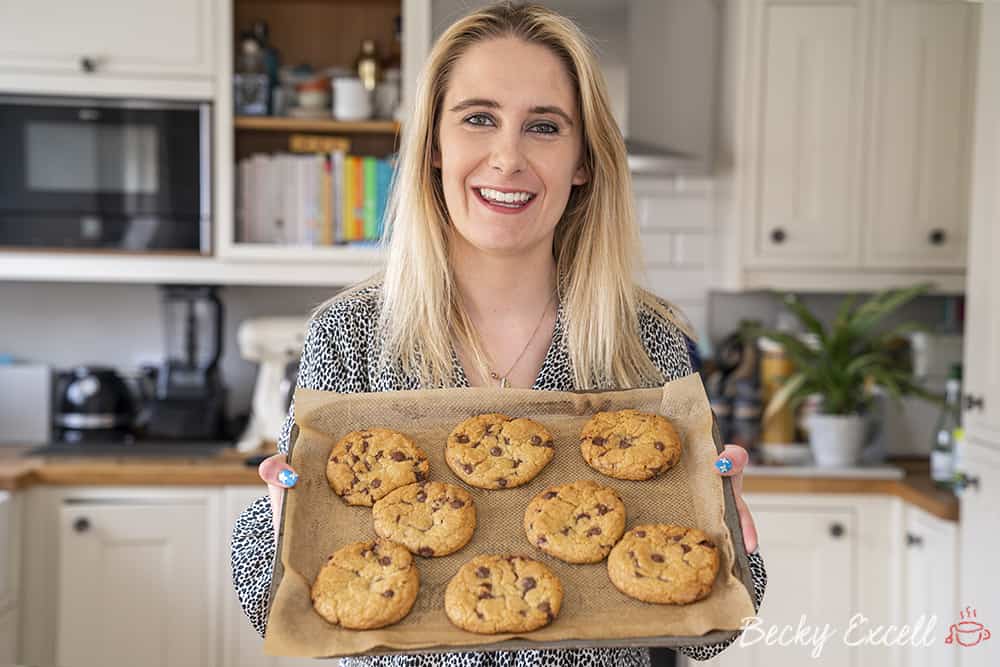 But at most cookie places, that definitely isn't the case.
I'm talking places like Millie's Cookies for example – a place that Mark and I used to absolutely love back when I could eat gluten and he could tolerate lactose. Think freshly baked cookies with tons of flavours – soft, sticky and chewy. Ohhhh, soooo good!
But in 2018, there's still zero gluten free options there. How is that even possible?
Another place we used to adore is Ben's Cookies in Covent Garden and in Brighton – but still nada when it comes to gluten free! I just envy-smell every time I walk past and I've just about had enough.
(well I've certainly not had enough in a literal sense because I haven't bought anything at either place in nearly 10 years)
So it was time to take matters in to my own hands… quite literally. Here's the photo for proof: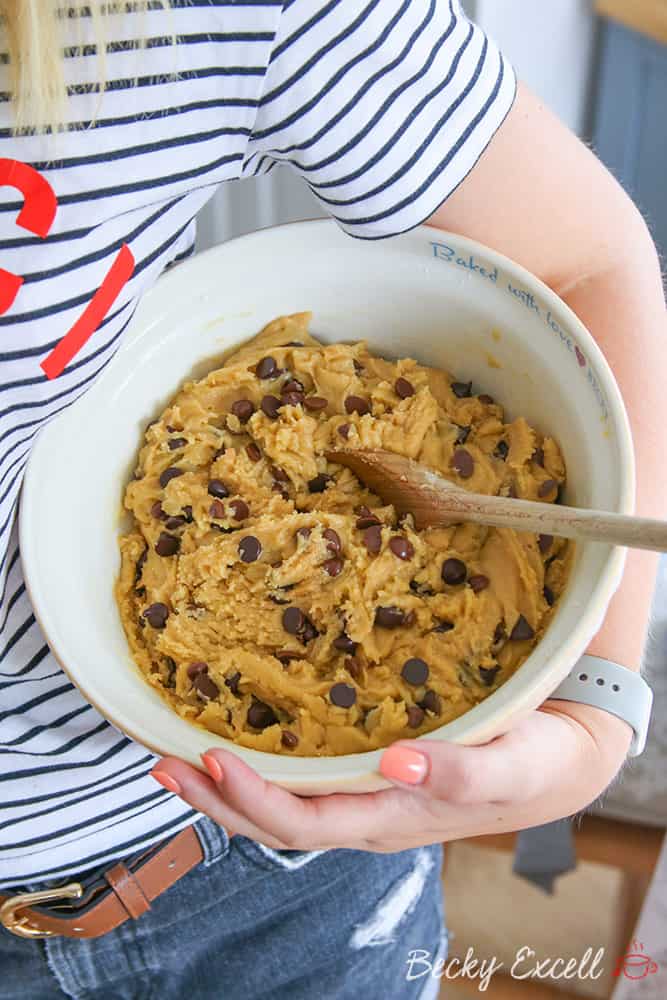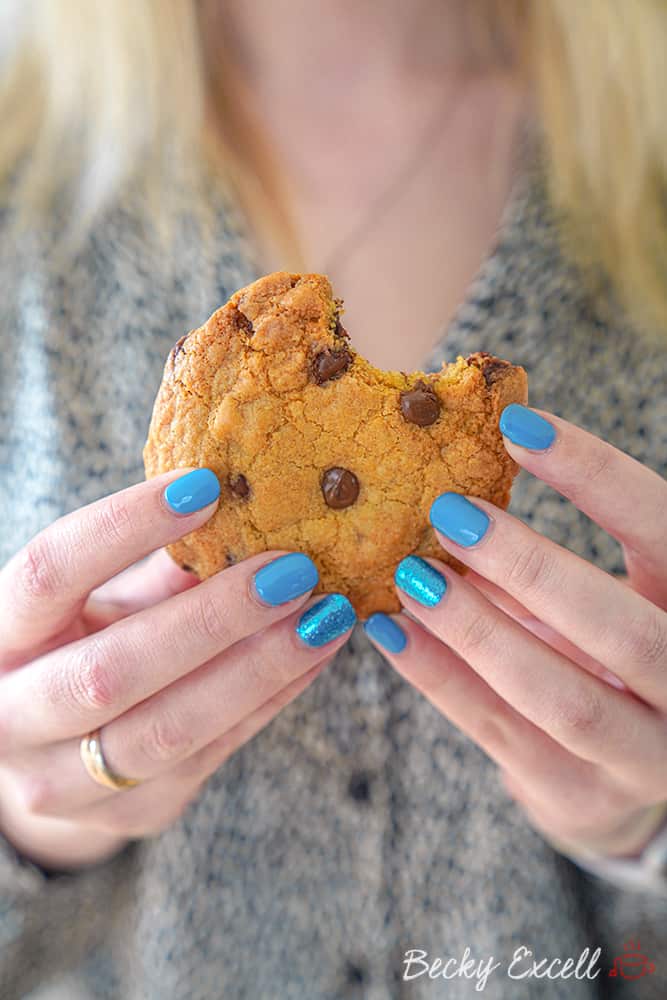 Ta-da! I decided to recreate those freshly baked cookies I'd been craving and envy-smelling for years. And well… they turned out better than I can even remember.
I based them on a Ben's Cookies style cookie, which are golden on the outside with a chewy centre and chunky chocolate chips. They have a nice little rise on them which just makes them actually so light and soft…
And that's exactly how I'd describe my gluten free choc chip cookies!
Honestly, I don't say this often – nobody would ever, ever, ever, ever know that they're gluten free and dairy free.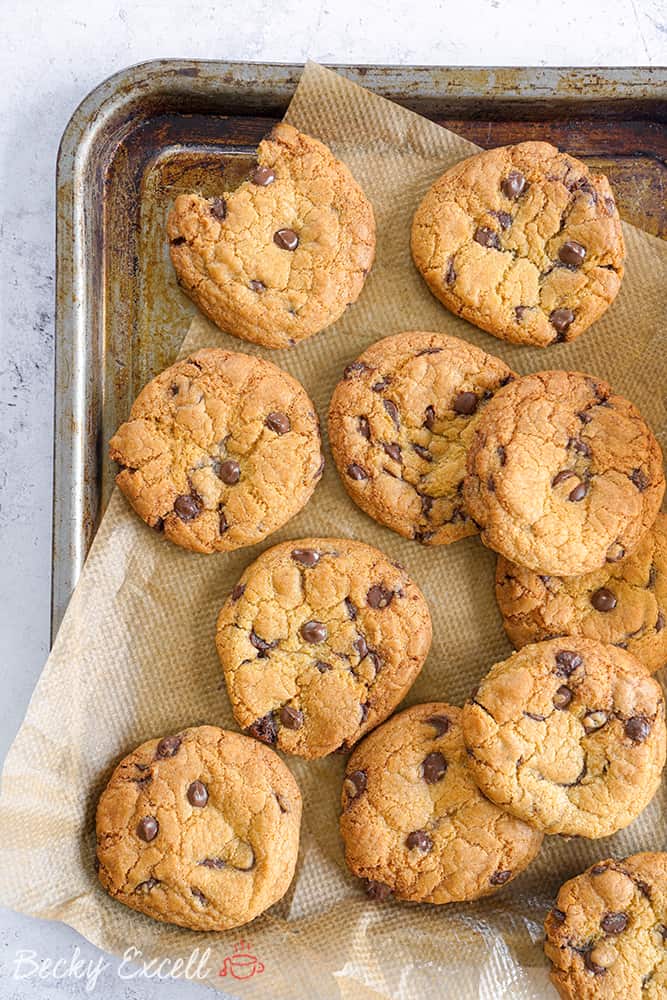 Fortunately for you, they're so easy to make too! Just mix up your cookie dough, roll into balls and thank me later.
So the moral of the story is this: why hold your breath waiting for the 'one gluten free option' when you can just make your own? I know what I'd prefer! Here's how to make my gluten free choc chip cookies recipe…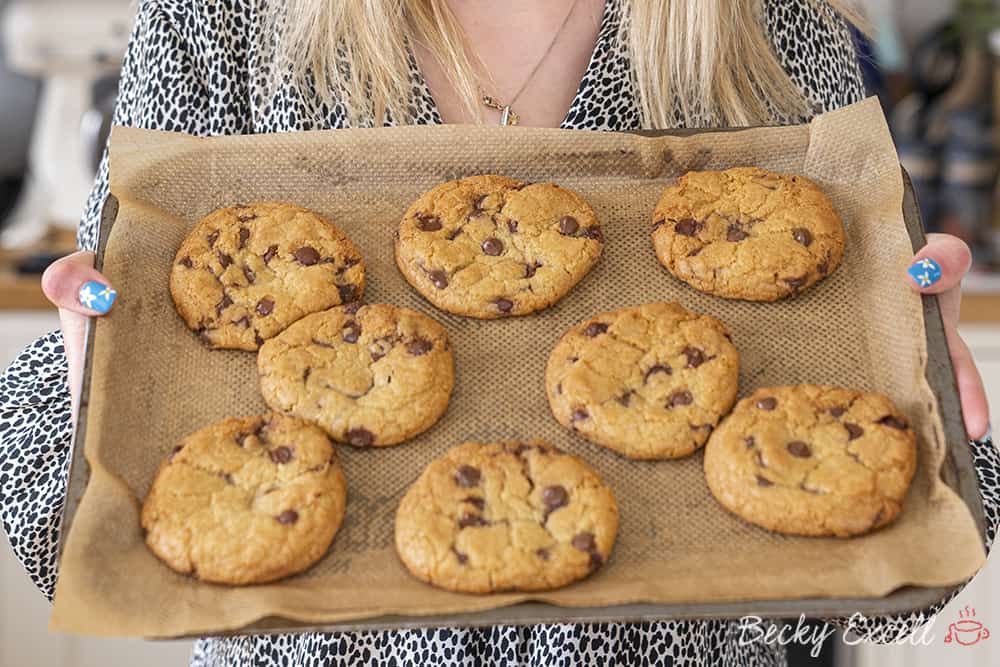 My Chewy Gluten Free Choc Chip Cookies Recipe (dairy free, low FODMAP)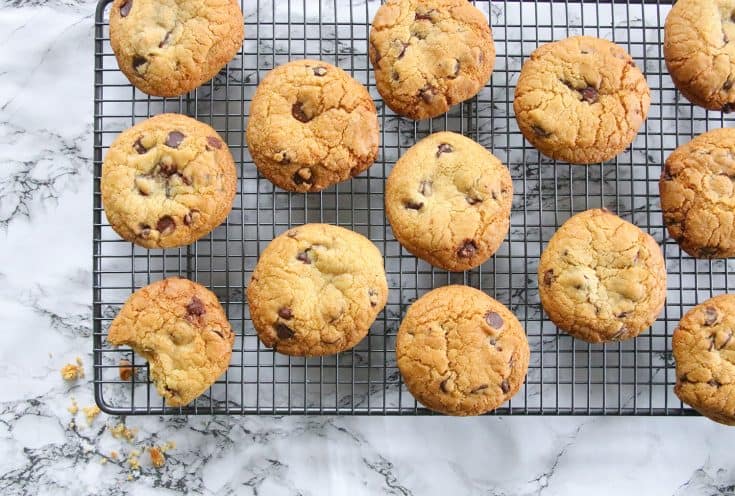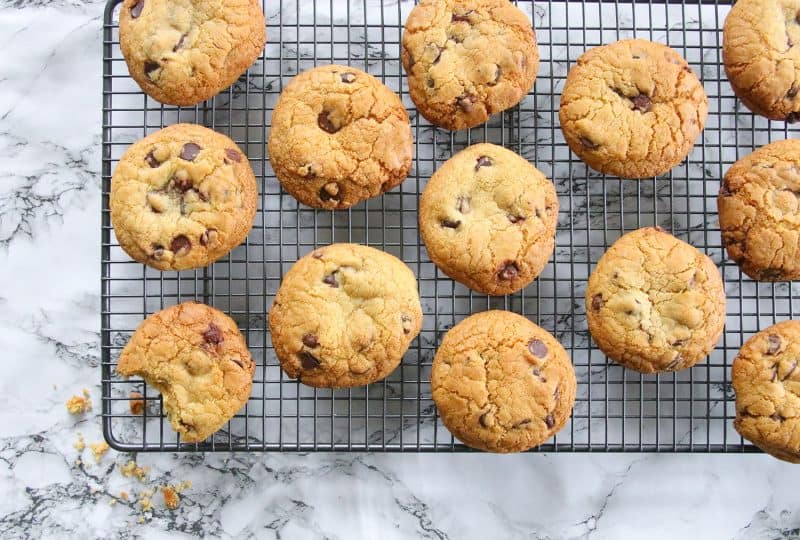 Do you crave soft and chewy gluten free choc chip cookies? Well here's the recipe - it's dairy free and low FODMAP too FYI.
Ingredients
100 g caster sugar
100 g light brown sugar
120 g hard margarine, melted, (I've always used the hard block of Stork which is dairy free - if you don't need dairy free you could use butter)
1 large egg
1/2 tsp vanilla extract
300 g gluten free plain flour
1/2 tsp salt
1/2 tsp bicarbonate of soda
160 g chocolate chips, (dairy free if necessary)
Instructions
In a bowl, mix together both your light brown sugar and caster sugar with your melted hard margarine. Mix until it all comes together and is fully combined.
Add your egg  and vanilla extract to the bowl and continue to mix (with a wooden spoon) until combined once more.
In a separate bowl, add your gluten free flour, bicarbonate of soda, salt and briefly mix.
Add your flour mix to your original bowl and mix till combined. Make sure your mixing bowl is big as this is quite a lot of flour. It can be hard work and takes time to really combine it all but it'll form a perfect cookie dough (you could use a stand mixer but I prefer to do cookie dough by hand).
Add the chocolate chips and give them a good mix in so they are dispersed evenly.
Cover your mixing bowl with clingfilm and chill in the fridge for about 45 minutes (you can make the cookie dough ahead of time also and keep it in the fridge until you need it).
Heat your oven to 170C and prepare a couple of baking trays with good quality, non-stick baking paper.
Remove your cookie dough from the fridge and roll your dough into balls (about the size of a golf ball) and place them on your trays. The cookies will spread a little so leave some gaps between them - I usually cook mine in a couple of batches.
Pop into the preheated oven for 15 minutes - they should have flattened out to look more like cookies and be a lovely golden colour.
Remove from the oven and leave to cool on the baking tray before moving them.
Enjoy!
Recommended Products
As an Amazon Associate and member of other affiliate programs, I earn from qualifying purchases.
Nutrition Information:
Yield:
12
Serving Size:
1
Amount Per Serving:
Calories:

297
Total Fat:

13g
Saturated Fat:

4g
Trans Fat:

1g
Unsaturated Fat:

8g
Cholesterol:

16mg
Sodium:

107mg
Carbohydrates:

44g
Net Carbohydrates:

0g
Fiber:

1g
Sugar:

24g
Sugar Alcohols:

0g
Protein:

4g
Nutrition info is estimated.
Thanks for reading how to make my gluten choc chip cookies recipe! If you make them, I'd love to see how they turned out so don't forget to take a snap of your bakes and tag me on Instagram!
Plus, I'm giving away a £50 supermarket voucher every month to my fave pic – result.
Any questions about the recipe? Please do let me know by following me Instagram and leaving me a comment!
Thanks for reading,
Becky xxx
Oh and don't forget to pin this for later!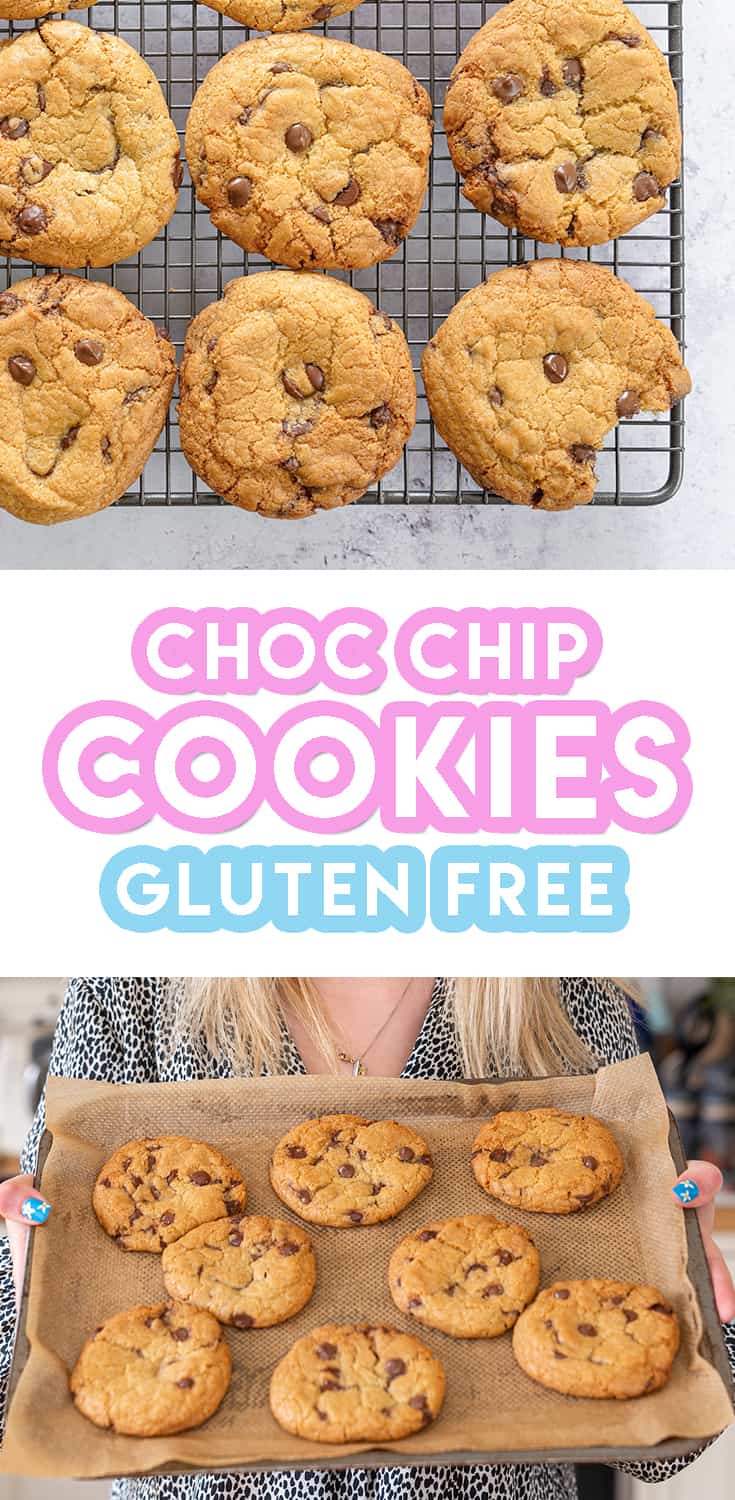 Comments