Gluten free white chocolate and raspberry cookies recipe, anyone? I'll just assume that was a BIG YES even though I'm sitting on my own and heard nothing. Oh and this recipe is dairy free too!
Yep, here's my gluten free white chocolate and raspberry cookies recipe in all its glory! You just can't buy fresh gluten free cookies ANYWHERE it seems, so obviously, it was time to get my apron on…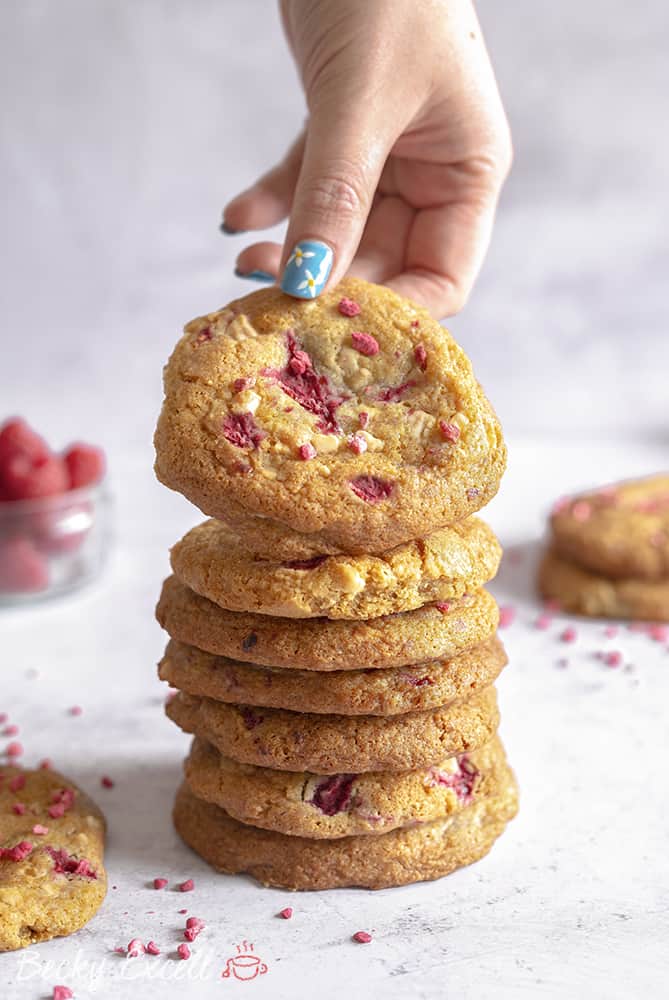 And OMG I'm so happy with how these turned out.
I used my cookie recipe from my classic chocolate chip cookie recipe, but obviously with a one minor tweak – white chocolate chunks and fresh raspberries instead of chocolate chips!
Yep, FRESH raspberries. I really wanted to throw fresh raspberries into this recipe, but I was slightly skeptical because a) it'd make them a bit messier to roll into balls and b) it'd mean more moisture in the cookies and I wasn't exactly sure how that would turn out!
So how did my gluten free white chocolate and raspberry cookies turn out?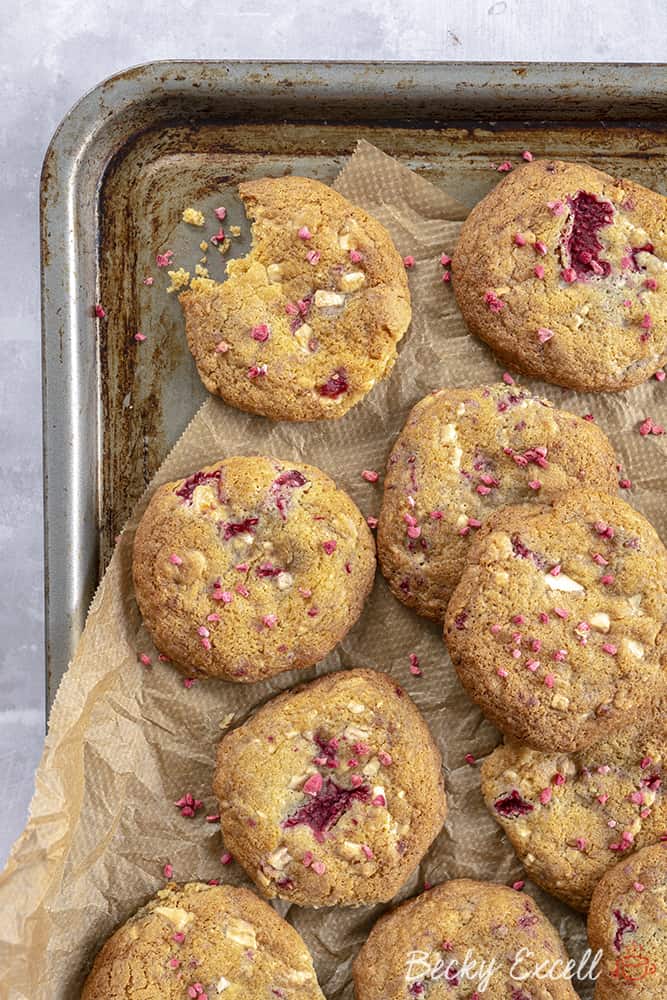 Ok, so yeah, they were a little messier to roll into balls! But wow… they came out better than ever.
The extra moisture allowed them to spread a little more than my usual chunkier cookies. That means my gluten free white chocolate and raspberry cookies are suuuuper chewy and soft as they spread a little more than usual!
Plus, the fresh raspberries bits in the cookies are just totally divine. So you've got chunky bits of white chocolate in every bite, along with a sweet hit of fresh raspberry too.
Throw a few freeze-dried raspberries on for a finishing touch and you're good to go!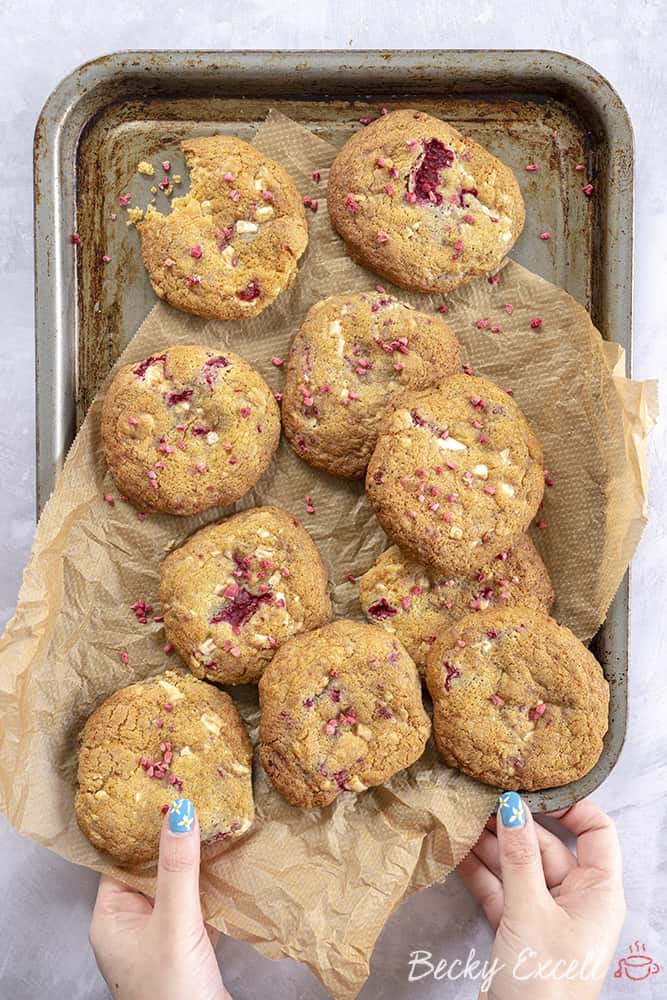 And as always, nobody would ever know that these are gluten free (or dairy free if you go down that route!) I promise you – they just taste like regular, freshly baked chewy cookies that you'd find in the supermarket bakery!
Ok, so here's my gluten free white chocolate and raspberry cookies recipe…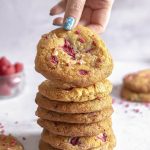 My Gluten Free White Chocolate and Raspberry Cookies Recipe (dairy free, low FODMAP)
Gluten free white chocolate and raspberry cookies recipe, anyone?! Nobody would EVER know they're gf AND dairy free - plus, they're soft and chewy too!
Ingredients
100

g

caster sugar

100

g

light brown sugar

120

g

hard magarine, melted

(I've always used the hard block of Stork which is dairy free - if you don't need dairy free you could use butter)

1

large egg

1/2

tsp

vanilla extract

300

g

gluten free plain flour

1/2

tsp

salt

1/2

tsp

bicarbonate of soda

130

g

white chocolate - chips or chopped up chunks

(dairy free if needed)

30

g

fresh raspberries

freeze dried raspberries

(optional - find them in the baking section at Sainsbury's and Waitrose or with the maple syrup in Tesco)
Instructions
In a bowl, mix together both your light brown sugar and caster sugar with your melted hard margarine. Mix until it all comes together and is fully combined.

Add your egg and vanilla extract to the bowl and continue to mix (with a wooden spoon) until combined once more.

Add your gluten free flour, bicarbonate of soda, salt to the bowl and mix till combined. Make sure your mixing bowl is big as this is quite a lot of flour. It can be hard work and takes time to really combine it all but it'll form a perfect cookie dough (you could use a stand mixer but I prefer to do cookie dough by hand).


Add the white chocolate chips/chunks and give them a good mix in so they are dispersed evenly.


Carefully add for fresh raspberries. I chopped some of mine into 2-4 pieces as 30g isn't that many raspberries! Try and mix them with your spatula/spoon however you might need to do it even more carefully with your hands. Ensure they are evenly dispersed. The mixture is a little messy compared to my usual cookie dough as the raspberries squash and get moist - don't worry!

Cover your mixing bowl with clingfilm and chill in the fridge for about an hour (you can make the cookie dough ahead of time also and keep it in the fridge until you need it).


Heat your oven to 170C (fan) and prepare a couple of baking trays with good quality, non-stick baking paper.

Remove your cookie dough from the fridge and roll your dough into balls (about the size of a golf ball - around 53g - I weigh mine so they're even!) and place them on your trays. Try and get some raspberry near the top of the ball to give the cookies a better chance of having the red/pink raspberry colour.

This is definitely a little messy - my hands always go raspberry colour! But trust me, it's worth it!

The cookies will spread a little so leave some gaps between them - I usually cook mine in a couple of batches.

Pop into the preheated oven for 15 minutes - they should have flattened out to look more like cookies and be a lovely golden colour.

Remove from the oven and leave to cool on the baking tray before moving them. Sprinkle with freeze dried raspberry pieces. Enjoy!

Thanks for reading all about my gluten free white chocolate and raspberry cookies recipe! If you make them, I'd love to see how they turned out so don't forget to take a snap of your creations and tag me on Instagram!
Any questions about the recipe? Please do let me know by following me on Instagram and leaving me a comment on a recent photo!
Thanks for reading,
Becky xxx
Oh and don't forget to pin this for later!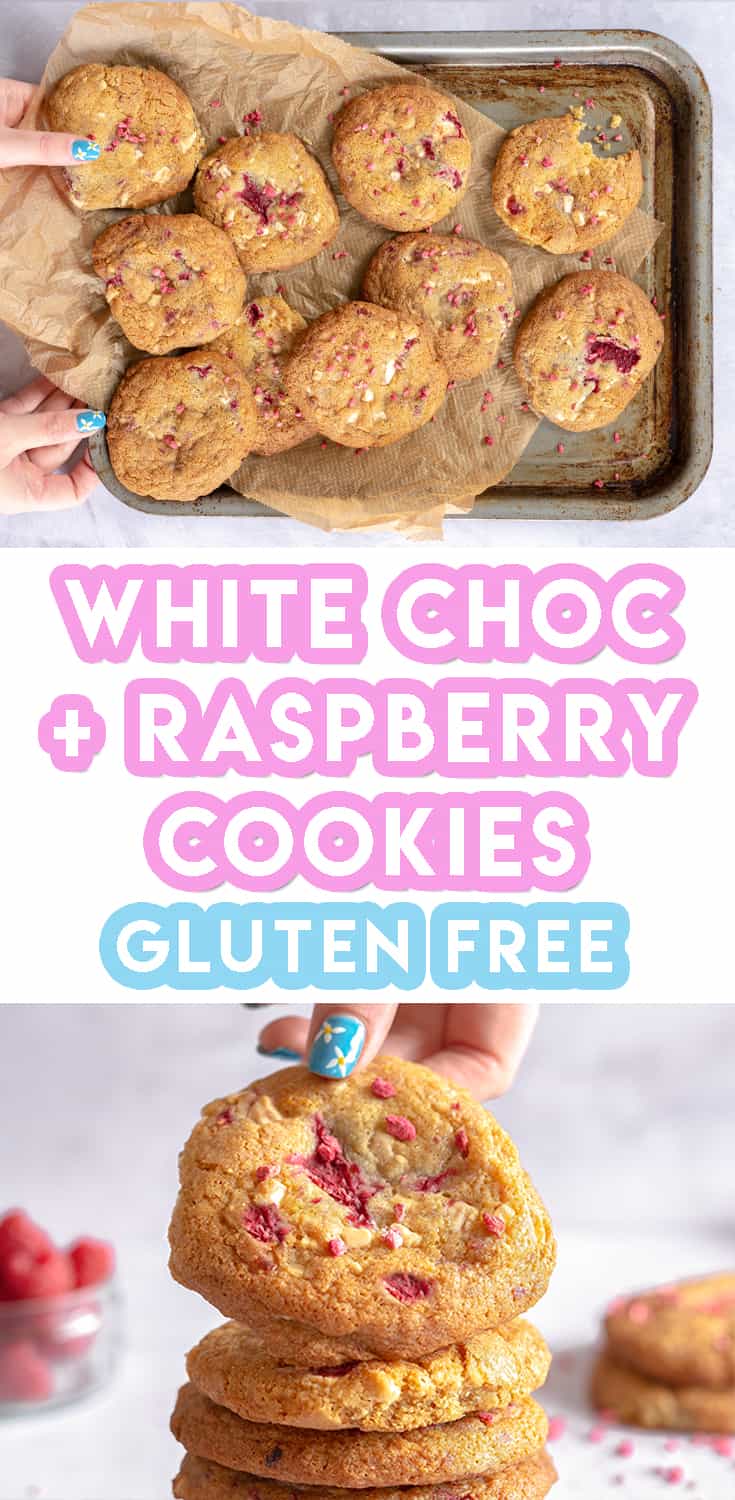 Comments