You know me – I love finding an 'accidentally' gluten free product! Not sure what they are? Read on to find out! Here's the 36 'accidentally' gluten free products you need to try asap…
Need the low-down on what defines all these as 'accidentally' gluten free products? An 'accidentally' gluten free product is one that has no-gluten containing ingredients and no 'may contain gluten, wheat etc' statement. According to Coeliac UK, the combo of those two things makes a product safe for those on a gluten free diet – hooray! ✅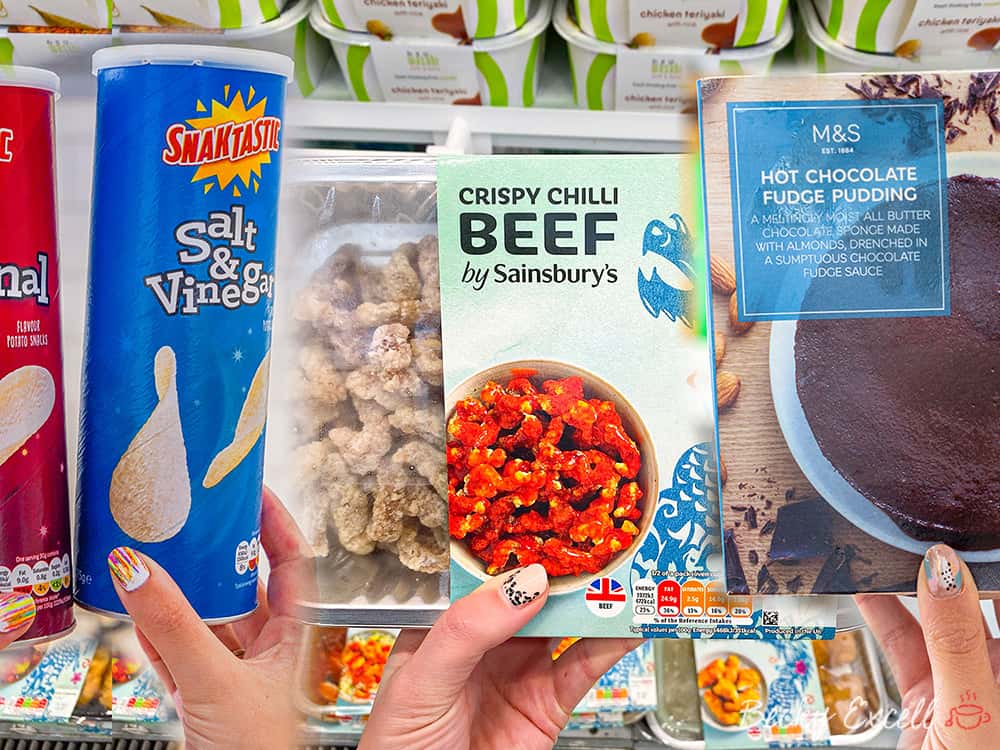 Most people call them accidentally gluten free products because they're not specifically made for gluten free people, but they just happen to be gf. Make sense?!
And it gets even better… because they're not 'special' products for us gluten free folks, guess what? We pay the exact same as anybody else would. Now that makes a change!!
Important 'accidentally' gluten free products disclaimer:
As always with 'accidentally' gluten free products, please make sure you TRIPLE CHECK the labels to be sure there's no gluten-containing ingredients and no gluten-related may contain warning.
Whilst I've obviously spent several hours checking all these products for you already – YOU NEVER KNOW WHEN THINGS MIGHT CHANGE! So make sure you check the ingredients labels for yourself first. And if any of these products aren't safe anymore, please let me know so I can remove them.
At the time of writing, all of these products are safe!
Here's the 36 'accidentally' gluten free products you need to try ASAP…
1. Mark's and Spencer Milk and Cookies Chocolate Spread
My jaw hit the floor when I heard this was gluten free… I still can't believe it!
Yep, it's in M&S and it's a jar of 50% chocolate spread and 50% milk and white chocolate spread with cookie pieces in it 😍
And guess what? The cookie pieces are gluten free somehow! I have no idea how it's possible, but it is, so go buy it ASAP. Oh and it's £2.50 btw.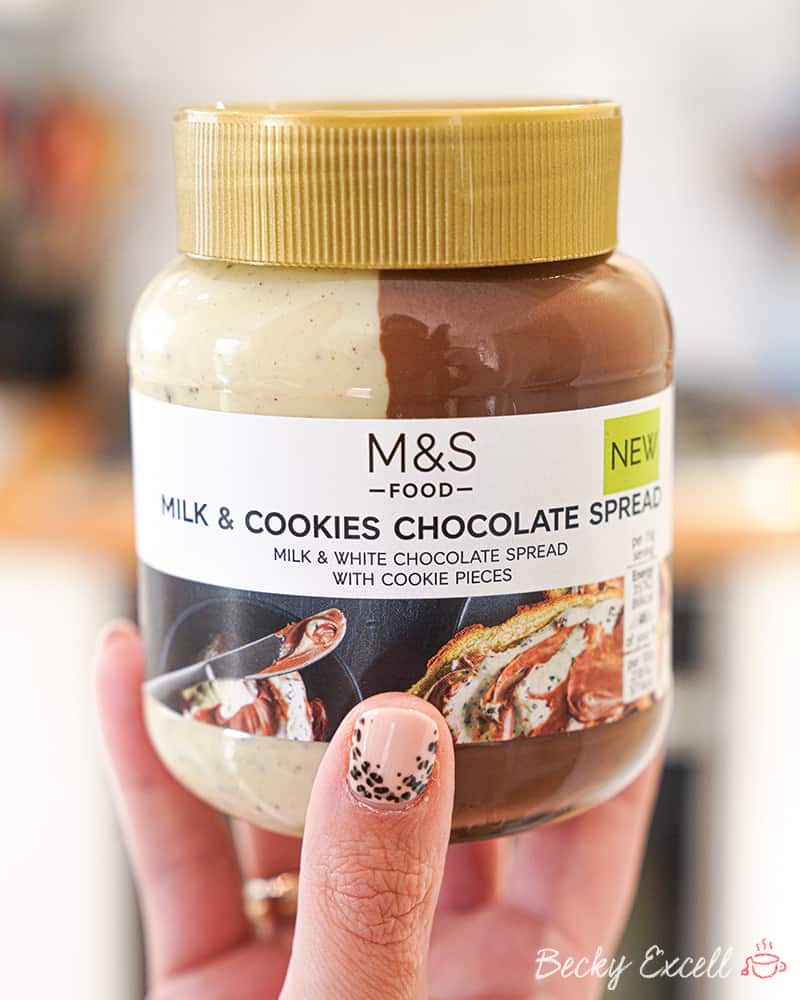 2. Asda Fresh Italian Gnocchi
We've been a fan of this fresh, chilled gnocchi for a very long time now. Yes that's right, I said fresh!
There's been gnocchi down the free from aisle for a very long time now, but it's around £3 and obviously, it's not a fresh product.
And this is only £1.40!! *faints* and it's basically on offer 100% of the time at 2 for £2.50.
You'll find it in the chilled section with all the gluten-filled pasta, but don't worry, this one is accidentally gluten free! Not sure what do with gnocchi? (I wasn't sure at first either) Use this recipe as your first gnocchi creation!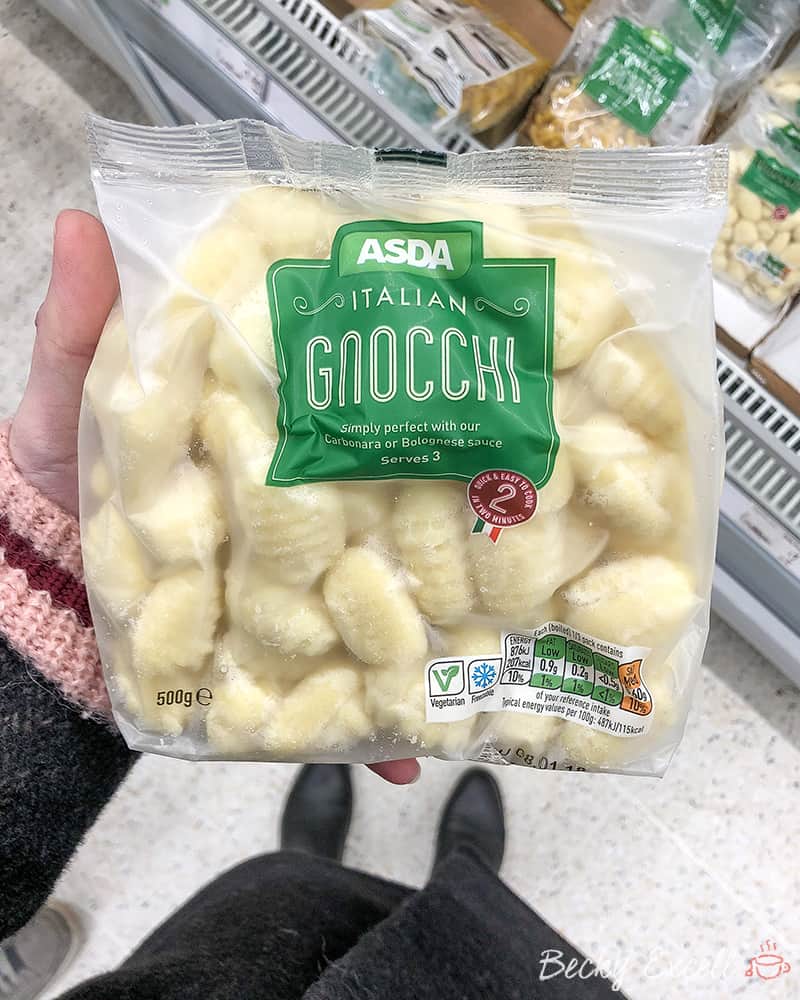 3. Aldi Smarties (Choc Um's)
Now, this alarmed a lot of people when I posted about it on Instagram because they weren't aware that actual Smarties contain wheat flour.
Yes – wheat flour. Only God knows why!
So instead, just head over to Aldi and check out their Choc Um's which are accidentally gluten free. I know. Awesome.
The brown back are like smarties and the blue pack are a little like M&Ms with a crispy middle inside. So go buy these and then make my gluten free 'Smarties' cookies with them!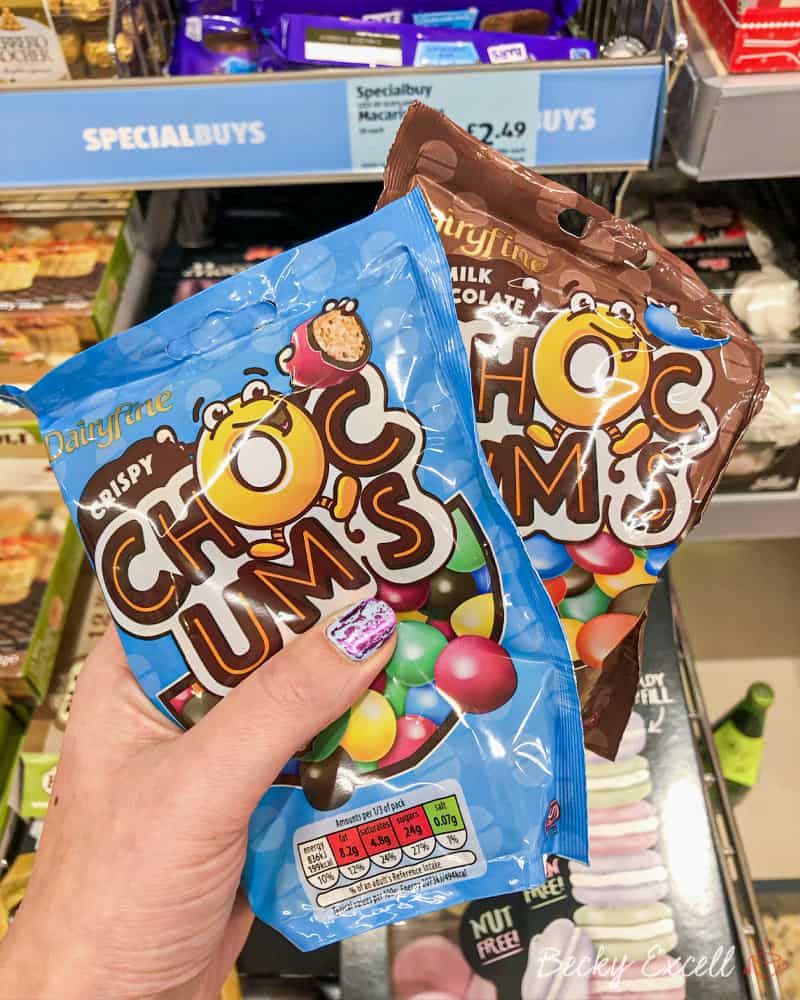 4. Co-Op Haddock Goujons
Here's a little announcement you may be interested in: from September 2019, all of Co-op's fishcakes and breaded fish are transitioning to be gluten free standard.
It's not a 'special gluten free range' either – these are their regular fishcakes and haddock goujons… and they're the same price as everyone else would pay.
How awesome is that?! Full disclosure – I worked with the Co-op recently to promote these products being gluten free and I was gifted these products too.
I know you probably don't care about that bit, but I always like to try and be as transparent as possible with you guys! They're on a 2 for £5 offer at the mo.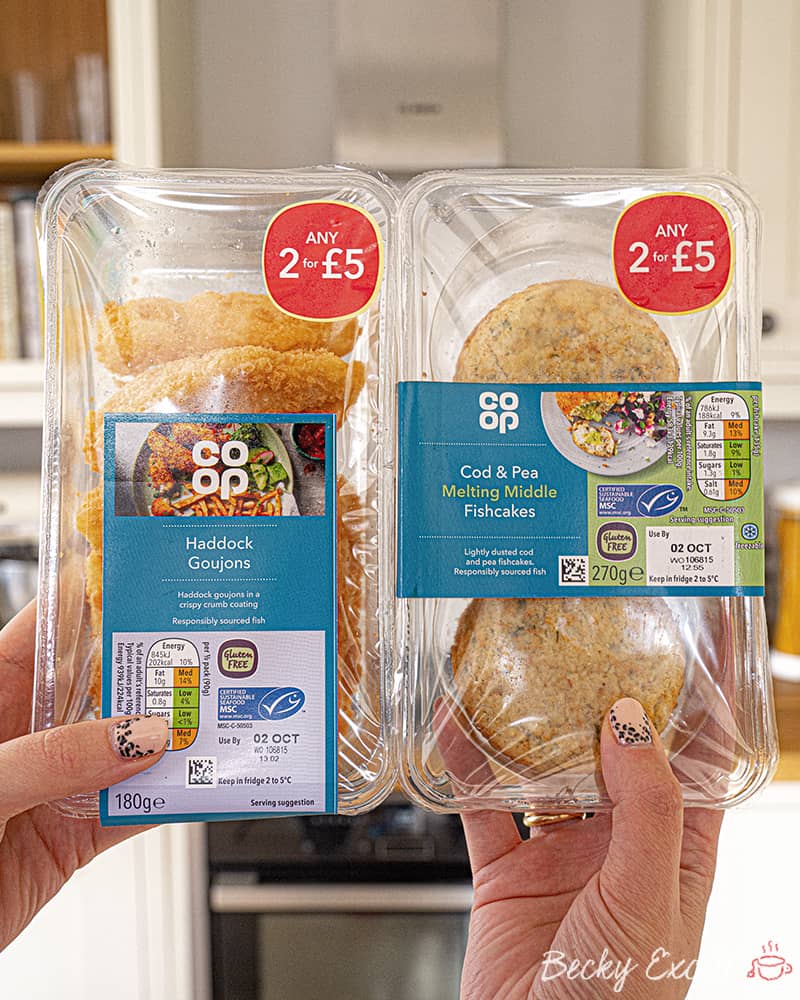 5. Lidl Pringles (Snaktastic Potato Snacks)
Yep, Pringles are another thing that aren't gluten free… unless you go to Lidl.
Don't make the same mistake I almost did and assume that the same product is also accidentally gluten free in Aldi too – they're not. They have a may contain!
These satisfy ALL my Pringles cravings and I think there's even a sour cream and onion flavour too (it's a green coloured tube).
I actually have to purposefully NOT buy these too often as I eat them way too quickly 😂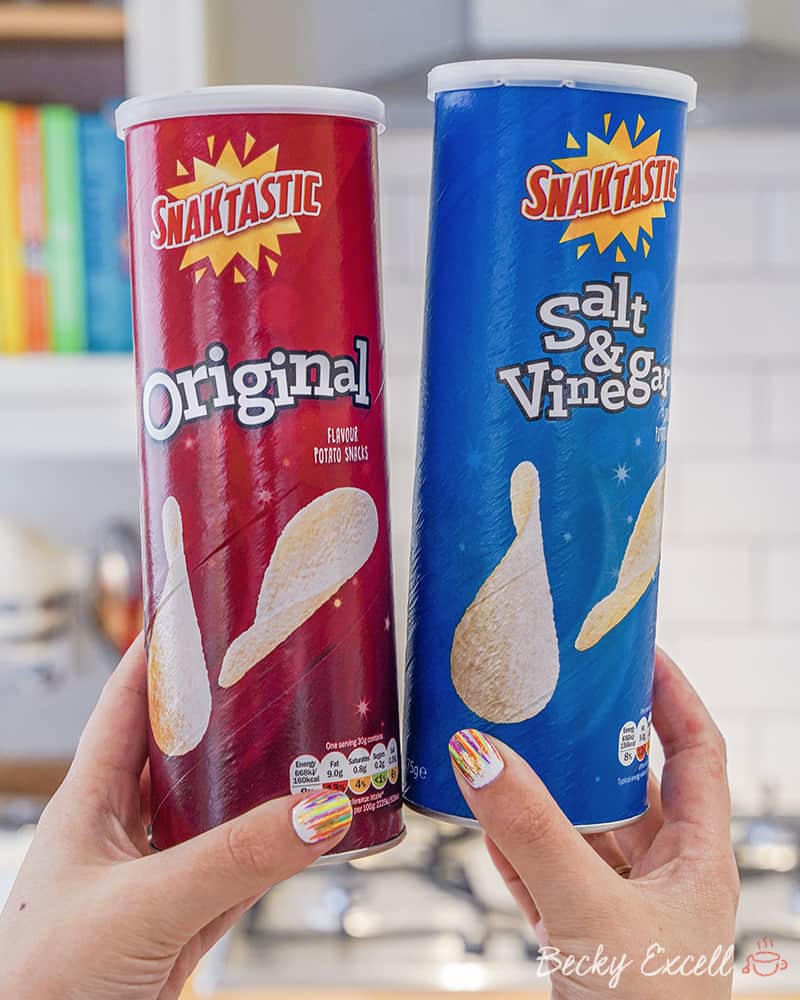 6. Aldi Lightly Dusted Whitebait
If you loved the Co-op gluten free haddock goujons, then you'll love this next accidentally gluten free product!
It's the Aldi lightly dusted whitebait which as you can see in the photo below, has a gluten free coating.
These are absolutely awesome when cooked to perfection in the oven with a little tartar sauce.
My Dad has always loved whitebait (he can eat gluten of course) and finally, we can share them together again.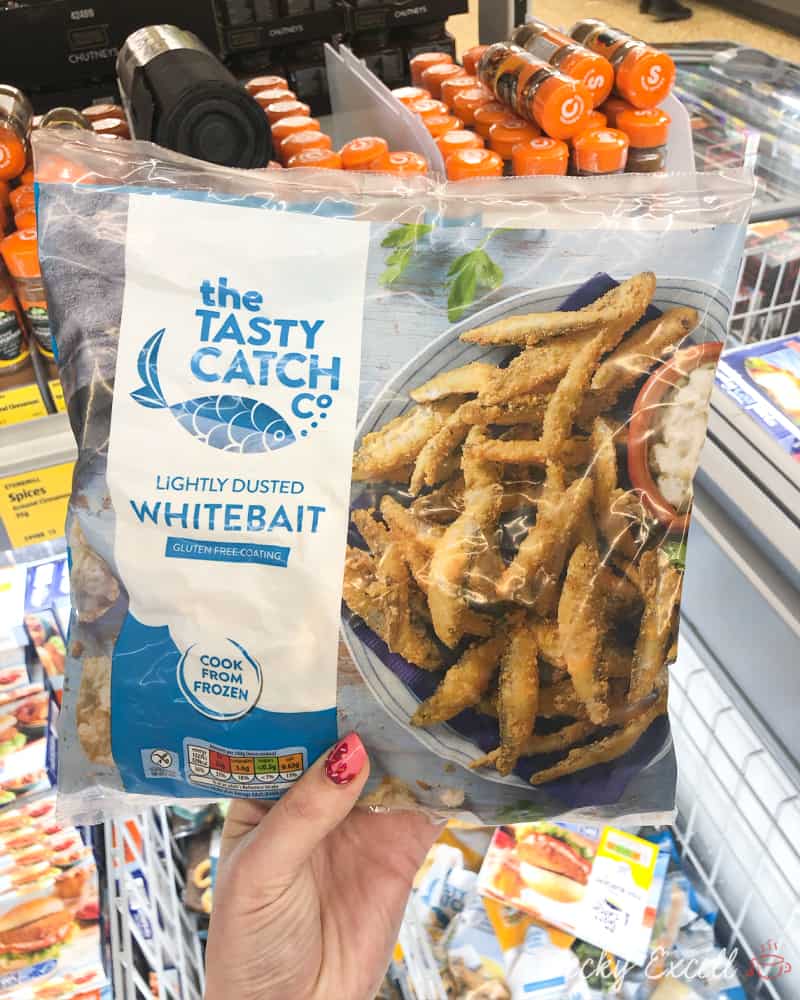 And the good news keeps on coming because there's another variation of them too!
They also do a lemon and pepper seasoned lightly dusted whitebait in a gluten free coating as well – they were right next to each other in the freezers.
So head down to Aldi and grab a couple of bags if you fancy them!
7. Lidl Monster Munch (Monster Claws)
The regular Monster Munch you used to eat (if you ever could!) sadly has wheat flour quite often in the seasoning.
(not sure when wheat flour became a 'seasoning' but I can tell you that it won't be going into my spice cupboard anytime soon!!!)
But in Lidl, you can pick up a bag where ALL the flavours are accidentally gluten free 👇🏻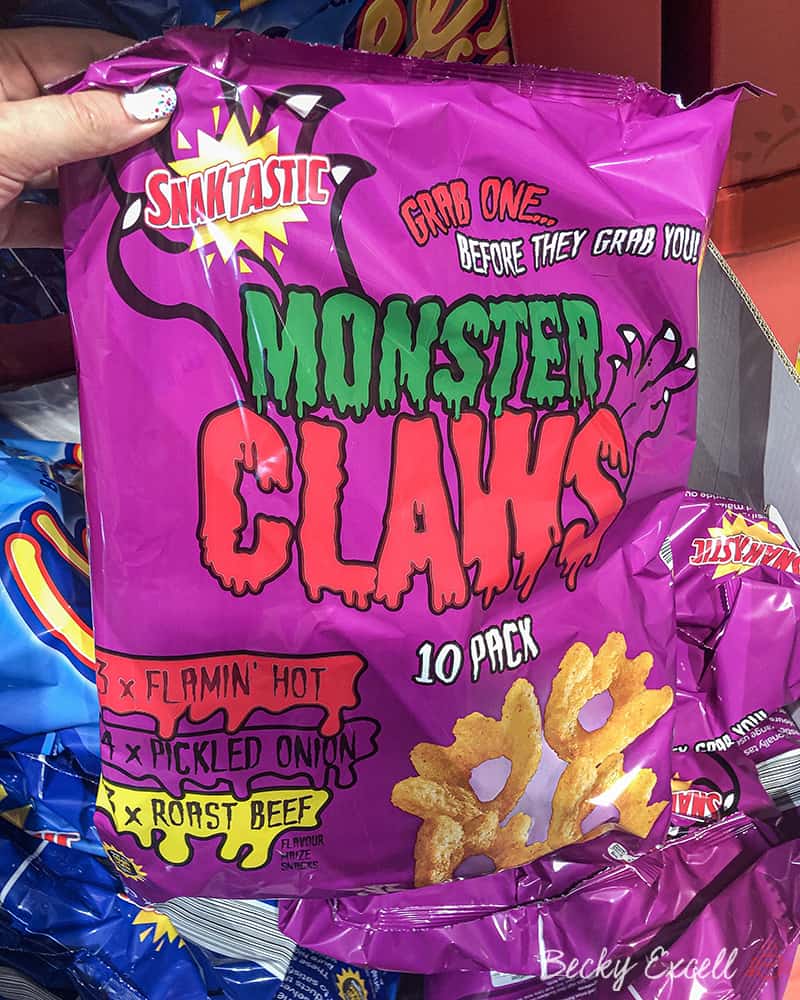 8. Sainsbury's Crispy Chilli Beef
I know – I bet you didn't expect to read that in this list!
Yep, this is yet another game-changing accidentally gluten free product found in the chiller with all the gluten-containing Chinese ready meals.
But for some reason, this crisp chilli beef has no may contain warnings for gluten/wheat and has no gluten-containing ingredients. Also no onion or garlic either!
Since Chinese food is usually a massive no-go for us, replace your Chinese takeaways with this bad boy! 👇🏻
If you're feeling adventurous, you can always make Mark's gluten free crispy chilli beef recipe, but it might take you a little longer than cooking this 😂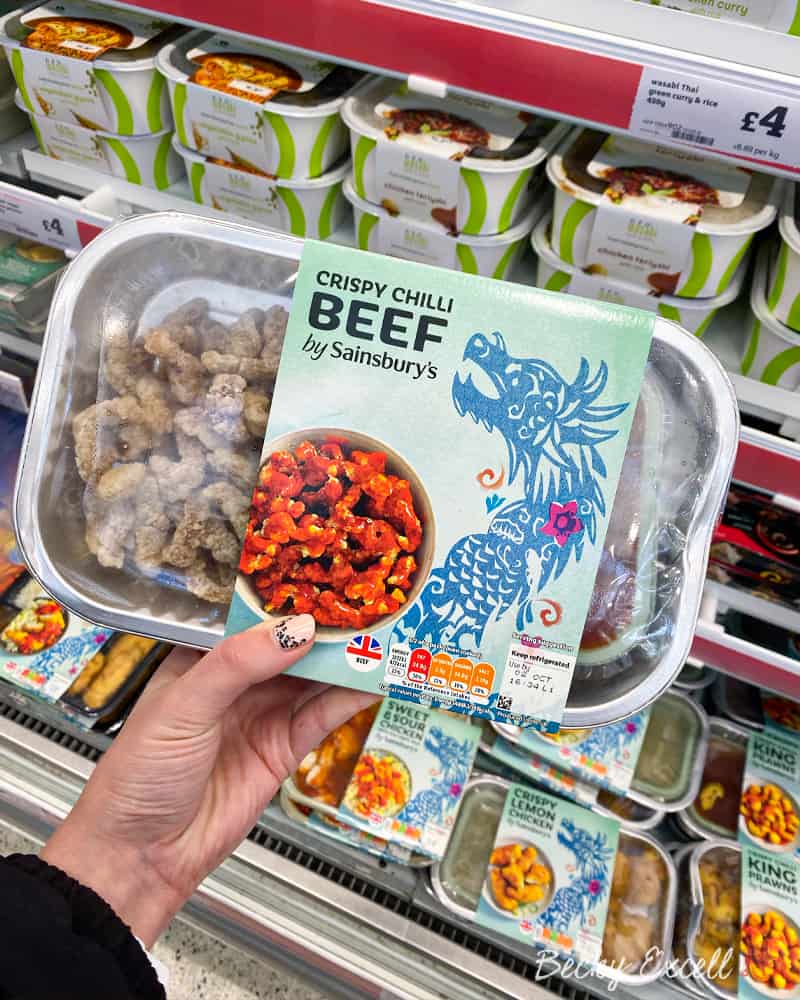 9. Crunchie Spread
Now, Crunchies (the chocolate bar) are gluten free, because fortunately for us, it's just chocolate and honeycomb. It doesn't even have a 'may contain' for gluten/wheat miraculously either.
But you might have missed this little gem as it's not down the free from aisle – you'll find it with all the spreads like Nutella in Sainsburys or you can buy it online here on Amazon.
It's £2.50, so not a bad little find at all.
I actually used it to make the frosting inside these gluten free cookie sandwiches, so there's a little baking project for you if you fancy it!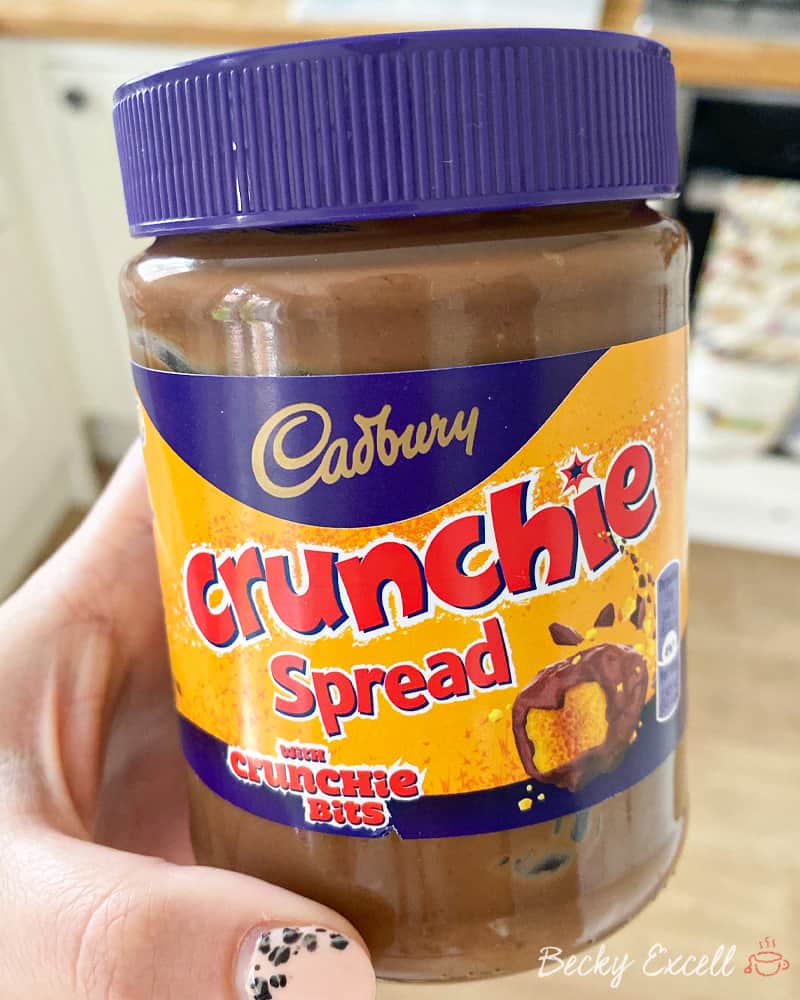 Does anyone remember Frazzles from when you were growing up?! If not, they're basically smoky bacon-flavoured crisps.
(I don't know why I phrased that like you can't eat them if you're an adult, but there we go)
Well, they also contain that nasty ingredient of wheat flour for no reason, but guess what? Yep, I've got another accidentally gluten free product for you!
Sainsbury's Bacon Crispies are just like Frazzles… but without the wheat flour. So you can thank me for reuniting you with a childhood fave that is totally fine for adults too 😂
11. Marks and Spencer Hot Chocolate Fudge Pudding
Mark's and Spencer win the prize for having some of the most well-hidden gluten free products.
But when you look closer… you'll actually see that it has a gluten free logo on the box!
And when I posted this on Instagram recently, it was a MASSIVE hit.
It's just with all the regular desserts in the chiller, but you'll have to beat me there first as I will usually stock up on these for my freezer!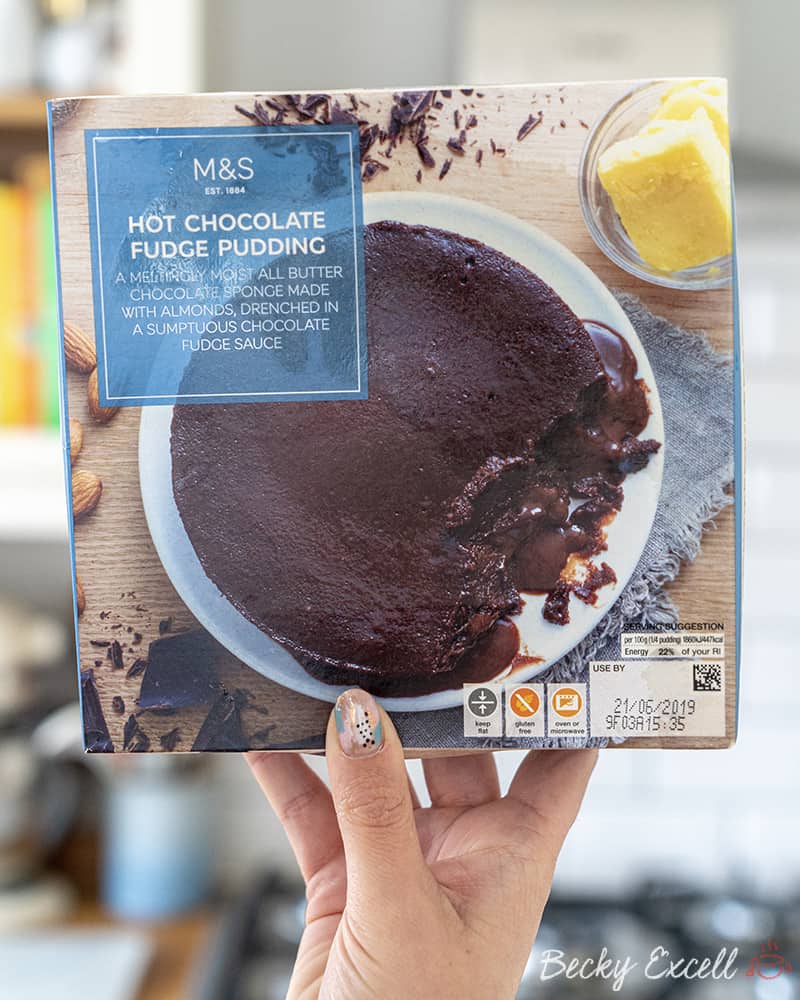 12. Co-Op Melting Middle Fishcakes
Yep, as I mentioned earlier, all of Co-op's regular breaded fish and fishcakes are soon gonna be gluten free as standard. Woo!
Here's the salmon and gruyere, cod and parsley, prawn, cod, sweet potato and chilli AND smoked haddock and mature cheddar fishcakes 👇🏻
Which one would you buy in the 2 for £5 deal?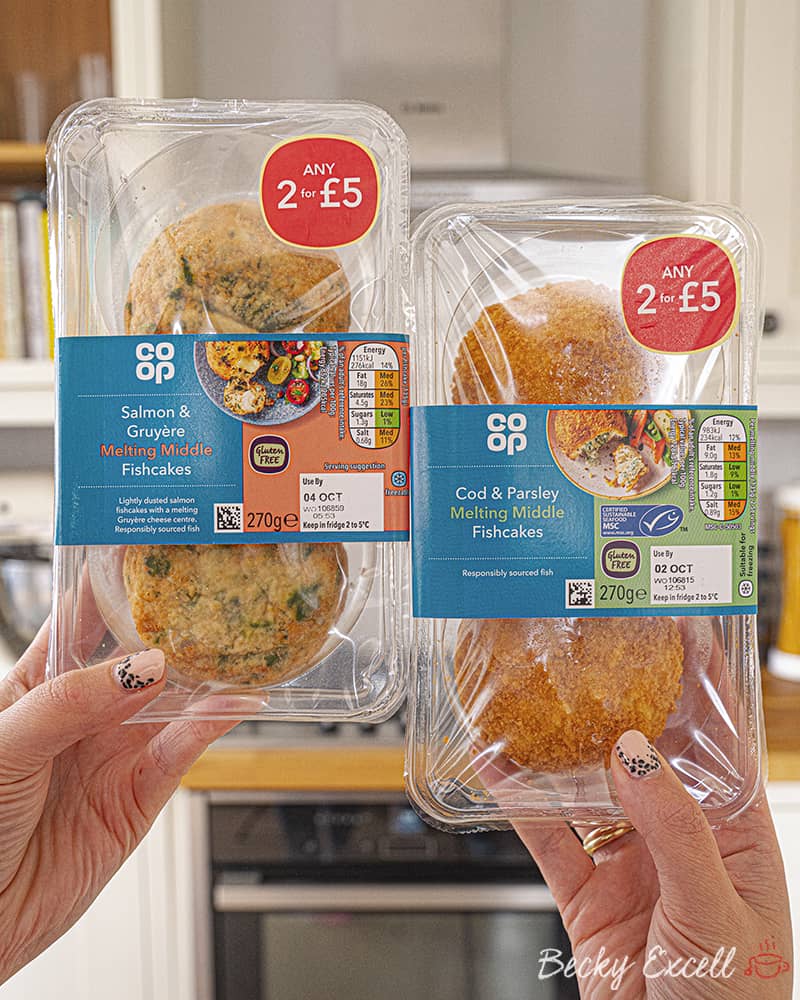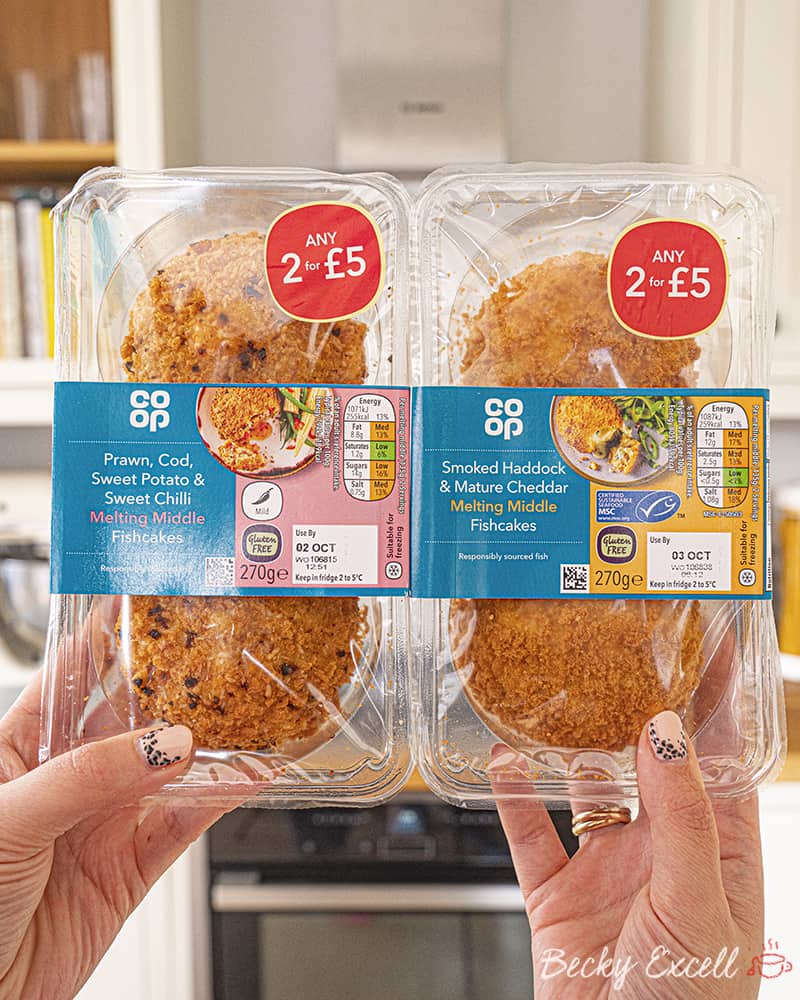 13. Aldi Wotsits (Snackrite Cheese Puffs)
And yep, we're back at Aldi for some more accidentally gluten free products – crisps this time.
(also fun fact – Lidl also do cheese puffs under the Snacktastic brand and they're accidentally gluten free too!)
So these are basically Wotsits but without the pesky 'may contain' warning for gluten and wheat.
There's 10 packs in a bag so try not to eat them all at once 😂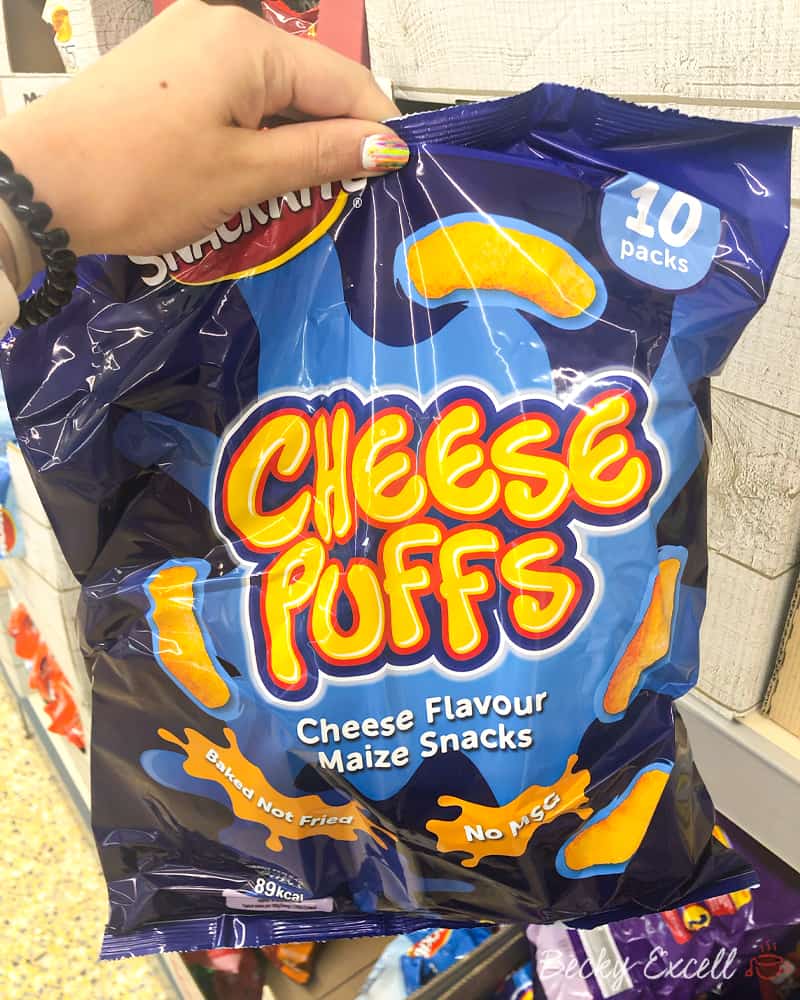 14. Marks and Spencer Melting Cheesy Garlic Bites
I've got a few more breadcrumbed/battered accidentally gluten free products coming up in the next few entries!
First up are the Melting Cheesy Garlic Bites from Marks and Spencer and again – if you look closely – you'll see that orange gluten free logo.
Plus it even states 'coated in a gluten free crunchy parsley crumb.' Thanks again M&S!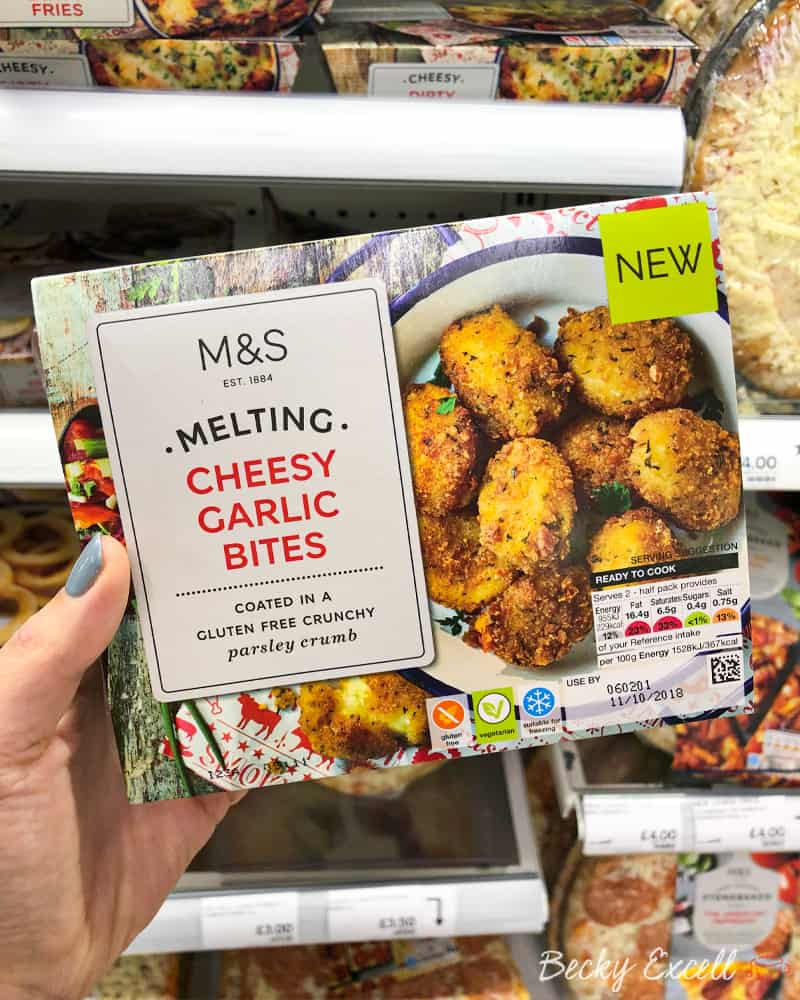 15. Co-Op Chunky Breaded Cod Portions
So this is the last of Co-op's accidentally (but actually on purpose!) gluten free fish range – their chunky breaded cod.
We actually had this for dinner the other day and it was lovely!
Even more so because you're not paying any more than all the gluten-eating customers pay 🤫
Has anyone tried these yet? Let me know what you think!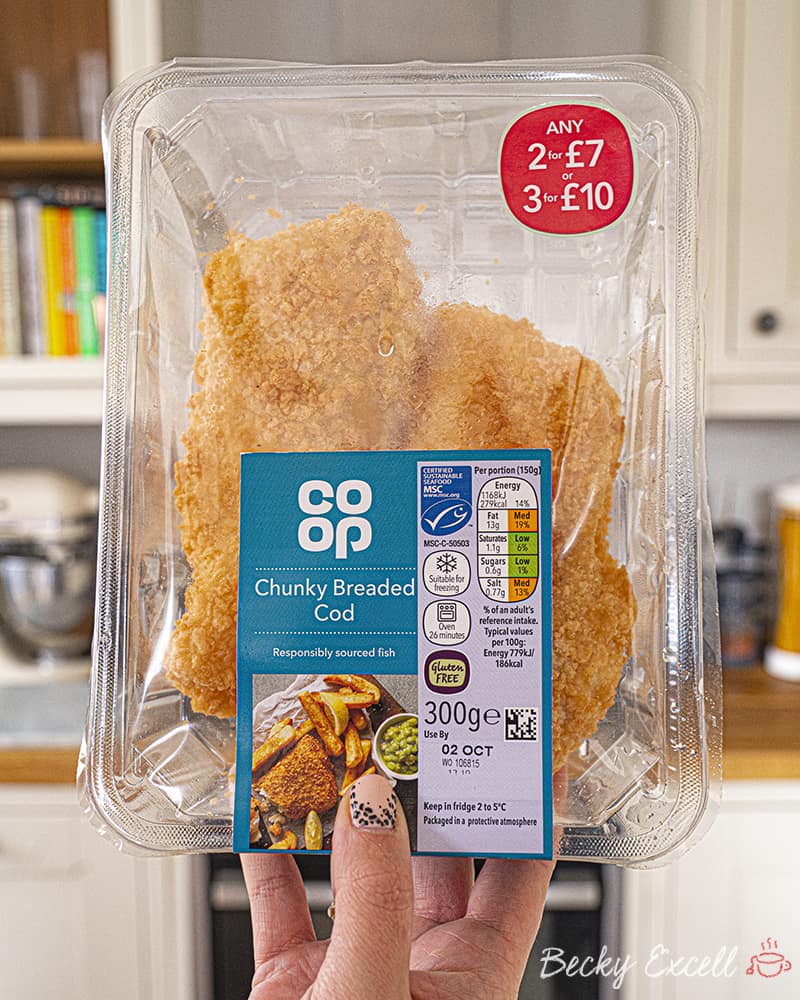 16. Aldi Garlic and Herb Pork Schnitzel
This is one of those accidentally gluten free products that you'd never know was gf unless someone told you!
But yep, all of that lovely breadcrumb coating is totally gluten free 👌🏻 Who's rushing out to buy these?!
Keep scrolling down for a few more products to look out for in the Aldi chillers whilst you're hunting for this one…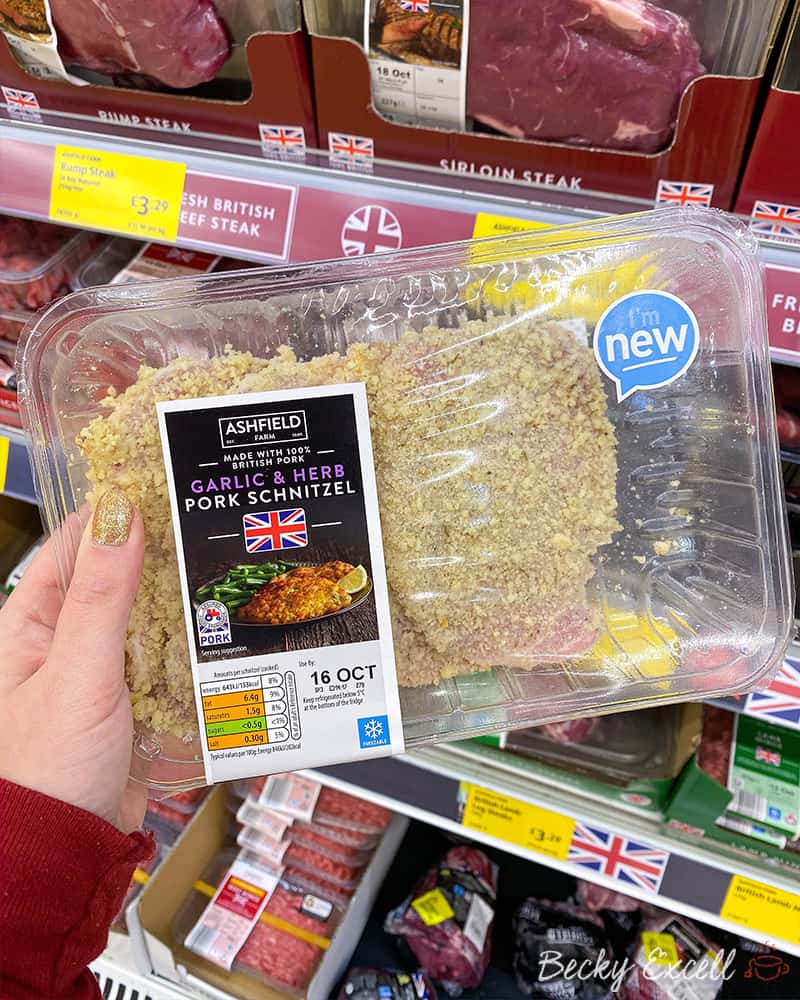 17. Aldi Tempura Fish Goujons
And then we get to the awesome tempura battered stuff from Aldi! It's with all the regular breaded fish (not all of it is gluten free) but the fish goujons are definitely gluten free.
Instead of being more like the breadcrumbed fish from the Co-op this is more like a golden, crispy batter when it's cooked.
So sort of half way to a fish and chip shop experience!
Has anyone tried these yet? What did you think? They've been around in Aldi for a while now!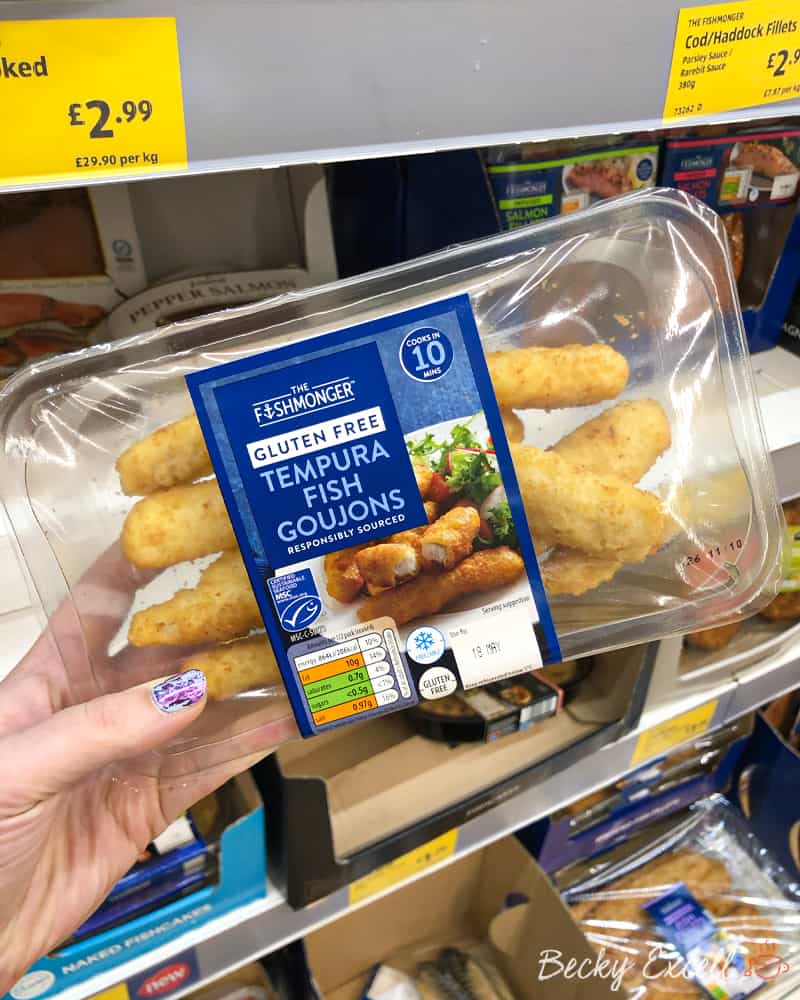 18. Aldi Tempura Chicken Mini Fillets
Aaaand then there's the tempura chicken mini fillets which are also from Aldi. They don't have gluten free plastered on them as much as the goujons, so some of you might have missed these ones!
But when you look closer, you'll see that these actually have the official Coeliac UK crossed grain symbol ✅
These instantly reminded me of the gluten free Tempura chicken from M&S which is around £4… but these are nearly half the price!
Again, they're more like battered chicken than breadcrumbed, so we love making our own gluten free 'McChicken Sandwich' with them. They go so well with mayo, lettuce and a soft gf bun!
It actually tastes really similar!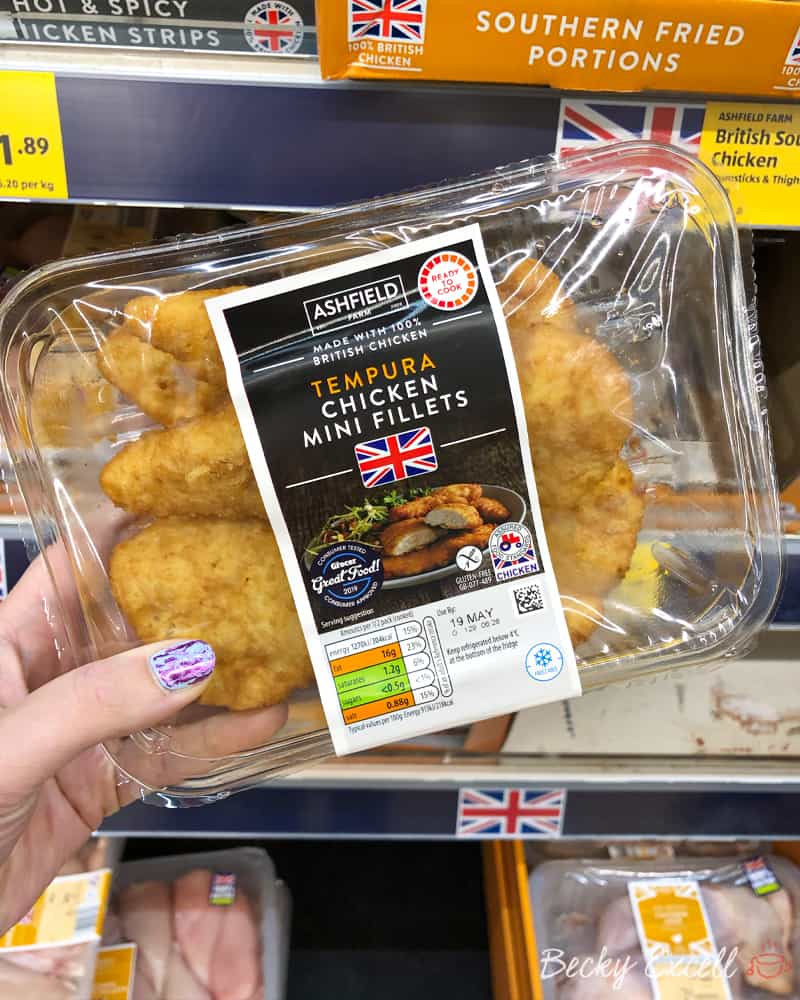 19. Tesco 14 Onion Bhajis
You can find these onion bhajis in the freezer aisle with all the party food/finger food like spring rolls, sausage rolls etc.
There's not a lot that's gluten free there mind, but these are! We miss out so much when it comes to party food, so it's great to see something we actually eat…
… and it costs just £1!! For 14!
Now that is value that I'm not used to 😂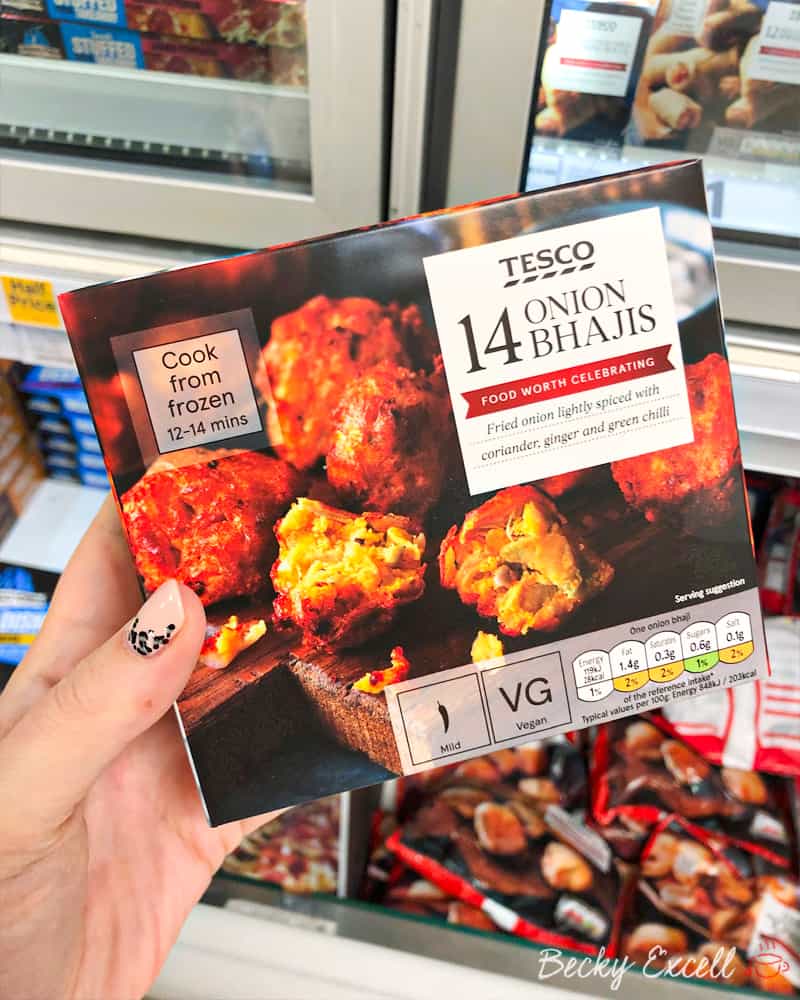 20. Tesco Bubble and Squeak Bites
Guess how much these cost? Yep, just £1!!
These are right next to the onion bhajis above in the freezer aisle in Tesco and of course – they're accidentally gluten free.
If it's possible to make gluten free food that's safe for us to eat and costs just £1…
I don't see why it can't be done more often!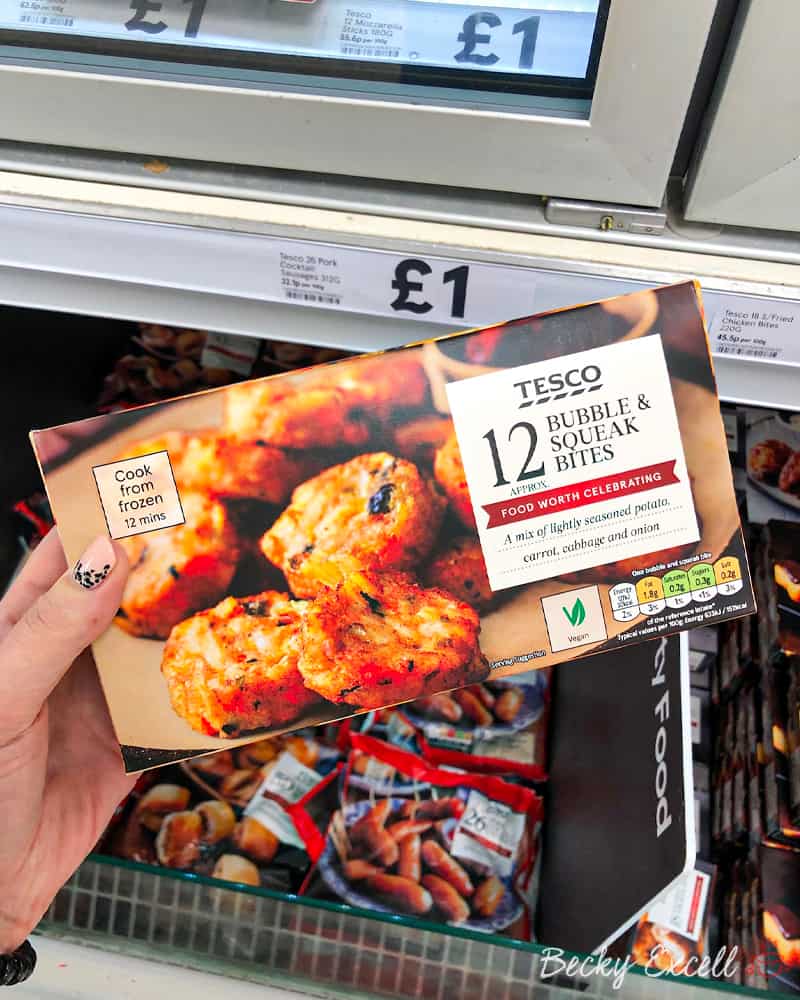 21. Salted Caramel M&M's
Some M&M's products contain barley and a few of their bars have a may contain for wheat too. But not these!
These M&Ms are filled with little hits of salted caramel, which are of course coated in chocolate and a sugary coating.
Has anyone found these in supermarkets yet? I found these in Sainsburys!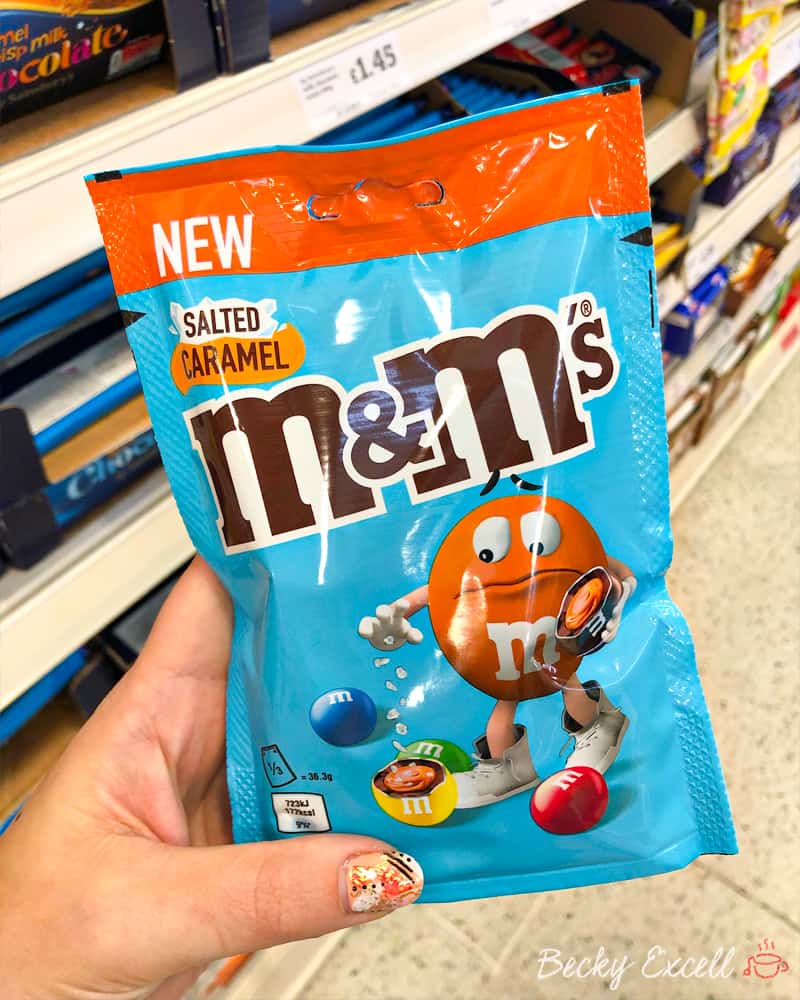 22. Marks and Spencer Milk, White and Dark Chocolate Brownies
Ok, ok, I'd usually roll my eyes at a gluten free brownie too, but these aren't the token gluten free option like you'd expect!
These are actually with all the gluten-containing cakes – so yep, they're the brownies made for everyone, not just us.
And as usual, you'll see that little orange gluten free logo too 👌🏻 So that's something you can buy and share with all your muggle friends!
(or not share at all because it's so rare that we get to eat something like this 😂)
Plus, they just look so damn good!!!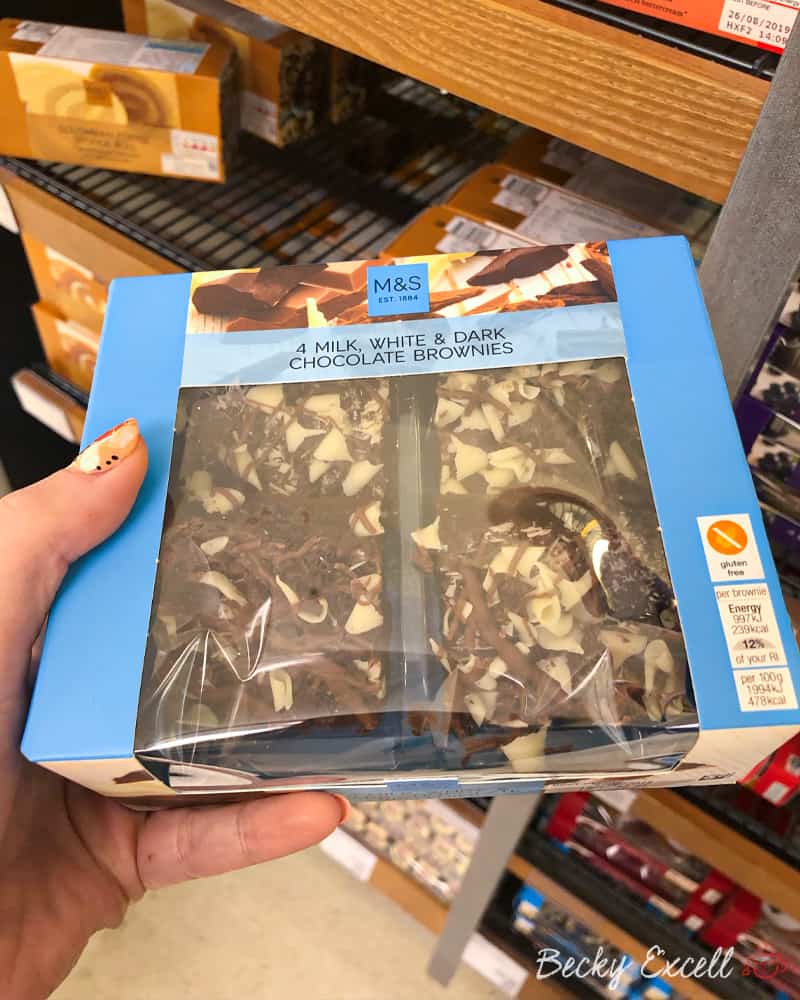 23. Lidl Doritos (Snaktastic Tortilla Chips)
Doritos are another product that actually contains wheat for no reason…
(🙄🙄🙄🙄🙄)
But over at Lidl, their Snaktastic Tortilla Chips are accidentally gluten free… and they even have chilli heatwave flavour – result!
But that's not all, keep scrolling for ANOTHER flavour…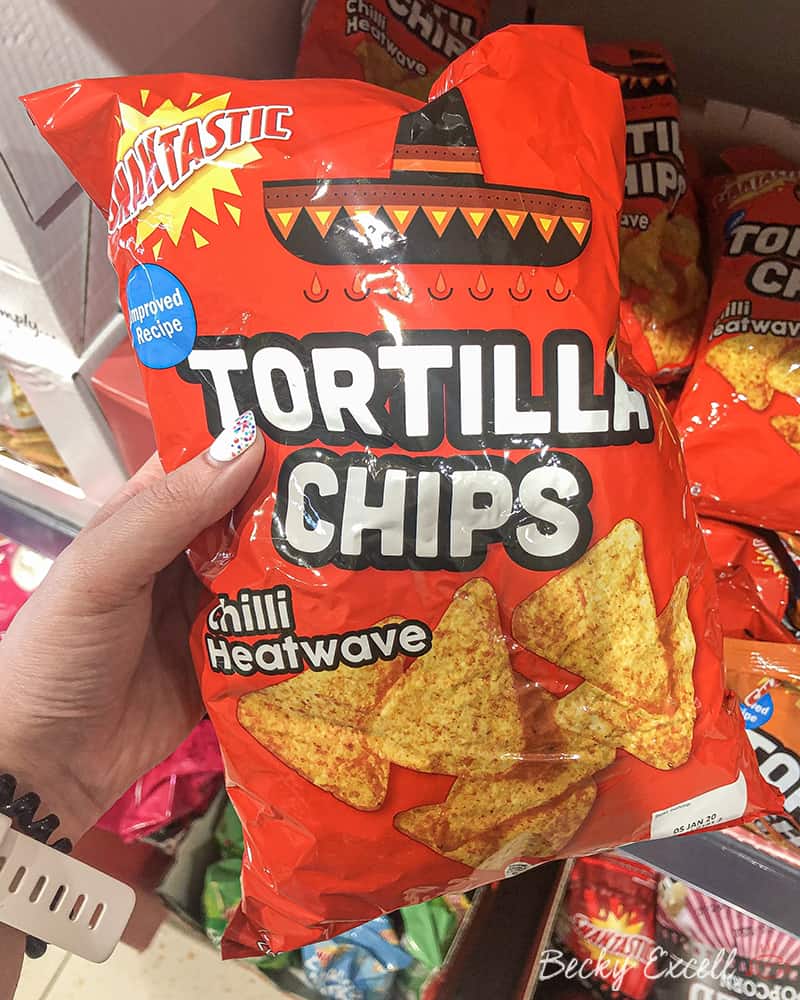 Yep, they even have a Tangy cheese flavour which is accidentally gluten free – the regular tangy cheese Doritos, again, contain wheat too.
(🙄)
So grab some salsa and serve these up ASAP! That's two big massive wins right there.
Which flavour would you pick? Or are you going for both?!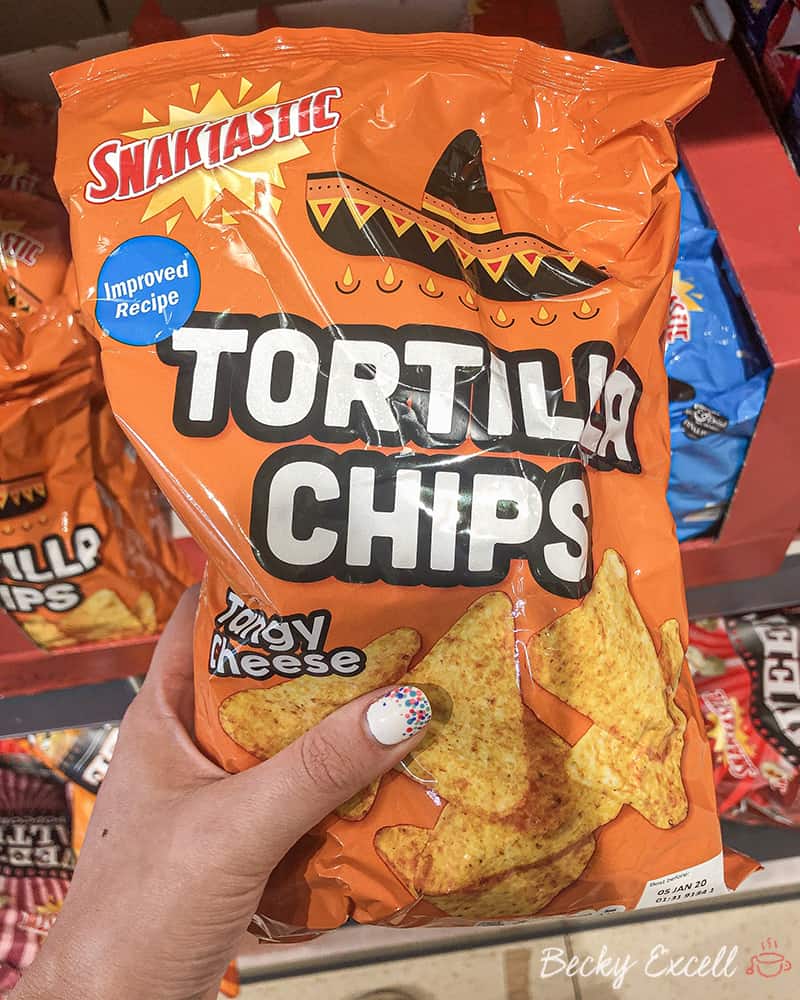 24. Tesco Cheese Balls
Sometimes, you just can't beat a big bag of cheese balls!
(there's a sentence that someone will probably quote out of context some day)
I don't know why, but I'd always assume we could never eat stuff like this – well actually, I do know why, it's because of products like Doritos containing wheat for no reason!
But yep, this is another accidentally gluten free product that you can find with all the regular crisps.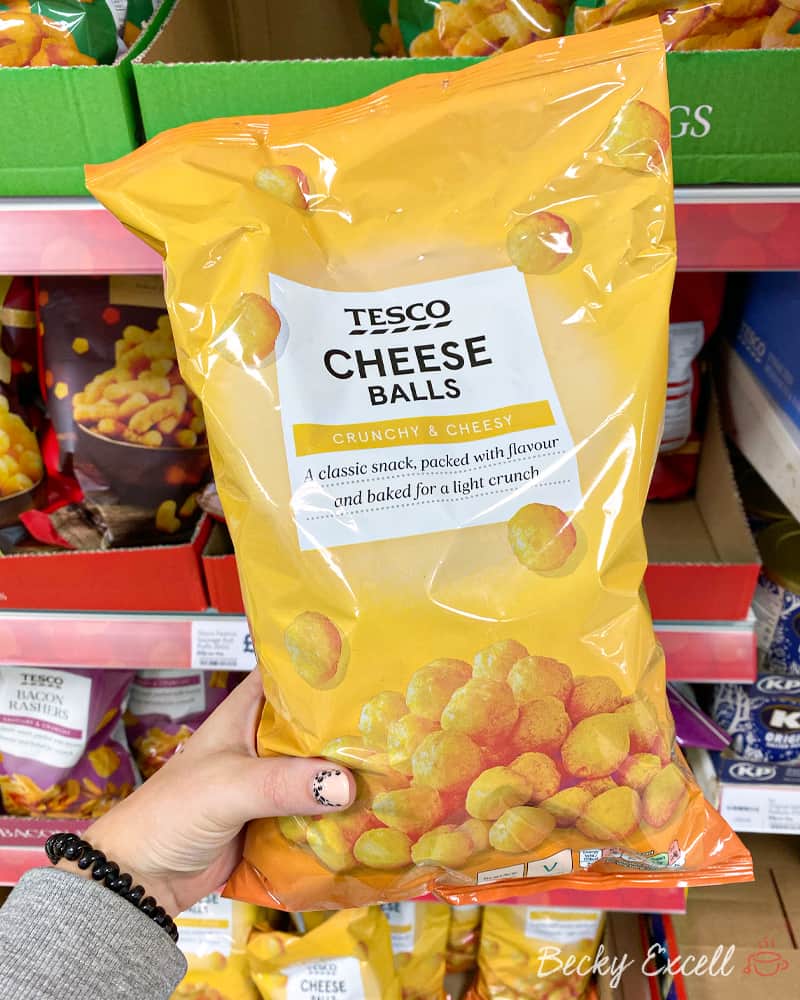 25. Tesco 12 Mozzarella Sticks
How awesome is this? These aren't just mozzarella sticks, they're coated in a gluten free red pepper crumb AND they have a tomato and herb centre. What's not to love?
(also, you'll see in the next few products that I just went hunting in Tesco yesterday so please forgive the sudden burst of Tesco!)
These are the type of thing that we could never eat in the past and it's so nice that they're not just plain and boring either.
Bring on more accidentally gluten free products like this, please!
These were in the chillers next to all the fresh gluten-containing sausage rolls.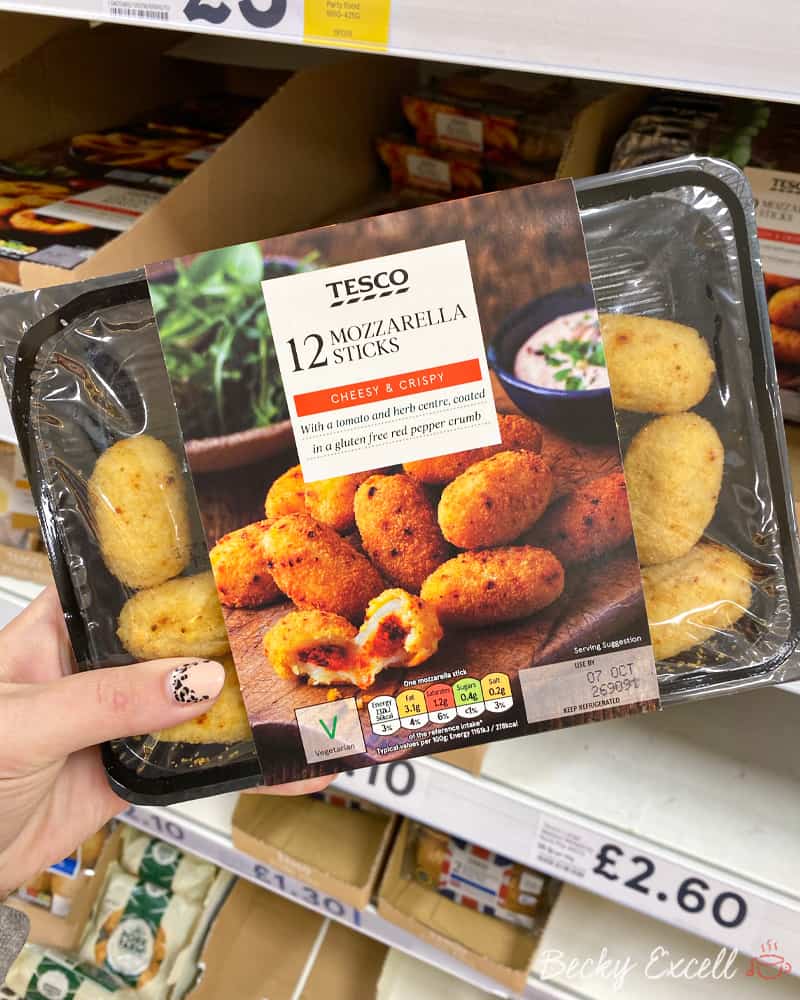 26. Tesco 10 Green Jalapeno Peppers with Cream Cheese
And it only gets better from there!
Right next to the mozzarella sticks in the chilled sausage roll section of Tescos were these 10 green jalapeno peppers with cream cheese 😍
These are a bit of an exotic thing to us in the UK, but we've got a friend in America who loves these!
And now Mark loves them too!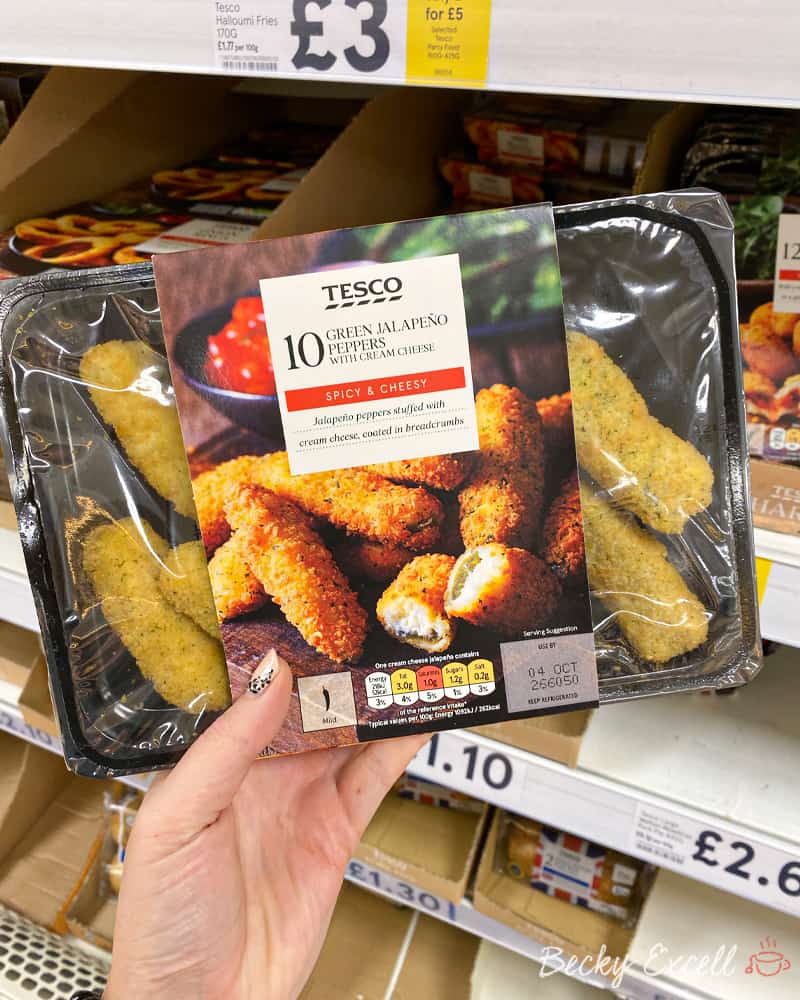 27. Tesco 5 Crumbed Ham Slices
If you have a close look in the bottom left hand corner, you'll see that Tesco's crumbed ham is actually gluten free!
But what's even better is that, not too long ago, Tesco made the move to make ALL of their crumbed ham (pre-packaged ham) totally gluten free.
How awesome is that? Does anyone think more supermarkets should make moves like that?
I mean, regular gluten-eating people don't care if their crumb is gluten free I'm sure, so what's the harm?! Same price for everyone for once!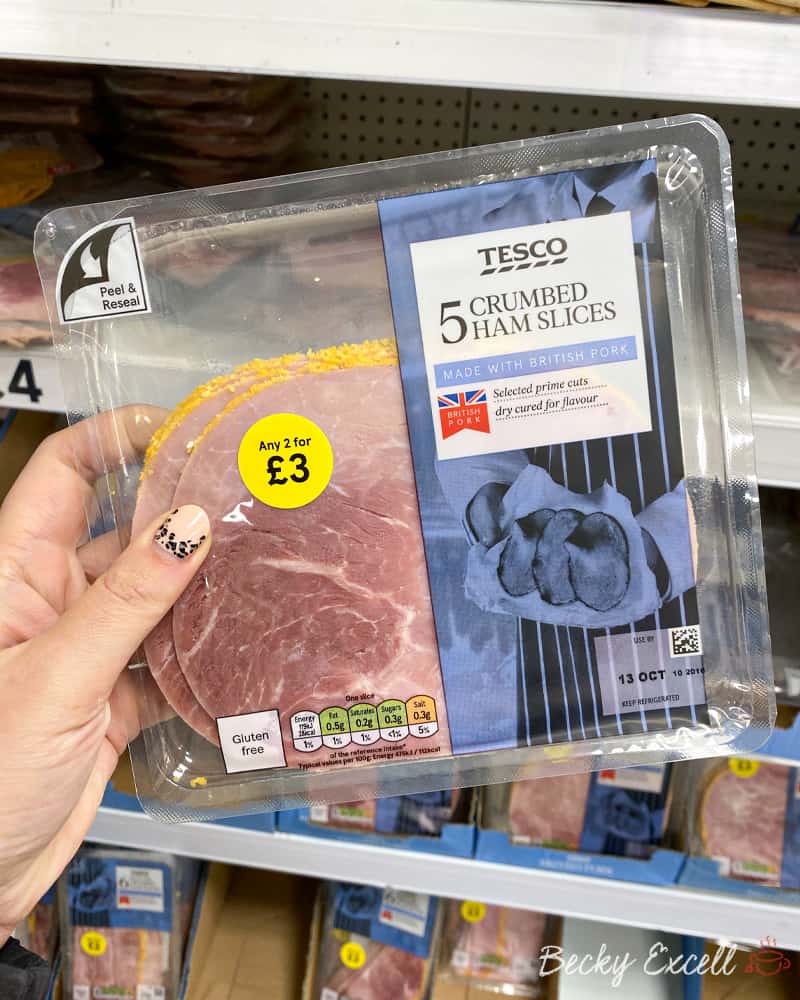 28. GU Chocolate and Salted Caramel Zillionaires' Cheesecake
You can find this beauty in Tesco with all the regular ice cream, but despite saying 'cheesecake' which would immediately make me not bother checking the ingredients…
Yep, this is yet another accidentally gluten free product in hiding!
Has anyone spotted this yet? Or tried it?
Let me know what you thought of it in the comments below this post 👇🏻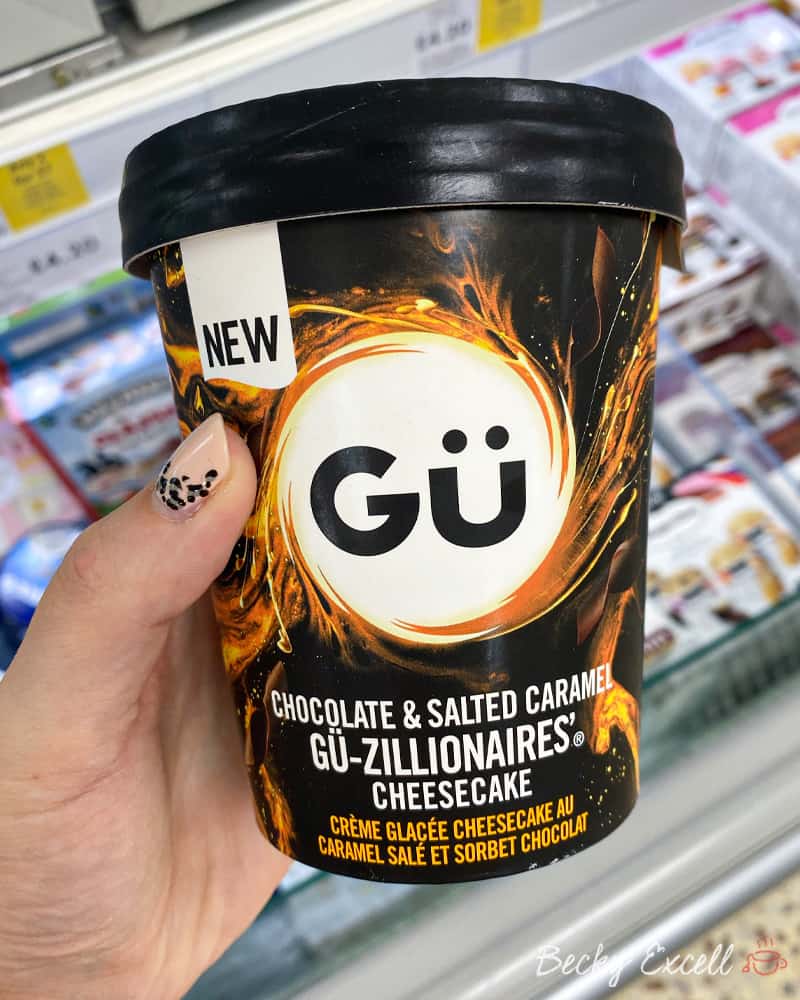 29. Aldi Pesto Gnocchi
More accidentally gluten fee gnocchi spotted in Aldi!
But this one isn't in the chiller – it's actually just out with all the special buys.
I'm not sure if this product will stick around long as they seem to have less and less every time I go into Aldi…
So let me know if you spot this in your local stores or not 👀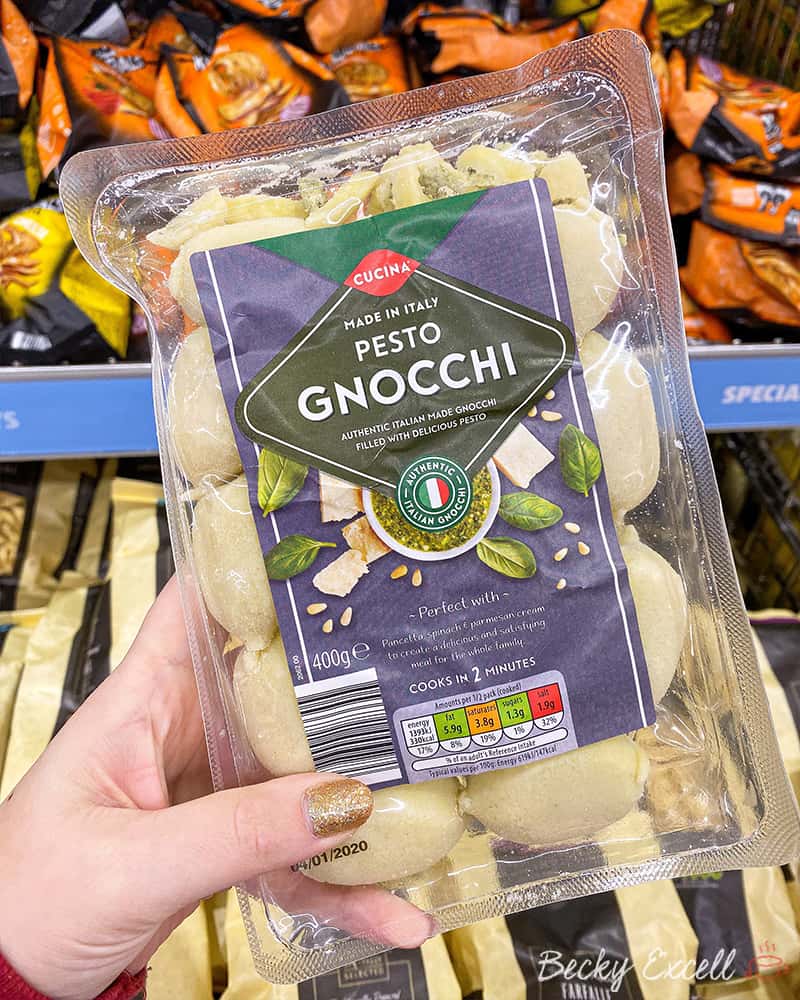 30. Asda Honey Nut Corn Flakes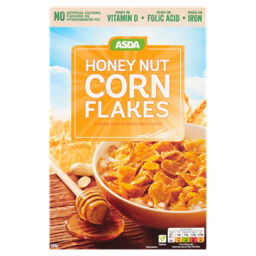 Firstly – these do contain barley malt extract which you'd think would be a massive no-go… but actually, these are safe for us to eat!
But don't take my word for it – if you look on the Coeliac UK app (you have to be a paying member to view it) it actually shows that this is a safe product to eat.
Apparently the level of barley malt extract is so low that it's considered to be gluten free! Read more about barley malt extract over on Coeliac UK if you're unsure.
Here's the quote from Coeliac UK if you can't be bothered to go over there! 👇🏻
The own brand breakfast cereals listed on our Food and Drink Information are suitable for people with coeliac disease.

They contain a very small amount of barley malt extract and are tested to make sure they contain 20 parts per million or less of gluten which is a safe level of gluten for people with coeliac disease.

However, because they contain barley malt extract you will see this listed and emphasised in the ingredients list.
I've been buying the special gluten free honey nut cornflakes, so this is a massive win for me!
31. Aldi Teriyaki Beef Stir Fry
This is something I'd NEVER expect to be gluten free!
Inside the pack are chopped beef strips, a selection of veg and a packet of teriyaki sauce.
I wouldn't even look twice at this normally!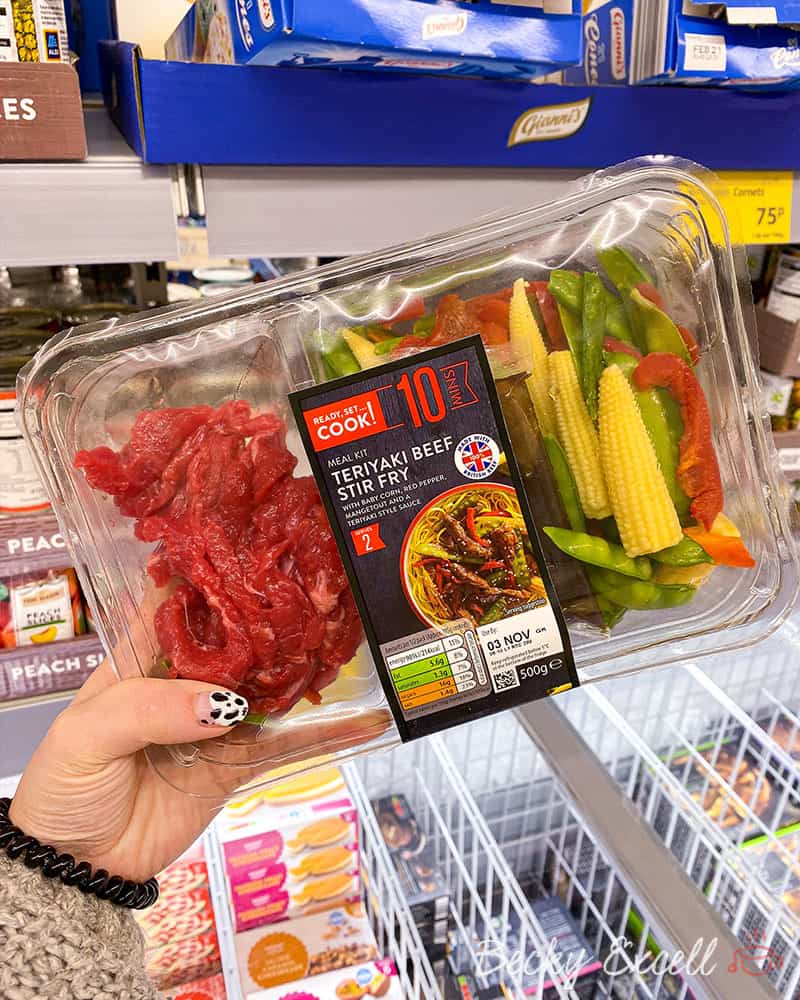 32. Tesco Plum and Hoisin Sauce
This is an awesome find – it's with all the stir fry sauces in the vegetable section in Tesco.
(you know, with the beansprouts, fresh rice noodles, stir fry veg mixes etc.)
And fun fact, ALL of the stir fry sauces in this section are gluten free. You're welcome!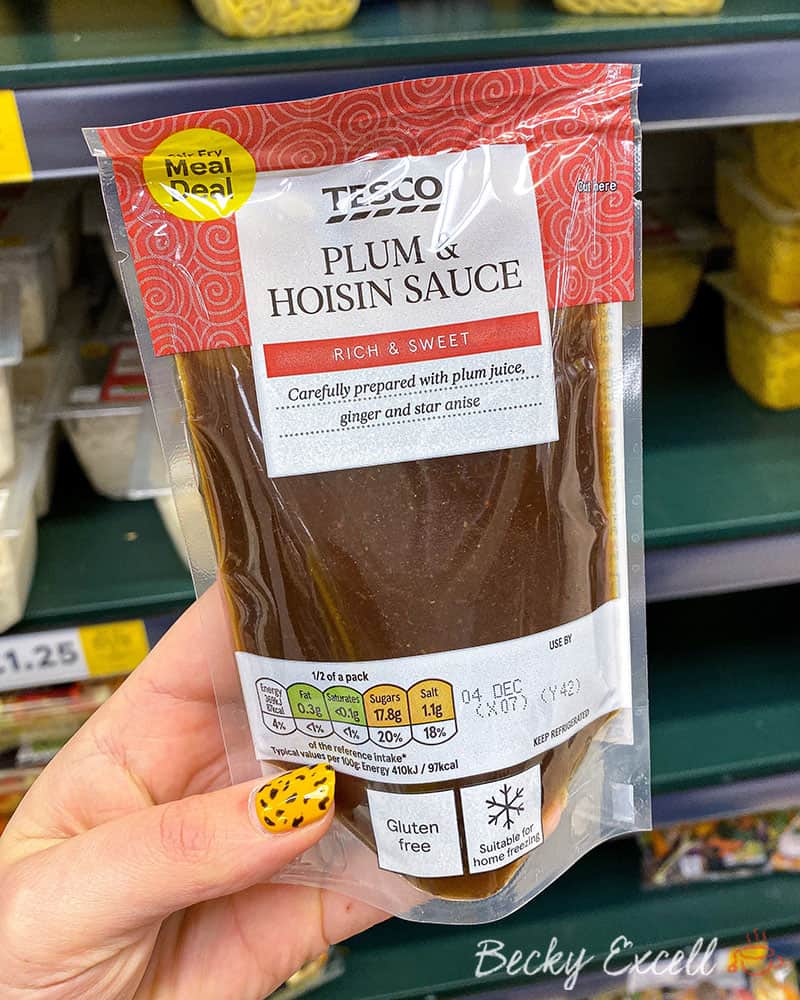 33. Asda Hash Brown Bites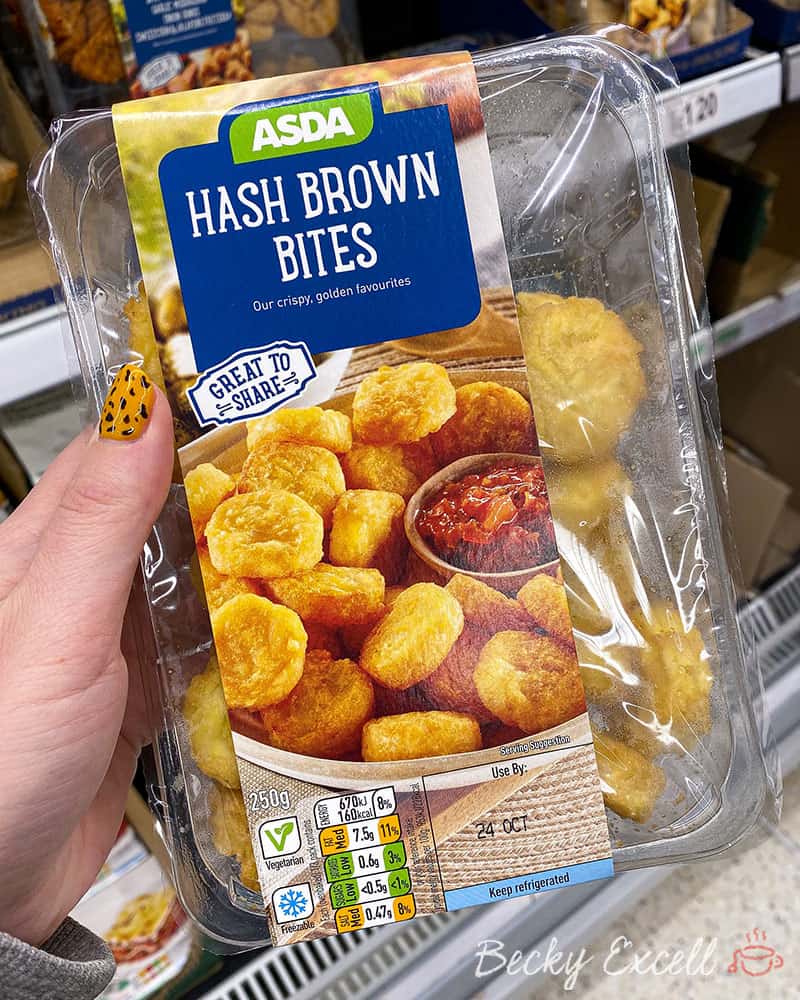 34. Waitrose Vegetarian Marinated Vegetables and Goat's Cheese Pie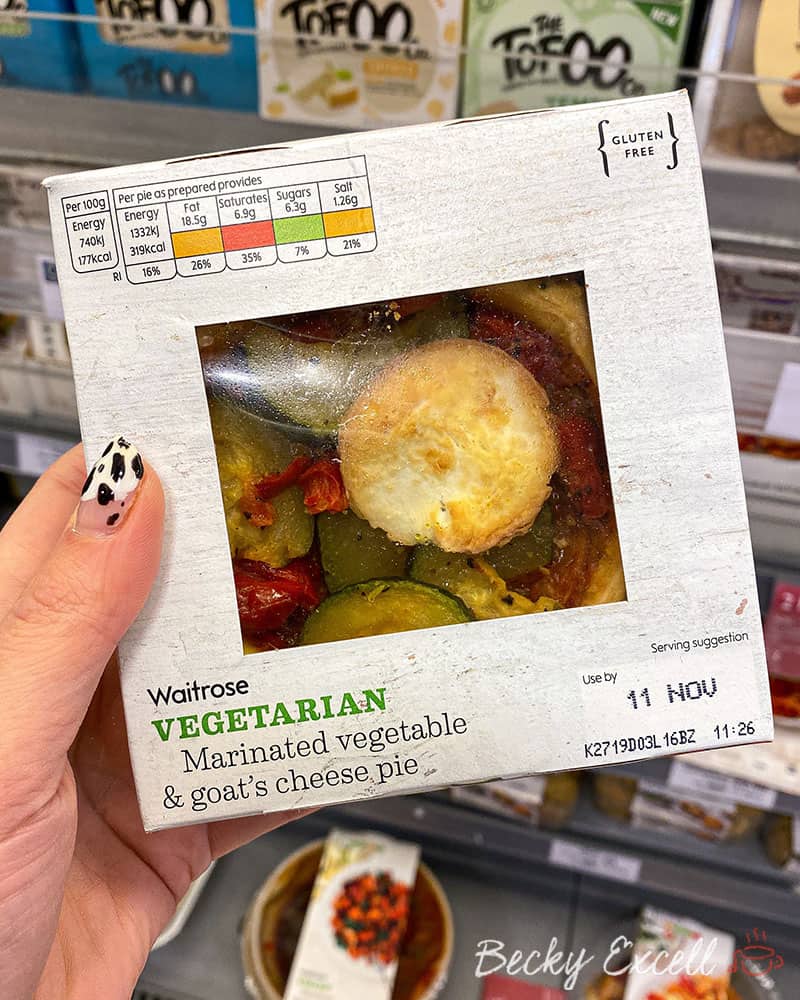 35. Asda Bubble and Squeak Frittata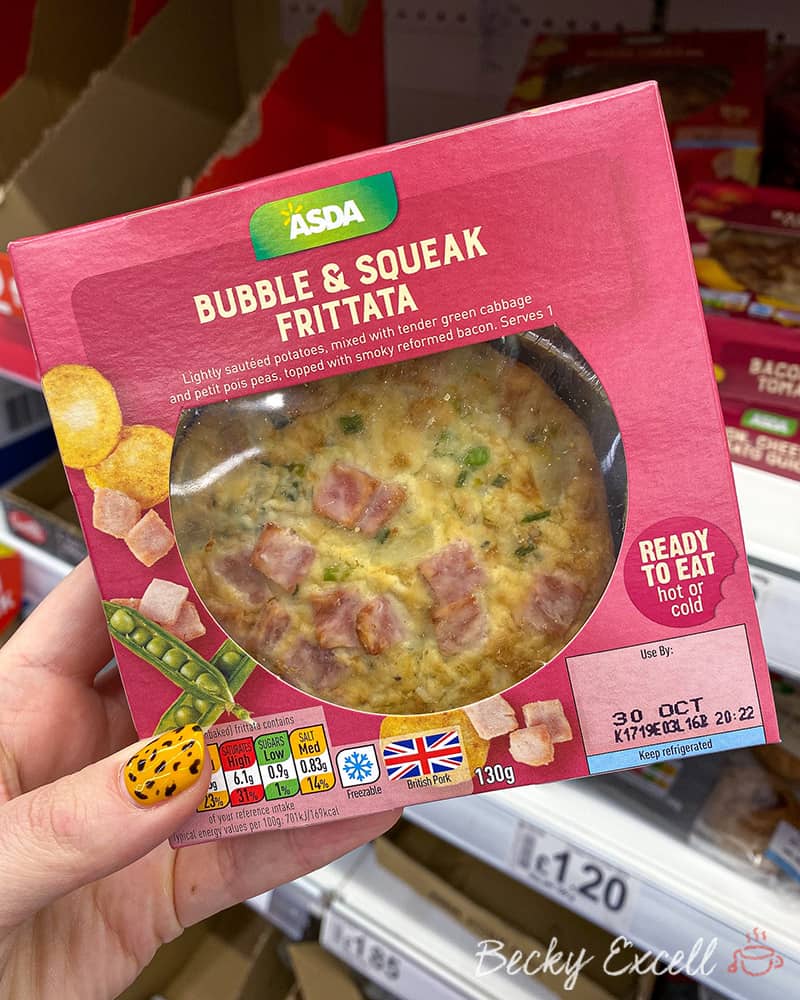 36. Asda Chicken and Pepper Frittata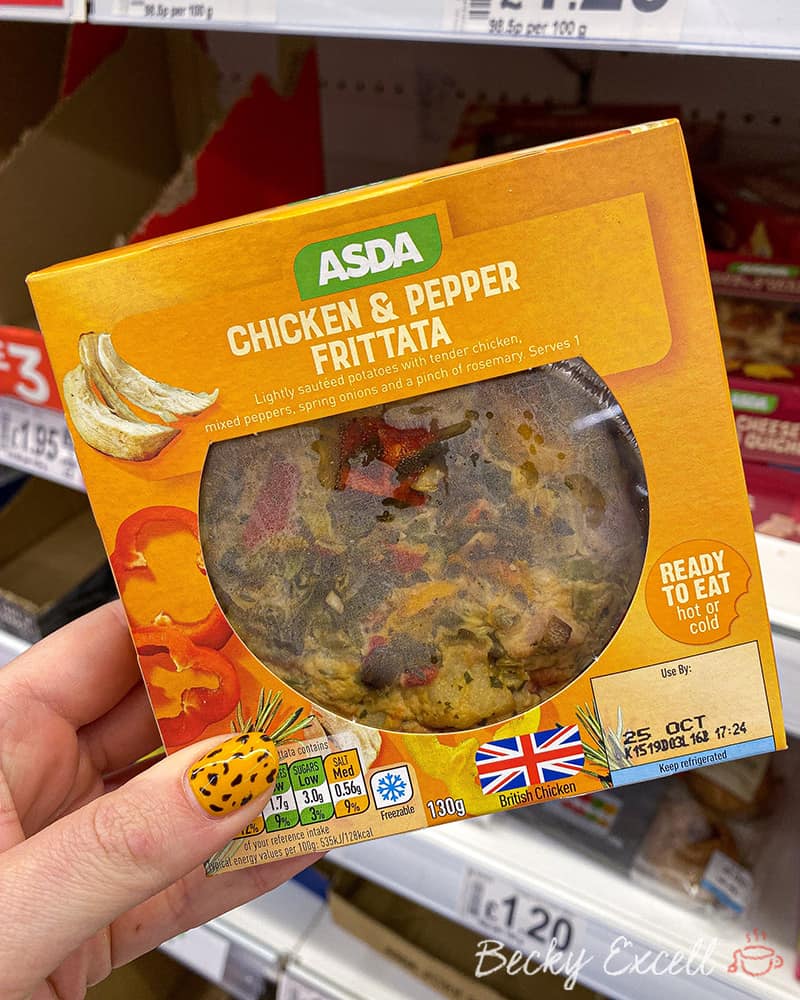 And that's all 36 'accidentally' gluten free products!
Thanks for reading through all 30 of the 'accidentally' gluten free products I've tracked down! Which one is your fave? Which ones would you have never found? Have you found any accidentally gluten free products that I've missed out here?
Let me know in the comments below or head over to Instagram and leave a comment on my most recent photo.
Thanks for reading,
Becky xxx
Comments