34 of the BEST 'accidentally' gluten-free products finds across all UK supermarkets! Best of all – you'll get everything at 'muggle' prices. So let's take a look…
34 'accidentally' gluten-free products you NEED to try – this time, these are the BEST of the BEST finds across Tesco, Sainsbury's, Morrisons, Aldi, Lidl and Waitrose. But first of all, what is an 'accidentally' gluten-free product?
Before you scroll further, please make sure you're following me on Instagram by tapping here. It's a massive help to me and that's where I post my latest gluten-free product finds first on my reels!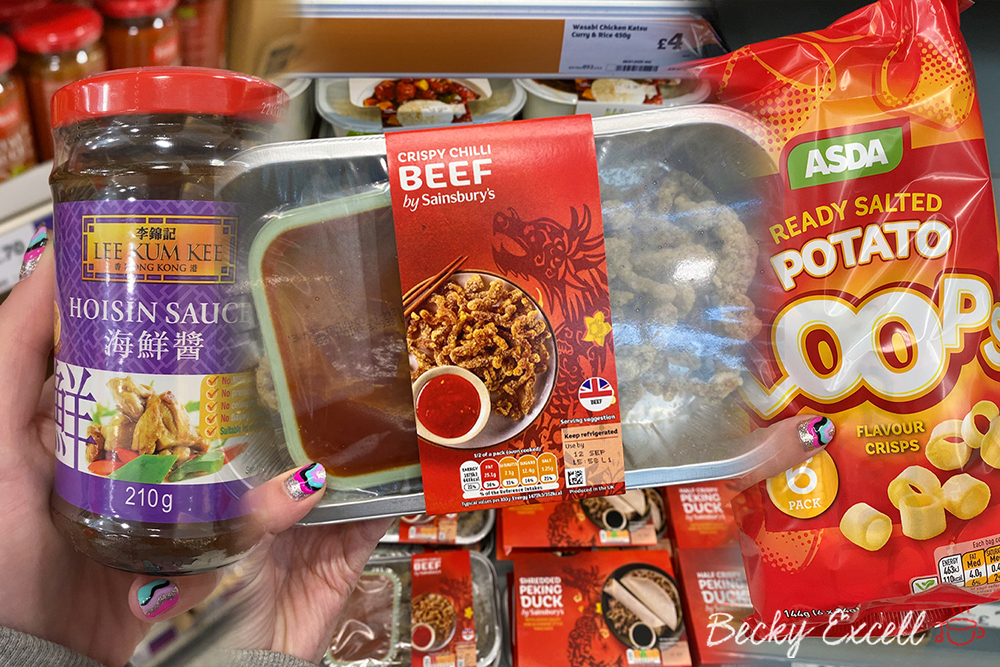 What is an 'accidentally' gluten-free product?
An 'accidentally' gluten-free product is one which is outside of the free from aisle, but doesn't contain gluten, or have a 'may contain' warning for wheat, gluten etc.
According to Coeliac UK, that makes them safe for us to eat! And it expands our choice to so much more than just the free from aisles. They don't have to be labelled as gluten-free, to be gluten-free!
But there's one problem… how do you know an 'accidentally' gluten-free product when you see one? Fortunately, I'm about to show you the 34 'accidentally' gluten-free products in UK supermarkets right now.
But aren't these products potentially made in an environment that also contains gluten?
If a product was produced with a risk of cross-contamination, it would have to declare a 'may contain' warning on the packaging. That's why Coeliac UK say: no gluten-containing ingredients/'may contain' warning = gluten-free!
34 'accidentally' gluten-free products: Public Service Announcement
Of course, as most of these products aren't specifically made for people who are gluten-free, please double check the ingredients for yourself before you buy them.
Why? Well, though I've gone through great lengths to ensure all these products are safe for you lovely people, you never know when ingredients might change. Plus, some products may look almost identical, but have different ingredients from store to store.
That's why it's always good to get in the habit of checking yourself first – never blindly trust what you read online, as you can never be too careful with your health. Even if I tell you something is gluten-free, I'd always recommend checking yourself first!
As of September 2020, all of these products are safe to eat – but please, please let me know if anything changes by leaving a comment below this post.
Here's the 34 'accidentally' gluten free products you need to try ASAP…
1. Mark's and Spencer Milk and Cookies Chocolate Spread
My jaw hit the floor when I heard this was gluten free… I still can't believe it!
Yep, it's in M&S and it's a jar of 50% chocolate spread and 50% milk and white chocolate spread with cookie pieces in it ?
And guess what? The cookie pieces are gluten free somehow! I have no idea how it's possible, but it is, so go buy it ASAP. Oh and it's £2.50 btw.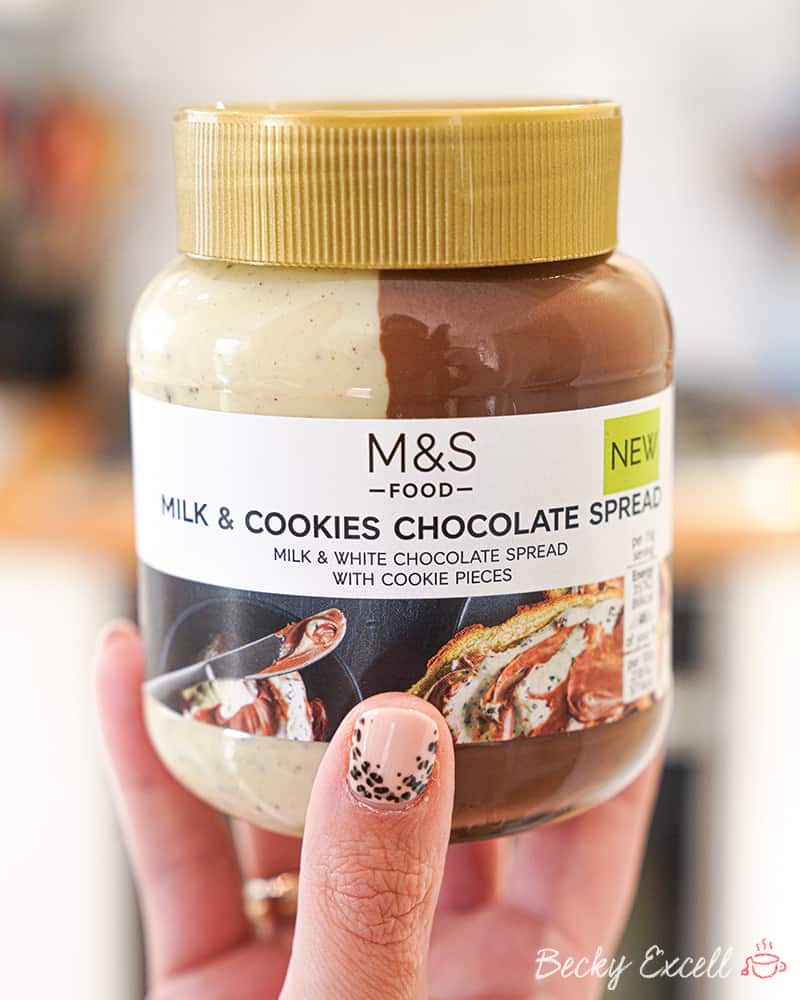 2. Asda Fresh Italian Gnocchi
We've been a fan of this fresh, chilled gnocchi for a very long time now. Yes that's right, I said fresh!
There's been gnocchi down the free from aisle for a very long time now, but it's around £3 and obviously, it's not a fresh product.
And this is only £1.40!! *faints* and it's basically on offer 100% of the time at 2 for £2.50.
You'll find it in the chilled section with all the gluten-filled pasta, but don't worry, this one is accidentally gluten free! Not sure what do with gnocchi? (I wasn't sure at first either) Use this recipe as your first gnocchi creation!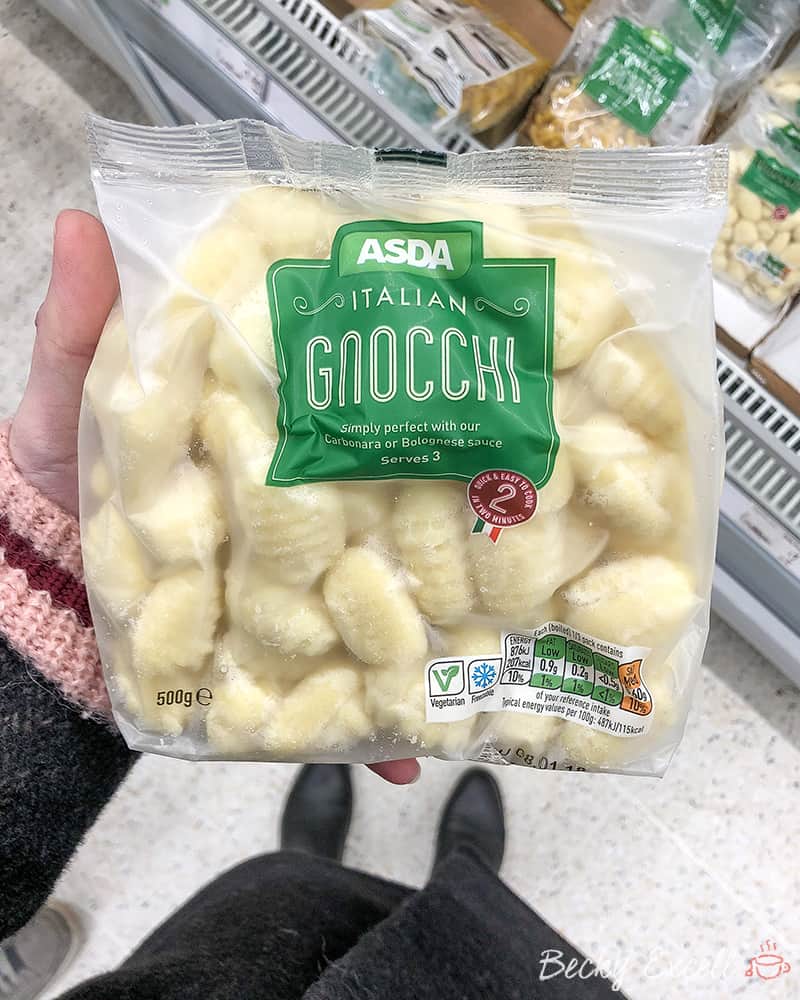 3. Aldi Smarties (Choc Um's)
Now, this alarmed a lot of people when I posted about it on Instagram because they weren't aware that actual Smarties contain wheat flour.
Yes – wheat flour. Only God knows why!
So instead, just head over to Aldi and check out their Choc Um's which are accidentally gluten free. I know. Awesome.
The brown bag are like smarties and the blue pack are a little like M&Ms with a crispy middle inside. So go buy these and then make my gluten free 'Smarties' cookies with them!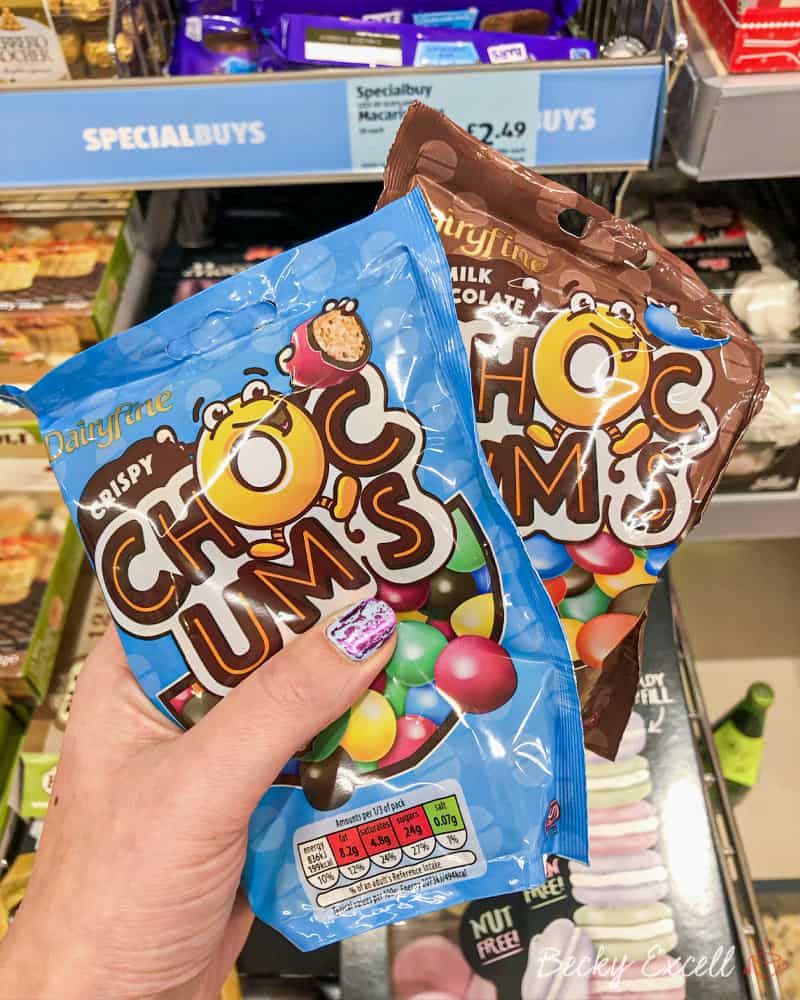 4. Co-Op Haddock Goujons
Co-op probably has some of the best gluten-free breaded fish options out of all supermarkets.
So if you're ever nearby, make sure you pop in and have a look!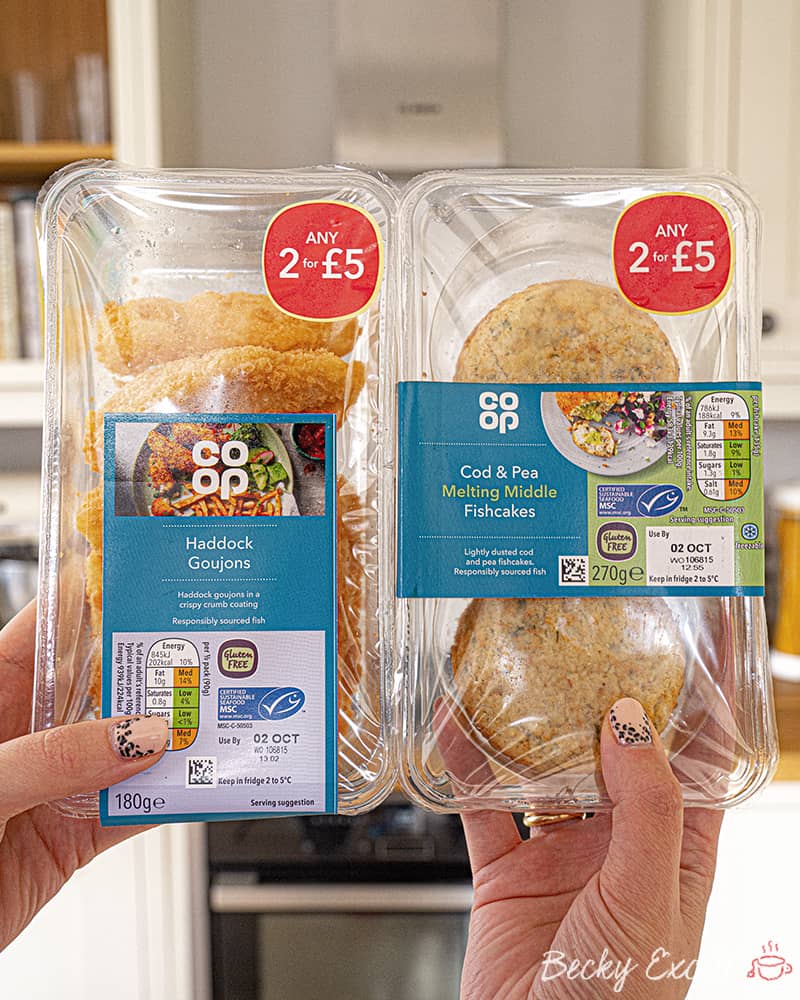 5. Lidl Pringles (Snaktastic Potato Snacks)
Yep, Pringles are another thing that aren't gluten free… unless you go to Lidl.
Don't make the same mistake I almost did and assume that the same product is also accidentally gluten free in Aldi too – they're not. They have a may contain!
These satisfy ALL my Pringles cravings and I think there's even a sour cream and onion flavour too (it's a green coloured tube).
I actually have to purposefully NOT buy these too often as I eat them way too quickly ?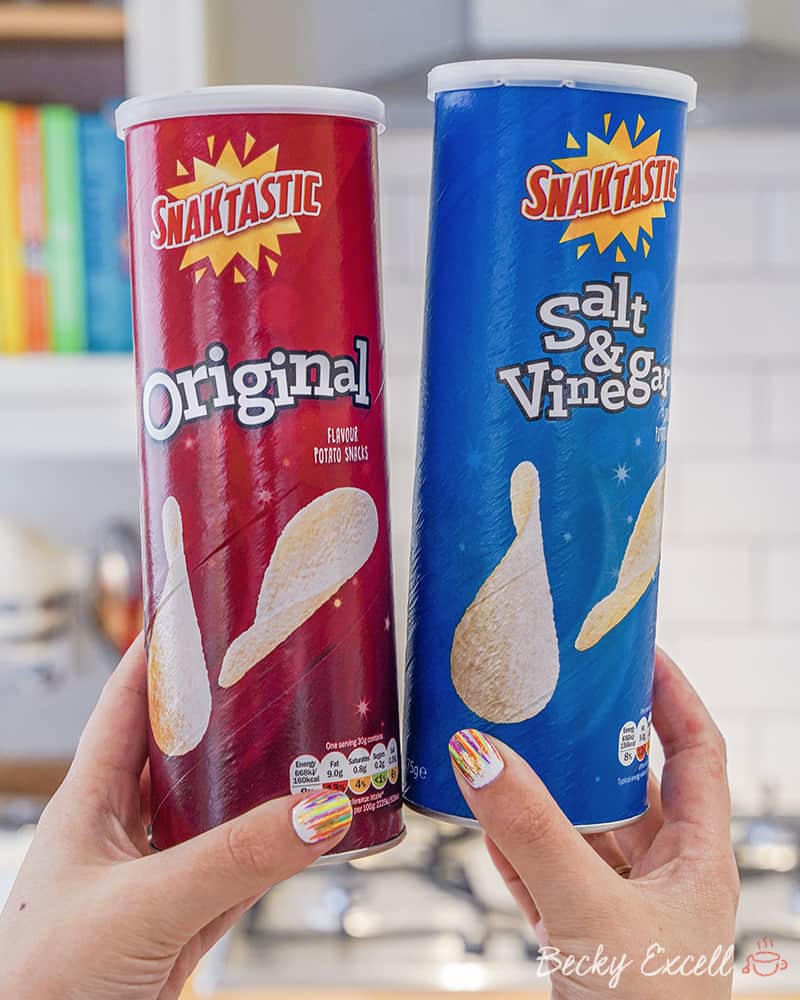 6. Aldi Lightly Dusted Whitebait
If you loved the Co-op gluten free haddock goujons, then you'll love this next accidentally gluten free product!
It's the Aldi lightly dusted whitebait which as you can see in the photo below, has a gluten free coating.
These are absolutely awesome when cooked to perfection in the oven with a little tartar sauce.
My Dad has always loved whitebait (he can eat gluten of course) and finally, we can share them together again.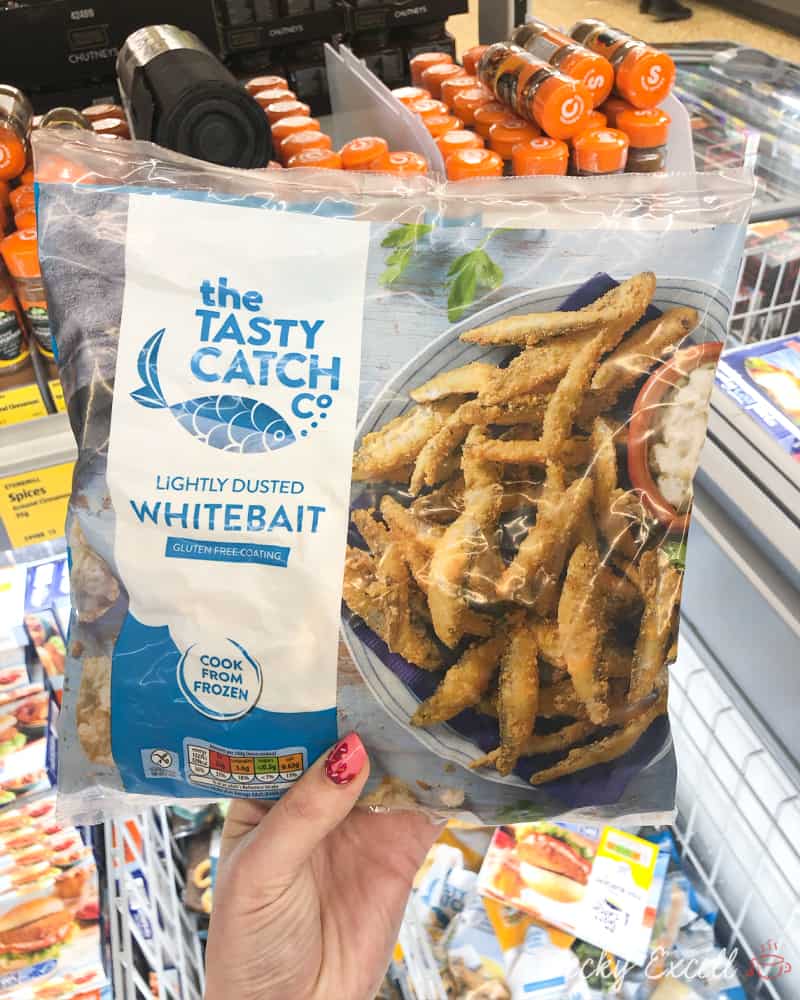 And the good news keeps on coming because there's another variation of them too!
They also do a lemon and pepper seasoned lightly dusted whitebait in a gluten free coating as well – they were right next to each other in the freezers.
So head down to Aldi and grab a couple of bags if you fancy them!
7. Aldi Monster Munch (Snackrite Monster Claws)
The regular Monster Munch you used to eat (if you ever could!) sadly has wheat flour quite often in the seasoning.
(not sure when wheat flour became a 'seasoning' but I can tell you that it won't be going into my spice cupboard anytime soon!!!)
But when I checked these in my local Aldi, they had no gluten-containing ingredients and no may contain warning!
Some people have said these were NOT gluten-free in their local Aldi, so make sure you double-check the ingredients on these first.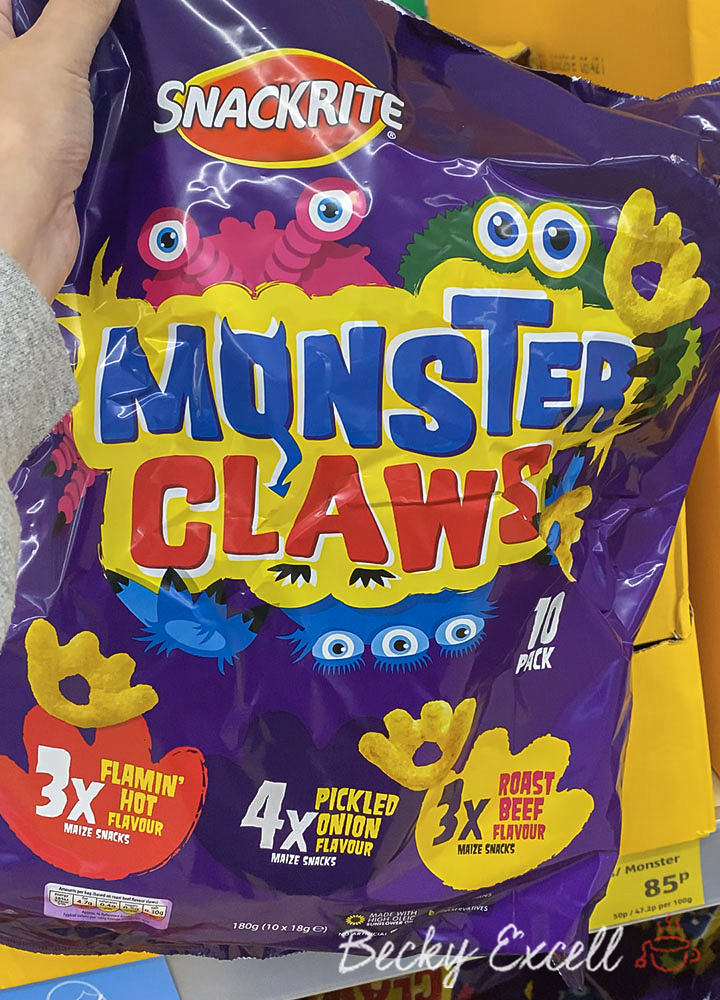 8. Sainsbury's Crispy Chilli Beef
I know – I bet you didn't expect to read that in this list!
Yep, this is yet another game-changing accidentally gluten free product found in the chiller with all the gluten-containing Chinese ready meals.
But for some reason, this crisp chilli beef has no may contain warnings for gluten/wheat and has no gluten-containing ingredients. Also no onion or garlic either!
Since Chinese food is usually a massive no-go for us, replace your Chinese takeaways with this bad boy! ??
If you're feeling adventurous, you can always make Mark's gluten free crispy chilli beef recipe, but it might take you a little longer than cooking this ?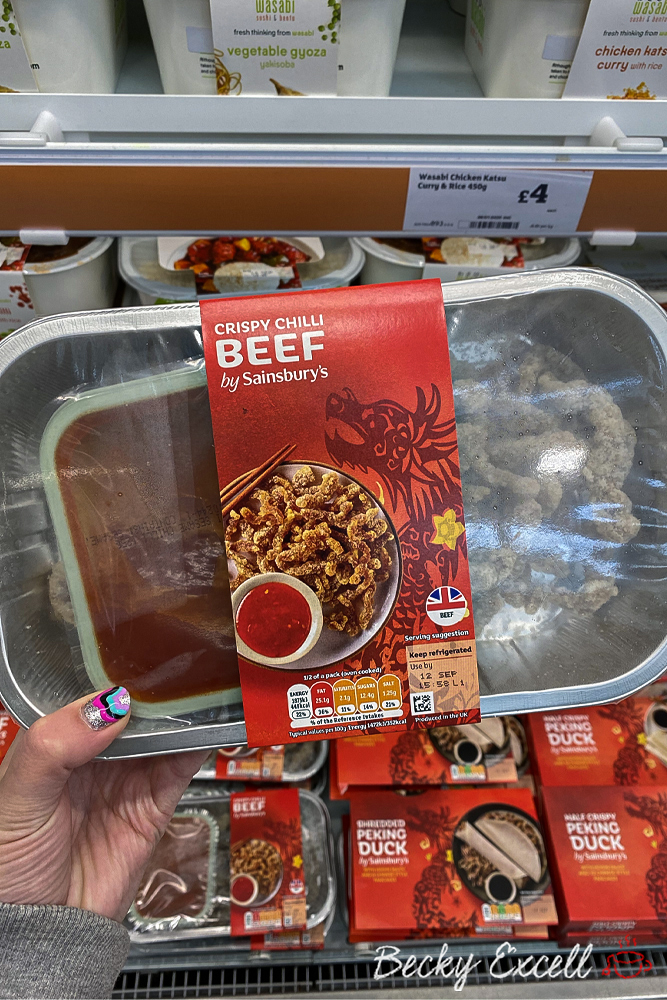 9. Crunchie Spread
Now, Crunchies (the chocolate bar) are gluten free, because fortunately for us, it's just chocolate and honeycomb. It doesn't even have a 'may contain' for gluten/wheat miraculously either.
But you might have missed this little gem as it's not down the free from aisle – you'll find it with all the spreads like Nutella in Sainsburys or you can buy it online here on Amazon.
It's £2.50, so not a bad little find at all.
I actually used it to make the frosting inside these gluten free cookie sandwiches, so there's a little baking project for you if you fancy it!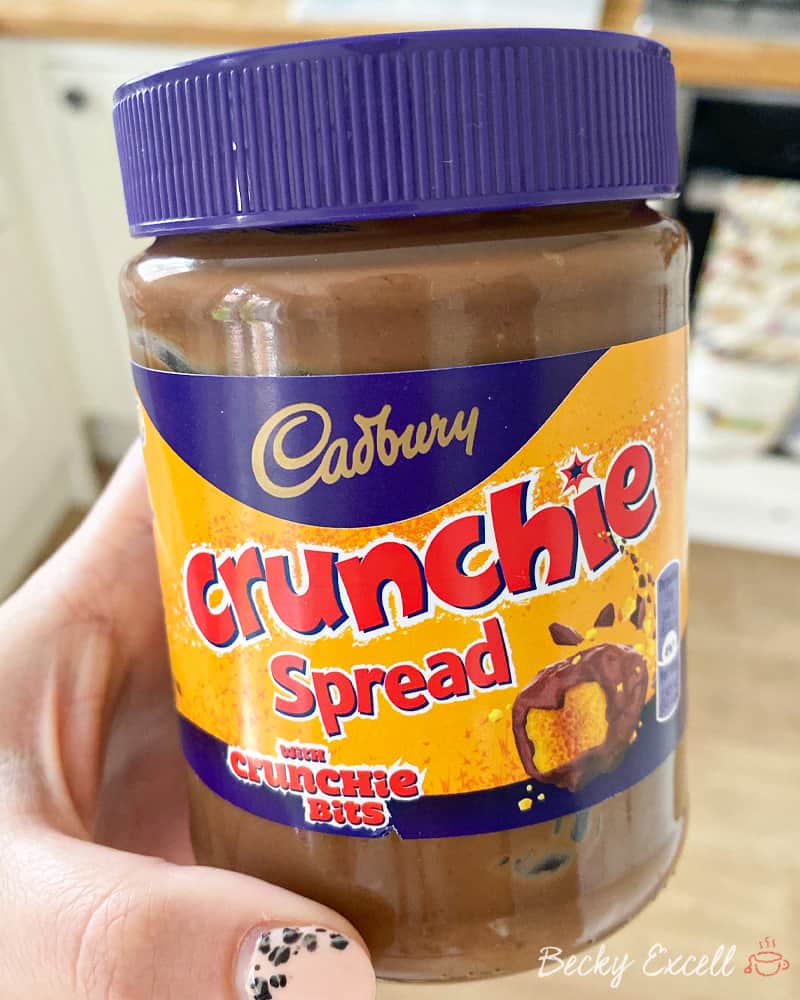 10. Asda Bacon Bites
Gluten-free Frazzles, anyone?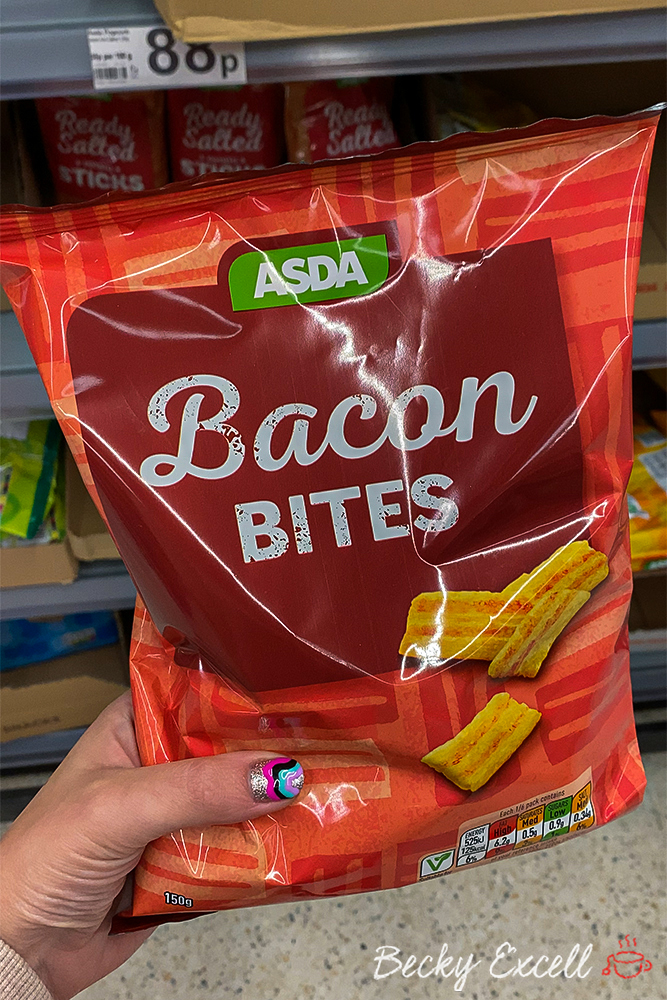 11. Marks and Spencer Hot Chocolate Fudge Pudding
Mark's and Spencer win the prize for having some of the most well-hidden gluten free products.
But when you look closer… you'll actually see that it has a gluten free logo on the box!
And when I posted this on Instagram recently, it was a MASSIVE hit.
It's just with all the regular desserts in the chiller, but you'll have to beat me there first as I will usually stock up on these for my freezer!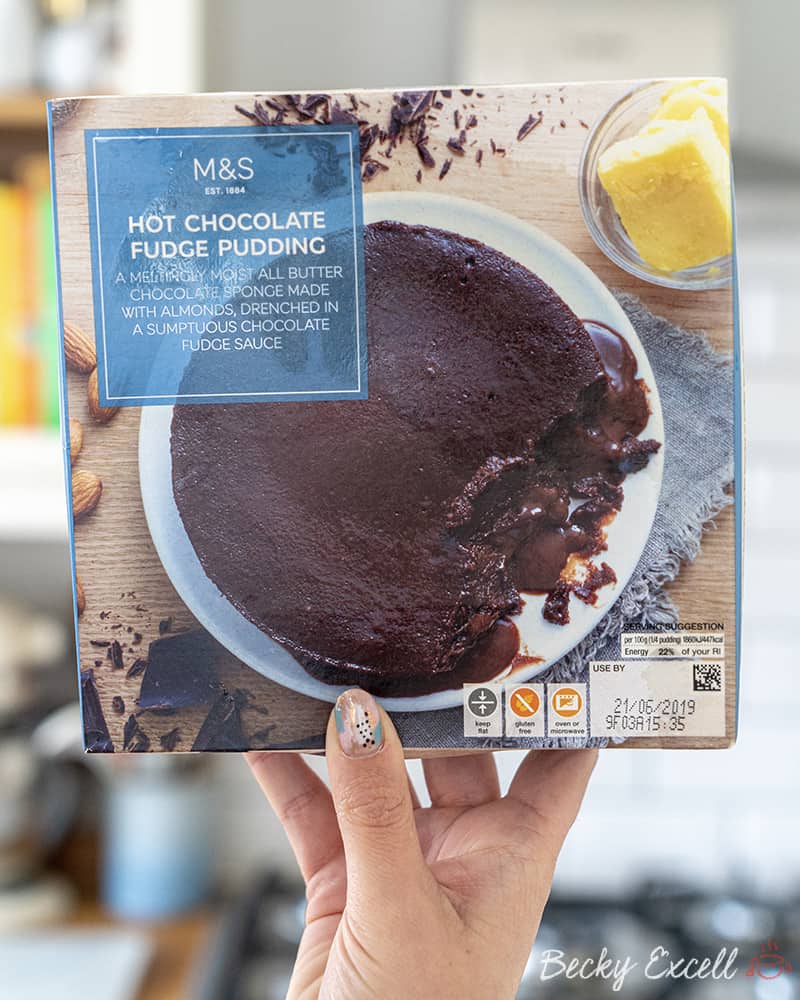 12. Tracklements English Mustard
It's been 10 years and I haven't touched English mustard… until now!
I found this English mustard by Tracklements in Sainsbury's (as far as I know, it's literally stocked there and no where else) and I can finally enjoy it again.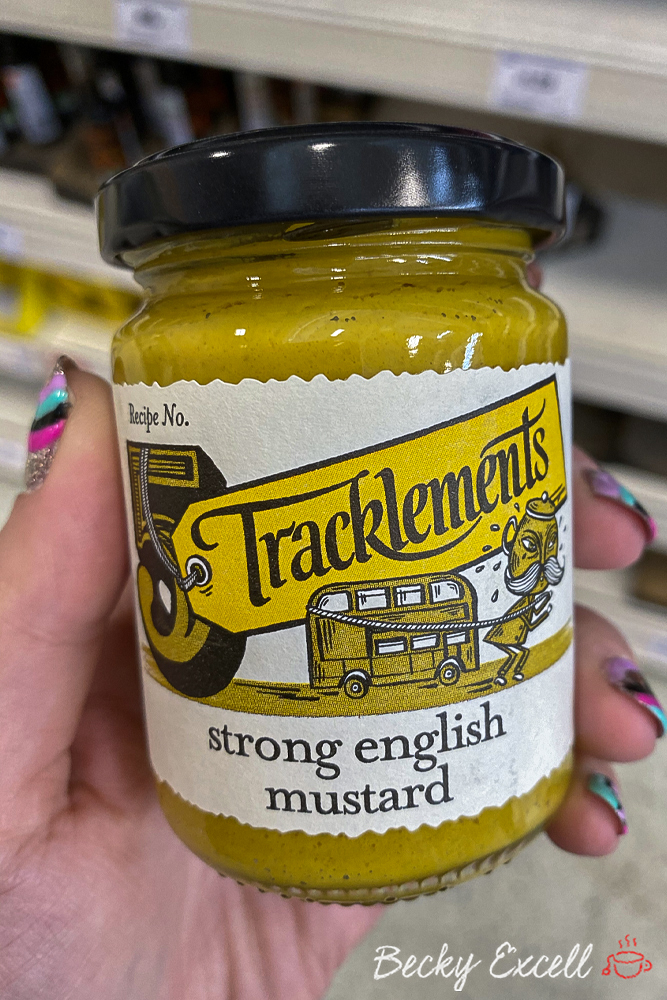 13. Aldi Wotsits (Snackrite Cheese Puffs)
And yep, we're back at Aldi for some more accidentally gluten free products – crisps this time.
So these are basically Wotsits but without the pesky 'may contain' warning for gluten and wheat.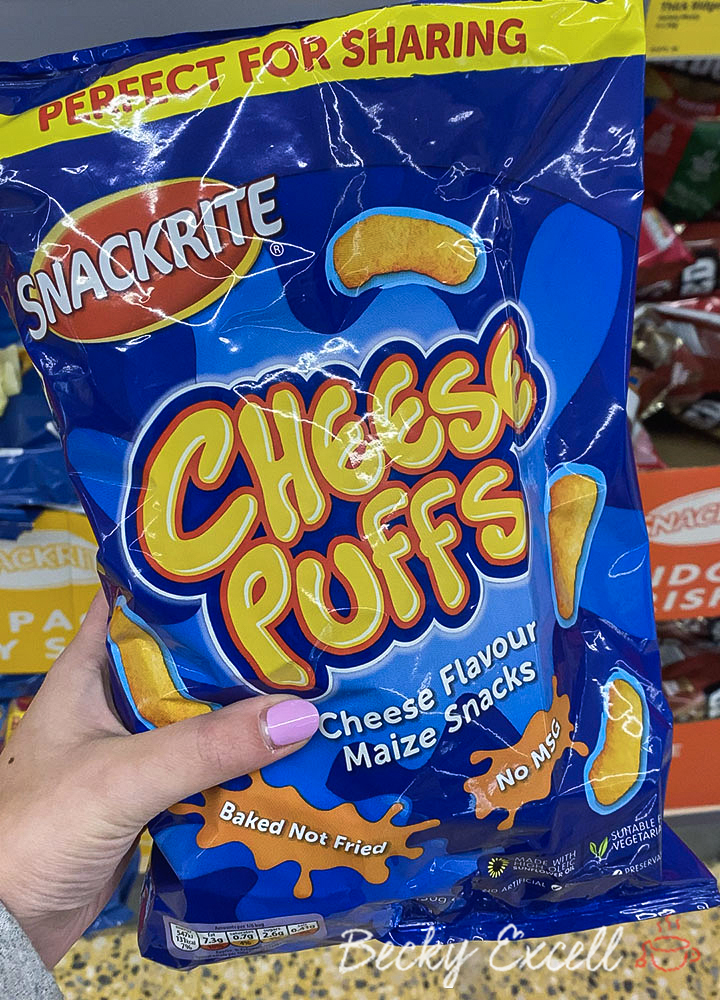 14. Sharwood's Chinese Curry Cooking Sauce
Who would have ever thought this could be gluten-free?
You can find it in Sainsbury's and Asda as far as I know – no gluten-containing ingredients or 'may contain' warnings!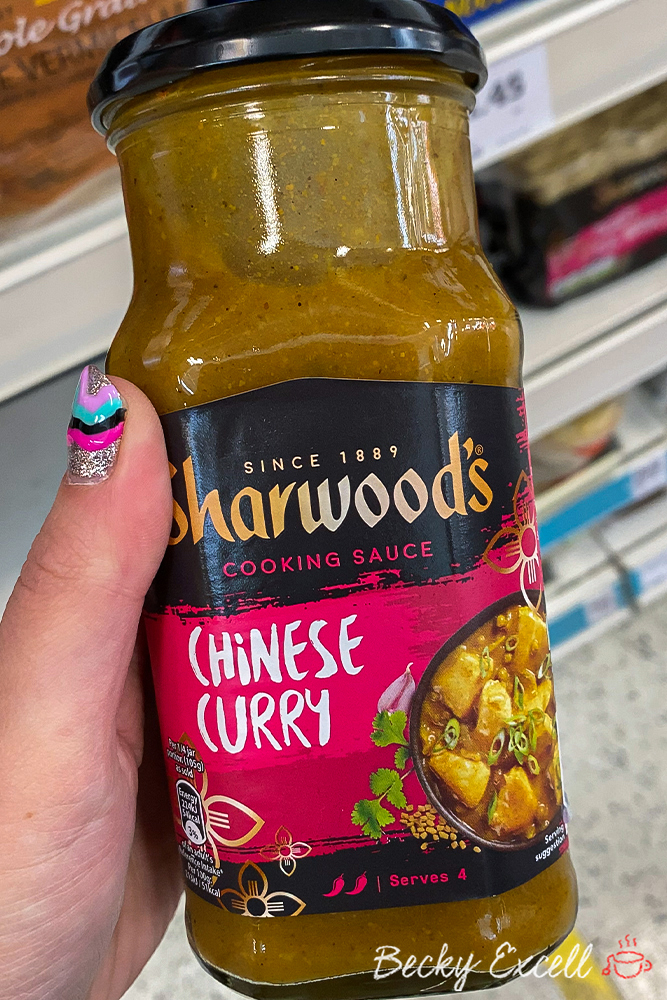 15. Morrisons Yeast Extract
Yep, it's gluten-free Marmite!
As far as I know, A LOT of own-brand supermarket yeast extract is gluten-free. So it's worth checking in Aldi, Asda and Sainsbury's too!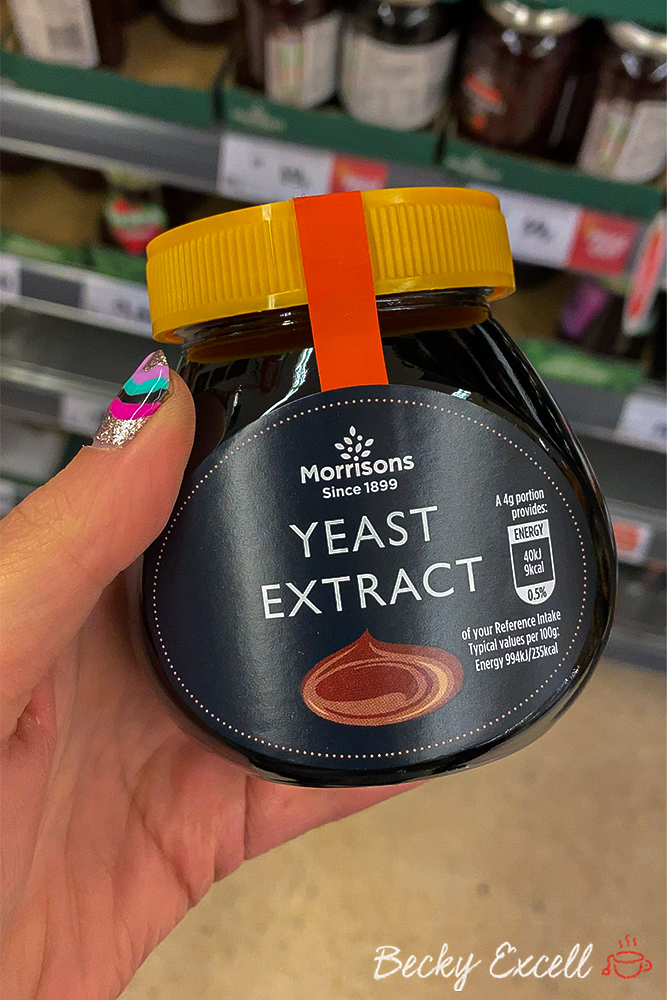 16. Aldi Garlic and Herb Pork Schnitzel
This is one of those accidentally gluten free products that you'd never know was gf unless someone told you!
But yep, all of that lovely breadcrumb coating is totally gluten free ?? Who's rushing out to buy these?!
Keep scrolling down for a few more products to look out for in the Aldi chillers whilst you're hunting for this one…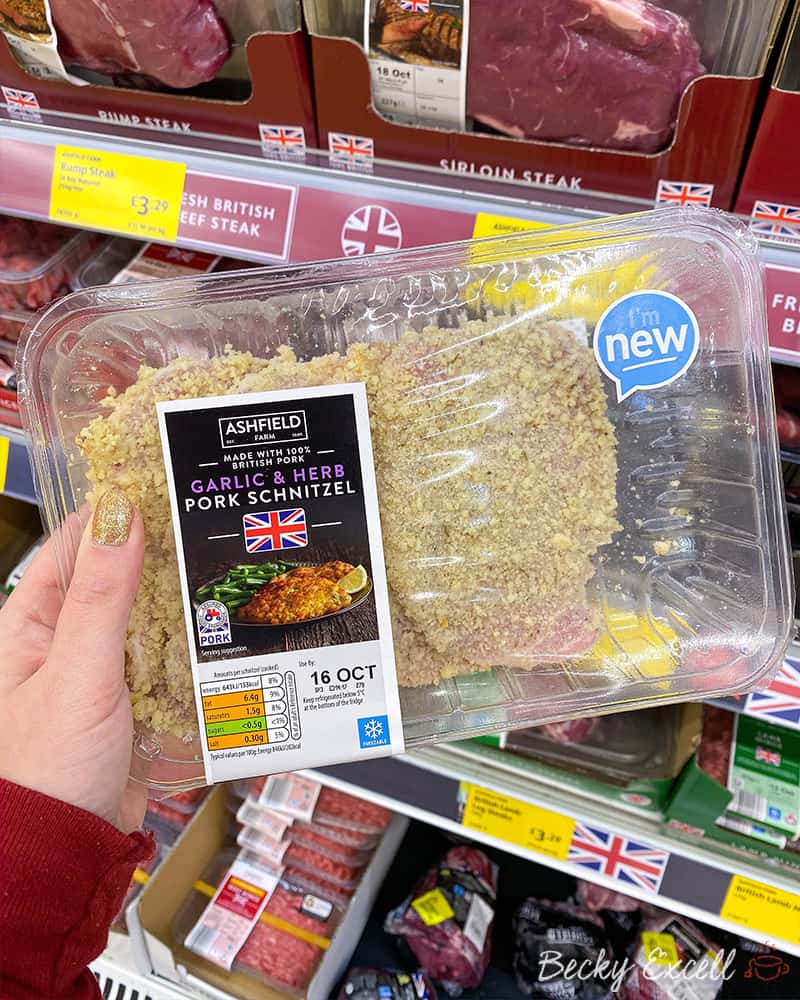 17. Aldi Chunky Cod Fish Fingers
It's with all the regular breaded fish (not all of it is gluten free) but the cod fish fingers are definitely gluten free.
So sort of half way to a fish and chip shop experience!
Has anyone tried these yet? What did you think? They've been around in Aldi for a while now!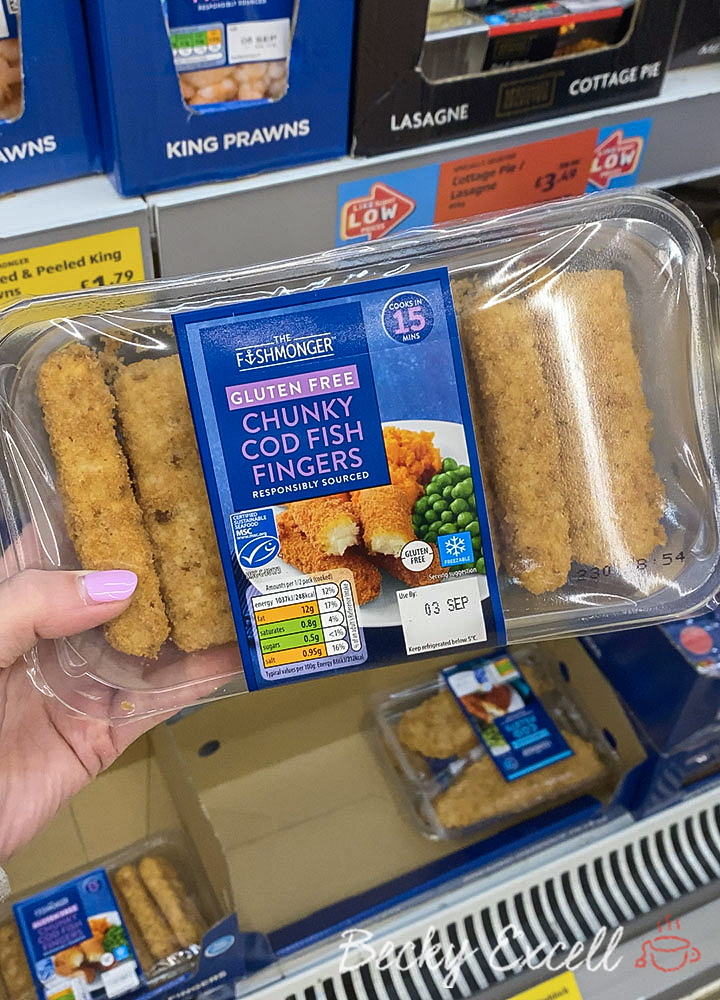 18. Aldi Tempura Chicken Mini Fillets
Aaaand then there's the tempura chicken mini fillets which are also from Aldi. They don't have gluten free plastered on them as much as the goujons, so some of you might have missed these ones!
But when you look closer, you'll see that these actually have the official Coeliac UK crossed grain symbol ✅
These instantly reminded me of the gluten free Tempura chicken from M&S which is around £4… but these are nearly half the price!
Again, they're more like battered chicken than breadcrumbed, so we love making our own gluten free 'McChicken Sandwich' with them. They go so well with mayo, lettuce and a soft gf bun!
It actually tastes really similar!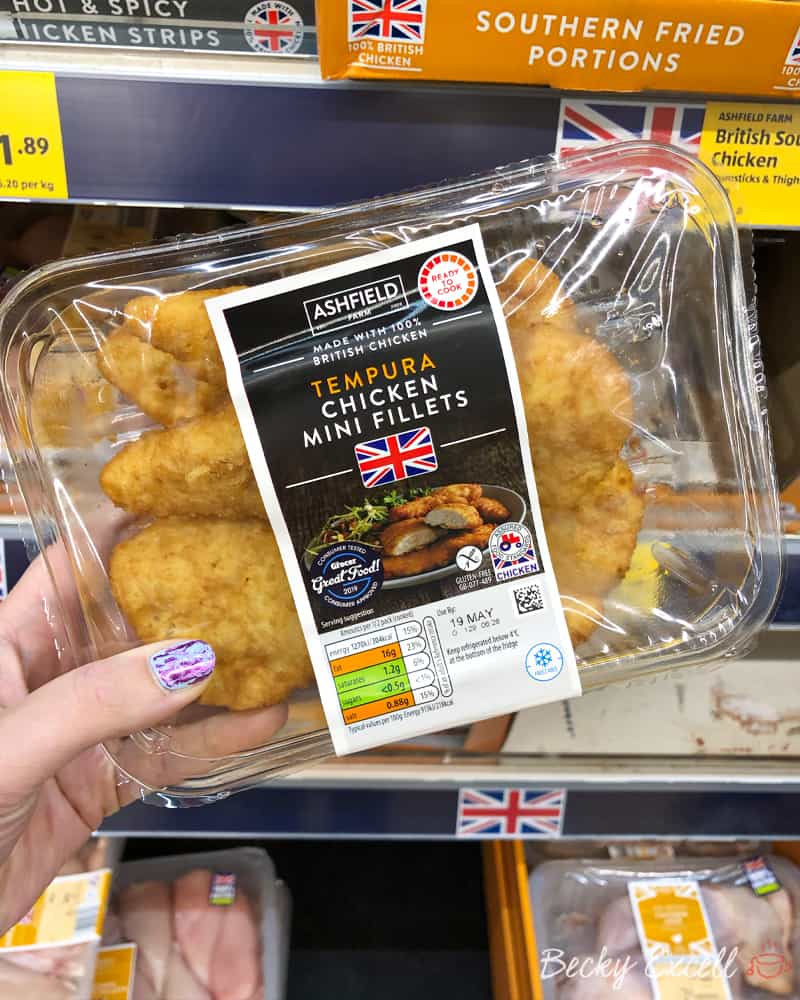 19. Tesco 6 Onion Bhajis
You can find these onion bhajis in the chiller aisle.
There's not a lot that's gluten free there mind, but these are. Enjoy them for me as I can't tolerate onion!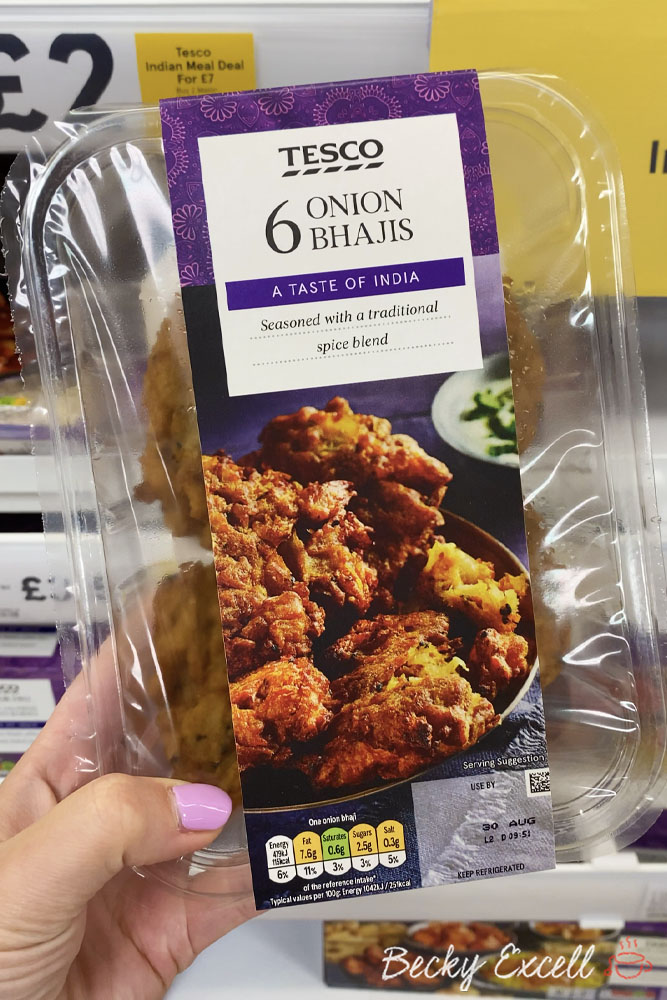 20. Lindt Strawberries and Cream + White Chocolate Truffles
These are available in almost every supermarket and these particular variations are accidentally gluten-free.
DO NOT buy the milk chocolate variation (or any other) because only these two are safe to eat.
21. Heinz Beanz with Pork Sausages
I feel like they should have fully committed to the 'z' theme and called these 'Heinz Beanz with Pork Zausagez' but that's just me.
The pork sausages in these kinds of things are NEVER gluten-free… but these are!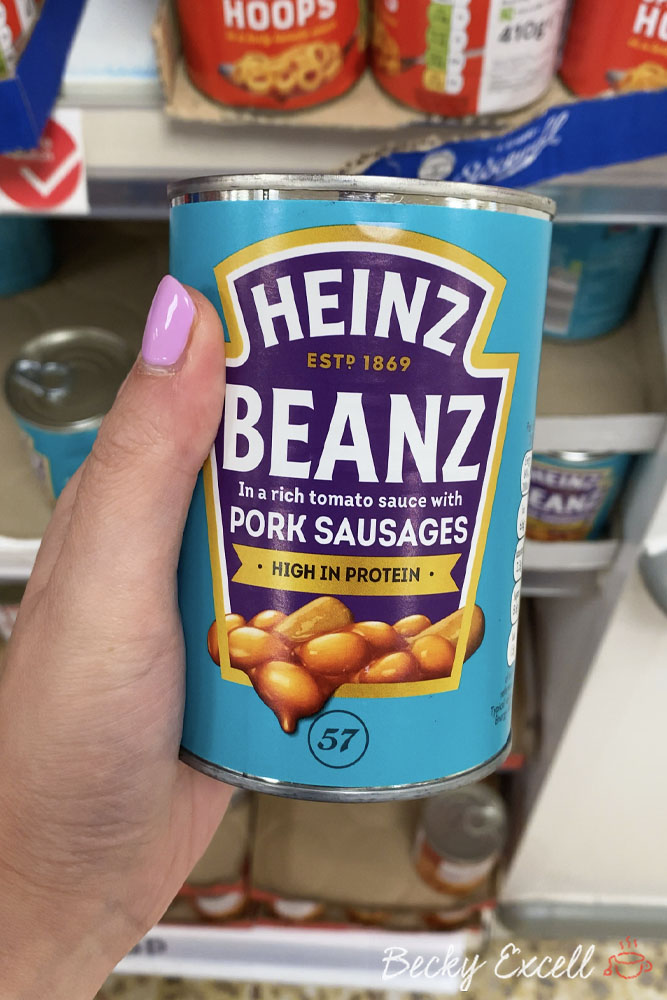 22. Marks and Spencer Milk, White and Dark Chocolate Brownies
Ok, ok, I'd usually roll my eyes at a gluten free brownie too, but these aren't the token gluten free option like you'd expect!
These are actually with all the gluten-containing cakes – so yep, they're the brownies made for everyone, not just us.
And as usual, you'll see that little orange gluten free logo too ?? So that's something you can buy and share with all your muggle friends!
(or not share at all because it's so rare that we get to eat something like this ?)
Plus, they just look so damn good!!!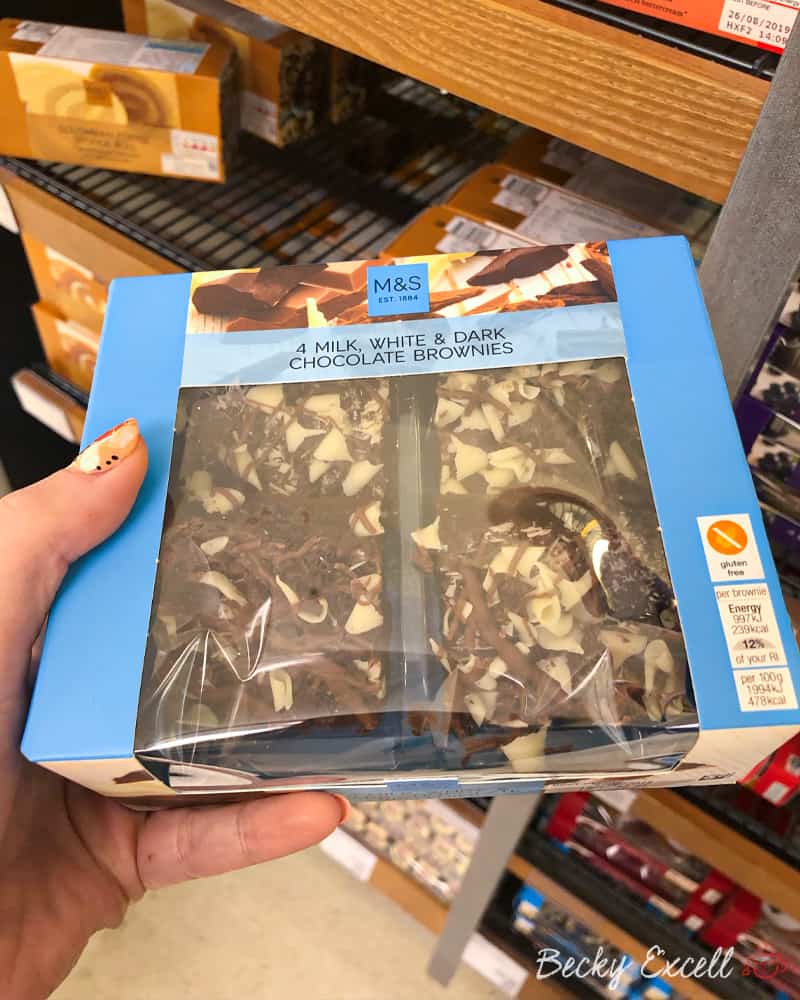 23. Tesco Tortilla Chips
Doritos are another product that has a may 'contain' for gluten…
(?????)
But over at Tesco, their Tortilla Chips are accidentally gluten free… and they even have chilli heatwave flavour – result!
But that's not all, keep scrolling for ANOTHER flavour…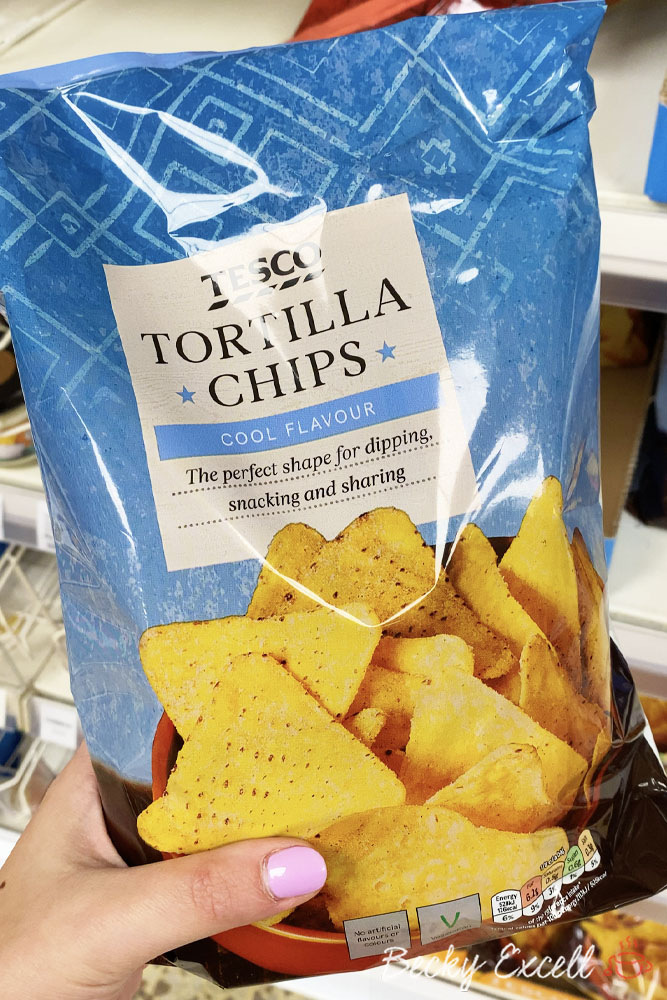 Grab some salsa and serve these up ASAP! That's three massive wins right there.
Which flavour would you pick? Or are you going for all three?!

24. Sainsbury's Mozzarella Sticks
Bring on more accidentally gluten free products like this, please!
These were in the chillers next to all the muggle 'party food' food options. Sadly this is the only option that's safe for us!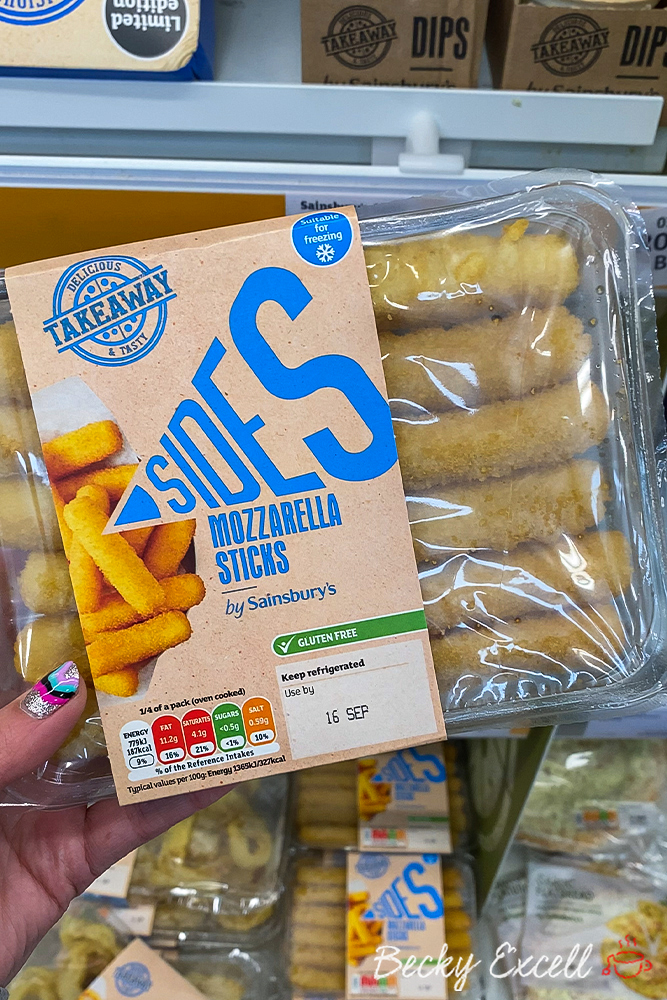 25. Gluten-free Galaxy Chocolate Cake
And with all the other celebration cakes in Sainsbury's, you'll now find this Galaxy gluten-free chocolate celebration cake! How cool is that?
I'm obliged to let you know that I worked with Galaxy to promote this cake over on Instagram. I'm sure you don't care, but I have to let you know!
So erm… now you know! I believe they've started selling this in Tesco now too.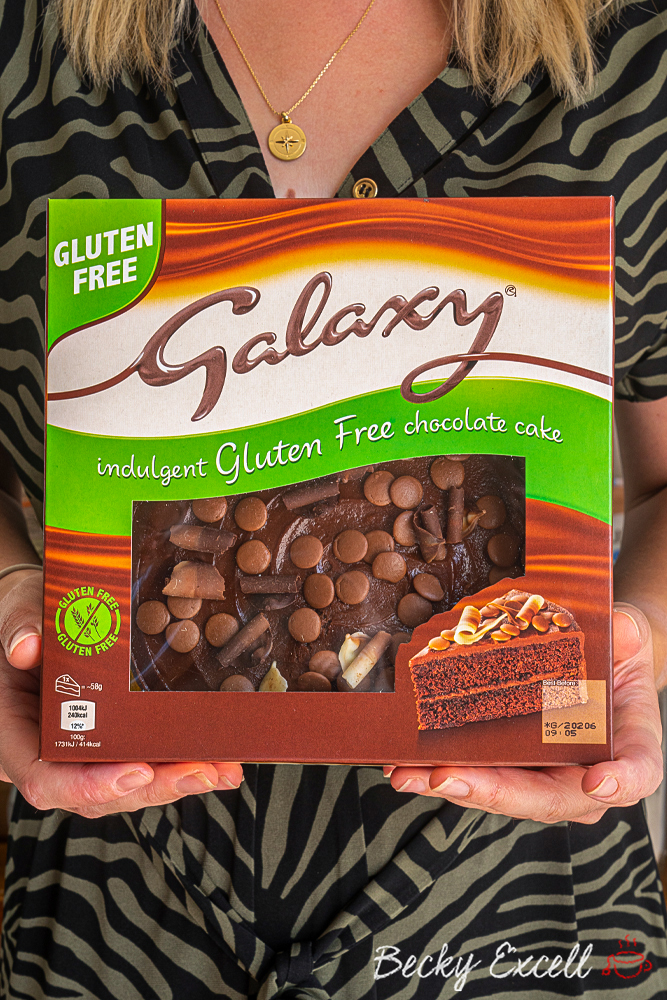 26. Tesco 5 Crumbed Ham Slices
If you have a close look in the bottom left hand corner, you'll see that Tesco's crumbed ham is actually gluten free!
But what's even better is that, not too long ago, Tesco made the move to make ALL of their crumbed ham (pre-packaged ham) totally gluten free.
How awesome is that? Does anyone think more supermarkets should make moves like that?
I mean, regular gluten-eating people don't care if their crumb is gluten free I'm sure, so what's the harm?! Same price for everyone for once!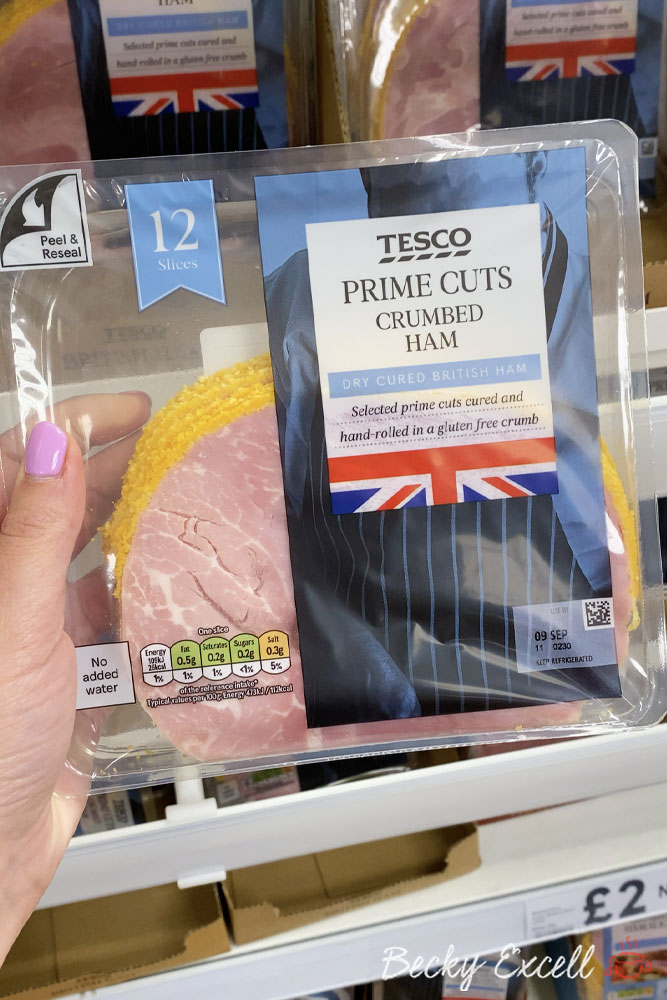 27. GU Chocolate and Salted Caramel Zillionaires' Cheesecake
You can find this beauty in Tesco with all the regular ice cream, but despite saying 'cheesecake' which would immediately make me not bother checking the ingredients…
Yep, this is yet another accidentally gluten free product in hiding!
Has anyone spotted this yet? Or tried it?
Let me know what you thought of it in the comments below this post ??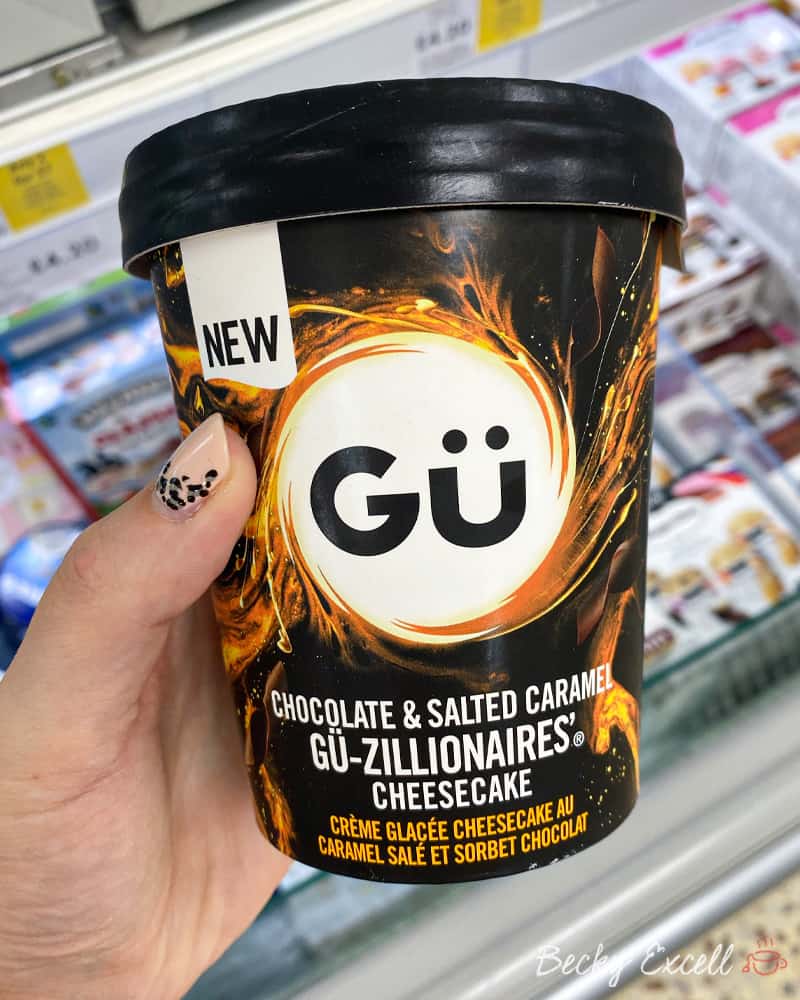 28. Mash Direct Beer Battered Onion Rings
Here's a great find in Waitrose – gluten-free beer battered onion rings!
They've even labelled gluten-free on the front – you'll find them with all the pre-prepared veg.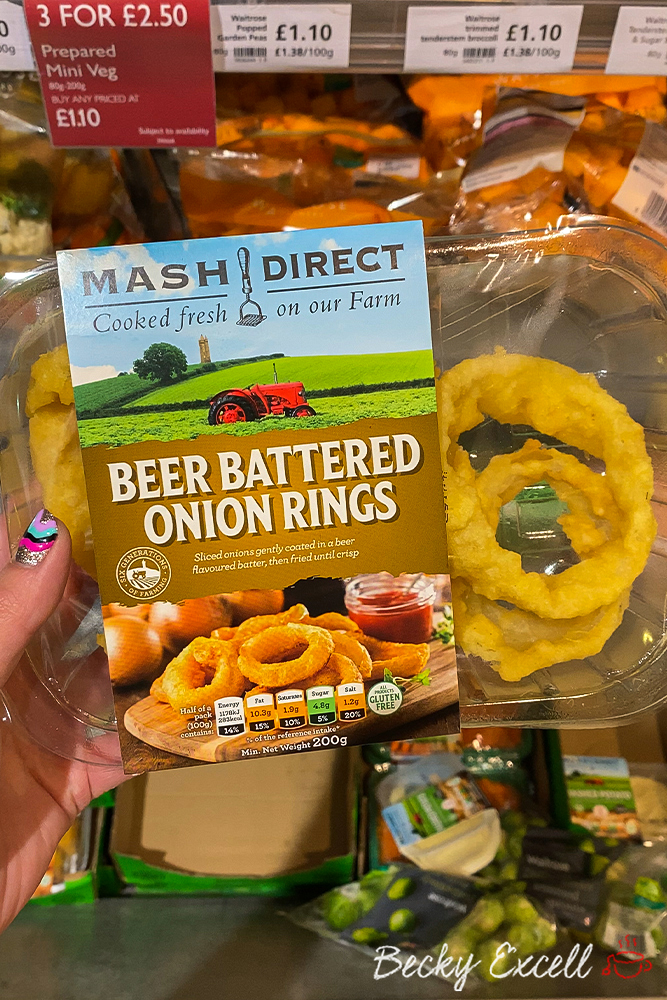 29. Waitrose Vegetarian Mushroom Arancini
And whilst we're in Waitrose, here's a gluten-free veggie find – their mushroom arancini!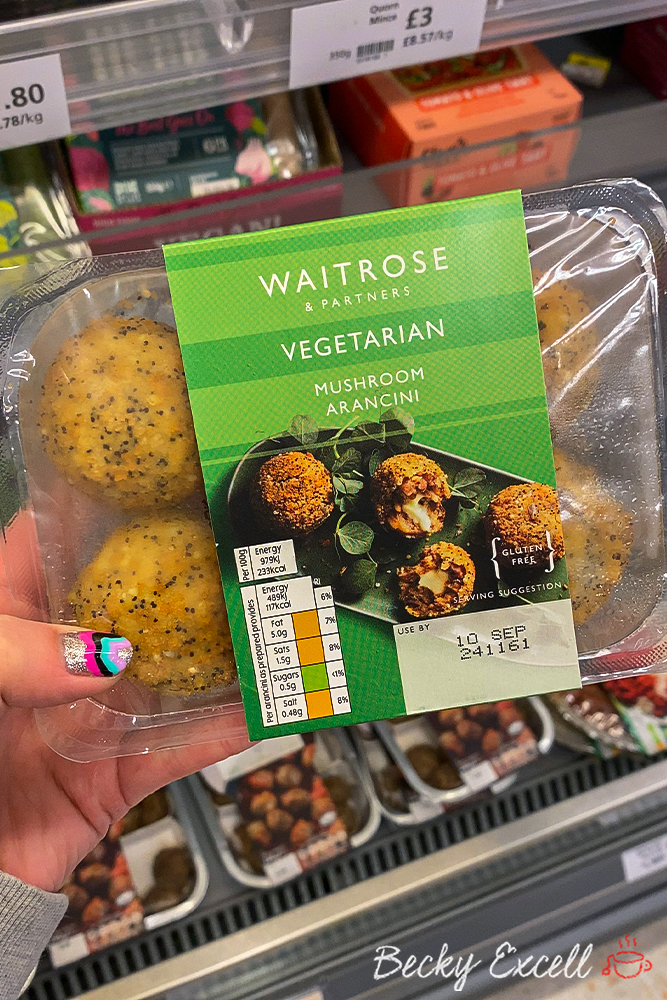 30. Aldi Teriyaki Beef Stir Fry
This is something I'd NEVER expect to be gluten free!
Inside the pack are chopped beef strips, a selection of veg and a packet of teriyaki sauce.
I wouldn't even look twice at this normally!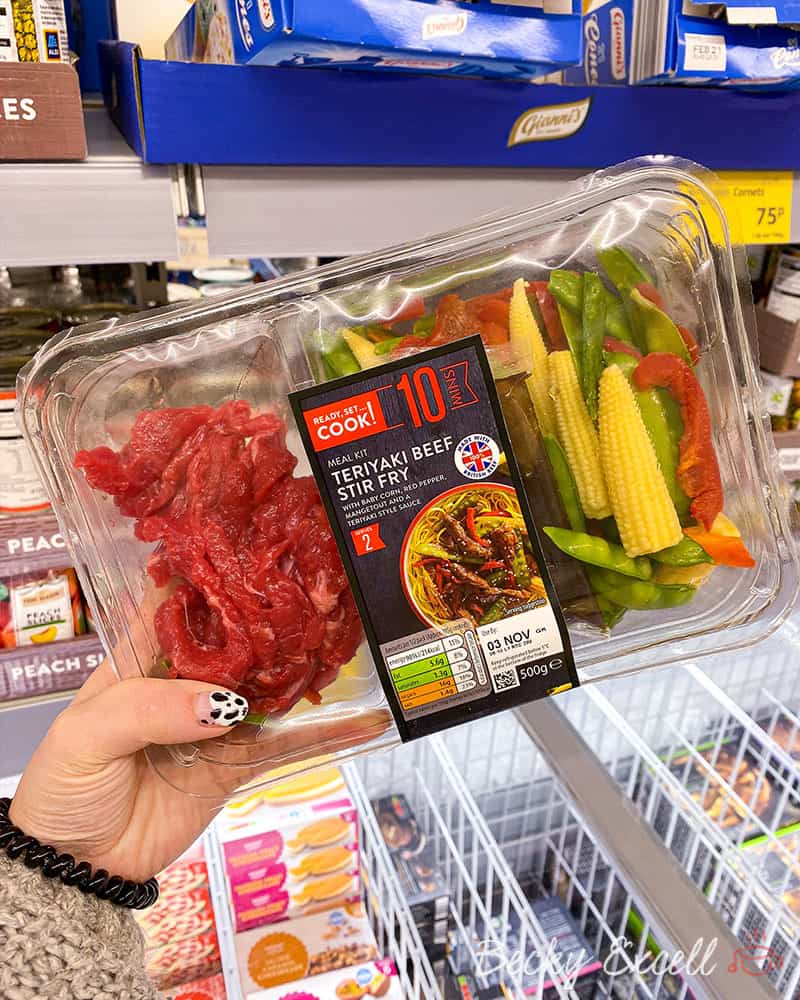 31. Tesco Plum and Hoisin Sauce
Mark used to swear by this brand for all his fakeaway-style cooking, but we haven't used it in years. Now, it's suddenly gluten-free – it even has a gluten-free label on the front!
If you look on supermarket website, this still shows as containing wheat – likely because I'm told they don't update the products on their websites very fast at all.
Nevertheless, make sure you double check the ingredients and look for that gluten-free logo on the front to make sure you have the right product.
This didn't used to be gluten-free, so make sure you don't buy the 'old' version!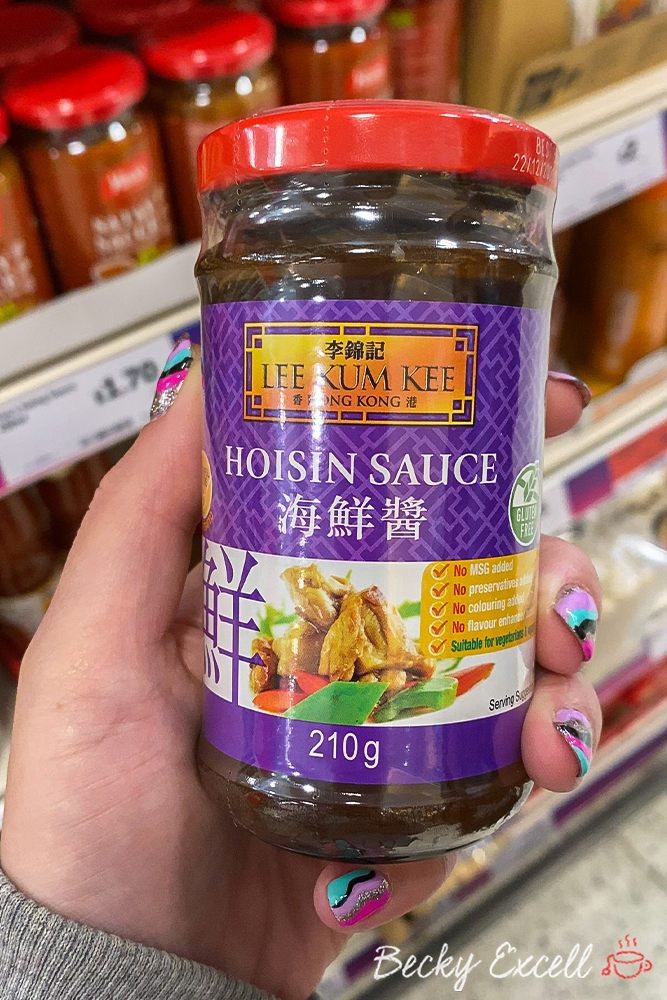 32. Asda Hash Brown Bites
There's that free from gluten branding sneaking in again – love it!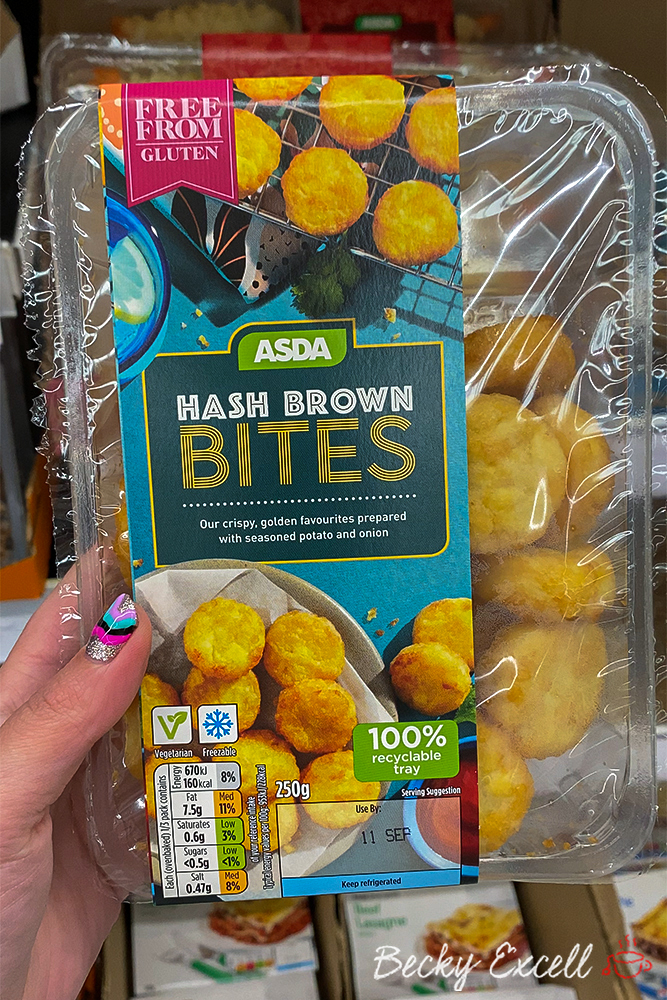 Oh and more mozzarella sticks too next to these!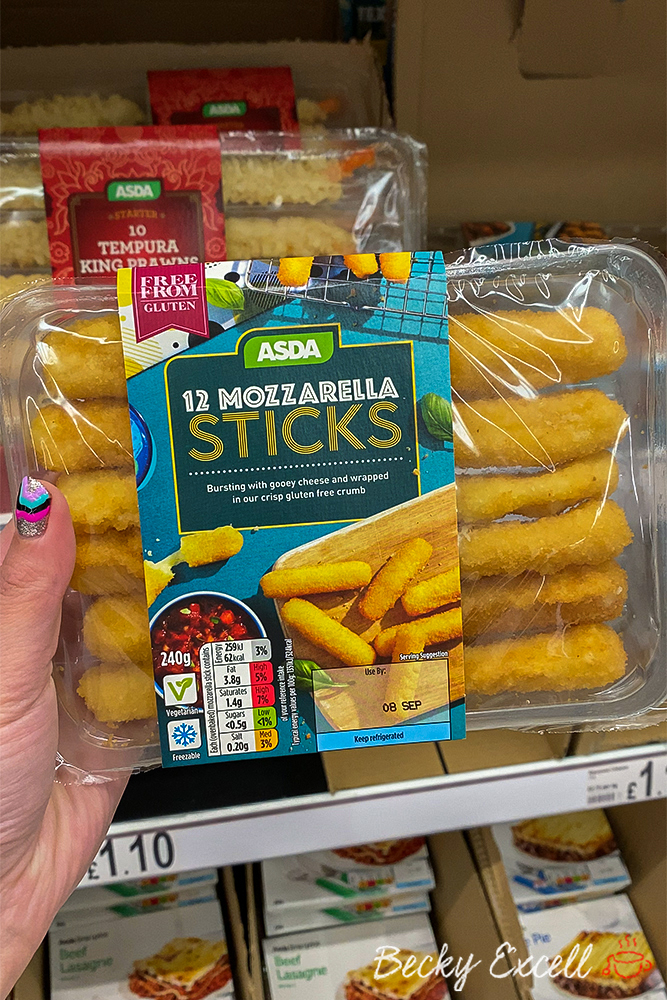 33. Peperami Snack Box with gluten-free crunchy corn puffs
I love when products like this are clearly labelled as gluten-free! I found these in Asda.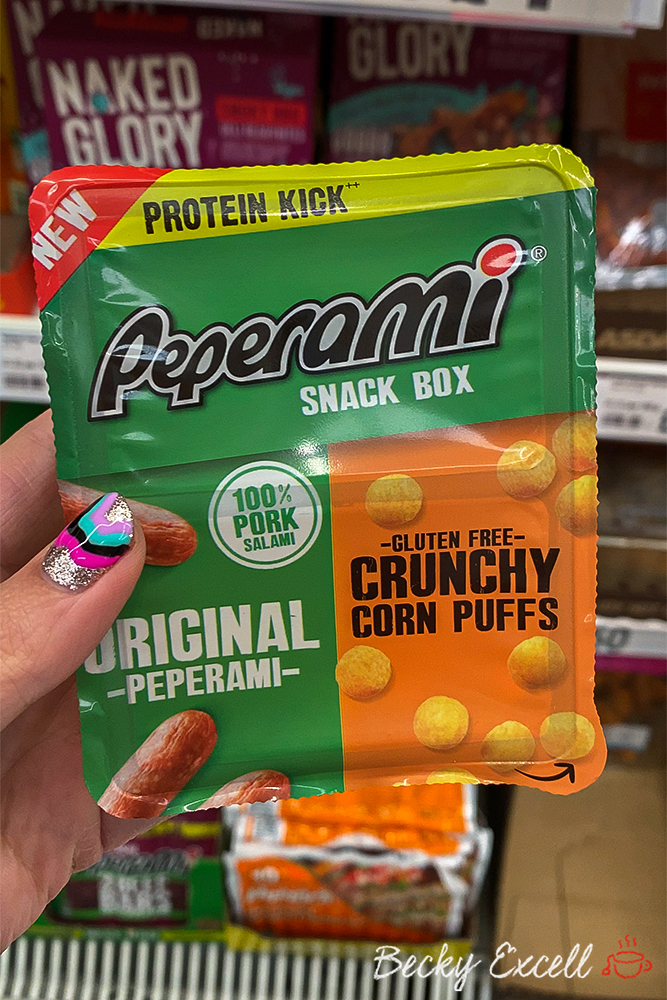 34. Asda Ready Salted Potato Loops
Gluten-free hula hoops, anyone?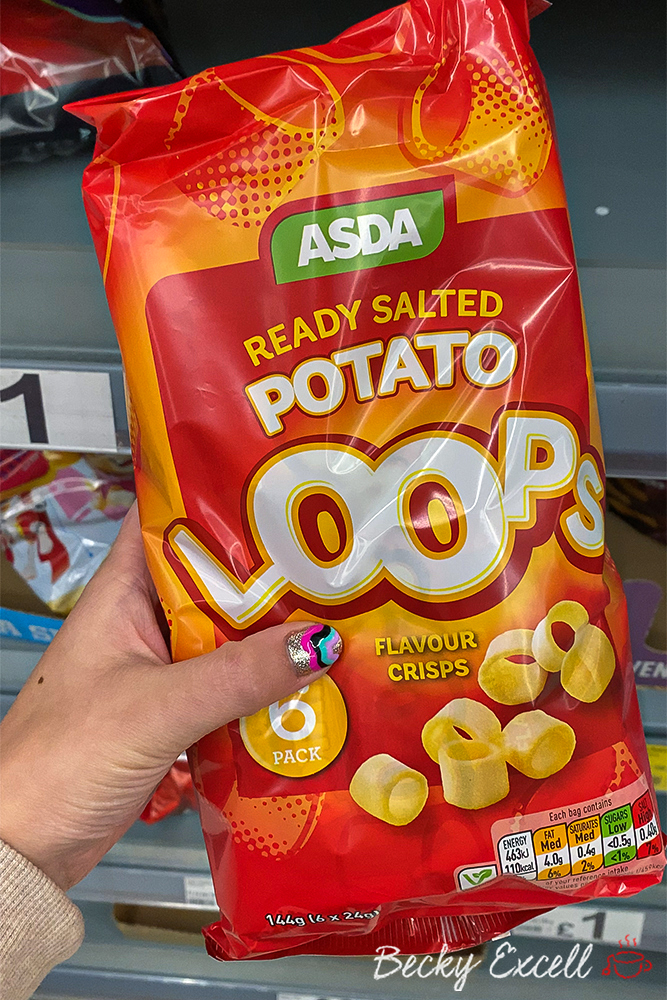 And that's all 34 'accidentally' gluten free products!
Thanks for reading through all 36 of the 'accidentally' gluten free products I've tracked down! Which one is your fave? Which ones would you have never found? Have you found any accidentally gluten free products that I've missed out here?
Let me know in the comments below or head over to Instagram and leave a comment on my most recent photo.
Thanks for reading,
Becky xxx