50 'accidentally' gluten-free products in Morrisons! Everything from gluten-free curly fries, gluten-free Marmite, own-brand cereal, vegetable suet and tons more. You wont find them in the free from aisle, so here's where they're hiding!
50 'accidentally' gluten-free products in Morrisons – all at 'muggle' prices! BUT there's one important caveat to these finds that you MUST know about, so *please* don't just skip to looking at all the products. Let me explain below…
Before you scroll further, please make sure you're following me on Instagram by tapping here. It's a massive help to me and that's where I post my latest gluten-free product finds first on my reels!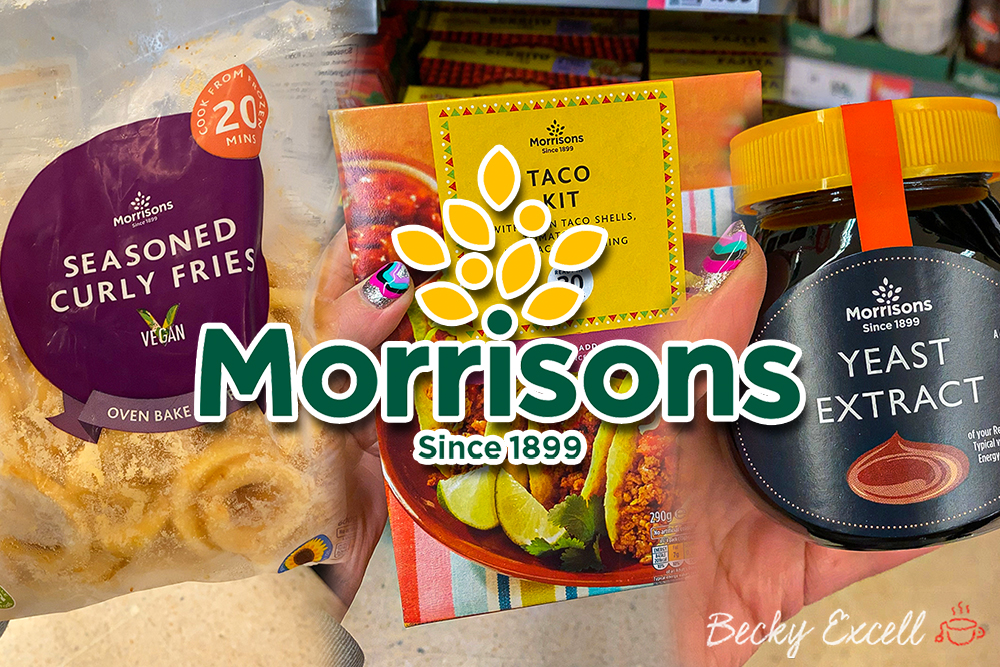 What is an 'accidentally' gluten-free product?
An 'accidentally' gluten-free product is one which is outside of the free from aisle, but doesn't contain gluten, or have a 'may contain' warning for wheat, gluten etc.
According to Coeliac UK, that makes them safe for us to eat! And it expands our choice to so much more than just the free from aisles. They don't have to be labelled as gluten-free, to be gluten-free!
(of course, Morrisons have been helpful and labelled a lot of these as gluten-free anyway)
But there's one problem… how do you know an 'accidentally' gluten-free product when you see one? Fortunately, I'm about to show you the 50 'accidentally' gluten-free products in Morrisons…
But aren't these products potentially made in an environment that also contains gluten?
If a product was produced with a risk of cross-contamination, it would have to declare a 'may contain' warning on the packaging. That's why Coeliac UK say: no gluten-containing ingredients/'may contain' warning = gluten-free!
50 'accidentally' gluten-free products in Morrisons: Public Service Announcement
Of course, as most of these products aren't specifically made for people who are gluten-free, please double check the ingredients for yourself before you buy them.
Why? Well, though I've gone through great lengths to ensure all these products are safe for you lovely people, you never know when ingredients might change. Plus, some products may look almost identical, but have different ingredients from store to store.
That's why it's always good to get in the habit of checking yourself first – never blindly trust what you read online, as you can never be too careful with your health. Even if I tell you something is gluten-free, I'd always recommend checking yourself first!
As of September 2020, all of these products are safe to eat – but please, please let me know if anything changes by leaving a comment below this post.
1. Morrisons Seasoned Curly Fries
Can you believe that these are gluten-free? I've never seen them anywhere outside of Morrisons!
It's weird that these aren't up-to-date on the Morrisons website as being gluten-free, because they used to be in the free from frozen section of my Morrisons for the last 6 months.
(again, please read the paragraph above this before reading this post! Also, I have included the ingredients for this product below to help you and hopefully avoid confusion)
Now you'll find them in the 'muggle' freezer section with all the frozen chips.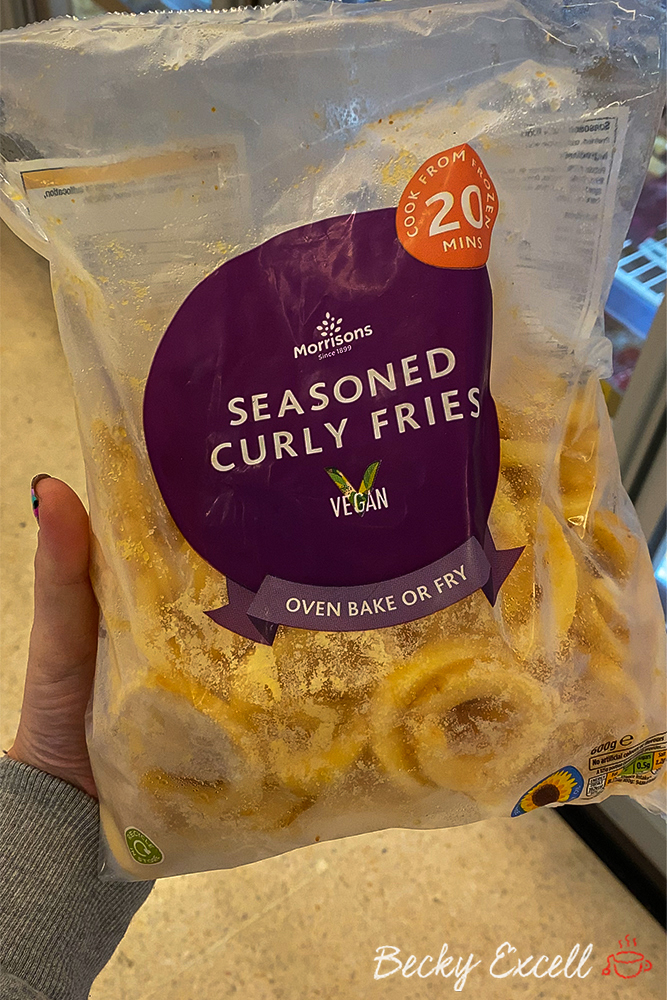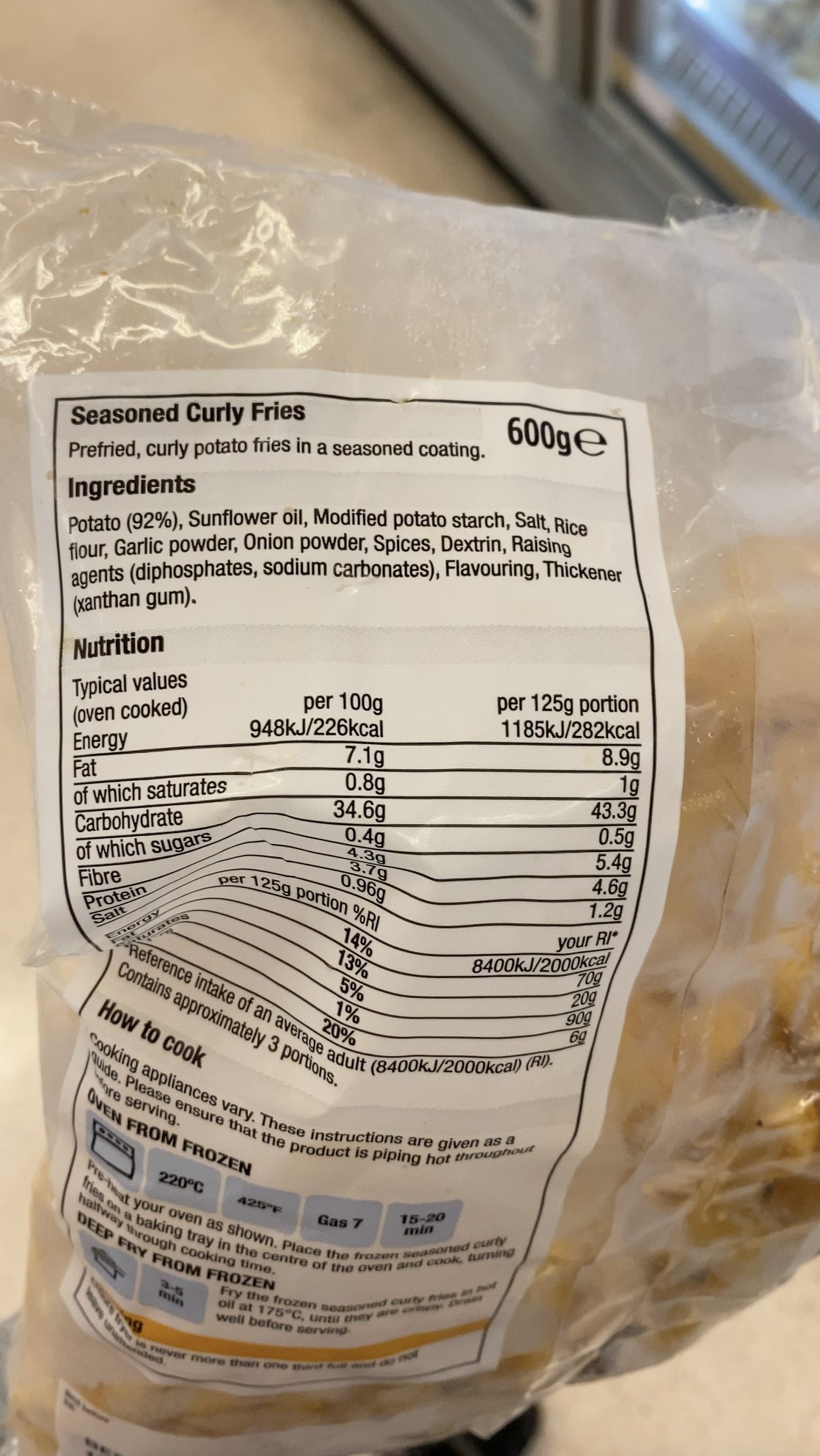 2. Morrisons Yeast Extract
Gluten-free Marmite! Yep, that's 'accidentally' gluten-free Marmite now spotted in Aldi, Tesco, Asda and now Morrisons too.
So definitely no need to miss out!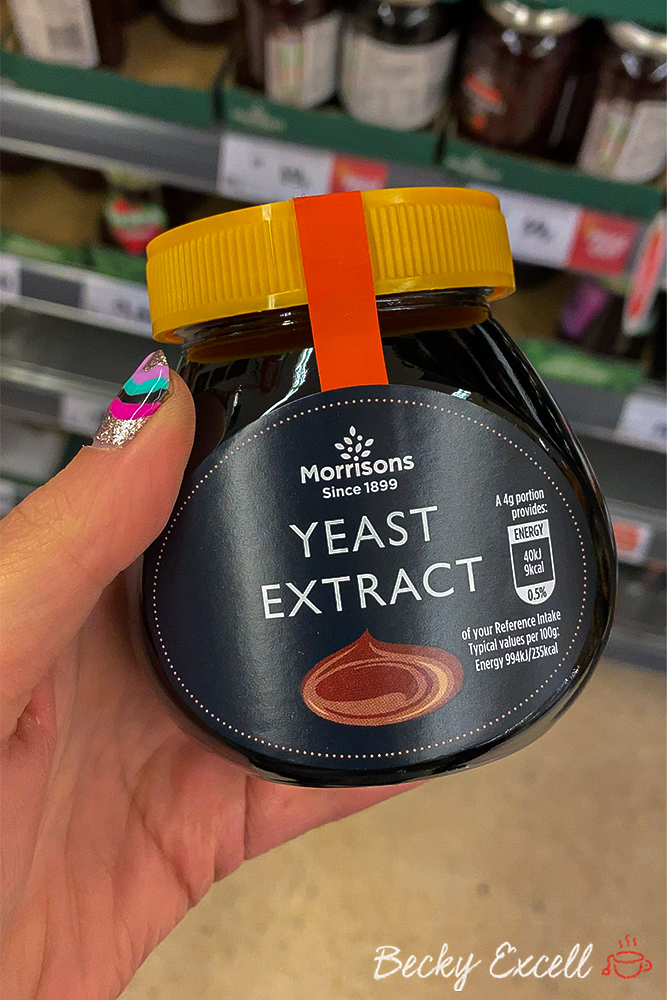 3. Morrisons Taco Kit
Corn tacos with no 'may contain' warning or hidden wheat? And at a muggle price? Yes please!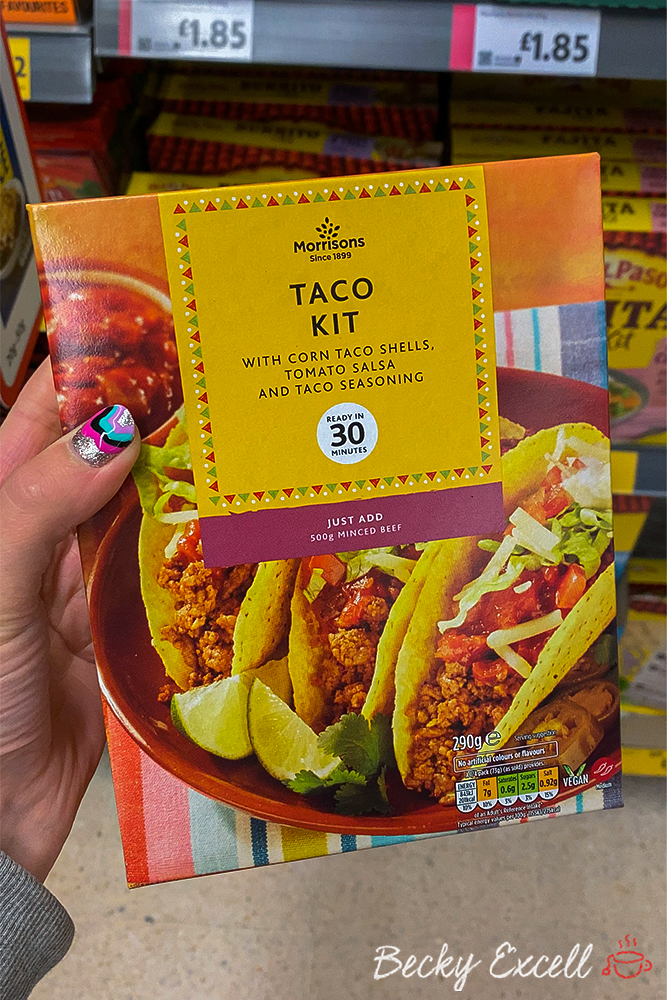 4. Morrisons Vegetable Suet
I can't live without this stuff in the winter months and it's one of the few that's gluten-free!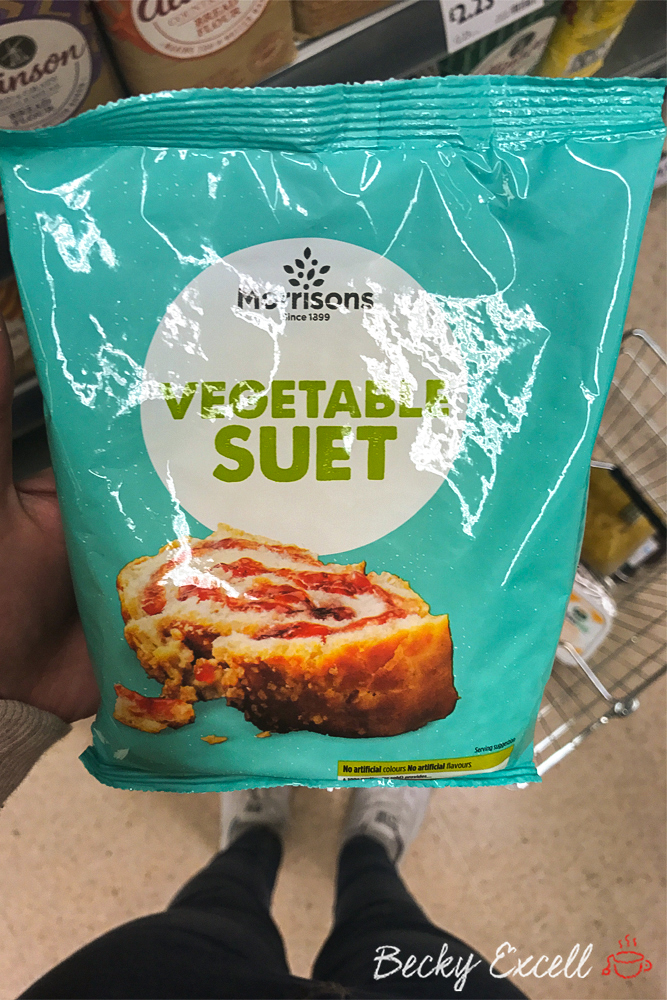 5. The Real Yorkshire Pudding Co. 4 Large Gluten-free Yorkshire Puddings
You can't go wrong with these – you can find them in Waitrose too, but no where else.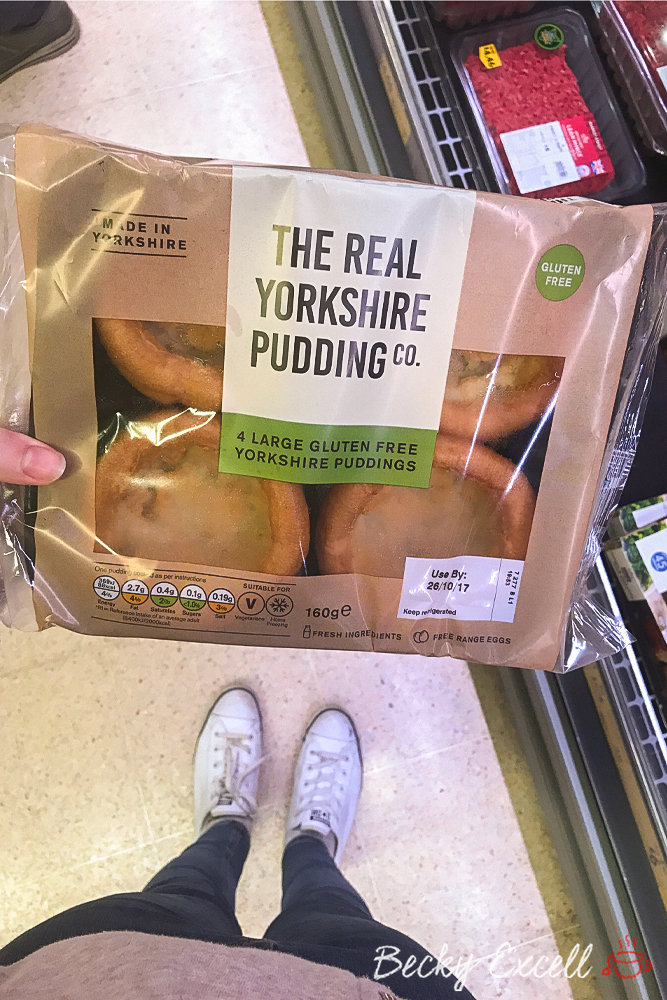 6. Brewdog Vagabond Gluten-free American Pale Ale
Whilst there's gluten-free beer etc. in the free from aisle in my Morrisons, don't miss this with all the regular booze!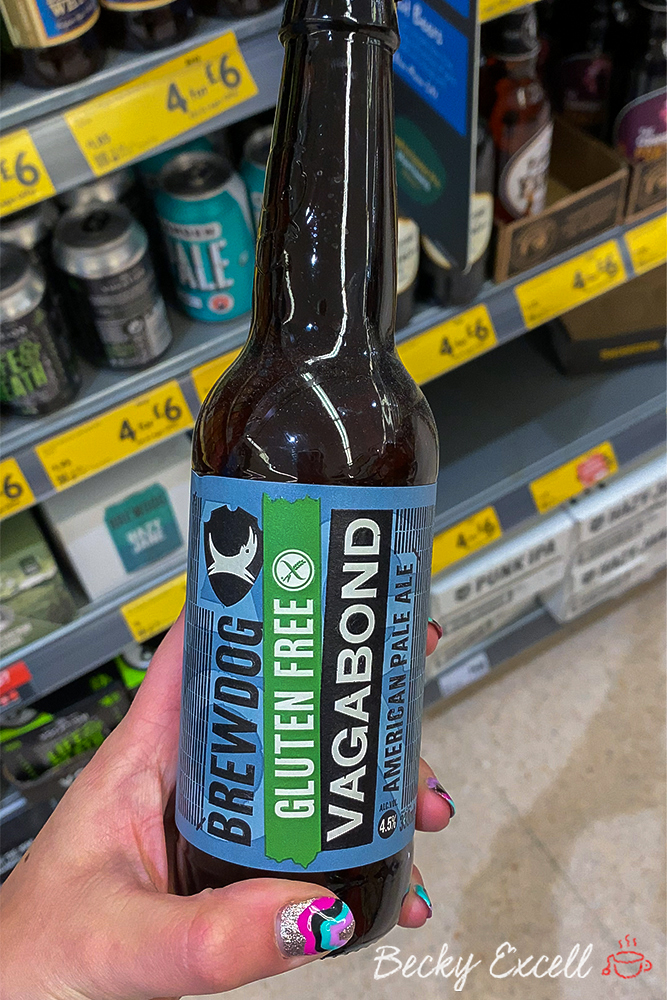 7. Crunchie Blast with Popping Candy Ice Creams x4
I often find that only Magnums are gluten-free out of all the more exciting ice cream (on sticks) so this was a welcome find.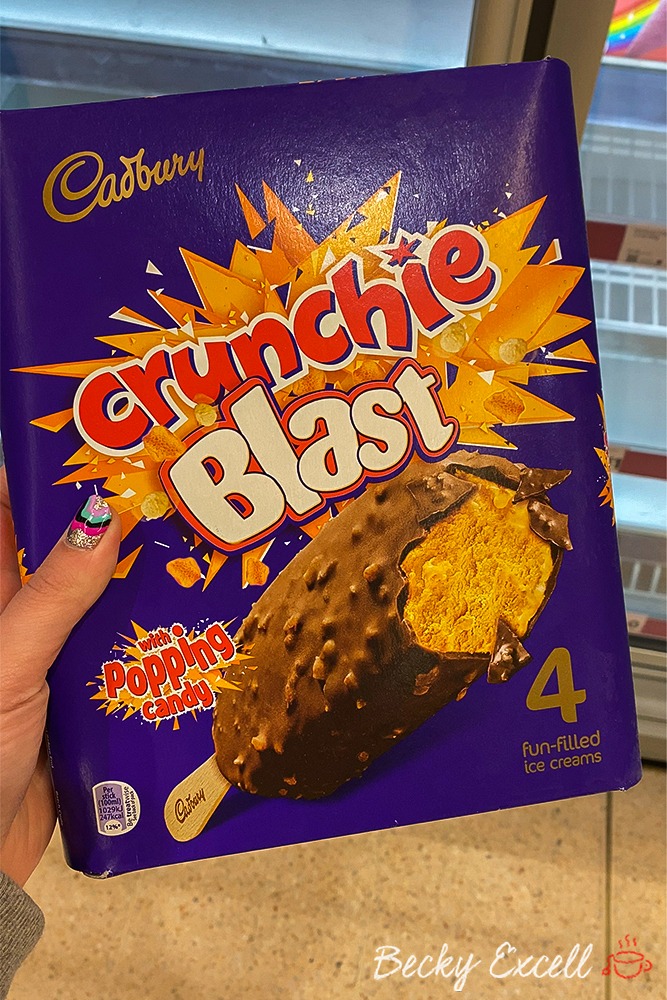 8. Almondy Daim Chocolate Cake with Crunchy Caramel
This has been around for longer than I've been gluten-free (over a decade) but you still might miss it as it's not in the free from freezer section.
Oh and also, it tastes bloody lovely!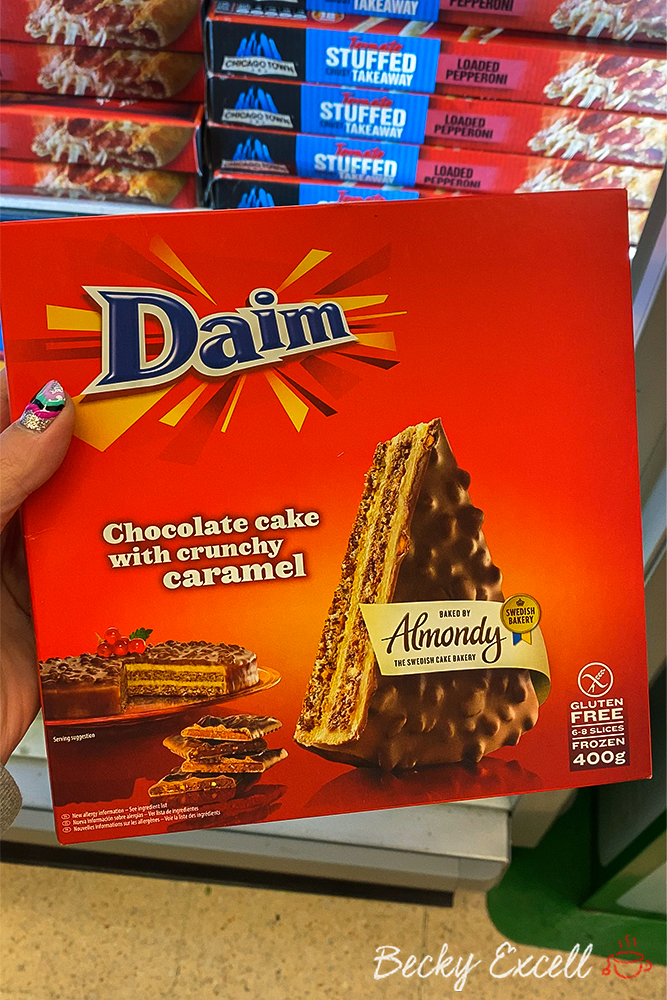 9. Morrisons 12 Potato Waffles
Whilst Birdseye waffles are gluten-free, these are cheaper AND there's more in the box.
Other supermarket own-brand waffles are NOT gluten-free, so make the most of these!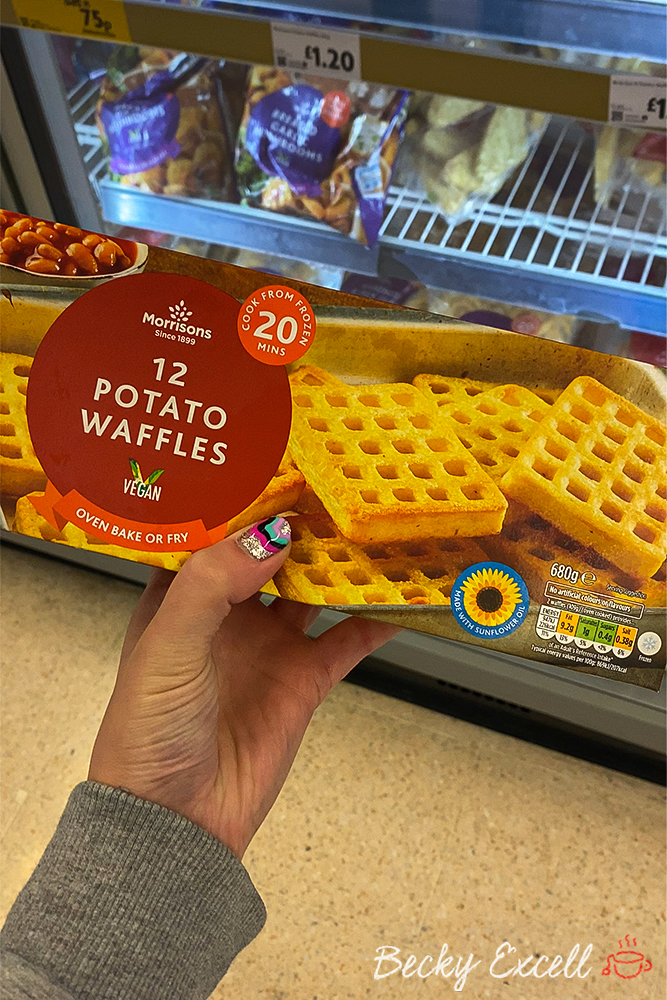 10. Morrisons Hash Browns
Who doesn't love a hash brown? Especially when it's safe to eat!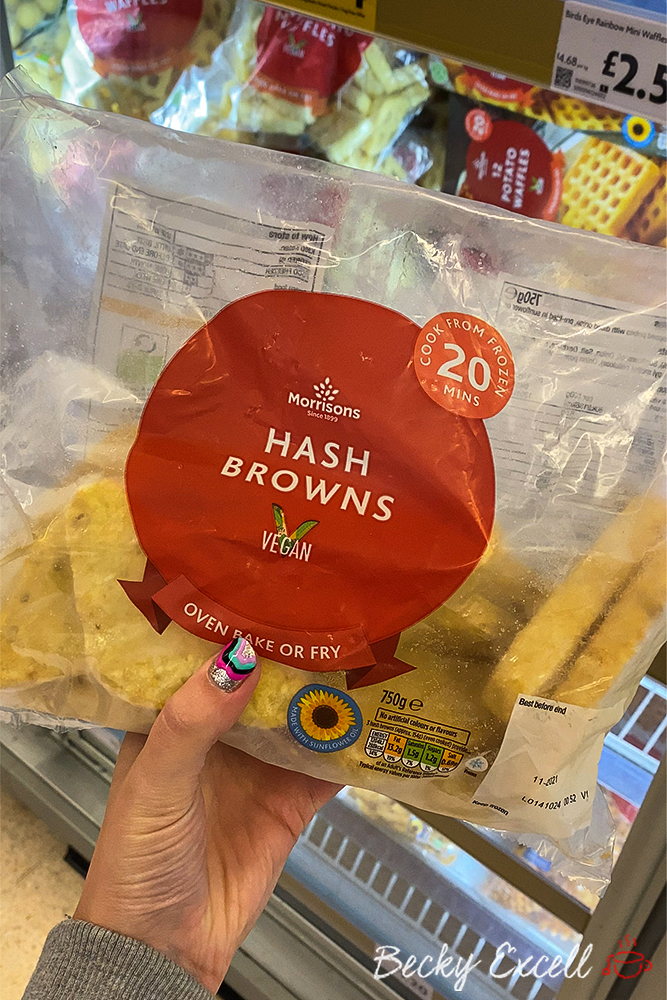 11. Like Meat Like Nuggets
As far as vegan meat-free nuggets go, these are some of the best!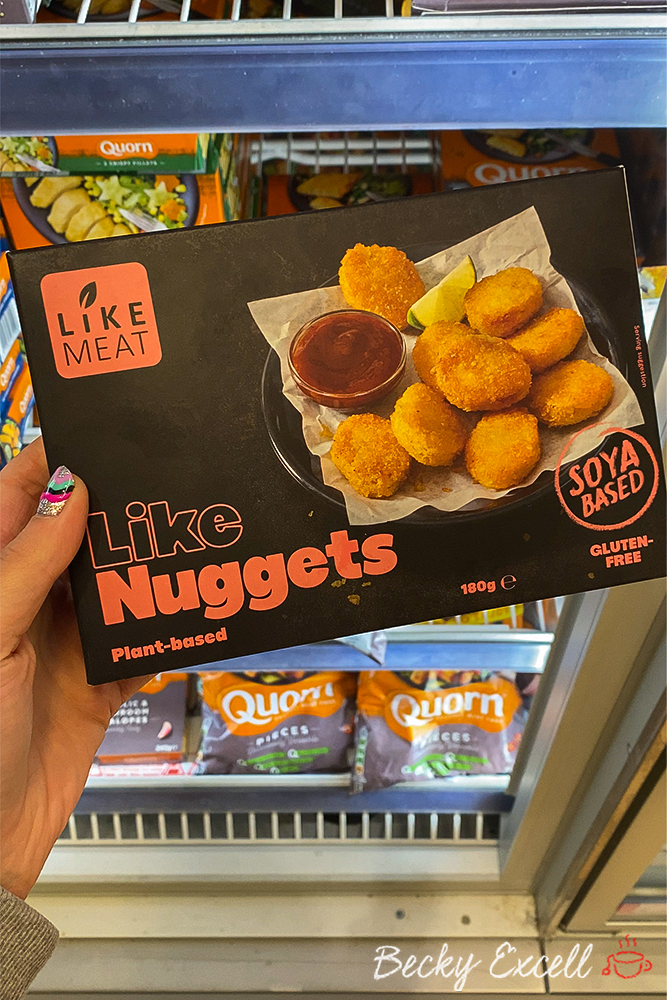 12. Like Meat Like Breaded Chicken
It's rare to find gluten-free AND vegan products, so it's great to see this in the frozen section! They also taste very 'meaty' too, I definitely recommend these, even if they're a little dear.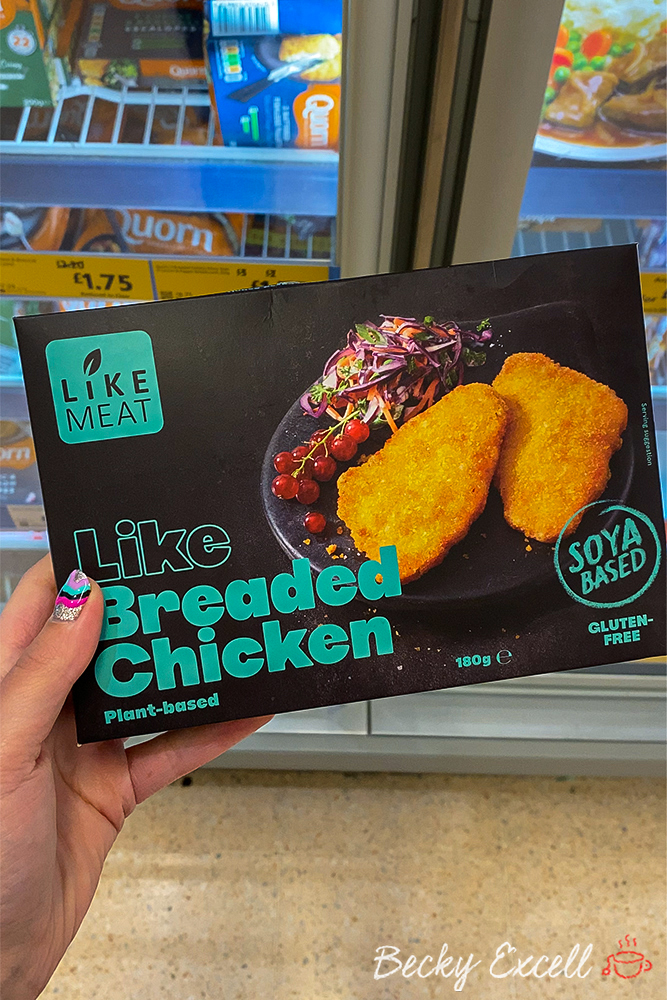 13. Lindt Lindor Strawberries and Cream Chocolate Truffles
Whilst Lindt milk chocolate truffles are NOT gluten-free, the white chocolate and strawberries and cream variations most definitely are. Enjoy!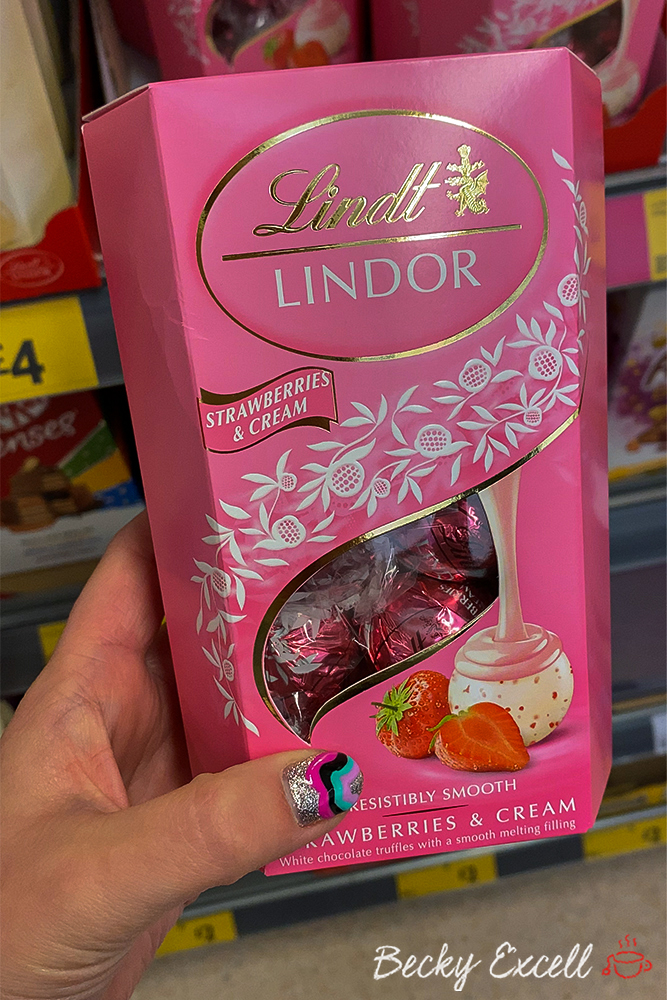 14. Seabrook Lea and Perrins Crisps x6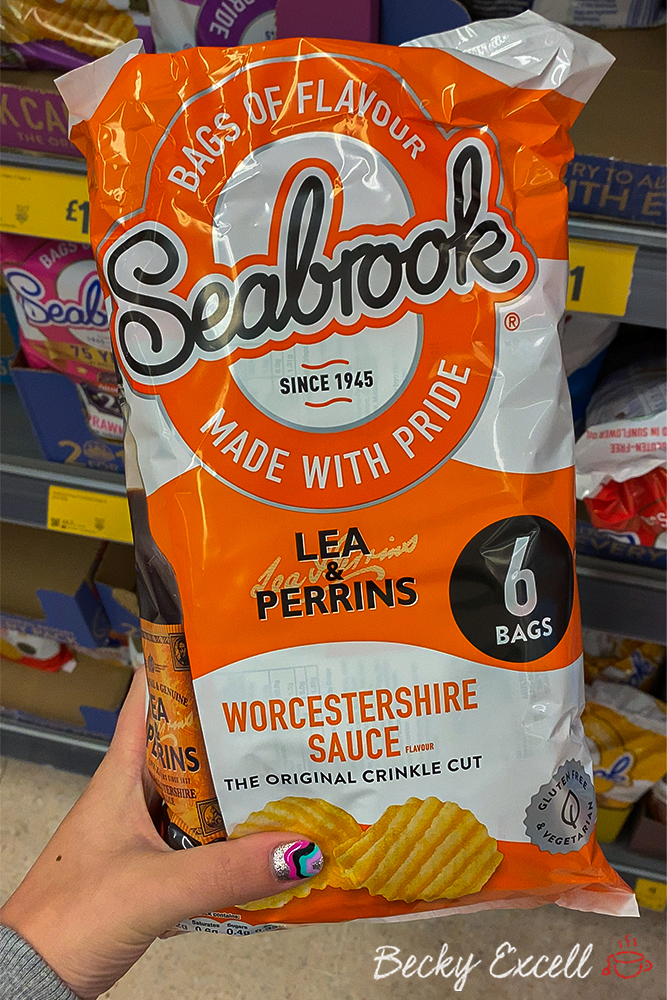 15. Morrisons Tortilla Chips Nacho Cheese
'Real' Doritos have a 'may contain' warning for wheat, but that's not that case with these! Here's a couple of different flavours: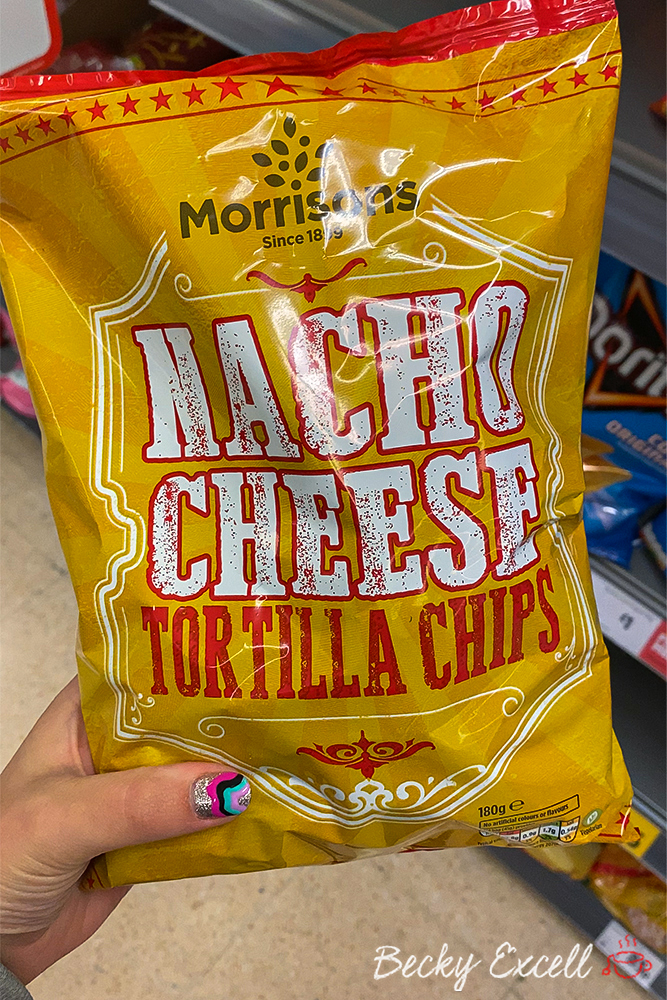 16. Morrisons Tortilla Chips Cool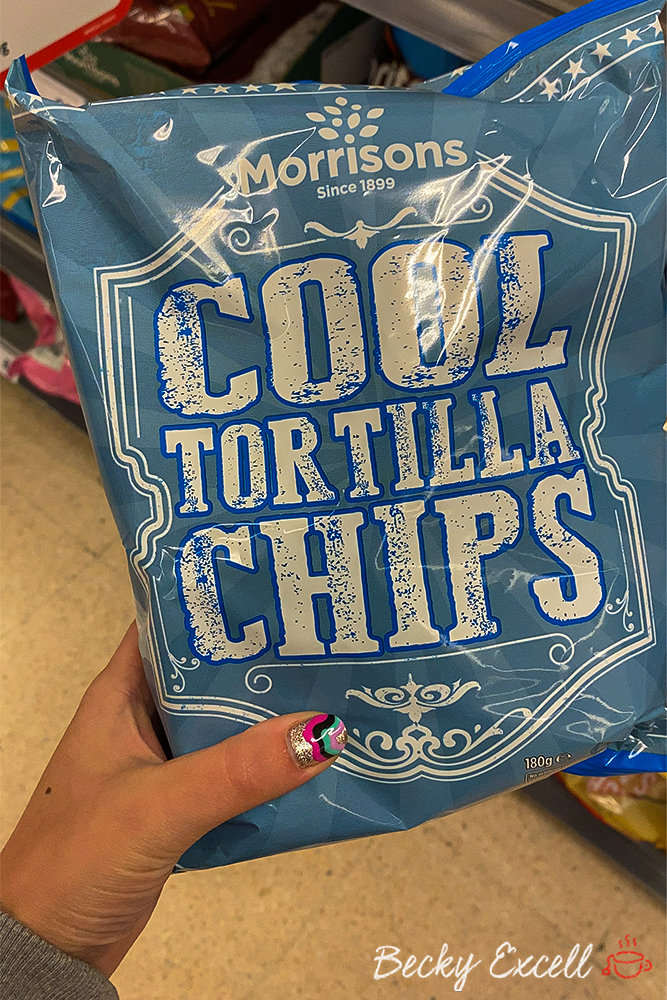 17. Morrisons Prawn Crackers
These next two are perfect alongside your gluten-free fakeaways!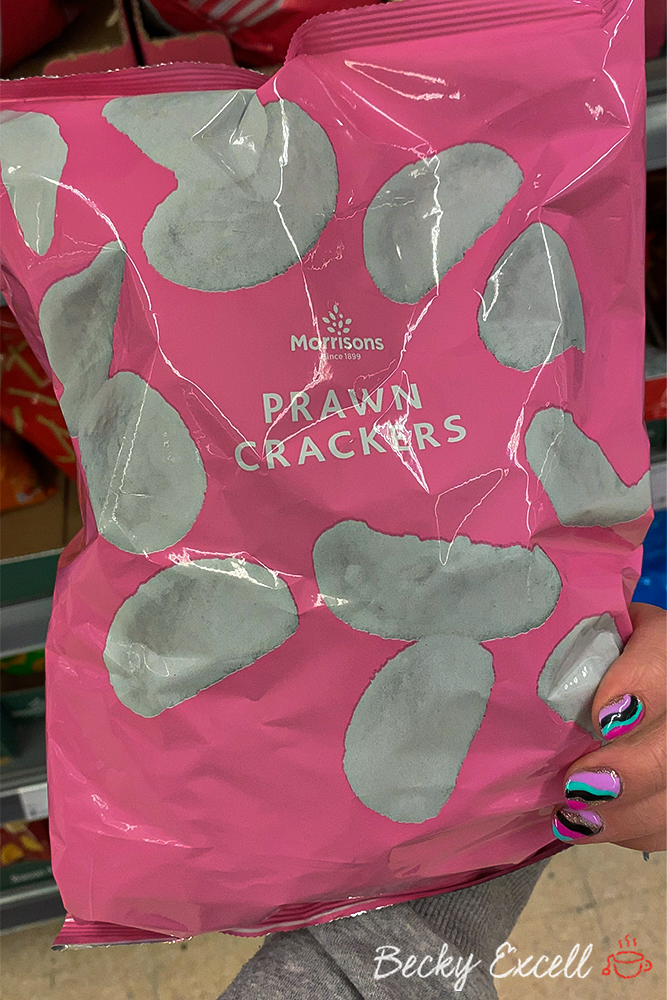 18. Morrisons Mini Poppadoms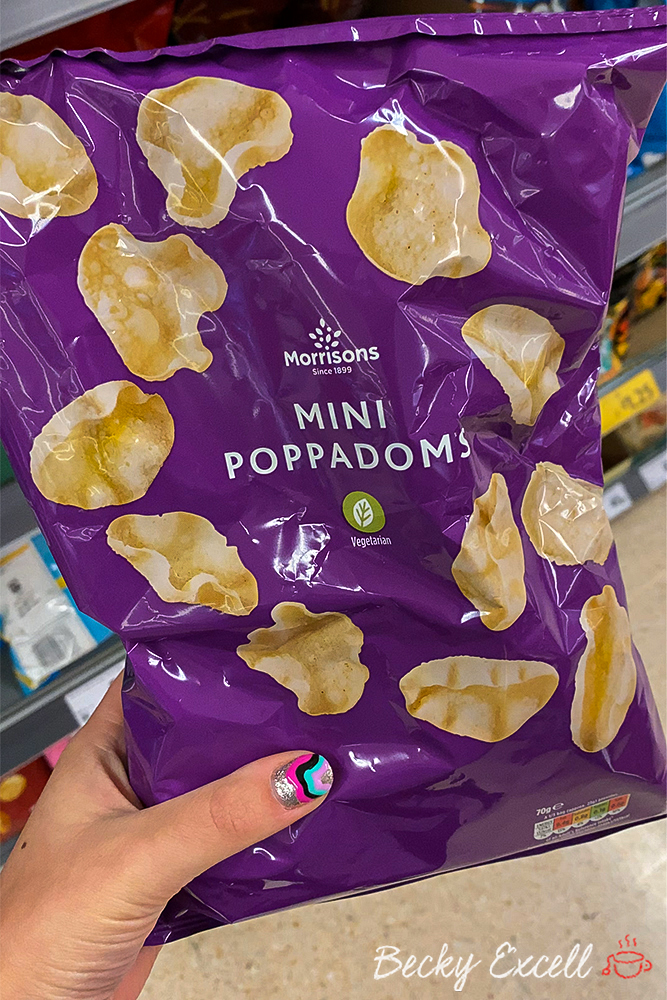 19. Morrisons BBQ Saucers
I couldn't believe my eyes when I saw that these were accidentally gluten-free. HOWEVER, these are one of those awkward ones that have totally different ingredients and a 'may contain' warning on the Morrisons website.
As I said at the start of this post, Morrisons have confirmed that the products listed on their website are out-of-date and they are in the process of updating them after we pointed this out. Thus explaining why the product I found here has totally different ingredients and was in fact, accidentally gluten-free.
(I have included the ingredients for this product below to help you and hopefully avoid confusion)
As always, use your own eyes and read the ingredients/may contains on this product when you've got them, face-to-face.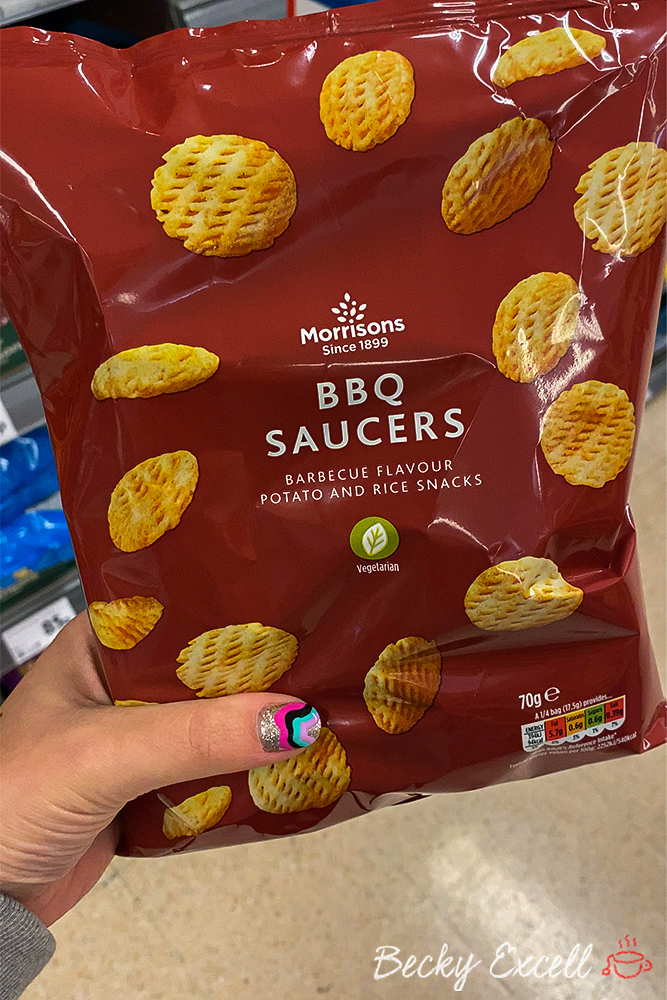 20. Morrisons Salt and Vinegar Flavour Twists
And here's a few more tasty snacks that you'd never know were gluten-free too…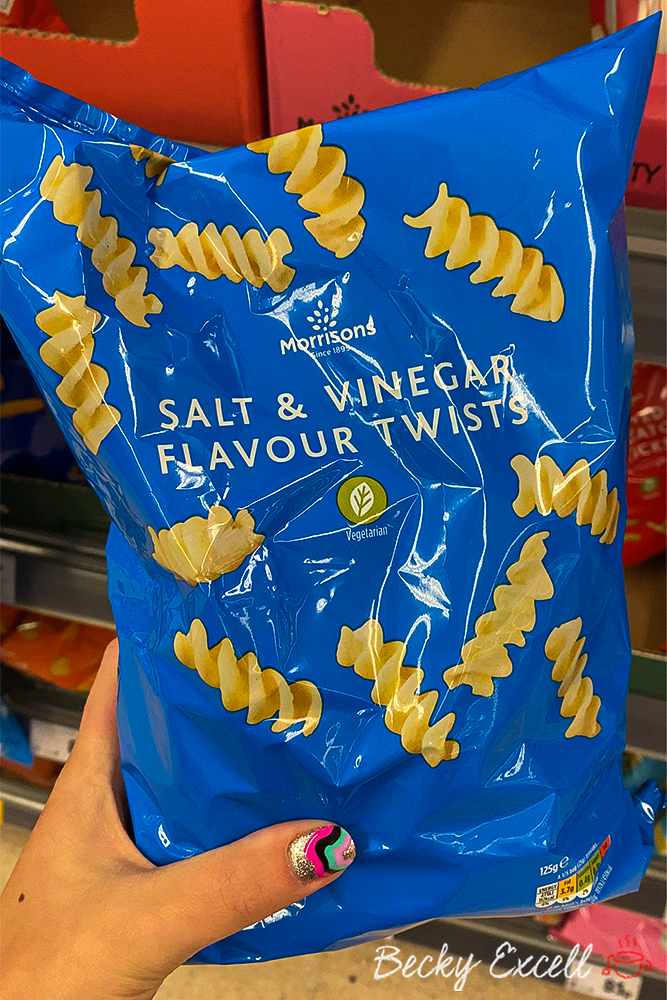 21. Morrisons Cheese Balls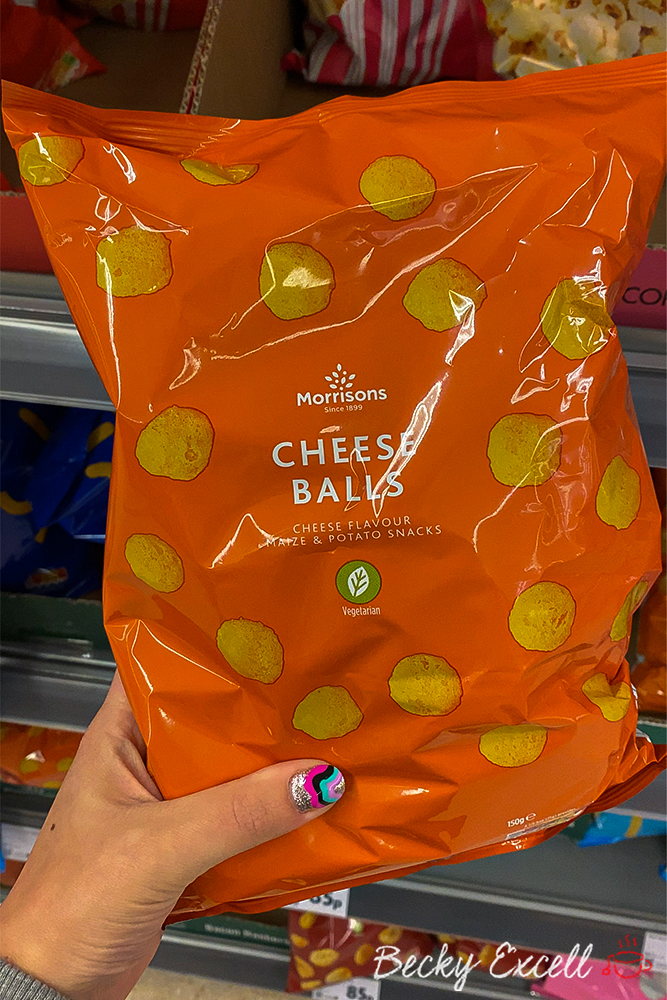 22. Morrisons Beef Potato Sticks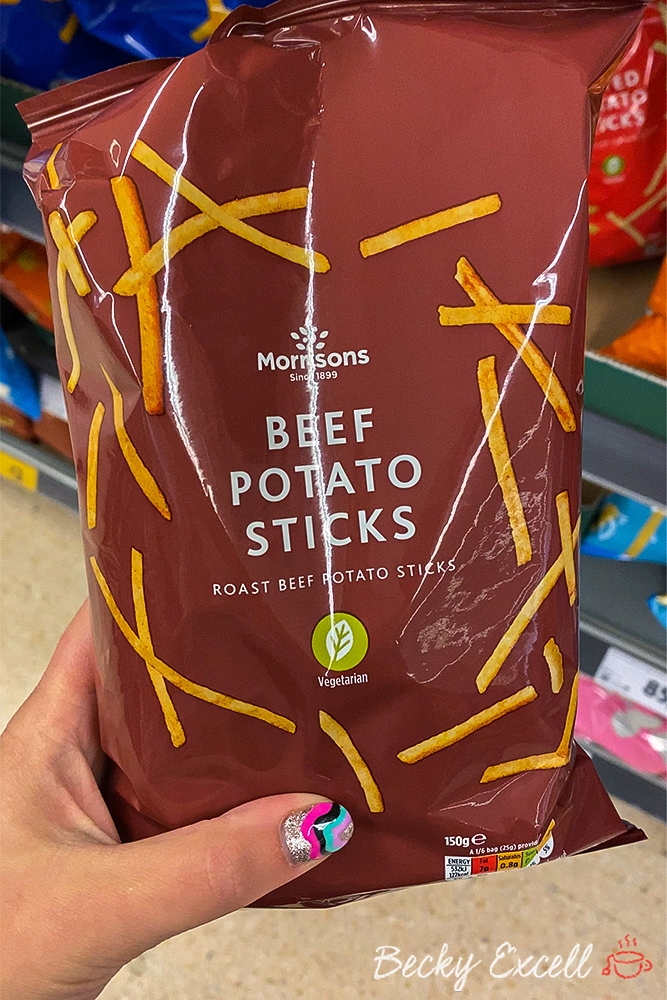 23. Morrisons Salted Potato Sticks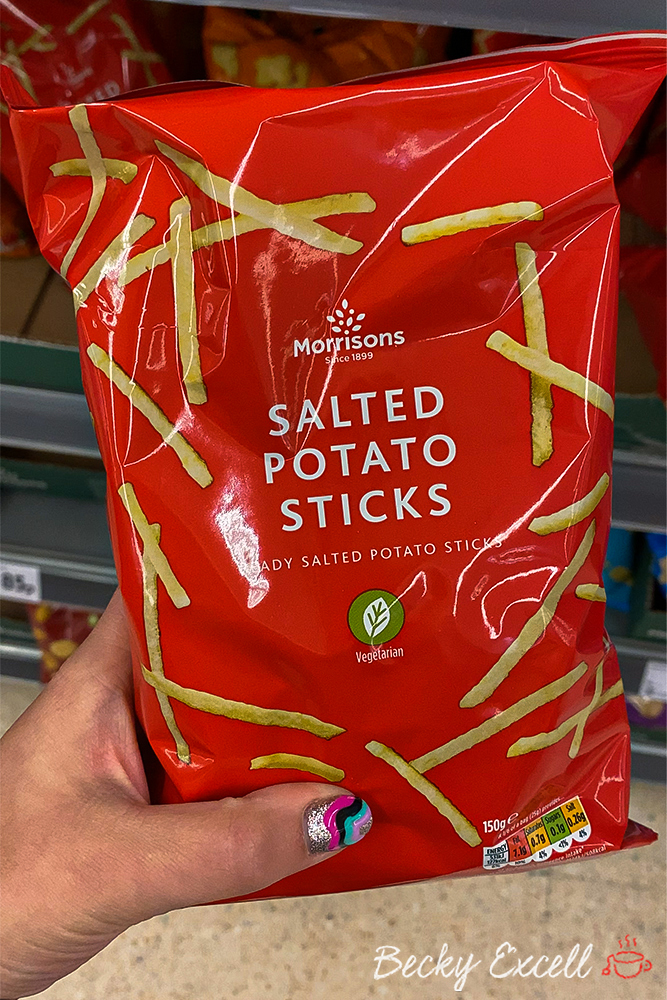 24. Morrisons Cheese Puffs
Gluten-free Wotsits anyone? No 'may contain wheat' warning like 'real' Wotsits!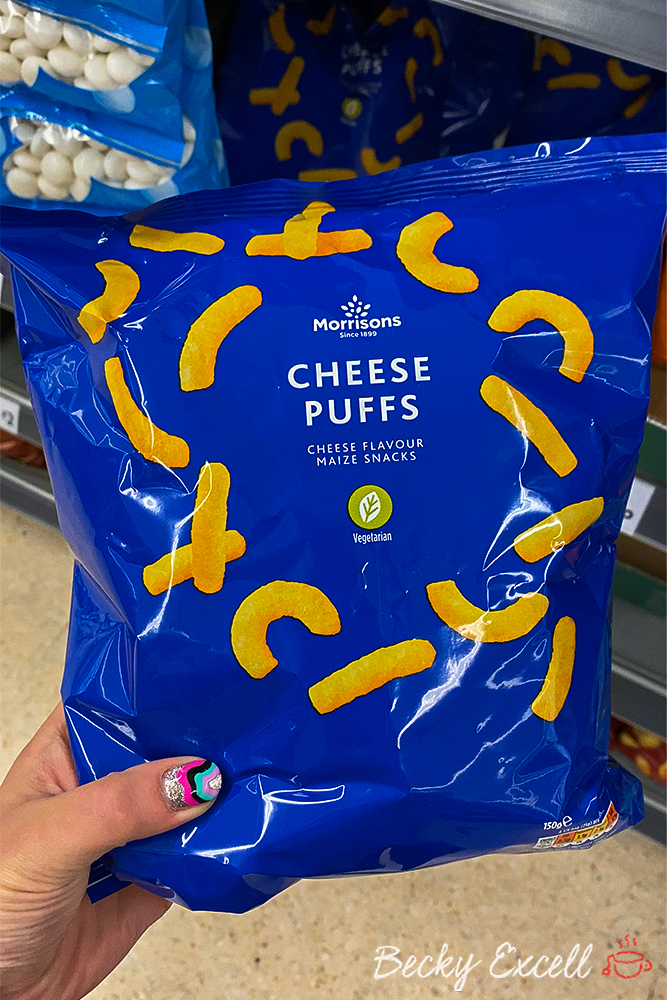 25. Morrisons Peanut Bars x4
There's not always much choice when it comes to cereal bars in the free from aisle. So here's a few you'll find with all the muggle options!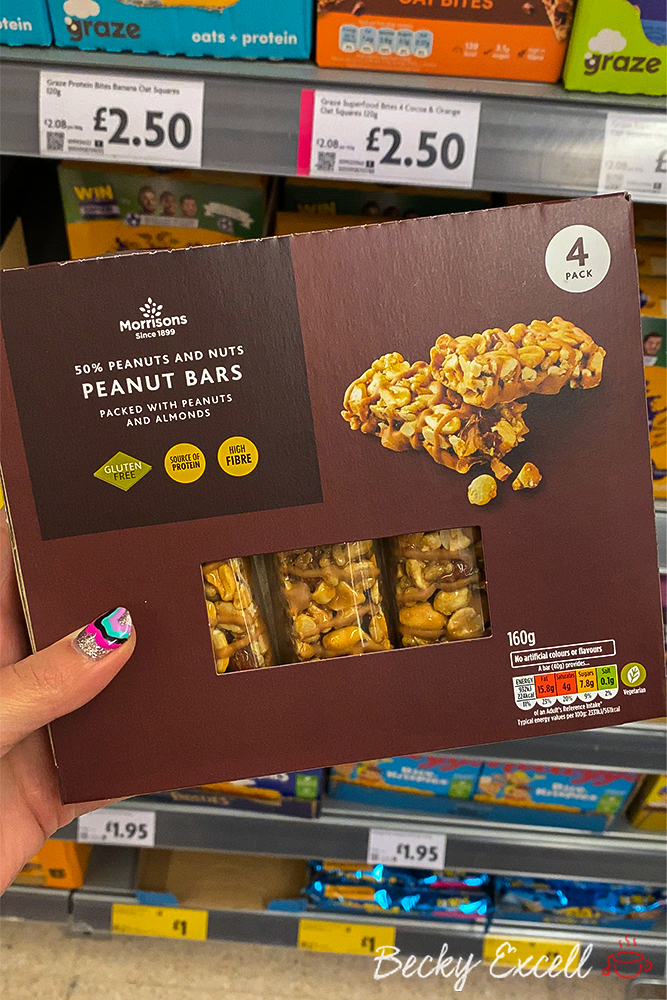 26. Nature Valley Protein Peanut and Chocolate Bars x4
I'd never assume that anything by Nature Valley would ever be gluten-free… then I read the big 'gluten-free' label written on the front.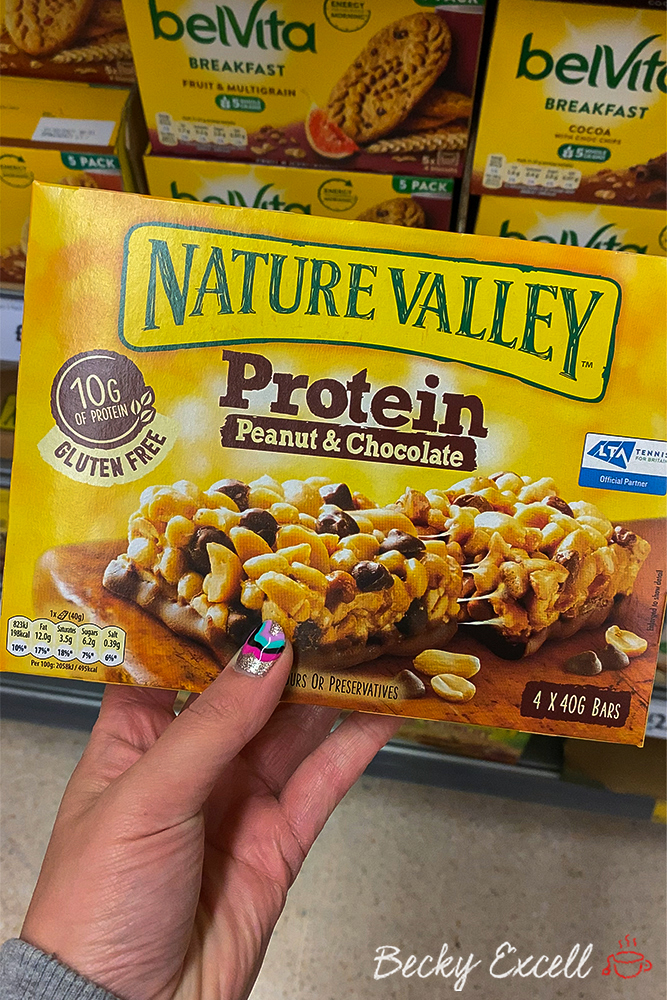 27. Gluten-free stock cubes
Instead of focussing on a specific product, I just wanted to highlight the tons of different gluten-free stock cubes/pots available in Morrisons.
Of course, this isn't all of them – most are gluten-free and clearly labelled, so here's a few from different brands.
28. Lindt Lindor White Chocolate Truffles
These are the white chocolate Lindt truffles I mentioned earlier – just to reiterate, the milk chocolate ones (and other variations) are NOT gluten-free.
Just these and the strawberries and cream ones!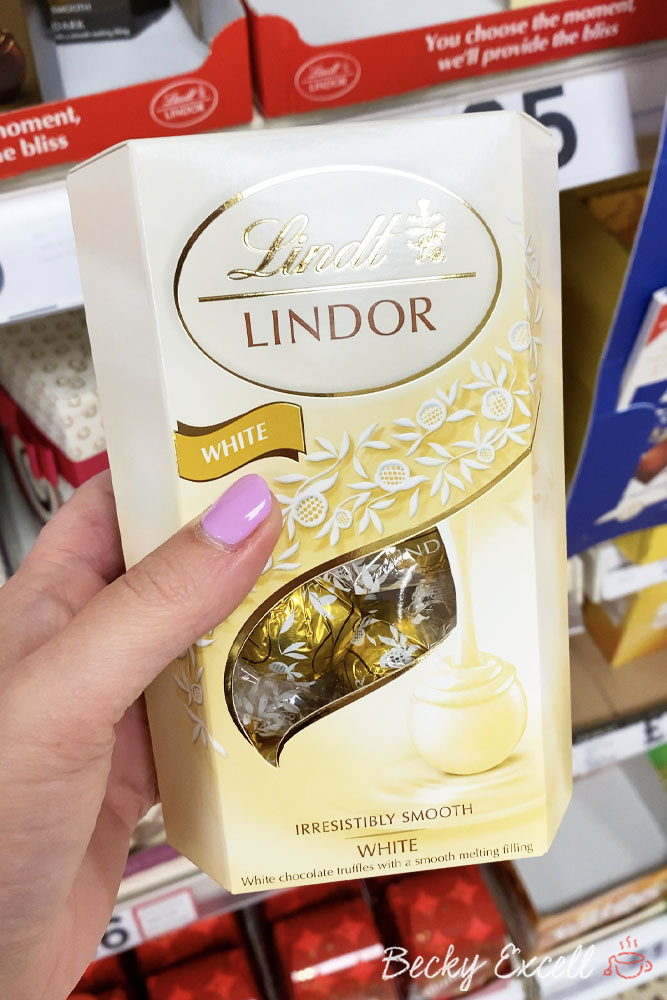 29. Morrisons Hazelnut White Chocolate Spread
This has been nicknamed 'Kinder Bueno' spread and trust me, it lives up to its name!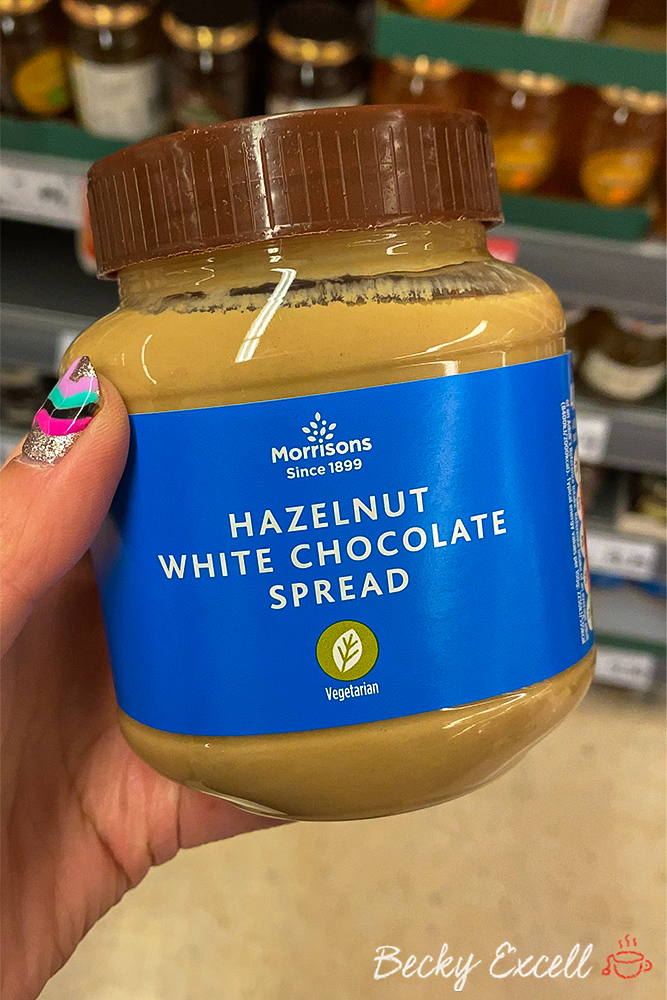 30. Ye Olde Oak Hot Dogs and Cocktail Sausages
Ok, frankfurter-style hotdogs may not be too mind-blowing, but how about cocktail sausages?
Thought you'd like that! So don't miss all of these with all the rest of the tins!
31. Itsu Pot Noodles
Don't think you're limited to 'pot noodles' in the free from aisle – you can find these Itsu pot noodles with all the muggle pot noodles.
(no real Pot Noodles are gf – sorry! Don't know why I'm apologising for that, but I am anyway ?)
32. Heinz Beanz with Pork Sausages
The pork sausages in tins of beans are almost NEVER gluten-free… apart from when they are in these!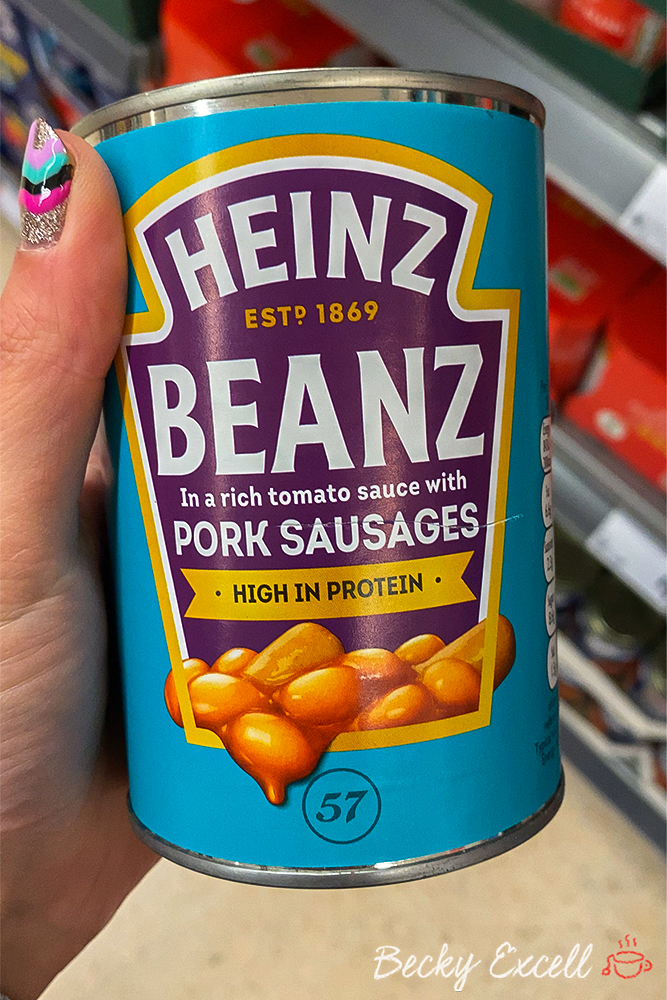 33. Hendersons Relish
This is basically Worcester sauce, but without the barley that most other brands contain!

34. Sharwood's Chinese Curry Cooking Sauce
How is this gluten-free? I would have never given it a second look. What a win!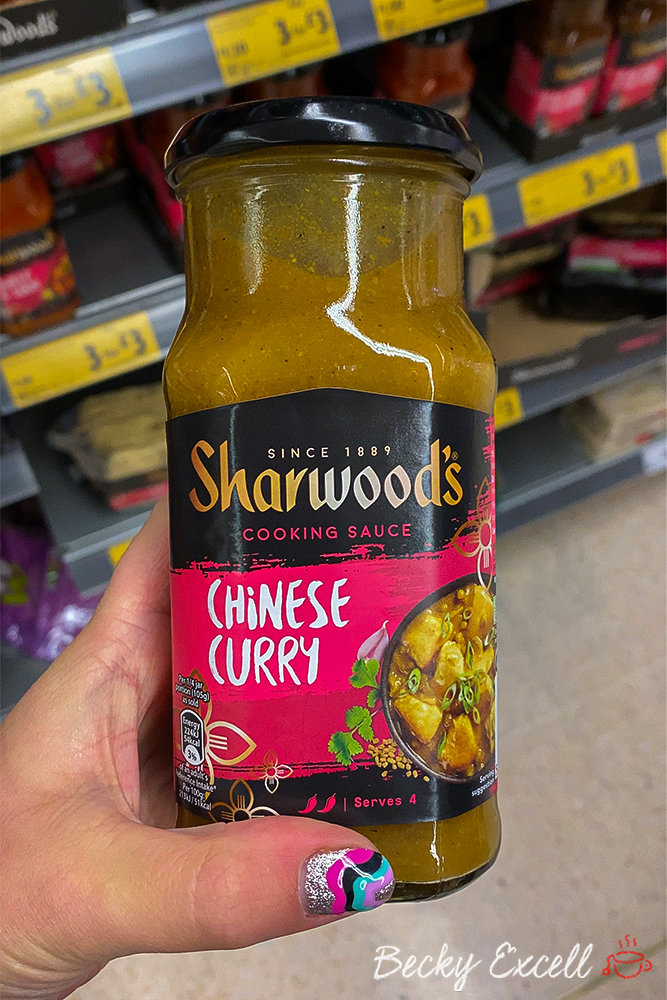 35. Morrisons 8 Spicy Poppadoms
Not all poppadoms are gluten-free in supermarkets, so this is a welcome find!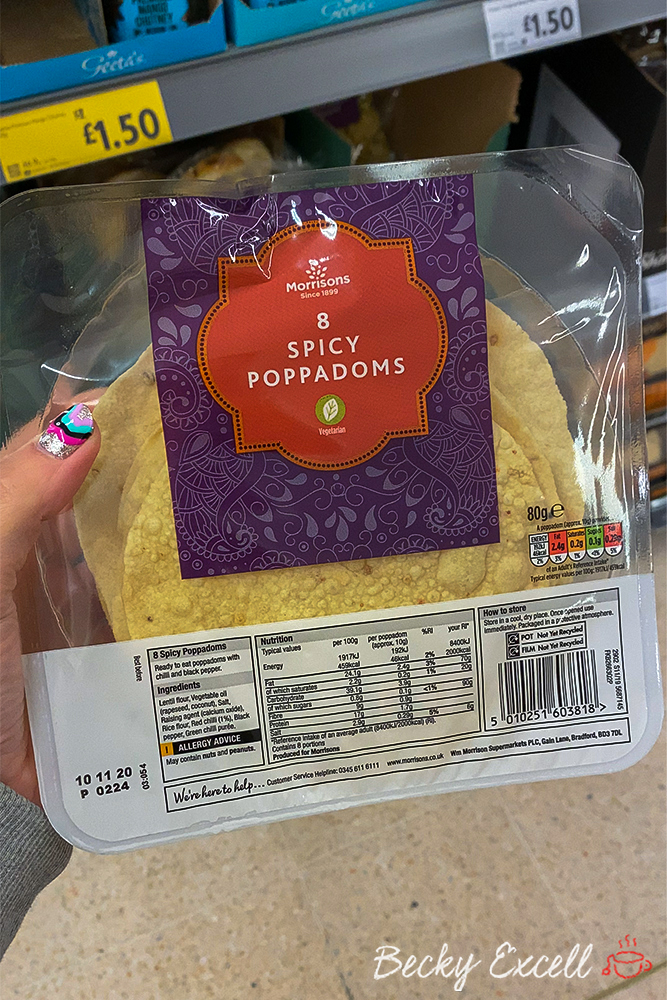 36. Muller Milk Frijj Cookie Dough Flavour
I will most definitely take anything that's cookie dough flavour, but is actually gluten-free! I wouldn't normally expect to be able to enjoy this, so I'm happy I don't have to stick to the more 'done' flavours.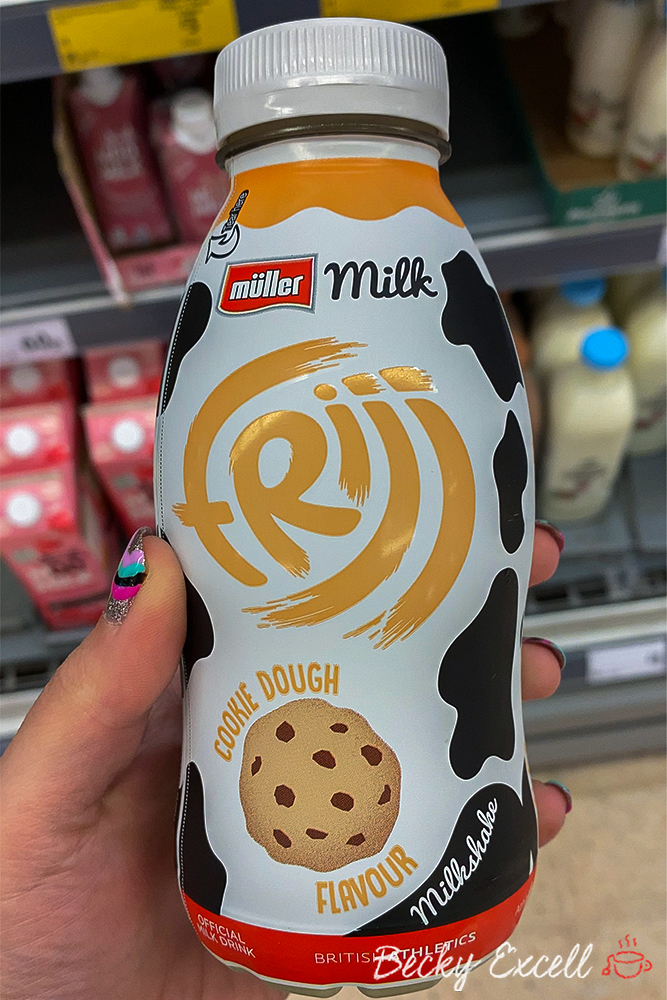 37. These specific Quorn products!
Of course, not all Quorn products are gluten-free, so here's some you can enjoy.
38. The Meatless Farm Co meat-free burgers and meat-free mince
And here's a few more gluten-free AND meat-free options for dinner too.
39. Morrisons Carvery Breaded Ham
Some of Morrisons breaded ham is actually gluten-free! NOT all of them though, so make sure you look for the Morrisons gluten-free logo.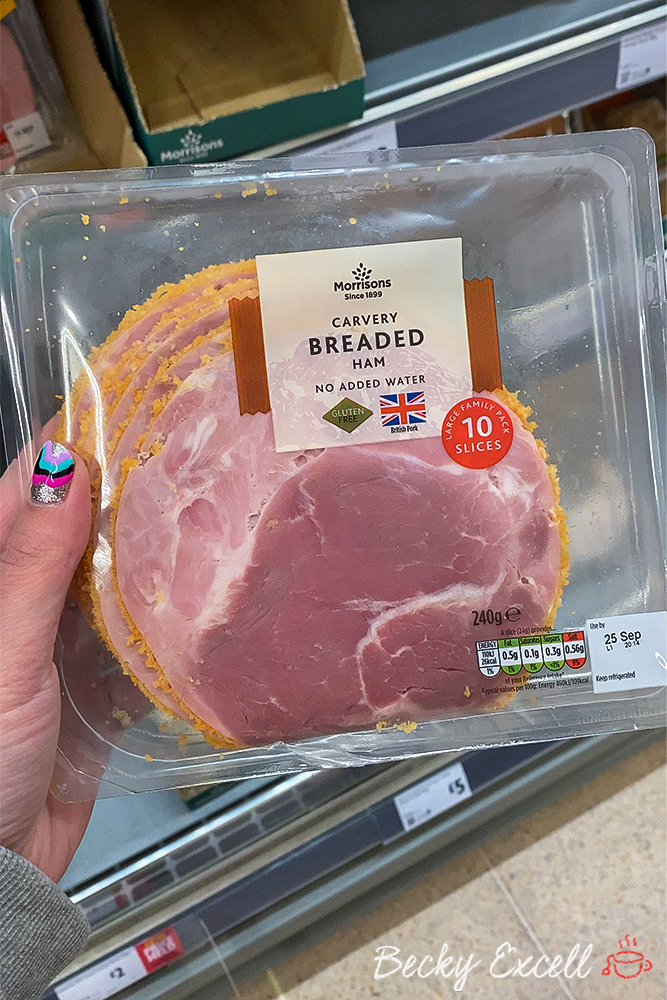 40. Peperami Snack box with gluten-free crunchy corn puffs
Not only do I love that the crunchy corn puffs are gf, but I also love that they clearly labelled them for once!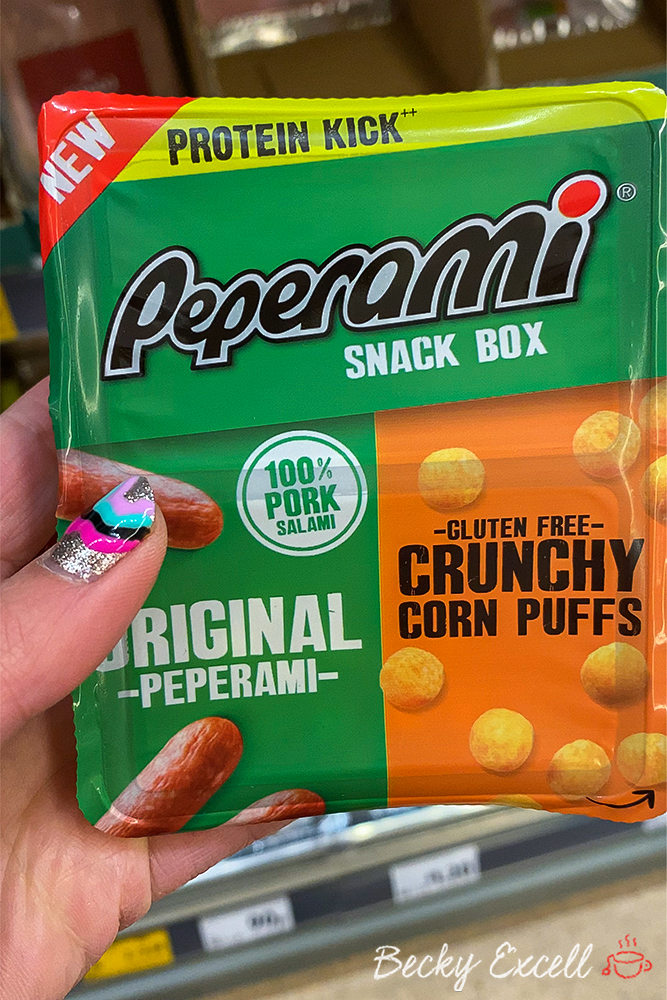 41. Morrisons Beef Gravy
There's zero gluten-free gravy granules outside of the free from aisle, so this is another good find if you like fresh gravy!
This is yet another product that was 'accidentally' gluten-free in-store when I checked it (no gluten-containing ingredients/may contain) but this product has a 'may contain' wheat according to the Morrisons website.
(I have included the ingredients for this product below to help you and hopefully avoid confusion)
So once again, please double check the ingredients/may contains for yourself when you're face-to-face with this in-store.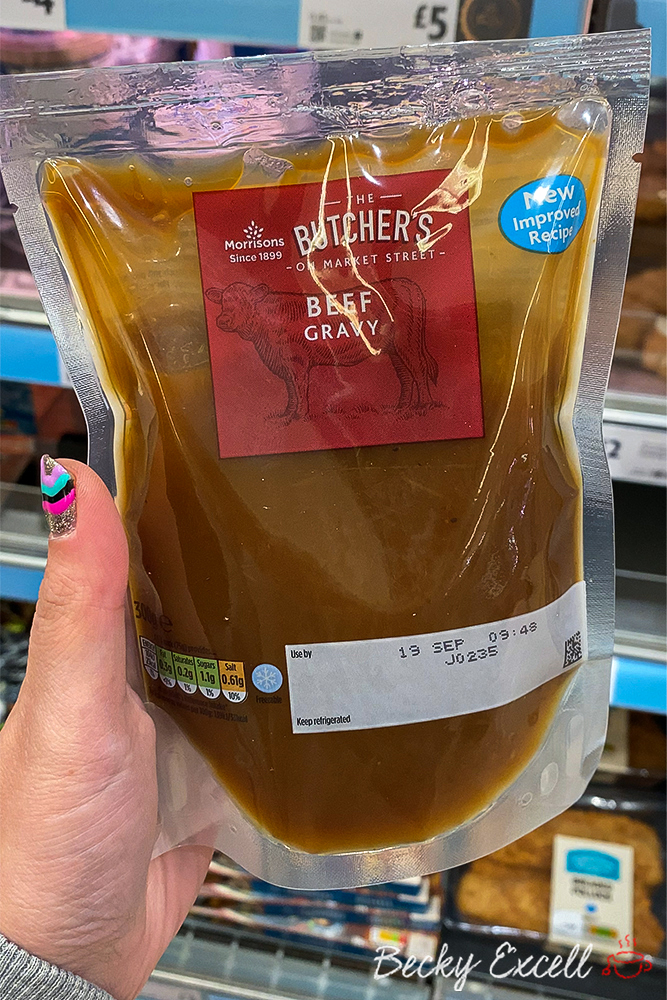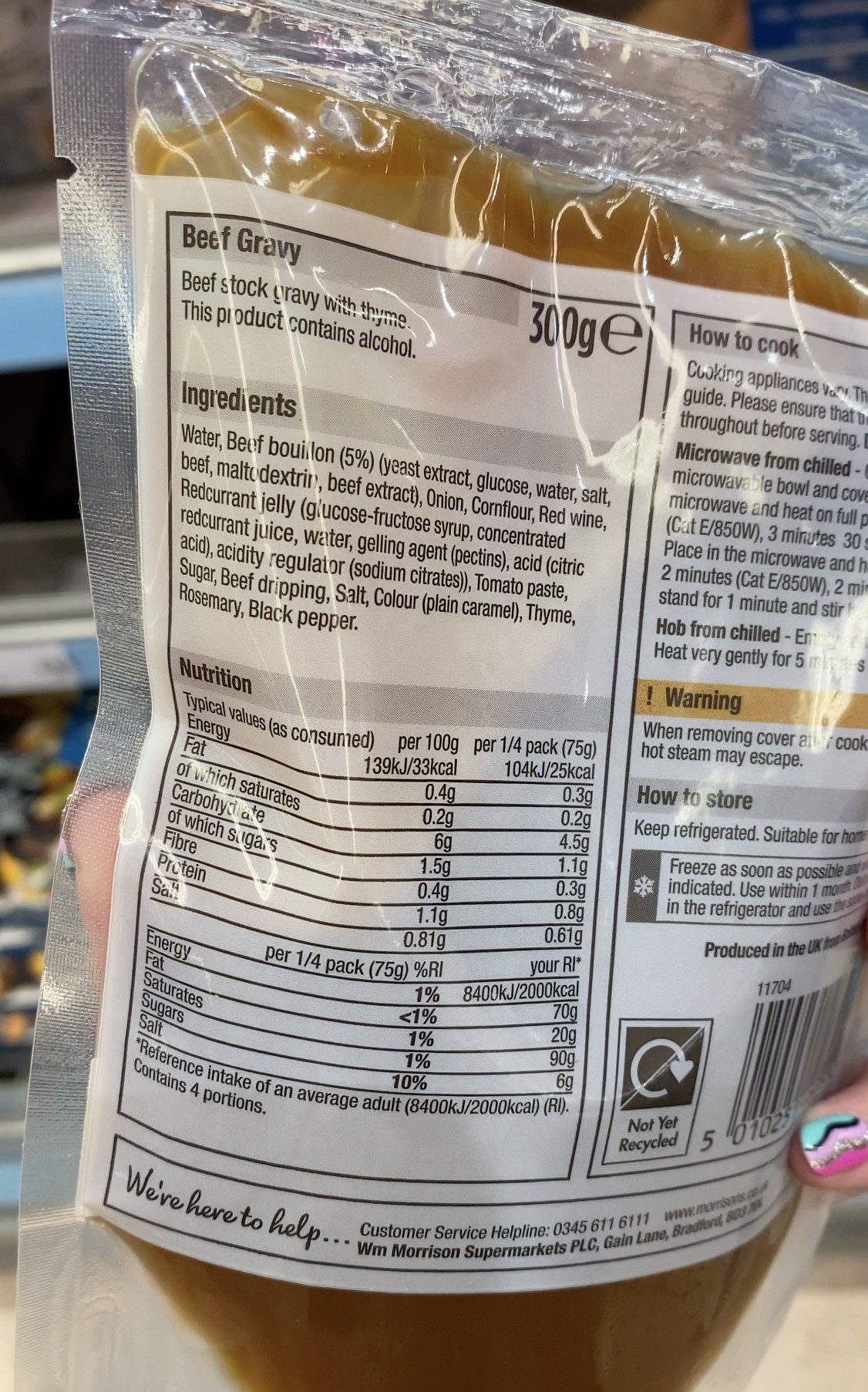 42. The Turkey Kitchen Thai Style Cakes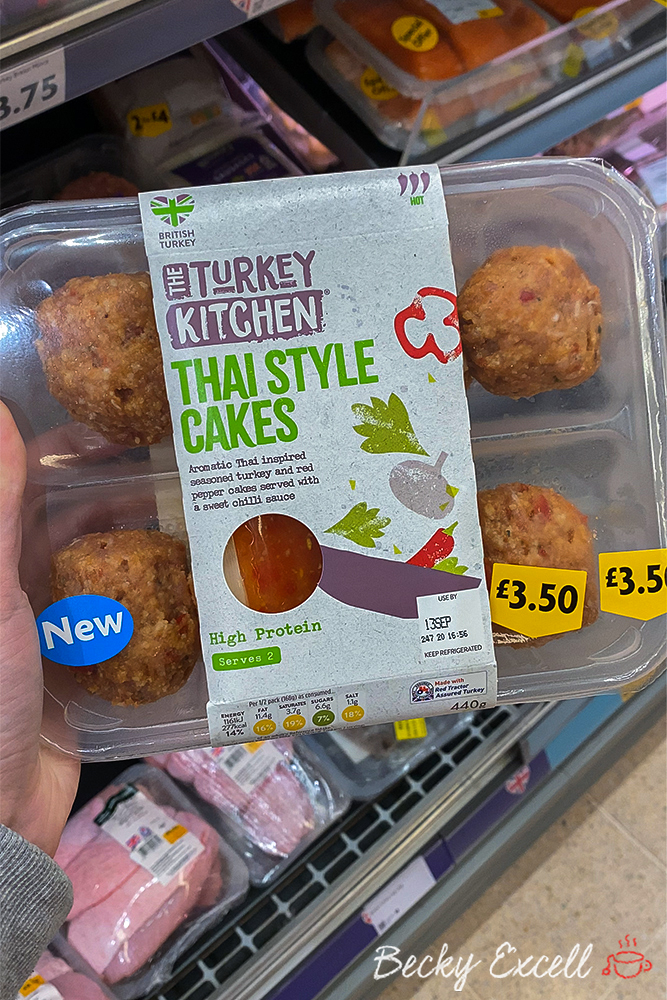 43. The Turkey Kitchen Katsu Steaks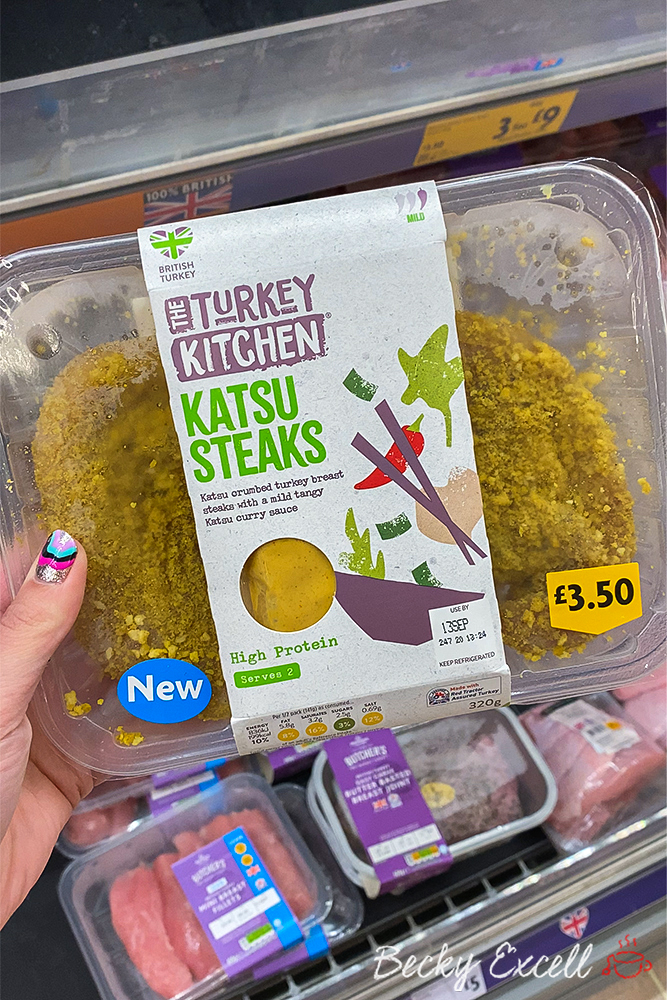 44. Morrisons Teriyaki chicken mini fillets and Chinese-style chicken drumsticks/thighs
I picked these up not expecting these two to be gluten-free AT ALL. So this was a nice surprise! They appear to be 'BBQ food' so they may not be around forever.
Make the most of it!
45. Heck Meat-free sausages and Morrisons Old English Pork Sausages
Here's some meat-free sausages AND some meat sausages that are both clearly labelled as being gluten-free.
46. Morrisons 2 Ultimate Burgers, 4 sweet chilli turkey burgers and 4 vintage cheddar beef quarter pounders
And there's quite a few burgers to choose from too!
47. Simon Howie Wee White Pudding
The black pudding in Morrisons isn't gluten-free, but this wee white pudding is. It contains gluten-free oats, just in case you struggle to tolerate them.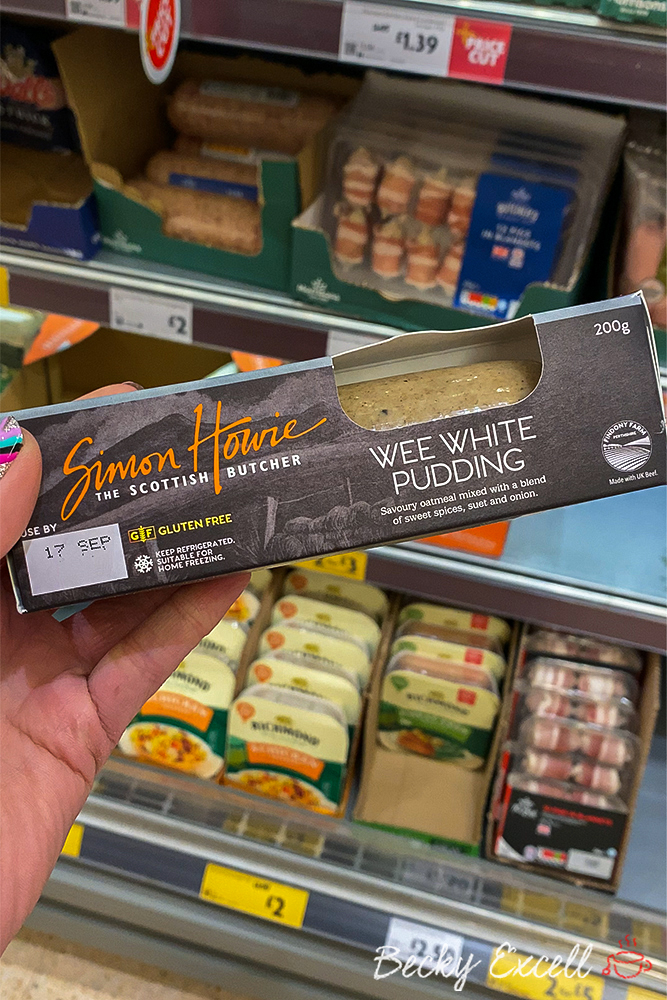 48. Morrisons 8 No Moo-zarella Sticks
And of course, here's some gluten-free AND vegan mozzarella sticks!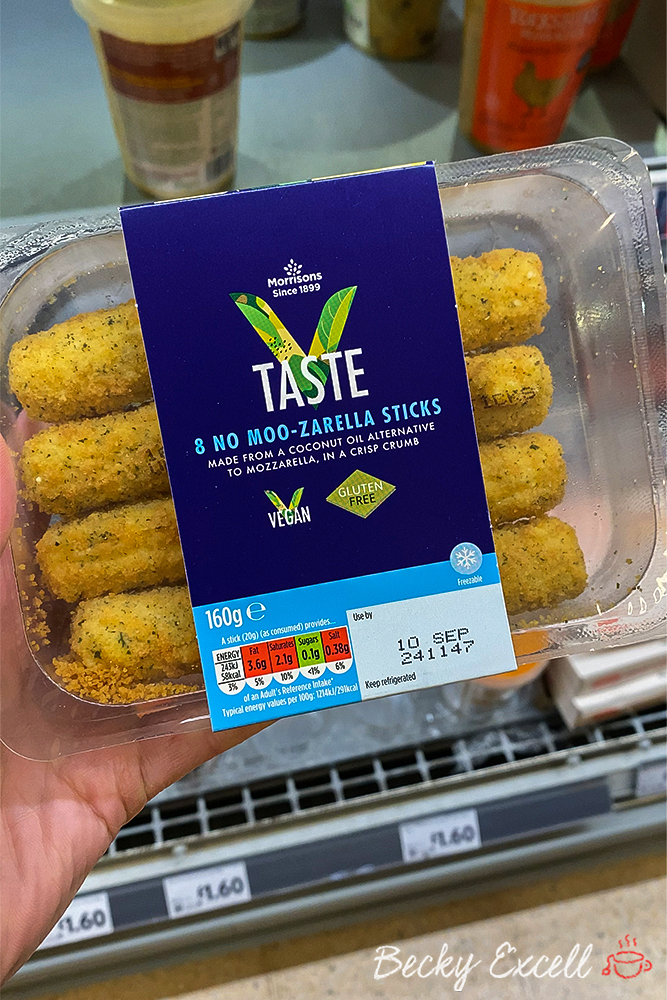 And that's all 50 'accidentally' gluten-free products in Morrisons!
Thanks for reading through all 50 'accidentally' gluten-free products in Morrisons! Which one is your fave? Which ones would you have never found? Have you found any accidentally gluten free products that I've missed out here?
Let me know in the comments below! Please make sure you follow me on Instagram to make sure you never miss a gluten-free find – I post videos of all my finds from supermarkets as well as tasty gf recipes.
Thanks for reading,
Becky xxx