40 'accidentally' gluten-free products in Aldi – including aaaall the Specialbuys. Did you know that there's actually a ton of 'accidentally' gluten-free products hiding in Aldi? You'd never know unless someone told you… so I'm telling you!
40 'accidentally' gluten-free products in Aldi – everything from gluten-free Marmite, pasta, Monster Munch and tons of stuff we can't usually eat! Best of all, they're all at 'muggle' prices. But what exactly is an 'accidentally' gluten-free product?
Before you scroll further, please make sure you're following me on Instagram by tapping here. It's a massive help to me and that's where I post my latest gluten-free product finds first on my reels!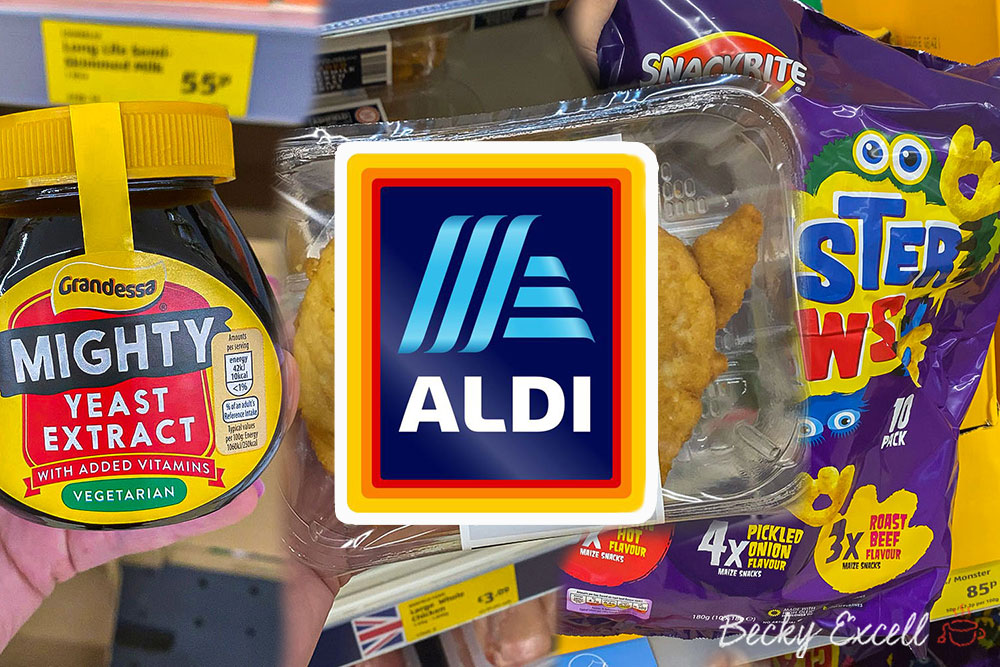 What is an 'accidentally' gluten-free product?
An 'accidentally' gluten-free product is one which is outside of the free from aisle (of course, that doesn't apply to Aldi!), but doesn't contain gluten, or have a 'may contain' warning for wheat, gluten etc.
According to Coeliac UK, that makes them safe for us to eat! And it expands our choice to so much more than just the free from aisles. They don't have to be labelled as gluten-free, to be gluten-free!
(of course, Aldi have been helpful and labelled a lot of these as gluten-free anyway)
But there's one problem… how do you know an 'accidentally' gluten-free product when you see one? Fortunately, I'm about to show you the 40 'accidentally' gluten-free products in Aldi…
But aren't these products potentially made in an environment that also contains gluten?
If a product was produced with a risk of cross-contamination, it would have to declare a 'may contain' warning on the packaging. That's why Coeliac UK say: no gluten-containing ingredients/'may contain' warning = gluten-free!
40 'accidentally' gluten-free products in Aldi: Public Service Announcement
Of course, as most of these products aren't specifically made for people who are gluten-free, please double check the ingredients for yourself before you buy them.
Why? Well, though I've gone through great lengths to ensure all these products are safe for you lovely, beautiful people, you never know when ingredients might change.
That's why it's always good to get in the habit of checking yourself first – never blindly trust what you read online, as you can never be too careful with your health. Even if I tell you something is gluten-free, I'd always recommend checking yourself first!
As of September 2020, all of these products are safe to eat – but please, please let me know if anything changes by leaving a comment below this post. Ok, let's take a look at the 40 'accidentally' gluten-free products in Aldi!
1. Grandessa Mighty Yeast Extract (gluten-free Marmite)
Love it or hate it, here's Aldi's version of gluten-free Marmite! I didn't realise how many Marmite fans there were out there until I posted this – you do you ?

2.Teriyaki Beef Stir Fry Kit
Since when do products come with gluten-free Teriyaki sauce? Apparently, that's just normal in Aldi. Great little find at muggle prices!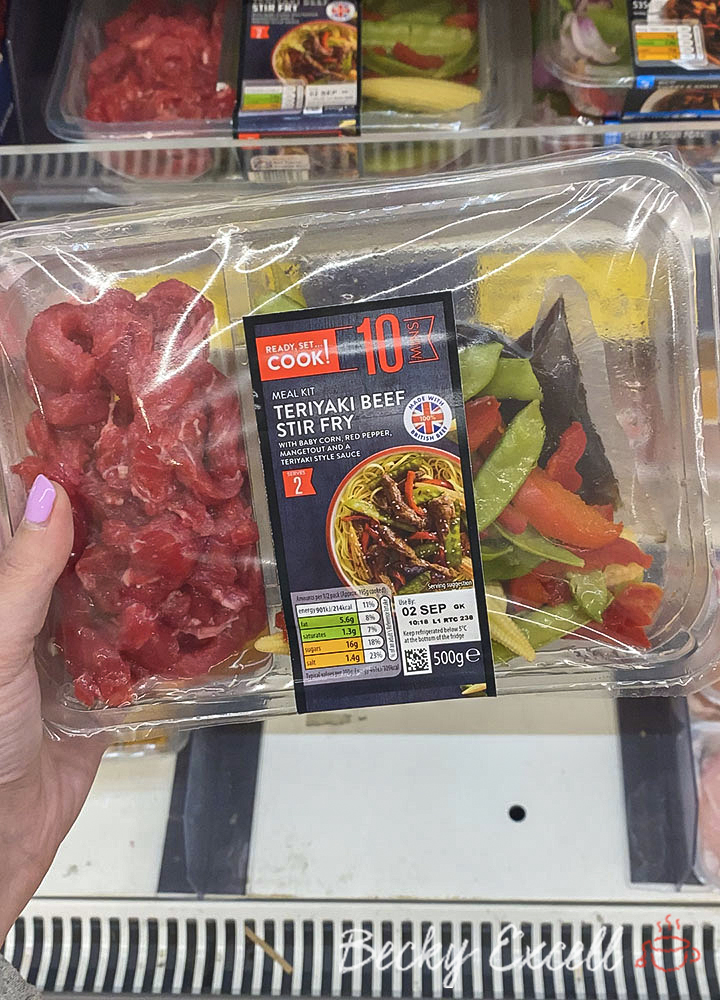 3. 10 Chicken and Black Pepper Chipolatas
4. Mango and Coconut Chicken Mini Fillets
5. The Ultimate Burger
These look very similar to the M&S burgers that Mark and I have been throwing on the BBQ all summer. Apart from these are half the price!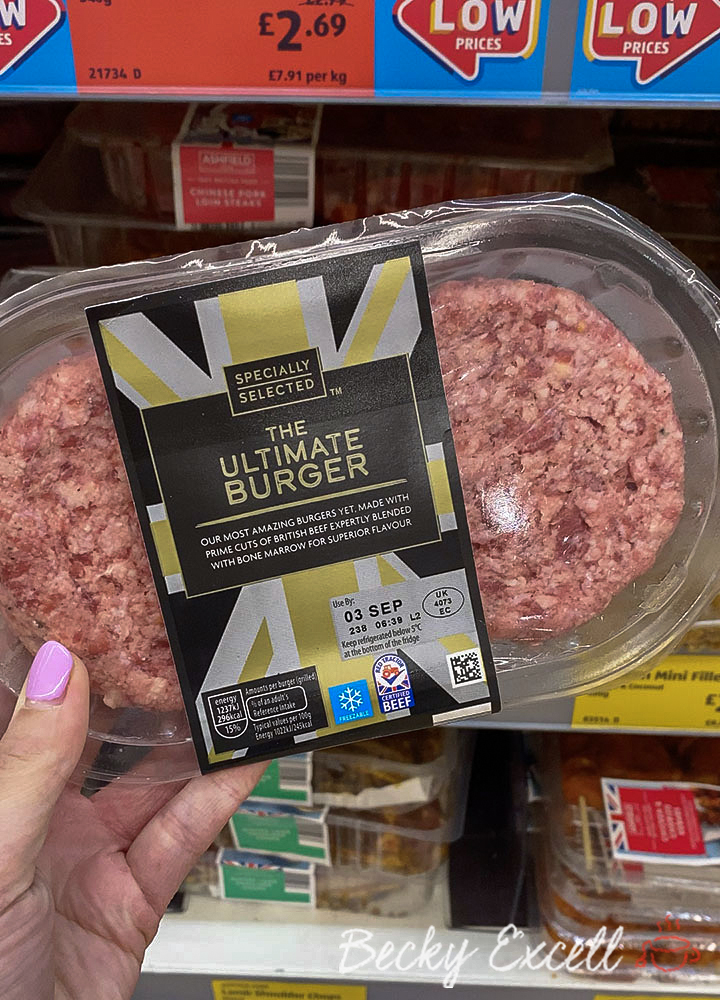 6. 4 Chilli Cheese Hot Dogs + 10 Chicken Chipolatas

7. Tempura Chicken Mini Fillets
Here's yet ANOTHER find that you'll find at much more expensive prices in M&S. These might even be the exact same product because they certainly look/taste identical!
Serve them up with lots of iceberg lettuce, mayo and in a decent gluten-free bun – you'd swear that you're eating a McDonald's McChicken sandwich!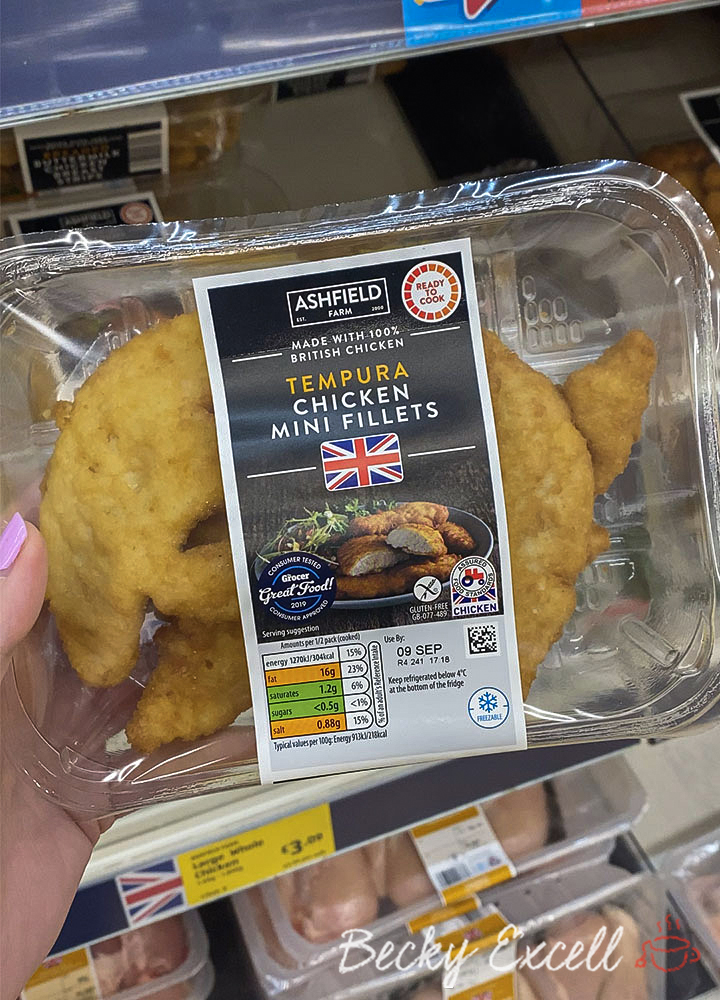 8. One Pot Thai Red Vegetable Curry with Brown Rice
9. The Fishmonger Gluten-free Chunky Cod Fish Fingers
Yep, that's right – FRESH gluten-free chunky fish fingers! I'm used to the thin, frozen ones, so these were a real treat.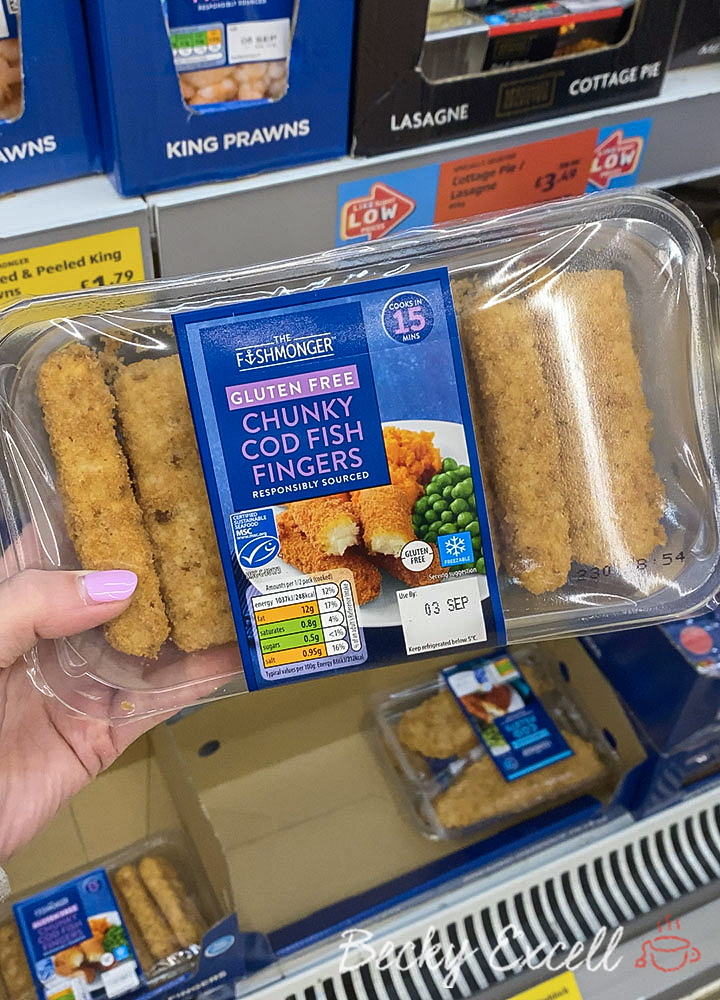 10. Teriyaki Scottish Loch Trout Fillets
11. Baked Sweet Potato Pakora, Moroccan Style Falafels, Mediterranean Style Falafels
These are a great gluten-free snack in the absence of scotch eggs, pork pies etc. It's so rare to see products like this, so enjoy them for me (I can't eat them because of onion/garlic!)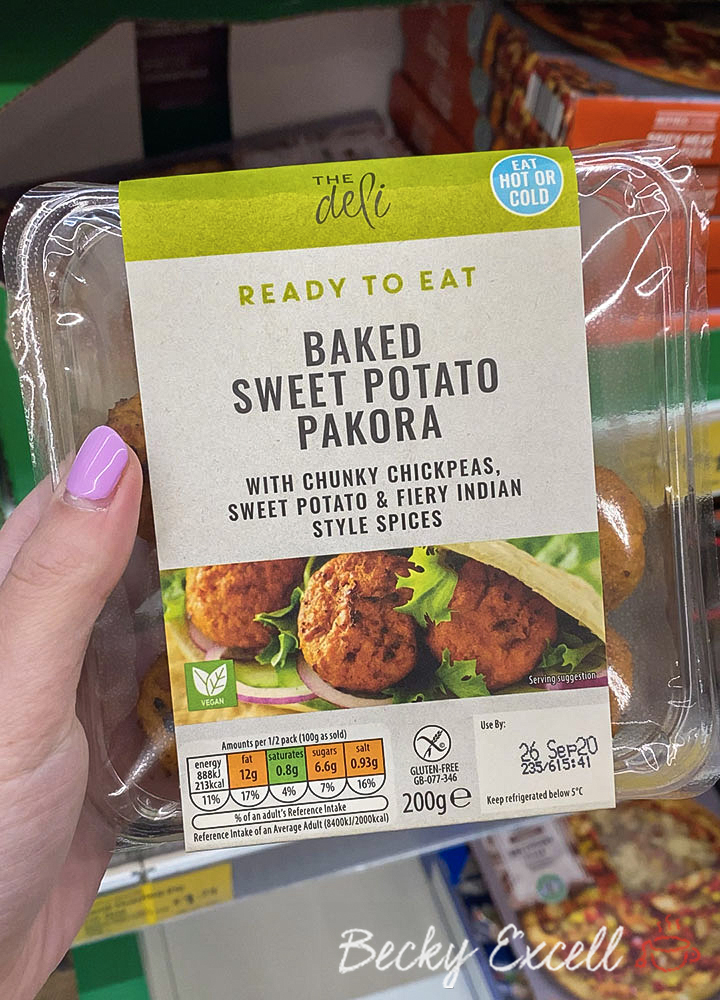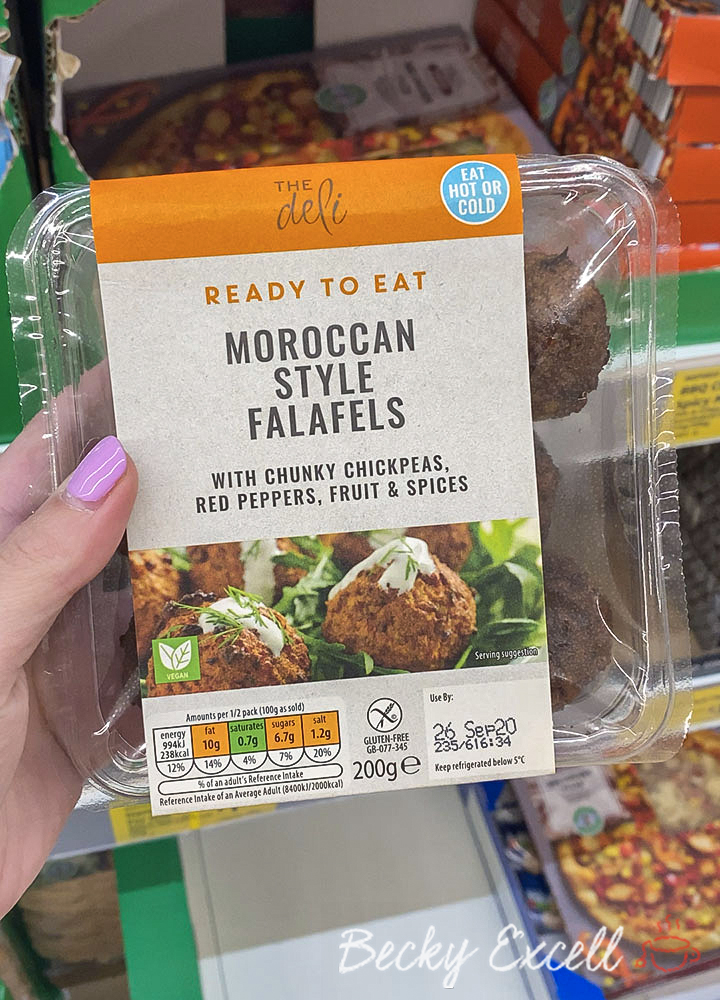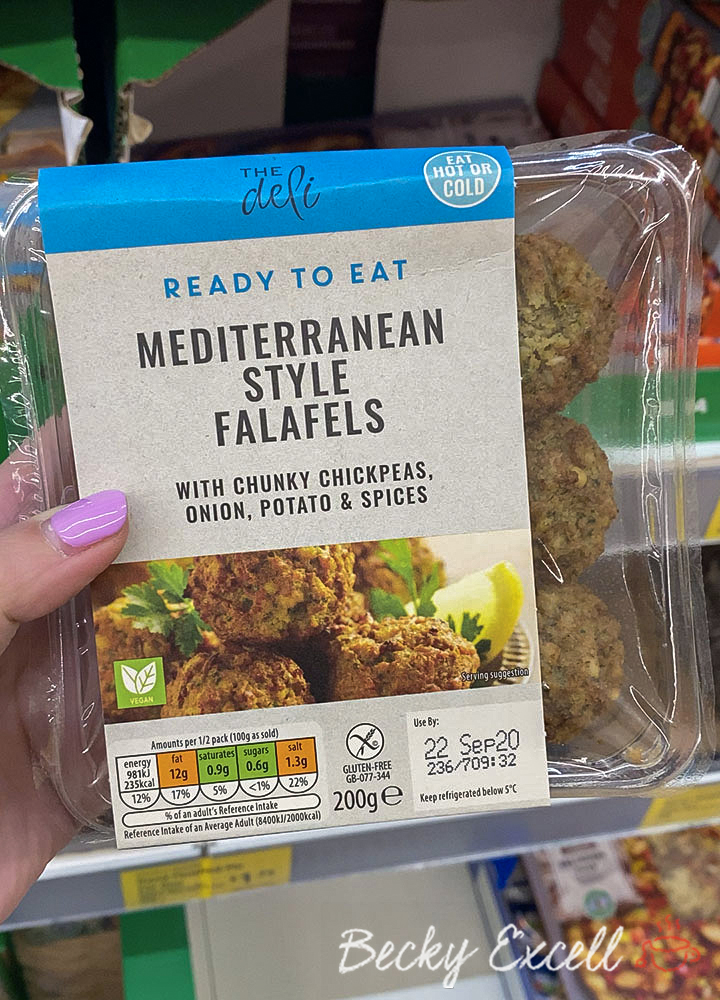 12. Breaded Ham
More and more supermarkets are switching their breaded ham to have a gluten-free crumb – including Aldi! Watch out for other supermarkets like Asda, however, which haven't followed suit at the time of writing.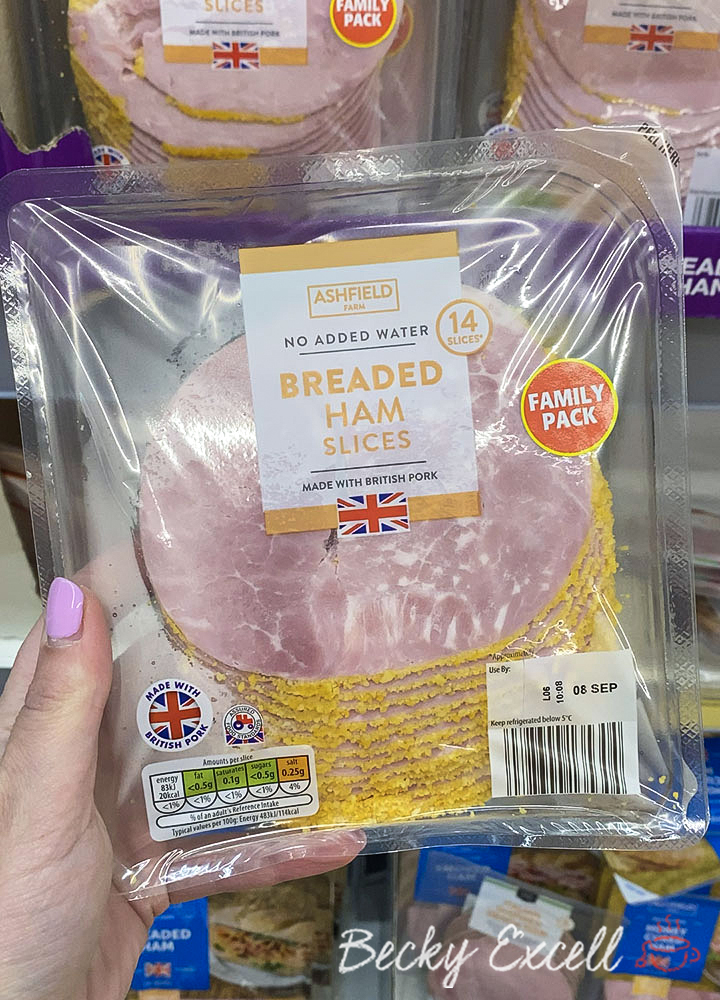 13. Plant Menu 2 Beetroot Burgers
A lot of you guys always ask me for gluten-free AND veggie/vegan options – fortunately there's quite a few decent options in Aldi starting with these!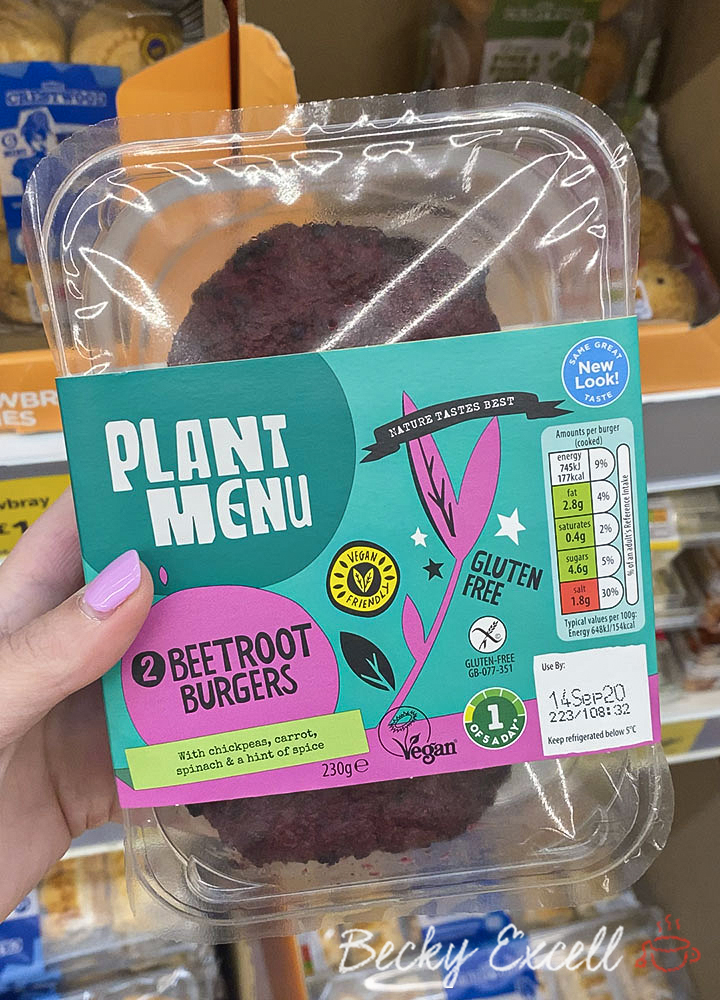 14. Plant Menu 6 Masala Roast Cauliflower Sausages
So many of you guys have said you've been loving the 'accidentally' gluten-free veggie sausages in Sainsburys. Here's some I found in Aldi – keep scrolling for the other ones.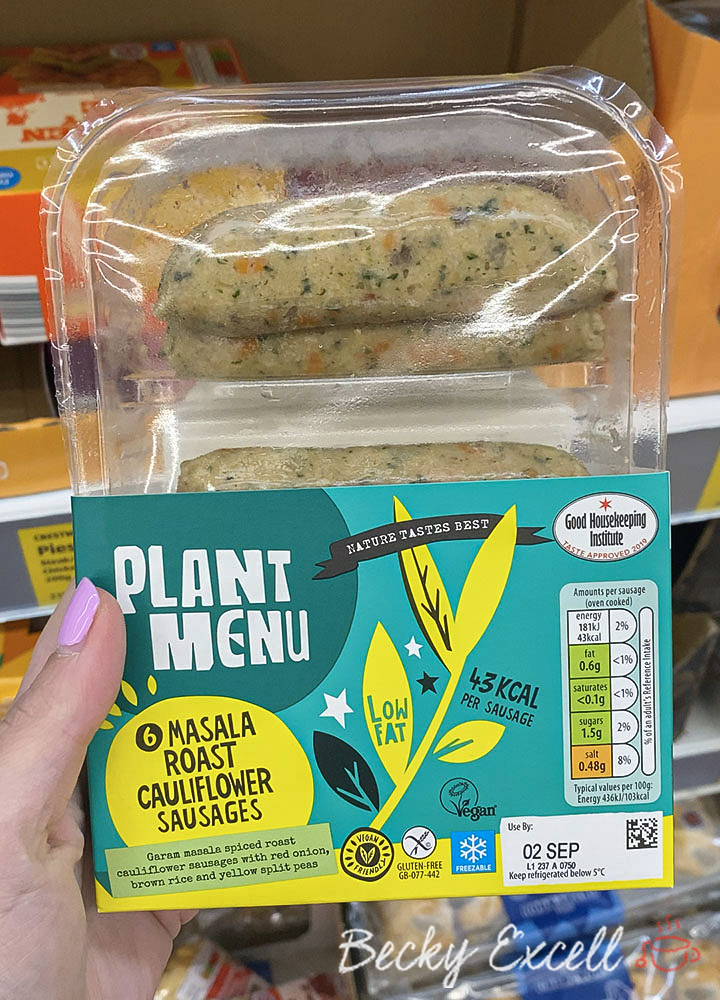 15. Quorn Chicken Free Slices
Bear in mind that Quorn stuff isn't always gluten-free, so I'll definitely take this!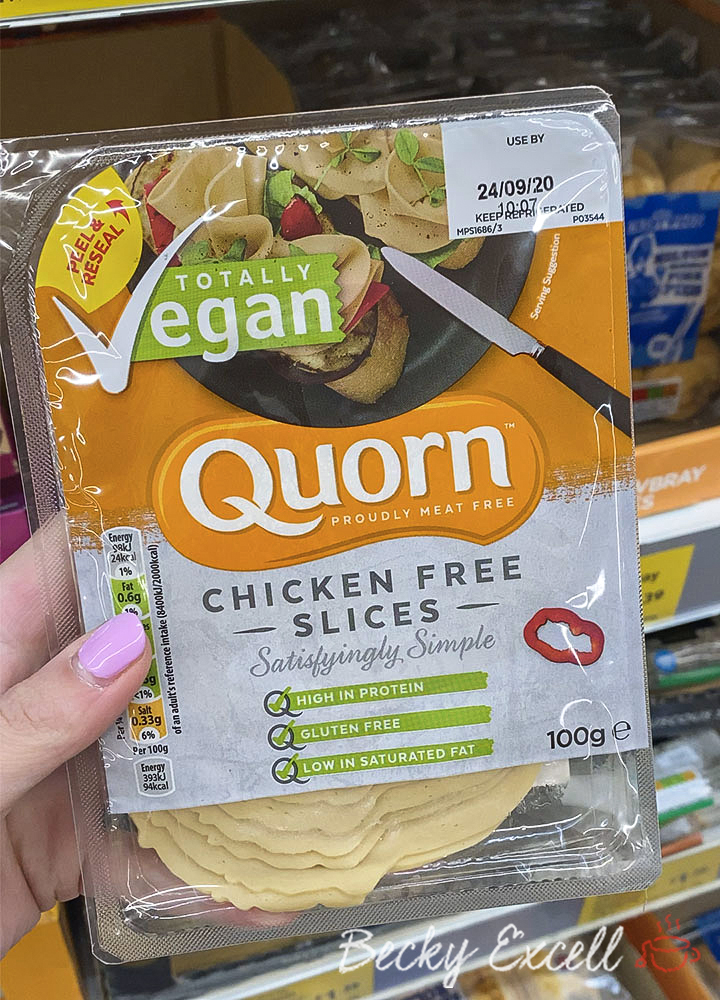 16. 12 British Pork Chorizo Style Chipolata Sausages

17. Plant Menu 6 Red Pepper and Butternut Squash Sausages
18. Plant Menu 2 Sweet Potato Burgers
Yep, even more gluten-free and veggie/vegan options. Aldi and Asda seem to be right on it with these types of products!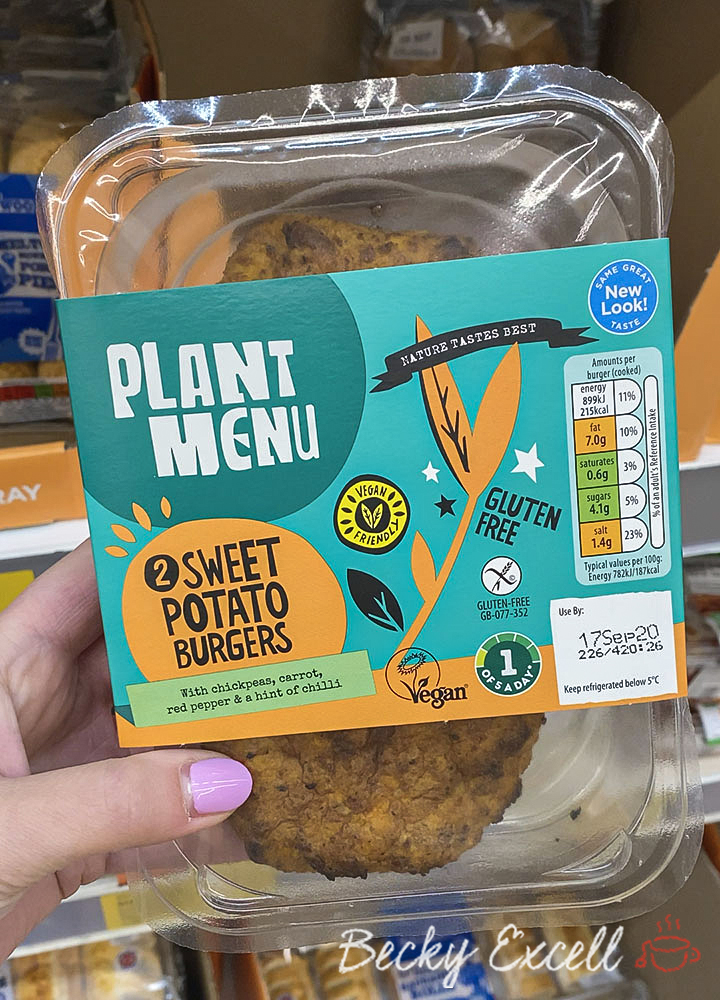 19. The Tasty Catch Lightly Dusted Whitebait and Lightly Dusted Lemon and Pepper Whitebait
Now these are a real unexpected winner. Crispy whitebait in a gluten-free coating – it even states it on the front!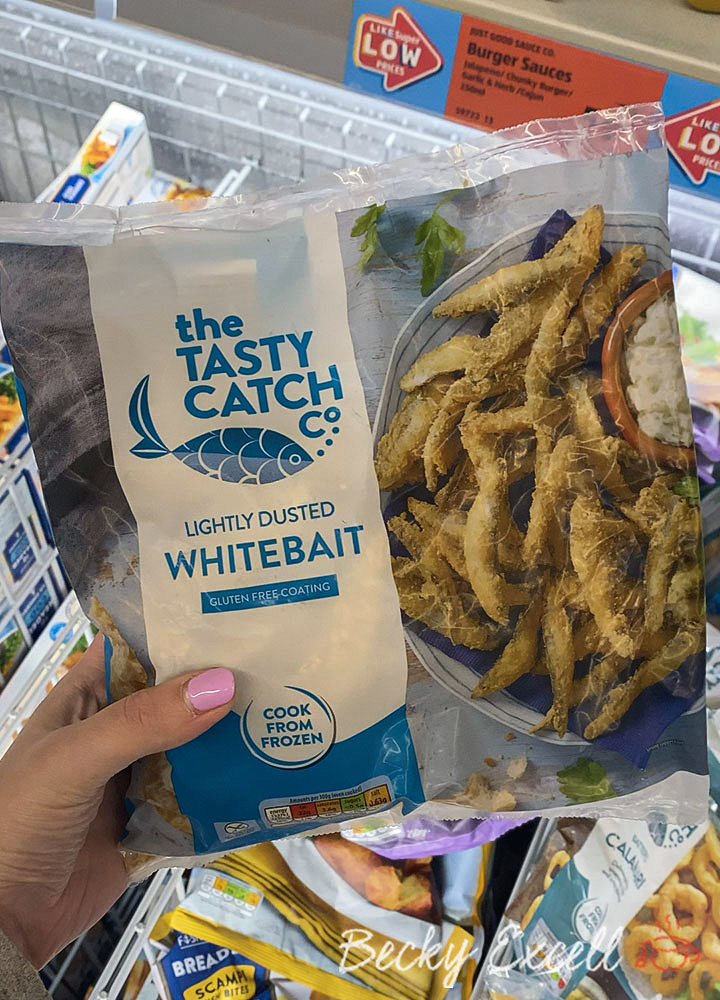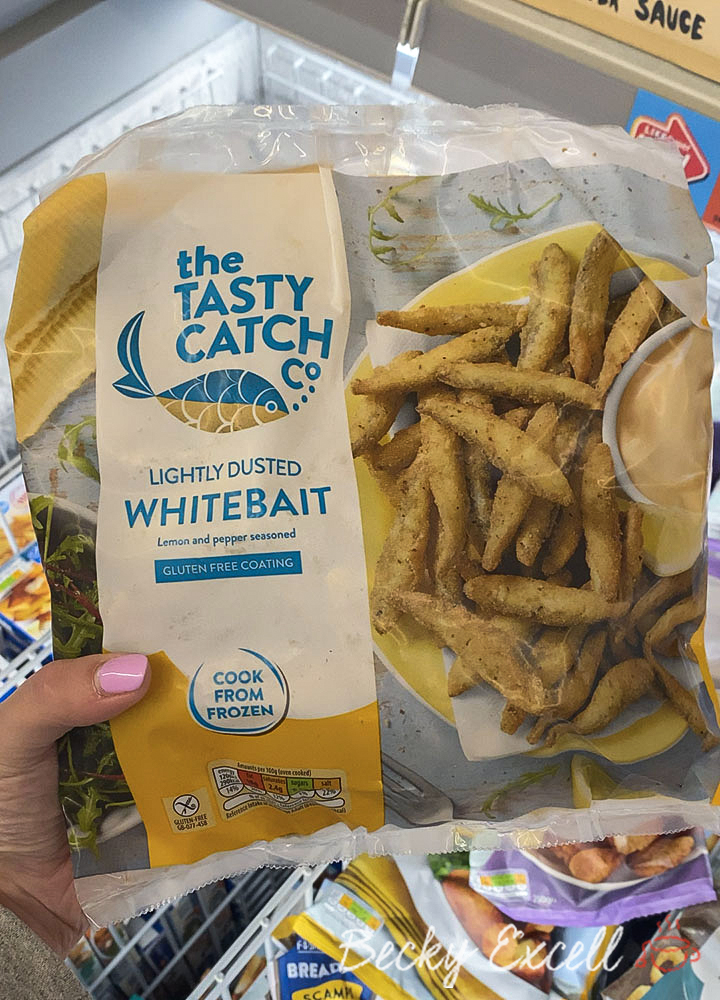 20. Ready-to-eat Katsu Curry Chicken Mini Fillets
21. Knorr Chicken Stock Pot, Vegetable Stock Pot

22. Bramwells Classic BBQ Sauce
How did I not know that this BBQ sauce is gluten-free? I always assume they aren't, so I never look!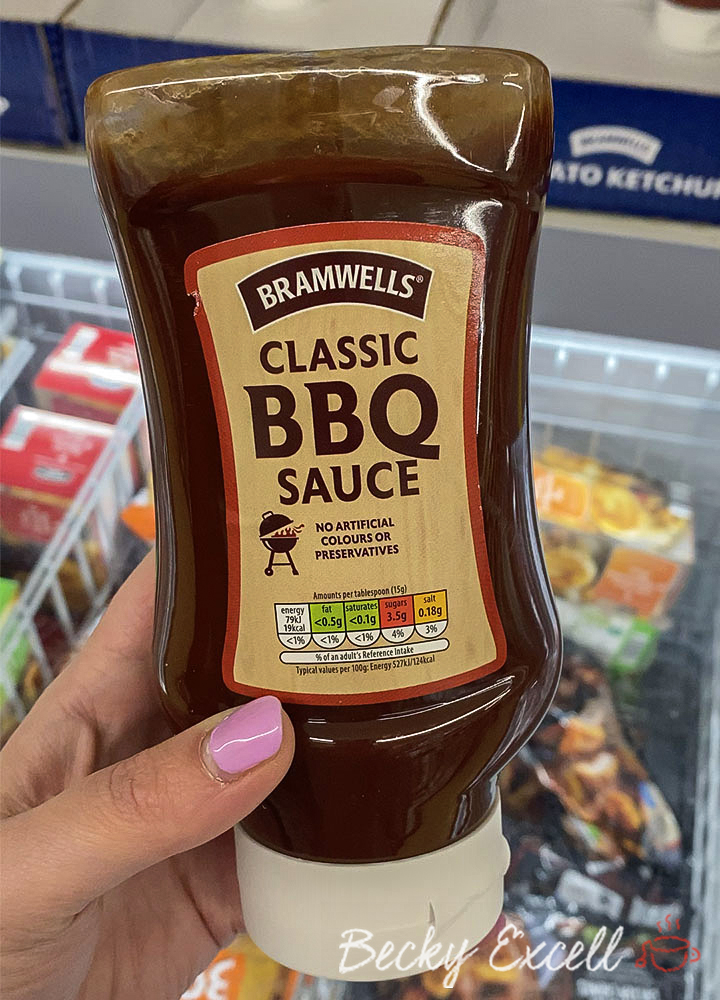 23. Snackrite Monster Claws (gluten-free Monster munch)
Yes, that's right – gluten-free Monster Munch! I literally can't remember the last time I had a bag.

24. Snackrite Tortilla Chips (gluten-free Doritos) Cool, Lightly Salted, Chilli
And Aldi also do a bunch of different flavoured gluten-free Doritos too!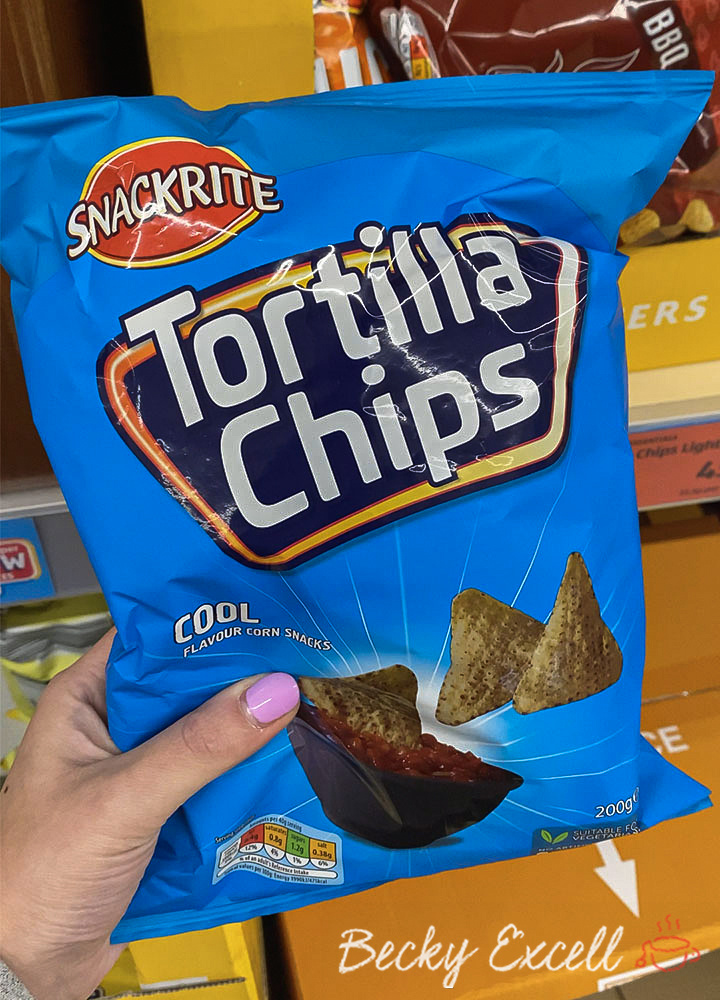 25. Dairyfine Choc Um's (gluten-free M&M's/Smarties) Chocolate, Crispy, Peanut
For starters, Smarties are NOT gluten-free (they contain wheat for some strange reason!) and though, some M&M's are gluten-free – the crispy M&M's are NOT.
However, in Aldi, they're all gluten-free, so make the most of it!


26. Snackrite Bacon Rashers (gluten-free Frazzles)
Yessss – gluten-free Frazzles, anyone? Perfect for sharing… we'll see about that ?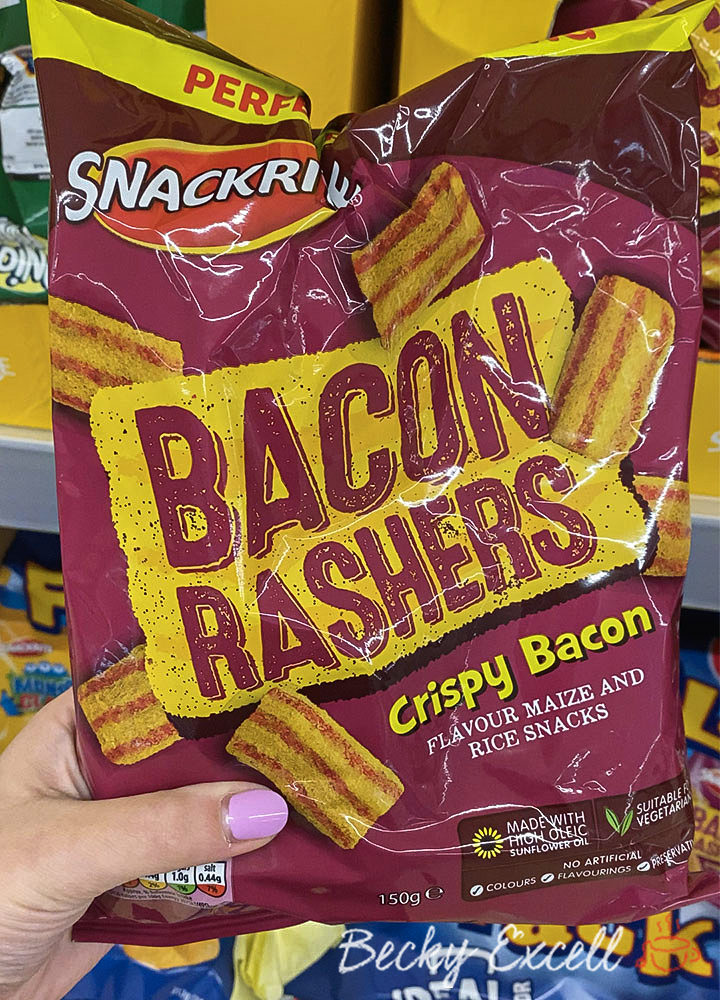 27. Snackrite Teddy Faces (Pom-bear)
Of course, regular Pom-bears are gluten-free, but these are cheaper, of course!

28. Snackrite Cheese Puffs (gluten-free Wotsits)
Gluten-free Wotsits are here! Regular Wotsits always have a nasty 'may contain' warning for gluten, so these are a welcome find.

29. The Foodie Market Pasta – Green Pea Penne, Chickpea Fusilli, Red Lentil and Beetroot Fusilli, Edamame and Mung Bean Fettuccine, Black Bean Spaghetti
One criticism you guys feed back to me about Aldi is that you can't do a full shop there – for example, they don't have gluten-free bread.
Fortunately, Aldi is one step closer to 'full shop territory' these days as they now have tons of different gluten-free pasta options!
Check the Specialbuys section at the end of this post for some gluten-free pittas too.



30. Bull's Eye Tennessee Style Sweet Whiskey Glaze
I wouldn't even look twice at this as I'd assume it wouldn't be gluten-free. And that's how you miss out on 'accidentally' gluten-free products!! Always check the labels just in case!

31. The Foodie Market Brownie Bars – Peanut and Choc Chip, Peanut and Salted Caramel

32. The Foodie Market Cashew Crush Raw Fruit and Nut Bars x5

33. The Foodie Market Tru Bars (Nakd bars) – Bakewell Tart, Salted Caramel
These are basically Aldi's version of Nakd bars – of course, at a cheaper price and in some great flavours.
I wouldn't ordinarily expect anything that said 'Bakewell tart' on the front to be gf, so I was happy with these!


34. The Foodie Market Paleo Bar – Hazelnut and Cacao, Almond and Cashew x5

35. Specially Selected 4 Gluten-free Nut Bars with Dark Chocolate Flavour Coating and Peanut Butter
These have been around in Aldi for a while now and one of the first 'accidentally' gluten-free products I found.
There's definitely a reason they're still here – they taste awesome! I usually carry one of these around with me as an 'emergency' gluten-free snack!

36. Snackrite Pea Snacks Sea Salt and Vinegar (stocked by the tills)

37. The Foodie Market Veggie Straws – Kale, Tomato, Spinach (stocked by the tills)


38. The Foodie Market Veggie Puffs – Roast Beef (stocked by the tills)

39. The Foodie Veggie Puffs – Pickled Onion (stocked by the tills)

40. Snackrite Pea Snacks – Sweet Chilli (stocked by the tills)

Aldi Specialbuys
And here's the gluten-free Aldi Specialbuys, as promised! I haven't included these in the rest of the 'accidentally' gluten-free products as these are actually all 'free from' products.
These products are specifically made for gluten-free folks and you can often find them down the free from aisle in other supermarkets.
Plus, I decided to put these separately as Specialbuys often come and go, so I'll be keeping this section especially up-to-date in particular.
So keep checking back on this post to see if anything is new!
1. Eat Real Hummus Chips (Chilli Cheese), Eat Real Hummus Chips (Sour Cream and Chive)
Even though the Eat Real crisps may always seem a bit random at first, I can tell you that no matter what they are, or what flavour… they ALWAYS taste unreal.
The hummus chips are lovely, but keep scrolling for the veggie straws – so so good!

1. Eat Real Veggie Straws x5

3. Sweetpea Pantry Oat, Flax and Coconut Energy Ball Mix, Super Oat and Flax Carrot Muffin Mix


4. Betty Crocker Chocolate Fudgy Gluten-free Brownie Mix, Devil's Food Gluten-free Cake Mix
I've tried these multiple times and you absolutely can't go wrong.


5. BFree Pitta Breads Stone Baked
This is not what I'd expect to find in Aldi! As I said, it's hard to do a full shop here because of the lack of gluten-free bread – but these actually make it possible.

6. Nairn's Gluten-free Cracked Black Pepper Wholegrain Crackers, Cheese Wholegrain Crackers


7. Prewetts Chewy Oat + Raisin Cookies, Spicy Dark Chocolate and Ginger Cookies
Nor would I expect to see lots of Prewetts biscuits in Aldi either! These don't taste gluten-free at all, so if you haven't tried them, I'd definitely recommend them.

8. Nestle Gluten-free GoFree Corn Flakes


9. Prewetts Chocoful Gluten-free (gluten-free Rocky bar), Chocoful Caramel
And these beauties are basically like gluten-free Rocky bars! Again, don't taste gluten-free AT ALL – the caramel ones especially are lovely.


And that's all 40 'accidentally' gluten-free products in Aldi!
Thanks for reading through all 40 'accidentally' gluten-free products in Aldi! Which one is your fave? Which ones would you have never found? Have you found any accidentally gluten free products that I've missed out here?
Let me know in the comments below! Please make sure you follow me on Instagram to make sure you never miss a gluten-free find – I post videos of all my finds from supermarkets as well as tasty gf recipes.
Thanks for reading,
Becky xxx