Here's a recipe I know you'll love – gluten free molten middle cakes! They're light, gooey and sooo good with a dollop of ice cream on top. Plus, you can easily make them dairy free too.
Here's another one of my faves that I always bake in my trusty Tefal Cake Factory – gooey gluten free molten middle cakes. These beauties are so incredibly easy to make but will impress anyone when dessert time inevitably rolls around. That's if you're kind enough to share them of course! ?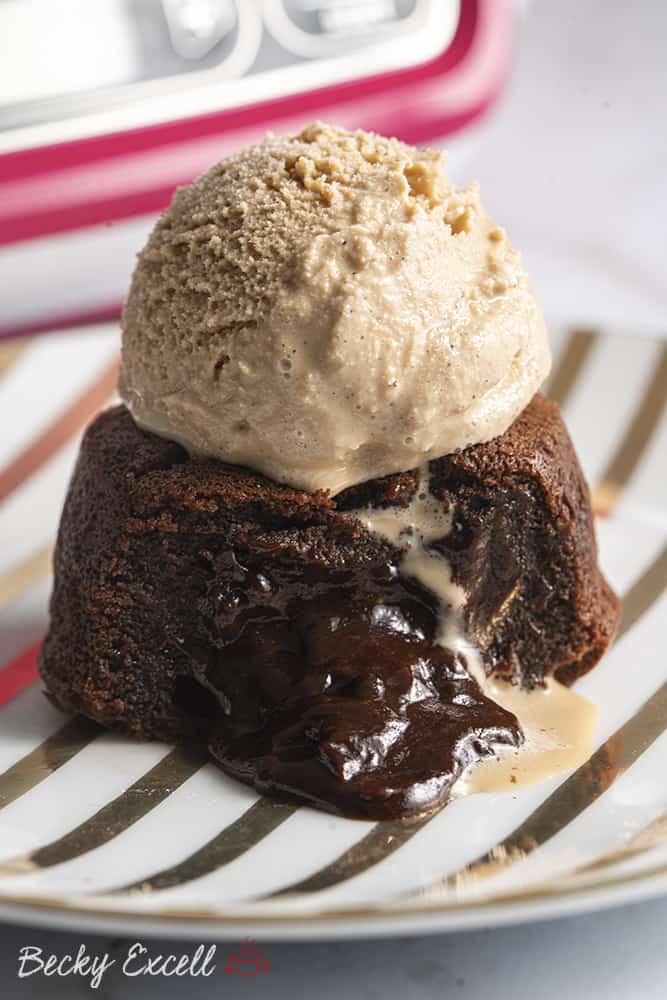 So what is a gluten free molten middle cake?
Imagine the lightest, fluffiest chocolate sponge known to man, but when you cut into it, it's like a mini, chocolate volcano erupting.
They're slightly sweet and because you'll only need dark chocolate to make them (no cocoa powder required) it's every chocaholic's dream. I mean, just look at that oozing middle in the photo above!
The chocolate flavour is really rich and intense throughout these little cakes, just like any good molten middle cake should be!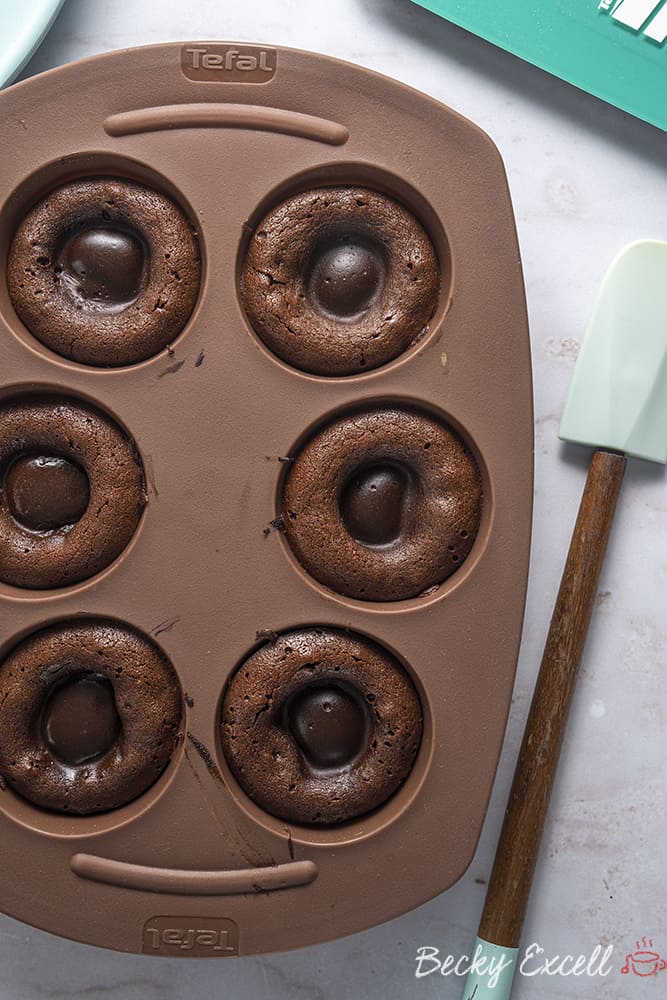 But usually, making little molten middle/lava cakes like this can be a little tricky…
Why? Well, if you overcook them, they'll turn out like a regular chocolate cake with zero gooey chocolatey middle at all. You can still eat them, but they taste like pure disappointment!
Undercook them and they'll just collapse into a molten mess when you try and turn them out onto a plate…
(not gonna lie, this has happened to me many times!)
So clearly, cook-time is so incredibly important! But if you nail it, you'll be rewarded with that perfect molten middle you've been craving. But what if there was a way to nail lava cakes, every time, without fail?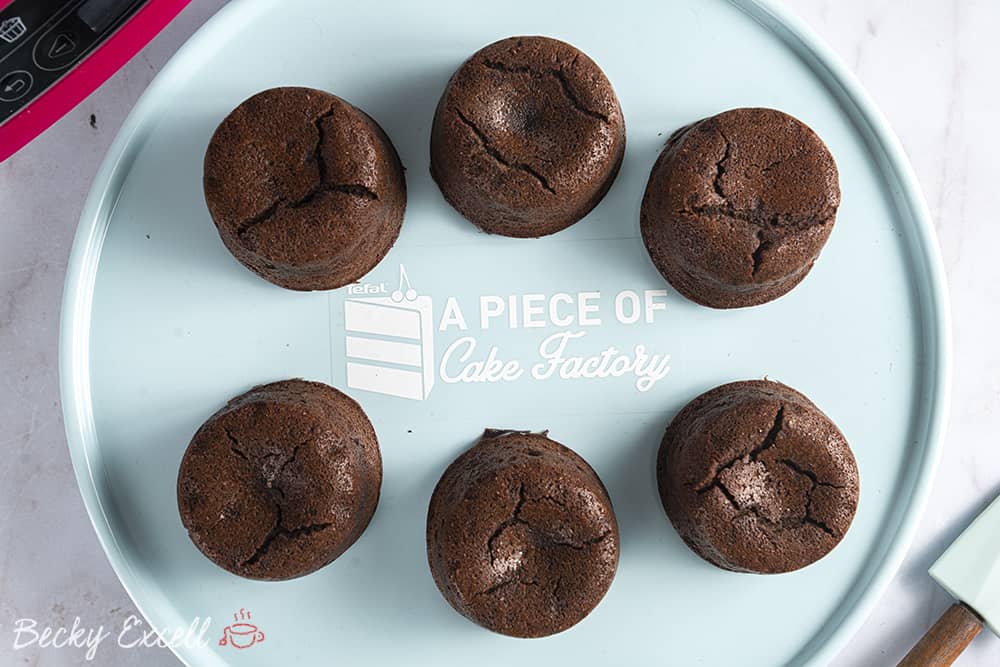 Well, there is! Thanks to the Tefal Cake Factory, you can bake molten middle cakes whenever you like and yep – with a perfect gooey middle every time.
Honestly, it's one of the most reliable, easy and quick ways to make molten middle cakes, hands down.
I mean – if you asked me right this second to make six molten middle cakes for six dinner guests on the spot AND they all had to be perfect… I'd probably start stressing out before I even got my apron on!
(I don't think I even have 6 individual mini pudding tins to make them! Panic!)
But with the Tefal Cake Factory, I know that I can create them, perfect every time, whenever I need them.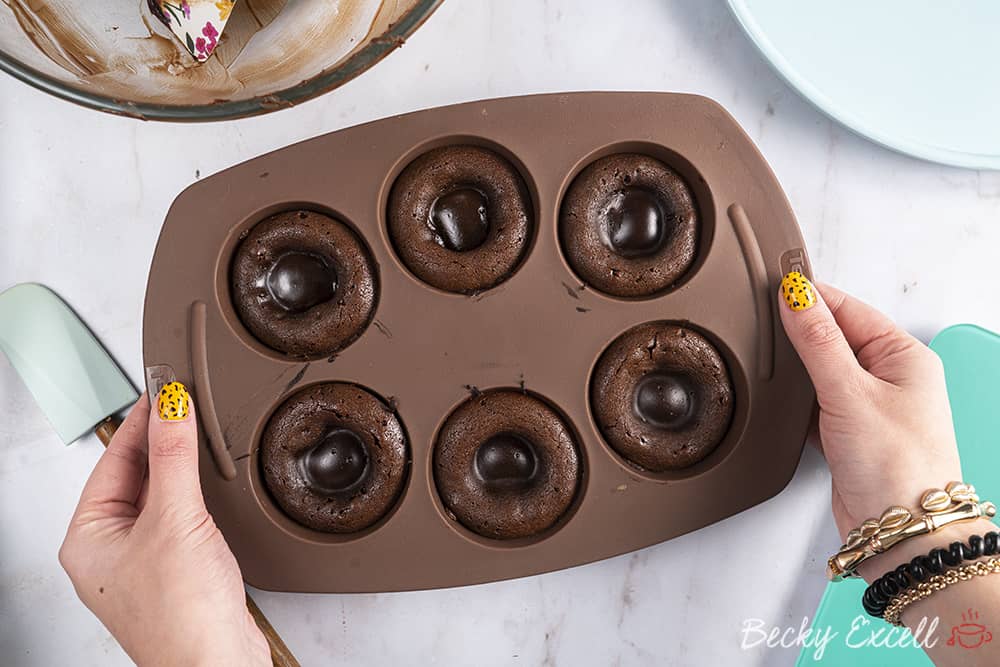 And instead of having to rely on a recipe where the cooking time and temperature is based on someone else's oven, all of the recipes on the Tefal Cake Factory app were *made* for your exact machine.
So you know that when the recipe says 'cook for 17 minutes', that's exactly how long you'll need to cook it for. I mean, how many recipes are so confident that they'll even specify a cook-time as specific as 17 minutes?!
(none in case you're wondering!)
There's actually over 200 recipes on the Tefal Cake Factory app to inspire your next baking session, so definitely don't worry about being limited when it comes to choice.
There's even quite a few dedicated gluten free recipes on there. But actually 95% of all the recipes are very simple to adapt to be gluten free simply by using gf flour instead of regular flour. That's all I did with the lava cake recipe here ??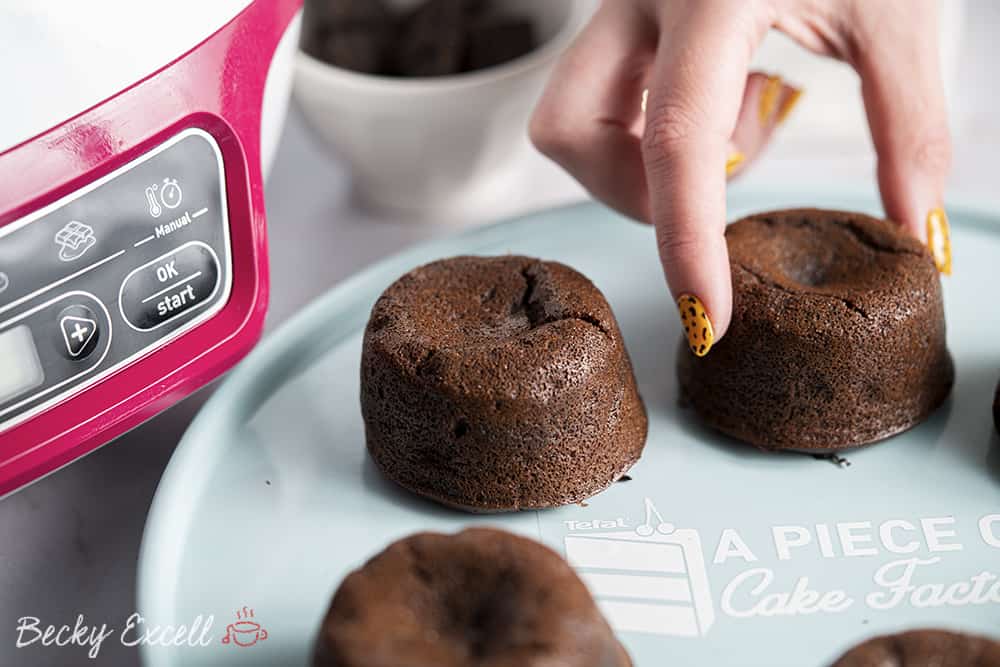 And FYI, it's not just lava cakes that the Cake Factory pulls off without a hitch either – lava cakes are just one of it's 5 easy to use baking settings.
You can also make big sharing cakes, cupcakes, meringues and even melt chocolate in the Cake Factory too. I used both the melting chocolate setting and the lava cake setting to make these molten middle cakes and both functions were very simple to use.
The Cake Factory itself (and the app combined) just takes all the hassle and stress out of baking – no trawling through tons of recipes online, no converting measurements, no guesswork.
So if that all sounds good to you, you can find more info on the Tefal Cake Factory here. Got any questions about the Cake Factory? Feel free to ask me anything by leaving a comment below as I'll be replying to them all ??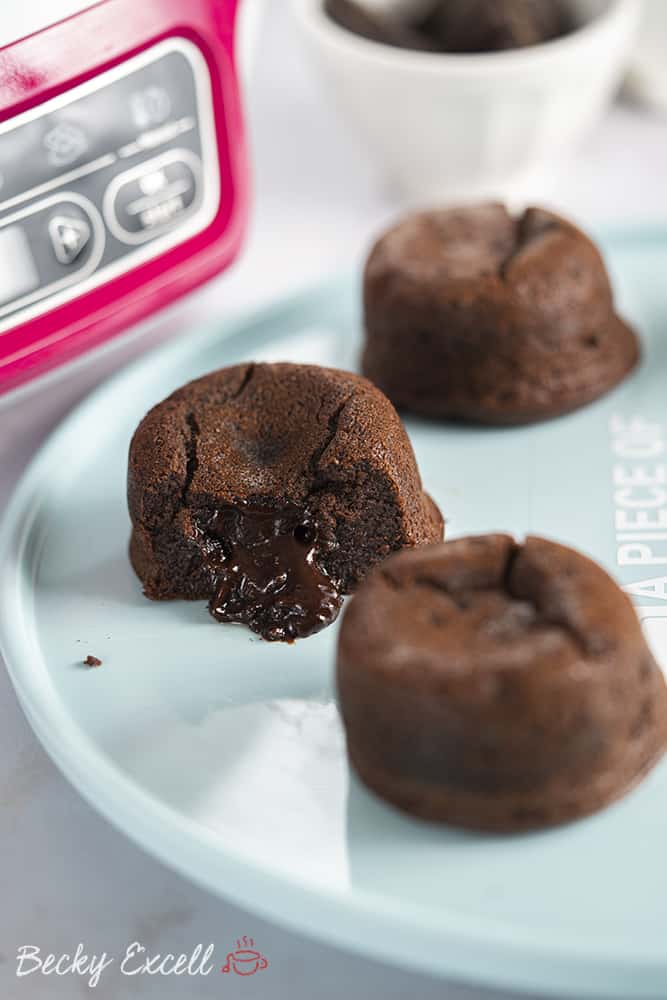 And for us gluten free folks, there's one extra thing I loved the idea of… owning an exclusively gluten free Cake Factory ??
That's right – no gluten-cakes shall be made in my Cake Factory, so I can be confident that everything I bake is safe to eat for me!
Unlike the oven of course, where Mark regularly cooks his own gluten-containing food on occasion. So I've briefed him already… if there's any Cake Factory use, it's gluten free ingredients only!
Plus, if there's any cakes being baked in the house, it would be a crime that I'd not be able to eat them anyway!!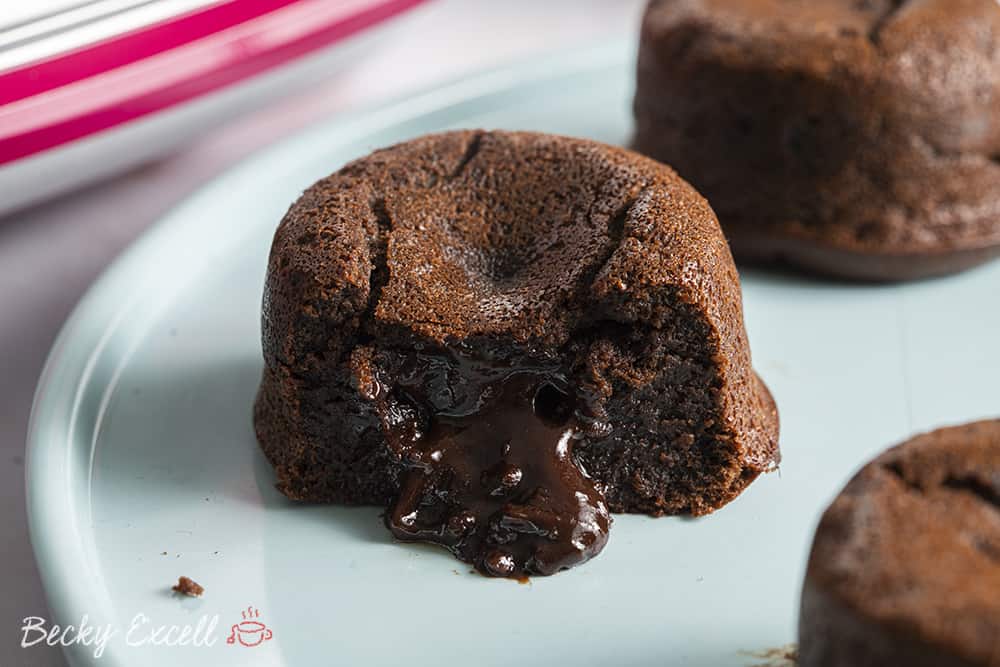 Oh and if you fancy making these dairy free, just make sure you start off with dairy free dark chocolate.
(most dark chocolate is often milk-free anyway, but watch out for 'may contain milk' warnings if you need to)
Then, just use margarine instead of butter to melt alongside your dairy free dark chocolate. Easy!
You'd never even notice the difference in these being dairy free or not, so I can promise you'll enjoy these just as much as the next person!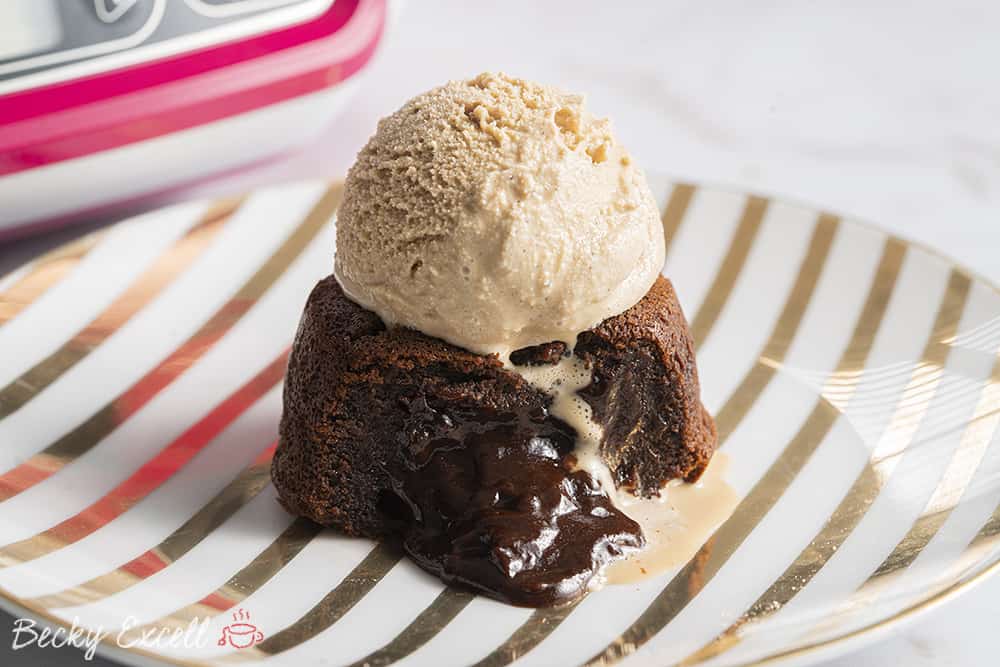 Ok, here's how to make your own gluten free molten middle cakes that nobody would ever know were gf. Here's the recipe ??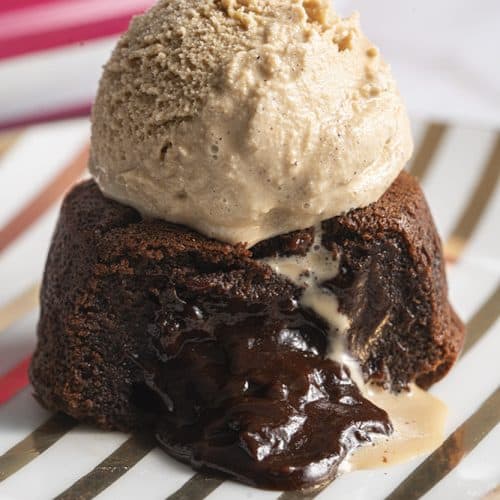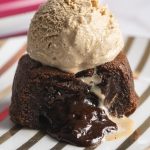 Gluten Free Chocolate Molten Middle Cakes Recipe using Tefal's Cake Factory
Here's how to make gluten free chocolate molten middle cakes recipe using the Tefal Cake Factory. With the perfect gooey middles every time!
Ingredients
3

eggs

180

g

dark chocolate

dairy free if needed

150

g

cubed butter

dairy free margarine if needed

75

g

caster sugar

45

g

gluten free plain flour
Instructions
Melt the butter and chocolate in the non-stick mould for 6 minutes and stir halfway through using the melting chocolate setting.

Mix the sugar and eggs together in a bowl, followed by the gluten free plain flour.

Add in the chocolate and butter mixture once it's cooled a little.

Grab the Cake Factory cupcake mould with 6 holes in it. Divide the batter evenly between the holes of the mould.

Place the metal rack into the Cake Factory, followed by your mould which is now full of your cake batter. Close the lid.

Bake on the lava cake programme for 17 minutes.

Once it beeps and the time is up, open the lid and remove the mould using oven gloves. Leave to cool for a few minutes before turning out.

Turn out onto plates and serve hot to best enjoy the molten middle.

Enjoy!
Nutrition
Serving:
1
g
|
Calories:
454
kcal
|
Carbohydrates:
37
g
|
Protein:
6
g
|
Fat:
32
g
|
Saturated Fat:
19
g
|
Polyunsaturated Fat:
11
g
|
Trans Fat:
1
g
|
Cholesterol:
149
mg
|
Sodium:
204
mg
|
Fiber:
2
g
|
Sugar:
27
g
Thanks for reading how to make my gluten free chocolate molten middle cakes recipe! If you make it, I'd love to see how it turned out so don't forget to take a snap of your bakes and tag me on
Instagram
!
Any questions about the recipe? Feel free to leave a Facebook comment below this post ??
Thanks for reading,
Becky xxx
This is a sponsored post with Tefal.