I struggled with dinner ideas for YEARS thanks to my dietary restrictions… but my smoky bacon gnocchi bake recipe is definitely a sign that the dark ages of boring dinners are over! You can easily make this dairy free too.
I always love sharing the ULTIMATE find – accidentally gluten free *fresh* gnocchi from Asda. But people always ask me… what should I do with it?! Well here's an idea – my smoky bacon gnocchi bake recipe!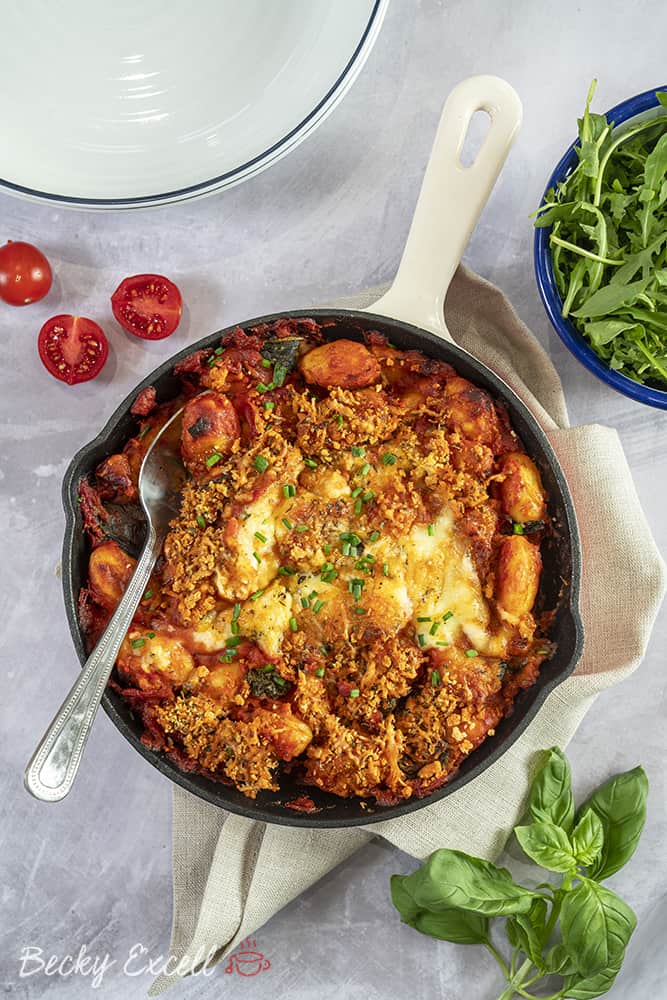 And here's a photo of the gnocchi I use in this recipe ??
Obviously make sure you check the ingredients on them just in case they change – I don't know how many years after I post this recipe that you'll be reading it!
But basically, it should have gluten-containing ingredients and no 'may contain gluten/wheat etc' warning. According to Coeliac UK, that makes it safe for us gluten free eaters – hooray!
And the great thing is that they're so cheap. Just £1.40 and they're in the fresh, chilled section too. That's the stuff that gluten free dreams are made of!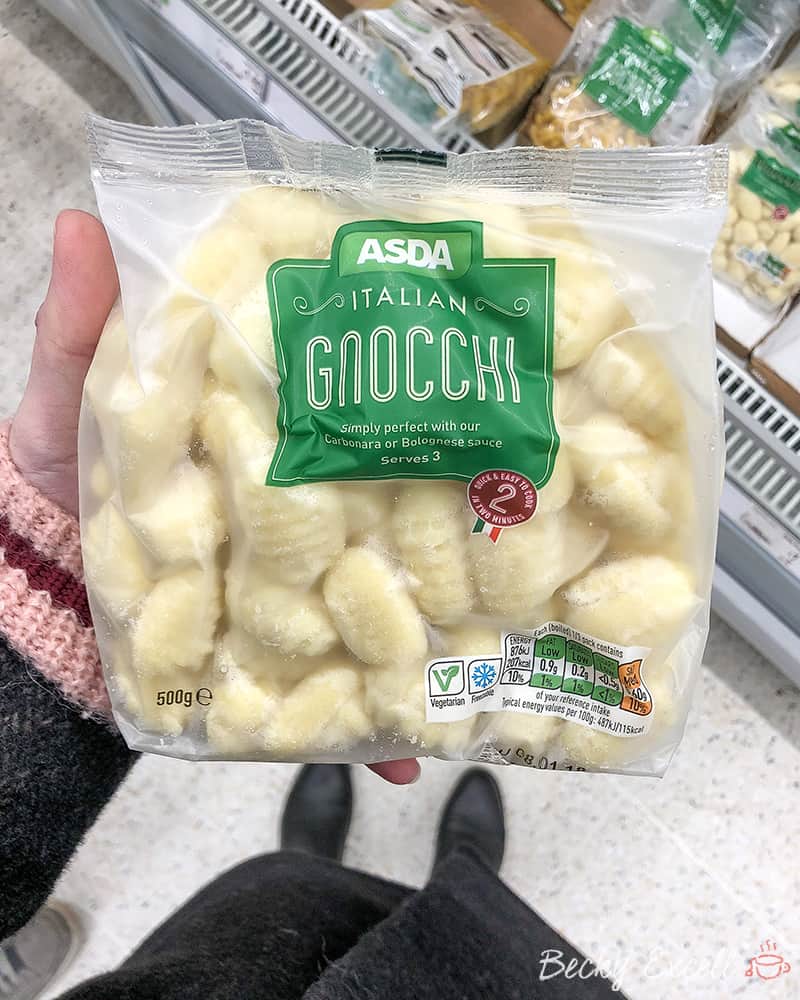 So ok, it's an amazing price, it's a fresh product, it's gluten free, which is all great… but what on Earth do you do with it?!
Well you can use it basically use it instead of pasta in anything! They're little potato dumplings with a nice bite to them and because they're a fresh product, they cook soooo quickly.
I've used them before in my veggie gnocchi bake in the past, but this time I thought I'd pull out all the stops.
I decided to create a midweek meal that's not only easy to make, but most importantly, make you look forward to dinner! Introducing my gluten free smoky bacon gnocchi bake recipe…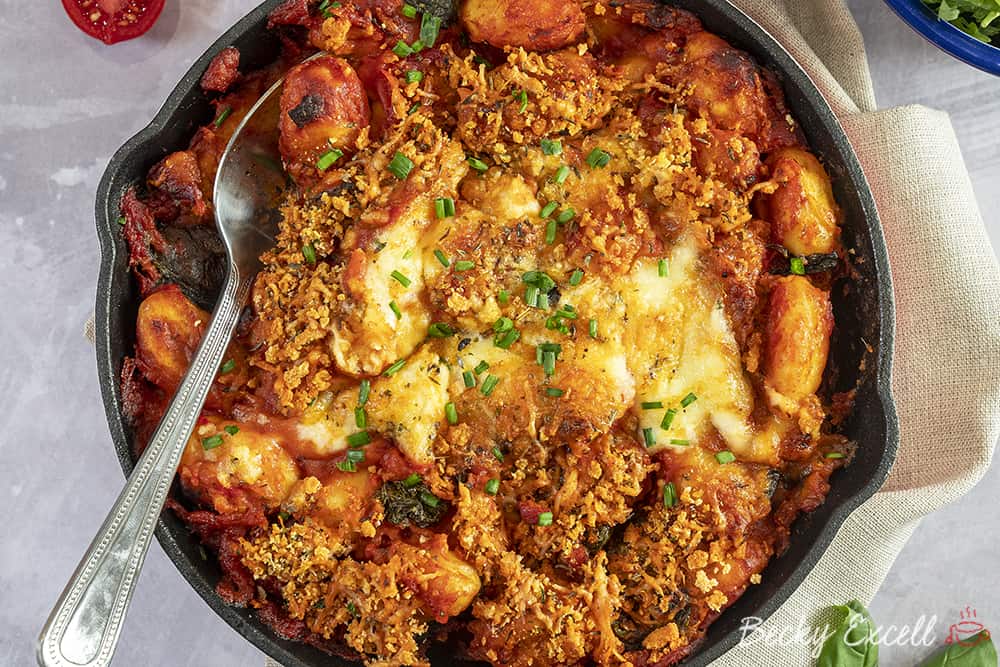 So now you know what gnocchi I use… what else is in it?!
(this is the part where I say love and 30 years of family tradition, but you can't buy those in the supermarket so I thought I wouldn't bother ?)
Well there's crispy smoky bacon, then a lovely, thick, sweet and smoky tomato homemade tomato sauce with spinach. Then, as a finishing touch, there's lots of cheddar cheese, mozzarella and herby, crispy breadcrumbs.
Sound good?!!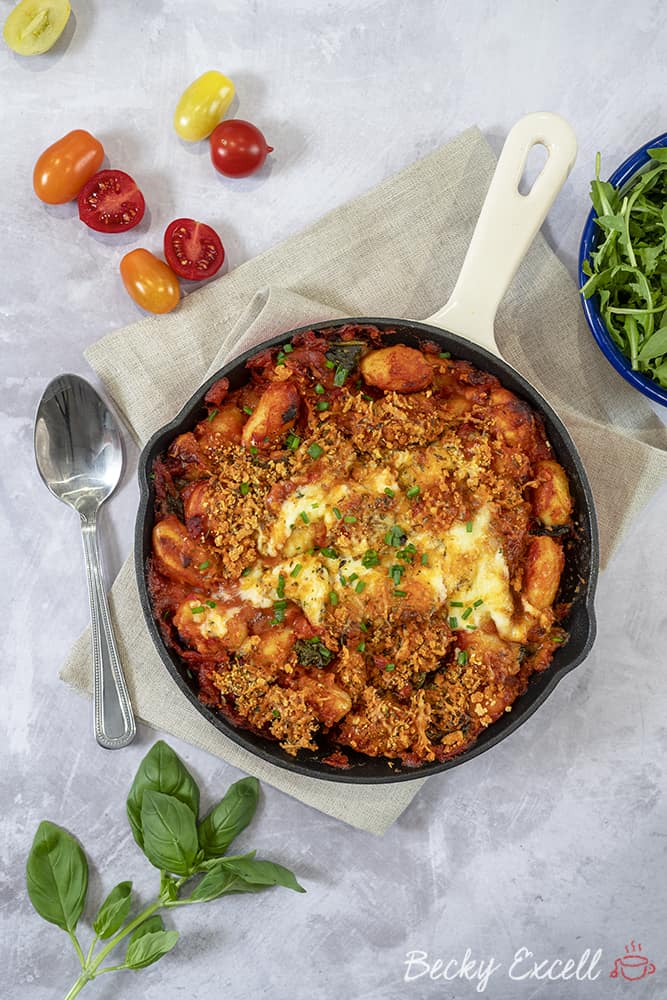 And yep, it's incredibly easy to make dairy free too.
Just use grated dairy free cheese on top and if you miss the mozzarella, check out Mozzarisella who make the BEST dairy free mozzarella out of rice.
(that was Mark's fave dairy free cheese before we realised he could eat mozzarella and cheddar as a lactose intolerant!)
And there you go, you've got yourself a *dairy free* gluten free smoky bacon gnocchi bake! But what about FODMAP?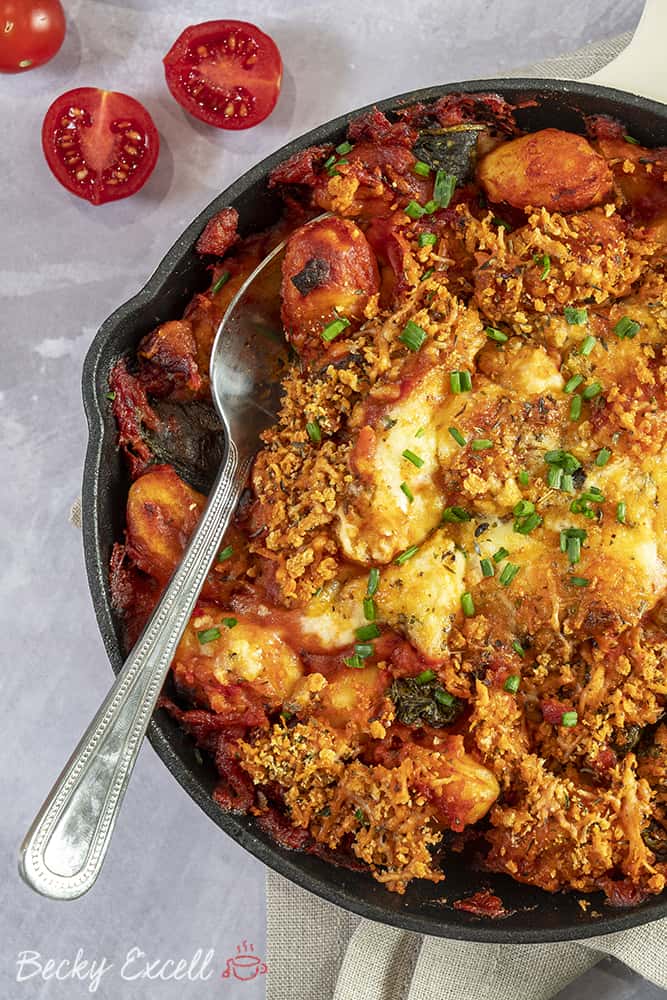 (feel free to ignore this part of you have nothing to do with low FODMAP – it's complicated!)
Yep, since we've used cheese that's incredibly low in lactose, and no onion/garlic/other high FODMAP offenders, this recipe is definitely FODMAP friendly. *BUT* only in the right quantities…
The low FODMAP serving of tinned tomatoes is 92g, and since this recipe uses an entire 400g tin, that means you can only safely have less than a quarter serving size of this recipe. Make sense? Remember, this guidance is for the *elimination phase* of the low FODMAP diet only!
The Asda gnocchi doesn't appear to have any high FODMAP issues, but be careful with gluten free breadcrumbs which often seem to have gram flour in them. Consider making your own from low FODMAP bread if you're on the strict elimination phase.
Ok so here's my gluten free smoky bacon gnocchi bake recipe!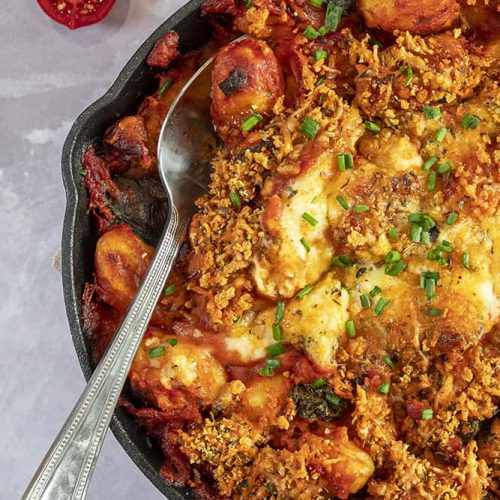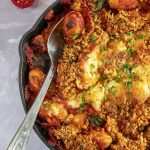 My Smoky Bacon Gnocchi Bake Recipe (low FODMAP, dairy free option)
Here's my gluten free smoky bacon gnocchi bake recipe that's an easy peasy midweek meal! You can easily make it dairy free too.
Ingredients
For the crispy, herby breadcrumb top
50

g

grated cheddar cheese

(lactose free if low FODMAP)

50

g

gluten free breadcrumbs

(watch out for gram flour if low FODMAP)

1

tbsp

mixed herbs
For your sauce
1

500g bag

Asda fresh accidentally gluten free gnocchi

(linked above)

1

400g

tin of tomatoes

(see notes for FODMAP guidance)

3

rashers

smoky bacon, chopped into small pieces

1

tsp

smoked paprika

1

tbsp

garlic-infused oil

(make sure it has no bits of actual garlic in it if low FODMAP)

1

tsp

sugar

big

handful

spinach

1

tsp

salt

1

tbsp

yoghurt, optional

(dairy free if needed or lactose free if low FODMAP)
Everything else
fresh

chives

half

ball

mozzarella, sliced
Instructions
Start by frying your finely diced smoky bacon in the garlic-infused oil. Make sure you cook it long enough so it goes nice and crispy and any fat is rendered.

Next, add your gnocchi and stir fry at a medium heat for 30 seconds, allowing it to absorb all the oil in the pan.

Add your smoked paprika and fry for a further 30 seconds while constantly stirring.

Add in your tin of chopped tomatoes, shortly followed by sugar, salt and a handful of spinach. Give it all a good mix and it's done when the spinach had completely wilted down (around 5-10 minutes)

Whilst that's cooking, mix all of your crispy, herby breadcrumb top ingredients together in a bowl. Set this to one side.

Take the sauce/gnocchi mixture off the heat. You can optionally add a tablespoon of yoghurt at this point - it just makes the sauce a little more creamy.

Pour your sauce/gnocchi mixture into an oven proof dish. The bigger the dish the better as you get more surface area for your crispy top!

Add in slices of mozzarella, followed by your breadcrumb mixture.

Pop in the oven for anywhere from 15-20 minutes at 200C fan. The longer the better as it usually means a crispier top! When the mozzarella is starting to look brown, that's usually when I say it's done.

Add some fresh chives on top, serve with some rocket and enjoy!
Notes
FODMAP info
92g is a safe serving size of tinned tomatoes during the elimination phase of the low FODMAP diet. That means you can have just under a quarter of the amount that this recipe creates as a safe serving size.
Watch out for gram flour in gluten free breadcrumbs if you're on the elimination phase or you haven't successfully reintroduced it yet.
The Asda fresh gnocchi isn't officially low FODMAP but doesn't contain any high FODMAP ingredients as far as I can see.
Nutrition
Thanks for reading all about my gluten free smoky gnocchi bake recipe! If you make it, I'd love to see how it turned out so don't forget to take a snap of your creations and tag me on Instagram!
Any questions about the recipe? Please do let me know by following me on Instagram and leaving me a comment on a recent photo!
Thanks for reading,
Becky xxx
Oh and don't forget to pin this for later!