Gluten free marble pancakes recipe, anyone?! I'm now imagining a whole room-full of people raising their hands like "ME!" "ME PLEASE!", so I guess it's time to share my fave pancake recipe on the blog! It's also dairy free and low FODMAP too.
Pancakes are the type of thing that I just find really fun to make, but this pushes that to a whole new level. I'm sure you'll love creating them too, so here's my gluten free marble pancakes recipe…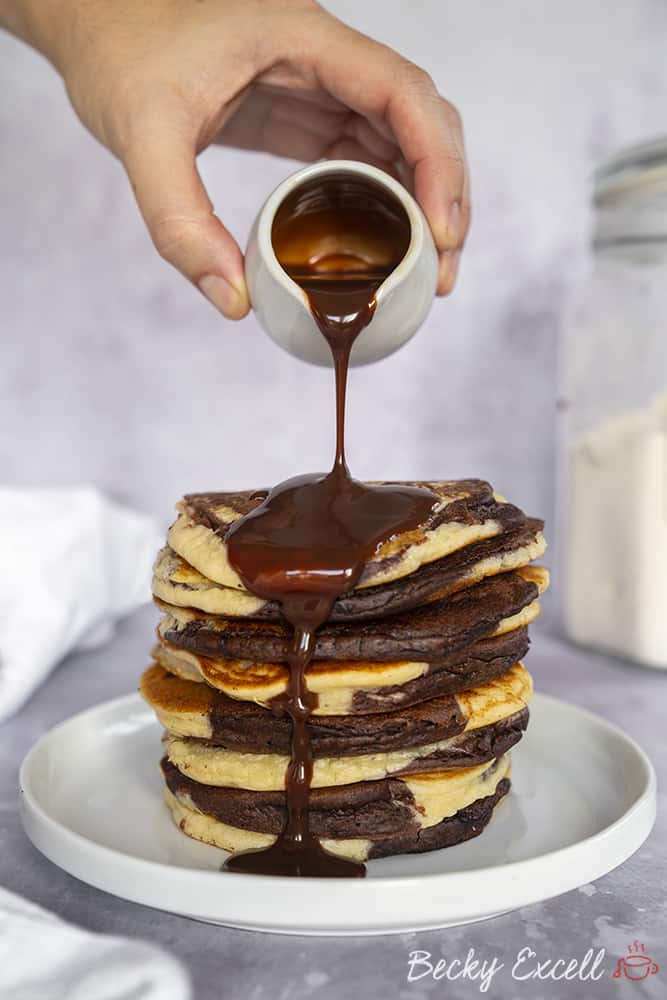 Ok, so you may not agree with me when I say that pancake making is fun…
(maybe I'm just really sad like that!)
But for me, there's sooooo much you can do with pancakes and that's what I find really fun. A bowlful of batter is a bowlful of endless possibilities!
And I'm not just talking toppings either. You can throw blueberries straight into the batter, you can mash banana into the batter or in this case, you can make beautiful marbled chocolate pancakes. Now that all sounds like fun to me!
So I adapted my gluten free American pancakes recipe and simply split the batter into two separate bowls. I made one half of the batter vanilla-flavoured and the other chocolatey. And that's pretty much it! Defo not rocket science or anything.
But how do you get that lovely marbled effect once you've prepared your batter?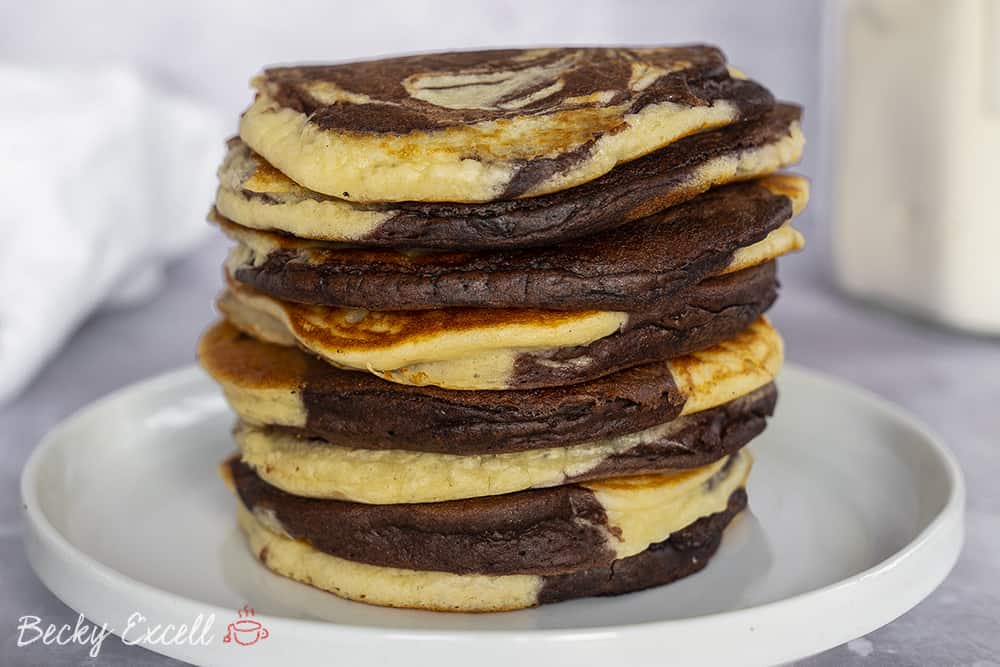 Well, it's just a matter of alternately spooning in a tablespoon of each batter into your frying pan, one at a time.
So after your frying pan has heated up with a little oil in it, spoon in your vanilla pancake batter. Then splodge on a tablespoon of your chocolate batter right on top of the vanilla one.
Then add a splodge of vanilla in the middle of that… followed by one more dollop of chocolate.
Lastly, you just simply take the back of your tablespoon and swirl it all around until it's all well-marbled.
It looks so beautiful but it's so easy!! So how do they taste?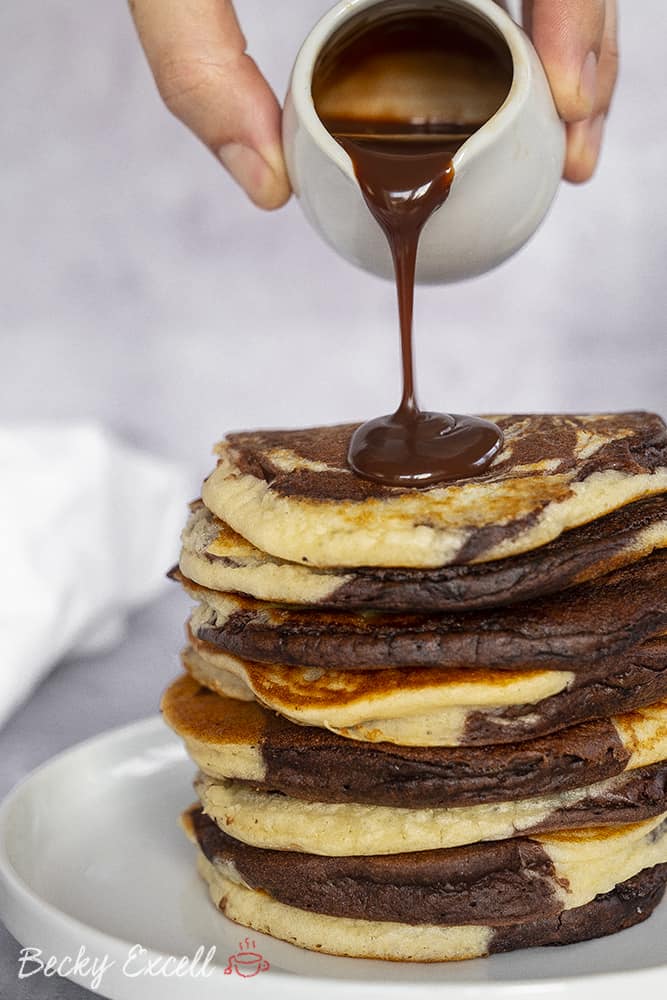 They taste sooooo bloody good! Just like my American pancakes, they're super light and fluffy, with a crisp, golden exterior.
But then you've got the lovely contrast of deep, rich chocolate flavour parts against the lovely, sweet vanilla flavoured bits. It totally reminds me of my gluten free marble cake in its taste and that can only be a good thing, right?
Here's a couple of cooking tips before you get started:
This recipe is best done at a very low heat and not just because these are fairly thick pancakes. As you're spooning in four tablespoons of batter consecutively, you need to give yourself time to get them all in! A low heat allows you to do all this so that the first tablespoon of batter isn't miles ahead in cooking time by the time your fourth tablespoon of batter is added.
Also, a low heat makes sure that the middle of the pancake won't still be raw when the underside is becoming overdone. If that happens to you, then your pan is too hot – turn it down a little please!
Things always get pretty serious when I pull out the bullet points ? I feel like I'm doing GCSE coursework! Ok, here's my gluten free marble pancakes recipe…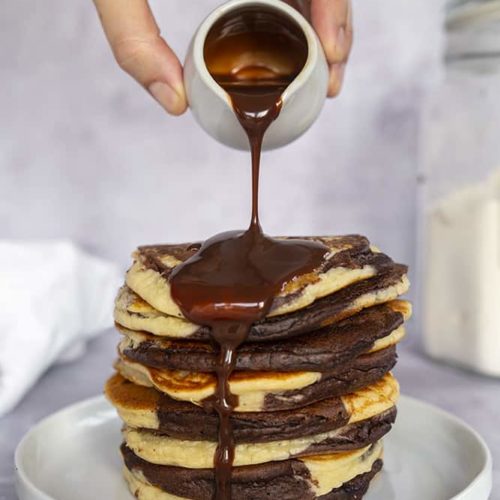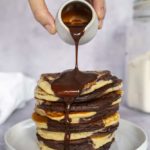 Gluten Free Marble Pancakes Recipe (dairy free, low FODMAP)
Ingredients
200

g

gluten free self-raising flour

1.5

tsp

gluten free baking powder

1

tbsp

sugar

300

ml

milk

(dairy free if needed - lactose free if low FODMAP)

2

large

eggs

2

tbsp

cocoa powder

1

tsp

vanilla extract
Instructions
Put your gluten free self-raising flour, sugar and gf baking powder into a large mixing bowl and mix thoroughly.

Then add your eggs and milk and beat until smooth

Grab a second mixing bowl and split the mixture into two even amounts in each bowl.

To one bowl, add 1 tbsp of vanilla extract and to the other, sift in 2 tbsp of cocoa powder. Mix both bowls thoroughly until smooth again.

Set your hob to a low heat and add 1 tsp of oil to your frying pan. Spread the oil around the pan if possible with a brush or kitchen roll.

Using a tablespoon, spoon in one tbsp of the vanilla pancake batter. Then spoon in a tablespoon of the chocolate batter straight on top. Then spoon a tbsp of vanilla mixture on top of that, followed by a tbsp of the chocolate mixture again. Do this as quick as you can and try to spoon in the batter so the pancakes remains a fairly circular shape.

Marble the mixture immediately by using the back of your spoon to create a beautiful marbled pattern.

Allow to cook until the side facing up isn't super wet - then you can flip it without it splattering everywhere! This should take about 2 minutes at a low-ish heat.

Flip it over and cook for a further 1 minute or so and place to one side. Repeat until all the batter is used, using a tsp of oil per pancake to fry them.

Serve up with chocolate sauce and enjoy!
Thanks for reading all about my gluten free marble pancakes recipe! If you make them, I'd love to see how they turned out so don't forget to take a snap of your creations and tag me on Instagram!
Plus, I'm giving away a £50 supermarket voucher every month to my fave pic, so get baking!
Any questions about the recipe? Please do let me know by following me on Instagram and leaving me a comment!
Thanks for reading,
Becky xxx
Oh and don't forget to pin this for later!