One of my favourite things to do in London is to take a wander around one of the many food markets. Watching my lunch being prepared from scratch and the mouthwatering smells that permeate down an entire street make me feel part of something special.
The hustle and bustle just provides a beautifully chaotic atmosphere that you won't find anywhere else in London. Yes you will find chaos on Oxford Street or down on a scorching Underground platform, but it isn't beautiful like a London food market.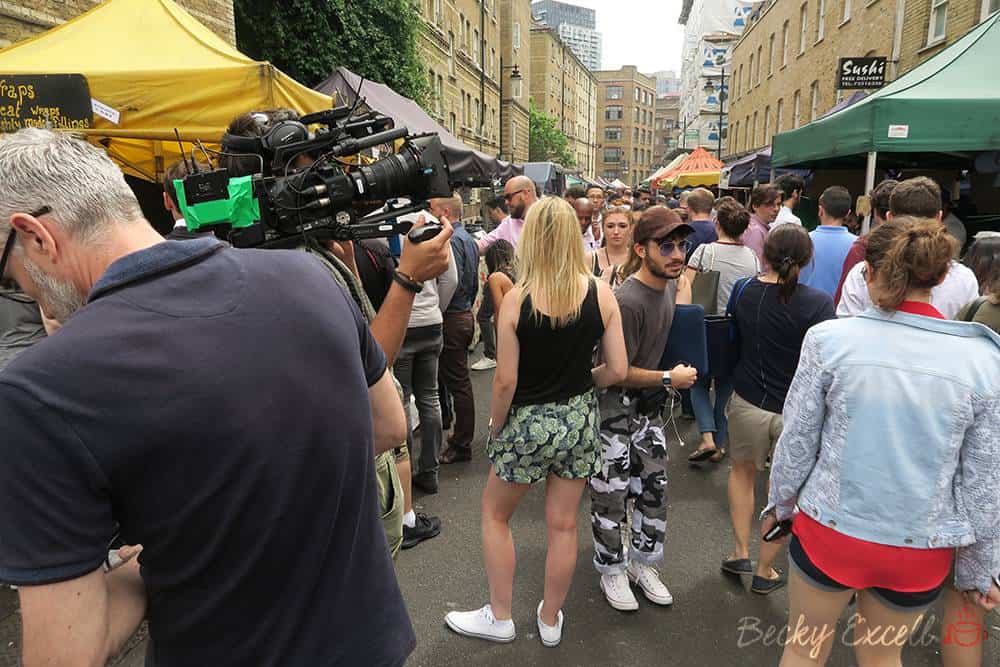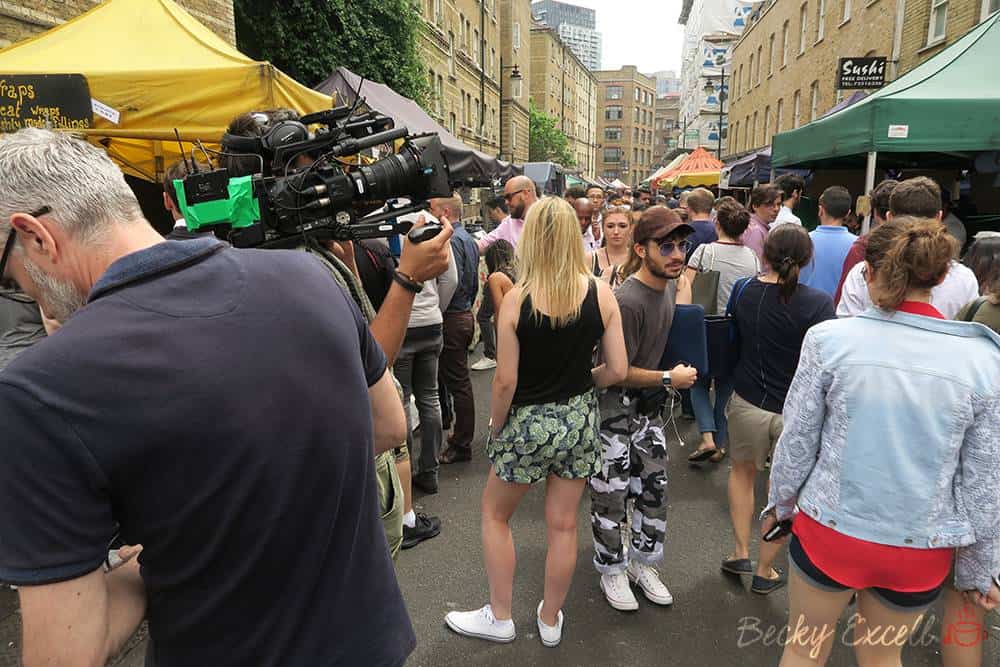 I recently got invited down by Tefal to Whitecross Street Market in East London to go on the hunt for the most delicious gluten free dish. I must admit I'd never heard of Whitecross Street Market before, even though it is only a 10 minute walk from Liverpool Street Station so I was intrigued as to what food they would have on offer.
As with all London food markets it is a vibrant place to be. It feels as if every part of London, and consequently the world, cooks up it's cuisine here. From Korean bibimbap to Brazilian feijoada, all continents are covered on this one street.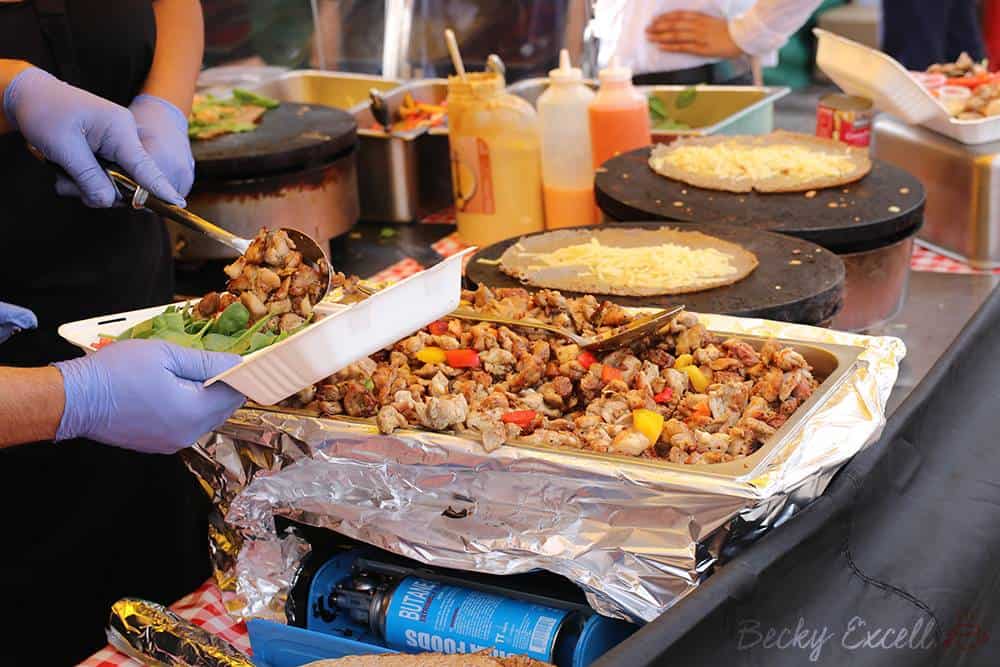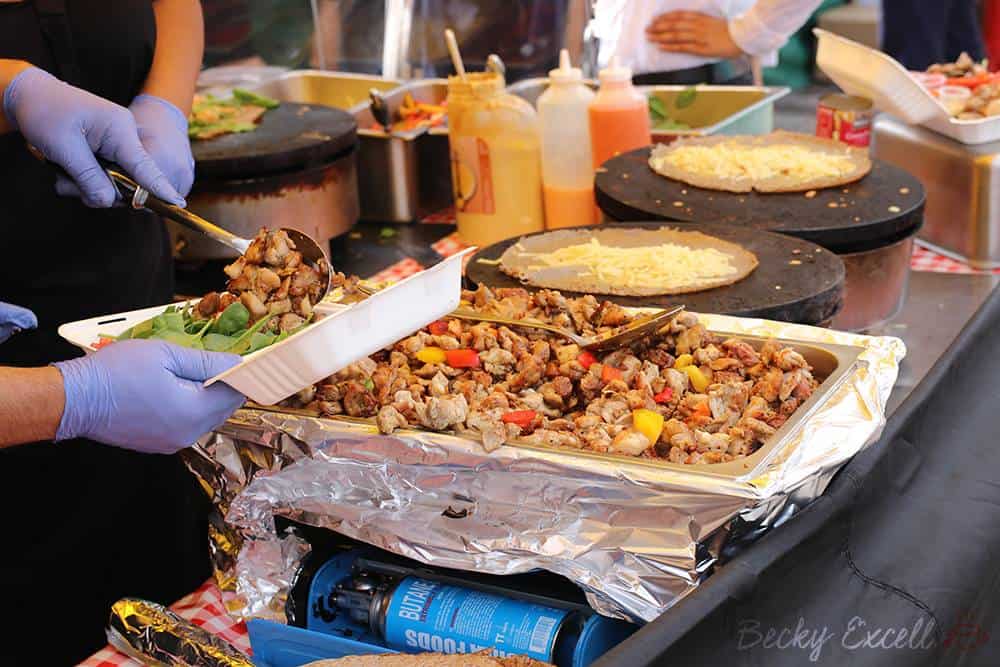 Of course for me I wanted to seek out a stall that would 100% cater for me being gluten free. I do find when it comes to food markets I am so much more comfortable finding a stall that is fully gluten free, it takes away any worries of cross contamination when market stalls are so tight on space. Fortunately London is full of market stalls that are fully gluten free so I was confident I wouldn't have a problem at Whitecross Street Market. I wasn't wrong as I discovered 'A La French Galettes', who were serving up savoury pancakes (or rather galettes) that looked and smelt divine.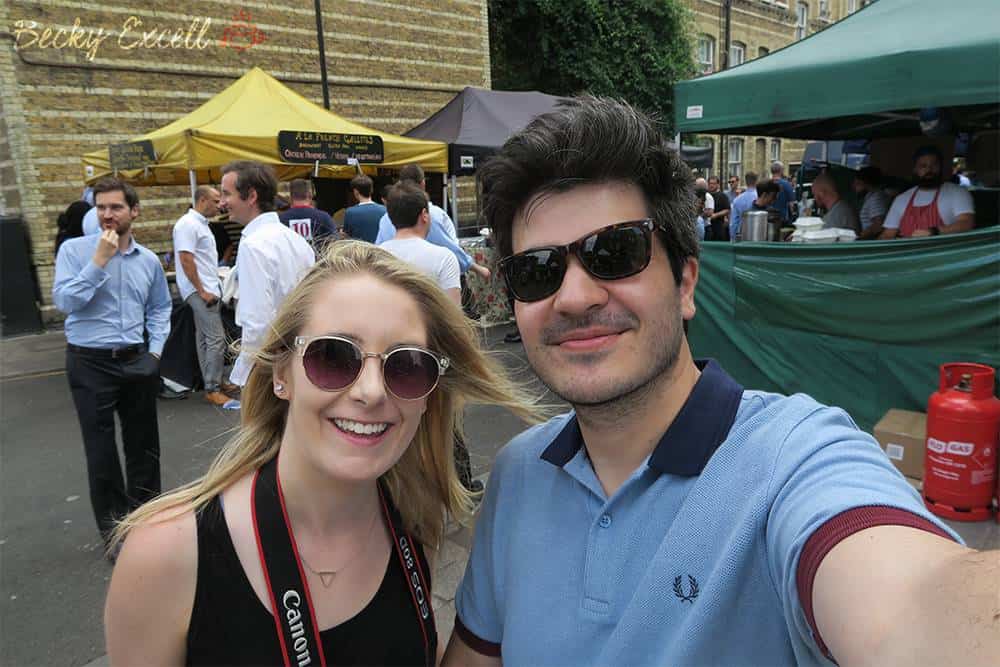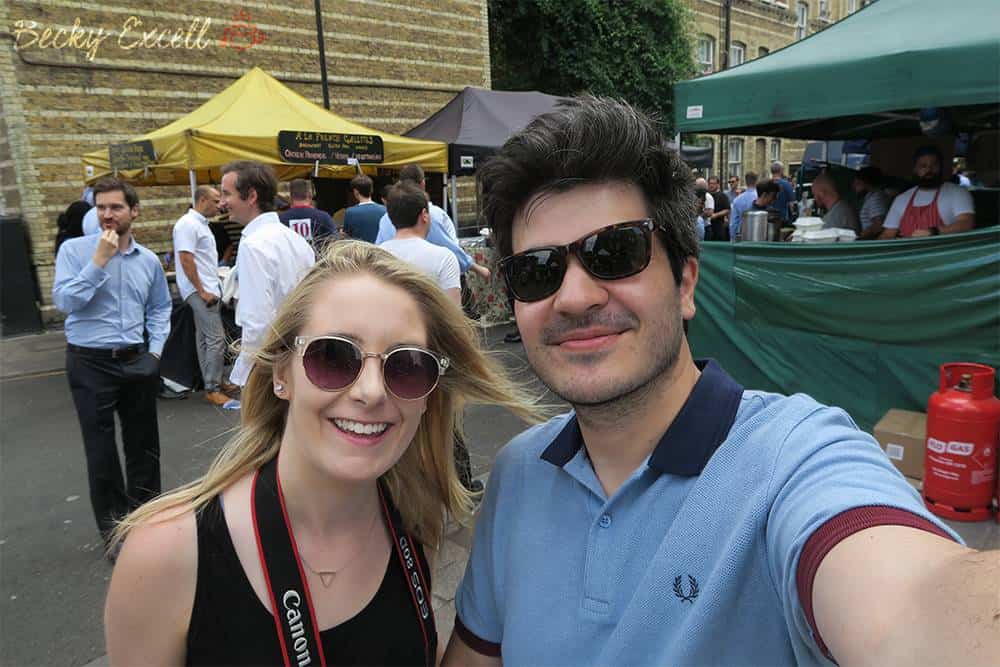 I spoke to the lady who ran the stall in a brief moment she had free before the mad lunchtime rush (seriously the queue for the galettes was down the street). She said her stall had been running at the market for nearly a decade and that it had always has been completely gluten free.
For me there was no question about it, I was going to be having a gluten free galette for my lunch. I went for the Florentine which was a buckwheat galette filled with a little dijon mustard, cheese, egg and fresh spinach. The combination probably made for one of the best lunches I have ever had in London. Essentially it felt as if I was having a cheesy spinach omelette within a pancake!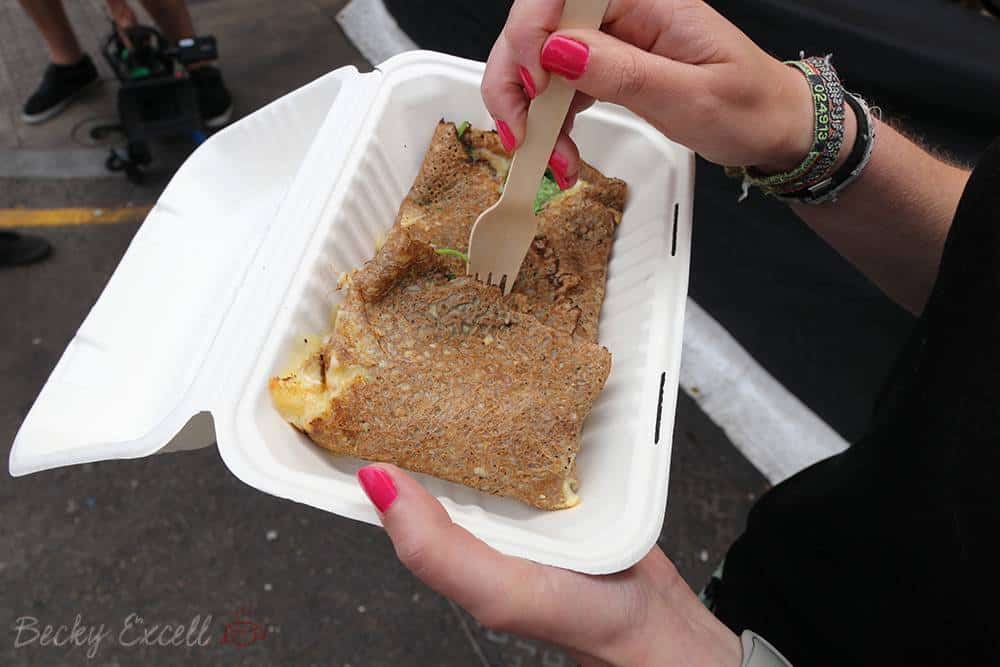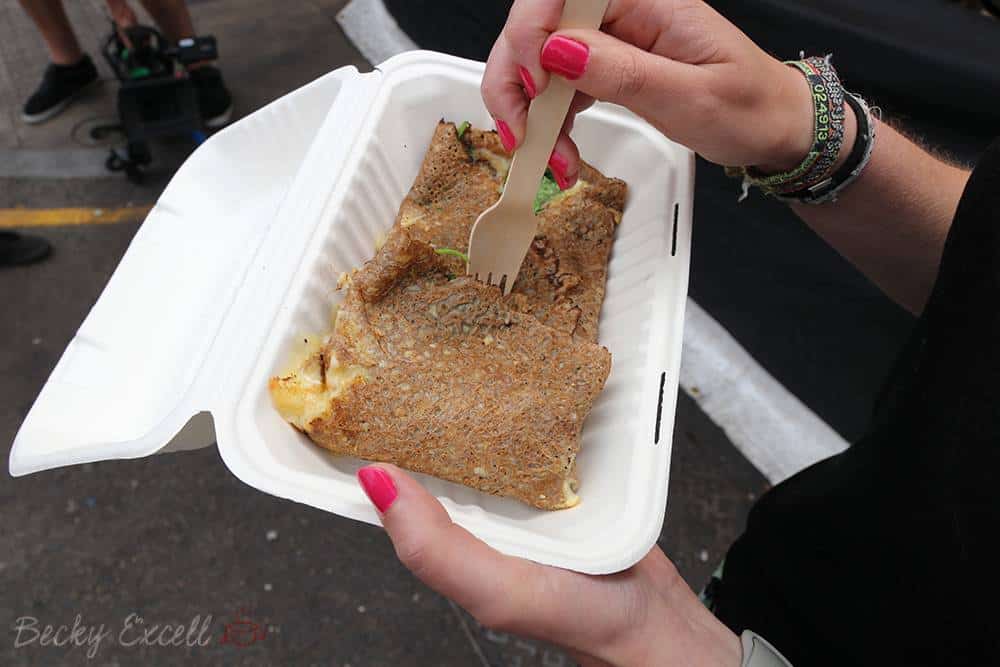 I must admit I have tried making galettes at home before and although they have been ok, they never looked or tasted as good as these. I made sure when I was talking to the lady I quizzed her as much as I could for advice on making the perfect gluten free galettes.
What amazed me the most was that her galette recipe literally contains 3 ingredients… buckwheat flour (which is gluten free by the way), water and salt, that is it!! Less certainly is more. To think these galettes, pre filling, are also dairy free and vegan is fab. The possibilities are endless in terms of fillings, I'm definitely going to be making some of these at home for both Mark and I to enjoy.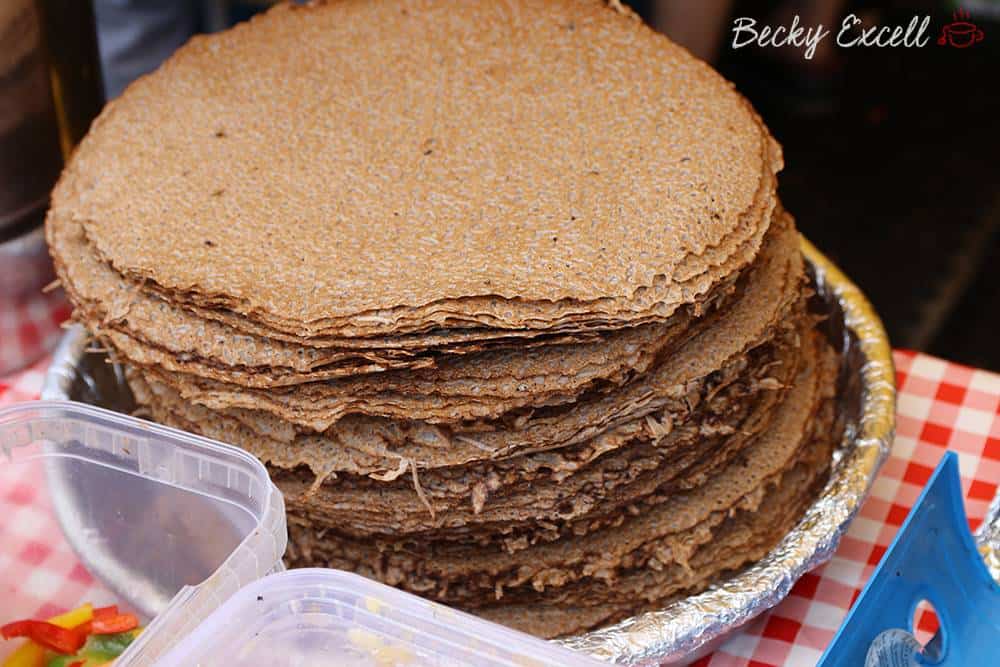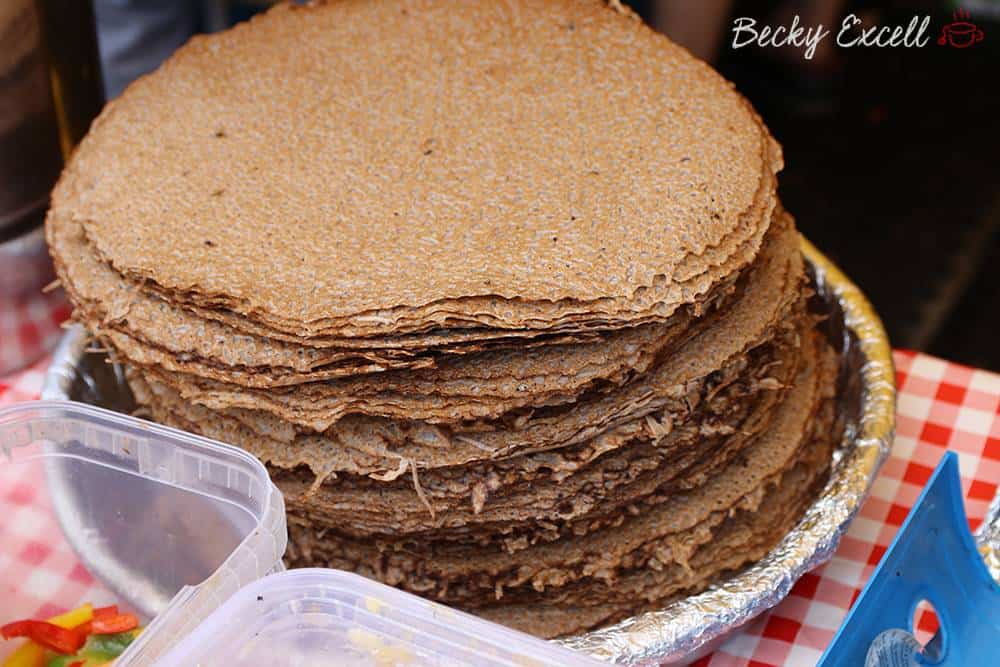 It was definitely the best idea to watch the masters of Whitecross Street Market at work creating these gluten free galettes. However I get the feeling the galette might now become a more regular dish on our menu at home. When you think that all you need is 3 ingredients, a little oil for frying and a good quality frying pan, why wouldn't you make them yourself?!
The few hours that I hung out at Whitecross Street Market were definitely made by the tasty galette and learning how to make them properly but I also got to meet some lovely other bloggers too who were also on the hunt for a delicious dish. Alla from Alla's Yummy Food chose a paella for her dish, Vikkie from Tastefully Vikkie chose a spicy curry and Sarah from Taming Twins picked out an amazing looking fish dish. Check out their blogs too if you haven't before. I also vlogged the day too which you might like to check out.
I'll definitely be back at Whitecross Street Market in the near future maybe for another galette (although I plan to perfect my galette skills even more at home!) or for a gluten free Buddha Bowl from the Wholefood Heaven van (another 100% gluten free stall at Whitecross Street Market).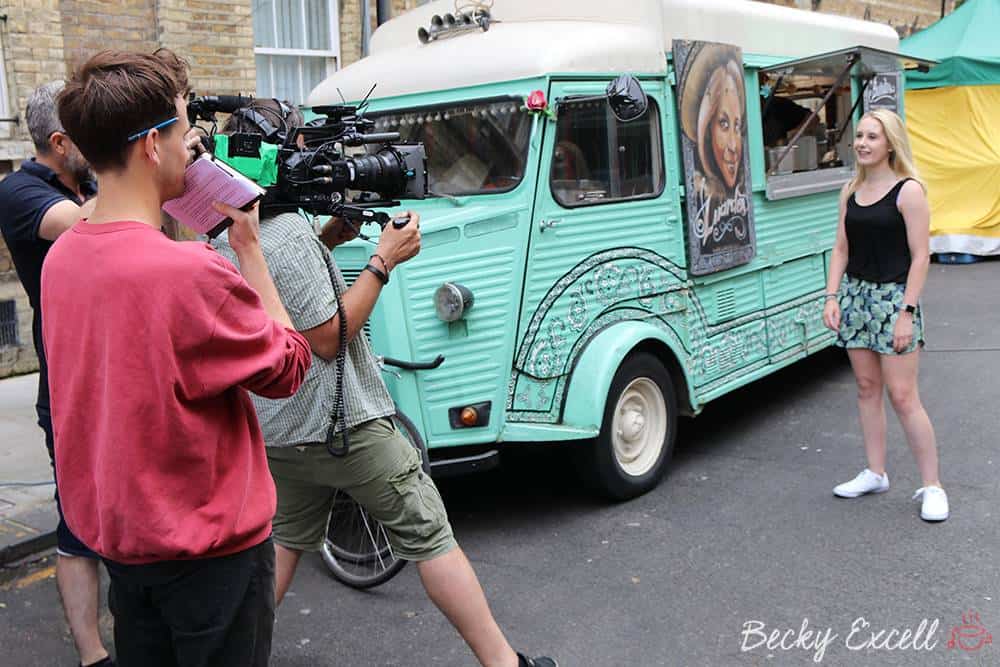 Thanks so much to Tefal for bringing me to the market, it's been great fun and I'll definitely be back. I created a video with Tefal of what we got up to at the market as well as how to make the perfect gluten free galette home in a Tefal frying pan. Honestly, I don't know about you, but I have always cooked with Tefal pans. I thought all pans had the Thermo-Spot (red dot) in them… turns out I've just cooked with a Tefal ever since I was a wee lass!

Anyway, I really hope you enjoyed coming along on my day with Tefal in London. Definitely get yourself down to Whitecross Street Market when you can. It's open Monday – Friday all day. Let me know if you are a galette fan, or whether you are tempted to give them a try now. I'm trying to think up some more fillings so there will definitely be some more recipe posts including galettes coming up soon!
Also please check out my guide to 19 of the BEST gluten free market stands you have to try!
Thanks for reading,
Becky xxx