My 4-ingredient vegan crêpes recipe is a bit of a hero for those of us who have a long list of things that we can't eat. So this recipe is gluten free, vegan, egg free, dairy free AND low FODMAP too. And best of all, it tastes flippin' awesome!
So this is basically a bit of a twist on my original gluten free crêpes recipe to make it 100% vegan. So if you're not vegan, then head over to that post instead, but if you are (or you just want to make pancakes without eggs!) then read on for my vegan crêpes recipe…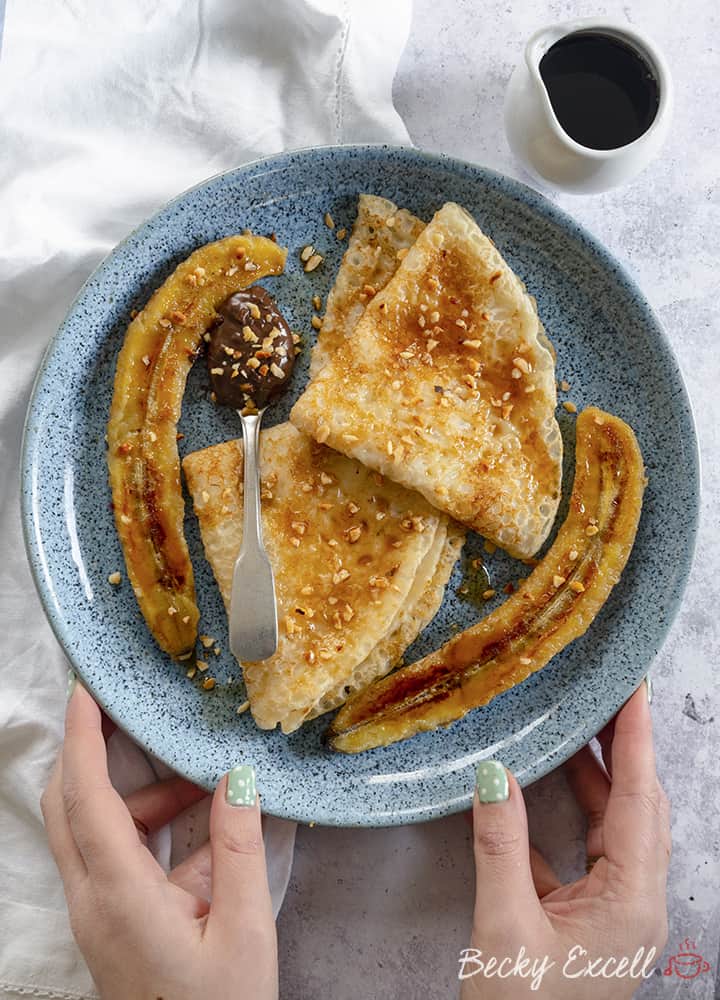 Eggs seem to be a staple ingredient in every pancake recipe under the sun.
(solar power is not my most recommended way of cooking pancakes FYI <– that was such a bad joke that I felt I had to include this statement which explains that it was a bad joke)
So I was quite up for the challenge of making a vegan crêpes recipe that was gluten free and egg free too.
But how on Earth was I going to get that lovely, soft, flexible texture of pancakes without eggs?!!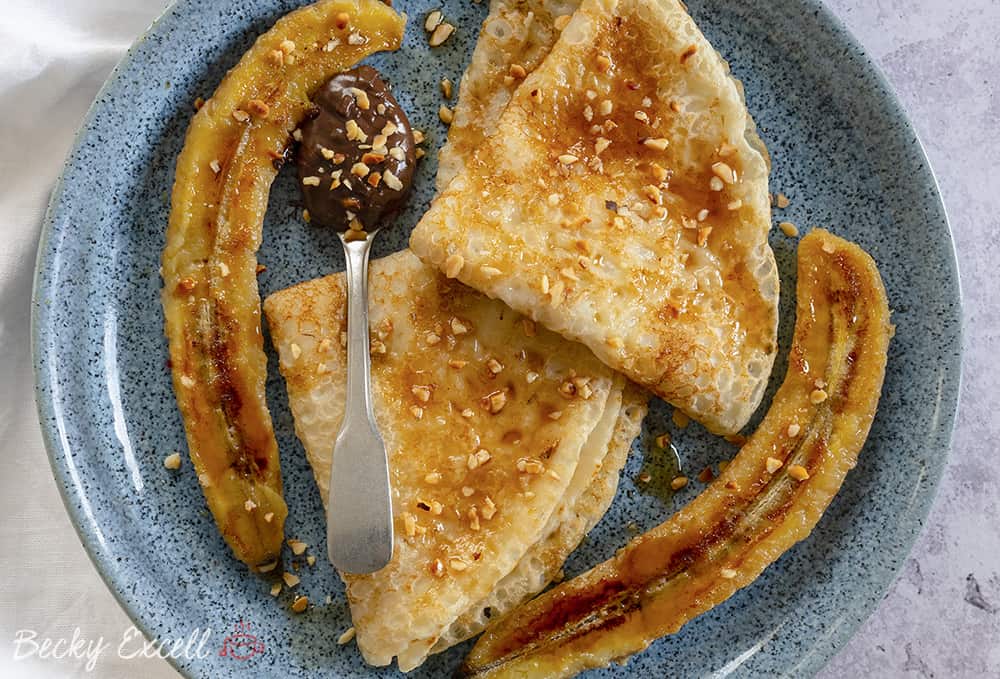 Well actually, my vegan crêpes recipe made me realise that eggs aren't all they're cracked up to be…
(get it… cracking eggs.. oh nevermind)
A little baking powder goes a loooong way in replacing an egg, still bringing a little airiness and lighter texture to the table.
BUT whenever I flipped my pancake, they always seemed to be a little pale on the second side, even after cooking. That's defo not something that I usually have a problem with when I use eggs!
Luckily I managed to resolve this with one simple little trick…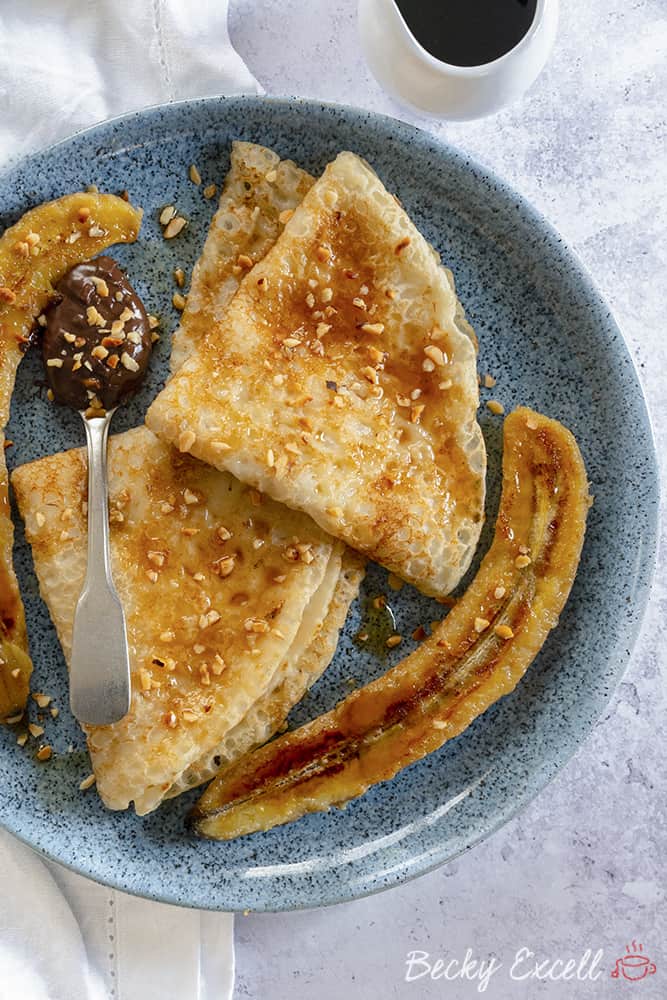 As you're going to flip your pancake, take it out of the pan using a spatula. But before you flip it back in, add another little spray or 1/2 a tsp of oil.
(Spread it around the pan if poss too and be careful you don't splatter the oil everywhere when the pancake goes back in!)
Basically, I found that without using egg in these pancakes, the batter seems to absorb the oil more, leaving less oil in the pan for after you flip it.
So instead of having a nice, crisp, golden exterior on the second side, you'd end up with a sort of dry, tortilla looking side instead. Not a good look! But a little extra oil sorted it right out.
Ok, so here's my vegan crêpes recipe…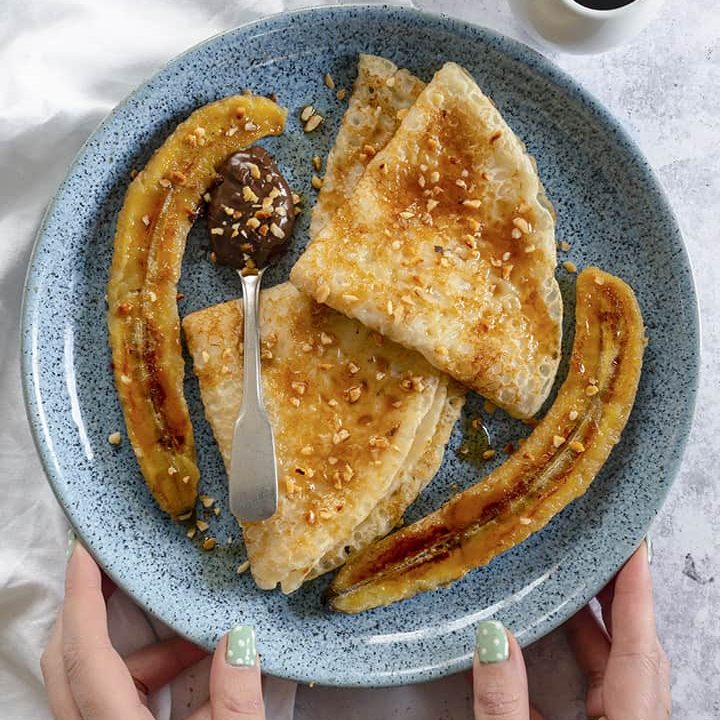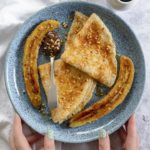 4-Ingredient Vegan Crêpes Recipe (dairy free, low FODMAP)
My vegan crêpes recipe only needs 4 ingredients AND it's gluten free, dairy free and low FODMAP too. Perfect for pancake day and beyond!
Ingredients
380

g

gluten free plain flour

4

tbsp

golden caster sugar

1

tsp

baking powder

650

ml

unsweetened almond milk
Instructions
Whisk everything together in a big mixing bowl until it's a nice, thin batter.

Add 1 tsp of oil into a frying pan and heat up to a medium-high heat.

Pour in your batter and tilt the pan so that the batter covers the base entirely.

After 1-2 minutes, flip your pancake. Add a little extra oil to the frying pan before you flip it if you can - this stops the other side from looking pale.

Cook this for a further 1 minute.

Repeat until you've used up all your batter.

I served mine up with some vegan chocolate hazelnut spread and a banana that had been split and dry fried for 2-3 minutes.
Thanks for reading all about my gluten free and vegan crêpes recipe! If you make them, I'd love to see how they turned out so don't forget to take a snap of your creations and tag me on Instagram!
Plus, I'm giving away a £50 supermarket voucher every month to my fave pic, so get baking!
Any questions about the recipe? Please do let me know by following me on Instagram and leaving me a comment!
Thanks for reading,
Becky xxx
Oh and don't forget to pin this for later!